My Best Purchases of 2017 | Everyday Fashion and Beauty Products
This post may contain affiliate links which means I will get a commission if you make a purchase at no additional cost to you. As an Amazon Associate I earn from qualifying purchases. Please read my disclosure for details.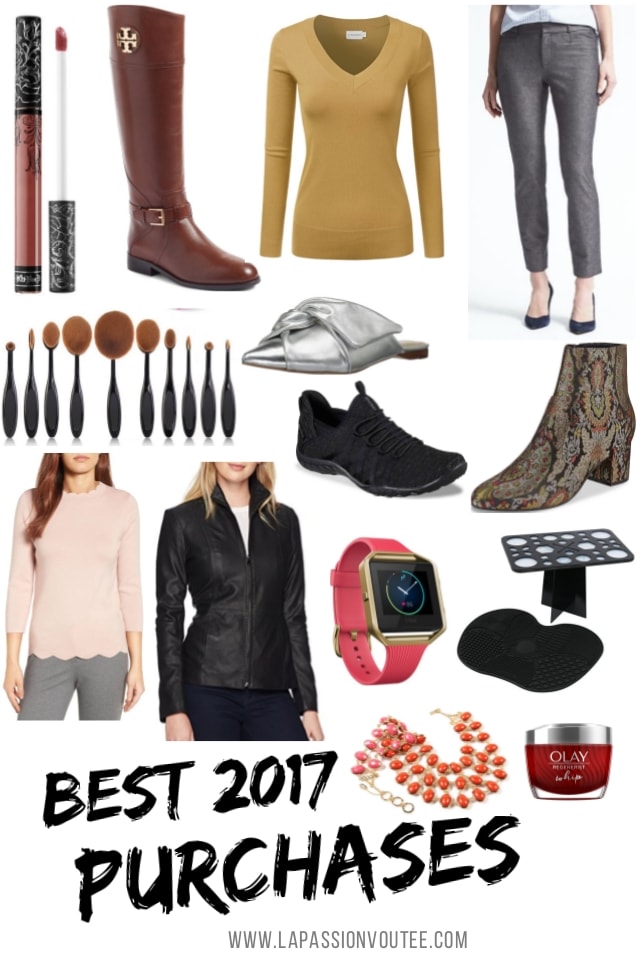 It's still hard to believe that we are REALLY in 2018. It sure feels like eons ago since I graduated from college. 2017 was an interesting year for me especially because I was (and still am) on a tight budget.
So, I thought it'll be fun to share my favorite products from 2017 that I love and would buy again in a heartbeat. These are actual products I absolutely recommend and you will not believe how super affordable some of these products are. I've linked to the exact products that are still available and share similar products for those that are sold out.
MY BEST PURCHASES OF 2017
BEST PURCHASES OF 2017 – SHOES
BEST PURCHASES OF 2017 – CLOTHING
It wasn't until the second half of the year that I bought a majority of my clothes. I waited for summer and did a huge wardrobe cleanse. All of my favorite clothing purchases from 2017 were from later in the year.
BEST PURCHASES OF 2017 – BEAUTY AND SKINCARE
You know that fashion is a big focus of this blog and so is beauty. I tried many skincare and beauty products in 2017. These are my absolute best beauty products of 2017.
BEST PURCHASES OF 2017 – OTHER
Amrita Singh Reversible Bib Necklace – I've been a big fan of Amrita Singh jewelry since a friend introduced me to the brand. I've rocked the reversible necklaces since my college days. They are a little pricey but you can score a deal when they are on sale.

They are durable and last a long time. The ones I finally decided to replace were 5 years old. They are currently on sale at the moment!


Fitbit Blaze Smart Fitness Watch – I have gotten a great use out of my FitBit watch. It definitely helps me squeeze in a little bit of exercise and helps keep me active during the day. This definitely makes it harder to wear other watches when your Fitbit does a lot more than tell you the time.


I hope you enjoyed reading this post about my best purchases of 2017 and found it informative. As a blogger, I realize that some of my purchases may seem a little much but this is what I do – I try out products and share my findings/reviews with you so you can make the best decision. I do a closet purge once or twice a year and donate products I no longer have use for/could be of use to others.
Your tun! What was your absolute best purchases of 2017?