Casual Work Outfit Idea: Faux Wrap Skirt + Balloon Sleeve Top
This post may contain affiliate links which means I will get a commission if you make a purchase at no additional cost to you. As an Amazon Associate I earn from qualifying purchases. Please read my disclosure for details.
It's officially fall! When we think about fall fashion, skirts are often not included in the list. Interestingly, skirts are the perfect transitional pieces on warm fall days. So, today's casual work outfit is inspired by this faux wrap skirt 🙂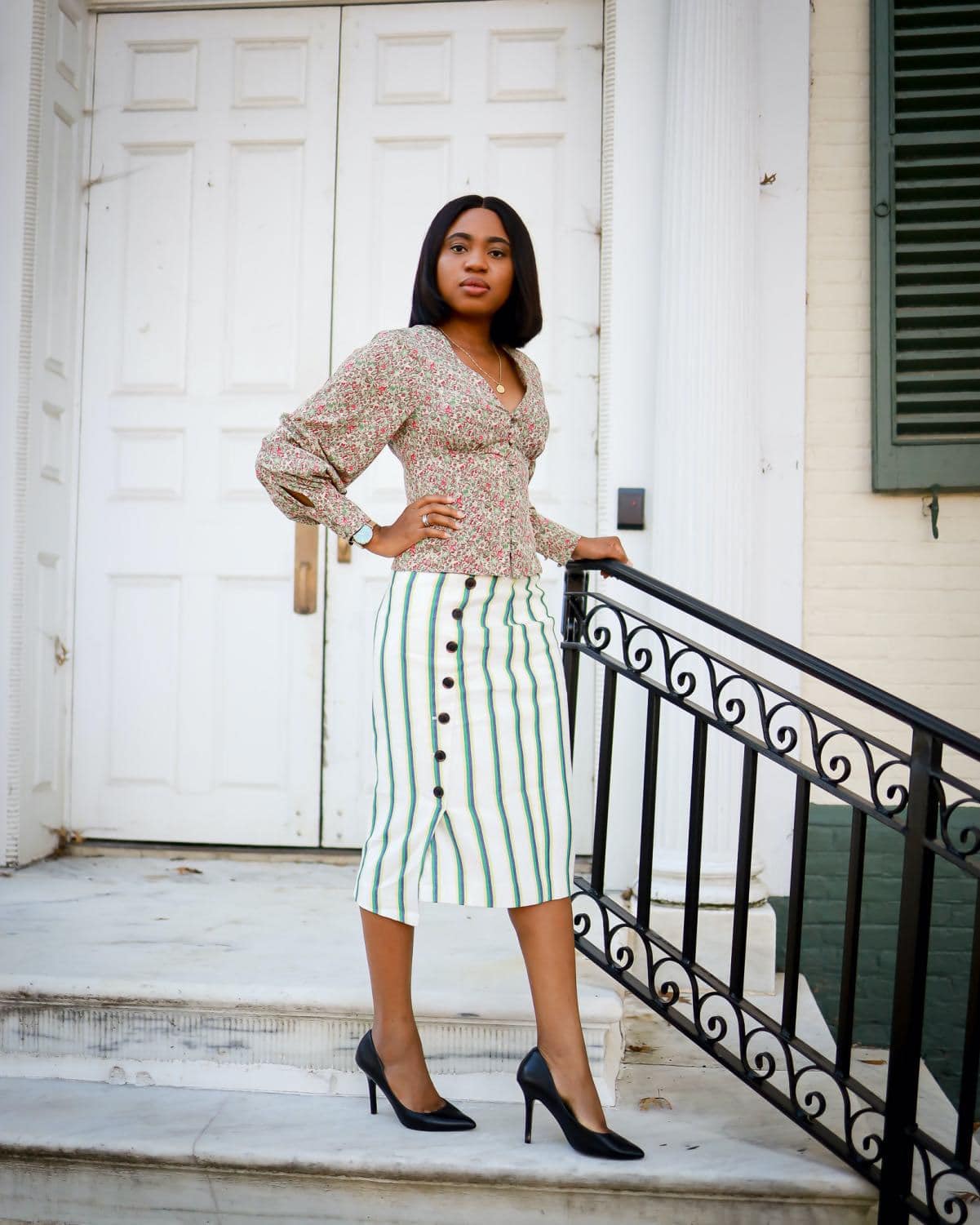 Shop The Look


There is a certain elegance that skirts portray. I especially love the combination of skirts with vintage-inspired and trendier pieces. I'll be the first to admit that it has been a while since I wore work pants and skirts. My daily now uniform comprises of a certain color of scrubs with an ever-rotating mix of comfy sneakers or ballet flats, when I'm feeling fancy.
True story, the flexibility of wearing fun office styles played a small role in my decision to choose one job over another right after college. Picking out my work outfits was something I really enjoyed (and still enjoy) when scrubs are not the dresscode.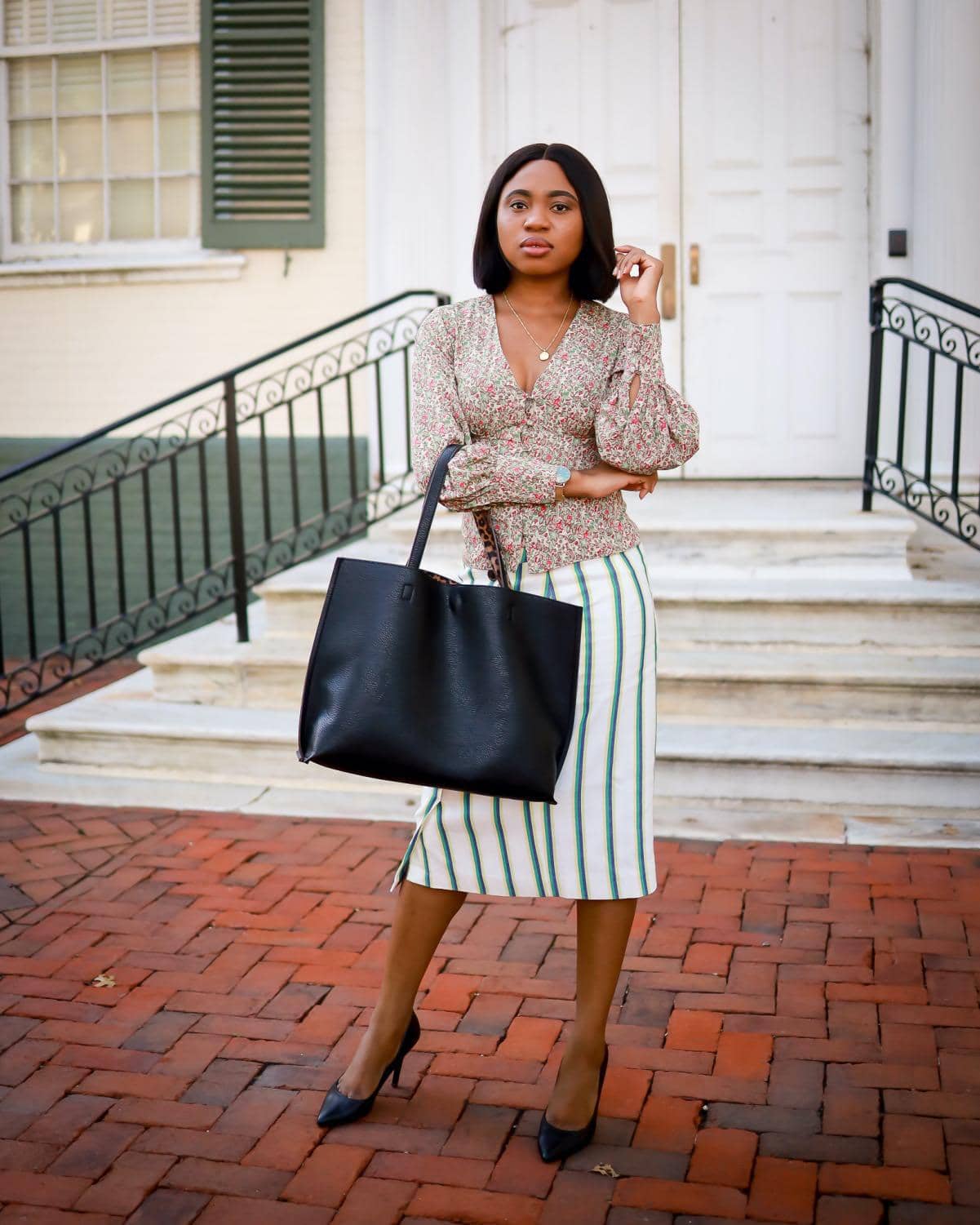 When I saw this faux wrap skirt on Nordstrom, I immediately started thinking about how exciting it would be to style this skirt for work. The juxtaposition of the asymmetrical cut against the calculated balloon sleeves of the top make for bold statement. It's not often you see friends or colleagues wear such daring combination.
While it's easy to play it safe by sticking to solid neutral colors like black, white, khaki, and the likes, it's a welcome surprise to add some flavor to your work style every now and then.😉 And pay attention to the compliments you'll get from coworkers and even clients.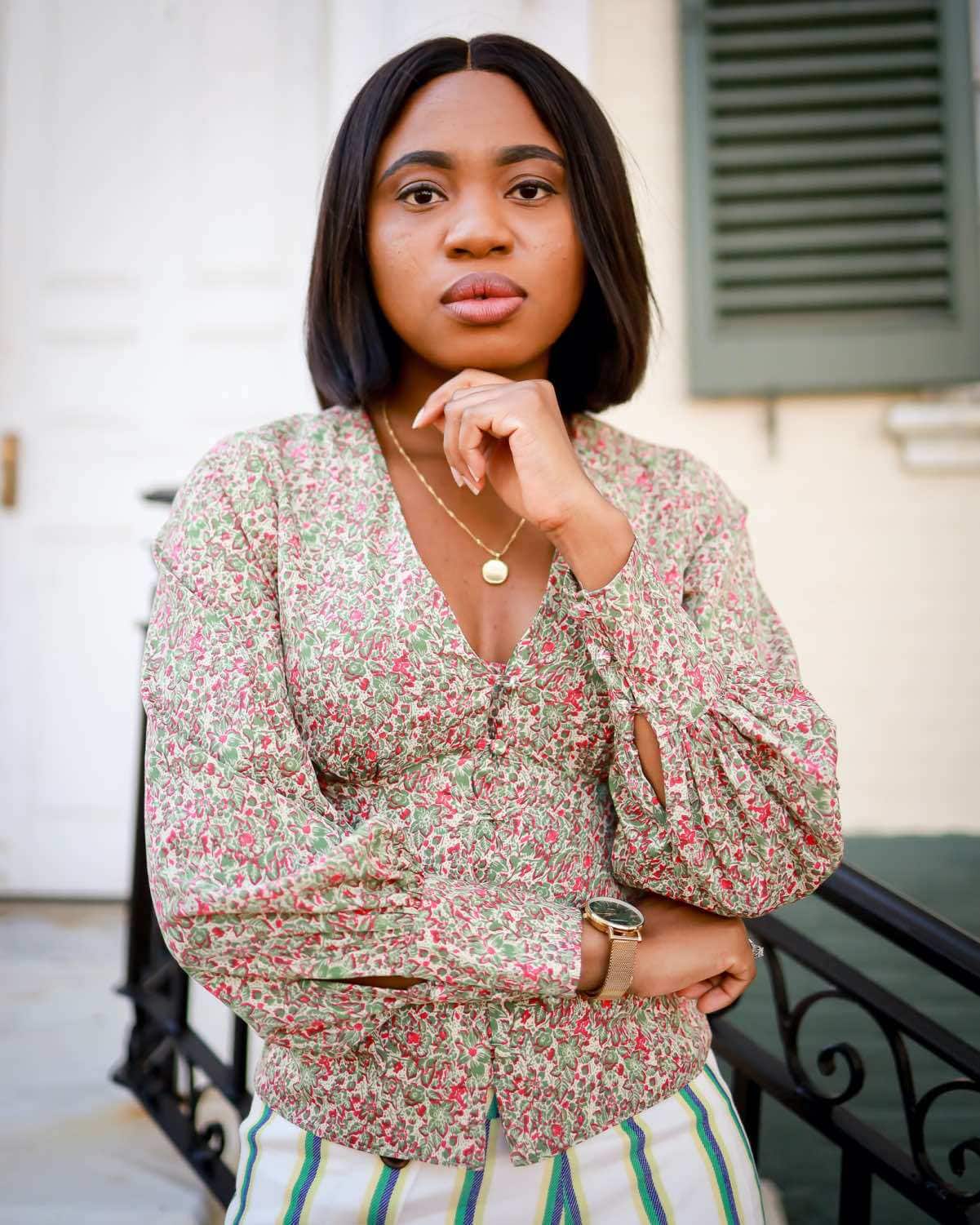 When you see a head to toe outfit like this from Nordstrom, most people immediately think premium quality associated with premium price. But guess what? Everything is under $100 and with the ongoing Nordstrom sale, the balloon sleeve top and faux wrap skirt are under $50 (not a typo).
I love the unique spin that bell sleeves and balloon sleeves tops and dresses add to an ensemble. I fell in love with this corset top when I spotted it on the Nordstrom website. The rich floral print mixed with green and red hues makes this top perfect for fall.
If you love tops that sit on your true waist (not longer or shorter), you'll love the fit of this blouse. It's a little hard to see but those front button closures are real. So this is something to consider if you prefer zippered closures. The non-stretchy fabric runs true to size. I'm wearing a size 4.
One other thing I love about shopping at Nordstrom is the variety of styles available: a one-stop shop. If you're looking for wedding guest dresses, birthday outfits, workwear attires, graduation styles, or anything in-between, the odds are in your favor when you shop at Nordstrom. And if you're not quite sure what you want, get two sizes or two different styles.
With Nordstrom's free shipping and return policy, you can easily return the items that don't work for you. Seriously, I know some of you are interested in my Spanx faux leather leggings but unsure what size to get (petite vs regular vs plus), you can order one of each and keep the style that looks the best on you (problem solved).
What's not to love about the youthful flair of the skirt? The multicolored stripes and high-low wrap style create a slimming silhouette. The fabric is a blend of cotton and rayon and it feels amazing on the skin.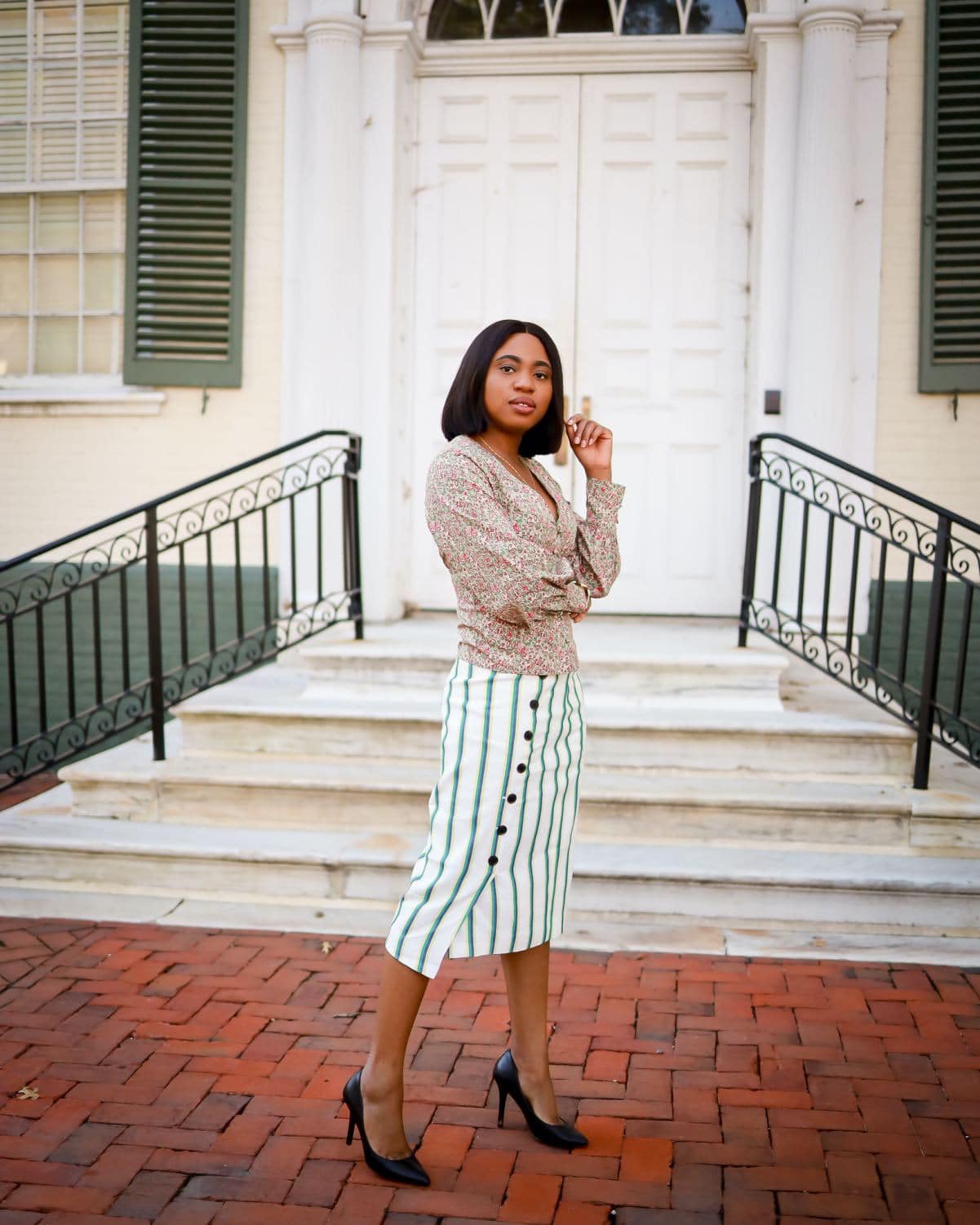 The dark colors of the buttons are delicately positioned to break the symmetry of the stripes while drawing attention to the narrower portion of the body. The hidden side zip and hook solidify the clean lines of the wrap skirt. I'm wearing a size 4 in the faux wrap skirt and it's also available in plus sizes.
As a side note, my balloon sleeve top and wrap skirt are currently on sale on the Nordstrom website. The plus size in the skirt is almost sold out thought. My large tote is the bag I've been taking to work because it literally holds everything. Large enough for your laptop and even change of clothes too.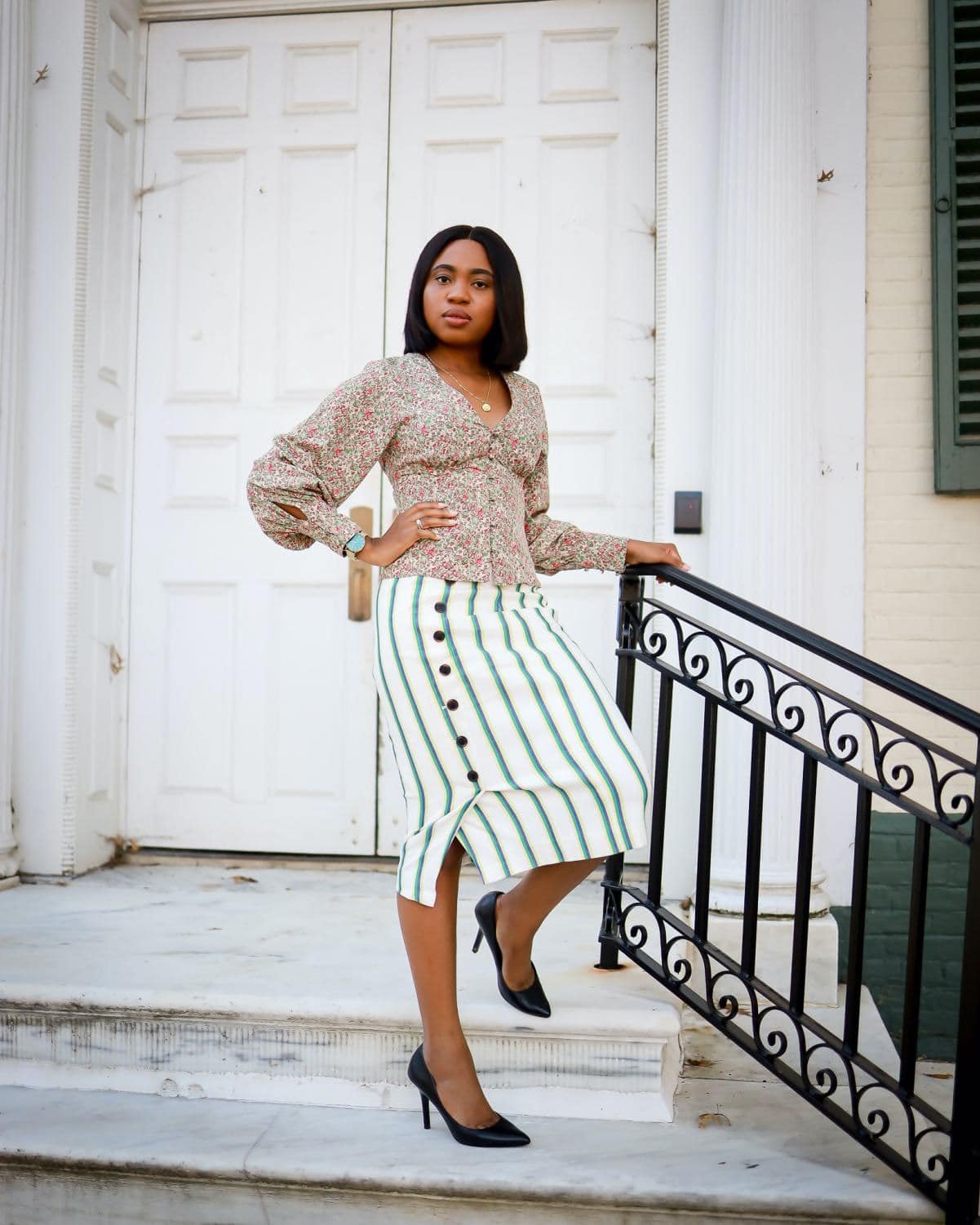 I am wearing:
Floral top | Stripe skirt | Earrings | Tote | Black pumps | Necklace
Oh and did I mention that the tote is reversible and is under $50? I might have forgotten to mention that crucial information in my Spanx posts. I love a good pair of classic black heels and sandals, these Nordstrom pumps have been a nice addition to my wardrobe.
Liked this casual work outfit with skirt? You'll love these related posts:
This is a sponsored conversation written by me on behalf of Nordstrom. All opinions expressed in this post are mine.