Brilliant Distressed Denim Overalls Outfit
This post may contain affiliate links which means I will get a commission if you make a purchase at no additional cost to you. As an Amazon Associate I earn from qualifying purchases. Please read my disclosure for details.
Hi friends, I thought I'd spice things up a bit by sharing this distressed denim overalls outfit with you.


While my exact overalls is no longer available, I found a few great options like this denim overall at a great price (under $30!). And my $25 braided slides is flying off the rack. If you've been thinking about getting a pair, it's on sale now here and here.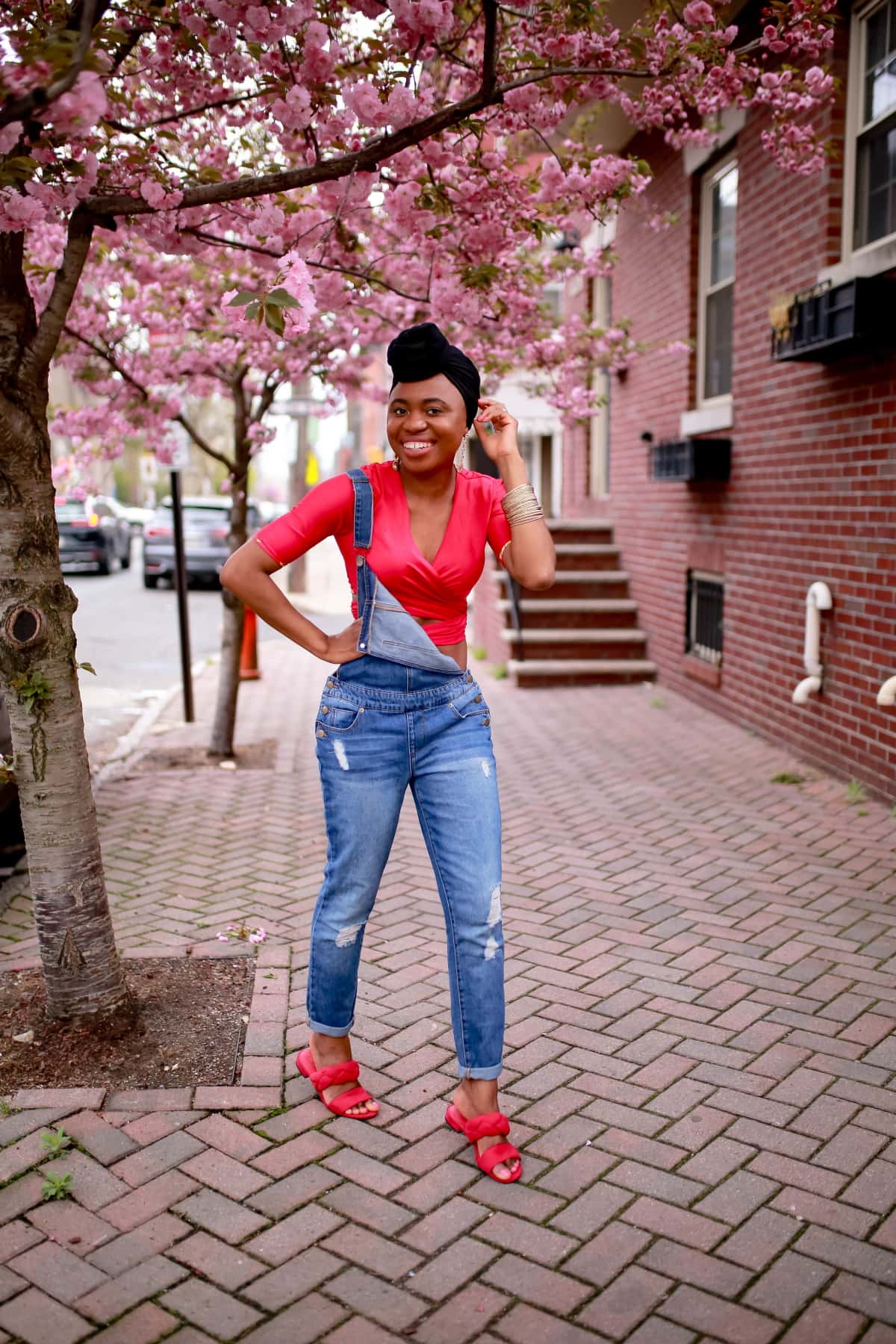 Shop The Look


For the last few years, I had this distressed denim overalls (similar) tucked at the back of my closet. And when summer came around, I did not get a chance to wear it before the weather got colder. That's what happens when you live in Alaska!


So this past weekend two of my girlfriends and I made a trip to Philadelphia where I took these photos with the glorious cherry blossom.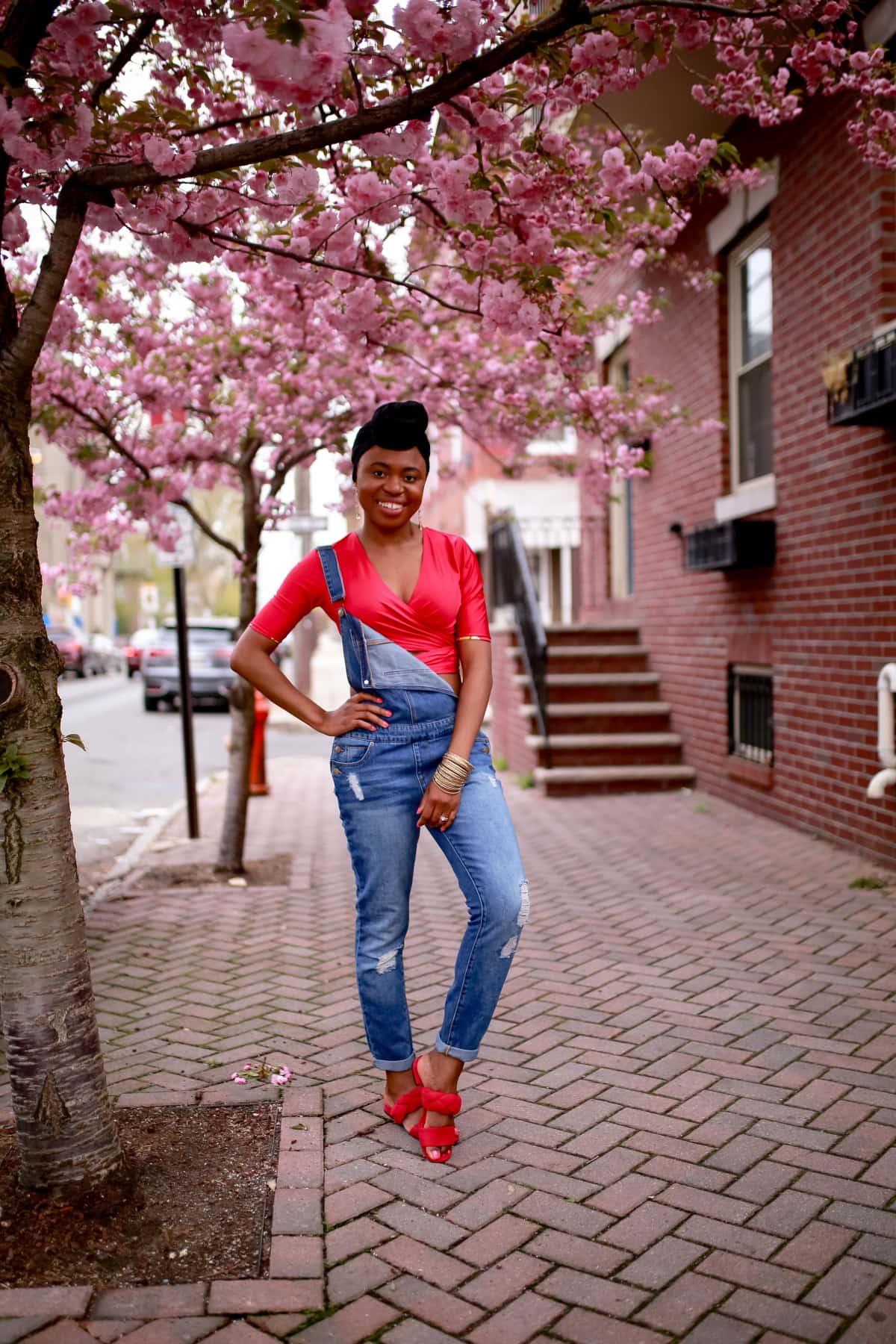 If you've been following on Instagram or on LIKEtoKNOW.it, you've already seen this outfit and this turban. Not following me yet? Let's make it official. Since unintentionally going natural, I've been on a hunt for protective and non-time consuming ways to make my hair work. Do you have any suggestions?


So on a whim, I ordered three head scarves: this orange-blue and this yellow-red African print scarf, and this solid black stretchy scarf. You'd think learning to tie a turban would be a daunting task, but you'd be wrong. A few YouTube videos later, I'm feeling almost like a pro. So until I figure out the next plan for my hair (maybe braids/wigs?), you will see this scarf on repeat. Sorry!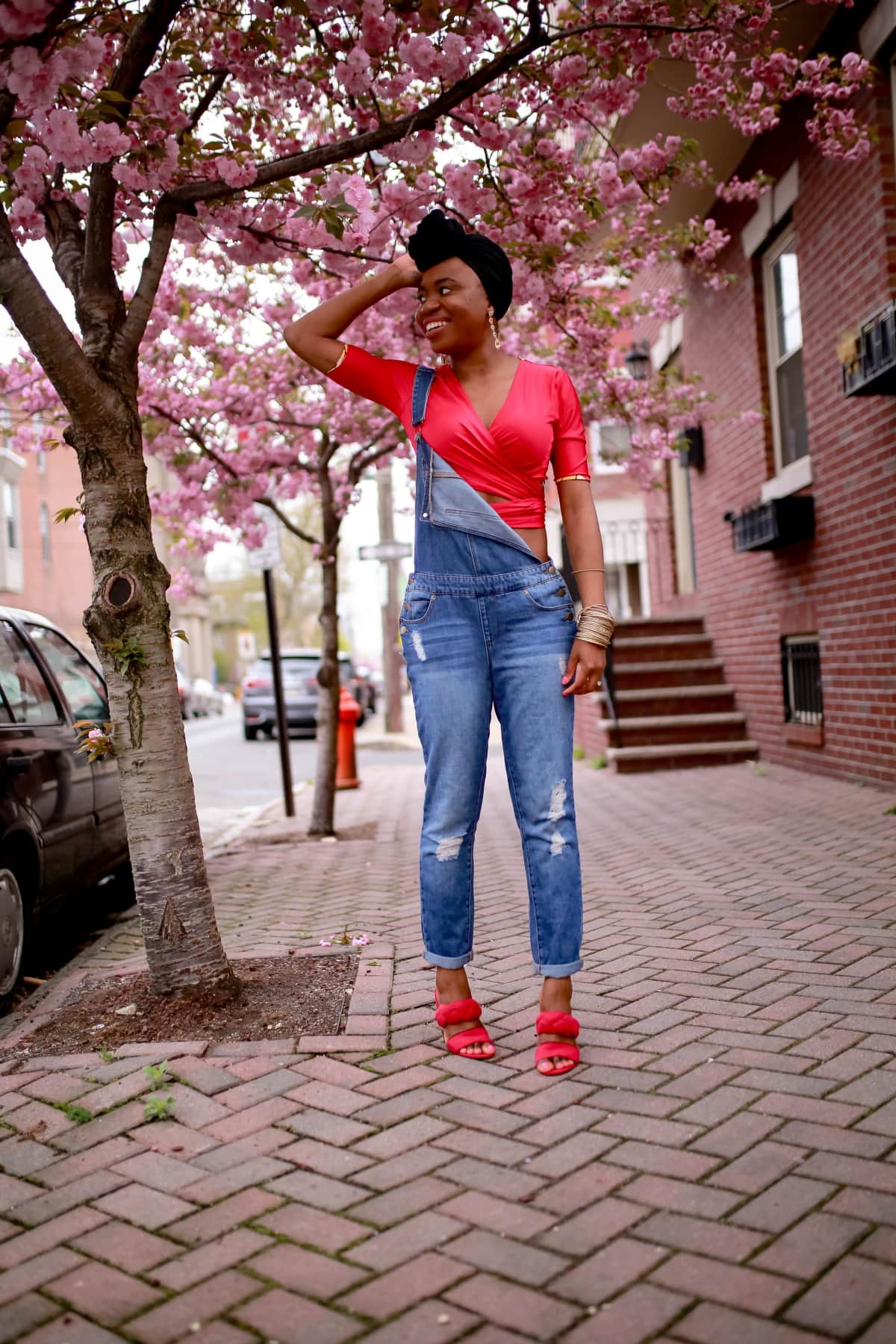 Speaking of the scarves, I had no idea that they were this affordable! I'm thinking of adding a few more colors to my arsenal. I bet this smokey gray option would go with almost anything. Would you like to chime in?


Anyways, I have to give myself a little pat on the back for putting this outfit together at the last minute. I pulled the stretchy wrap around crop top (similar) from my storage moments before I had to leave the house. Can you peep the hint of African print?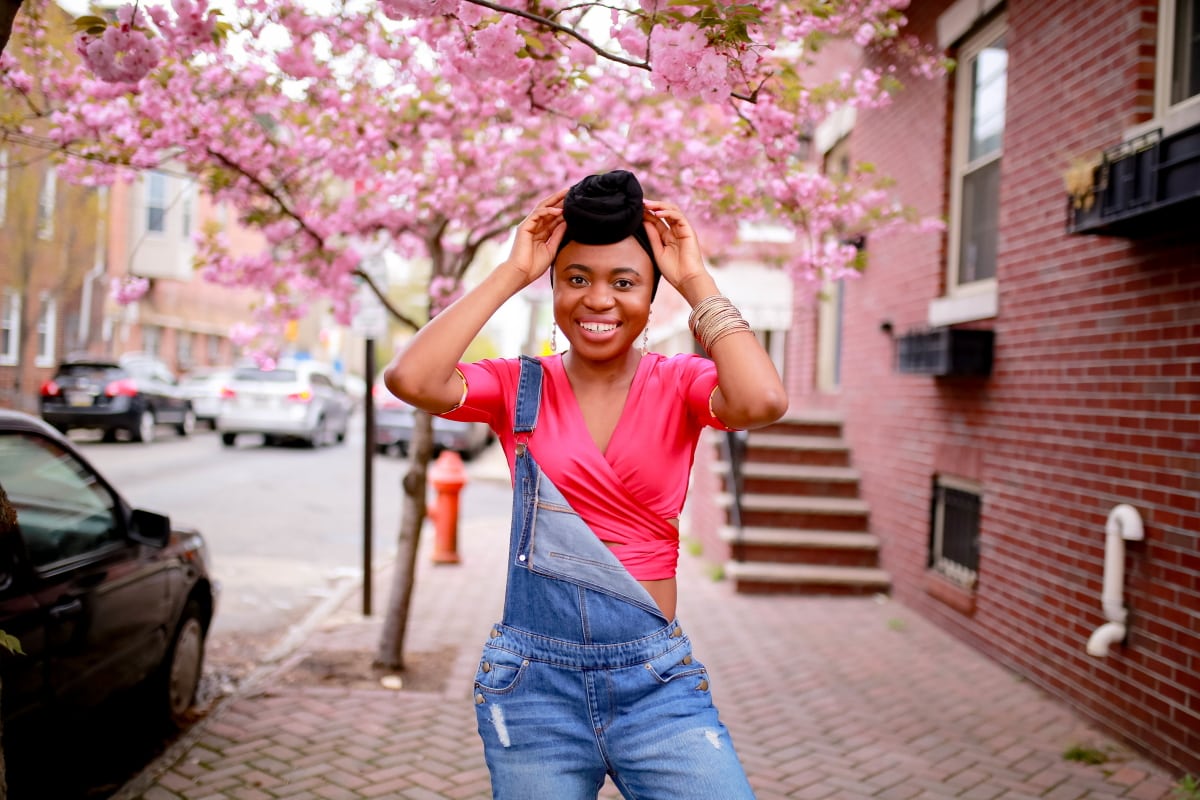 Better yet, do you remember the top from this African print post I wrote a few years ago? If it looks familiar to you, that's because it's one piece of the palazzo pants set from Nanayah Studio I styled in 2017.



Although that wrap around crop top with ankara print accent has since sold out, I found this $23 option that would look just as cute. You could even try this chiffon ankara print blouse too that just got restocked.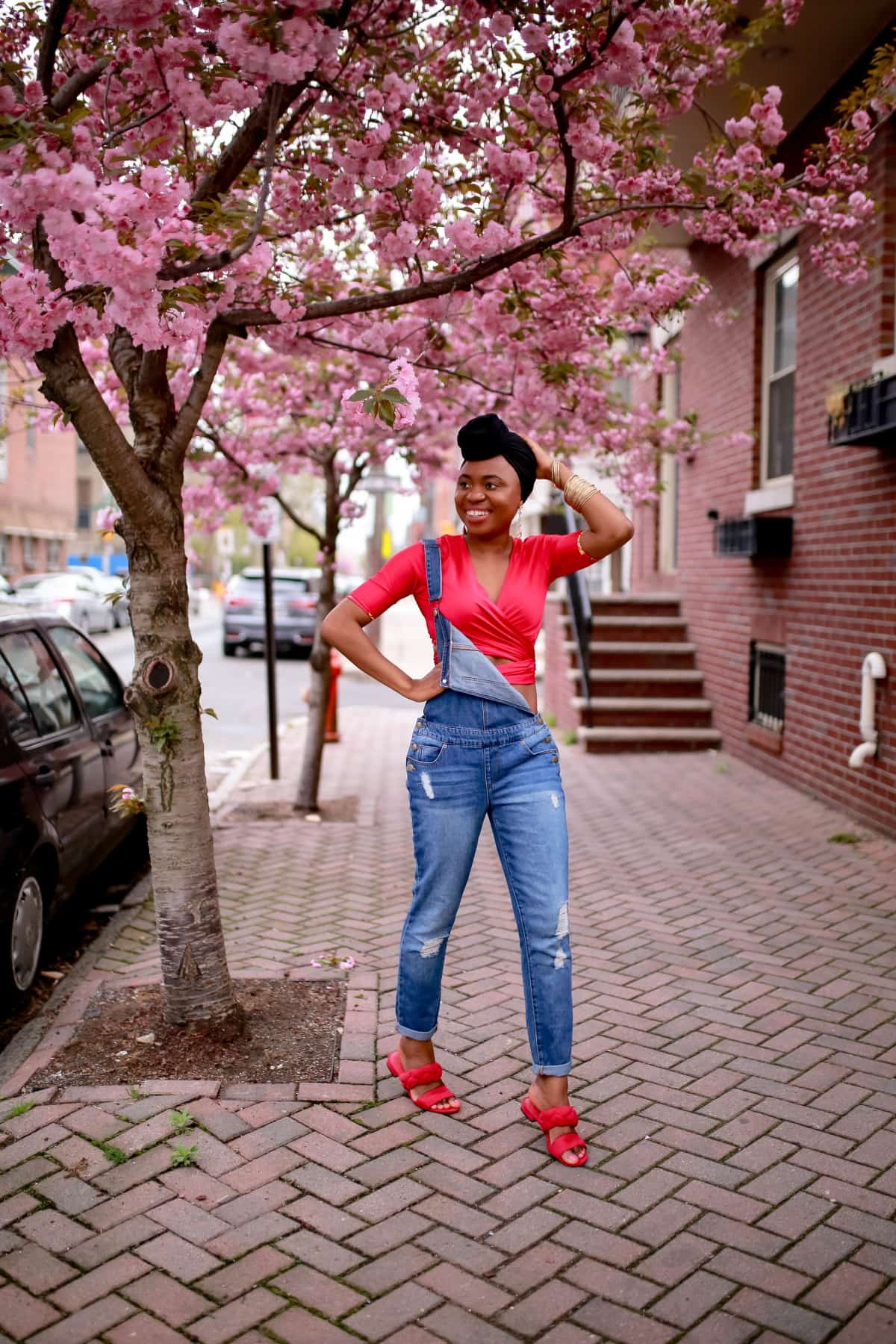 But if you're here for the distressed denim overalls, I got you too! You can wear denim overalls in so many ways. I got trapped on Pinterest perusing photos upon photos to dress up or down this workwear-inspired style.


For starters, you can pair denim overalls with a crop top as I did here. You can trade the crop top for a fitted tee or ever an off-the-shoulder long sleeve top for some cold shoulder action. I've even styled denim overalls with a funnel neck crop top and Converse.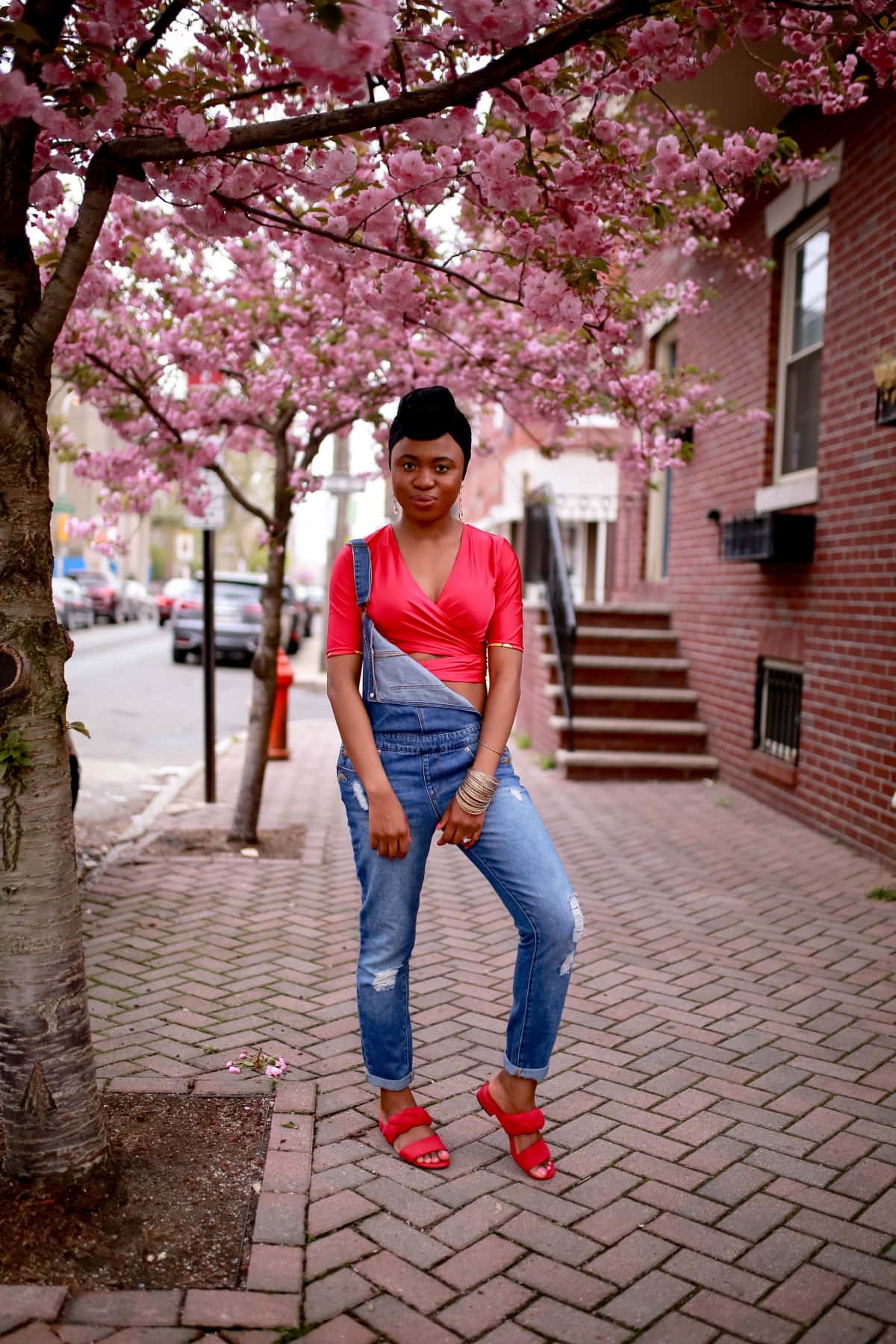 And tank tops are also a popular option especially once the summer heat hits! The key to wearing overalls like a pro is finding the right fit that does not bunch up into crotch balls as you walk.

If you want to make a statement, pair your distressed denim overalls with a ruffle top. No this is not a typo. Think long sleeve ruffle shirt (like this one), or a cold shoulder top with ruffle details.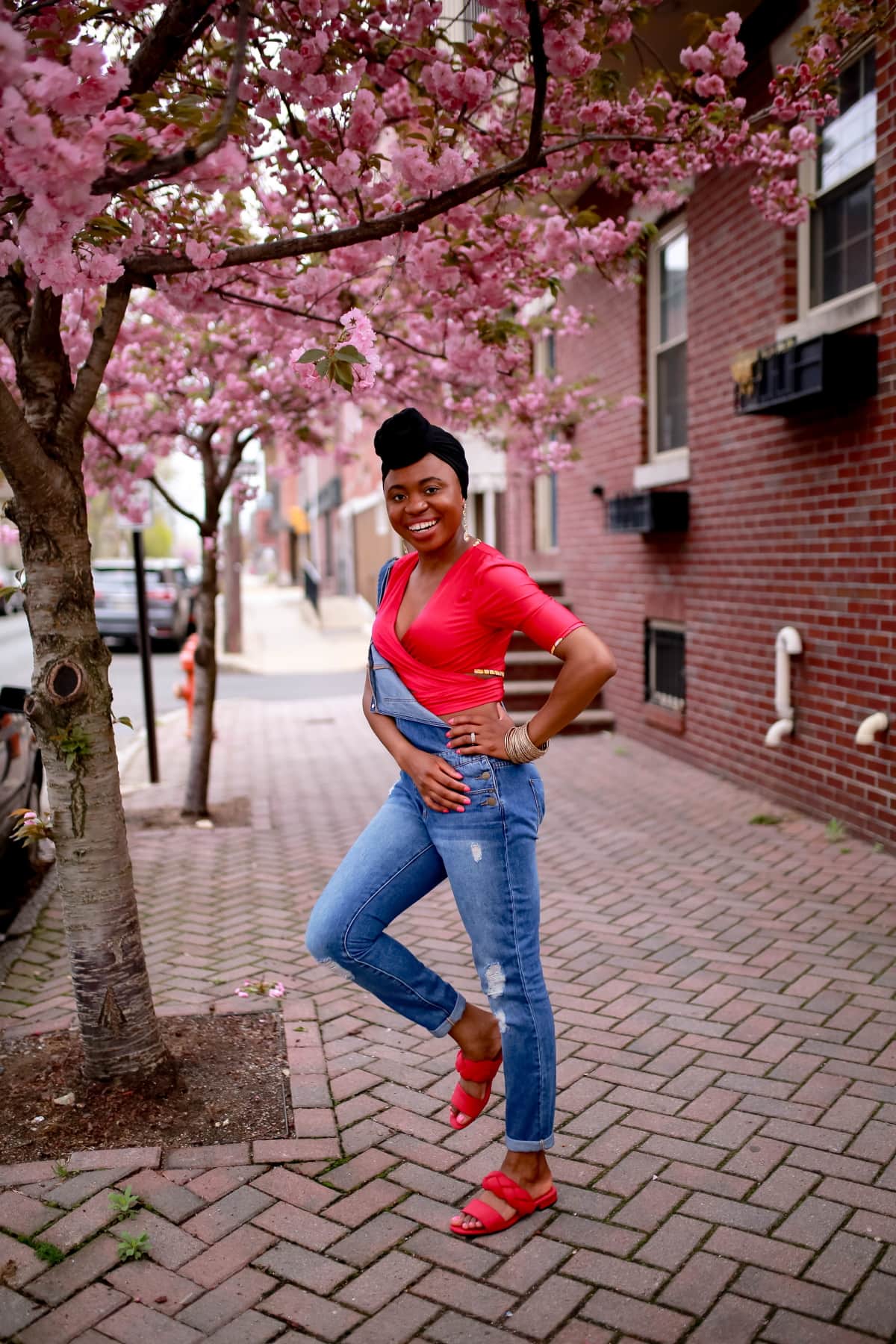 Mesh tops and cute little lace tops are a huuuge hit right now. And Amazon is no stranger to some affordable options. Try this non-trashy long sleeve $13 mesh top or this cute lace bodysuit. Want a dressier look? Pair this distressed denim overalls with pumps or heeled sandals and your favorite leather (or suede) jacket. Ah, the options! 😀


Who would have thought that I'd be inseparable from this Sam Edelman slippers! I almost returned them because I felt a size 9 would look better on me instead of the 8.5 I had ordered.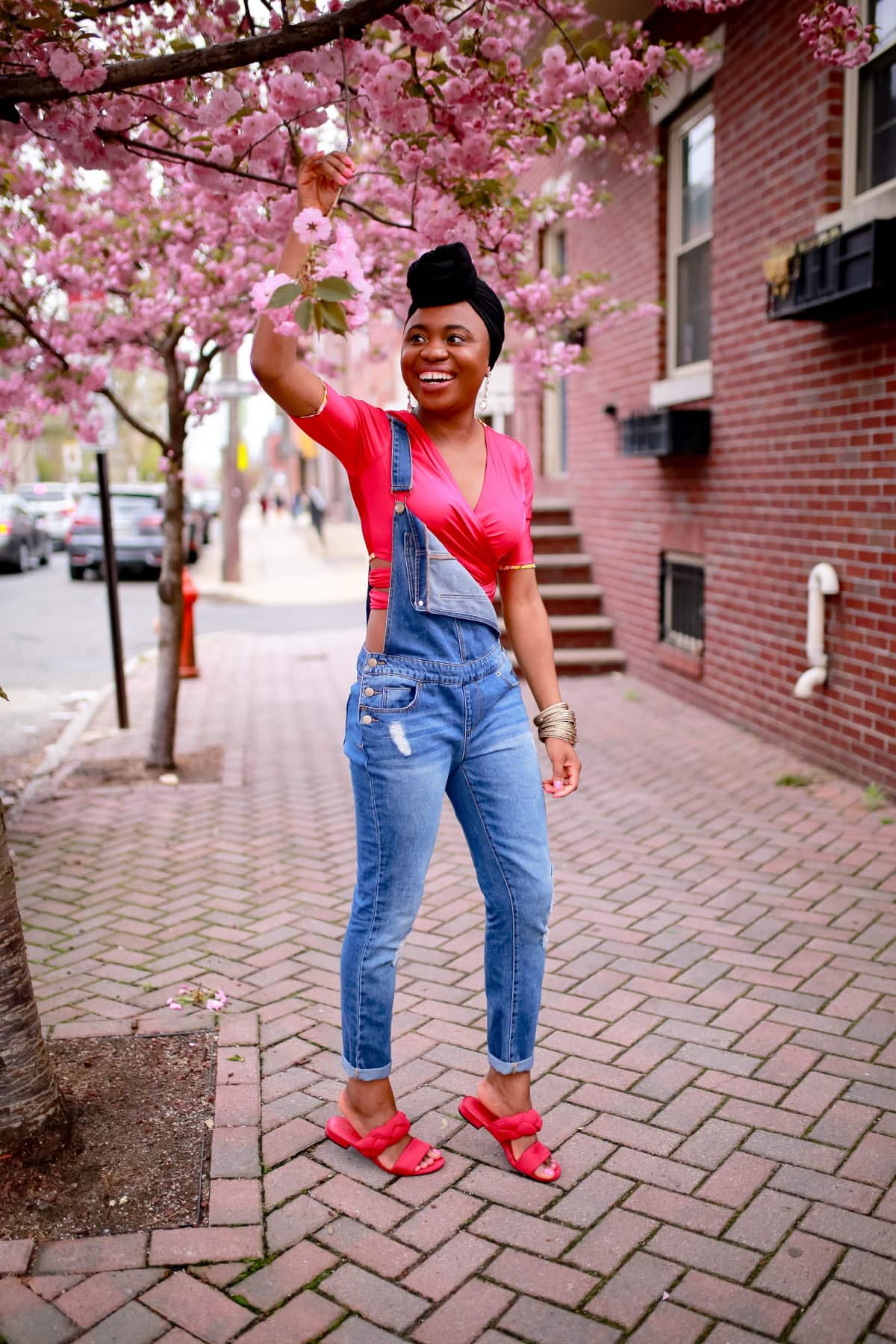 But when I asked, everyone thought it was a perfect fit. Size 9 sold out, so I decided to hold on to this pair. Now, the braided sandals is one of the first pairs of shoes I reach for when I'm heading out the door. And summer is not even here yet.


The slip-on sandals makes a great accent piece that is also fashionable and comfortable (amen!). It comes in several colors namely pink (a few sizes left), yellow, denim blue, and burnt orange, tan and black. Out of all of these the pink, yellow, and denim blue are my top picks. And it's on sale here!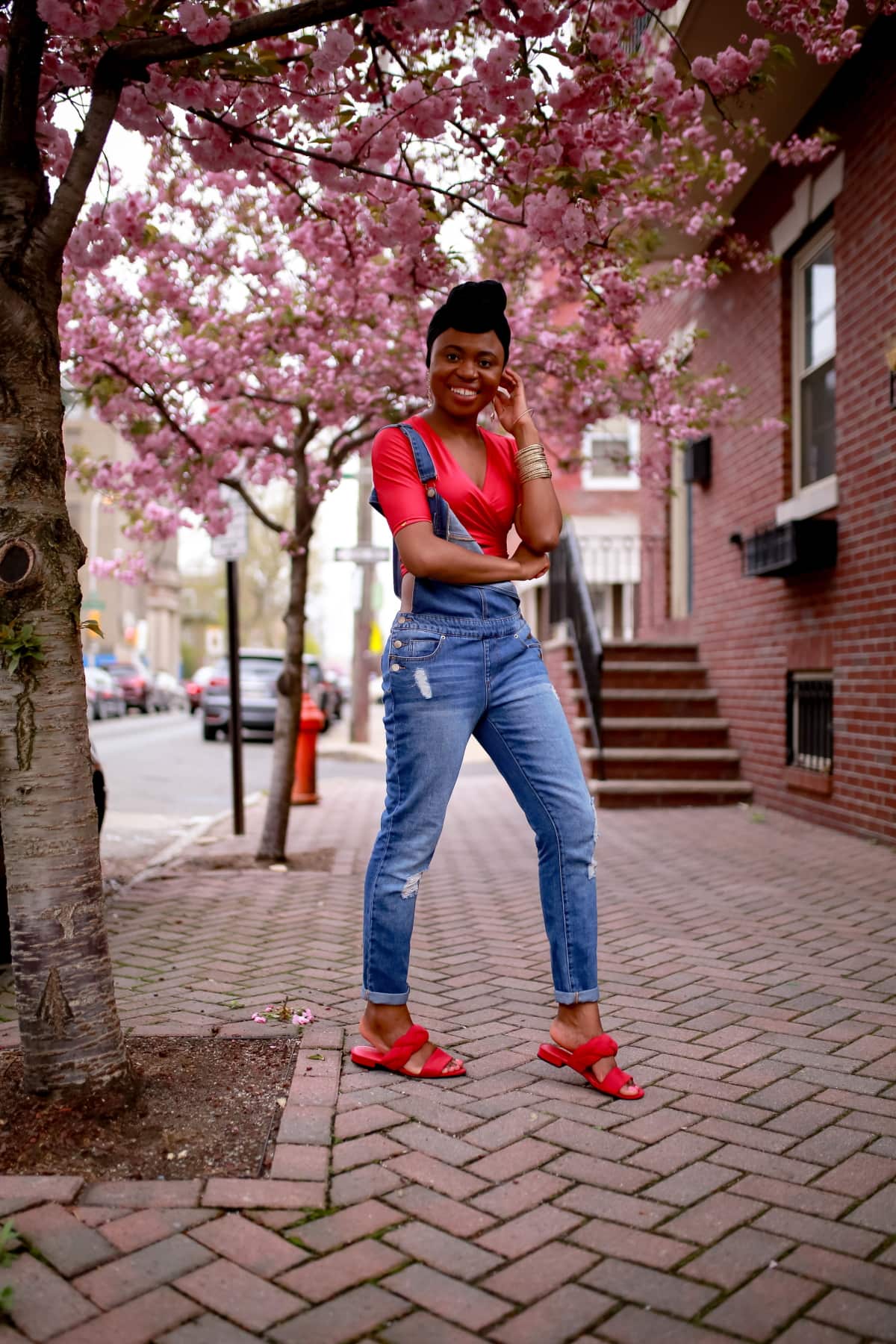 Denim overall outfits are laid back and effortless. You can always substitute the slides for this super popular cut-out flats, a pair of studded flats (under $30), or bow tie slip-on that are hot this season. Plus they ship free with Prime ( get free 30 days trial with this link).


If you're more into covered shoes, Converse sneakers will give you that youthful flare, or you could try these Golden Goose sneakers with weathered construction that everyone is talking about. It's on the spendier side though!?‍♀️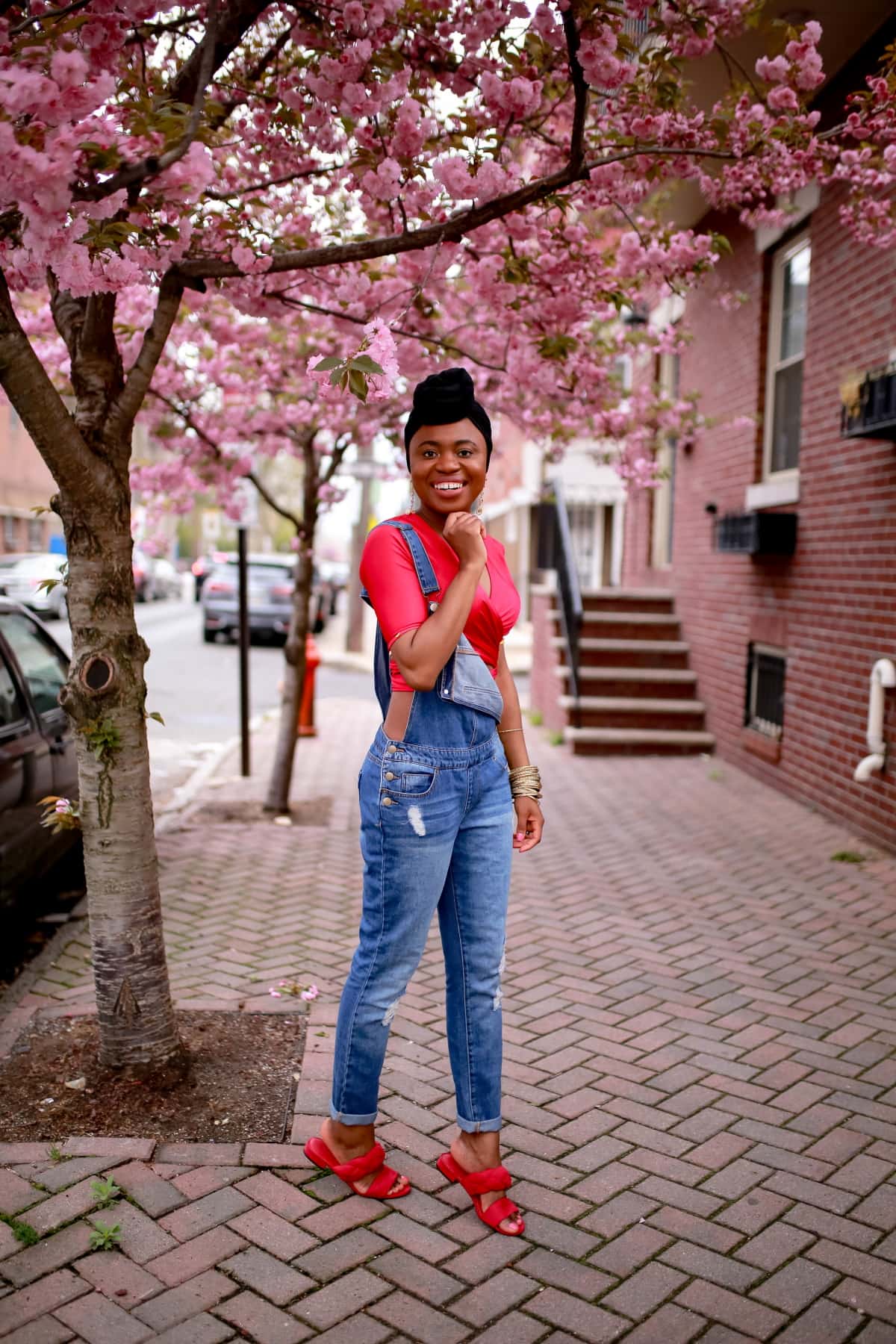 In terms of accessories and completer pieces, I could have worn a choker necklace (like this one I own) and even a crossbody bag or even a fanny pack (this one is cute) because they're back in style. But like I said, I waited too long to decide on what to pack/wear.


However, I remembered to grab some bangles (very similar) and these lightweight teardrop earrings. This is a brilliant distressed denim overalls outfit, if I do say so myself, 🙂


You may also like these posts: What to Wear with Pleated Skirt | A-Line Dress Outfit |
I am wearing:

Stretchy turban tie (exact)
Stackable bangles (similar)
Crop top (African print | other)
Denim overall (similar | similar)
Teardrop earrings (exact | similar for less)
Braided sandals (almost sold out | more here)

Photos by Emmalyn Love
P.S: Reading this post on your mobile device?


Be sure to download the LIKEtoKNOW.it and follow me "@lapassionvoutee" for exclusive, in-the-moment shoppable posts. Also, available on Android ? It's also the fastest way I can keep you updated on the latest sales and newest styles since blog posts take a lot of time to create. Here's what you've recently missed!