How to Wear a French Beret | 2018 Trends in Beret Hats
This post may contain affiliate links which means I will get a commission if you make a purchase at no additional cost to you. As an Amazon Associate I earn from qualifying purchases. Please read my disclosure for details.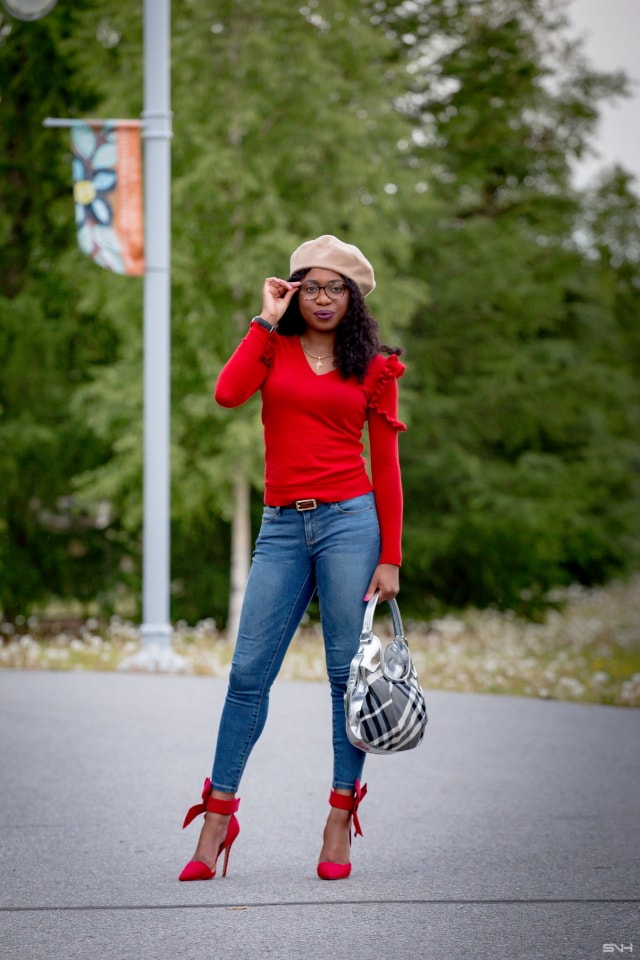 What a week! Today I am sharing this French beret outfit with you.
Shop The Look

The Nordstrom Anniversary Sale went live on July 12th. I'm not ashamed to say that I was one of those who stayed up to shop the sale. I was able to get my hands on the all the items I wanted before heading off to bed.
Lucky for me, the time difference put me at an advantage. The sale started at 3:01AM EST time which meant it was 11:01PM in Alaska.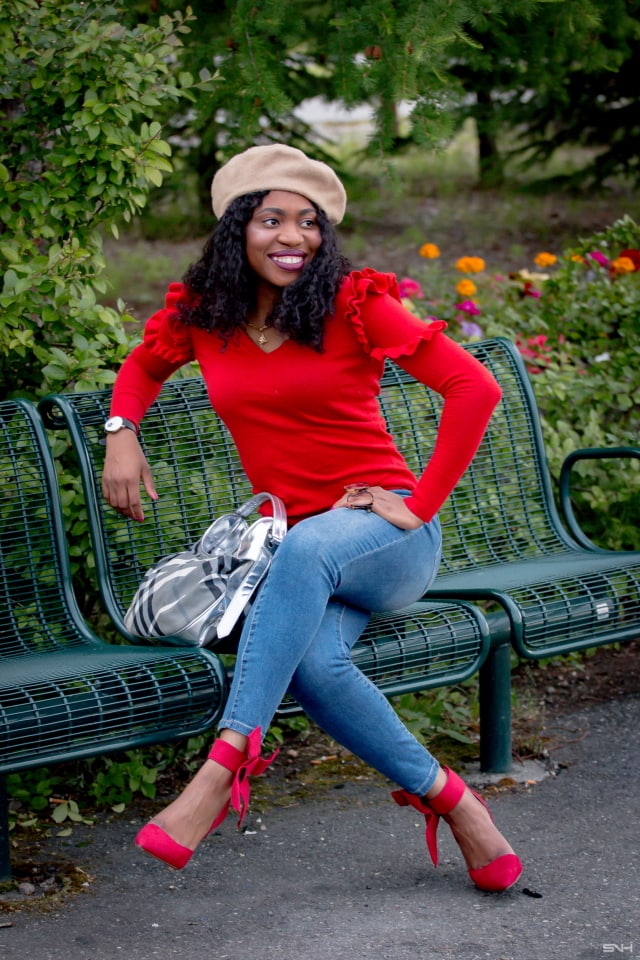 If you've never shopped the Nordstrom Anniversary Sale before and wondering why it is such a big deal, you can learn more about it here.
That said, work was great this week. I got to train in a new area of the pharmacy. And work next to a fellow Nordstrom shopper. We nerded out about the Sale and good food.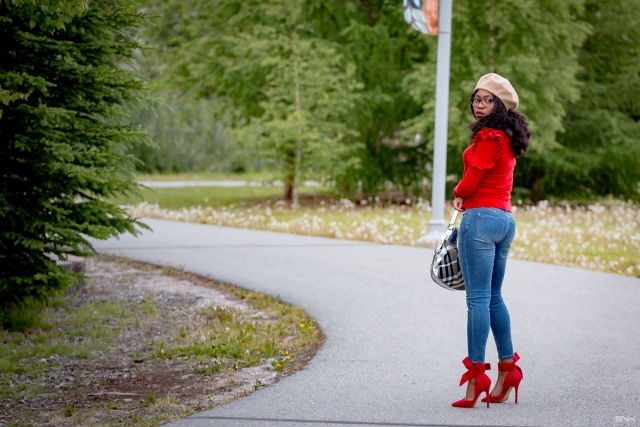 Back to the subject of this post, I've always had a thing for anything French. The culture, language and tradition are fascinating to me. It probably stems from my childhood of taking French lessons in class and over summer breaks. But it extends far beyond that.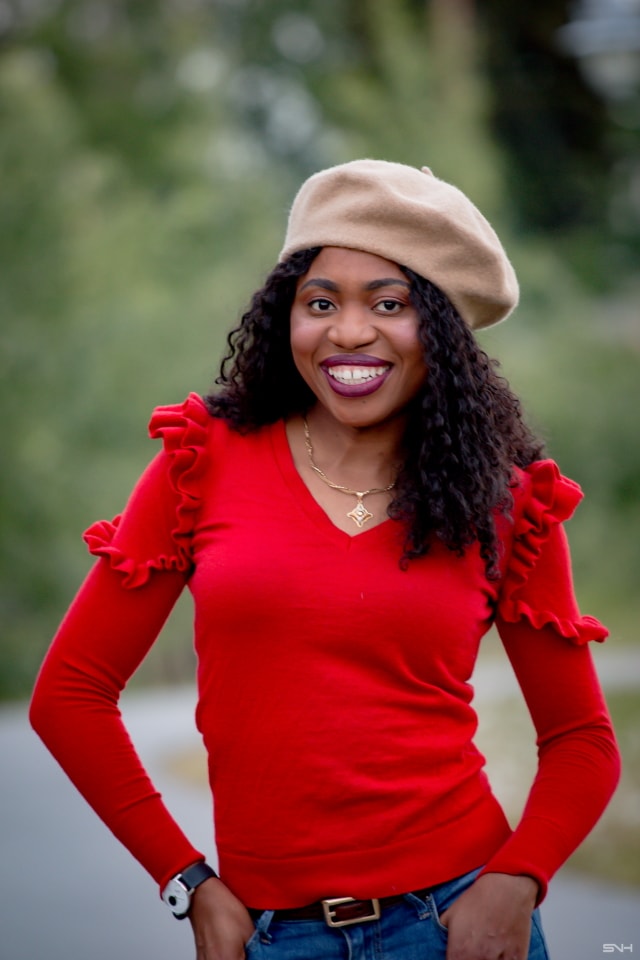 In college, I pursued a degree in pharmacy and a minor in French language. I even did two summer study abroad in France. It was during this trip that I fell in love with the French beret. And I even gave my blog a French name although I had no idea what it fully meant.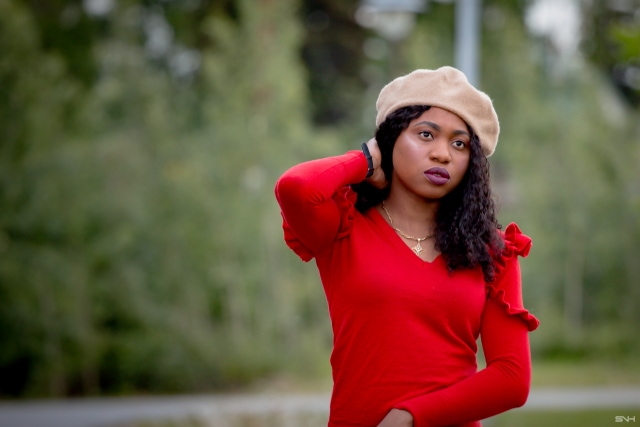 I purchased a red beret. A black beret. A tan, blue and even pink berets. Yeah, I know! ?One beret I did not buy was a green beret. I wanted to stay away from the "cliche". But in retrospect, I should have. Life is too short!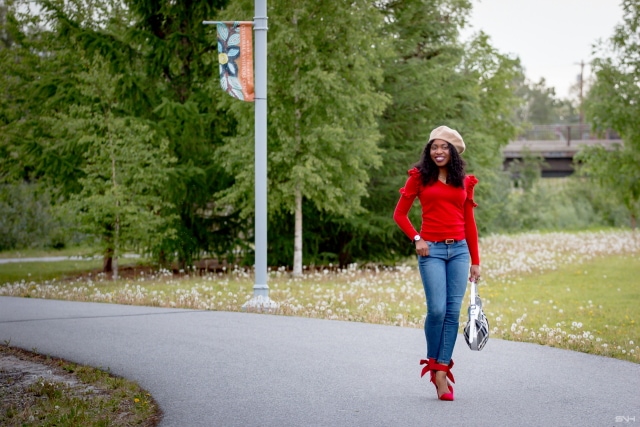 So what's the deal about the French beret?
French berets are making a major come back this year. This French hat is the perfect is sophisticated, mature and rugged with a feminine punch.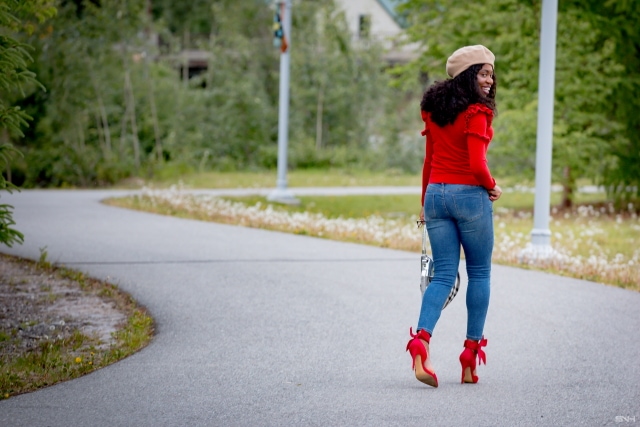 The French beret hat is one of the few accessories that can be worn the traditional way as a classic hat due, in part, to its tumultuous history. And as a current day accessory because of its adaptability and as a representation of our current political climate.
Not many fashion pieces have the ability to tell a narrative like a beret does!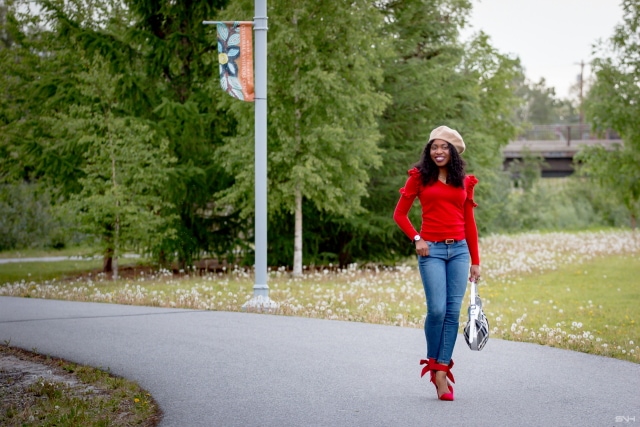 When can you wear a beret hat?
The great thing about wearing a French beret is that they can be worn in many different ways all year long. You've seen me wear a red beret in the peak of winter over in this post and with combat boots here. And in 2013 while in Normandy, France.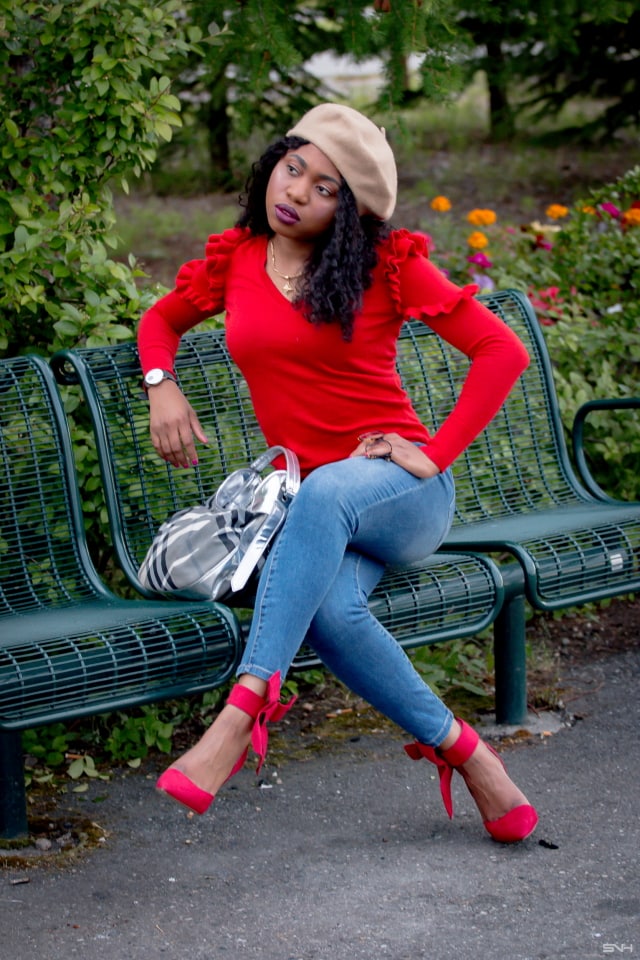 Another reason I love French beret is that this item is a timeless classic. I first wore a beret on the blog back in 2013. Five years later, I'm still rocking the same beret.
I made a video on 10 different ways you can wear a beret hat. This video is just under 1.5 minutes from a few years ago but the styles are just as relevant.
THE BEST STYLISH FRENCH BERETS THIS YEAR
Luxury designers like Chanel, Dior and Gucci have highlighted classic and refreshed beret styles as the "it" headwear this year. I've seen them with pompoms, mesh veil, pearls, as animal prints and multi-colored options.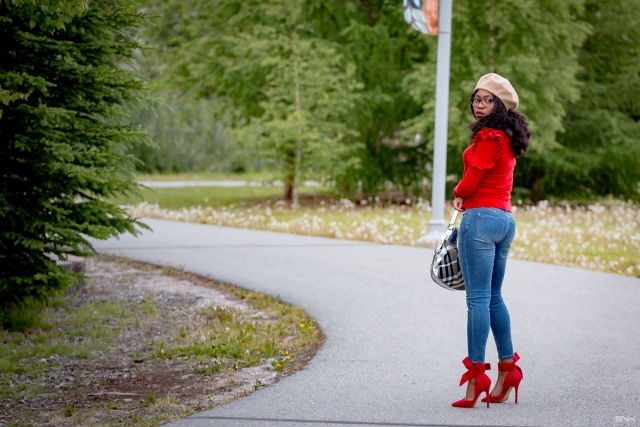 Celebrities like Rihanna caught wind of this trend too. Rihanna was spotted wearing a Dior black leather beret.
I found this BP. color-blocked wool beret during the Nordstrom Anniversary Sale. With excitement, I ordered the beret and can't wait to share a fun look with you once it arrives.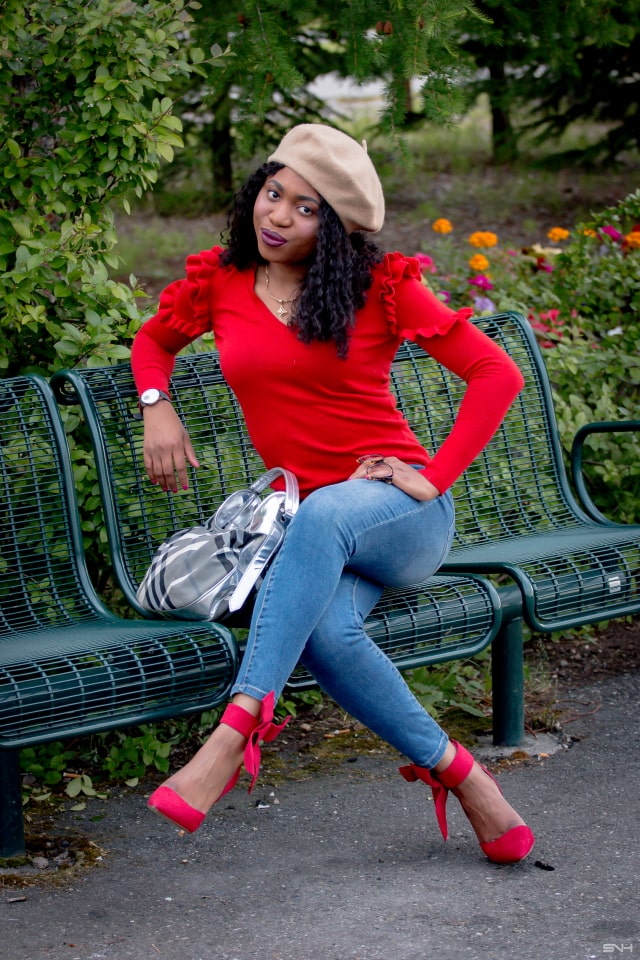 These are some of the hottest French berets guaranteed to take your look from bland to chic this season.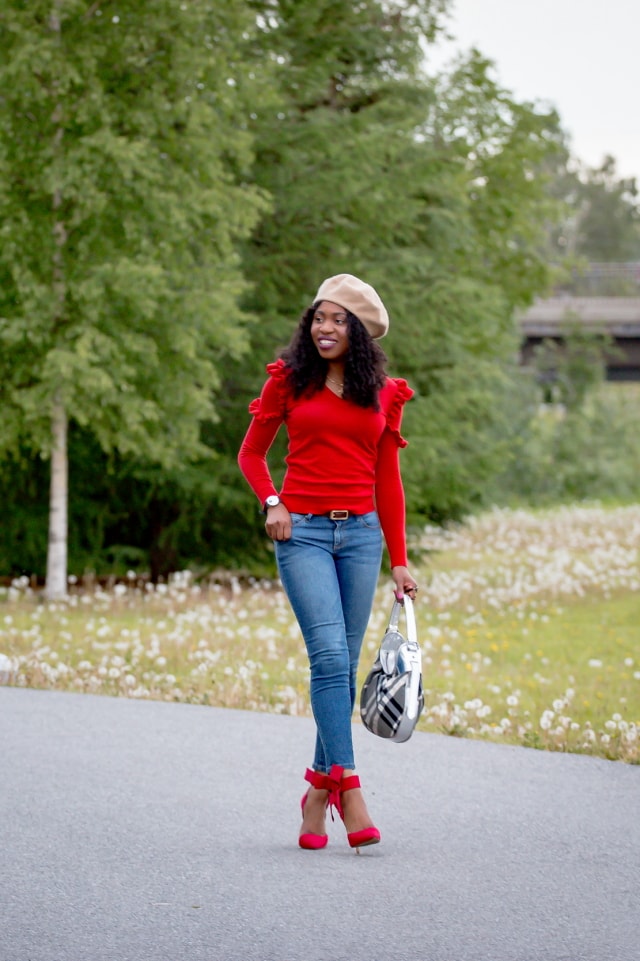 You may also like these posts: Longline Coat Outfit | Combat Boots  Outfit |
I am wearing:
Bow suede heels (exact)
French beret hat (exact)
Burberry purse – old (similar)
Long sleeve ruffle shirt (exact)
Ankle grazer denim jeans (exact)
Photos by SNH Photos
PIN FOR LATER!