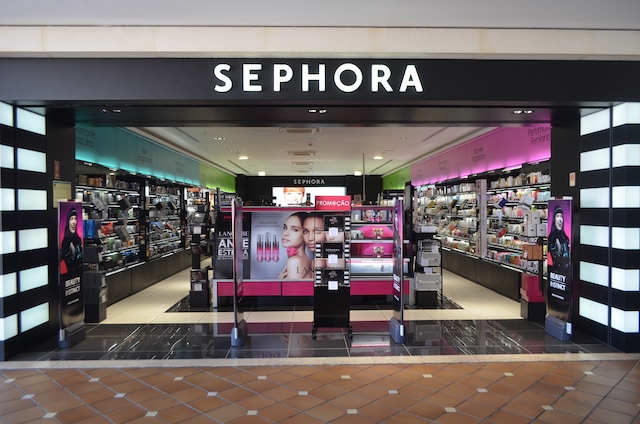 Let's be real, aging is not always fun. But we can't all stay young forever. One of the perks of having a birthday is the gifts you get.
Whether or not you get birthday gifts from friends or family, you can count on getting a special Sephora birthday gift.
[lookbook id="14187″ show-legend="false" show-desc="true" show-reveal="true"]
And this year, the Sephora birthday gift 2019 has us excited turning a year older. The beauty and skincare brand recently released some of the best 2019 birthday gifts for Sephora members.
Not a Sephora VIB member yet? Join here, it's FREE!
2019 Sephora Birthday Gifts
1. KAT VON D BEAUTY
As someone who swears by Kat Von D liquid lipstick, I'm not surprised to see this brand as one of the gift options for all Sephora insiders.
This Sephora birthday gift 2019 includes a sample collection of Kat Von D's Studded Kiss lipsticks, a Lock-It Setting Powder, and a Tattoo Liner in shade Trooper.
Products:

This Sephora Birthday Gift 2019 is available to Sephora Insiders, VIB, and VIB Rouge members.
2. DRUNK ELEPHANT
If you read my Sephora Beauty Insider Appreciation Event post, you'd know that Drunk Elephant skincare collection was a hot pick. This brand that every self-professed beauty lover promises give excellent results. Heck, my coworker is obsessed with Drunk Elephant too.
To see not one but two Drunk Elephant minis included in the 2019 Sephora Birthday Gift is like having Christmas all over again. This gift set is available to all membership levels and includes Drunk Elephant mini Protini Polypeptide Cream and Beste No. 9 Jelly Cleanser.
Products:

This Sephora Birthday Gift 2019 is available to Sephora Insiders, VIB, and VIB Rouge members.
3. JO MALONE LONDON
If you love and appreciate a good scent and have earned the coveted VIB or VIB Rouge status, you'd want to scoop up this exclusive March birthday freebie. The Jo Malone London Peony & Blush Suede Cologne with its exquisitely luxurious and seductive fragrance is a best-seller.
At a retail price of $136, over 10,000 hearts, and a 4.5-star rating, this Sephora birthday gift is your chance to get a piece of this goodness.
Although this Sephora March freebie is only a single product, the value is worth its weight in gold (and fragrance). And it includes a generous 9mL Mini Jo Malone Peony & Blush Suede Cologne. This birthday goodie is even bigger than my monthly Scentbird perfume subscription (Is Scentbird Worth it?).
My point is, if you love cologne and you're a March baby, this might be the perfect FREE birthday gift.
Product:

This Sephora Birthday Gift 2019 is available to: VIB and VIB Rouge members.
MILK MAKEUP (JANUARY/FEBRUARY)
For the beauty and skin care lovers who have earned their VIB or VIB Rouge status (learn how below), you get an additional freebie option for this year's Sephora birthday gift. This third birthday gift option will rotate throughout the year and will be available in the new Sephora online Birthday Boutique.
For January, VIB and VIB Rouge can get the birthday freebie of a collection of MILK Makeup. If these products are anything like the MILK charcoal mask, then it's going to be an excellent choice for January babies.
This MILK Makeup duo includes a mini CBD mascara and a mini Cooling Water gel stick. Don't worry, you have all year to get to VIB and VIB Rouge to become eligible for additional Sephora perks like special discounts and early access to sales.
Products:

This Sephora Birthday Gift 2019 is available to VIB and VIB Rouge members.
4. 250 BONUS POINTS
Last and certainly not the least is the option of converting your birthday gift to 250 Sephora points. This option, like the MILK Makeup collection, is only available to VIB and VIB Rouge members.
Although it is incredibly hard to pass up on this year's gift options, converting your gift to Sephora points might be the way to go if you want to stack up your points to cash in for something bigger.
This Sephora Birthday Gift 2019 is available to VIB and VIB Rouge members.
How to become a Sephora Beauty Insider
Anyone can signup to become a Beauty Insider. To become a VIB (Very Important Beauty Insider), you'll have to spend $350 in a calendar year (January 1st – December 31st).
And to attain the highly coveted VIB Rouge status, you'll have to spend $1,000 in a calendar year.
Scary as it sounds, getting the VIB status is not that hard when you shop almost exclusively at Sephora and get only the essentials you need. And if you're a makeup junkie, you'll get the VIB Rouge in no time.
Not a Beauty Insider yet? Scoop the benefits of Beauty Insider level including the Sephora birthday gift 2019 below and join for free here.
Also, all members get access to:
It costs you nothing to become a Beauty Insider. You should join before your birthday to guarantee that you get 2019 Sephora birthday gift: Kat Von D collection, Drunk Elephant skincare duo, MILK Makeup set, or a Sephora 250 bonus point.
Not many things in life come free. However, the 2019 Sephora birthday gift is one of those free, no-strings-attached goodies. Your birthday month looks promising 😀
How to Claim your 2019 Sephora Birthday Gift
To get your birthday gift, you must sign up to be a Beauty Insider. Then, provide your birthday in this section. 14 days before and after your birthday, you can claim your 2019 Sephora free gift.
There are two options to claim your Sephora birthday gift. The first option is to claim your gift with an online order. And the second option is to go in-store to claim your reward (no purchase necessary).
To Claim your Birthday Gift Online:
Go to Sephora.com and add an item (or more) to your shopping cart. Not sure what to order? Check out this list of the best skin care products to get from Sephora.
Now, navigate to the Sephora Birthday Gift 2019 official page here and click "Choose Your Gift"

The selected birthday gift of your choice should appear in your cart (no coupon code is needed)
P.S: Don't forget to add your 3 free samples with your online order.
To Claim your Birthday Gift In-store:
Don't feel like placing an order? You're covered!
Go to a Sephora store and provide your membership card to a Cast Member. Alternatively, you can provide your phone number or registered email address to look up your account. You might be asked for proof of identification.

Then ask for your 2019 Sephora birthday gift and any other available options.
The benefit of going in-store is that no purchase is required.