Spanx Jean-ish Ankle Leggings Review: Are Spanx Jeans Any Good?
This post may contain affiliate links which means I will get a commission if you make a purchase at no additional cost to you. As an Amazon Associate I earn from qualifying purchases. Please read my disclosure for details.
I couldn't decide if I wanted to just stick with this Spanx Jean-ish Ankle Leggings review or share an outfit with you today. Since I couldn't decide, I figured I'd do both in this post.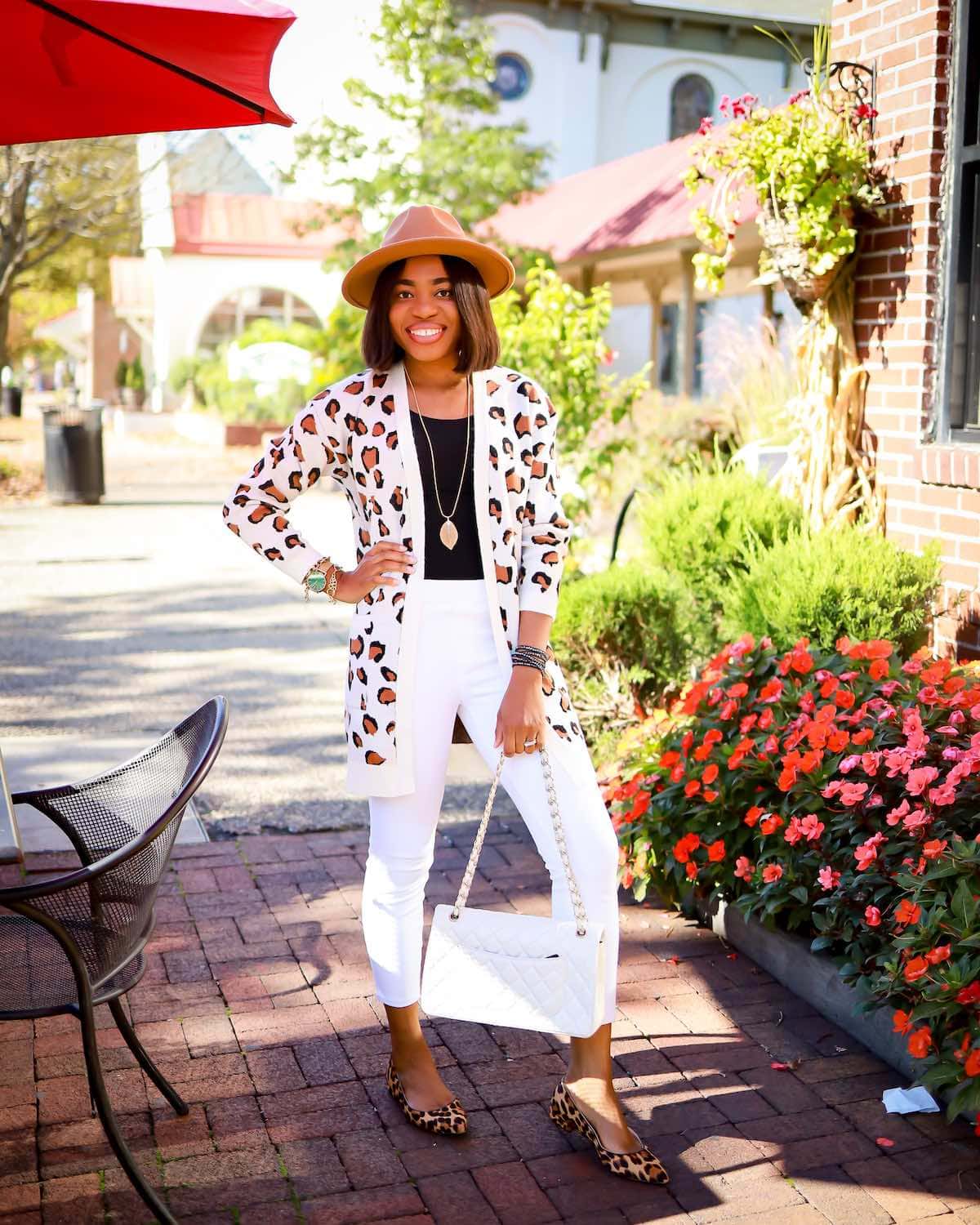 Shop The Look


It's hard to say no to animal print clothes especially when it's a cute under $40 cozy sweater. I was attracted to the unique contrast of this cardigan. The leopard print against a white canvas spoke to me. Even more, this cozy sweater has two conveniently-placed front pockets 🙂
Underneath, I'm wearing this seamless bodysuit. My number one concern with bodysuits is that most of them create an unsightly VPL (visible panty line). But seamless bodysuits, although hard to find, make your outfit look much neater without drawing attention to your derriere. The black color of the bodysuit tones down the white color while making the entire outfit feel more grounded.
I'm also wearing these best-selling ballet flats in leopard print. You'll notice that the leopard pattern and dominant colors of the cardigan and ballet flats are different. But they pair nicely together. They are also at two "ends" of my body separated by a solid color that eases the transition from one print to another.
The finishing touch is a purse and a hat to show you what a head-to-toe ensemble would look like if you went all out. The $15 leaf necklace fills the void around my neckline while drawing attention to my head.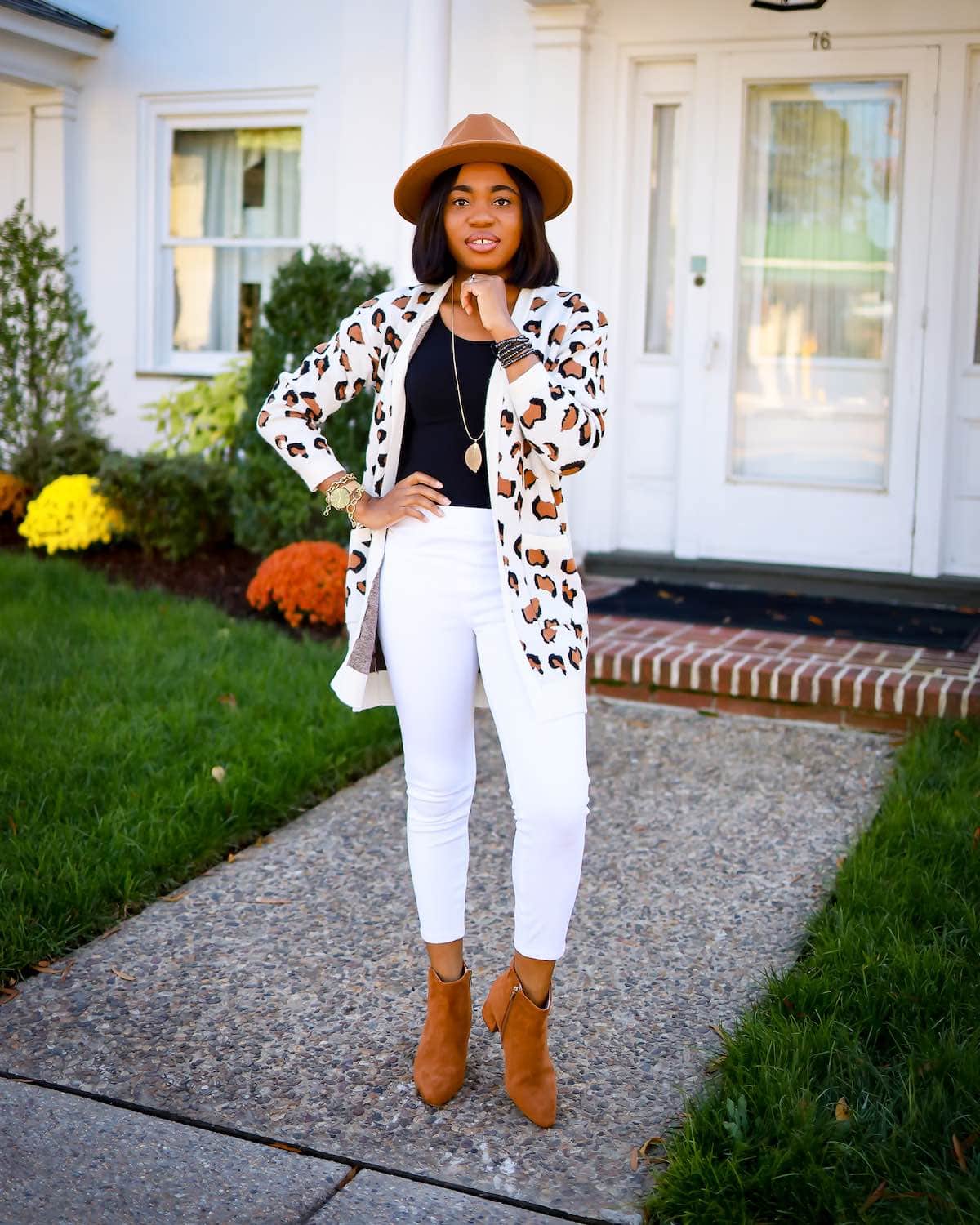 If we have to judge this outfit by compliments, I received a few of those from stylish teenage girls while shooting this look. I also did a quick shoe swap to help you visualize what this outfit would look like with ankle boots. I prefer the pairing with the ballet flats but the booties are still a fine option.
With more and more people working from home, there has been a huge transition from work pants to loungewear clothes and leggings. Many leggings brands like Spanx, Lululemon, and Gymshark, just to name a few, have become the work from home clothes for many of us.
Chances are that you've heard about the classic Spanx faux leather leggings. No? Get the scoop about these Spanx leggings here.
I love and wear the classic Spanx faux leather leggings, but are the Spanx Jean-ish Ankle Leggings worth it? The short answer is: YES, the Spanx Jean-ish Ankle Leggings are worth it.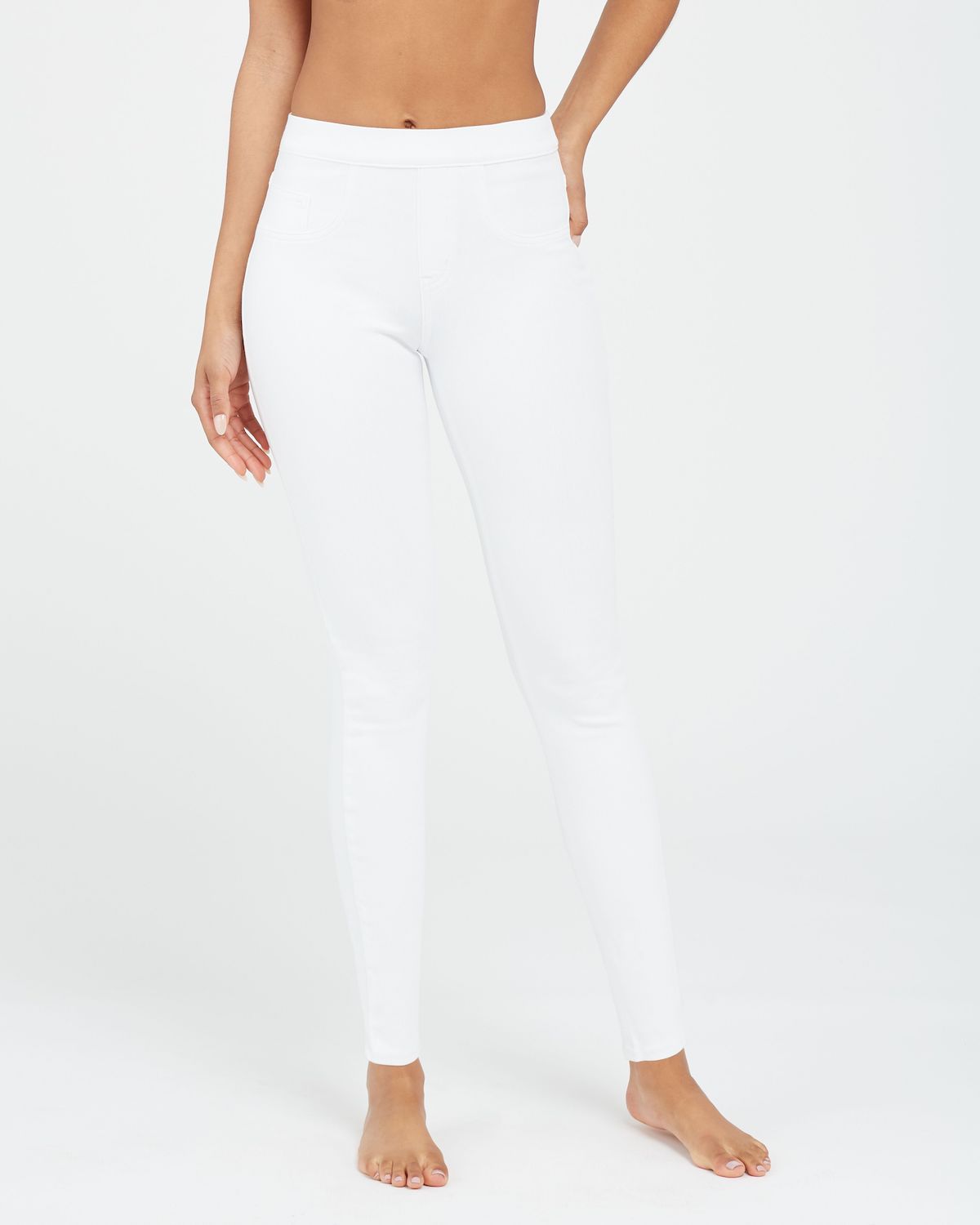 And.. the long answer? Well, it depends on who you ask. Keep reading this Spanx Jean-ish Ankle Leggings review for a detailed review and some things to consider about the Jean-ish leggings.
Spanx Jean-ish Ankle Leggings Review
I am wearing these Spanx Jean-ish leggings in a size small petite in the classic white color. The Twilight Rinse and Cocoa would be a fabulous alternative to the everyday white or black rinse (am I allowed to use that word for leggings/jeggings?). And the Houndstooth is a fine catch if you like patterns or need a non-solid bottom.
For reference, I am 5″5 and roughly 135 lbs. I typically wear a size 4 (S).
These Spanx leggings sorta remind me of my favorite work pants (Betabrand yoga work pants) because of the stretchy yet comfy texture and lack of belt loops. This eliminates the unnecessary bulk around the waistline (yay!).
Judging from the inseam of the jeggings on me, you can see that it has a 3/4 fit on me (I'm wearing the petite inseam). Since I'm right at the cusp of petite and regular inseams, this makes total sense. I actually like the fit this way because it's always hard for me to find "true" 3/4-length pants and denim.
All this is to say that if you fall right in the middle of regular or petite, you should get your usual size and inseam if you want the leggings to hit right at your ankle.
Spanx Jean-ish Ankle Leggings Details
Style: Spanx Jean-ish Ankle Leggings – Size S Petite (true to size) – White
Inseam: Regular – 27.5", Petite – 24.5″, Tall – 29.5″
Material: Body: 69% Cotton, 26% Polyester, 5% Spandex/Elastane. Lining: 57% Spandex/Elastane, 43% Nylon
Price: $98
Sizes: XS to 3X (Petite, Regular, Tall)

Genuine Spanx Jean-ish leggings are available at Spanx (free shipping + 10% off with code LOUISA10), Nordstrom (free shipping/return), Zappos (free shipping/return) and Amazon (free shipping/return with Prime).
PROS
Trans-seasonal
Soft and Comfy
Does not sag
Versatile
Multple colors
Multiple inseams
CONS
Price (just like most Spanx leggings)
Faux front pockets (I love pockets)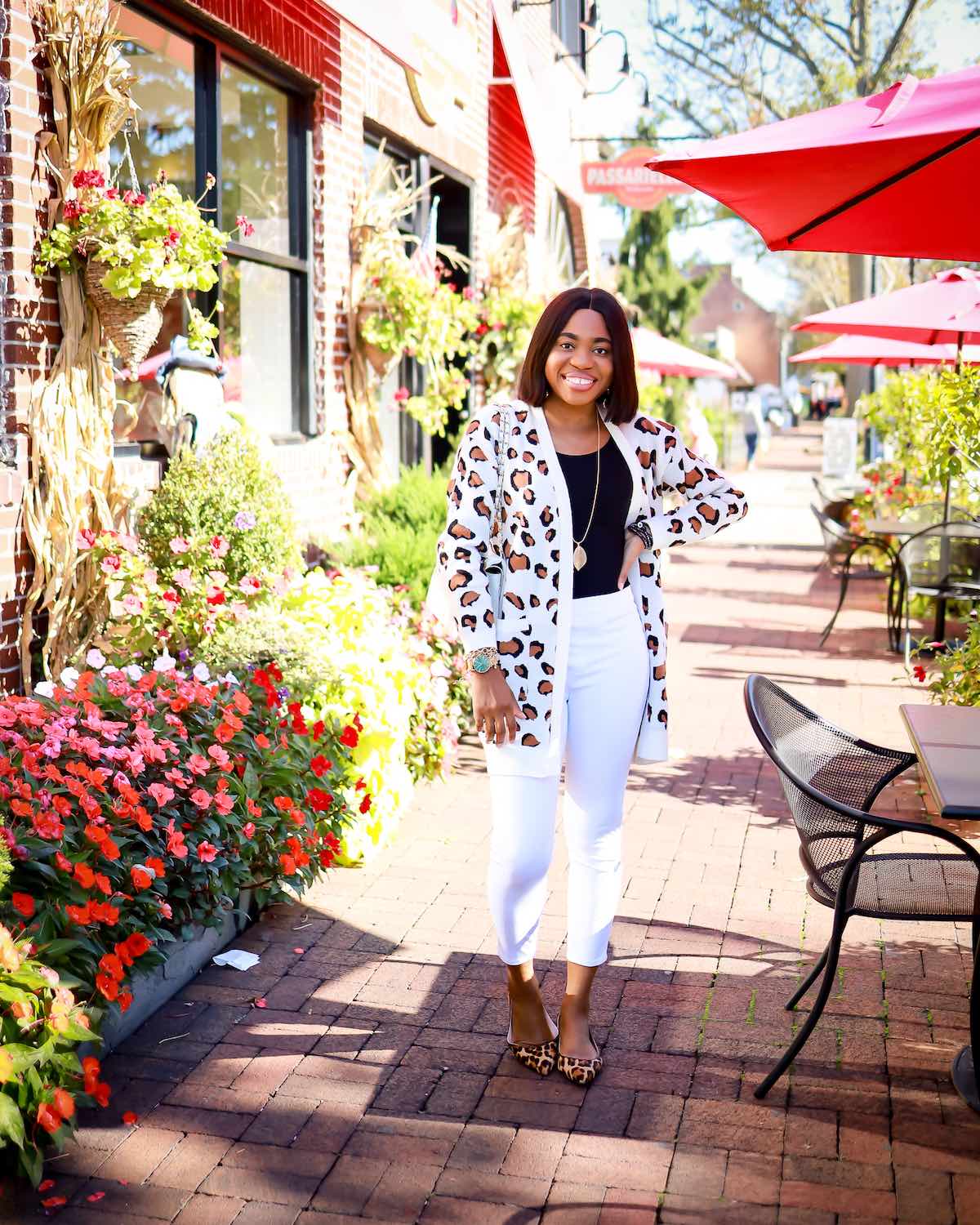 Are Spanx Jean-ish Ankle Leggings Worth the Money?
Yes, the Spanx Jean-ish leggings are worth the money. Priced at $98, these pants are slightly cheaper than some Spanx leggings and work pants. They feel like leggings but look like jeans (aka jeggings).
Although I won't trade my Lululemon leggings for this denim, the Jean-ish ankle leggings are soft, versatile, and size-inclusive. The color options offer neutral hues and patterns that can be worn in the office (even if your workspace is your laptop and dining table).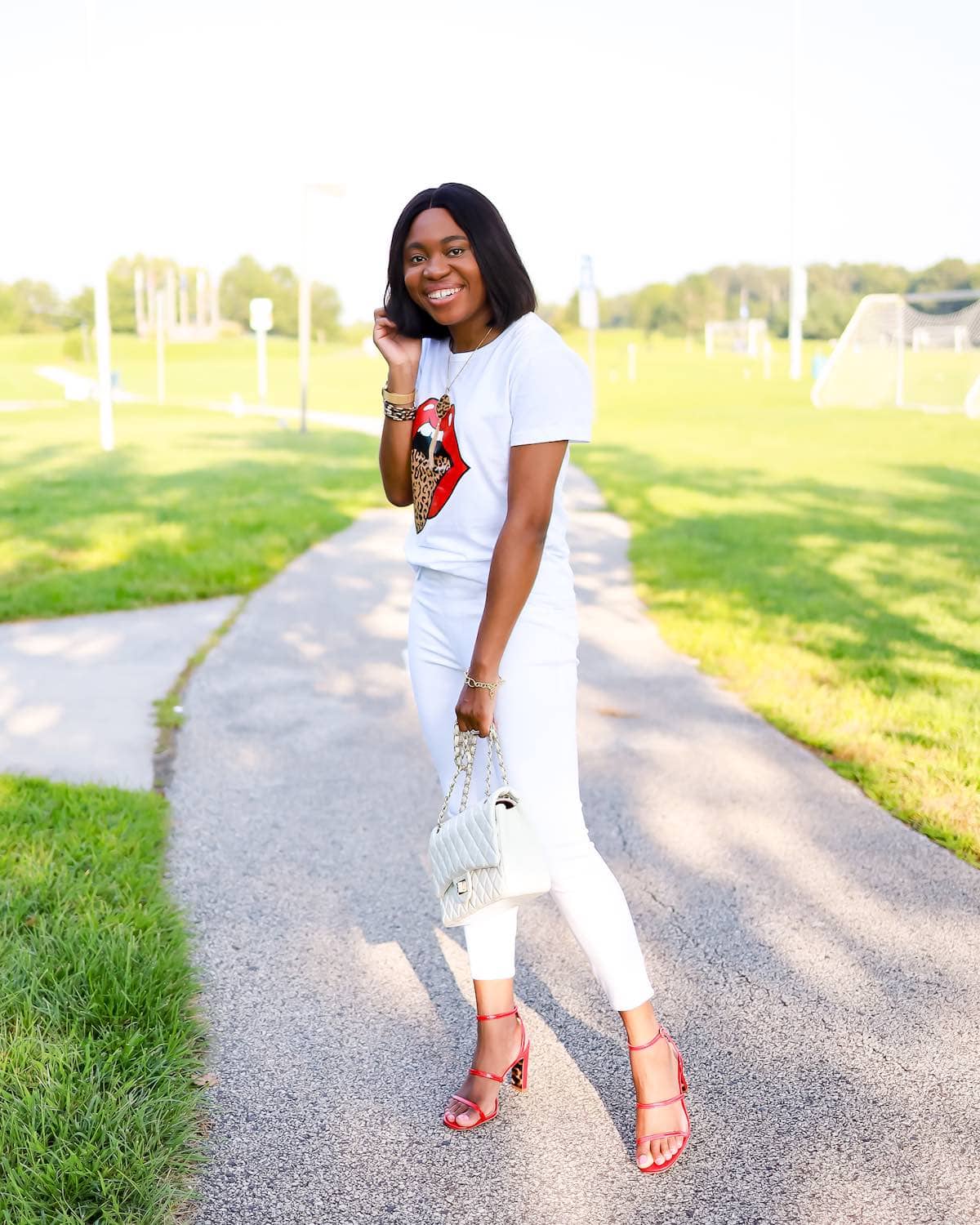 When Is The Next Spanx Sale?
UPDATE: The Spanx Black Friday Sale is over. Spanx Black Friday Sale is live. For a limited time, save 20% off everything including the coveted Spanx faux leather leggings that rarely ever go on sale. Plus use code LOUISA10 to save an additional 10% off your Spanx Black Friday 2020 order (you'll thank me later 💯). Visit the sales page to check out current bestsellers.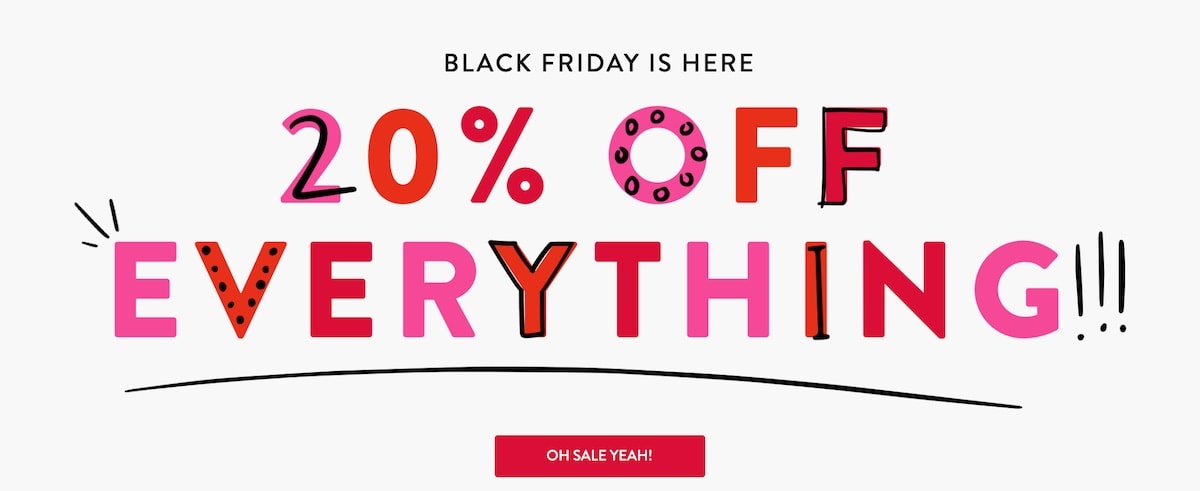 What Size Spanx Do I Need?
For the best fit, refer to the sizing recommendation for each Spanx product. I wear a size small in most Spanx leggings and pants including these Jean-ish leggings. For reference, use this Spanx leggings size chart to inform your decision: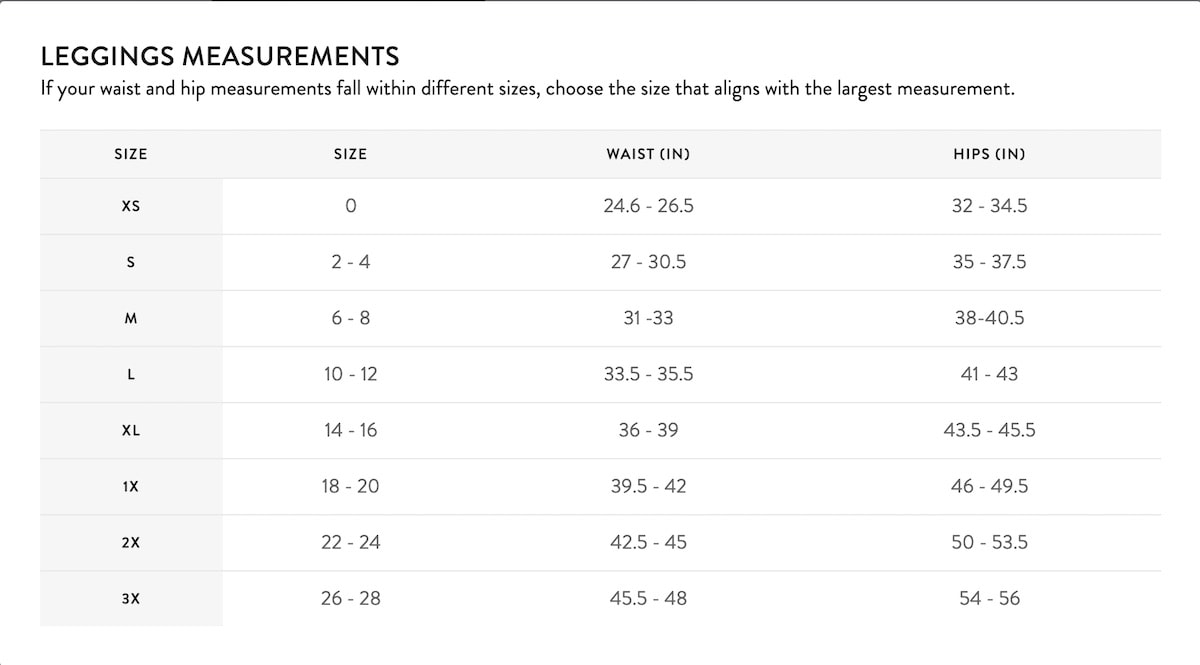 Does Spanx make jeans?
Yes, Spanx makes jeans. The female-owned brand makes shapewear, leggings, work pants, lingerie, and denim. The distressed ankle jean jeans and the Jean-ish leggings are two of the brand's hottest-selling jeans.
Are Spanx jeans worth it?
If you can get over the cost of Spanx jeans, these jeans might easily become your go-to pants this season. I own several other Spanx leggings and pants and absolutely love the Spanx Jean-ish Ankle Leggings. Although Spanx rarely ever does sales, you can use code LOUISA10 to save 10% off your Spanx order.
Are Spanx any good?
Most people see a noticeable difference with Spanx shapewear. The brand now includes its gut-check technology (The Slim is Built In) in most of it's leggings and pants. The result? Smoother-appearing figure and contour in all the right places. Plus a nice tame to the tummy area. With the perfect size/fit, Spanx feels like a second skin.
I hope you found this Spanx Jean-ish leggings review helpful. If you liked this product review post, you'll love these related posts:
Update: The 2020 Spanx holiday gift guide is live featuring amazing gift ideas for women starting at a price point under $50. Score practical stocking stuffers and the best-selling Spanx faux leather leggings she'll love. Plus use code LOUISA10 to save 10% off your Spanx order.

2 Amazon Gift Cards Giveaway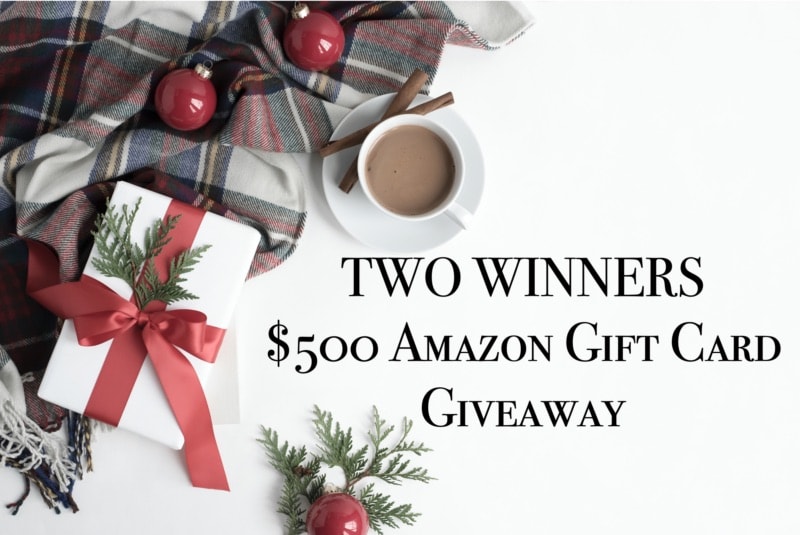 I have teamed up with an amazing group of bloggers to give YOU a chance to win: one of two $500 Amazon Gift Card's to kick off the holiday season!
Simply enter below by completing the rafflecopter. You'll receive one entry per completion. This giveaway is open to the U.S. and Canada only and runs until EOD 11/25. Winner will be announced here. Good Luck!
Void where prohibited. By entering the giveaway you acknowledge that you are agreeing to complete each task, which involves following, liking and subscribing to newsletter's.
PIN FOR LATER!