I don't know about you, but grocery shopping is one of my least favorite things to do. And if you're anything like me, you'd be excited to read this Walmart+ review and maybe even signup for the free trial right now.
Why? Because it's everything you've been looking for and then some.
Introduction
From free next-day and two-day shipping on items from Walmart.com and free delivery from your store on groceries and more at the same prices, you love ($35 minimum order, restrictions apply) to member prices on fuel and mobile scan & go, there's everything to love about Walmart+.
I seriously dreaded going grocery shopping and would wait until I ABSOLUTELY needed something before making the drive to my local Walmart store. And staying stocked with fresh produce is not easy.
I have been a long-time shopper at Walmart and routinely shop at Walmart.com while I lived in Alaska.
One of my favorite Walmart.com features in Alaska was the free/affordable "order online and ship to store" benefit that most other stores did not offer.
And now with your Walmart+ membership, you get Walmart+ free next-day and two-day shipping from Walmart.com with no order minimum (excludes oversized/freight & Marketplace items).
There's nothing more exciting than having your order delivered to your front door. So I can whip up my favorite Nigerian Chapman recipe in no time!
If you did not get to read my previous blog post about the benefits of Walmart+, you might be wondering:
What is Walmart+?
Walmart+ is a new kind of membership that helps you save more time and money so you get everything you need–right to your door (more about Walmart+ here).
This includes groceries, gifts, and household items, all with free delivery from your store* on orders $35+ with the same everyday low prices you love (some restrictions may apply).
Try Walmart+ free for 15 days and then only pay $12.95/month or $98/year for your membership. Your Walmart+ membership literally pays for itself in just two deliveries (based on the $7.95 delivery fee).
How Does Walmart+ Grocery Delivery Work?
Here's how Walmart+ grocery delivery works:
Once you're ready to place your grocery order, simply launch the Walmart app (also available on desktop), select Pickup & Delivery.
On the next screen, you can start searching for grocery items (and more) to add to your cart. You can also change your delivery address on this screen.
Once you're ready to check out, hit the shopping cart icon at the bottom right on your screen.
Then hit "Check out."
Follow the on-screen instructions and optionally add product suggestions to your cart. Select your delivery day and time.
Next, review your order (delivery address, delivery date, driver instructions, contact number, substitution preferences, and tips).
Then, place your order.

As a Walmart+ member, we get unlimited delivery and one free "Express delivery" every month. Express delivery means your order will be delivered to your door in two hours! #unbelievable

Once you place your order, you will receive an email confirmation.
Easy peasy! The process is streamlined and easy to follow.
A Recap of Your Walmart+ Membership Benefits
[NEW] Walmart+ free next-day and two-day shipping from Walmart.com with no order minimum required. (Excludes oversized/freight, & Marketplace items)

With your membership, you can get this personal blender I use to make smoothies and more from Walmart.com delivered for free.

Free delivery from your store on groceries and more at the same prices you love ($35 minimum order, restrictions apply)
Member prices on fuel – save 5¢ per gallon on fuel at Walmart and Murphy stations. Plus access member pricing at Sam's Club fuel centers.

Over 2,000 convenient locations

Mobile scan & go – check out with your phone as you shop in-store

Need to make a quick trip to the store? This option is super convenient and streamlined.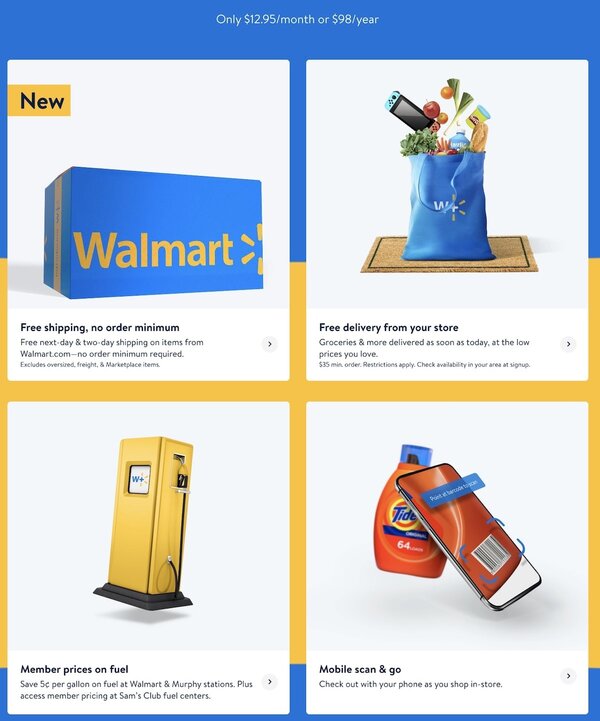 Is Walmart+ Right for You?
For me, it was an obvious no-brainer because of my apparent love-hate relationship with grocery shopping (and the frequency of getting fresh produce). The free 15-day trial gave me the opportunity to give Walmart+ a test run before committing.
If you're not sure if Walmart+ is right for you, it doesn't cost you anything to try Walmart+ for free. Be warned though, Walmart+ will likely win you over.
Save time, money, and… frustration getting all your grocery essentials and household must-haves right from your mobile phone. Walmart+ seriously gives other grocery delivery services a run for the money! I love Walmart+ and you just might too!
Your turn! Have you tried the new Walmart+ membership? Share your thoughts below.
If you found this post about my Walmart+ review helpful, you'll love these related posts:
This is a sponsored conversation written by me on behalf of Walmart. All opinions expressed in this post are mine.