This post may contain affiliate links which means I will get a commission if you make a purchase at no additional cost to you. Please read my disclosure for details.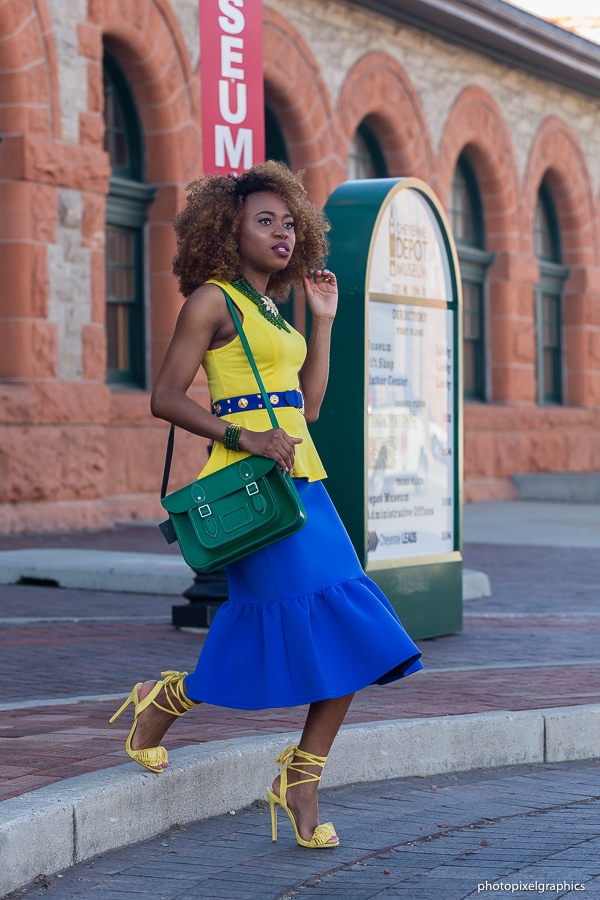 PLAYING WITH ANALOGOUS COLORS
Happy first day of Spring!

Oh I had no idea how much I missed having Spring Break! For my break, I went back to Wyoming and had the pleasure of shooting with my long time photographer friend, Dan of Photo Pixel Graphics. The last time we worked together was 2 years ago during this floral dress photoshoot. I had a blast working with him again. If you're around Colorado and Wyoming and need a professional, I 100% recommend Dan and he also has very quick turn-around time with pictures.
For this look, I decided to play with analogous colors – yellow, green, and blue. Analogous colors are colors that are next to each other on the color wheel. You already know me and my love for vibrant colors. I wore a bright blue peplum midi skirt and a yellow sleeveless peplum top. Fringe sandals are hot right now so I scored this yellow pair from JustFab for $40 with my VIP membership. Then I added my green satchel bag and custom-made necklace to tie the look together. Mixing old favorites and stepping into spring like, "hell yeah!"
Happy first day of spring and don't forget to sign up for my monthly newsletter to get the scoop on what you may have missed during the month plus updates on occasional giveaways. As always, thank you so much for reading.


Post you may also like: THIS | THIS | THIS
Belt || Escada $67 | NastyGal $20 |
Purse || Cambridge Satchel $99 | SheIn $16 |
Peplum Top || (old) Boohoo $10 | SheIn $26 |
Peplum Skirt || (old) eBay $60 | Boohoo $20 |
Fringe Sandals || JustFab $40 | Nordstrom $97 |
Necklace || (Handmade) Aliexpress $60 | Etsy $48 |
ga('create', 'UA-38689814-1', 'auto');
ga('send', 'pageview');
---
NEVER MISS A POST!
Join LPV email list to get the latest blog posts, beauty hacks, outfit tips & ideas, PLUS special sale alerts, exclusive giveaways, and behind the scenes peeks!