2023 10 Best Mascaras at Ulta We Can't Get Enough Of!
This post may contain affiliate links which means I will get a commission if you make a purchase at no additional cost to you. As an Amazon Associate I earn from qualifying purchases. Please read my disclosure for details.
Mascara is a holy grail makeup product for many and a must-have for makeup lovers. And for a good reason! A simple layer of mascara can instantly transfer your eyes. Cut to the chase and try these 10 best mascaras at Ulta right now!
Layer that with a perfectly angled eyeliner and the transformation is amplified 10x. I've narrowed down the plethora of mascaras to the top 10 best mascaras at Ulta.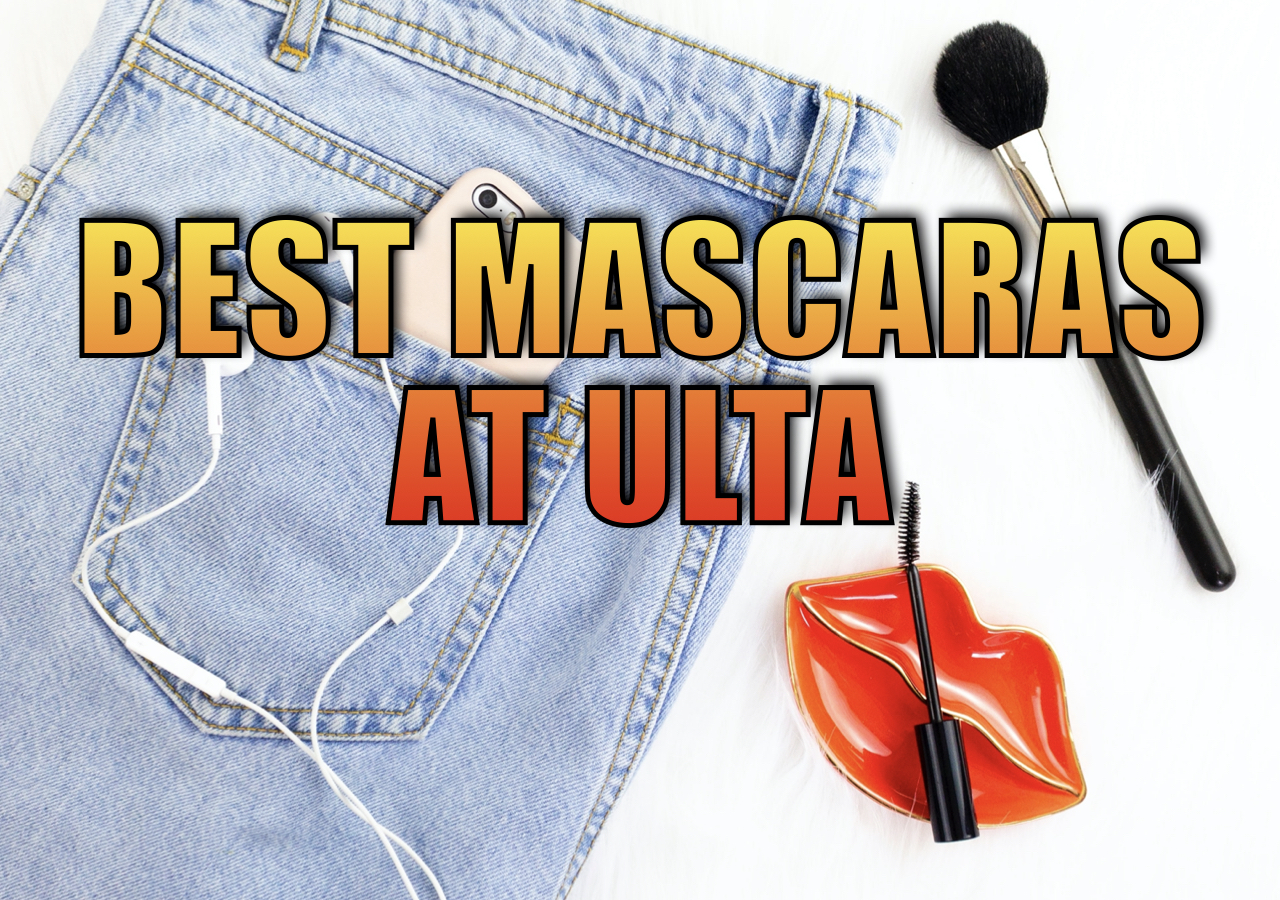 Introduction
In your decision about the best mascara to use, a few factors worth thinking about include the color of the mascara, the thickness and fullness of your lashes, eyes shape, your desired result, and the applicator and formula of the mascara.
These important factors make deciding on a mascara a little challenging and overwhelming for may. Thankfully, mascaras do not need to be expensive to bring out the beauty you desire. These are the top 10 mascaras to get from Ulta right now:

These best mascaras at Ulta can elevate your look for a night out and single-handedly hold it up on a no-makeup day. I'm talking volumizing, lengthening, separating, and lifting with just the stroke of a wand applicator.
So if you are confused about the mascara to make those eyelashes lush, pop, and last longer while looking good, you can check out my top 10 best mascaras on Ulta to rock.
Top 10 Best Mascaras at Ulta
Need help lengthening, thickening, darkening, intensifying your natural eyelashes, drawing more attention to your eyes? Look no further! These holy grail Ulta mascaras are worth adding to your beauty arsenal.
Best mascara for lengthening lashes
One of the best-selling Benefit Cosmetics mascara is the They're Real! Lengthening Mascara. This Ulta mascara has a huge cult following and is known for its high-impact lengthening strength. A few layers are all you need to add volume and length to your lashes.
This Benefit Cosmetic Mascara formula helps achieve amazing eye-catching lashes from root to tip with its mascara coat and brush design that captures the smallest fibers of lashes for a refined look. The rich, long-wear pigment keeps your lashes looking long all day.
Benefit They're Real! is a dramatic mascara that does it all – darkening, thickenining, and lengthening lashes in all directions. Also available at Sephora and Amazon.
---
Best smudge-proof and separating mascara
Every makeup fanatic has used or has heard of the award-winning Better Than Sex Too Faced Mascara (2019 Allure's Best Liquid Mascara – source).
What makes this product rank high as one of the best mascara at Ulta and other reputable retailers is simply the formula. The carbon black formula is formulated with film-forming polymers separates, coats, and curls each lash to perfect.
This mascara is so good that it's described as "Better Than Sex!" And if that doesn't speak volume (no pun intended), check out the 10,000+ reviews of this vegan-friendly, cruelty-free product.
And let's not forget that this mascara leaves a waterproof, smudge-free coating in its wake that lasts all day. Also available at Sephora and Amazon.
---
Best for nourishing lashes
Tarte's Light, Camera, Lashes 4 in 1 mascara lengthens curls, volumizes, and conditions for bombshell lashes that stay put.
Regarded as the best vegan mascara at Ulta, Tarte cosmetics is a cult classic, rich in rice bran, olive esters & provitamin B5 that help soften, protect & nourish lashes acting like a push-up bra for your lashes to create a naturally defined & voluminous look.
This 4 in 1 mascara does the function of four products – lengthens, curls, volumizes & conditions. Described as "a push-up bra for your lashes," the Light, Camera, Lashes mascara will give you naturally dramatic lashes.
With over 5,000 4.5-star reviews, this mascara is one of the best-selling mascaras at Ulta. Also available at Sephora and Amazon.
---
Best for fanned-out lashes
Voted top of its class for achieving the ultimate fanned-out lashes look by Ulta customers and makeup lovers, the Maybelline New York Lash Sensational Mascara has earned its spot as one of the best-selling mascaras at Ulta.
Mascara application is a breeze with the patented 10-layer fanning brush of this mascara. Create an airbrushed featherweight appearance or build on thin layers of coat on your lashes, root to tip for a fully-fanned-out look.
Lash Sensational mascara wand features rubberized bristles distributed around a curving base that easily maneuver and coats each lash. Also available at Walmart and Amazon.
---
Best for more tinted and dramatic lashes
With a tagline, "Bigger, Blacker, Badder", the Urban Decay Perversion mascara is a beauty with an edge. This mascara is undoubtedly my favorite premium mascara. This bad boy made my super short natural lashes look twice as full and much longer.
When it comes to giving your lashes a darker, more glamorous tint while also nourishing and moisturizing your lashes, the Urban Decay Perversion mascara will do the trick.
Known for its ultra-creamy texture that delivers the deepest and darkest pigment, this best-selling Ulta mascara will give you a dramatic look of false lashes and a wide-awake look.
The smudge-free,clump-free formula of this mascara does it all by lengthening, volumizing, plumping, and painting lashes the blackest of blacks. Also available at Sephora and Amazon.
---
Best thickening and volumizing mascara
Of all the volumizing mascaras out there, the Benefit Cosmetics BADgal Bang Volumizing Mascara arguably delivers the best volume, thickness, length, curl, and separation of your lashes.
The mascara gives the perfect amount of length and volume, basically making it look like you're wearing falsies.
The lightweight, water-resistant formula and custom big "Slimpact" brush is designed for a 360-degree reach to every lash. This mascara is also on the lineup of the free Ulta monthly birthday gift.
BADgal Bang! Volumizing Mascara promises to give your face an instant lift and a more awake look without weighing down your lashes. Also available at Sephora and Amazon.
---
Best clump-free mascara
Next up on this list of the best Ulta mascaras is the Tarte Maneater Mascara. This magnetic lightweight formula mascara is sure to not only lift even the tiniest hard-to-reach lashes at the root and fan them out, but it also lengthens and adds volume to make your lashes look amazing.
Coat after coat, this triple-black formula every edge of your lashes thanks to its 500 flexible bristles.
Tarte Maneater is fortified with jojoba and carnauba wax to strengthen and protect your lashes, and even help prevent flaking. Over 1,600 customers have chimed in about how amazing the Tarte Maneater Voluptuous Mascara is. Also available at Tarte Cosmetics and Amazon.
---
Best mascara for false lashes
Keeping up with the list of amazing mascaras at Ulta is the Voluminous Lash Paradise Mascara by L'Oréal Paris. This under $15 drugstore and beauty store find thickens your lashes without the clumps that happen while applying several layers of pigment on your lashes.
The L'Oreal Paradise Mascara lengthens and separates your lashes to open up your eyes for an effect that rivals that of high-end mascaras. This pigment is a hidden drugstore gem that has amassed a cult following.
Thanks to its over 200 wavy bristles, this mascara holds enough formula to take your lashes from meh to wow in seconds. Lash Paradise was even on Harper's Bazaar's list of the best mascaras of all time. Also available at Walmart and Amazon.
---
Best lash strengthening mascara
This list would be incomplete without talking about It Cosmetics Superhero Elastic Stretch Volumizing Mascara. If you're on the search for a mascara that delivers on lengthening lash extension effects with just one coat, you've found the one.
This mascara is formulated with rich pigment that adds volume to your lashes. The wand separates and lengthens, creating a feathery effect that doesn't look over the top.
The rich biotin formula coats lashes in polymer for a strengthened, more elastic length that is non-flaky or clumpy. The mascara is free of sulfates, parabens, and phthalates and delivers stunning lashes with a single swipe. Also available at Sephora and Amazon.
---
Best curling mascara
A product living up to its name, Roller Lash & Lifting Mascara will add serious lift and curl to your eyelashes. With its patent-pending Hook 'n' Roll brush, this mascara is the ultimate must-have for perfectly curled lashes.
The mascara contains provitamin B5 and serine, to condition your lashes and prevent breakage while maintaining its hold for up to 12 hours.
It delivers genuinely lush lashes and an even balance between lengthening and volumizing, super dramatic roller lash curling that puts other mascaras to shame. Also available at Sephora and Amazon.
---
Best vegan mascara on Amazon
For the babes looking for organic mascara available on Amazon, you'll love this vegan option. Endlessly Beautiful's natural and organic mascara is made with 85% organic and 100% natural lash nourishing and conditioning ingredients including chamomile and vitamin E to keep your lashes soft and healthy.
With over 1,800 reviews on Amazon.com, this mascara is a tried and true winner for a natural mascara that actually works! This lengthening and long-lasting mascara come in black and brown.
This is a perfect addition to your collection that is great for everyday use. Endlessly Beautiful Organic Mascara is cruelty-free, gluten-free, and made in the U.S.A.
---
Frequently Asked Questions about the Best Mascaras at Ulta
Conclusion
Here you have it! A roundup of the best 2023 mascaras you can get at Ulta. These mascaras are perfect for lengthening, volumizing, or curling your lashes for all-day wear. You no longer have to search tirelessly to find the mascara you need at Ulta.
Scrolled to the bottom? Here's a quick rundown of the best mascaras for Ulta with a highlight of high each mascara is best used for:
Not a Prime member yet? Get all the perks of Amazon with this Amazon Prime 30-Day Free Trial. Are you a student? Lucky you! Use this link for your Prime Student 6-month Trial.
PIN FOR LATER!