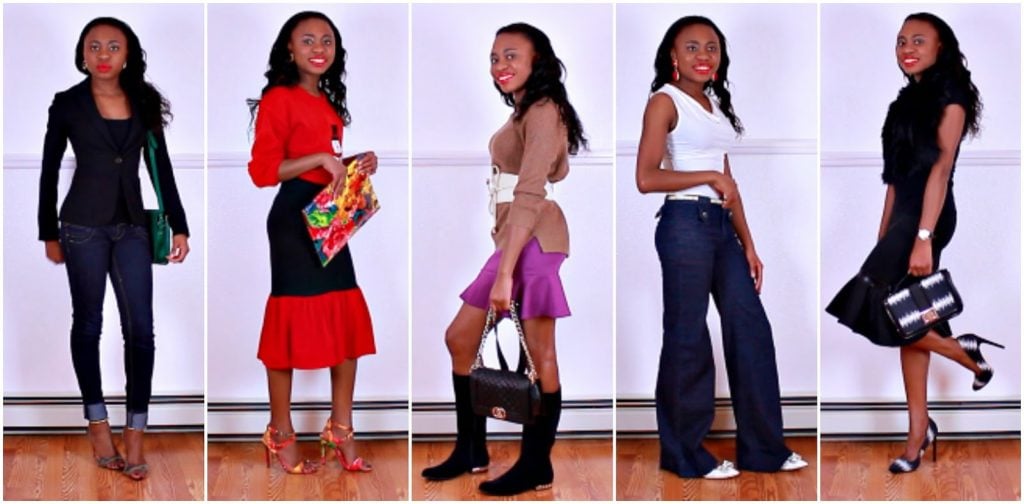 Happy New Year dearly beloved 🙂 You can never say that too many times right?

As promised in posts prior (here & here), I want to show more love to YouTube land. I've had an unfounded fear of vloging (video blogging) because I believed editing took an excessive amount of time but this negative degree weather in Alaska is all the push I needed to get things rolling 🙂
You have to love it when everything falls into place – lighting and all. Do you like? Please leave your honest feedback below (& don't be harsh) and let me know what you would like to see in upcoming videos. Watch the video and don't forget to join me on YouTube by subscribing to my channel and THUMPS UP the video too 🙂 Want more? Check out my previous video on 10 Ways to Wear a Beret in 1.5 Minutes and say goodbye to bad hair days. As always, thank you so much for stopping by and I'll be in touch with you soon.
LOOK 1: Military Affair
Shoes || ShoeDazzle pumps $15 |
Top || Tank top (old), alternative $5 |
Jacket || Blazer (old), alternative $22 |
Purse || The Cambridge Satchel $100 |
Bottom || Skinny jeans (old), alternative $12 |
LOOK 2: Candy Yum
Bottom || Asos skirt $11 |
Top || Asos sweater $19 |
Shoes || Shoedazzle sandals $15 |
Purse || Envelope clutch (old), alternative $38 |
LOOK 3: Bootcut
Shoes || Renvy leather boots $69 |
Top || Old Navy sweater $13 (on sale) |
Purse || Quilted purse (old), alternative $20 |
Bottom || Peplum skirt (old), alternative $21 |
Belt || Wrap-around belt (sold out), alternative $15 |
LOOK 4: Wide Leg
Shoes || Ava & Aiden flats $39 |
Jewelry || Amrita Singh earrings $49 |
Belt || Skinny belt (old), alternative $11 |
Top || Layered top (old), alternative $11 |
Bottom || Wide leg pants (old), alternative $58 |
LOOK 5: Almost Black
Watch || Hsn watch $60 |
Shoes || ShoeDazzle pumps $15 |
Top || Fitted top (old), alternative $8 |
Purse || ShoeDazzle (old), alternative $15 |
Accessory || Fur collar (old), alternative $20 |
Bottom || Peplum hem skirt (old), alternative $11 |