This post may contain affiliate links which means I will get a commission if you make a purchase at no additional cost to you. Please read my disclosure for details.
Happy Sunday dolls!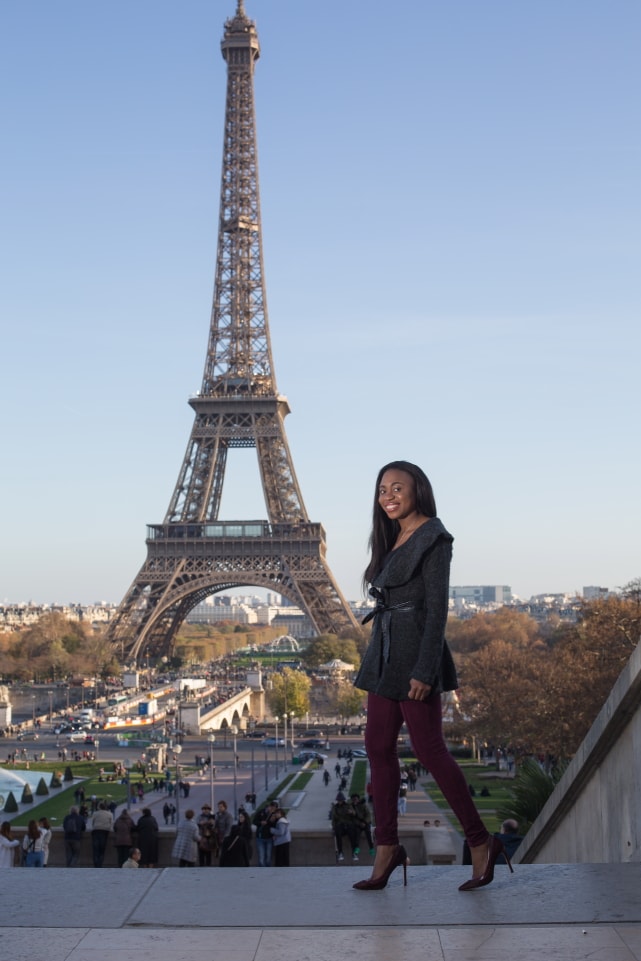 A few weeks ago, I was in Paris for a contest I had won (read about it here). It felt so good the escape the cold and darkness in Alaska. I traveled from -10F to +60F in one day! I also used the opportunity to shoot some blog pictures with a few of the pieces I was gifted with from +JustFab. If you follow me on Snapchat (Louisa.Moje) you probably watched behind-the-scenes of the trip from take-off to my return.
The Eiffel Tower was at the top of my list for my shoot. I paired a cozy wrap sweater and suede skinny pants (both from JustFab). I got so many compliments on the sweater and the suede pants was the most butter-soft, comfortable pants I've worn in a long time. Kept the look simple and clean with a black fitted tee and matching marsala/burgundy/oxblood heeled pumps. Wishing you a terrific week ahead. Want more? Check out my loobook for previous outfit post. Until next time, bisous!.
Pants c/o || JustFab $40, alternative $28 |
Tee || old. alternative $9, alternative $4 |
Sweater c/o || JustFab $50, alternative $21 |
Jewelry || old. alternative $24, alternative $40 |
Pumps || old. alternative $69, alternative $100 |
ga('create', 'UA-38689814-1', 'auto');
ga('send', 'pageview');
---
NEVER MISS A POST!
Join LPV email list to get the latest blog posts, beauty hacks, outfit tips & ideas, PLUS special sale alerts, exclusive giveaways, and behind the scenes peeks!