Mary Kay Oil Mattifier, The Best Mattifier? A Complete Review
This post may contain affiliate links which means I will get a commission if you make a purchase at no additional cost to you. As an Amazon Associate I earn from qualifying purchases. Please read my disclosure for details.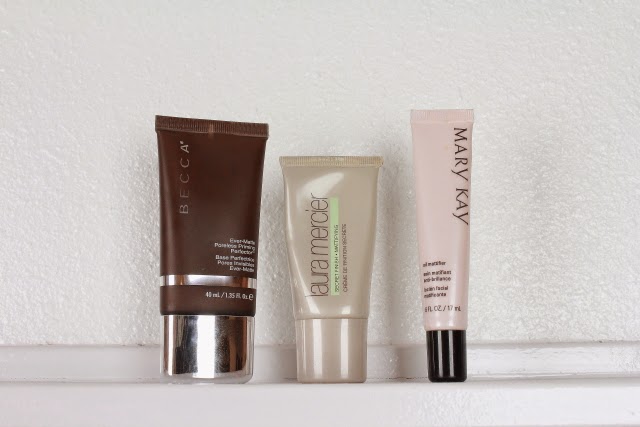 Hello gorgeous? I promised to post weekly on
YouTube
, so here's this week's video.
If you are like me, blessed with oily t-zone, this might very much be a dream come true. Constantly wiping my face with oil-absorbing sheets became the new norm but no matter how frequently I blotted, I never seemed to be shine-free. Changing from an oil-based foundation to compressed powder did little to help. Then I finally came across Laura Mercier oil-free tinted moisturizer and that helped some but the effect was short-lived. I step out with a well matted face and two hours later, I'm emitting a distasteful glow.
In my search to finding something that works, I ended up trying three different oil mattifiers:
1: Mary Kay oil mattifier
2: Laura Mercier secret finish mattifying
3: Becca ever matte poreless perfector
First, I tried the Mary Kay oil mattifier and for a moment it seemed to work but the mattifying effect did not last long enough (2-3 hours or so). It leaves white streaks (and slightly greasy) that look like white powder where the mattifier is applied to so going out without makeup would not cut it with this product. This product would be ideal for those with mildly oily skin as it is not too drying and leaves your face nicely moisturized.
I needed something more mattifying than the Mary Kay oil mattifier so I decided to try Laura Mercier secret finish mattifying. I already use the oil-free tinted moisturizer by Laura Mercier so I figured why not give it a shot? This was the second product I tried and boy was I amazed! The matte finish lasts 6 or more hours. The product is a thick, clear paste compared to the Mary Kay more fluid and creamy white oil mattifier. The Laura Mercier secret finish mattifying leaves a clear finish (and non-greasy) so you can get the matte look without the need for makeup. This is a must have for those with oily to very oily skin.
I was very much content with my Laura Mercier secret finish mattifying but out of curiosity, I chose to try Becca ever matte poreless perfector. It is a great product. I noticed that it worked best if the product is massaged into the skin. Texture wise, it is a blend between the Mary Kay oil mattifier and Laura Mercier secret finish mattifying. It has a creamy color, leaves a white tinge (and feels like water!), and slightly thicker than Mary Kay. Unlike either products, it tightens up the face and makes you feel like like you have mud masks on but that feeling quickly disappears once you apply your foundation. The product lasts 6-9 hours and would be ideal for anyone with very oily skin.
Personally, I alternate between Becca ever matte poreless perfector and Laura Mercier secret finish mattifying because they work best for me. I hope this review is helpful to anyone and everyone with oily skin looking for a mattifer to calm those grease! Want more? Follow me on my social networks (below) and don't forget to join me on YouTube because I'm totally revamping the channel. As always, thank you so much for stopping by and I'll be in touch with you soon.
Becca ever matte poreless perfector $36
Laura Mercier secret finish mattifying $27
Mary Kay oil mattifier $16