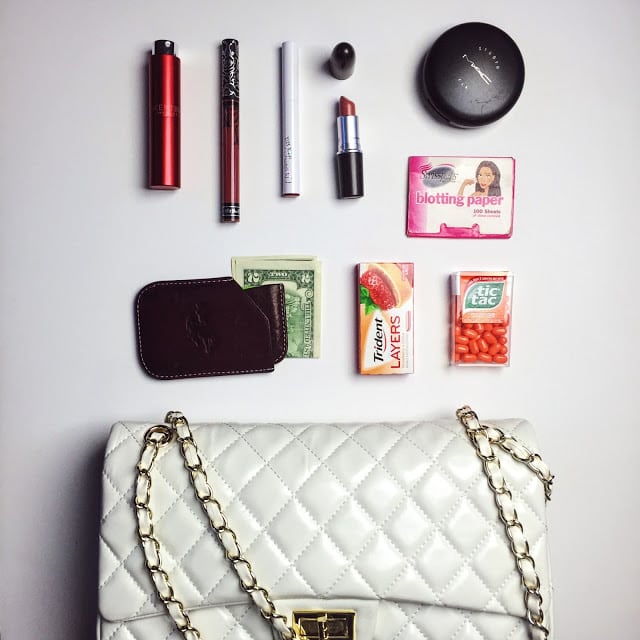 PUT YOUR BEST FOOT FACE FORWARD
Hello gorgeous!!


It's that time of the year again when you (at least for the non-single ladies) think about getting perfectly ready for a date night with that special someone. Truth is, these 10 date night beauty essentials do come handy for any special day/night out. If you're heading somewhere for a girls retreat, wedding, or party, you would find this helpful.
Purse: First thing first, you will need a glam and structured purse to keep everything organized. It's easy for things to get lost in slouchy purses and this will save you from that frustration. The added bonus is that this purse comes with a few different compartments to keep everything in place.
Blotting paper: Yes you will need this if you plan on wearing makeup. There's nothing more annoying that feeling like your face is like a giant, shining disco ball. Tissue paper does not work as good plus you run the risk of ruining your makeup [you don't want to do that!].
Slim card case: Please leave your wallet at home. You do not need all your credit cards or business cards on a special occasion like this. And let's not forget the unsightly accumulation of receipts in your wallet. Trade your wallet for a slim card case. Go with a credit card, a debit card just in case you don't have enough cash, your ID, and any other important card you need.
Gum or Breath mint: Don't be stuck with the taste of food in your mouth as fresh breath is a must. Let gums, breath mint, or spray do the trick.
Lipstick or Lip stain: Just like you need blotting paper to get rid of excess oil, you may need to touch up with lipstick/stain after the hearty meal.
Compact perfume: Sometimes a little bit of fragrance is all you need. Rather than face the fear of your glass fragrance sample breaking in your purse at the middle of your date, go with Scentbird. Your perfume will be housed in an uber chic red (or any color of your choice) fragrance case.
Makeup: Wipe off the oil and touch up (if needed) on your makeup. I prefer compact compressed powder because you don't have to worry about ruining your purse if it breaks open and you never know when the tiny mirror would come in handy.
Cash: Just in case you have a cheap ass date, you're covered! Or maybe you have to pay for parking? You're covered too.
Most importantly, stay positive and have fun! I will be sharing some of my date night outfit ideas soon but before then you can check out this sexy number. Do you have any date night essentials you want to share? I'd like to know. Leave a comment below. Want more? Check out my lookbook. Thank you for reading!.