Amazon Big Style Sale Insider Picks: The Best Amazon Fashion Sale
This post may contain affiliate links which means I will get a commission if you make a purchase at no additional cost to you. As an Amazon Associate I earn from qualifying purchases. Please read my disclosure for details.
I'm sure you're stoked that Amazon is hosting its first-ever Amazon Big Style Sale. I sure am! Last year, I was one of the lucky few to preview many of the amazing deals that were going to be part of Amazon Prime Day. And I shared those insider finds in this Amazon Sneak Peek with you as soon as I got the green light to do so.
The Big Style Sale may be over, but Amazon Prime Early Access Sale is almost here. Watch this space for everything you need about the best s early Black Friday Sales.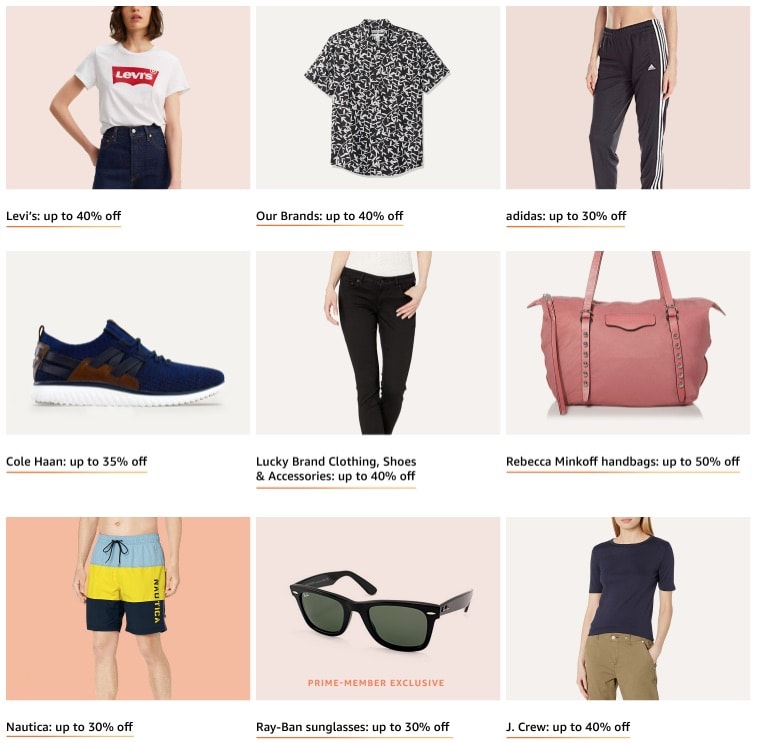 And this year? Argh! I'm super ecstatic to see an Amazon sale dedicated towards mostly fashion. If you've been reading this blog for a while, watching my Amazon Live stream, or following my my Instagram, you know that snagging unique + affordable fashion finds from Amazon (and other top retailers) is my calling.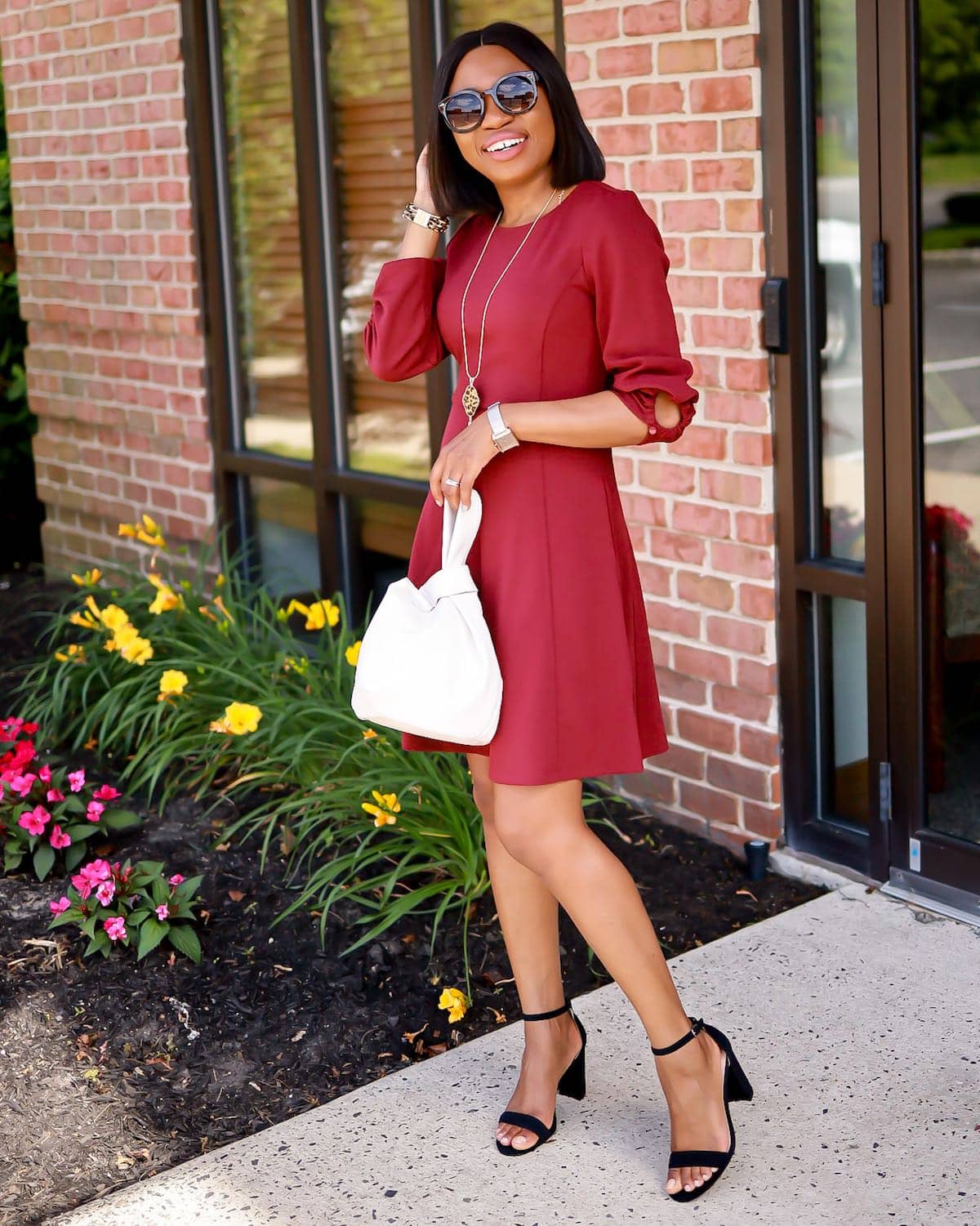 I know this sounds a little extreme considering that I'm a pastor's daughter. But healthcare, fashion, and food are three of my favorite things.


Not a Prime member yet? Get all the perks of Amazon with this Amazon Prime 30-Day Free Trial. Are you a student? Lucky you! Use this link for your Prime Student 6-month Trial.
What Is Amazon Big Style Sale
Glad you asked! The Big Style Sale is Amazon's brand new and exciting sale that's specifically focused on fashion. Seriously, this sale is a dream come through for every fashionista that loves a good deal.


Expect to save a lot on top brands and Amazon Brands. Exactly how much? Right now, I'm seeing savings as much as 50% off. Now, that's a good chunk of money. There's a reason this is called Amazon's BIG Style Sale after all. 🙌🏾


I know this because I've had some time to sift through the sale. And boy, the deals are just as good, if not better than Prime Day. Yes, I said that!


If you're familiar navigating through Prime Day sales and deals, you can visit the sale homepage here and bookmark right now. The sale will display on this page on Monday, June 22).


But if you need some help narrowing down the best deals and items I think will sell out fast, you're covered! Navigating Amazon'z sale can be overwhelming so I've done all the digging for you and added my top finds on this dedicated Amazon page.


The Big Style Sale 2020 Quick Links
The Sale Homepage
The Fashion Sale (Men)
The Fashion Sale (Women)
Luggage & Travel Gear
Shopbop Deals
Beauty Steals
Please note, link to each category will be updated as soon as the sale is live.
Amazon Big Style Sale Brands
As you would expect, brands having a phenomenal deal during this Amazon Big Style Sale of 2020 includes Amazon's own private brands and many other top-rated/heavy-movers on Amazon. As of the start of the sale today, some of the big brands are:
Goodthreads
206 Collective
Softlines
Daily Ritual
28 Palms
Amazon Essentials
Lark & Ro
Core 10
Peak Velocity
Starter
Obsidian
Aurique
find.
CARE OF by PUMA
MERAKI
TRUTH & FABLE
Iris & Lilly
Shopbop
American Clothing
Armani Exchange
ASTR Clothing & Accessories
BCBGMAXAZRIA
BOBS from Skechers
Calvin Klein Dress Shirts
Daniel Wellington
Hush Puppies
J.Crew
Kenneth Cole New York
Lucky Brand
Perry Ellis
Anne Klein
Nine West
PUMA
Tommy Hilfiger
Ray-Ban Sunglasses
Signature by Levi Strauss & Co.
Skechers
Steve Madden
Superga
Theory
Tommy Hilfiger
Vera Bradley
Hanky Panky
Have you heard of The Drop by Amazon? The Drop is a time-sensitive flash sale featuring on-trend and staple pieces designed by tastemakers and your favorite influencers from around the world. The catch? Once a collection drops you have 30 hours to shop! Sign up here to be notified once the next collection drops.
When Does the 2020 Amazon Big Style Sale Start?
The Amazon Big Style Sale 2020 starts Monday, June 22, 2020 at 12:00 PST (end date unknown/unconfirmed).


There are also going to be brand new deals happening throughout the duration of sale and lasting for about 24 hours while supplies last. Just like the Nordstrom Anniversary Sale, this is a sale you don't want to miss. Be sure to bookmark this page for daily updates on the best deals from The Big Style Sale.
And in case you're wondering, some of the items in these photos are also part the sale.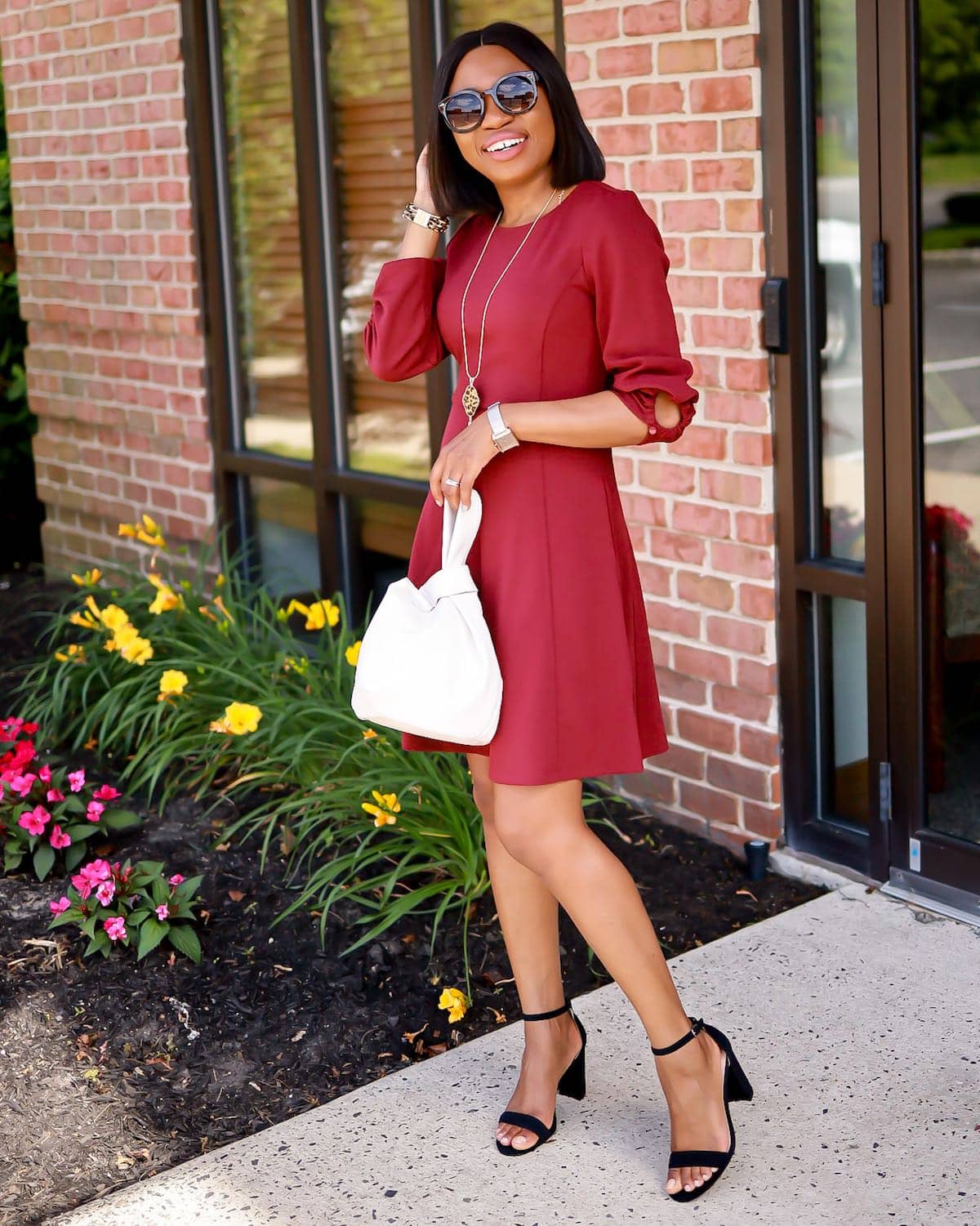 Gathered 3/4 Sleeve Dress (incl. in The Big Style Sale)
Open-Toe Heeled Sandals (incl. in The Big Style Sale)
Nine West Mesh Watch (incl. in The Big Style Sale)
Statement Tote Bag (Amazon Brand – The Drop)
Leather Wrap Multi-Layer Bracelet
Leopard Quatrefoil Tassel Necklace
Oversized Round Sunglasses
I'll be going live on Amazon tomorrow on Amazon Live. Follow me on Amazon for your daily dose of affordable fashion finds. You can also click here to get notified just before I go live.


How to Shop The Big Style Sale
From the sale page, you'll notice that products currently marked down will have a slash next to the precious price replaced with the current sale price. Those are the items you want to look out for.


You'll also notice that some products are marked as "Limited time deal." Unlike Amazon Prime day Lightning Deals, these deals can last more than 4 hours (at least while supplies last). If something catches your eye that is a Limited time deal, act fast.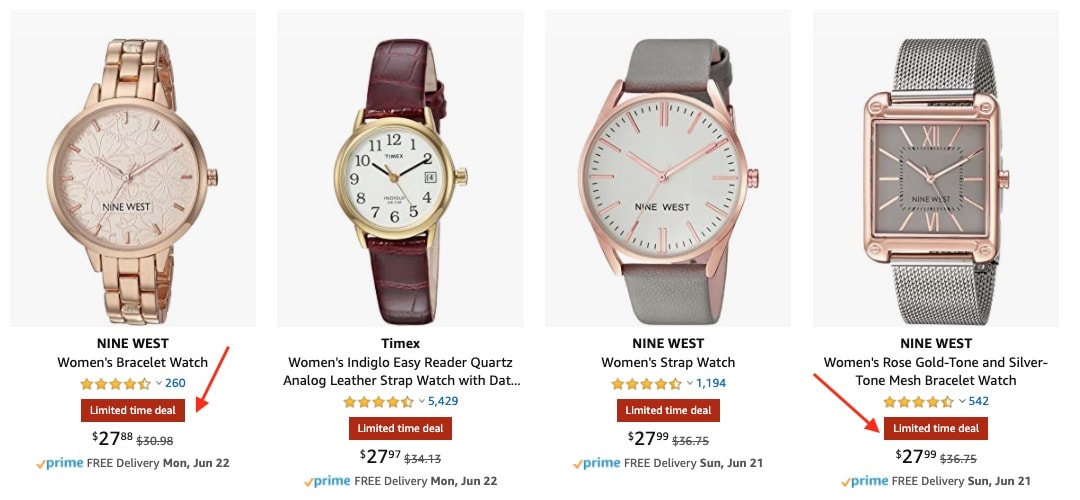 On the product page, you'll also see the discount reflected as well as the dollar savings and percentage savings. Please note that not all the colors and sizes of a product are included in the sale.


If you click on the silver color of the watch below, you'll notice that the original price will be displayed. But the gunmetal is included in this Limited Time Deal.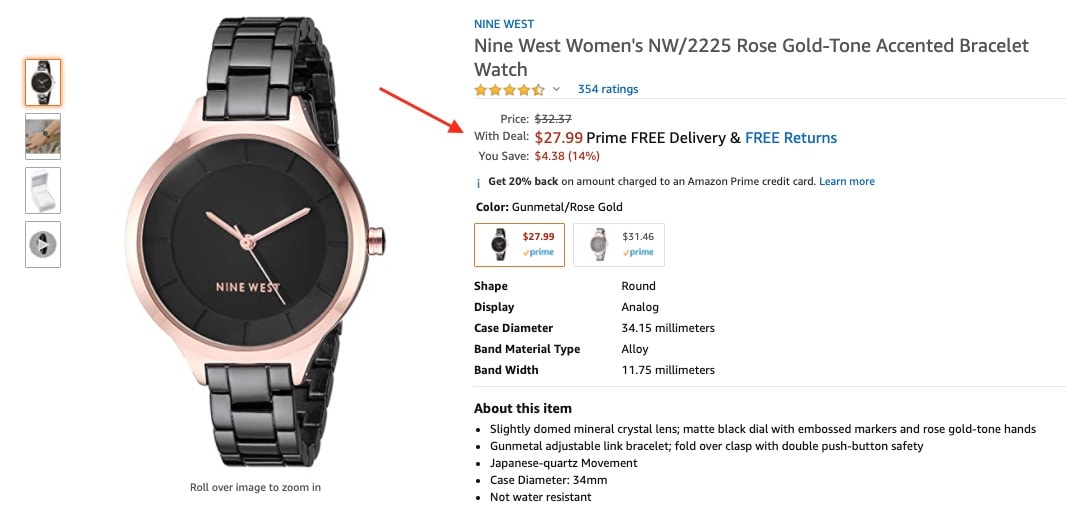 How to Maximize Your Savings During The Style Sale
BECOME A PRIME MEMBER – Start your free 30 days trial of Amazon Prime to start enjoying Prime benefits. I've been a Prime member for over 7 years and absolutely love it. In fact, I don't know what I would do without it. Prime benefits have served me well through college and transitioned with me as I moved on to a career. Students get to try Amazon Prime free for 6 months (and get 50% off after their paid membership).
MAKE A LIST – Create a list of things you love and add those items to your shopping cart to track prices. The best way to know you're getting a good deal is to track the prices before the sale starts. Creating a list of things that you want will prevent you from going overboard once the sale starts. There are going to be thousands of fashion finds throughout the week. Creating a list and checking the prices will ensure that you're getting a great deal.
BOOKMARK AMAZON BIG STYLE SALE PAGE – Bookmark the Fashion sales page so you can quickly narrow down what you want.
START SHOPPING NOW – Yes, you can start shopping now before too many people find out about the sale. Click here to discover what's available right now.
SAVE $$ BY SHARING PRIME – Did you know that you can share your Prime benefits with members of your household? This includes fast, free shipping, Prime Video, and more great benefits with another adult in your household. All about that savings!
DOWNLOAD THE APP – On the go? Download the free Amazon App to shop The Big Style Sale while on the go.
Best of Amazon Big Style Sale 2020
Bookmark this blog post and check back tomorrow for a fresh update and insight into the best-sellers and must-haves. All the items below are part of this exclusive sale.



Frequently Asked Questions about Amazon Big Style Sale
When does Amazon's Big Style Sale start?
The Amazon Big Style Sale 2020 starts today Monday, June 22, 2020 at 12:00 PST. Fashion products included in this first-time sale can be found here.
Is The Big Style Sale a replacing Amazon Prime Day?
Heck no! At least, as far as I know, this special fashion (and beauty) sale will be in addition to the annual Amazon Prime Day sale and deals.
What should I buy from The Big Style Sale?
Like Prime Day, you can expect significant savings on a lot of products. This time, the sale is limited to fashion and some beauty products including luggage. Now's the time to snag those Amazon brand and top-brand fashion finds you've been eyeing for a while.
When does the Amazon Big Style Sale end?
The end date of this first-time sale has not been announced yet. Enjoy the crazy discounts while it lasts.
Will the Big Style Sale be done annually?
We do not know yet. I would hope so. Amazon Fashion has become the go-to place for many looking for affordable plus great quality pieces. It only makes sense plus this sale is the perfect start to summer solstice fashion.