GIVEAWAY: Enter to win over $700 worth of Clothing and Blogging tools!
This post may contain affiliate links which means I will get a commission if you make a purchase at no additional cost to you. As an Amazon Associate I earn from qualifying purchases. Please read my disclosure for details.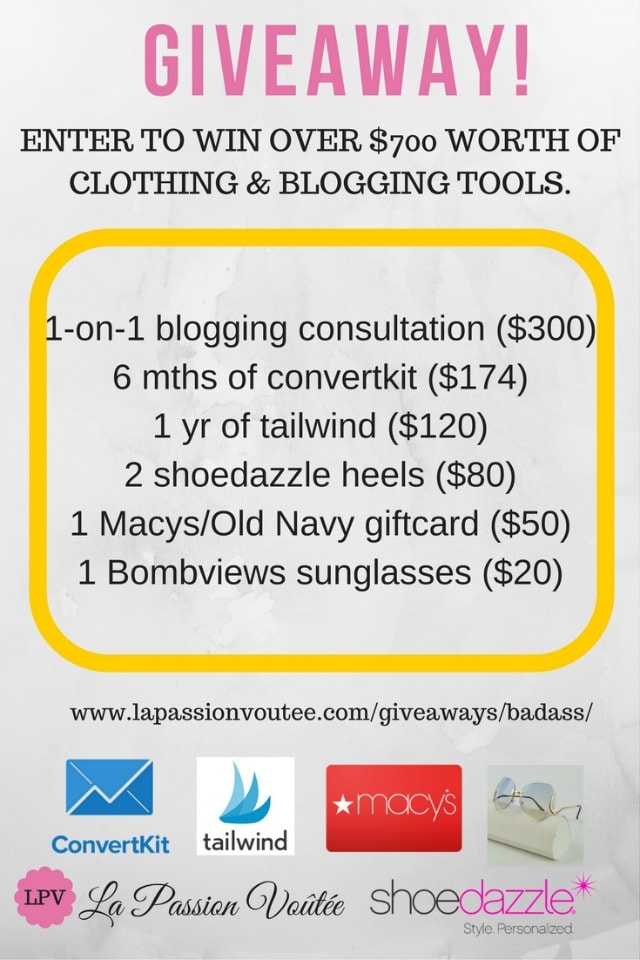 Hello you guys, you know my top two passions are fashion and blogging. Today, I am giving away the ULTIMATE fashion and blogging package co-hosted by my friend, Agatha of Irony of Ashi. All you have to do is enter below.
Yes you heard right, a total package worth over $700 with the best blogging tools and chic clothing to help you get started on your blog journey. If you already own a blog, think of it as a perk of being a loyal reader of La Passion Voûtée.
It has been a long time coming and I cannot thank you enough for being a part of my journey. Your ever so encouraging words mean so much to me. I know that starting a fashion blog costs more a pair of heels. And if you want to take it to the next level, you have to invest in it. So here's my way to make it a little easier for you.
A 1-on-1 blogging consultation (with me) – $300

Many of you have reached out to me to ask for personal blogging consultation and mentorship. While I do enjoy nerd-ing out about fashion and blogging, I would be spreading myself thin and doing you a disservice if I made this option available to everyone. As a winner of this giveaway you get to ask me all your blogging questions, I'll take a look at your blog and give you suggestions, and we will create actionable objectives to get you to your blogging goals.
6 months subscription to ConvertKit – $174

If you plan on taking your blog seriously and potentially turning it into a full time income, you need to start building your email list. For the past few months, building my email list has been my top priority. ConvertKit is the email service provider I use and recommend to collect emails and send out newsletter. ConvertKit was generous to offer the lucky winner (you?) 6 months FREE! The only way to claim this freebie is by making sure you sign up for a FREE 1 month of ConvertKit through this link.

12 months subscription to Tailwind – $120

Pinterest is a social media and search engine that I have recently focused on growing. The results so far have been amazing. To automate the process and give me time to focus on other things, I use Tailwind. The folks at Tailwind have nicely offered one FREE year of Tailwind Plus Plan to the winner!

2 pairs of heels from ShoeDazzle – $80

This giveaway will not be complete without offering you some clothing goodies! ShoeDazzle (and JustFab) are two of my favorite clothing stores. The unique assortment of affordable shoes and clothing makes ShoeDazzle my go-to online retailer for on-trend looks. And yes you also get free shipping on orders. The winner of this giveaway will receive TWO FREE store credits, one for you and one for your friend, to get whatever you want from ShoeDazzle. Thanks ShoeDazzle for sponsoring this giveaway!

A giftcard to Macy's or Old Navy – $50

As if all those goodies is not enough, the winner will also receive a $50 gift card to stock up on fall and back-to-school essentials. The winner gets to choose between an Old Navy or a Macy's gift card.

A pair of sunglasses from Bombviews – $20

To also sweeten the badass package, you get to choose a pair of glasses from Bombviews. Bombviews carries an exclusive selection of unique eyewear. If you want to transform a boring outfit, throw on a pair of sunglasses from these folks and you'll turn heads.
So that's it my friends! This $744 ultimate blogging and fashion package will be FREE to one lucky winner. It seriously only takes 3 seconds to enter. You could be the winner. Enter below.
You will see your unique "lucky URL" after submitting your entry. Share your URL in as many places as you like to INCREASE your chances of winning!
P.S: I've noticed that the person that usually ends up winning my giveaway is the person that takes 10 seconds to share their unique link. This includes sharing your link via email, Facebook, Twitter, Pinterest, and even Instagram. $744 is up for grabs!
If you forget your lucky URL, simply come back to the giveaway and you'll find your URL there. This giveaway ends Thursday, September 1st!
[giveaway id=3940]
Thanks to my co-host, Agatha of Irony of Ashi and my giveaway sponsors for making this possible.