This post may contain affiliate links which means I will get a commission if you make a purchase at no additional cost to you. As an Amazon Associate I earn from qualifying purchases. Please read my disclosure for details.
***More like, "Bienvenido a Cancún"***


Hello guys,


Welcome to a new year! I just got back from a little vac-ay from Cancun and had a very wonderful time (this is an understatement). Since pictures speak louder than words, this is just a bird's eye view of some of the fun things I did.
Scroll ⤵


DAY 1:
Arrival


DAY 2:
Explored my surroundings. Conducted hotel reconnaissance. Took a stroll. Visited Playa Linda (Beach Linda), found pick up location for Isla Mujeres (Mujeres Island).
Random Argentine tourist that requested a picture with me (I requested the same).
DAY 3:
Up early. Off to Isla Mujeres, some shopping. Glad to be raised in Nigeria as my bargaining skills were put to a test (vendor had to ask where I was from because he rarely met a tourist who bargained like my sis and I). Back on boat and off to a small island to eat and relax. Picture taking with shark. Back on boat, back to hotel. Warm shower. Out in search of dinner —damn, it's December 31st and every restaurant is closed. Walmart? Closing in 5 minutes. Kill me already, feel like I'm about to pass out (extremely low glucose level — heart racing, stomach growling, sweating, and dizzy). Quickly grabbed some croissants for dinner. That was the best meal I have ever eaten……until we found a restaurant and to hell with the croissants. An eventful day it was!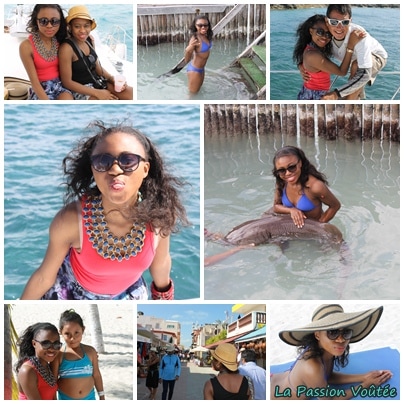 DAY 4:
Happy New Year!! Call family. Relax. Starving. Eat healthy at 100% Natural Restaurant!!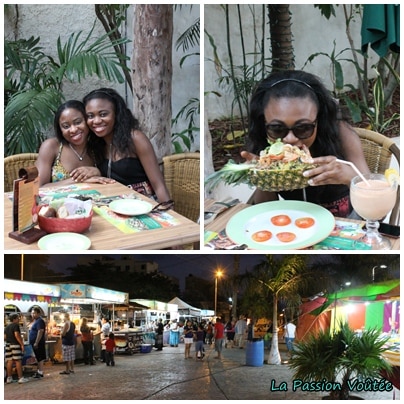 DAY 5:
Up at 5:30am. Pickup from hotel at 7am. 8am off to one of the new 7 Wonders of The World – Chichen Itza. Stopped at a famous Yucatan Cenote renowned for skin rejuvenation, buffet lunch, shopping, then Chichen Itza.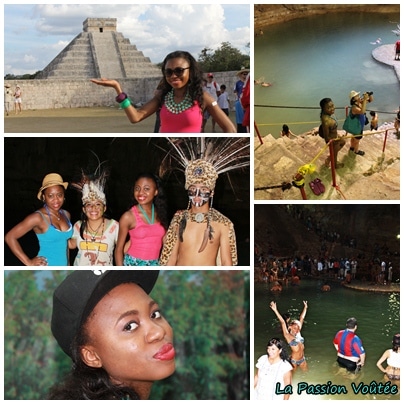 That's Kukulkan Pyramid @ Chichen Itza, one of the 7 Wonders of the World @ the tips of my hands. Picture with Local Mayan people. Down the stairs to a cool skin-rejuvenating cenote.
DAY 6:
From exploring the local handcrafts at Mercado 28, to having a delicious meal at La Parilla at downtown Cancun, hop on the city bus back to the HotelZone to sip on the excitement of enclosed businesses -and yes if you're brave enough, have a snake tease you!.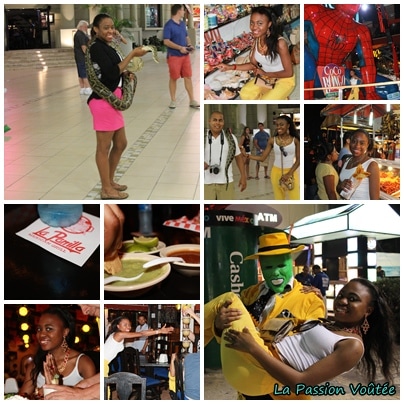 DAY 7:
Sleep in (it's allowed!), reply emails from previous days, step out and do last minutes shopping – good things happen at the last minute. Get dressed. Head out on an all-nighter to Coco Bongo. We were told by locals that you can't be in Cancun and not go to Coco Bongo —– I concur!
VIP line @ Congo Bongo.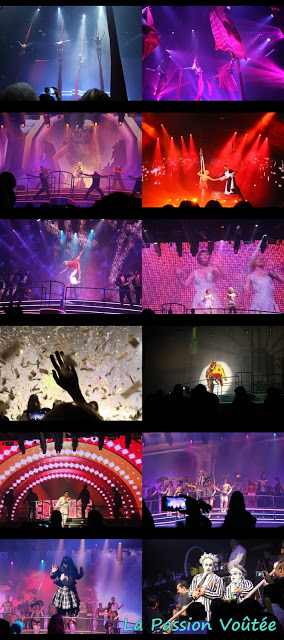 Coco Bongo puts Vagas nightlife to Shame – CNN review. A collection of snapshots of the show.


DAY 8:
Return to the White Wild West – Wyoming
Au revoir Mexique.


Well that's all I have for your viewing pleasure 🙂
Please Follow My Blog (ON THE RIGHT) as we sail through this already wonderful year!


P.S: Please leave me a comment/feedback/question as I appreciate every one of them. Thanks!!