Fanta Chapman – Sweet As Bro!!
This post may contain affiliate links which means I will get a commission if you make a purchase at no additional cost to you. As an Amazon Associate I earn from qualifying purchases. Please read my disclosure for details.
Happy weekend everyone,


FANTA CHAPMAN
Fanta Chapman is a drink that is very famous in Nigeria. I got quite a few requests for the recipe on the few occasions that I made this refreshing savory drink. You'll be hooked the first time you try it!!


Many of us have soda/soft drinks in our refrigerator (I promise I won't tell workout buddy!) and in just 5 steps, I will show you how I make my own version of Fanta Chapman.


YOU'LL NEED:
Fanta (no brainer!)

Sprite

Grenaldine (@ Walmart)

Angostura bitters (@Walmart)

1-2 limes (or lemonade)
DIRECTION:
Squeeze lime into jar

Add a capful of grenadine to jar

Add 1/2 teaspoon of Angostura bitters to mixture

Pour in equal amounts of Fanta and Sprite. Stir.

Garnish with a slice of lime (or whatever you choose).
Serve with ice.
HINT: Pour your mixture into a sorbet maker to create a mouth-watering smoothie! To satisfy your cravings for a little bit of liquor, add some vodka (or any liquor of your choice).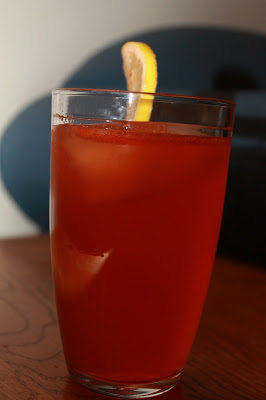 PHOTOS COURTESY OF MOI