This shop has been compensated by Collective Bias, Inc. and its advertiser. All opinions are mine alone. #CentrumFunFlavors #CollectiveBias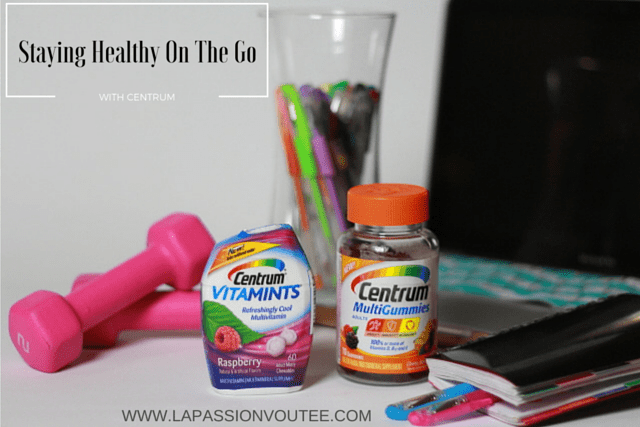 At some point in our life many of us made New Year's resolutions, myself included. Sadly, I happened to be not-so-great at sticking to my plan and ended up with a roughly 50-50 split on achieving my goals so I stopped it all together. Now, I focus on a broad goal that I break down into actionable steps. As a busy on-on-the-go college student, life happens and before you know it you start neglecting your health. I personally struggled with this in my undergrad years and I've gotten better at putting my health first now that I'm in graduate school. Here are some tips to stay healthy even with a busy school schedule.
Healthy Eating – I know what you're thinking, "how in the world can I do this?" Believe me, it's easier than it seems. If you live in the dorms go for the healthier food options in the cafeteria. After moving to an apartment, I chose to pack my lunch and would prepare my meals over the weekend. This resulted in me eating healthier and saving money (saving tips from a broke college student). Oh, and don't forget your fruits! This was one of the toughest for me because I love fresh fruits. Reason? I try to stay clear of grocery stores because I end up going in to get one thing and walk out the door with ten things. Like seriously, I'm on a tight budget! Supplementing with multivitamins like Centrum Vitamints Raspberry available at Walmart makes me feel better about my health*. P.S: I'm also a huge fan of Centrum MultiGummies.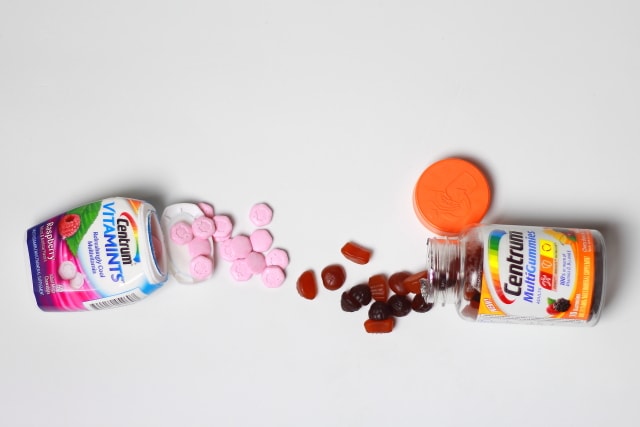 Workout Routine – The infamous "freshman 15" can sneak in on you anytime. Before it does, start and stick to a workout routine. I've never been a fitness enthusiast so I came up with a 30-minutes moderate intensity workout that I do first thing in the morning. I also look less awkward when I workout in groups so I attended early mornings group workout sessions offered on campus. Unlimited access to an amazing gym is one of the perks of college life. You paid for it and you might as well get your money's worth. Now, I mostly workout at home with Jillian Michaels dvd or I stream a session from YouTube (I recommend FitnessBlender). Once completed, I have a sense of satisfaction that I conquered something I don't particularly enjoy doing. And whenever you can, walk instead of driving and aim to walk 10,000 steps a day (~5 miles).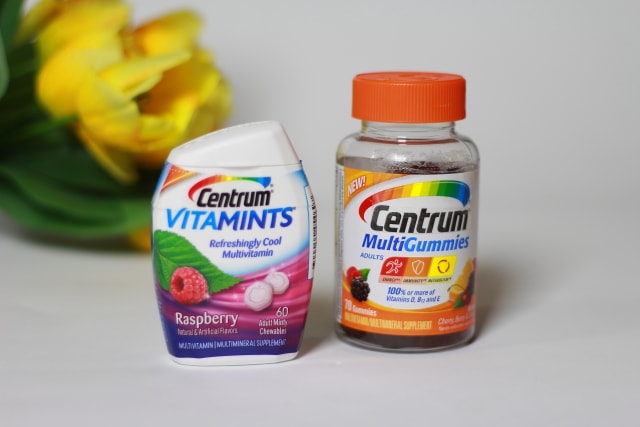 Study Smart – It is almost impossible to completely eliminate stress as a college student. But you can drastically reduce it by studying smart. I used a study time table when I was in pharmacy school and continue to use them in grad school. I block out chunks of time (2-3 hours depending on the course) to study almost every day. I go to the quiet study area of the library or get a group study room because I am most productive when I do school work on campus. I also created off days which were days I did little to no studying. My rationale for this was that school was my full time job, and full time employees typically do not work seven days a week (and neither should I). The days I picked were Friday evenings, Saturdays and Sunday mornings to take care of myself and have a life (i.e. hang out with friends, do laundry, clean my place, get groceries, watch TV…).
Snack Right – It is important to snack right and avoid stress eating. I am guilty of this bad habit and it got worse my first year of pharmacy school. The intensive program was met with long hours at the library compounded with cravings for comfort foods. Having a few healthy snacks within reach helped curb my cravings for beautifully displayed vending machine products. I found a few snacks that I loved and bought them in bulk. Buying in bulk made it cheaper, resulted in fewer runs to the store, and MORE SAVINGS in my meager bank account. My favorites were granola bars and dried fruits.
Sleeping Schedule – This last tip does not get emphasized enough. A healthy sleeping habit is necessary for your health. Stick to a sleeping routine that helps you function optimally. Your mental health is just as important (if not more) as your physical health. And if you have an impending exam, study well in advance and avoid pulling an all-nighter because it puts your brain on a lot of stress by the time you take your exam (which makes you more likely to make mistakes).
Life is too short! Treat your health right and it'll take care of you. Are there any tips that you've used and found helpful? Share it in the comment section below. Eat well and enjoy staying healthy with simple solutions like Centrum
Gummies
and
Vitamints
(save with coupons
here
). Be consistent with your workout and continuously push yourself. Snack right and avoid stress eating. Study smart by planning and stick with a sleep hygiene that works for you.