Weekend Toast: Radha Beauty
This post may contain affiliate links which means I will get a commission if you make a purchase at no additional cost to you. As an Amazon Associate I earn from qualifying purchases. Please read my disclosure for details.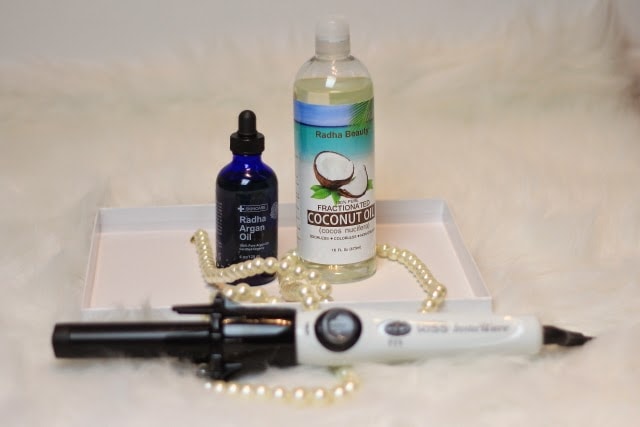 Hello beautiful!!
Hope you had a wonderful Easter? It's really hard getting back into the groove of things after just a couple days off from work! I've gotten into a bi-monthly ritual of treating my hair to a 'spa' as my sister calls it. This ritual involves moisturizing my hair with a concoction of essential oils – argan oil, vitamin E and even coconut oil. I have grossly neglected my hair for several years, treating it as a slave to my being: from lack of moisturizer, extreme winter temperatures, damaging hair products… As time lapsed, my hair began to show evidence of the scar from those years. Scars in the form of decreased hair growth, dry hair, and terrible breakage and shedding. My sister almost threw a fit by how by much hair I lost when I simply wear a piece of clothing over my head. Yup, it was that bad and for a while I seriously contemplated chopping everything off. Things had to change!
For more than two months now, I have been giving my hair a generous dose of argan oil every other day (too much makes my scalp itchy), followed by the concoction of products every two weeks (if I wash more frequently I'll be left with a hairless head). I started off using Creme of Nature Perfect 7 Leave-In Treatment Spray and Argan Oil Perfect Edges which smells ah-ma-zing and is infused with argan oil. I figured my hair needed a little more so when I finished that bottle, I decided to go with Radha 100% argan oil* and 100% pure fractionated coconut oil*.
The Radha argan oil helps to hydrates my extremely dry hair. I've noticed that my hair is less brittle and is beginning to regain some of it's luster. Because the product is 100% pure with the only ingredient being argan oil, I know that my hair is getting the best. As for the coconut oil, I use it during my spa sessions. It is colorless, odorless and non-greasy so I mix it with my Vaseline intensive care body lotion for more moisture and shine (goodbye ashy skin). This mixture works just as great as my previous combination – Vaseline and Johnson Baby oil. My sister loved the coconut oil that she treated her newborn to some 🙂
I'm not out of the storm yet but my hair is finally looking more promising. Of course, I don't expect years of damage to get fixed overnight. Here's a toast to a happier and healthier hair 😉 Below are a few hair products I've tried and loved. As always, thank you so much for stopping by and I'll be in touch with you soon.

*Sponsored Post