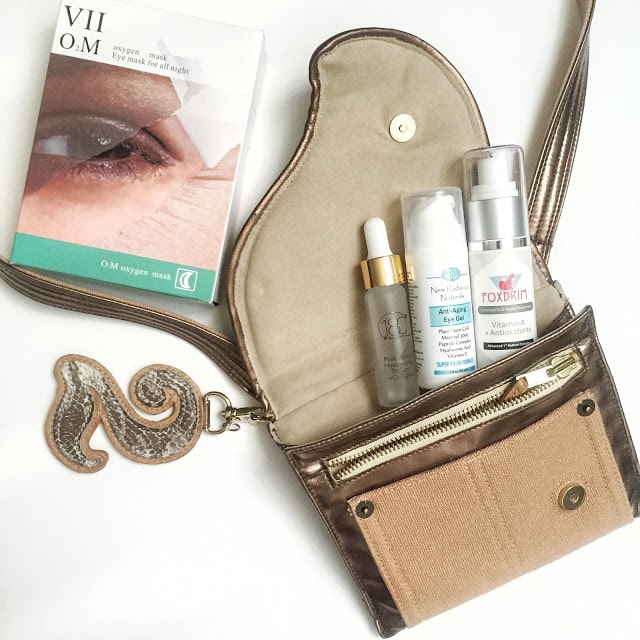 I've been told many times that the best time to start using anti-aging cream or serum is in your twenties. You want to prevent or delay the appearance of fine lines/wrinkles before they appear (prevention is better than cure). The thing with anti-aging products is that there is a plethora of products to choose from. The key to finding the best product is knowing what ingredients have been proven to work. I'm going to highlight some of the benefits of products I've been using.

VIIcode Oxygen Eye Mask $165: 

This eye pads contains the polysaccharide cellulose that helps restore normal skin texture and aloe to soothe  the skin. The anti-aging effects work by reducing puffiness and wrinkles by strengthening the surrounding skin. Use at night before bed for a puffy-free morning. Price-wise, this product is a little on the steep side so will only recommend to those with frequent puffiness where all other products have failed. 
Pure Swiss Hyaluronic Acid Serum with Oxygen & Vitamin C $14: You're probably already asking yourself what the deal is with oxygen and youthful skin. Combined with the skin-firming powers of hyaluronic acid, oxygen is believed to promote cell renewal. This 15ml bottle is packed with all of these and more to restore skin elasticity and tone. My skin ends up feeling smooth and hydrated. Small but mighty! Great for all skin types and best for those with oily skin.
New Radiance Naturals Anti-Aging Eye Gel $20: I'm loving this paraben-free, alcohol-free, and sulfate-free eye gel. I absolutely love the natural smell of this product. Just like the oxygen eye mask, this gel contains aloe to sooth the skin. It is also packed with peptides, plant stem cells, hyaluronic acid and jojoba oil to reduce aging and restore skin health. Will recommend to any skin type particularly those with sensitive skin.
Foxbrim Premium Retinol Cream & Moisturizer (packaging change) $21: I've had this facial moisturizer for almost a year now (see here). It is packed full with anti-oxidants that prevent cell damage. It also contains 1% retinol (or Vitamin A) to promote skin regeneration and aloe vera and jojoba oil like the other products. This product is very creamy so I would recommend this to those with dry skin.
P.S: Check out my other beauty posts HERE. As always, thank you so much for stopping by and I'll be in touch with you soon. Want more? Thank you so much for stopping by.