The Best Amazon Bodycon Dress | 2 Easy Ways to Wear a Pencil Dress
This post may contain affiliate links which means I will get a commission if you make a purchase at no additional cost to you. As an Amazon Associate I earn from qualifying purchases. Please read my disclosure for details.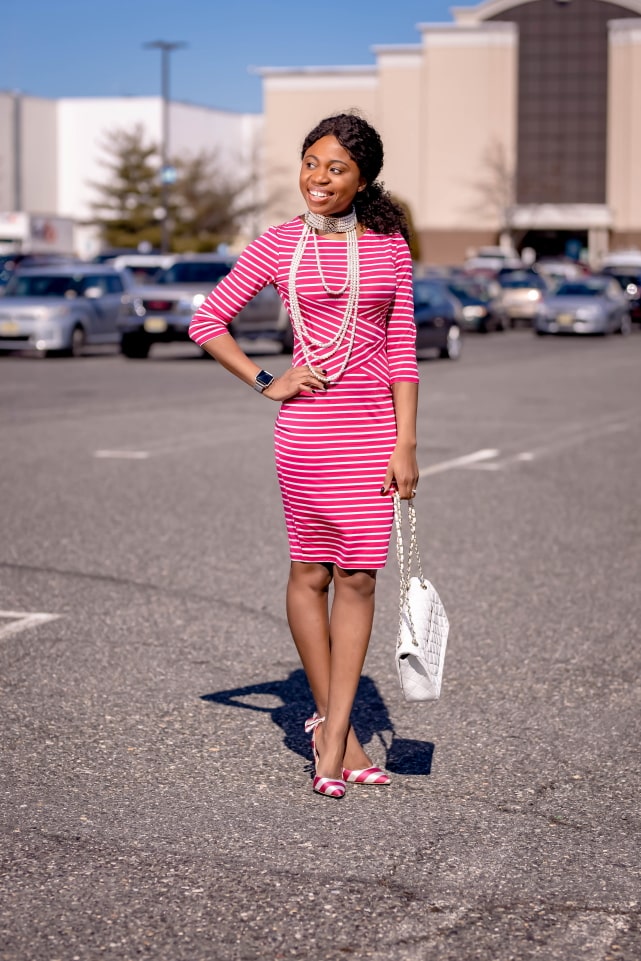 Hey guys, it feels good to be back to my routine outfit posts. Today I'm sharing this cute striped Amazon bodycon dress that I discovered recently and shared in my new Amazon Clothing Haul series.
Shop This Look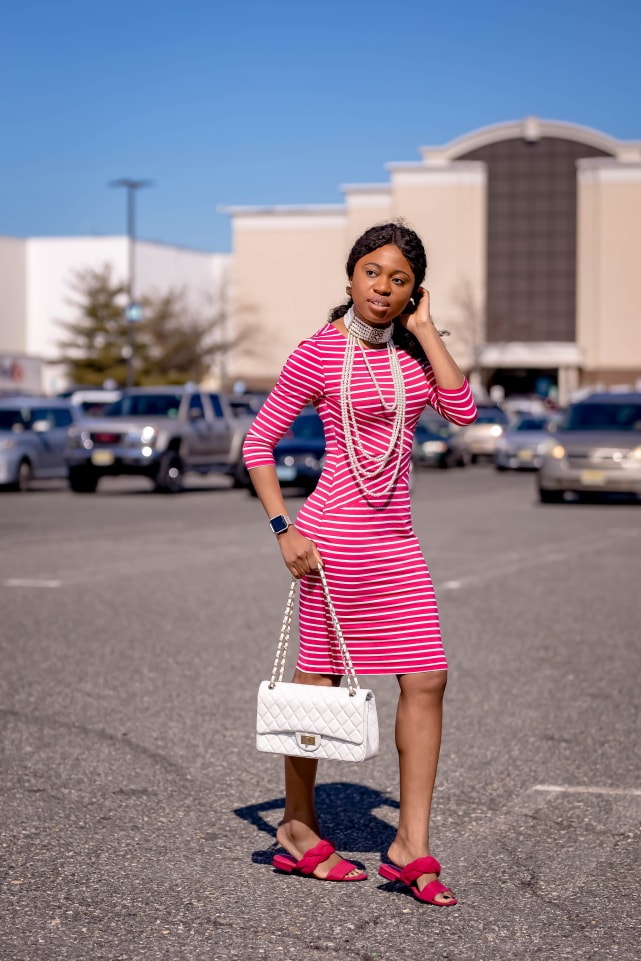 I usually stay away from bodycon-type apparels, but I just could not get my eyes off this striped pencil dress. It also has close to 1,000 4-star reviews on Amazon which is just insane.
With over 15 striped and solid colors, you can understand my dilemma deciding which dress to buy. I ultimately settled on the pink striped option when I recalled that I had a matching pair of striped slingback heels (similar) that I purchased from ShoeDazzle a few years ago.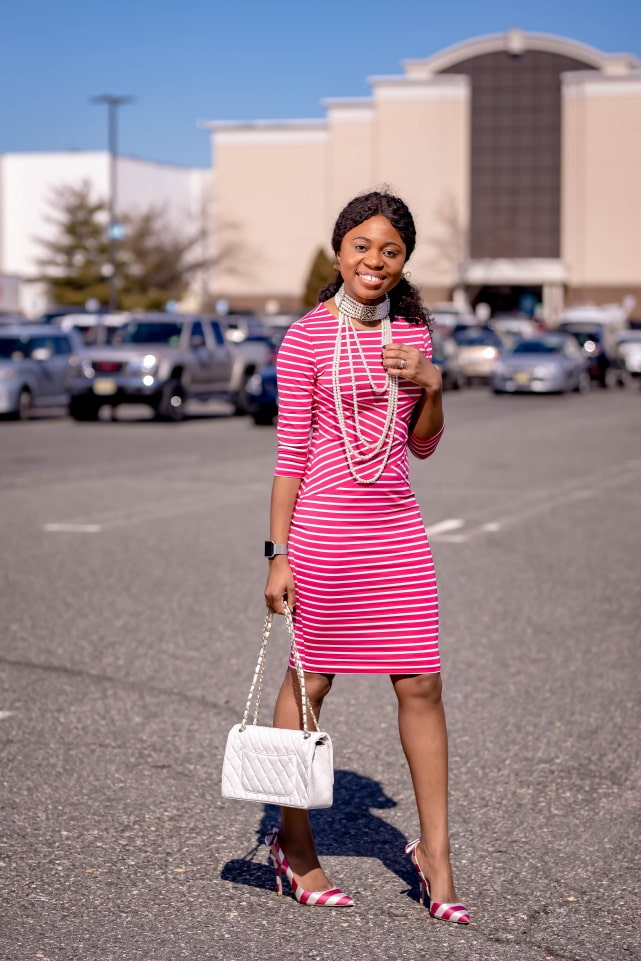 This Amazon bodycon dress is super soft, breathable and has the perfect amount of stretch. And at a jaw-dropping price tag under $25, it's hard not to scream heck yeah to this striped dress.
I'll describe this dress as lightweight but thankfully not thin. I'm wearing it here without a slip on a bright sunny day. In terms of fit, I'm wearing a size small, which is my usual size and I noticed that it dress still had some room.
So if you like a tighter fit for this style of dress, I'd consider sizing down for a more form-fitted appeal.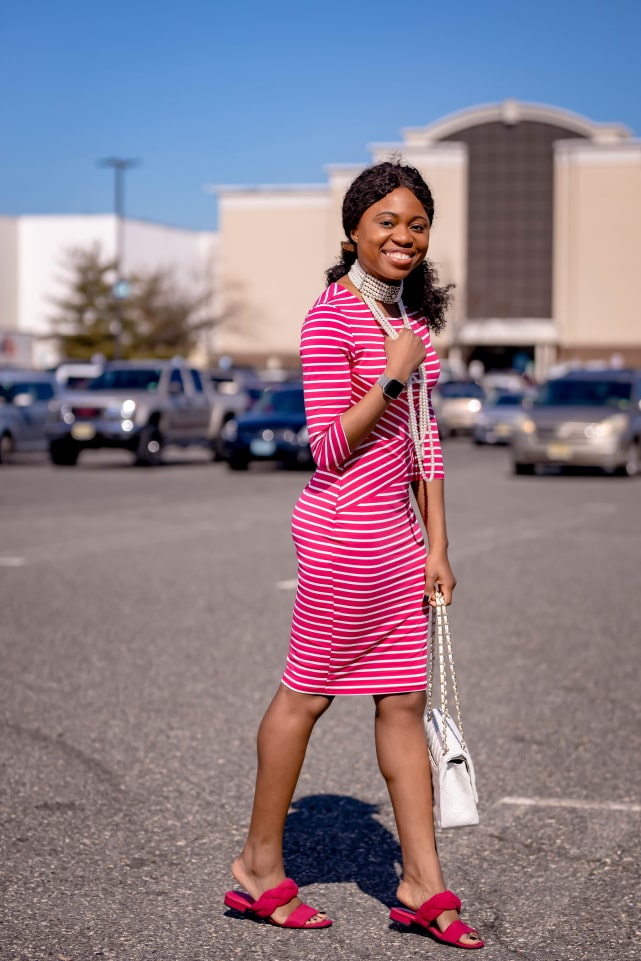 The three-quarter sleeve is a nice touch that makes this figure-revealing dress still a good option for a casual work environment. And the classic crew neck design gives this Amazon bodycon dress a classy vibe.
Lengthwise, the dress hits right on my knees making it the perfect midi dress. It is also non-restrictive with movement in case you're wondering.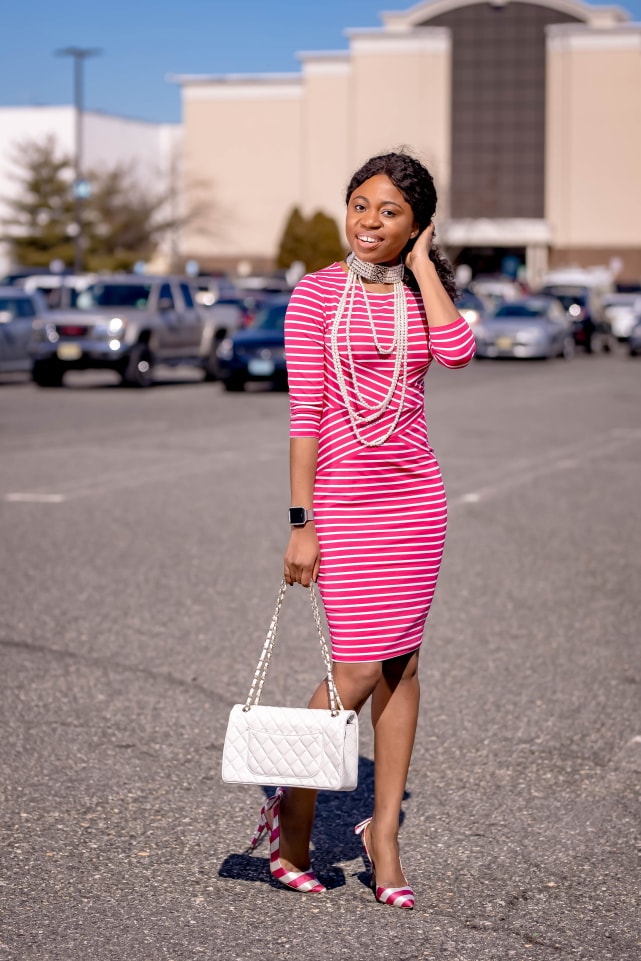 The feature I loved the most about this dress is the way the pink and white stripes are angled around the stomach area. I might be under 135 pounds, but I have a little pouch too.


However, the pattern of the stripes creates the illusion of a smaller waistline while adding an edge to the overall appeal of the dress. You can check out my first ever Amazon Fashion Haul to see photos of my try-on session at home.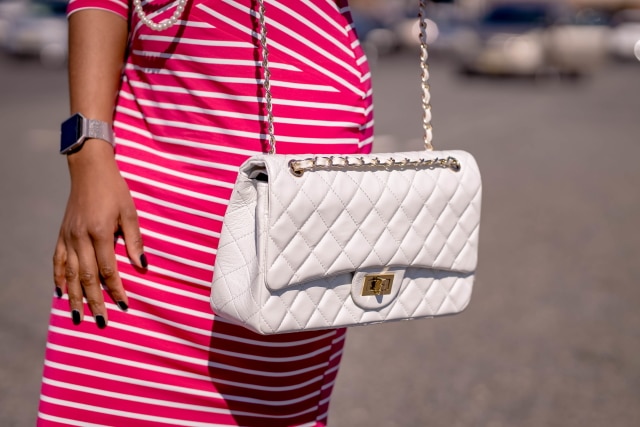 Sadly, this exact slingback heels is no longer available, but I found other cute striped sandals for you like this, this and this.
You all know my love for Amrita Singh jewelry. This statement choker necklace definitely amps up the entire outfit. For a dress this simple, I would absolutely wear a bold necklace or earrings and add a cute handbag to tie the look together.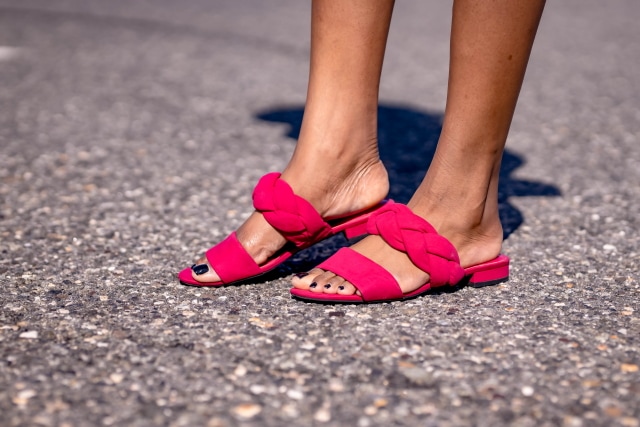 I thought a pink handbag would be nice but a little much so I opted for a quilted bag (similar) instead. A black structured handbag like this or this would be a lovely alternative to break up the pink and white color.
On a different note, you can dress down this cocktail dress with a cute pair of flats. Here, I'm wearing a pair of braided slides that I also got off of Amazon fashion sometime last year. This chic slippers is still available in a few color options, but sizes are limited. I wear US 8.5-9 shoes and wearing an 8.5 here.
This simple outfit (dress, shoes, handbag, and jewelry) is straightforward to recreate and is one you can rotate almost all year round for different occasions.


I am wearing:
Pencil dress (exact)
Braided slides (exact)
Quilted summer bag (similar)
Striped heels (similar, similar, similar)
Amrita Singh necklace (similar, similar, similar)

Photos by Mike Hickman Photography
Below, I created a collage of a couple ways you can wear this Amazon bodycon dress for a casual business setting, cocktail, or summer look.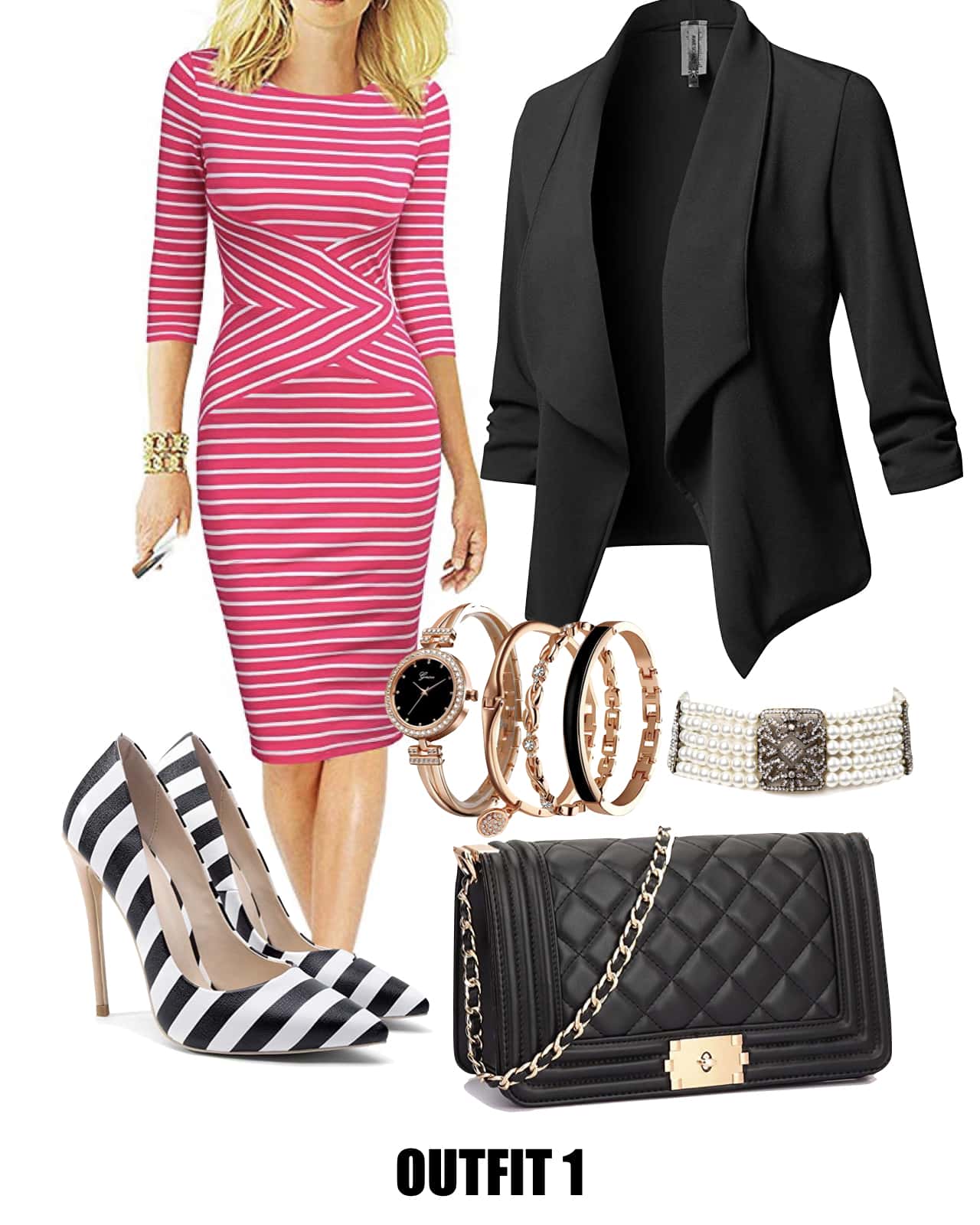 Shop This Look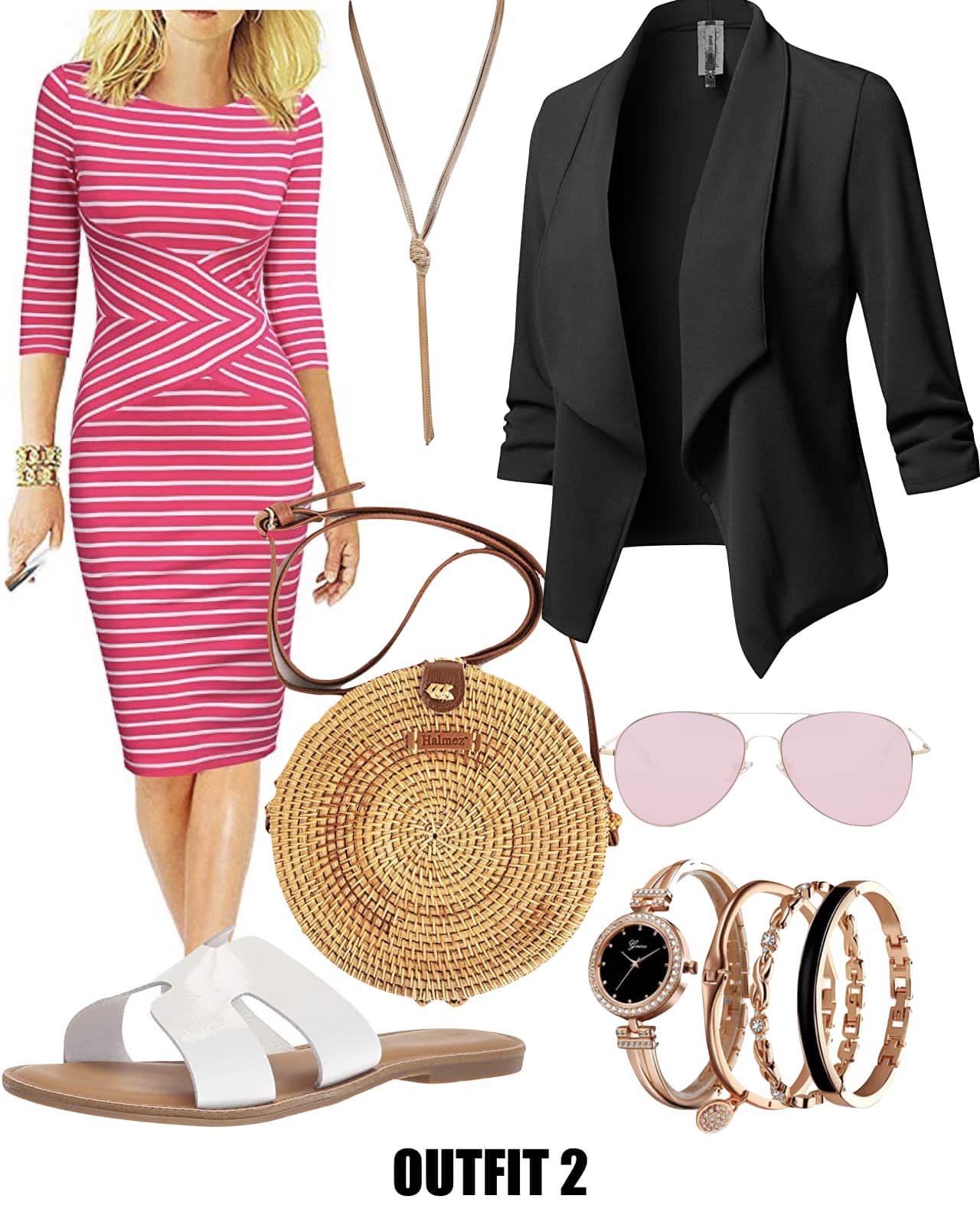 Shop This Look

You may also like these posts: The Ultimate Amazon Clothing Haul |