Amazon Clothing Haul: The Ultimate Amazon Fashion Try-on Haul & Review
This post may contain affiliate links which means I will get a commission if you make a purchase at no additional cost to you. As an Amazon Associate I earn from qualifying purchases. Please read my disclosure for details.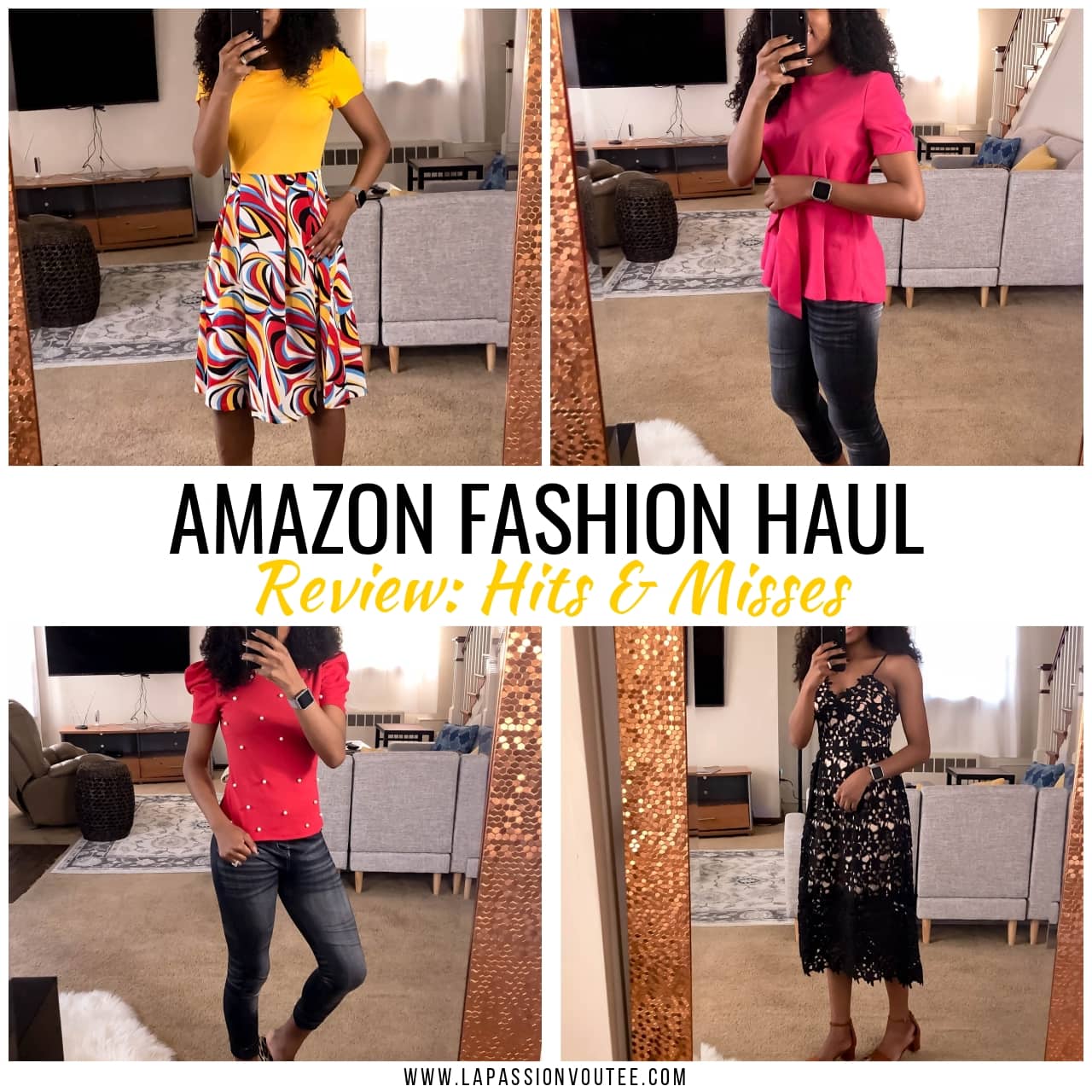 After curating my 10 Days of Amazon Fashion series, I thought it would be fun to start a new Amazon clothing haul where I share a huge Amazon fashion try-on and review of the best hits and even the misses of my latest Amazon haul.
I shared this Amazon try-on sessions on Instagram Stories, and you guys loved it! If you missed the first few Amazon haul, I've saved them to my highlight titled "Amazon" for you (or watch on YouTube below).
AMAZON CLOTHING HAUL
Ha! I'm super excited about this clothing haul. In fact, it is my first ever Amazon clothing haul. As an Amazon addict, I'm always on the website checking out the Amazon fashion best sellers and current Today's Deals for new, exciting and practical everyday style for women [like it's my full-time job!].
With spring on the horizon, I chose to focus on cute transitional and summery pieces. Most of the clothing from the Amazon haul is under $25. I also picked up some great finds under $15 too!
I'll be honest, I went a little overboard with my purchases. If you're not already an Amazon Prime member (what are you waiting for?), you can try Amazon Prime free for 30 days or free for 6 full months (with a .edu email address).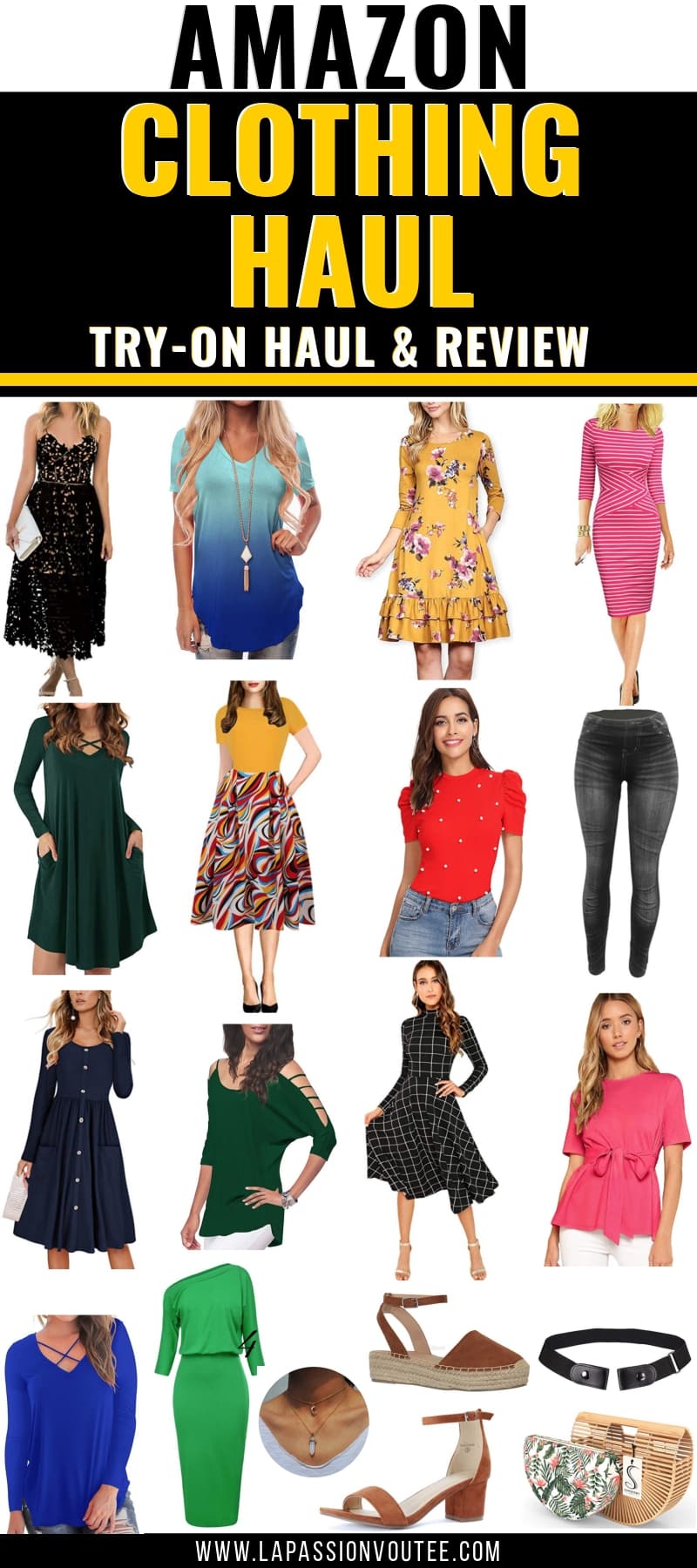 For those of you who asked how you can support my blog, keep reading… I use affiliate links on my blog, feed & Stories. These links allow me to create relevant posts for you. I also earn a small commission if you make a purchase at NO extra cost to you. But if you use a phone app to check out (like the Amazon app), it cancels out the commission ?.
If my content is helpful to you, skip the app and click through to the retailer on your browser using my link. These small commissions help keep the blog running, so thank you!
As Amazon does what Amazon does (and does it well), you get free and fast Prime Shipping on all products discussed in this Amazon clothing haul. PLUS free returns/exchanges if these do not work for you. Ok, let's get started!
For reference, I wear a size XS or S (US 4) and weigh about 125 pounds (depending on how much food I had for lunch/dinner ?).
AMAZON HAUL: DRESSES
Wearing: Size small. Fits true to size (TTS) or go down a size for a tighter fit.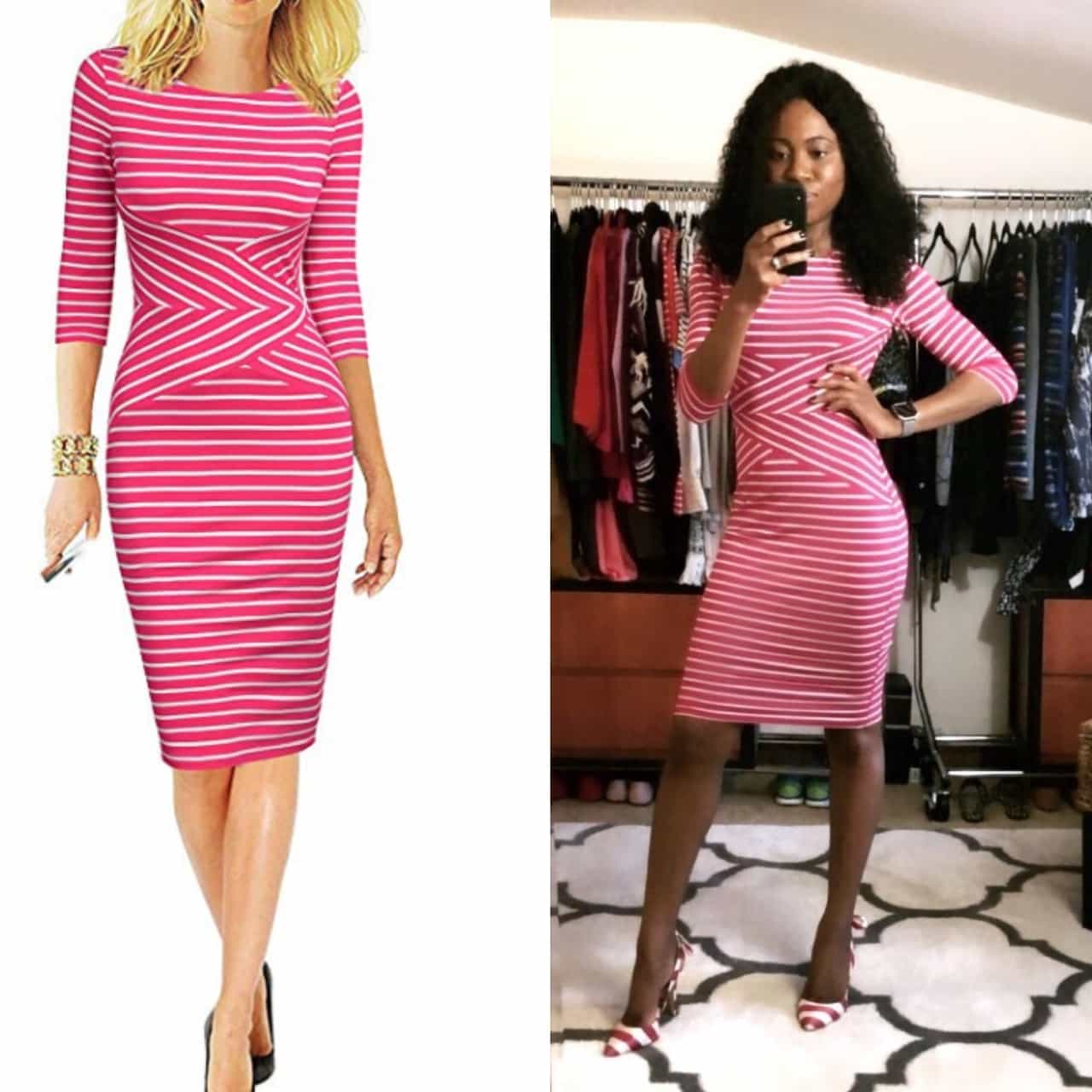 As soon as I spotted this striped dress on Amazon, I had to check it out. Although I prefer a loose, non-bodycon style of dresses, this one particularly caught my attention at under $25.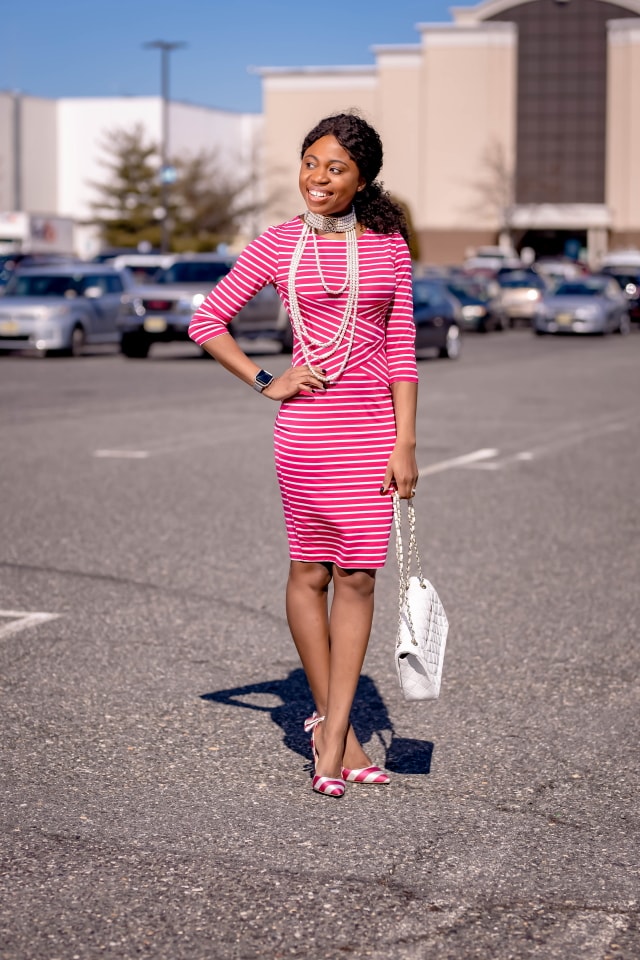 It has the perfect amount of classy: fitted design, 3/4 sleeves, a little leg action but still appropriate for a business setting, and a classic neckline. The cocktail dress is available in a mix of 19 different colors.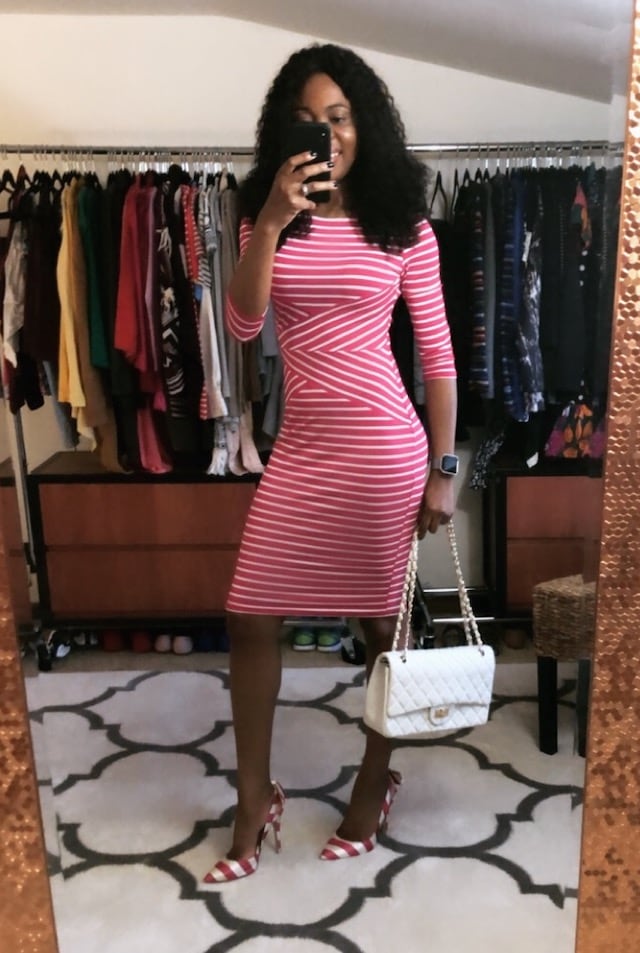 But I particularly loved what they did with the stripes on the stomach area. The pattern creates the illusion of a smaller waistline while adding an edge to the overall appeal of the dress. I'm wearing a size small which is slightly loose on the hips (or maybe I need more hips!).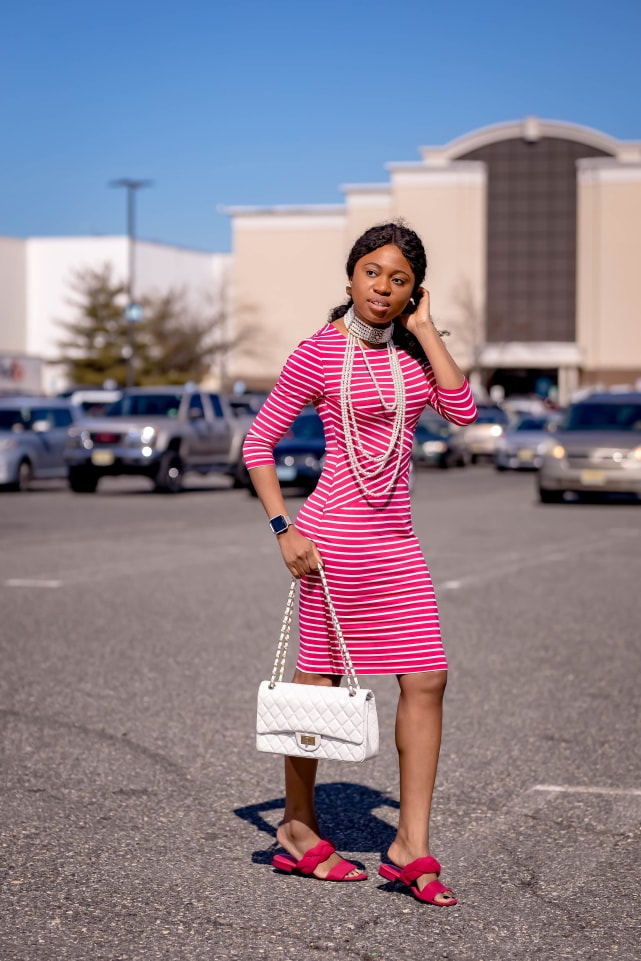 So if you like a tighter fit, go down half a size or order two different sizes. The fabric is comfortable on the skin and feels breathable.
Also wearing: Sam Edelman braided slides, Striped bow sandals (sold out – similar), white structured bag, Amrita Singh pearl necklace.
Wearing: Size small. TTS and stretchy.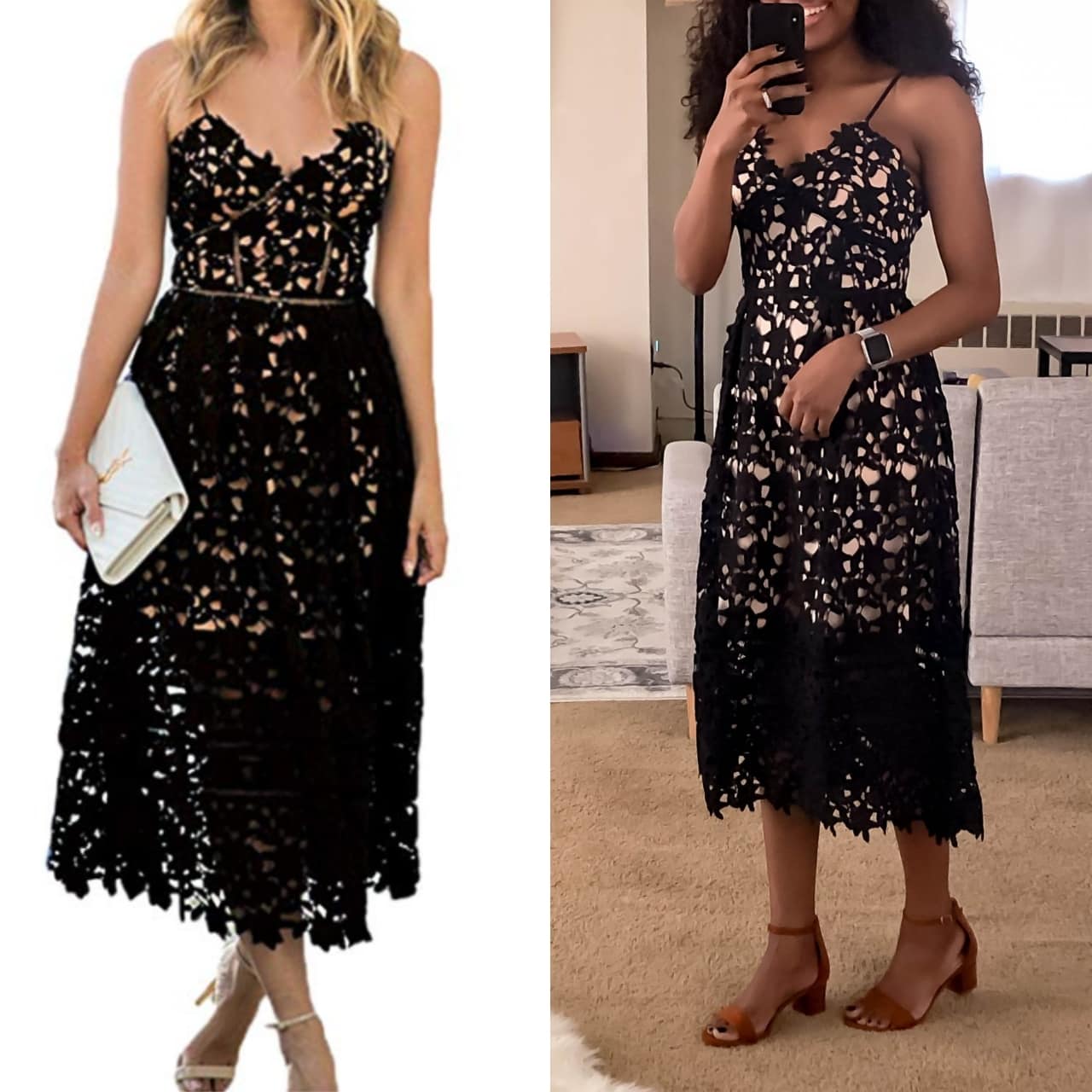 You've probably already seen the super expensive Self Portrait lace midi dress going for a price tag of $390+. This hollow lace midi dress is an excellent bag at merely a fraction of the price. I rocked a similar style from SheIn (you can read my SheIn Review for details), but I think this Amazon dress is a better option.
For starters, this dress is more flowy whereas the SheIn version is rigid with some of the lacy bulk on the mid-region. I also love that the fabric of this floral lace dress is stretchy (the SheIn version is not) so you have some wiggle room for the usual weight fluctuation.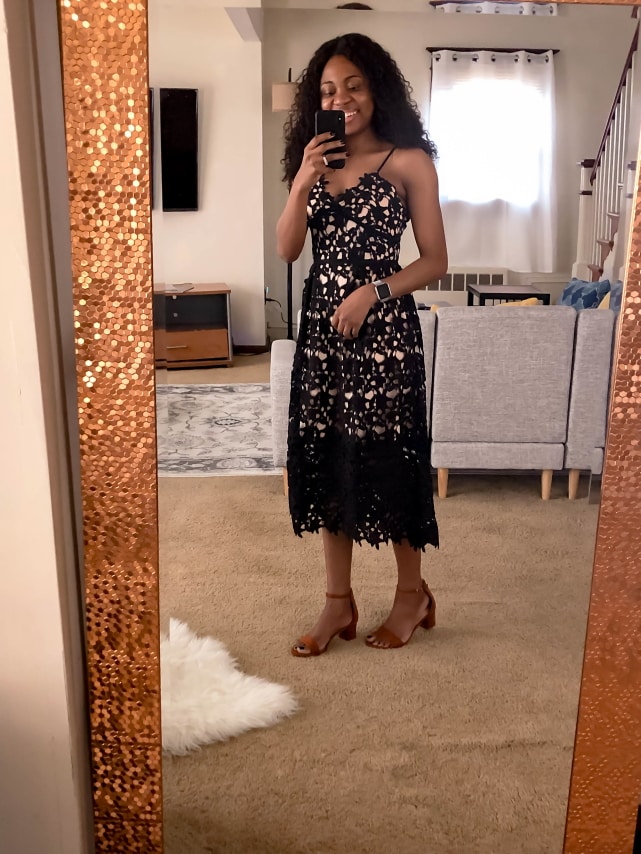 You might not know, but pockets are the best invention since the discovery of trousers. And this midi dress hits that checkmark with two non-intrusive decent-sized hidden pockets. Again, the SheIn version, which I also love, has no pockets.
This under $35 dress also ships free with free return with your Amazon Prime membership. It is available in 5 color options, and I'm seriously considering ordering the dark blue version or doing an exchange. I'm still undecided.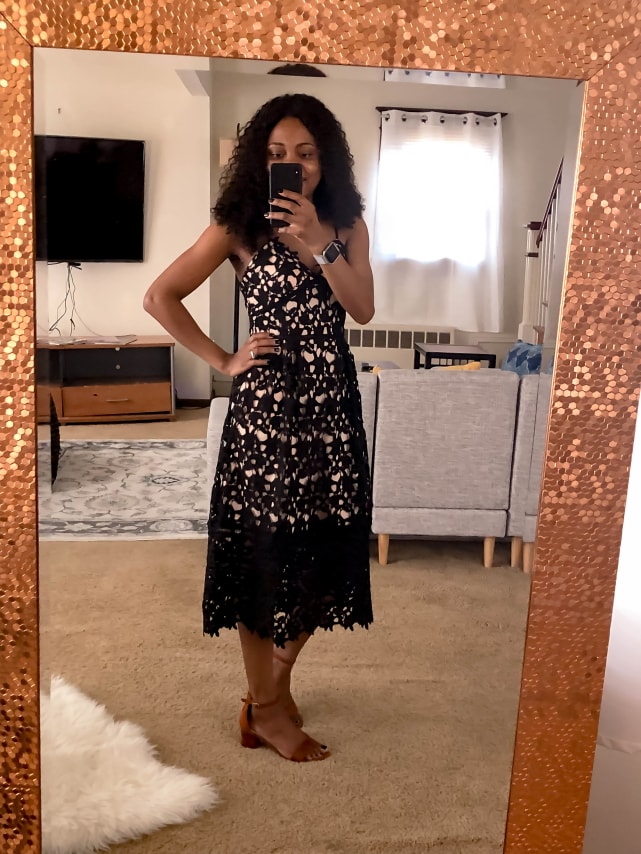 And if you prefer to shop at Nordstrom, there's also an ASTR option for $89 . Or you can get the Amazon dress for $35. For reference, here's a side by side of this Amazon lace dress next to the SheIn lace dress 🙂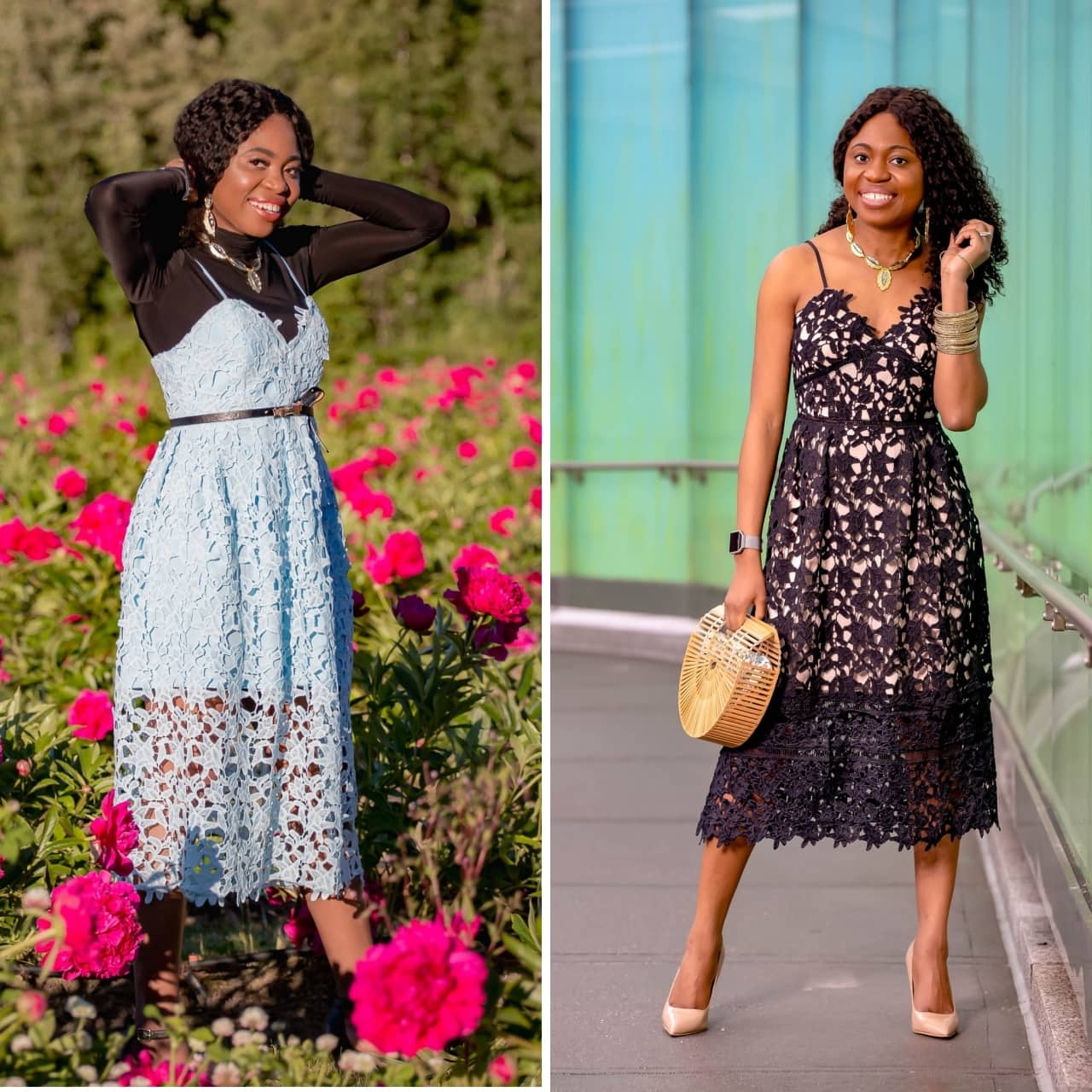 Either way, I highly recommend this dress. It's an excellent option for cocktails, weddings, prom, and other formal occasions. You can also dress it down with a pair of chic flats.
Also Wearing: SheIn lace dress (Is SheIn Legit?), Amazon ankle strap sandals.
Wearing: Size medium (the reviews lied lol). Runs TTS.
So I went off the reviews on the gorgeous floral A-line dress and ordered a size medium. 50% of reviews said the dress runs small, I disagree. Although I don't feel like a bag of potatoes, it'll be nice to have a loose-fitted dress with an emphasis on "fitted."
Sizing aside, this floral tunic is super cute. It is 95% cotton and 5% spandex, which adds dimension to the fabric.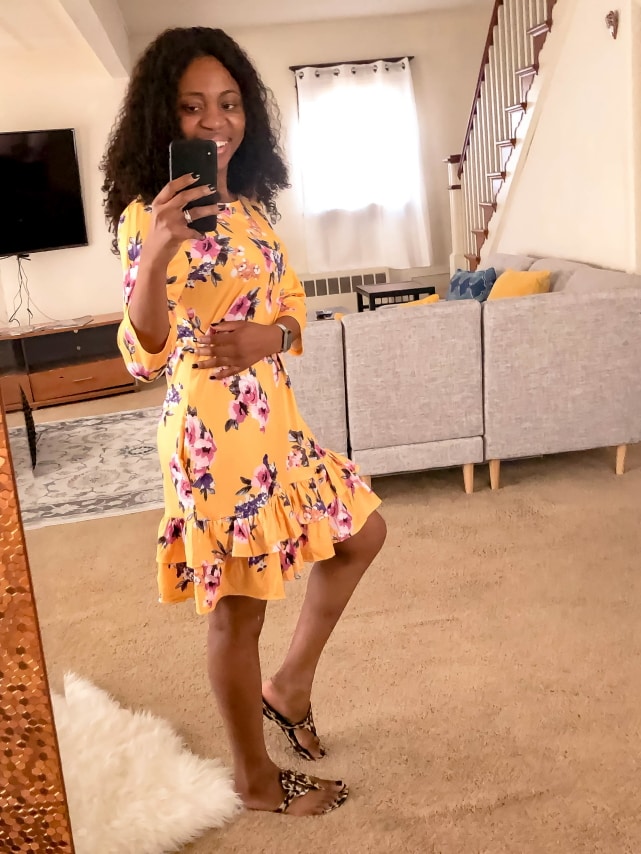 The layered ruffles is another elegant detail that adds to the beauty of this summer dress. Speaking of the weather, this dress would be perfect for warmer weather or on a chilly day when you want a slightly thicker fabric.
I got the 3/4 sleeve option, but it's also available in full sleeves and four color options. Sizes run from small to extra large. It also has two pockets large enough for an iPhone and other small sundries.
I think I'm going to re-order this A-line dress as part of my next Amazon clothing haul to see if I like the fit better.
Also Wearing: Tory Burch sandals.
Wearing: Size small. Runs slightly big. Stick to your regular size if you like the fit on me or size down.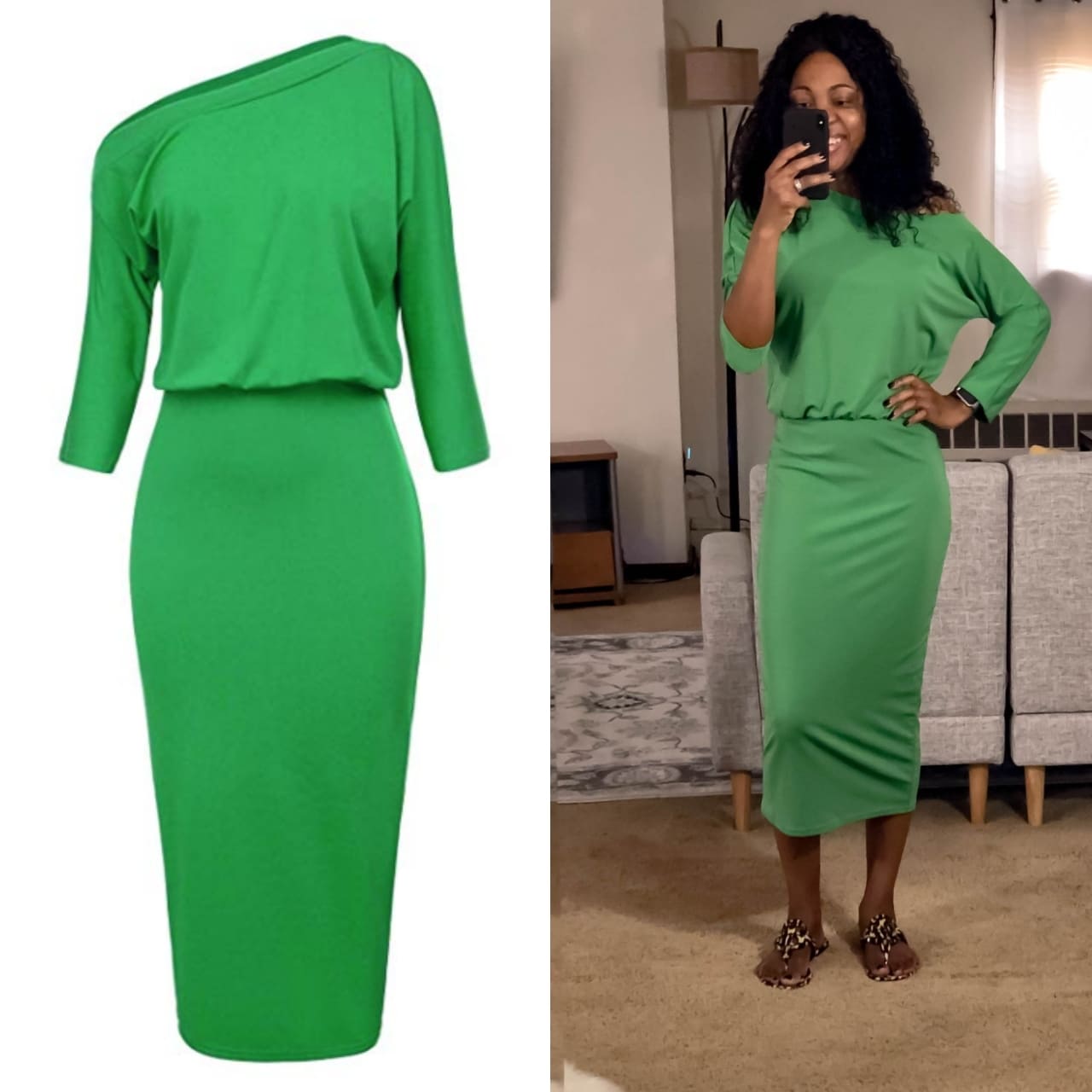 Although I mostly had hits with this Amazon Clothing haul, I also had some misses. And this stunning pencil dress was one of them. I really wanted to love this sexy number, but it just did not look right on my figure.
I was drawn to the asymmetrical style with the cold-shoulder action. It gives off a sexy yet elegant vibe. And the ruching on the waistline is particularly attractive if you're feeling a little bloated or planning for an all-you-can-eat buffet.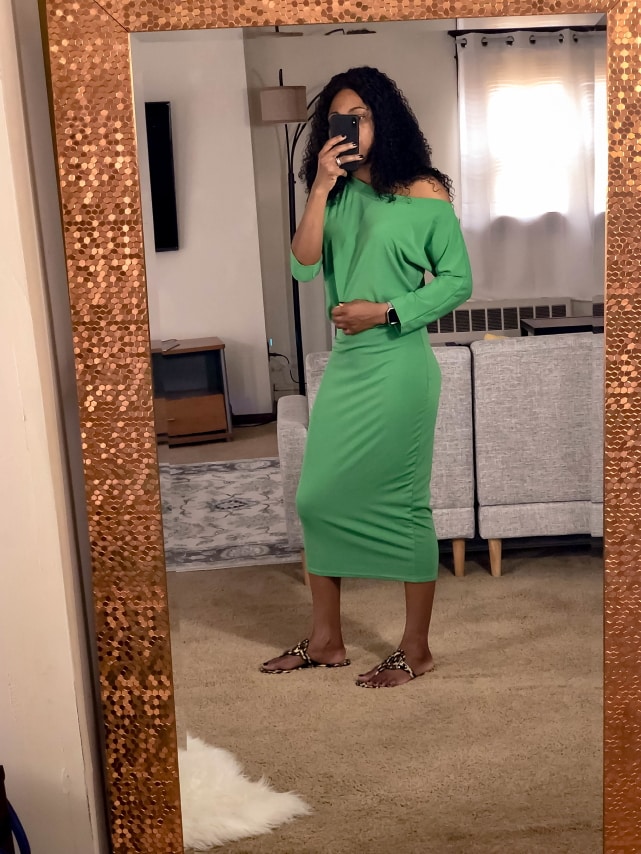 I considered sizing down, but I'm sadly already wearing the smallest size. This bodycon dress might not be for me, but it might work for you or someone else. It is soft, and the fabric feels substantial so you should not need a slip underneath. I say, go for it if you like this dress.
Also Wearing: Tory Burch slippers.
Wearing: Size small. Runs TTS.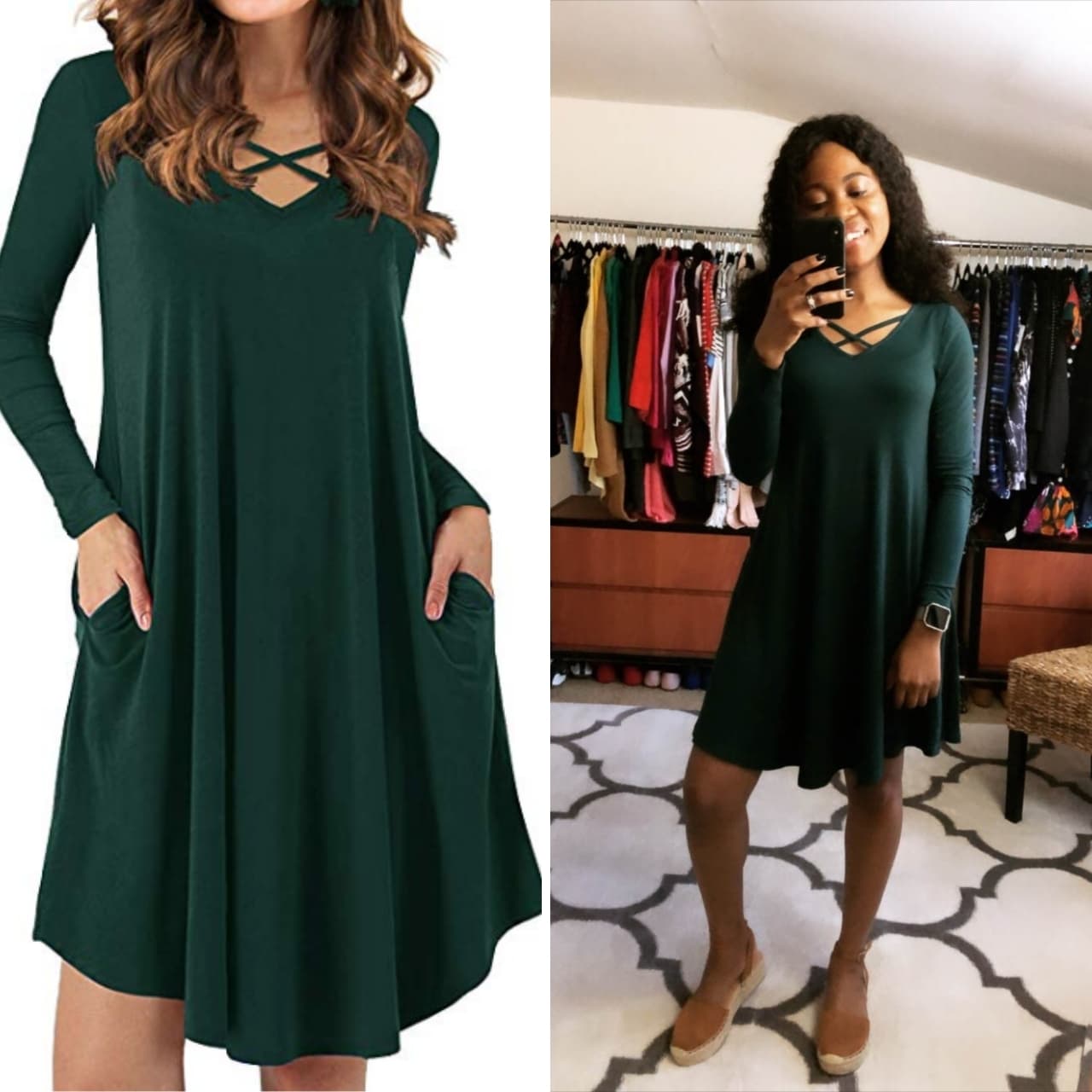 This criss-cross casual dress is another wonderful Amazon find. I thought that little detail was the perk this plain solid swing dress needed to go from boring to chic. The v-neck pattern adds a little peek-a-boo action.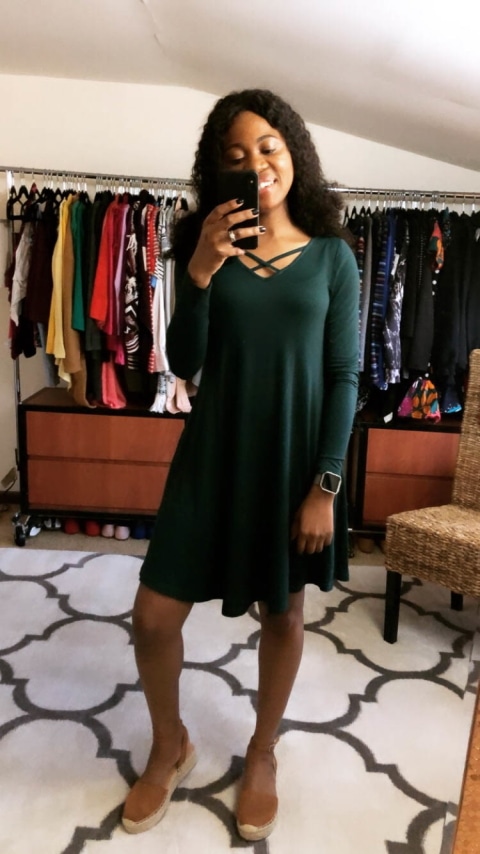 I like that the dress feels soft and flowy like jersey t-shirt fabric. It also has a great length. The dress hits just above the knees just high enough where you don't have the urge to hold on to the hem of the dress. However, under windy conditions, you might still want to hold on to the free-flowing dress because it'll go in whatever direction the wind is blowing 😉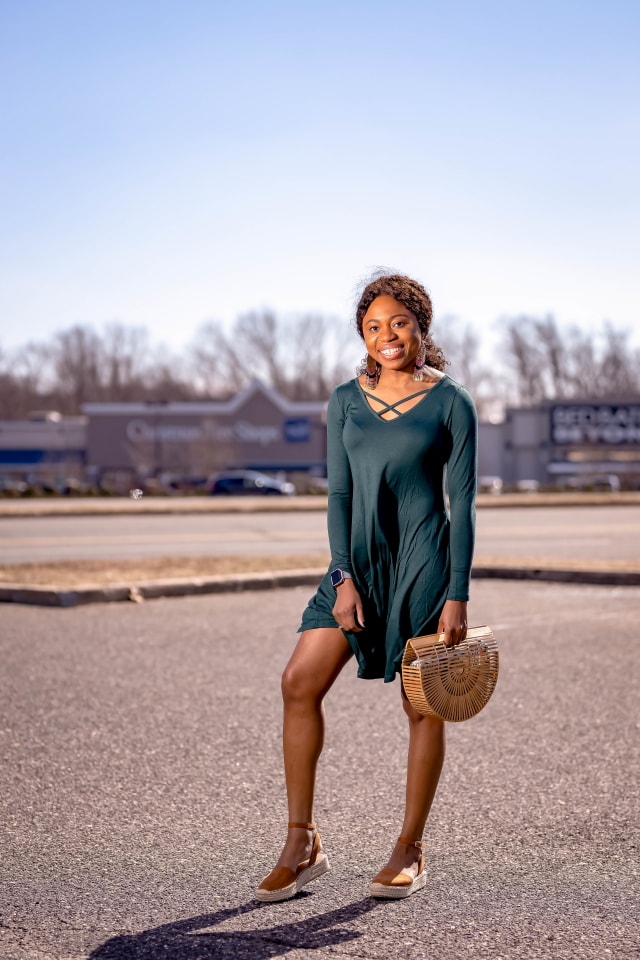 Would I recommend this swing dress? You bet! It's under $20, has a unique V-shaped hemline, and crisscross neckline that make it stand out. It also has two hidden pockets for your convenience.
Also Wearing: Amazon bamboo bag and Amazon vegan flatform espadrilles.
Wearing: Size small.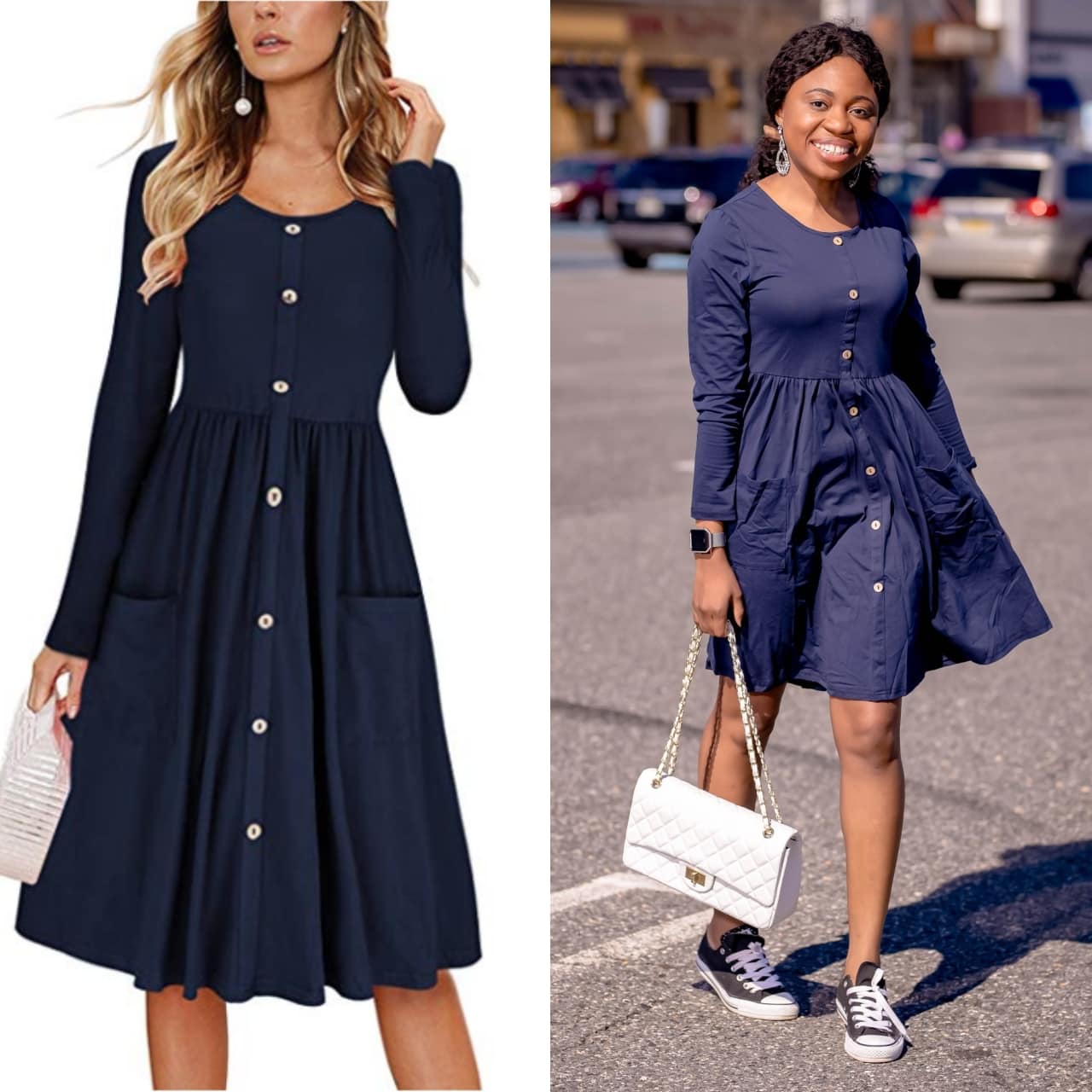 I'm a little on edge about this affordable sundress. At first, I loved then I didn't. So I guess you'd call that "undecided." What exactly did I not like about this dress from this Amazon haul?
Well, the waistline appears higher on me than on the model. One wrong move and I'll end up having a faux baby bump. Also, the length of the dress looks longer on the model than it does on me.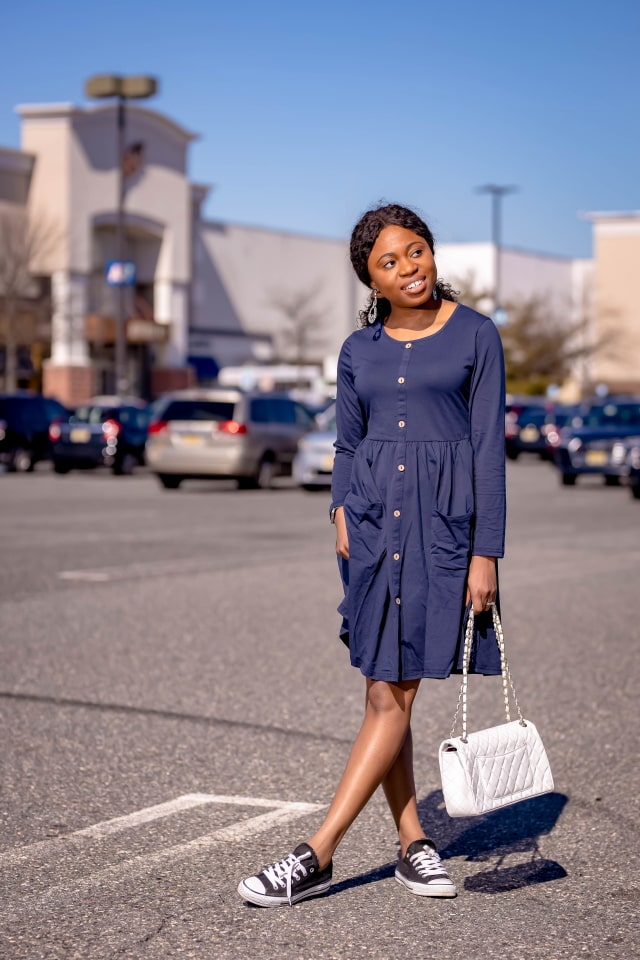 However, the material felt nice, soft, stretchy and comfortable. It is actually a mix of cotton (95%) and spandex (5%), which together add depth to your look as you walk.
The faux buttons running from the top to the hem of the dress is a charming bohemian touch. This under $25 dress is also highly rated on Amazon. On the right body frame, this dress would be banging hot.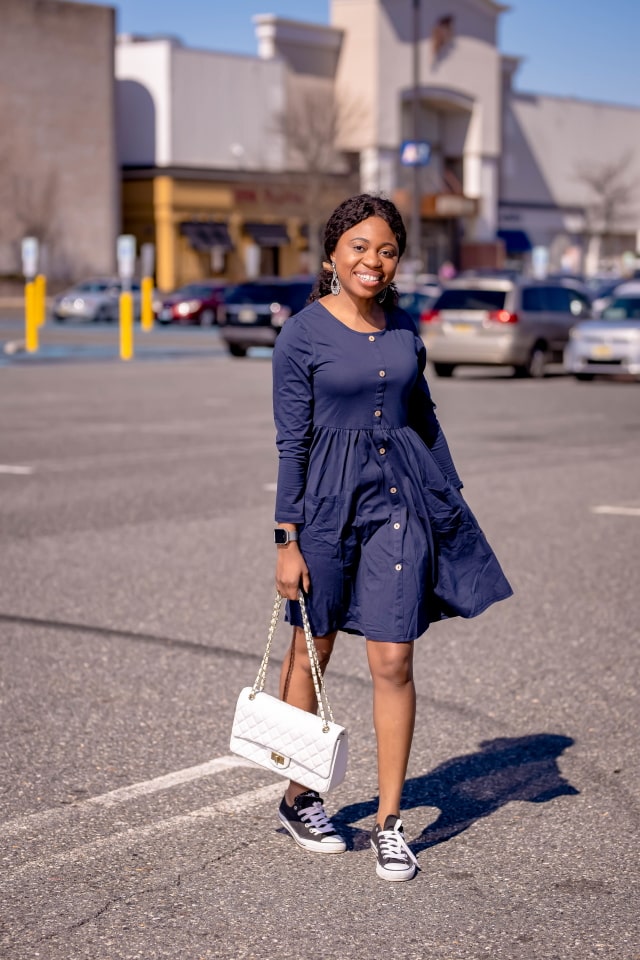 Style this button-down dress with a youthful All-star sneakers, like I did. Or trade those for a pair of cute flats, espadrilles, or slide sandals. The two front pockets are a plus for ladies who love having pockets on their clothes.
If this style appeals to you, then, by all means, try it out. This summer dress might be a miss for me, but I wager it'd be a hit on others.
Also Wearing: All-Star sneakers, similar bag, Amrita Singh earrings (similar)/
Wearing: Size small. TTS.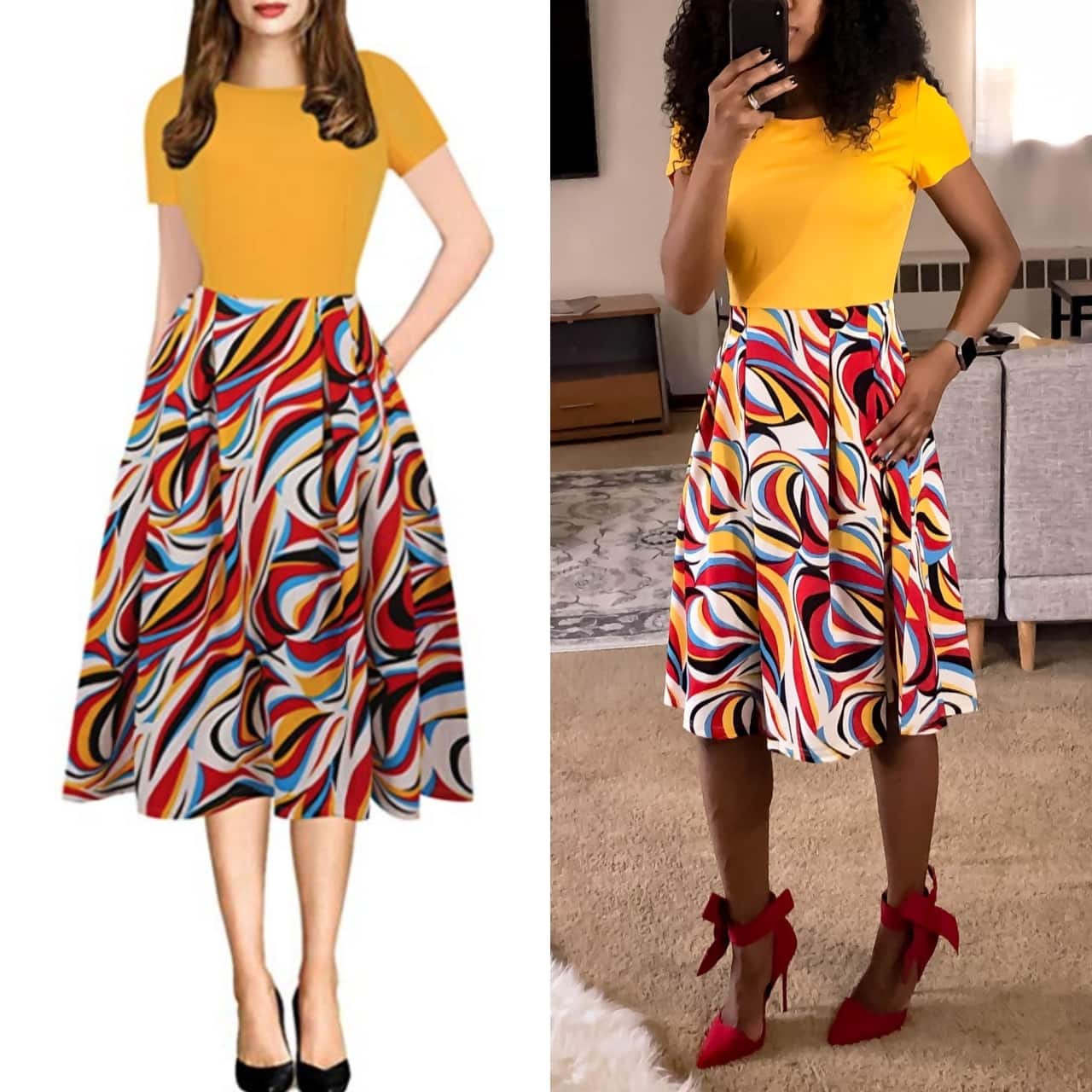 Let me preface by saying that my partner walked by as I was doing the Instagram Story try-on for this dress and said, "wow! That looks lovely!" You can bet money that this dress is going nowhere.
I had an image in my head when I initially tried this dress (before my IG Story), and the dress did not fit that mold. For some reason, I thought the summer dress would be puffier than it actually looked.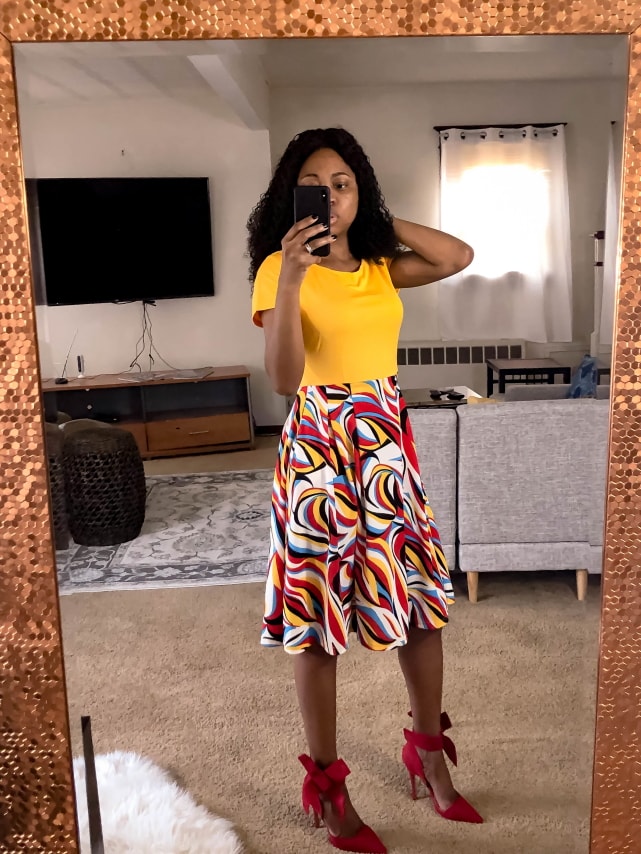 After sleeping on it and hearing that nice compliment, I had a change of heart. This time, I fell in love with the volume: not too bulky, not too light; just right. The colors pop and are full of energy. But if subtle, less vibrant colors are more of your style, or you're totally digging florals right now, there's plenty to choose from. Precisely 36 combinations of color, patterns, and prints.
It's no wonder this dress is an Amazon bestseller with almost 3,000 4.5-star reviews. Sizes range from S-XXXL.
Also Wearing: A pair of $30 red bow pumps which is the perfect alternative for the $298 Aminah Abdul Jillil bow pumps. Also seen here is a pair of scrunch flats.
Wearing: Size small. Runs small. Size up!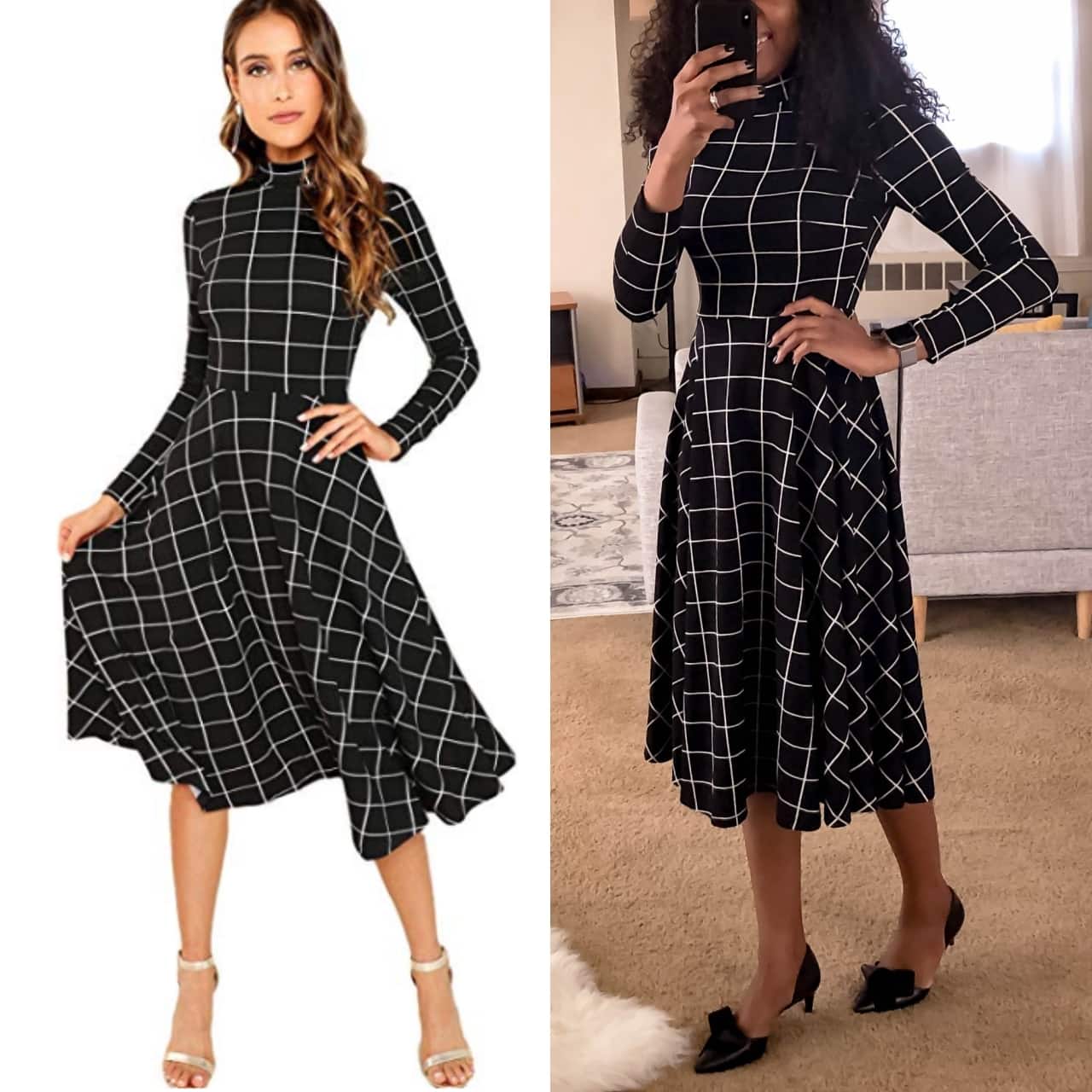 This plaid fit and flare dress is one of the few I wish I had gone up a size. The sizing appears to be cut for an Asian frame, so it runs small. The waist and dress length were perfect, but the neck was a little too tight after buttoning up at the back, the shoulder could have used a bit more fabric, and the arm a tad bit too short.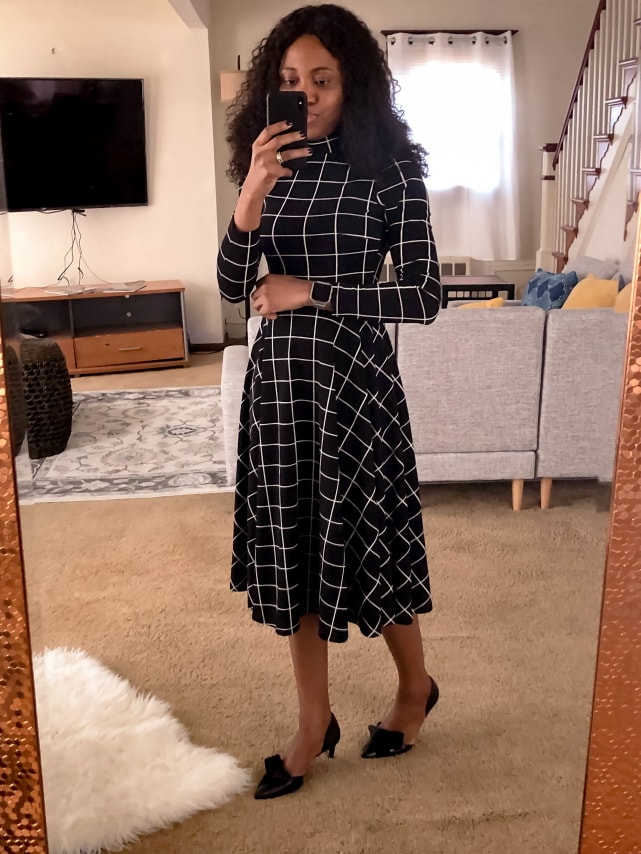 If you're a smaller frame (I'm 5'5), then you might have better luck with this pretty dress. On second thought, I might order this plaid dress in a larger size to see if it fits better. The fabric (exact composition not listed on Amazon) feels nice on the skin, and it is opaque so you would not need to wear a slip underneath.
This dress is definitely one you can wear to a variety of occasions. From work or school to church and weddings. I'm actually quite surprised that this midi dress does not have better ratings on Amazon.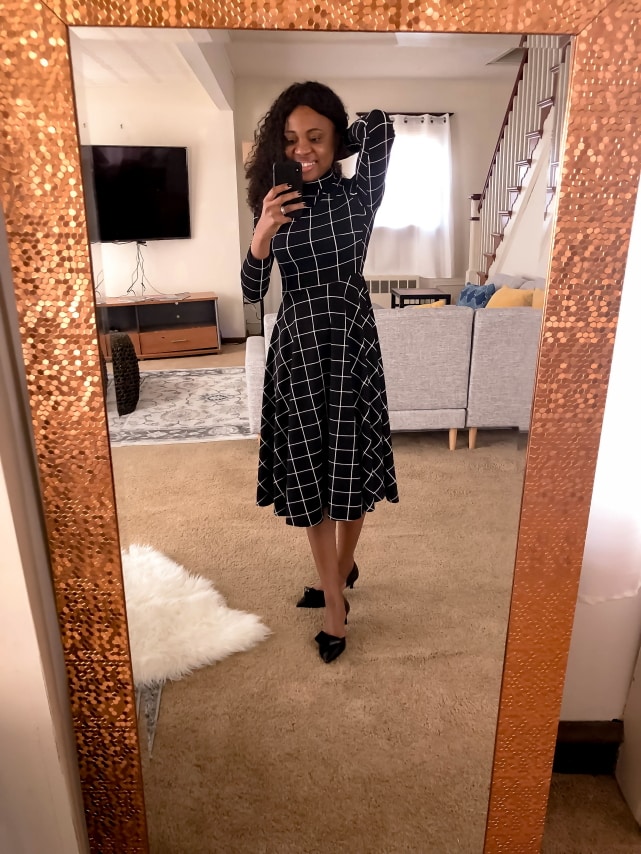 You can also get this plaid dress in navy or burgundy in sizes extra-small through large. Just don't forget to size up (or order your regular size and one size up).
Also Wearing: A pair of sleek, twisted bow pumps with kitten heels.
AMAZON HAUL: TOP
Wearing: Size small. Runs TTS as a loose-fit style (size down for a tighter fit).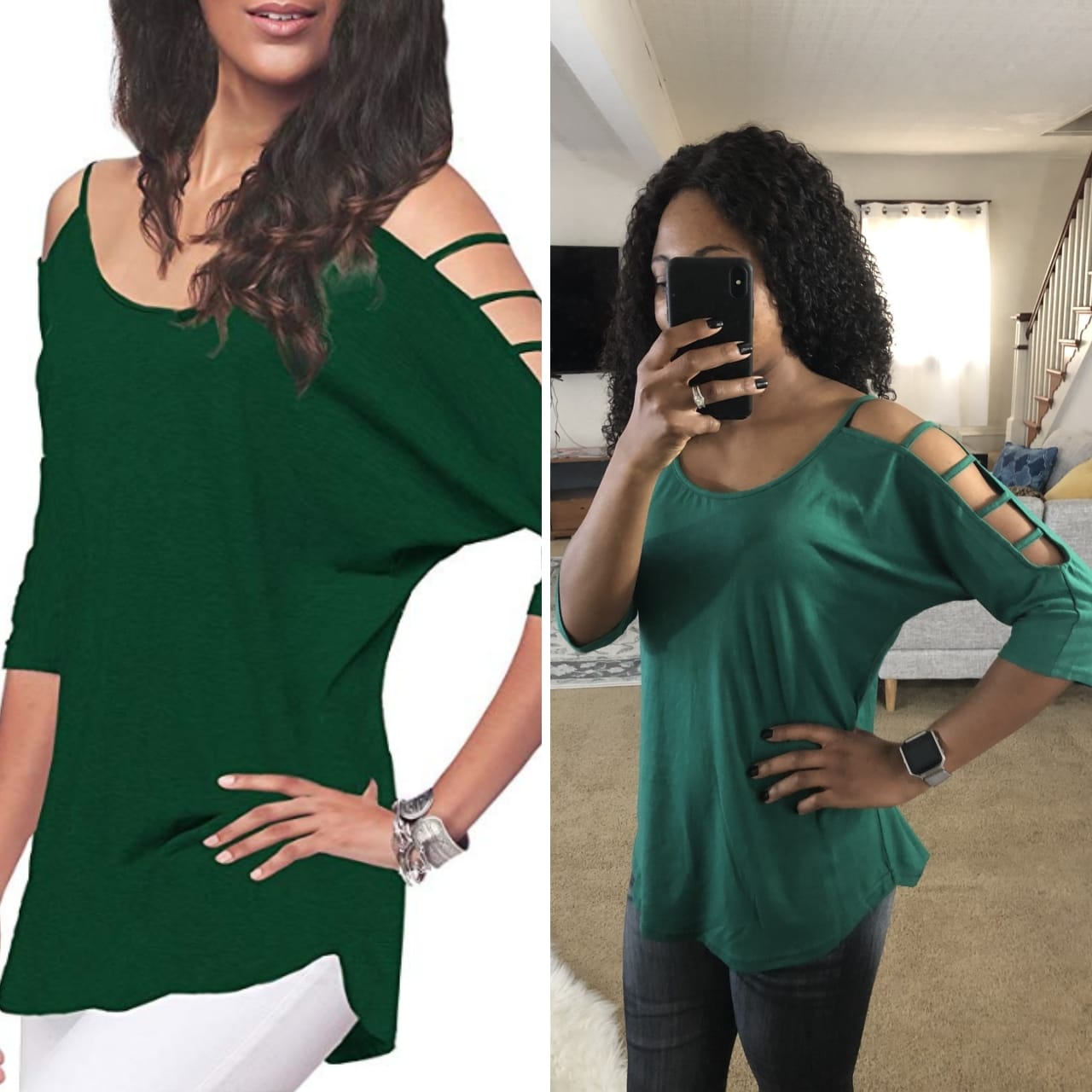 This hollow cut shirt is another highly rated top on Amazon with over 2,600 reviews and an average of 4.3-star rating. I might have actually seen this blouse on the bestseller list. 86% of people who watched the Instagram Story said they loved the blouse.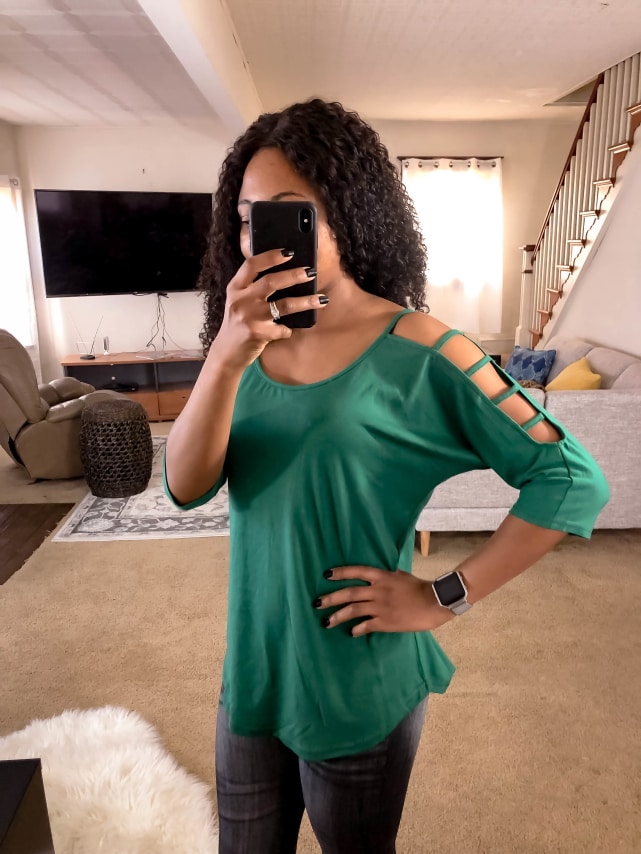 The cut-out shoulder detail makes this blouse combined with the wide crew neck style stand out from others. It also has a three-quarter sleeve that is the perfect length. The shirt is also stretchy and flowy which adds character to the overall look.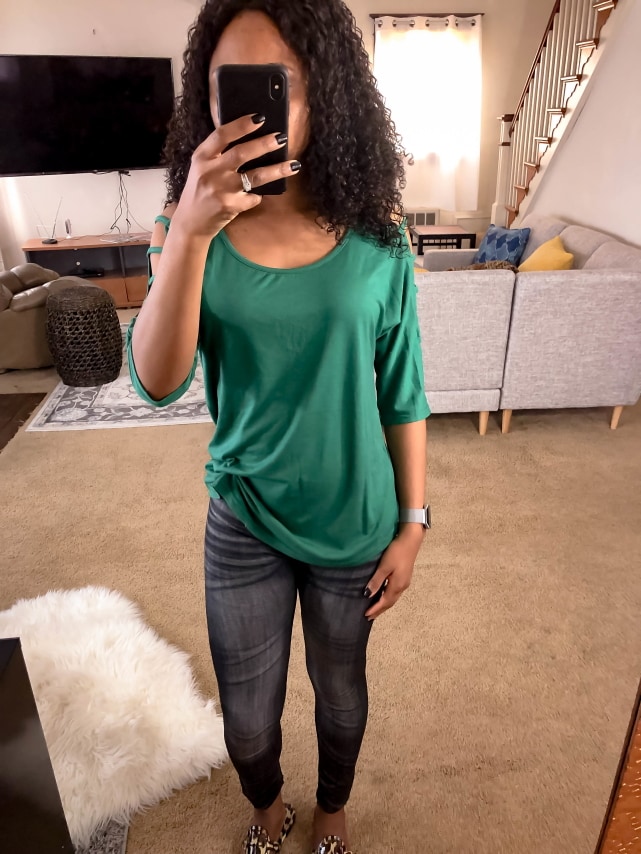 In the "grand scheme" of this Amazon clothing haul, I can't keep every single thing I order and this blouse sadly did not make the cut simply because I prefer a tighter fit. The length is great as it hangs right around the hips for those who would like a little more coverage. So my vote is a "hit" just "not for me."
Also Wearing: Fleece lined leggings (also part of this Amazon haul), and Tory Burch flip flop sandals.
Wearing: Size medium. Runs TTS or size up for a classic t-shirt relaxed fit.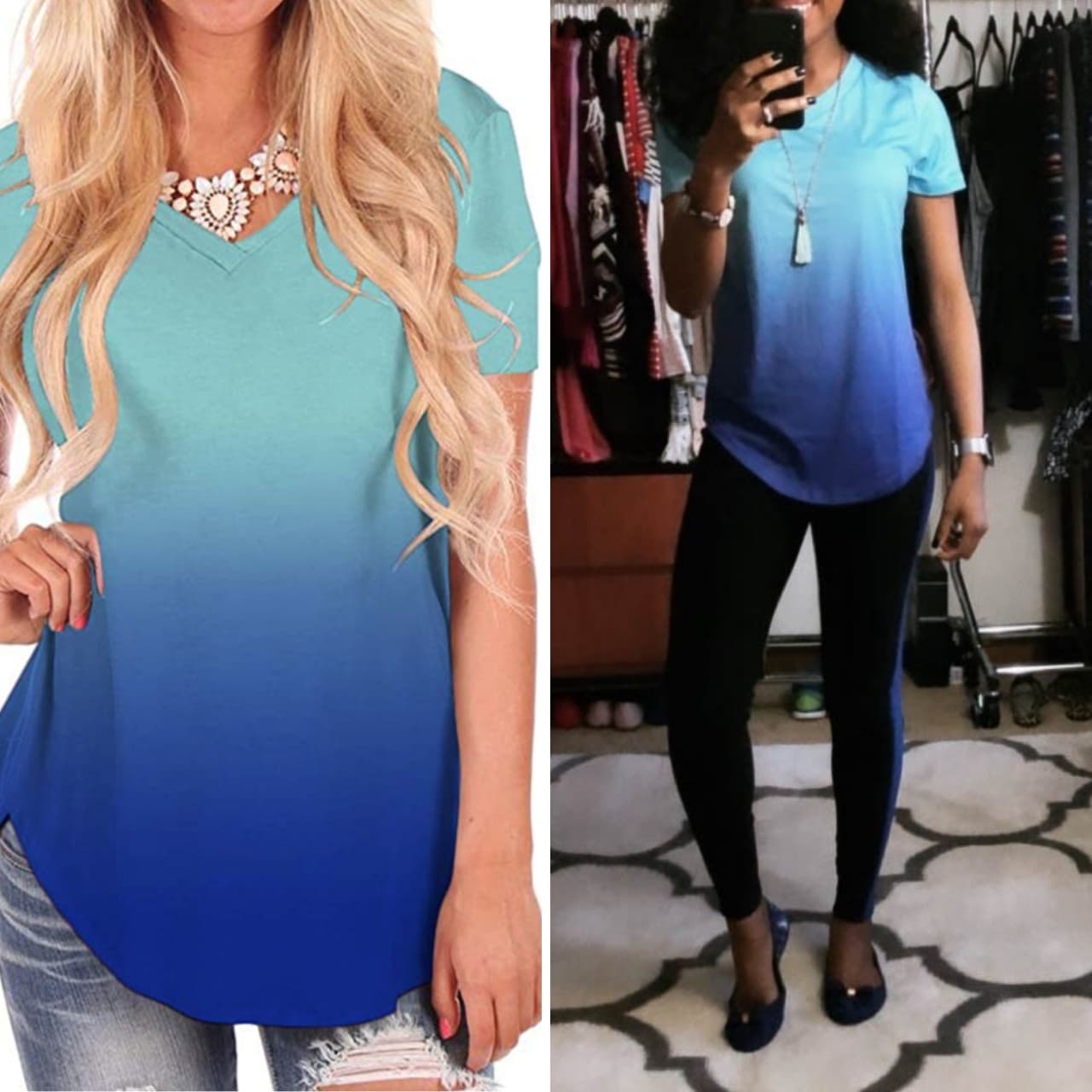 This $10 color gradient fitted tee is arguably one of my favorite pieces from this Amazon fashion haul! I decided to size up to a medium for a relaxed fit. The material feels silky smooth and lightweight but not see-through.
This V-neck ombre shirt has some stretch (35% spandex) which allows for easy pull-on over your head. If you prefer a solid color or long-sleeve style, there are over 22 different options for you.
This tee would be great for spring and summer paired with your favorite leggings, denim, or jean shorts. It's an awesome bang for your bucks!
Also Wearing: Tuxedo leggings (similar), and Ted Baker ballet flats (similar), necklace/bracelet gifted from my Alaskan mom.
Wearing: Size medium. I recommend sizing up. ~53% of Amazon reviewers say this blouse fit as expected.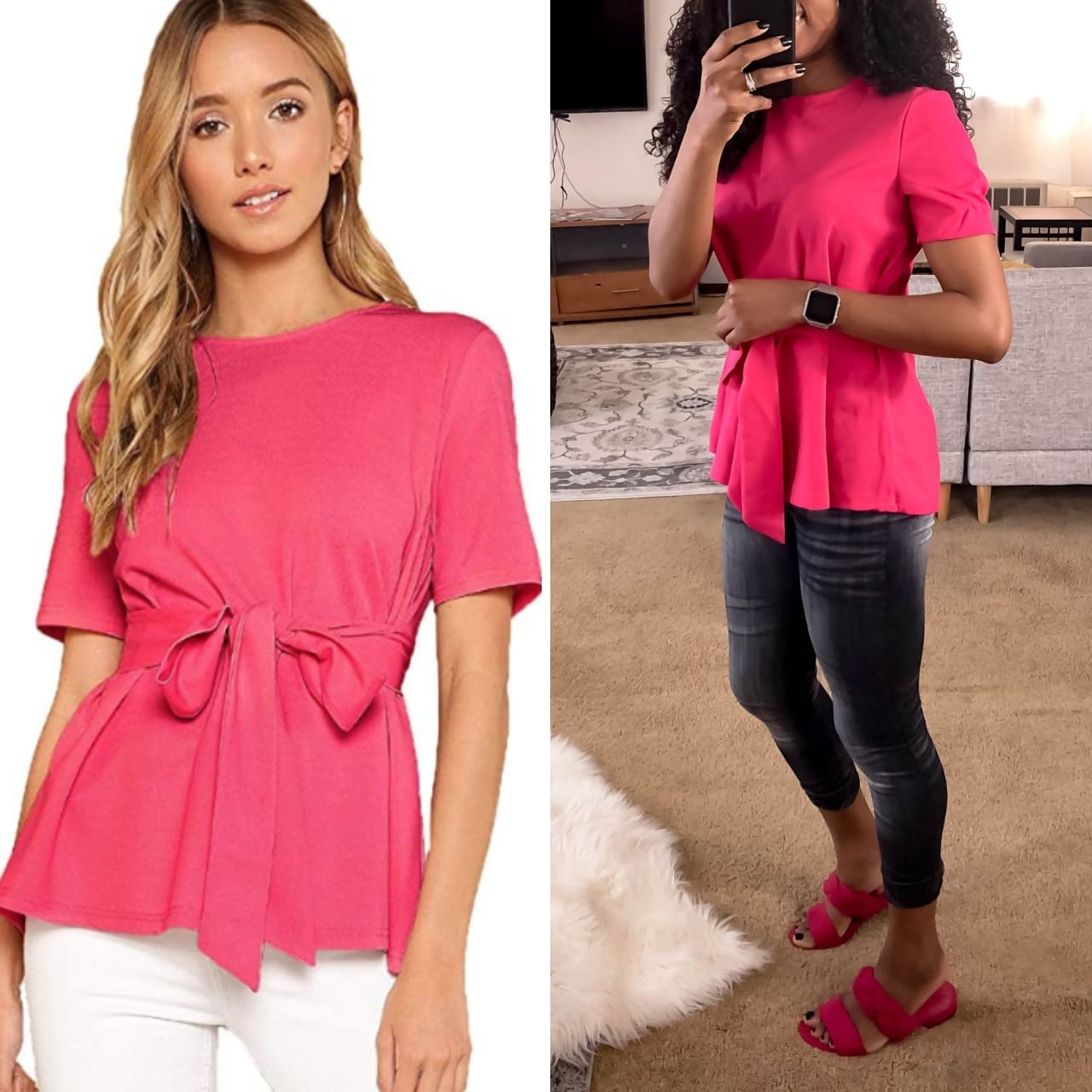 Also on my list of hits is this front knot blouse. I was hesitant to hit the buy button on this shirt because it had a 3-star review. I'm so glad I ordered it! The top looks and fits as expected.
The waist knot detail is super cute, and the back of the blouse has a faux belt detail that defines (and somewhat slims) your waistline while pulling the ruffles to the front of the shirt. As for length, it hits right around the waist which makes it perfect for most occasions.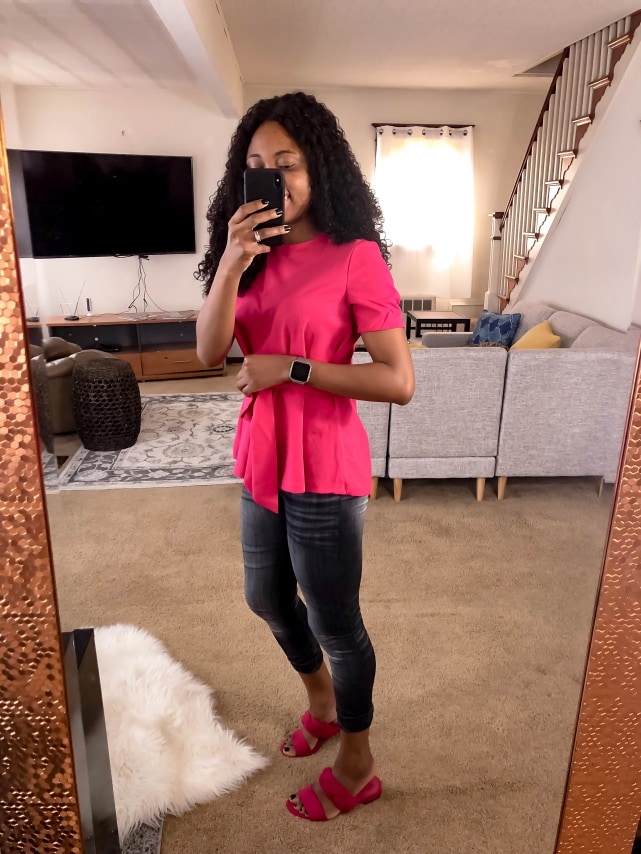 If you watched my IG Story, you'd see that the only issue I had with this blouse was the back button that came off. I was contemplating returning and re-ordering it or just getting a needle and thread to fix it. More than half of you voted for me to fix it. So, fix it is! My bet is that the button issue was a one-time thing.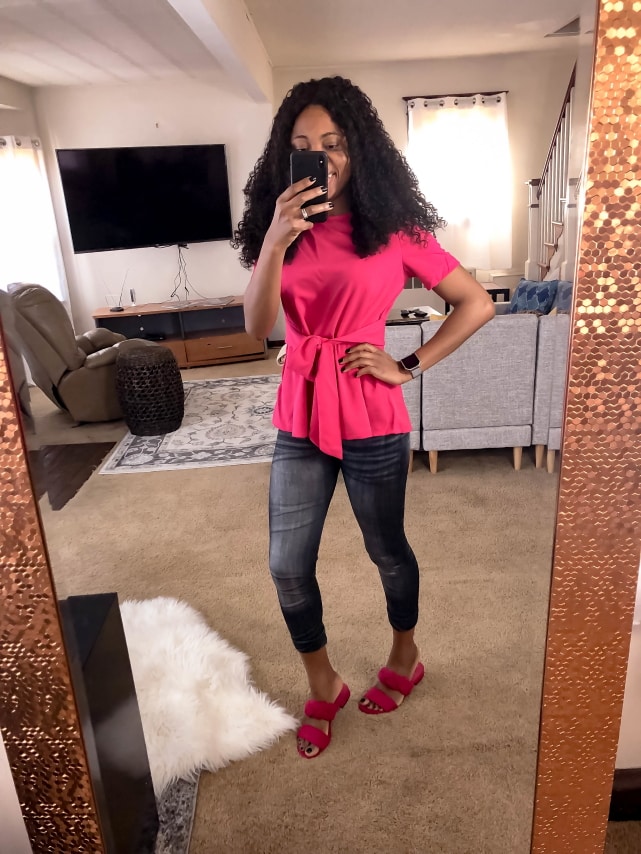 You can wear it to work, for brunch, and date night. It's a cute little top that you would love. You can score this blouse for as low as $12. This short sleeve blouse definitely sparks joy.
Also Wearing: Fleece-lined jeggings, Sam Edelman braided slides.
Wearing: Size small. Runs TTS.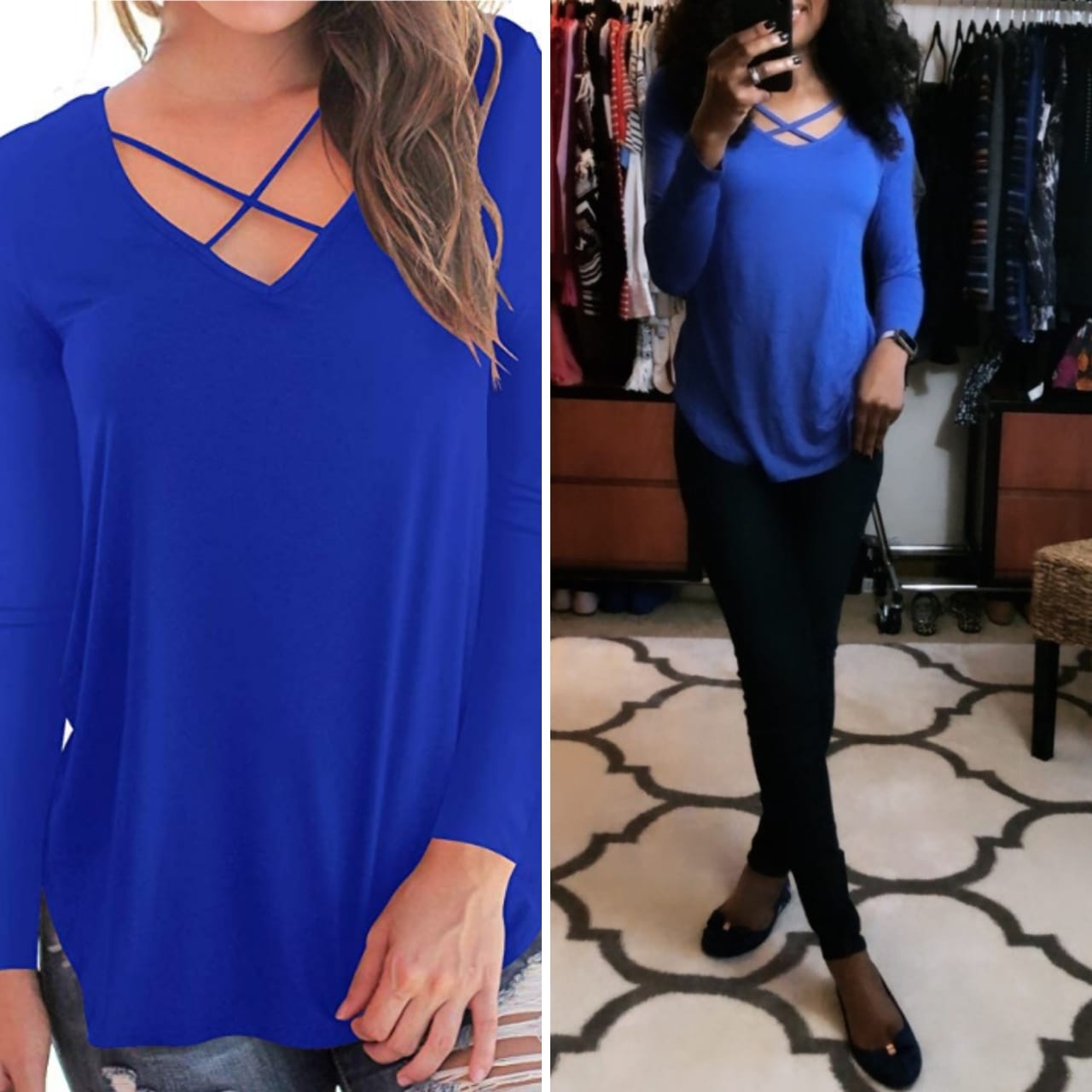 Ah, this stretchy blouse was another tough call. If you scroll back up, you'll notice that I also bought the casual crisscross dress. This $10 criss-cross top feels pretty much the same way as the dress. The fabric is soft, stretchy, and breathable.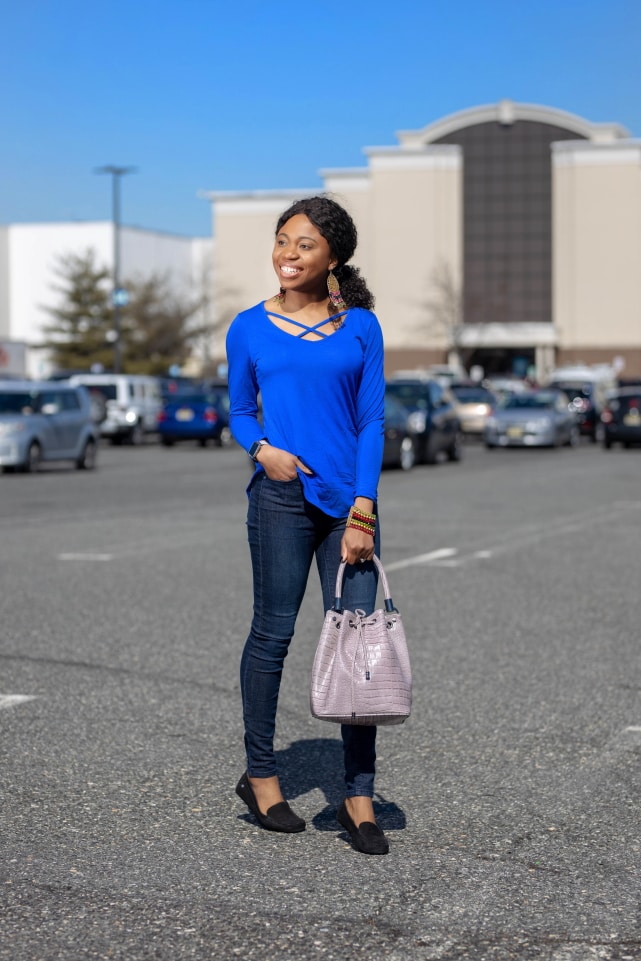 And it comes in 19 different colors and two sleeve lengths (short and long sleeve). I'm wearing a size small but goes up to XXL and ships free with Amazon Prime. There are no zips or buttons to tinker with, and the blue color is rich and vibrant. When it comes to rocking a plain solid color shirt, the v-neck design, crisscross detail, and the u-shaped hem make this blouse a winner.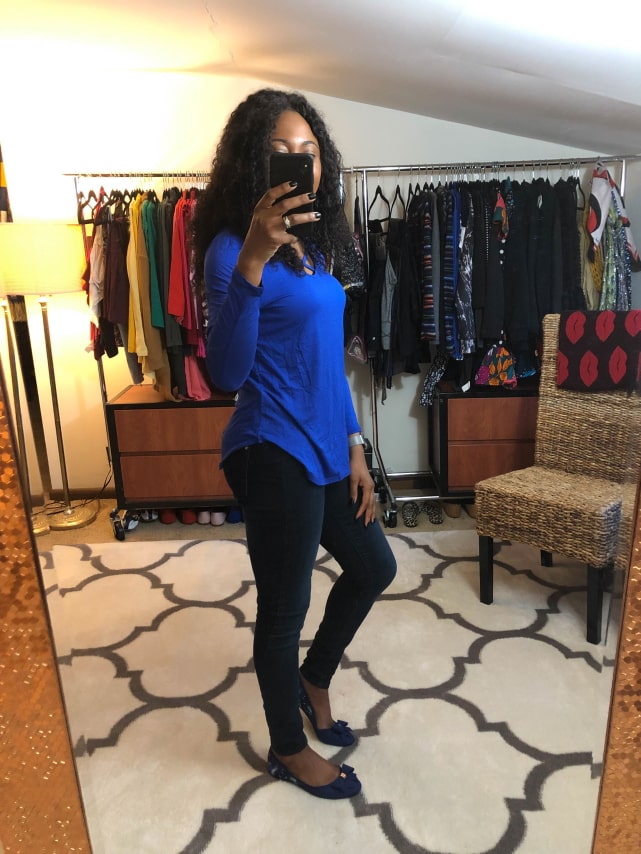 In hindsight, I should have gotten the short sleeve version because the sleeve length is just a tad bit too short on my 5'5 frame. This v-neck shirt might fit well on you if you have a smaller frame. My verdict is: this is a "hit" for someone else.
Also Wearing: High-waist trouser (similar), croco-embossed bucket bag (similar), UGG loafers (very similar).
Wearing: Size small. Runs TTS.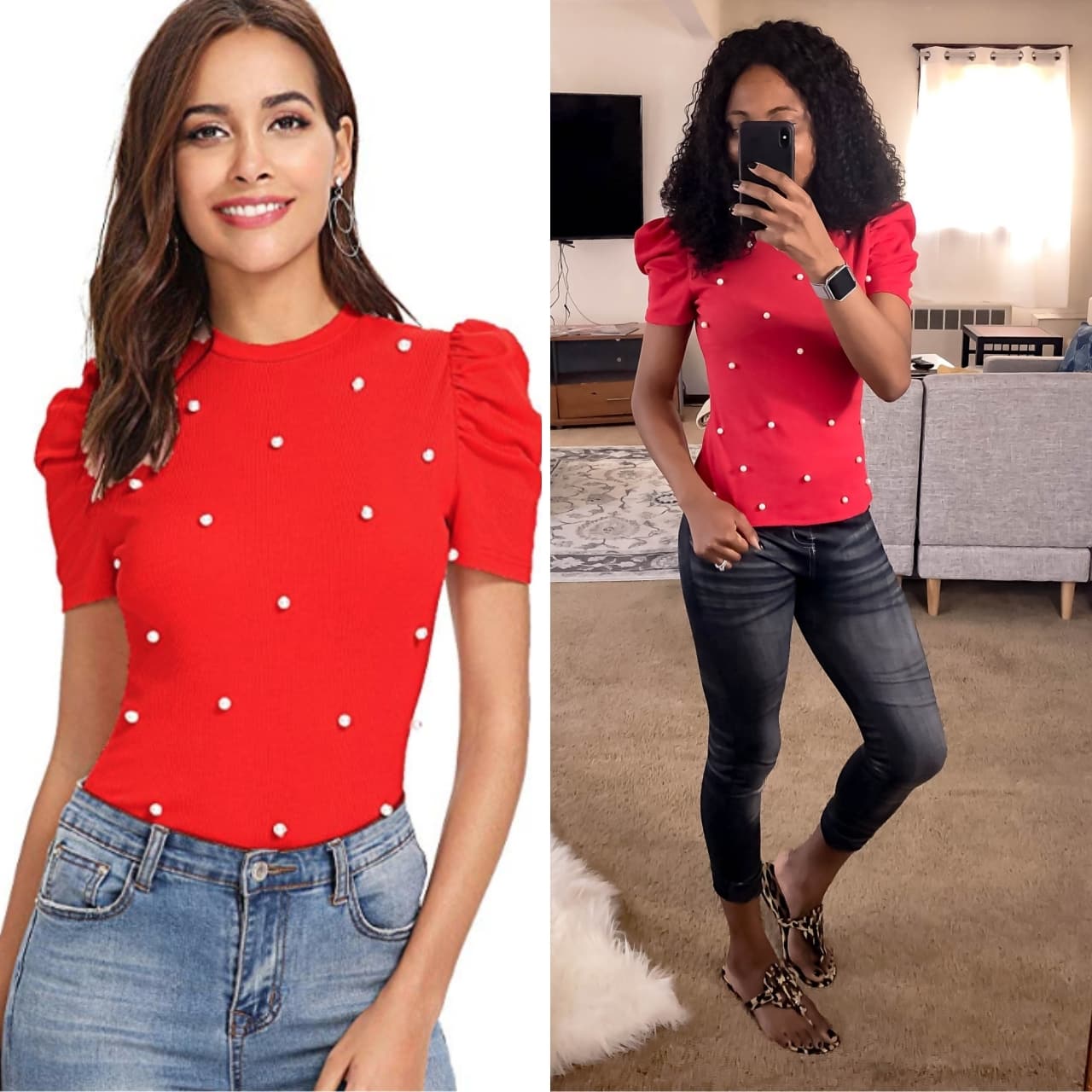 Last and absolutely not the least is this Romwe pearl top. I was attracted to the puffy sleeves and embellishment. Hey, if I can't have diamonds, pearls would do haha! The top reminded me of this red ruffle sweater for some reason.
I've ordered a few pieces from the Romwe site in the past, so I am quite familiar with their sizing and the quality of their products. Hmm… I'll add a Romwe review post to my queue for you. Anyways, I thought the pleated puff sleeves and round neck would add character to any outfit.
It makes sense that this under $20 blouse has over 120 4-star rating. The quality feels good to touch, and I did not have the feeling that any of the pearls would come off. If you have your eyes on this embellished blouse, you can order it in sizes XS to XL in nine different colors. I'm crushing on the burgundy, mustard yellow, and pastel green colors.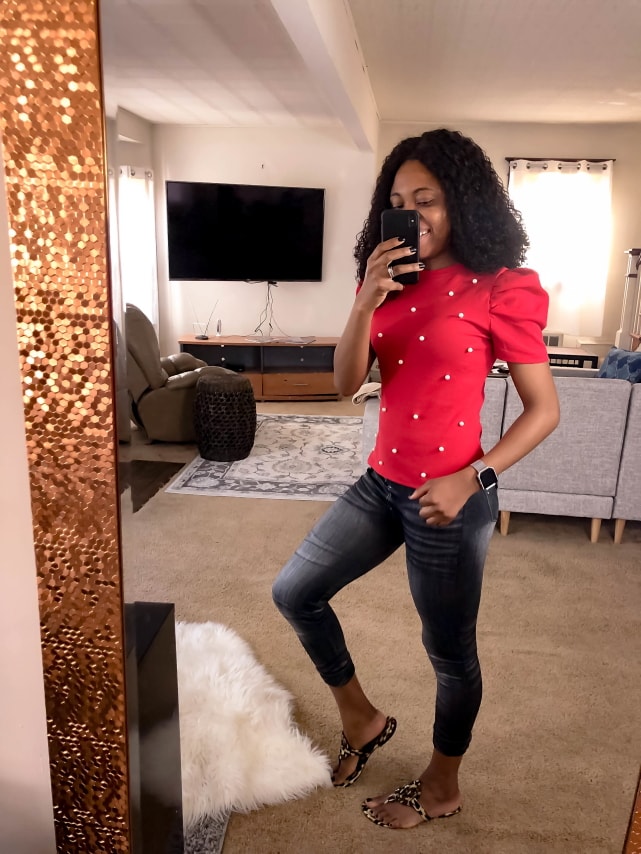 On second thought, I don't think I'll be keeping this pearl blouse. Knowing myself, if I can't put it in the washer, I might end up only wearing it a handful of times. This blouse is not a hit for me for personal preference. I still recommend it though!
Also Wearing: Tory Burch flats and Fleece-lined leggings (also part of this Amazon clothing haul).
AMAZON HAUL: Pants and Accessories
Wearing: Size small. Runs TTS.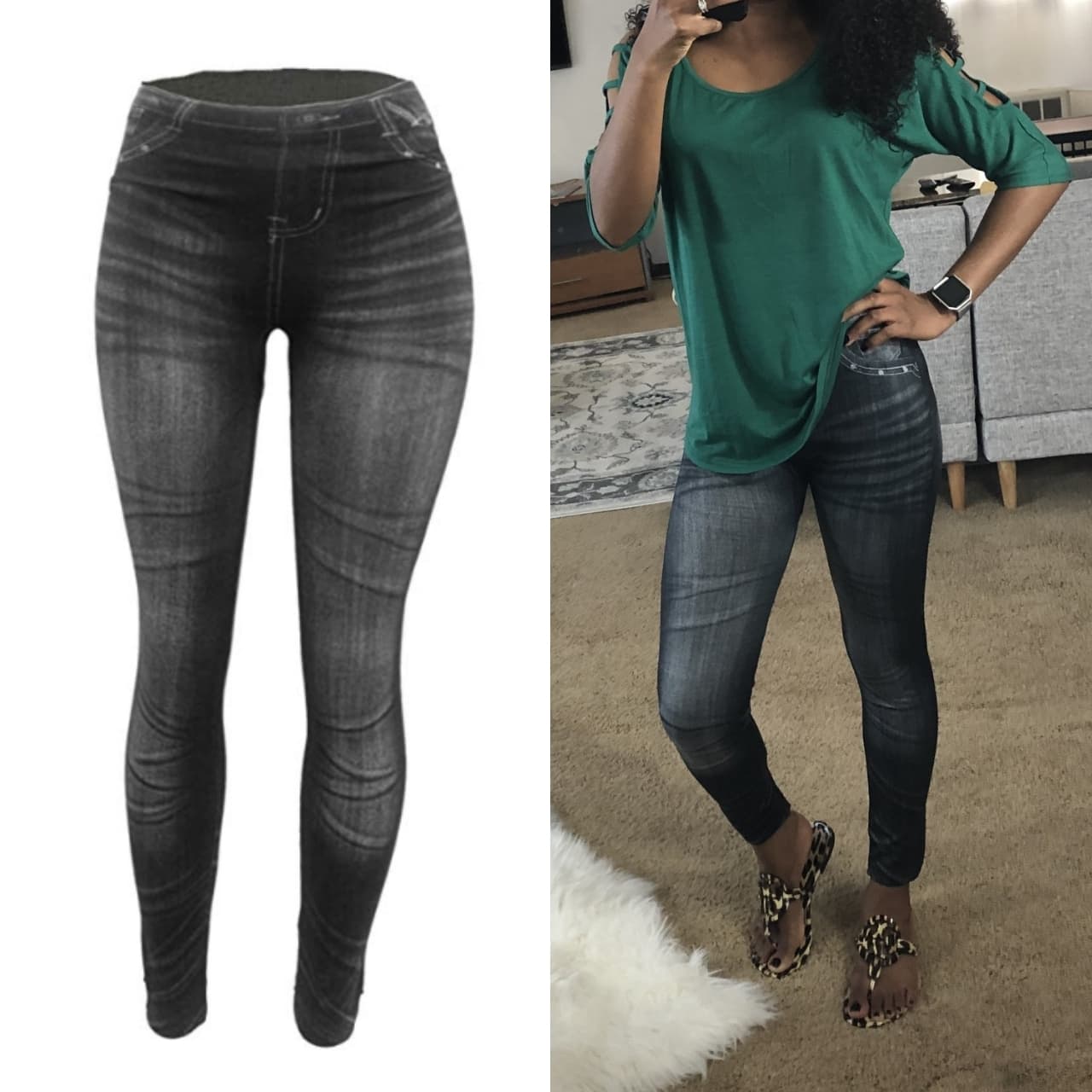 After calling Alaska home for over 4 years, the word "fleece" always gets my attention. Imagine how excited I was to find a fleece-lined leggings that looked like denim. However, my excitement was short-lived not because the item was a total bust. But because I mostly loved it!
The fabric felt nice and lightweight but not thin. And the fleece-lining felt like soft and em..cuddly on my skin. So good! The fit on the waist and hips were right now. But then I looked at the ankle, and it made me look like a had skinny chicken legs (for lack of better words!).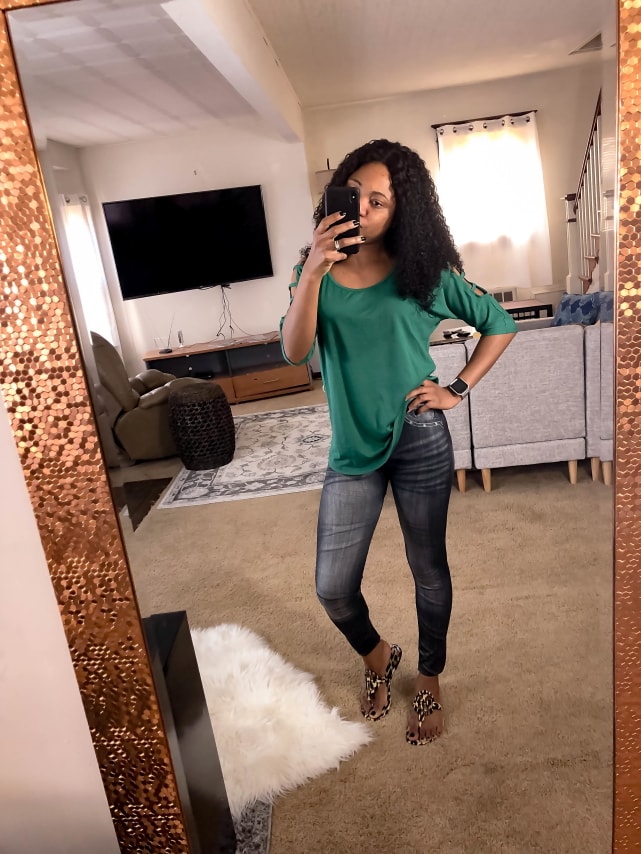 I think this fleece-lined jeggings would look amazing on someone with a thicker or more athletic build. I even polled viewers on IG, and the result was a hard pass. So this pant is a no-no for me. But if you have your eyes on it and have the frame (athletic build?) for it, it's worth checking out.
Also Wearing: Green hollow cut shirt and Tory Burch slippers.
Wearing: Size 8.5. Runs TTS.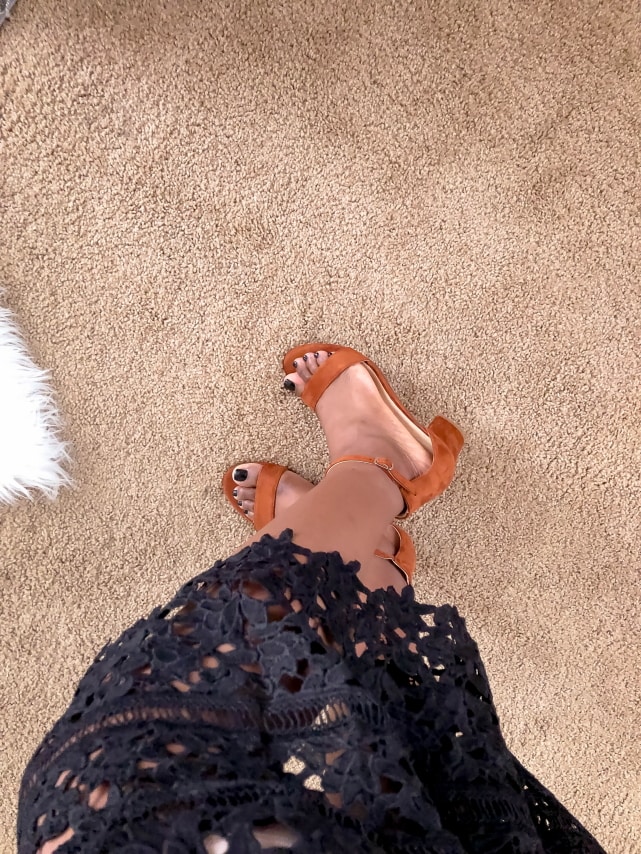 The next item from this Amazon clothing haul is the pair of vegan ankle sandals. The low heels (just 2.5 inches) makes it suitable to be worn for an extended time. I can literally run in these shoes.
I love my 4-inch heels, but they're just not practical. I'll be attending the rewardStyle Conference next month, so I've been on the search for sandals and pumps with kitten heels or heels around 2.5 inches.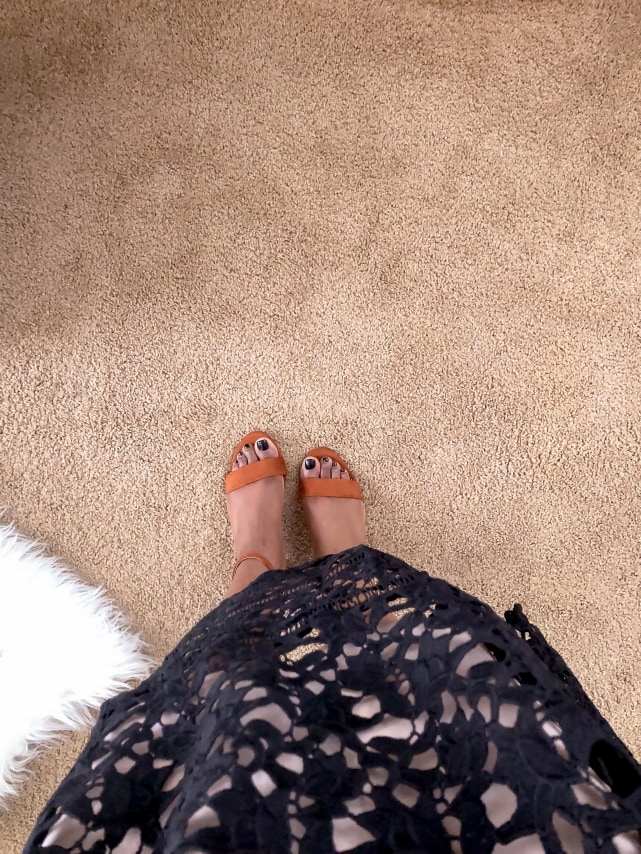 This ankle strap sandal checks those boxes. Since moving to New Jersey, I've had most of my heels in the bins I shipped them in, or the checked bags I brought them in. I realized that I had a few similar pairs that I can actually wear now that I no longer live in Alaska.
I definitely don't miss the short summers in Alaska. For this reason, I'm on the fence about keeping these cute sandals. Amazon carries 22 color options of this block heeled shoes in US sizes 5.5 – 10.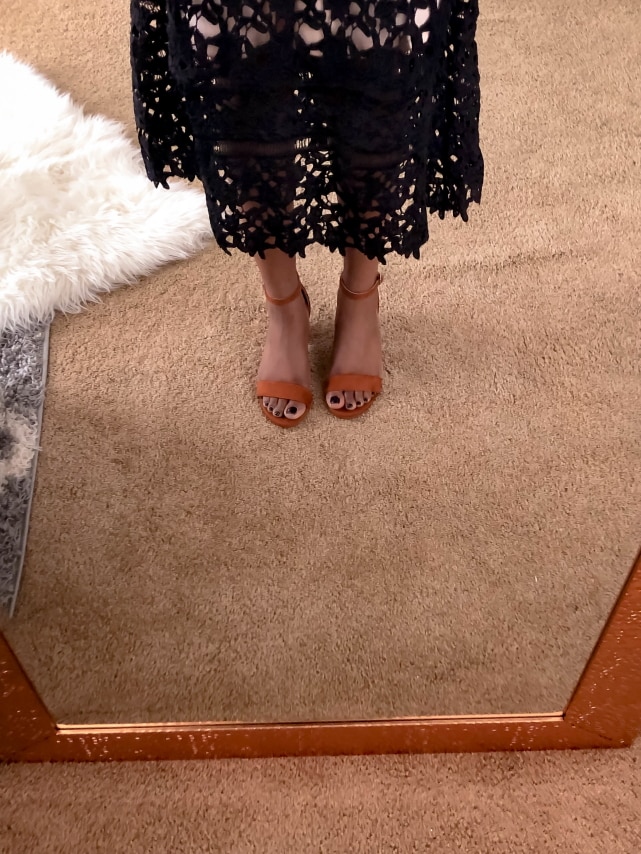 This ankle strap sandals with block heels is one of those classic sandals that every woman should have in her wardrobe. Ankle strap heels go well with every outfit (if you don't count hiking clothes) including party, cocktail, wedding, date, and office. The 2.5-inch heels with the 0.25-inch platform will keep your arch comfortable all day long.
Also Wearing: SheIn floral lace dress.
Wearing: One size.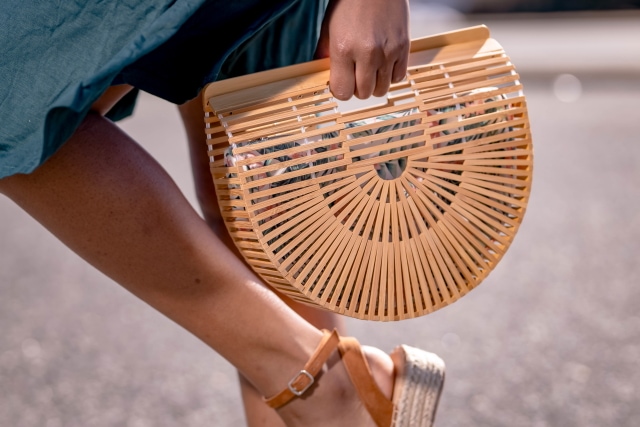 You bet this bamboo handbag is another hit in this Amazon clothing haul! We've all seen and probably drooled over the $$$ Cult Gaia Ark Bag. Heck, I even wrote a post about the best acrylic ark bag.
However, it does not look like the hype on the bamboo bag will fade anything soon. If you're familiar with the bamboo bags, the whole idea is aesthetic over functionality. But when I spotted this Amazon option actually has a purse insert, I was sold.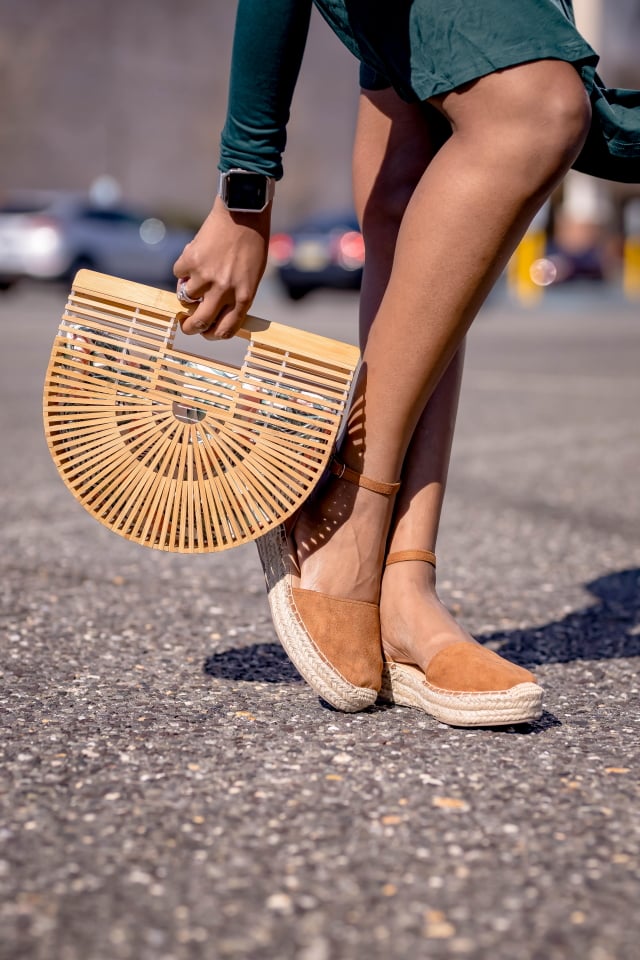 The insert bridges the gap between practicality and functionality and best of all, this handmade basket bag is only a fraction ($40) of the price of the Cult Gaia bags (up to $320).
Also Wearing: Casual crisscross dress and Amazon fashion espadrilles.
Wearing: Size 8.5. TTS.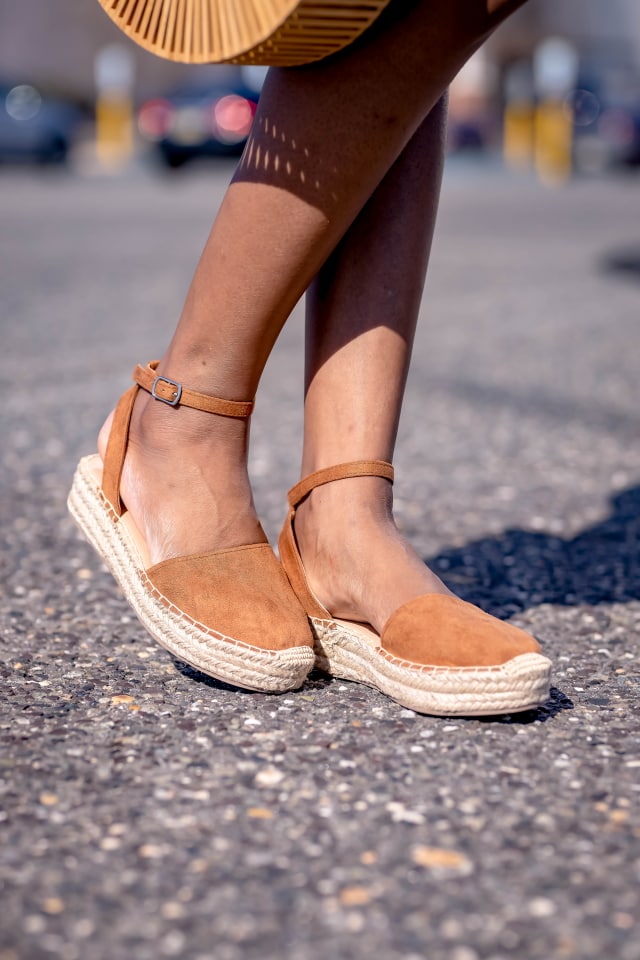 Peer pressure, anyone? I've seen a few bloggers beautifully style similar low-heeled espadrilles. Still, on the hunt for comfortable shoes, I scooped up this well-rated under $40 sandals. The heel height is exactly what I'm looking for, and so is the color. I've bought a few higher heeled espadrilles in the past, but for some reason, this just did not match my style (at least in my head).
But I'm not giving up though! JustFab and ShoeDazzle have a lot more options, and since they both offer free shipping and exchanges, I'll order a few more like this, this, this and even this to try.
That said, this vegan sandal fit true to size with adjustable straps for convenience. It also has a soft cushion to reduce the impact of standing on the hard surface of the espadrille. I noticed 20 total options with variations and even this cute leopard style!
Also Wearing: Green crisscross casual shirt and bamboo handbag with purse insert.
Wearing: One size (adjustable from 22" to 45").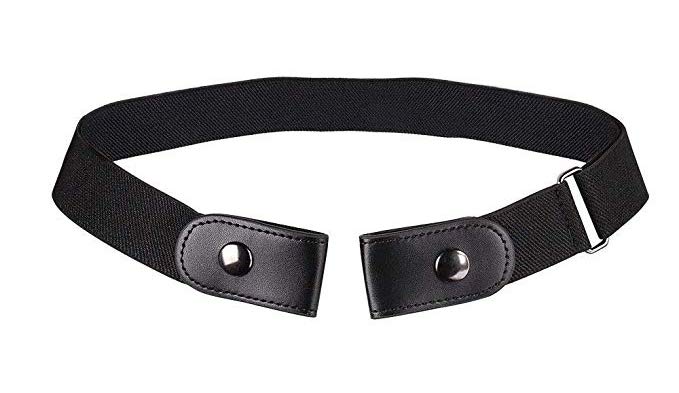 I'm not gonna lie, getting a belt was not on my list. This was purely an impulse purchase because of how highly my sister raved about this belt. "Adjustable," "invisible," "no buckle" belt are all adjectives she used to describe this belt.
No more stress dealing with bulky buckles that put pressure on your stomach when you sit or bend. This elastic belt is self-adjusting and a slim fit.
The catch? You need belt straps for them to hang on to. I also read that they can stretch out the belt strap you attach it on if you make it too tight. I took it on a spin, and I was quite impressed. This buckle-free belt has an Amazon's Choice label with a whopping 4.4-star rating. And it sits at just under $10. Is this a steal or what? The answer is YES.
Also Wearing: Pink tie-front blouse, Betabrand Dress Pant Yoga Pants Skinny-Leg (Read my Betabrand Pants Review for more about this yoga work pants).
Wearing: One size.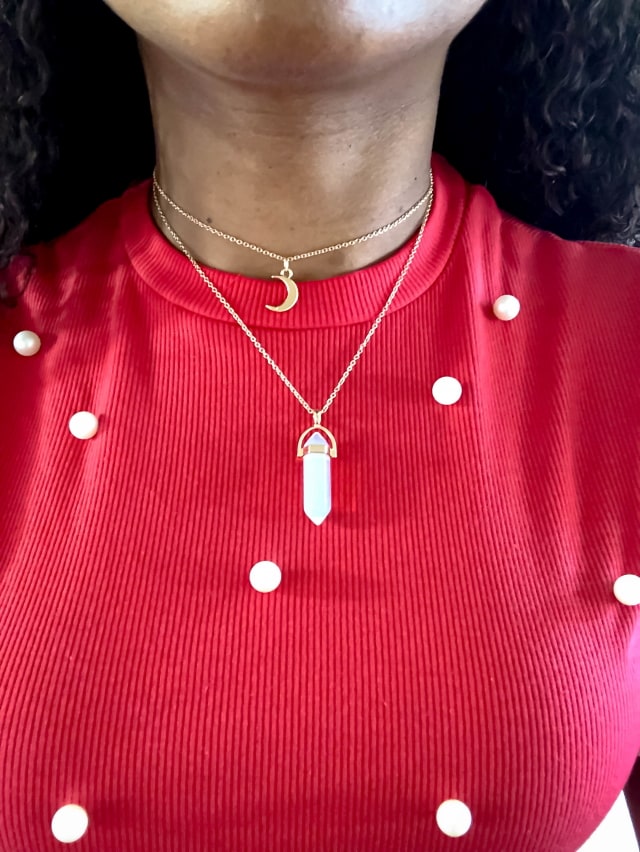 Last and but not the least is this beautiful layered choker necklace. This $12 necklace is currently one of my favorite jewelry pieces. It is simple but yet chic. The crescent moon and opal stone on this choker are super cute.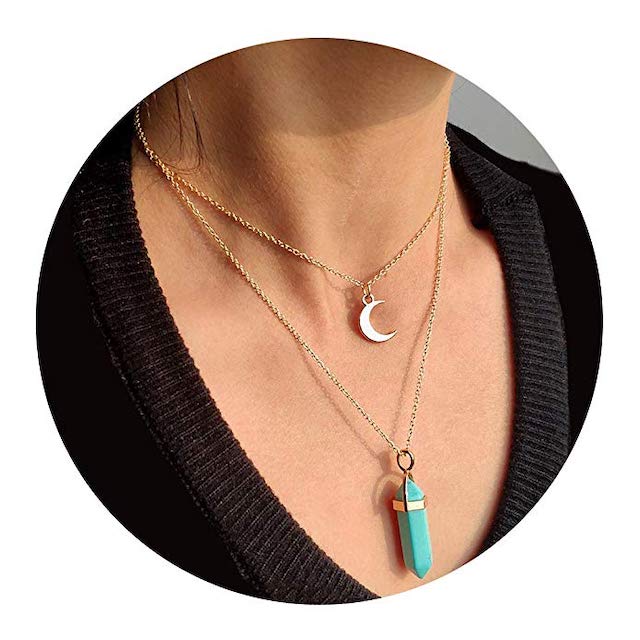 I don't think it's the best quality just from looking at it and rocking it less than a handful of times, but for $12, you get what you pay for (and I'm not mad). If the crescent moon is not your style, there's a longer version with a gold heart. You can also get the turquoise blue version with the same crescent moon. The necklace is also an Amazon's Choice if that holds any weight for you 🙂
Also Wearing: Red pearl puffy sweater.
By popular demand, I compiled the epic Amazon clothing haul videos from my Instagram Stories for you. It's the ultimate Amazon fashion haul 2019 top picks and review featuring both hits and misses on items under $40!
Conclusion
If you're still reading this Amazon clothing haul post, you're the real MVP. So this about rounds up Amazon haul. Overall, I found so many amazing pieces on Amazon at a steal!
Although there were a few misses in this try-on session, a large portion of the clothing was a hit. The items I'm not in love with will be going back thanks to Amazon's generous return policy. You can try Amazon Prime FREE for 30 days take advantage of everything Prime offers including Prime Video, Amazon Fresh, Amazon Wardrobe and of course, unlimited 2-day FREE shipping.
It also helps to read product reviews on each item as well as the sizing recommendation to help you decide if an item runs true to size or if you need to size up or down.
I will be doing more Amazon clothing haul try-ons and dishing my honest review so keep watching this space. I've also created a unique Amazon Shop for you showcasing all of these items in one easy location.
Want more? Follow me on Instagram or subscribe to my newsletter below to qualify for my monthly subscriber-only giveaway. As always, thank you for reading.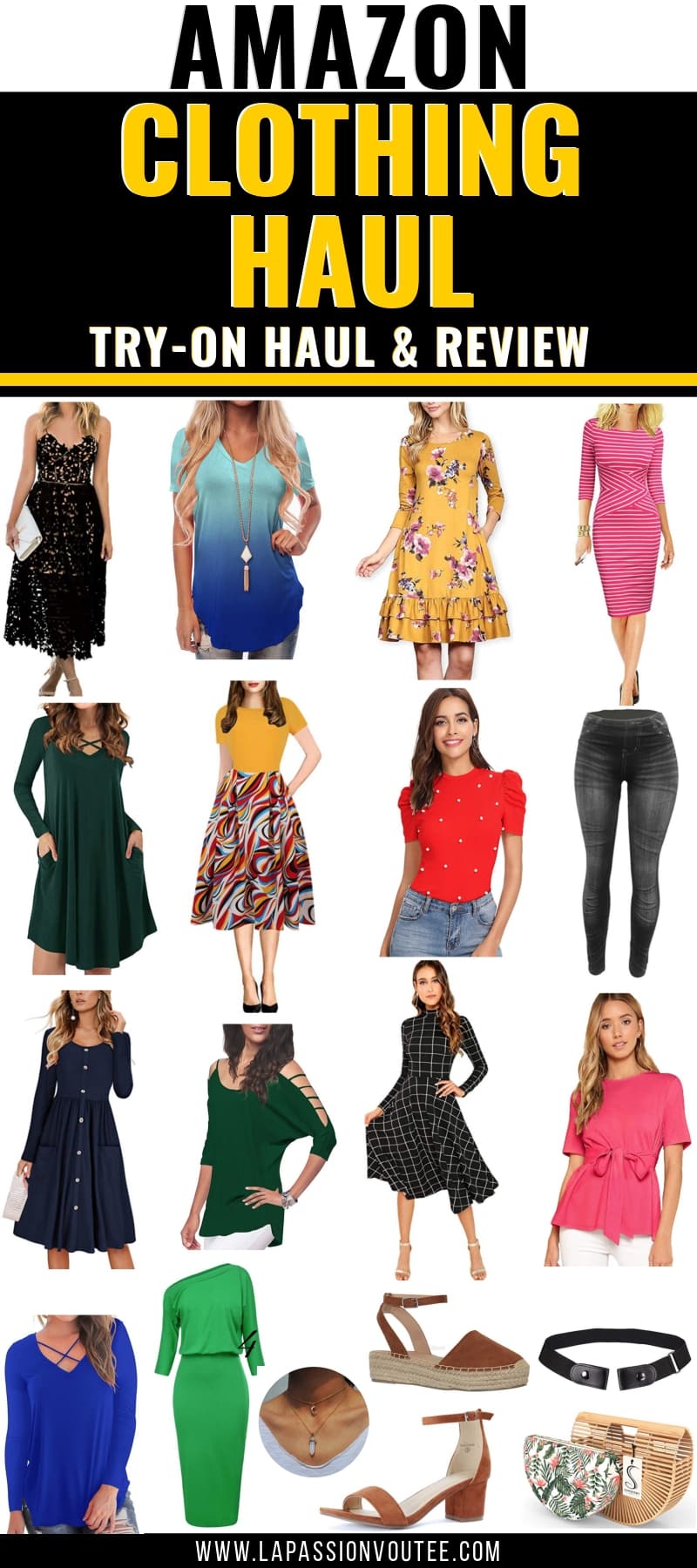 Scrolled to the bottom of this post? Here's a breakdown of the items from this Amazon clothing haul. Scroll back up to read detailed review on if you should buy or skip each product:
Amazon Prime Clothing Try Ons Under $40
Interested in more fashion-related posts? Check out these popular posts:
10 Days of Amazon Fashion
PIN FOR LATER!