Pullover Sweater and Zella Leggings
This post may contain affiliate links which means I will get a commission if you make a purchase at no additional cost to you. As an Amazon Associate I earn from qualifying purchases. Please read my disclosure for details.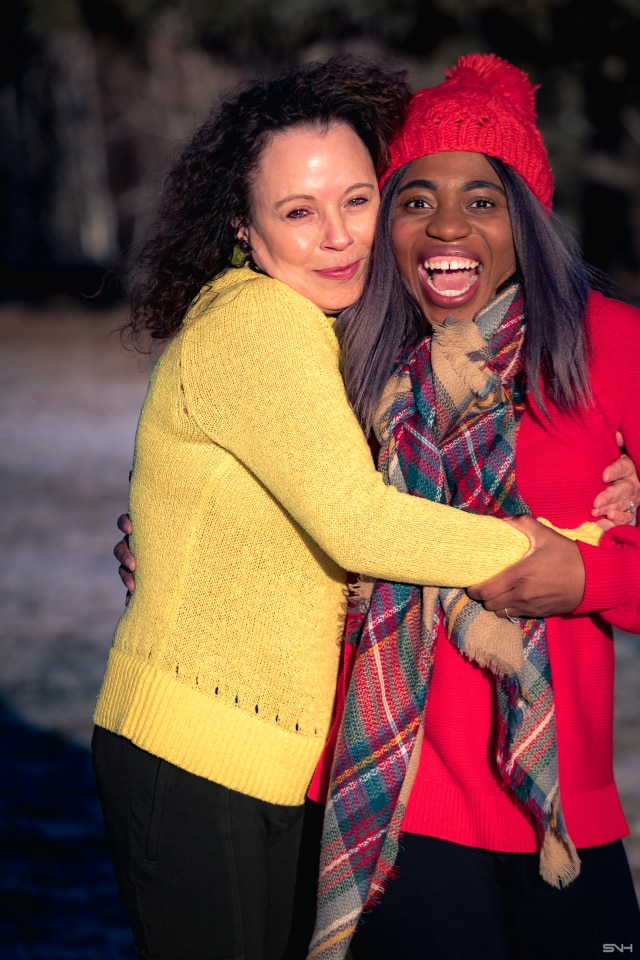 Meet my mom! No, seriously. Meet my Alaskan mom, Leona. Today, I'm sharing this winter pullover sweater and Zella leggings outfit.
Shop The Look

Leona is the lady who was my mother-figure when I lived in Alaska (and still is) far away from my darling, sweet mother. I've always been attached to my mom. So having Leona's support meant the world to me.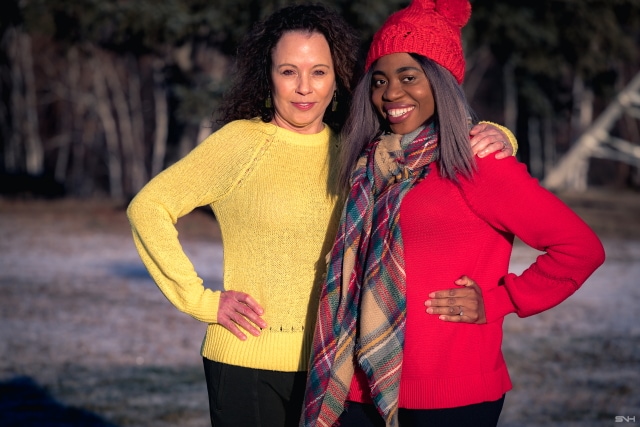 Want to see my sweet mother? You can find her in this dedicated birthday post for her birthday. Speaking of, I need to do an updated post with her. Right?!
Growing up, my siblings nicknamed me "mummy's handbag" because I seized every opportunity to go to work with my mom. I would carry her heavy handbag for her like a personal assistant from one meeting to another. And because my mom ran our family business(es) aka serial entrepreneur, it was not an issue going to work with her six days a week during school breaks.
In 2001, I started high school and thus my path to independence (so they thought!). Odeon, my twin sister took on the role as my protector and bodyguard. You know how hard high school can be. I was shy and had my head in my books. But Odion was a social butterfly and wrestler [quite literally!] ?.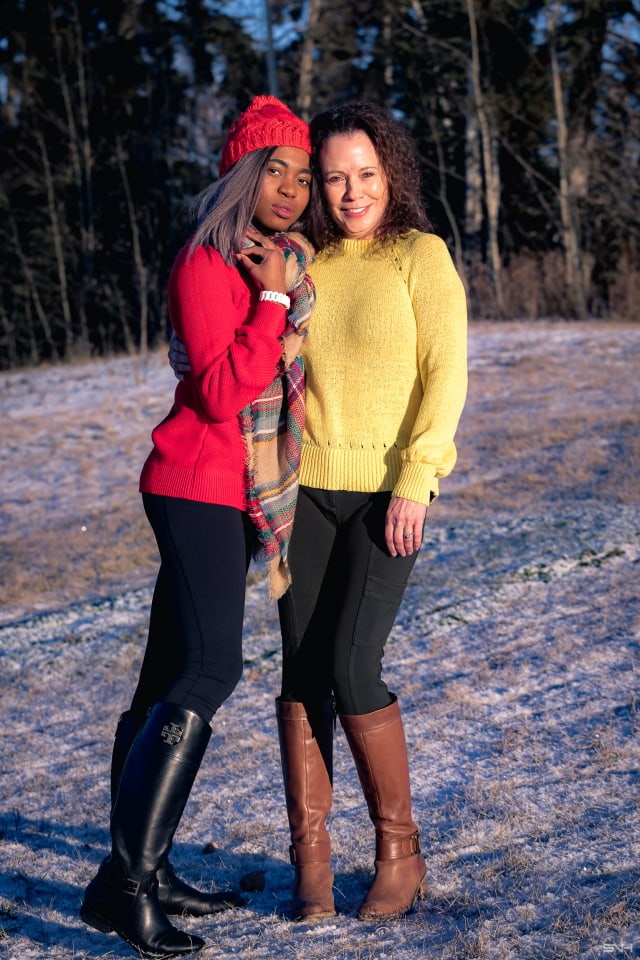 Haha, Odion jokingly calls herself my small mummy. We continued this sister/small mommy relationship through college. And then I moved to Alaska!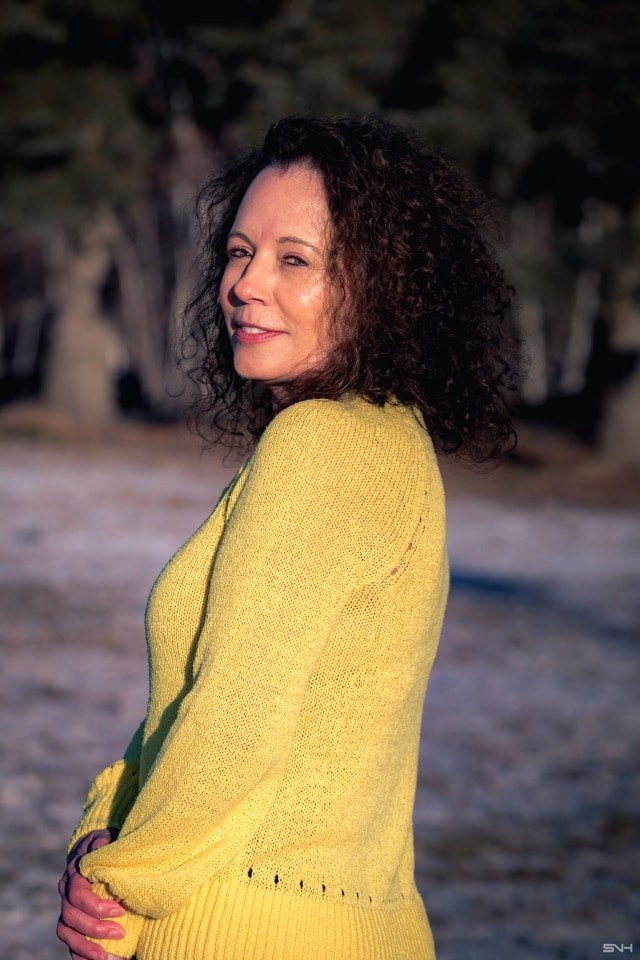 I met this amazing coworker, Leona who I now call my Alaskan mom. She even said I remind her of her daughter and only child. Before I left Alaska, I convinced Leona to do a blog shoot with me. To my surprise, she indulged me! Isn't she gorgeous?
So on to our pullover sweater outfits! Shh! I'm actually wearing Leona's sweater.
Leona is wearing a thick, yellow sweater (similar) and fitted pants (similar) both are sold out pieces from Ann Taylor. Her knee-high boots were purchased locally in Fairbanks. I kept coming up short finding a very similar pair. So this one will have to do as it is the closest option I could find.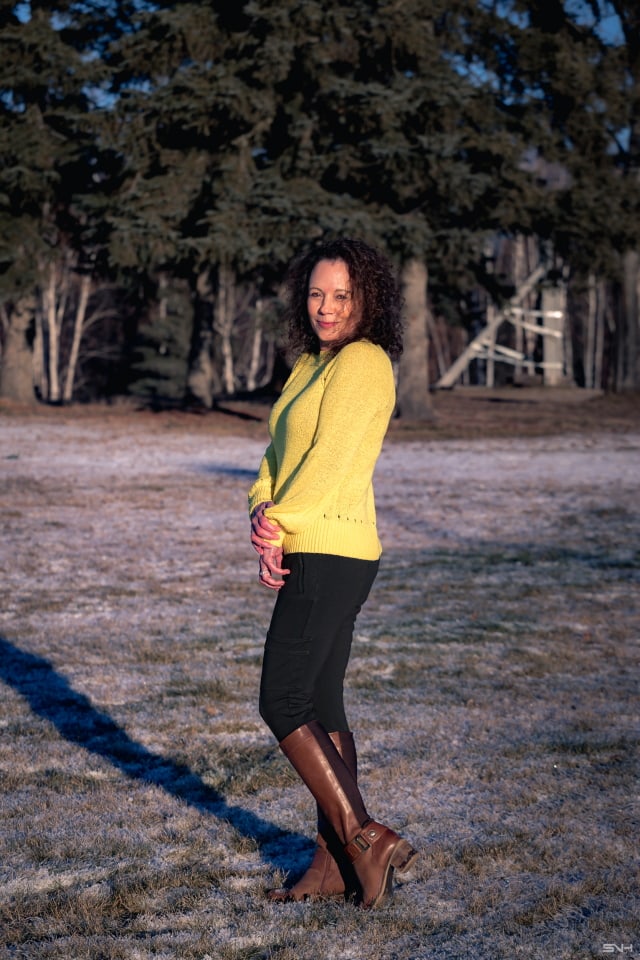 Because we had clear skies on the day of this shoot, the weather was not terribly cold. I'm done a shoot at -27ºF before. Yup! That's -32.8ºC. It is this post about the best packing list for a trip to Alaska. However, I had arctic-certified winter gear on which kept me warm. But Michael's camera did not last too long in the cold.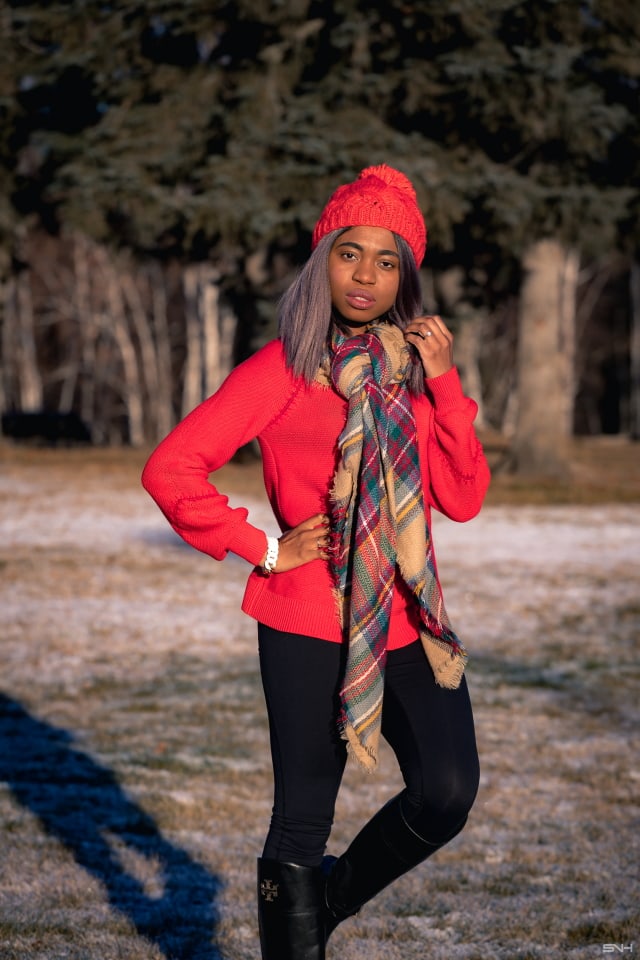 We did rush this shoot a little bit since this was Leona's first time (in probably forever) shooting a winter look without a jacket or coat on. She was a great sport!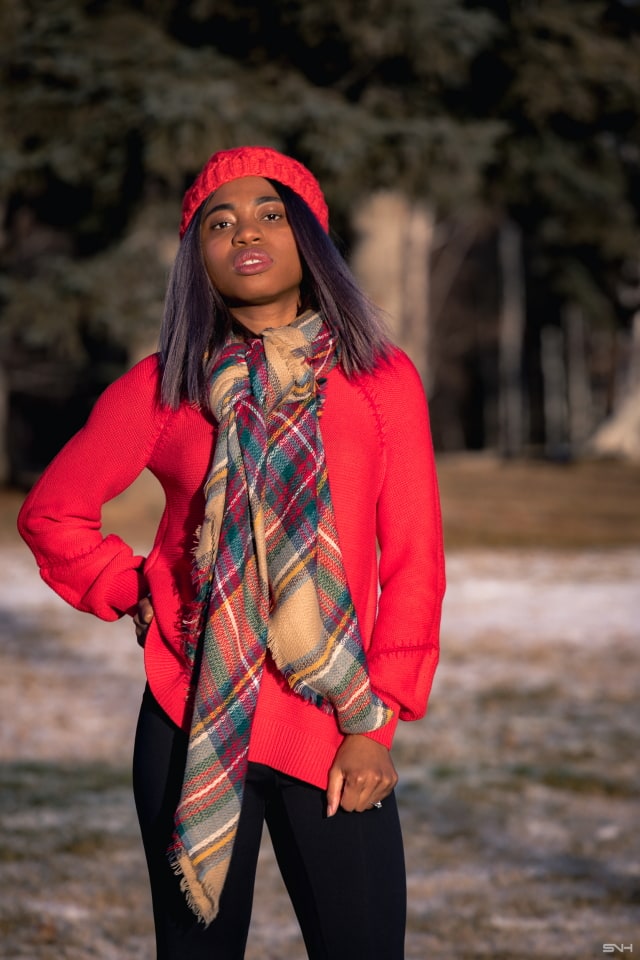 If you love bright colors, the burnt-orange/red pullover sweater (similar) I'm wearing is also an option. Leona also got it from Ann Taylor (sorry!). The knitting is unique, and the billowed sleeves of both sweaters are attractive. In fact, billowed sleeves are in trend right now. I've rounded up a few trendy sweater options for you below.
I paired the burnt-orange sweater with a pom-pom ribbed beanie (similar). Beanies are definitely a great way to accessorize your outfit, and they're practical too.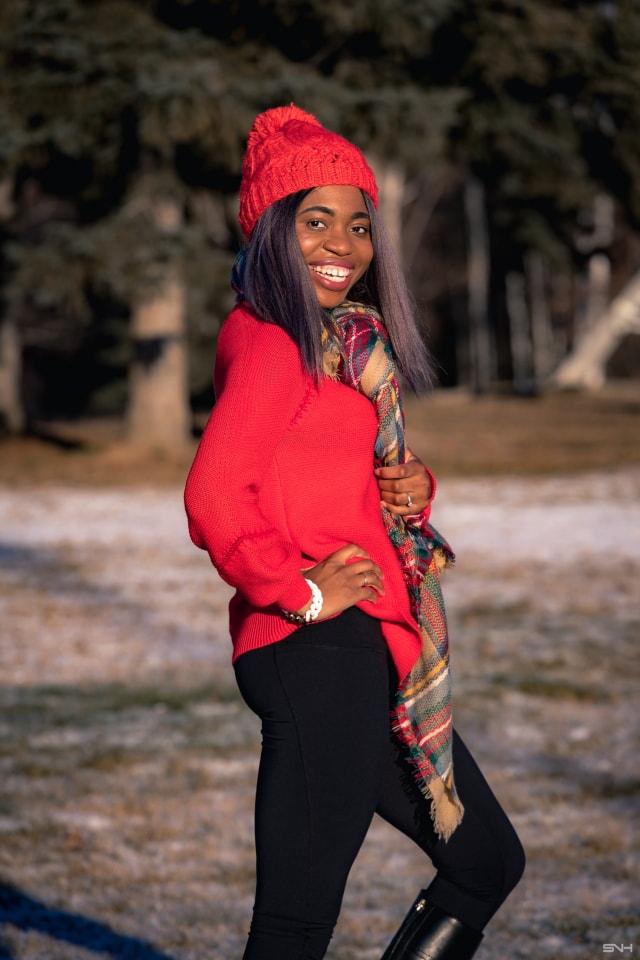 I'm also wearing two of my favorite pieces from 2018. Yup, you guessed right! My $13 4.4-star blanket scarf and my favorite and most worn leggings, the Zella Live in Leggings.
For the blanket scarf, I did a loose knot. It kind of reminds me of a loose bun. The whole idea is to create a look that seems put-together without trying too hard. You can also check out this post, How to Style a Blanket Scarf to see 3 other easy ways to style oversized scarves.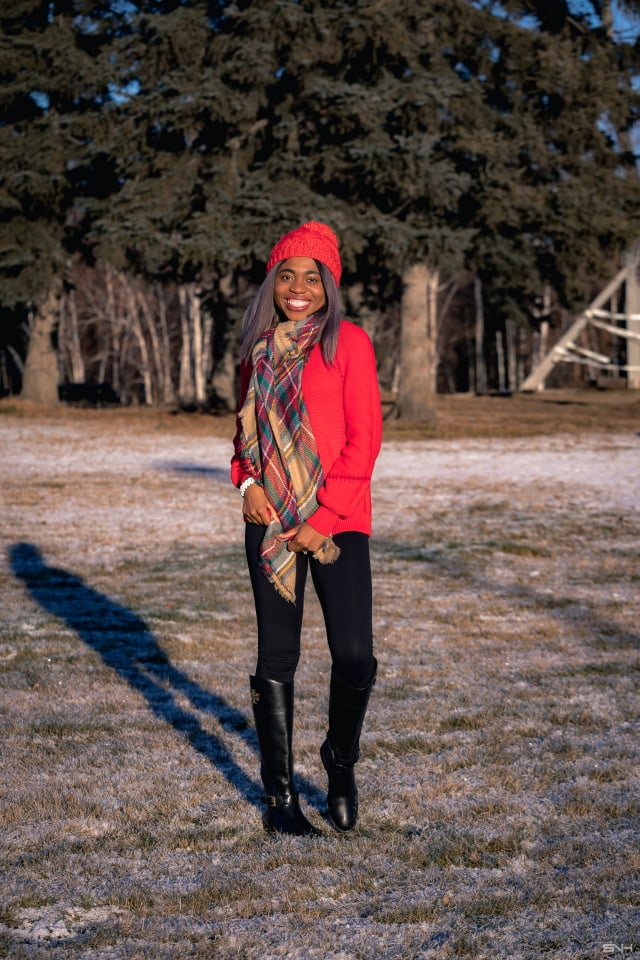 I've gotten a lot of uses out of this Zella Leggings (Nordstrom) that I caved and bought a second pair. Yup, it's that good! You can read my Zella leggings review post to see if this leggings is right for you.
The next leggings on my wishlist is… the Lululemon Align leggings. Those babies are butter soft (I've tried them). But $98 though? I'm looking at you, Lululemon!? And they almost never go on sale!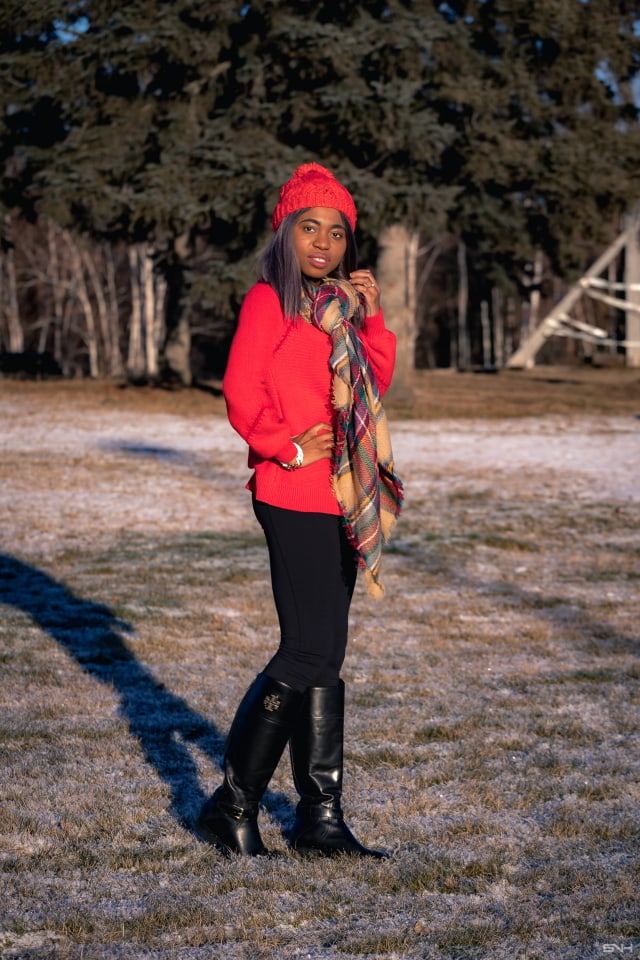 Lastly, you've seen me rock this pair of Tory Burch Adeline riding boots countless times. They are super comfortable, practical and slightly bougie (as my sister-in-law would say). I get lots of compliments on the boots. So much so that Leona searched high and low for them.
I bought the Tory Burch riding boots (Amazon) during the 2017 Nordstrom Anniversary Sale. There was another similar one on sale in 2018 but not quite the same.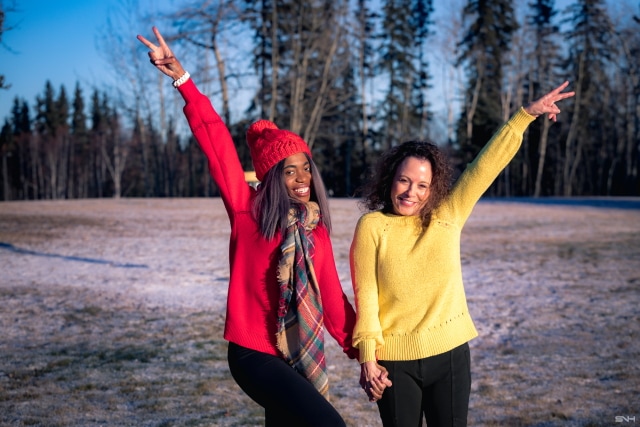 I've seen a few sizes pop up on Amazon a few times but they are pricey. So keep checking. This boots was also one of my best purchases of 2017. I'm hoping I can add a couple more pairs to my arsenal this year.
Your turn! Can you see yourself wearing a bright pullover sweater this time of the year?
You may also like this post: How to Wear a Blanket Scarf with a Dress
We are wearing:
Fitted pants (similar)
Tan knee high boots (similar)
Red Cable knit sweater (similar)
Tory Burch riding boots (exact)
Zella high waist Leggings (exact)
Yellow pullover sweater (similar)
Knitted pom pom beanie (similar)
Oversized blanket scarf (exact | review)

Photos by SNH Photos