How to Style a Blanket Scarf Today | Quick & Easy Styling Tips
This post may contain affiliate links which means I will get a commission if you make a purchase at no additional cost to you. As an Amazon Associate I earn from qualifying purchases. Please read my disclosure for details.
Do you have a hard time figuring out how to style a blanket scarf? Or feel like you're getting buried in fabric whenever you tie oversized blanket scarves?
I can totally relate!
An oversized blanket scarf is not the easiest winter accessory to style. The sheer size alone can be overwhelming to many people.
In today's post, I will show you the easiest ways to wear a blanket scarf and still look put together.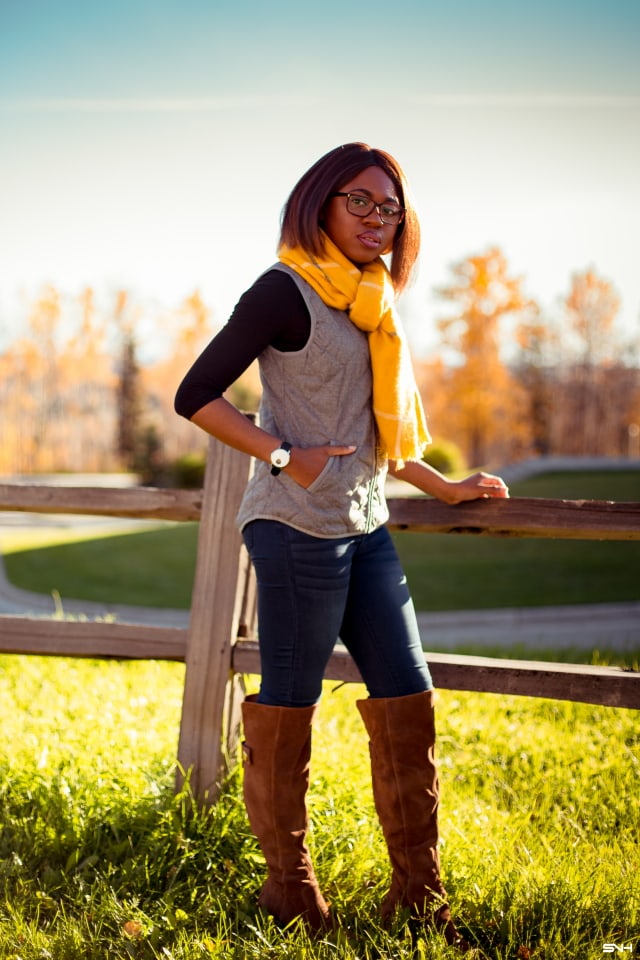 But before we get right into it, let's talk about blanket scarves for a moment! These oversized square scarves have been in the market for a long time. However, my love for this warm, cozy cold-weather accessory was recently re-ignited while planning my outfits.
Shop The Look: Click on Image to Shop

As fate would have it, we received a ton of snow this past weekend [hello, Alaska winter wonderland!]. And I already had this oversized blanket scarf outfit with this affordable over the knee boots (OTK) in the queue for today [so here it is].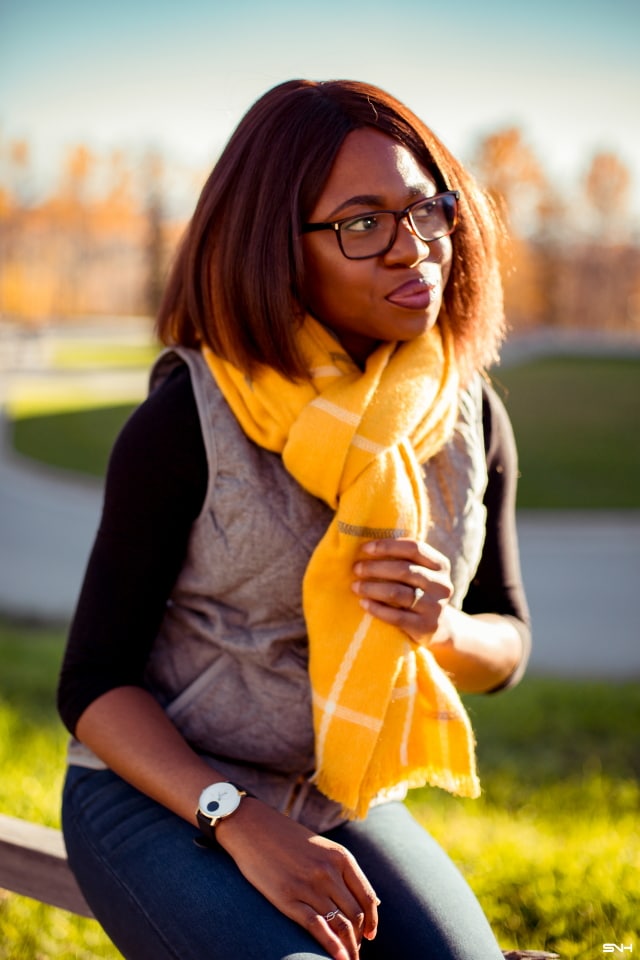 Just before the arctic winter snow dump started, I went on a quick errand run and somehow found myself shopping for winter pieces. I fell in love with this yellow Old Navy blanket scarf, and the price was right. So I made it mine.
For reference, I am a size 4. 130-ish lbs, 5"5, and 8.5/9 in shoes.
HOW TO STYLE A BLANKET SCARF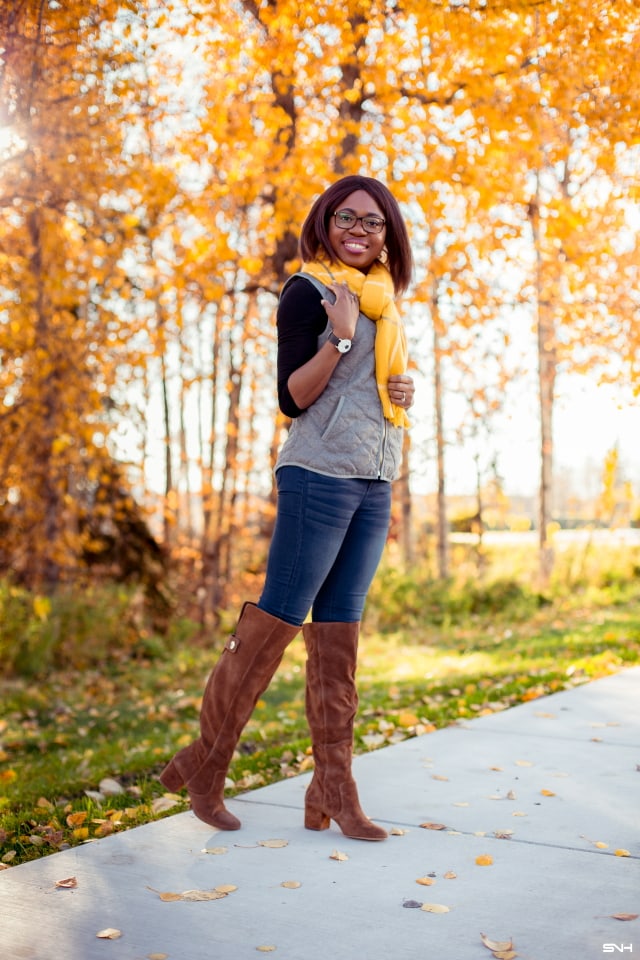 One of the easiest ways I've discovered to style a blanket scarf is to wear it under a coat [like I did with this OTK boots outfit] in the winter or on top of a sleeveless vest [like I am wearing in this post] in the fall.
And this is how I would rock an oversized blanket scarf outfit with a dress on cool summer evenings or transitioning months.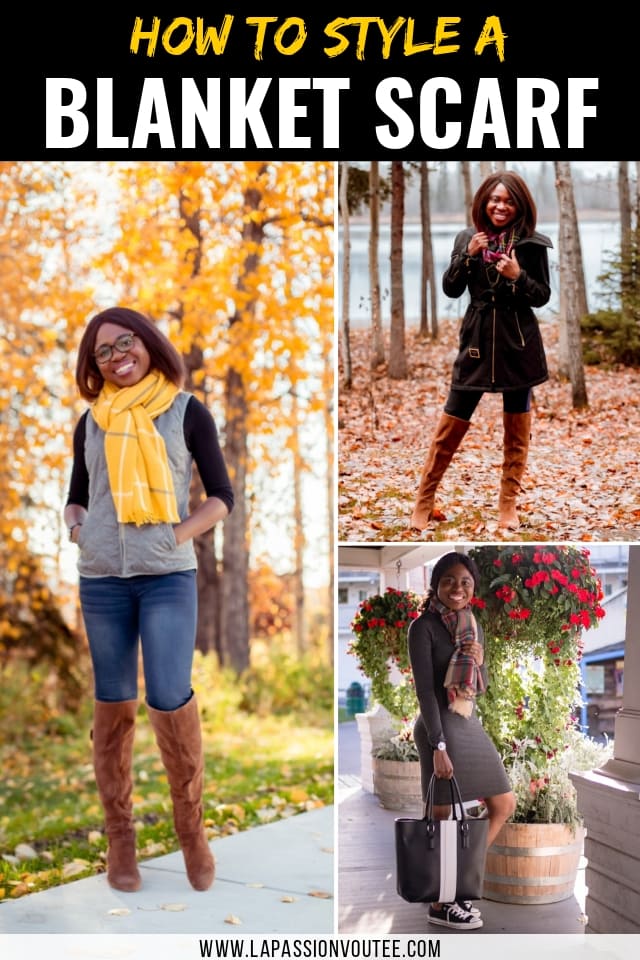 The beauty of large square scarves is that you can wear them in an infinite number of ways. And they can be worn with most styles and occasions.
They are stylish, practical and affordable. Just take a look at this Amazon selection, and you'd quickly discover that you can get one for yourself and another as a gift for others (birthday, going-away gifts, stocking stuffers…) for under $20!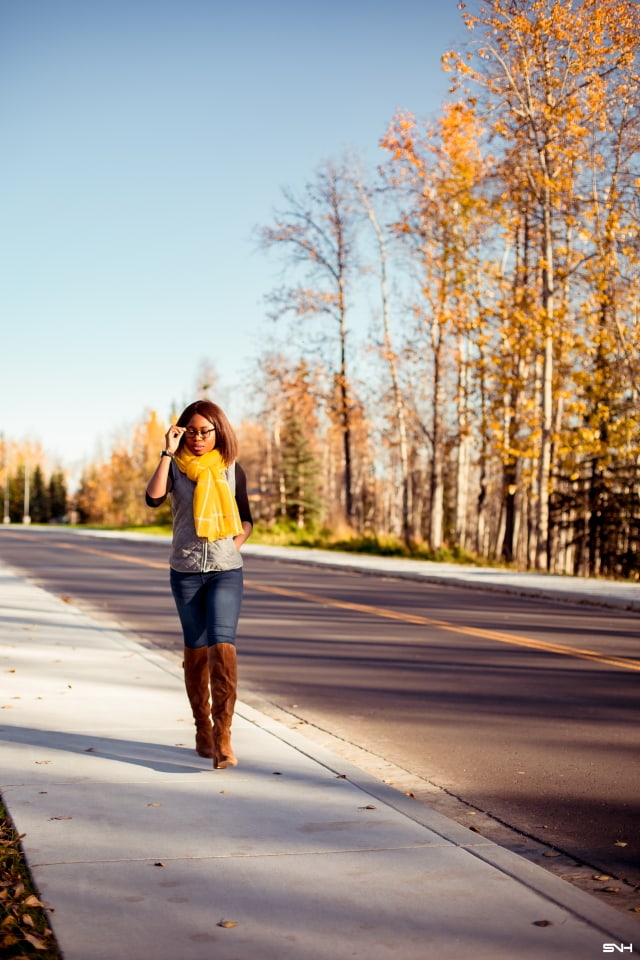 Unlike most clothing pieces where you have to worry about getting the right size of shoes or dress, sizing is universal! P.S: If you're in the market for affordable gift ideas for women, check out this gift guide with over 150 affordable gift ideas for women.
Also part of this series:
HOW TO WEAR A BLANKET SCARF OUTFIT
For this fall-inspired look, I opted for a dressed-up casual look. A fashionable but practical look that can be worn time and time again.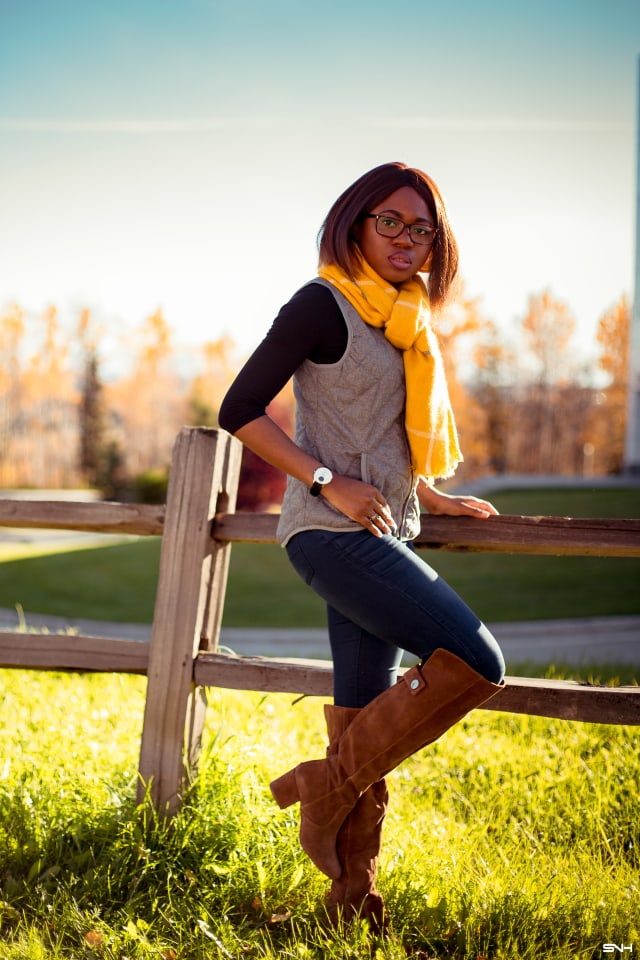 I wore a plain black 3/4 sleeve fitted top (similar) as my base layer. For some warmth, I chose this lightweight Old Navy puffer vest. Although the vest is not a heavy duty clothing, I stayed warm throughout the entire time I was out and about.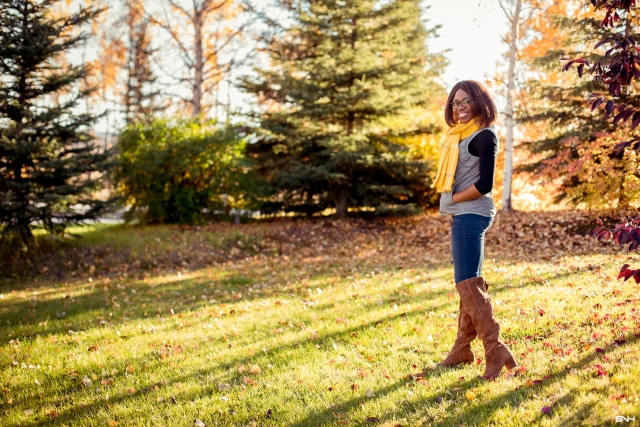 I'll admit that the cozy plaid scarf (here), and over-the-knee boots (similar) provided additional insulation. The vest also has a slightly fitted bodice and two functional pockets to give you a flattering figure.
Looking for options on how to tie a blanket scarf? This video did a fantastic job showing us, 10 different ways to style this winter piece. Hit play below.
And the quilted vest is on sale! It is currently under $20 and is available in seven different colors. You'd have to pick through the remaining color and size combinations since it's flying off the shelf.
Additionally, the color options of the vest are on-trend and easy to layer under your winter coat. And through the start of spring and cold summer nights. You can also pair the vest with skinny scarves or statement jewelry and even bold colors like olive or burgundy pants.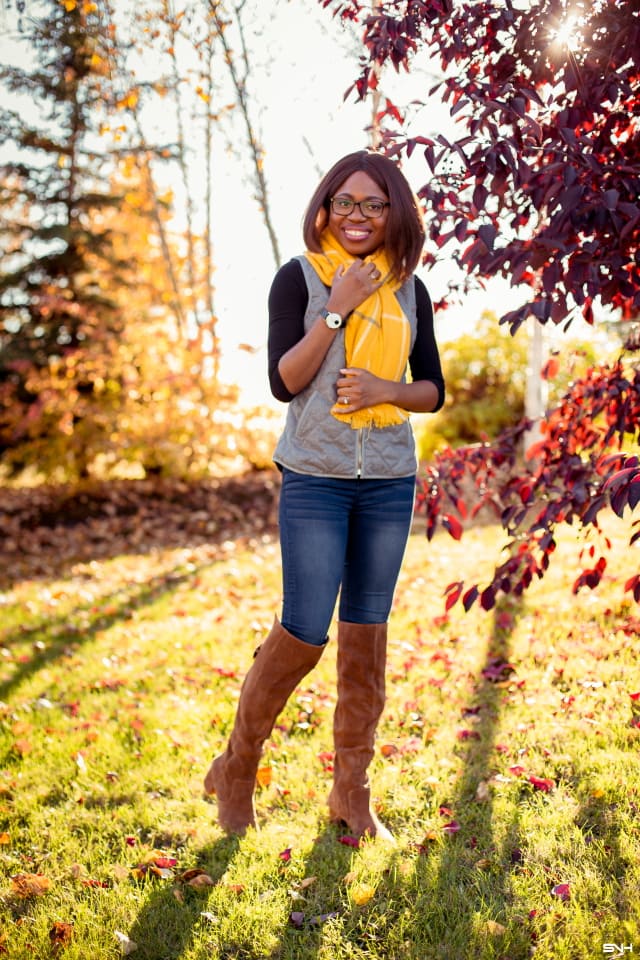 Other clothing options you can wear as part of a blanket scarf outfit include a fitted top and skirt, and even a tee and shorts (although this might not be the most ideal option if you're trying to stay warm).
You might have seen this affordable over the knee boots from DSW in a recent blog post. I thought it would be nice to highlight how versatile these OTK boots are by showing you a fall outfit styling the boots (early winter look here).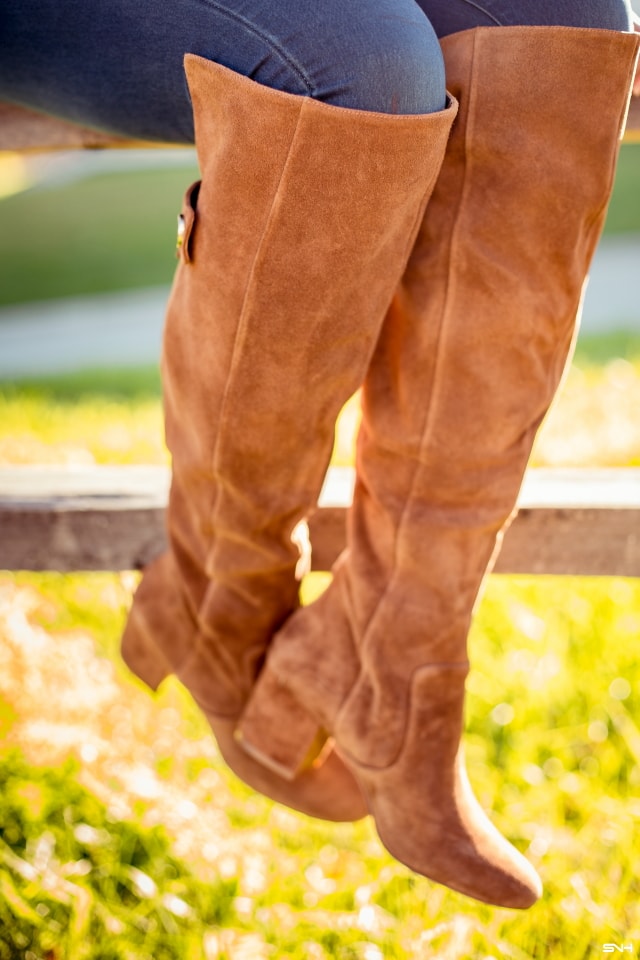 Gone are the days when a decent pair of OTK boots cost an arm and a leg. These boots are fashionable, comfortable (hello block heels!), made with a soft suede fabric and feature almond toe for comfort.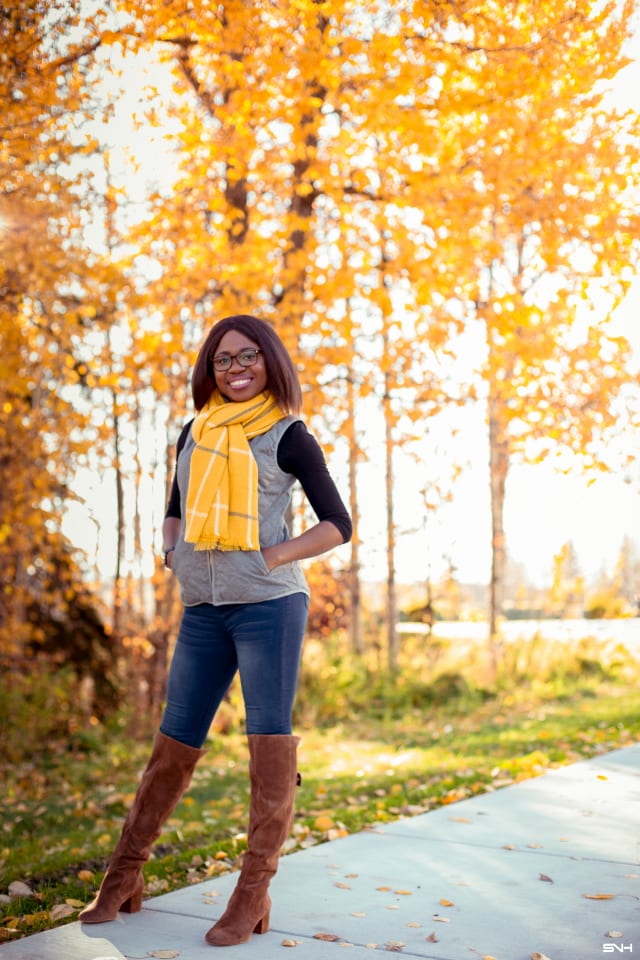 With holiday vibes in the air, DSW has impressive sales and discount throughout the end of the month. And you get free shipping on $35 and earn membership points (free to join) on all your purchases.
MORE OVERSIZED BLANKET SCARVES
I always tend to gravitate towards Amazon Fashion for affordable clothing pieces like blanket scarves. So I've linked some of the best oversized scarves on Amazon that are under $15 🙂
TIPS ABOUT OVERSIZED SCARVES: HOW TO CUT A BLANKET SCARF
IF you find that your large square scarves are too bulky or overpowering for you, a simple fix is to cut the scarf in half diagonally.
While I love mine bigger and better, cutting the scarf makes sense for many people. Plus you'll end up with two scarves – one for you and one as a gift to a friend or family member.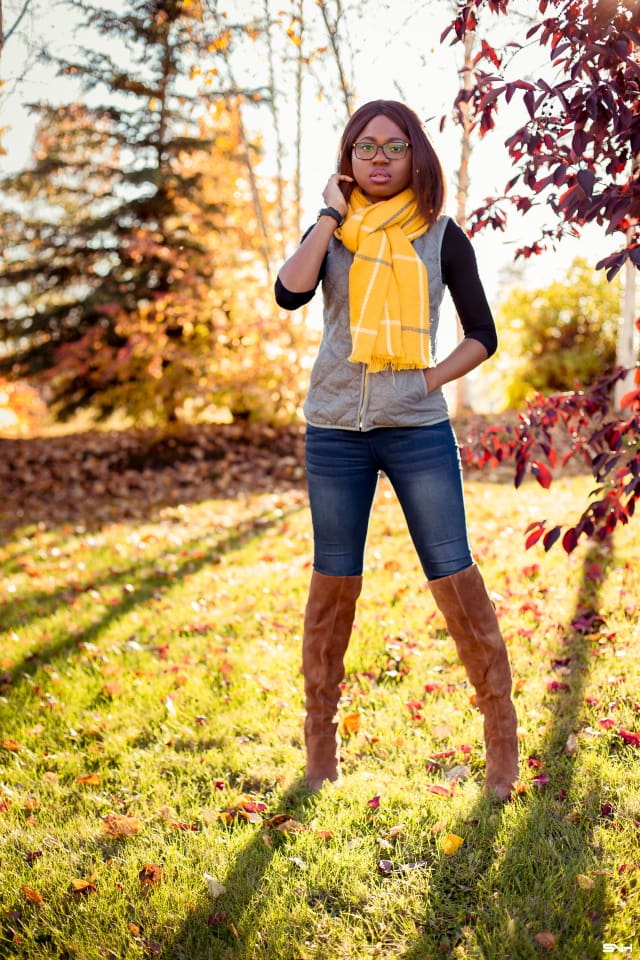 Here's how to cut a blanket scarf:
Lay the scarf out on a flat surface.

Then fold it into a triangle shape. (i.e., fold the scarf into 1 large triangle).

Now, cut it with a pair of sharp scissors.
* 

Don't worry about getting the perfect straight line.
Note: The area of the cut might not be smooth/straight. I wouldn't stress about it because that edge will end up hidden when you tie the scarf around your neck.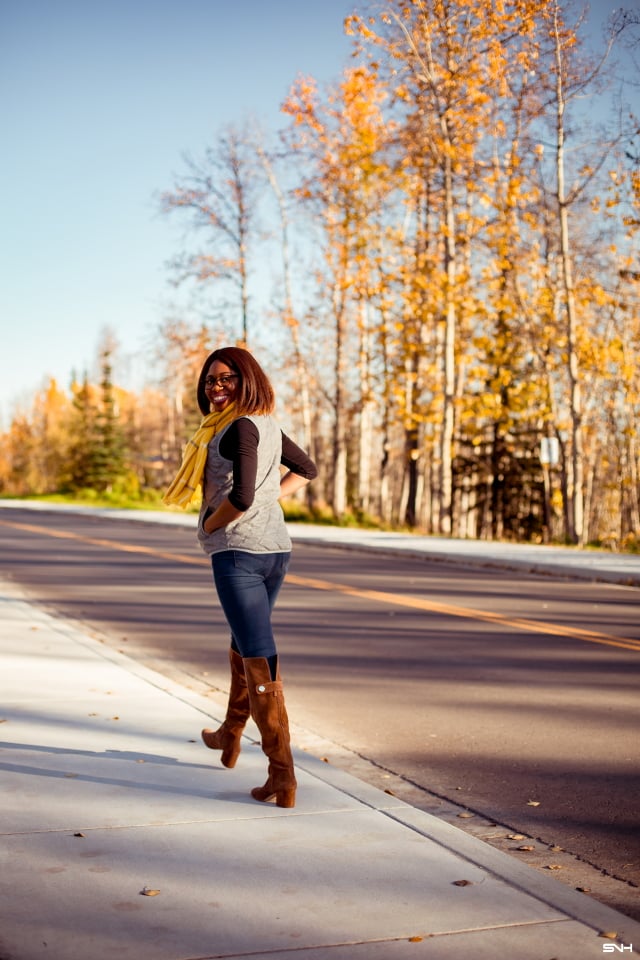 Want to see pictures of this hack? Sheaffer spills the tea in this post. There you have it! Your quick guide on how to style a blanket scarf today. I hope you enjoyed this post.
I am wearing:
Jeans (similar)
Geek glasses (similar)
Old Navy plaid scarf (exact) 
Old Navy quilted vest (exact) 
3/4 sleeve fitted top (similar)
Nokia Activity Tracker Smartwatch
DSW Over-the-knee boots c/o (similar)
Photos by SNH Photos
Interested in more ways to style a scarf? Check out these popular posts: 
PIN FOR LATER!