Alaska Fashion: What is a Kuspuk?
This post may contain affiliate links which means I will get a commission if you make a purchase at no additional cost to you. As an Amazon Associate I earn from qualifying purchases. Please read my disclosure for details.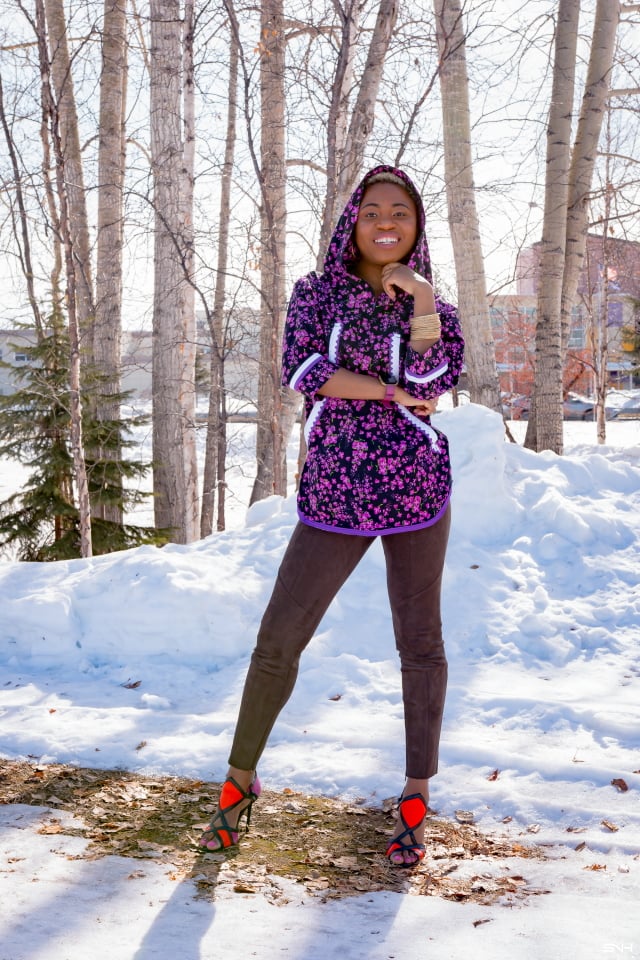 This blog post has been a lonnnng time coming. I interviewed my dear friend and colleague months ago for this post about Alaska fashion and the Native people culture. In general, I wanted her to answer the question, "What is a kuspuk?"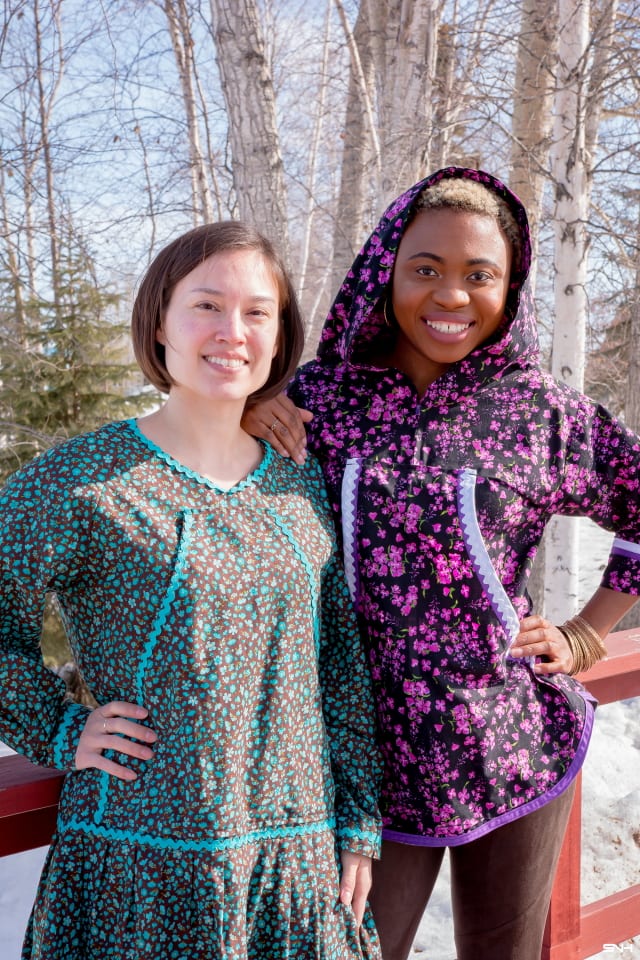 I must admit, I was the least familiar with Alaska fashion, most importantly, Alaska Native kuspuk when I moved to Alaska. During my first few months in Fairbanks, I remember asking a colleague why she still had her raincoat on! She laughed and said it was her Native outfit called a kuspuk.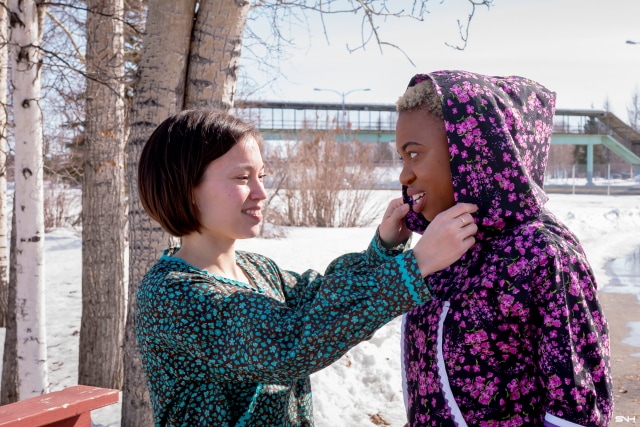 So what is a kuspuk? Exactly my thought! A kuspuk, also known as Qaspeqs or Atikłuks by different Alaskan tribes is an overshirt with large front pockets worn by Alaskan Natives.
According to my Alaskan friend, Dawn, kuspuks were traditionally hooded and helped to protect the wearer from the heat of the sun and bugs during activities like berry-picking. But the more modern styles like the teal version she is wearing are usually unhooded.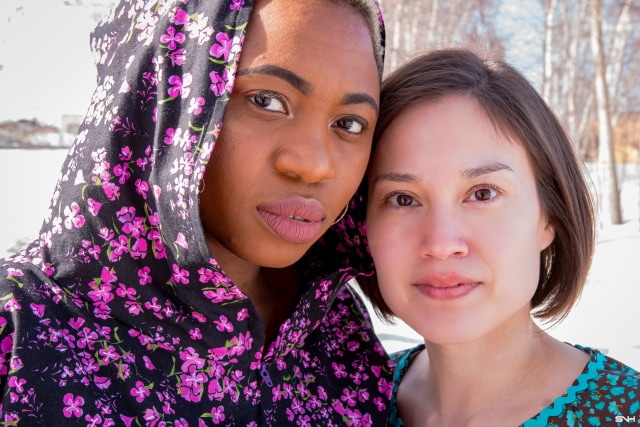 This traditional Alaska fashion piece comes in all shapes and sizes. You'll mostly see Atikluks worn as a shirt (the pink version I am wearing) or as a dress (the style Dawn is garbed in). kuspuks are worn by everyone including men, women, and children.
As a child, Dawn grew up in Kotzebue, which is 30 miles above the Arctic Circle. She was involved in the Aleut Native dance group dancing where she got to wear more elaborate Atikluks and simpler styles as seen here during traditional dance performances.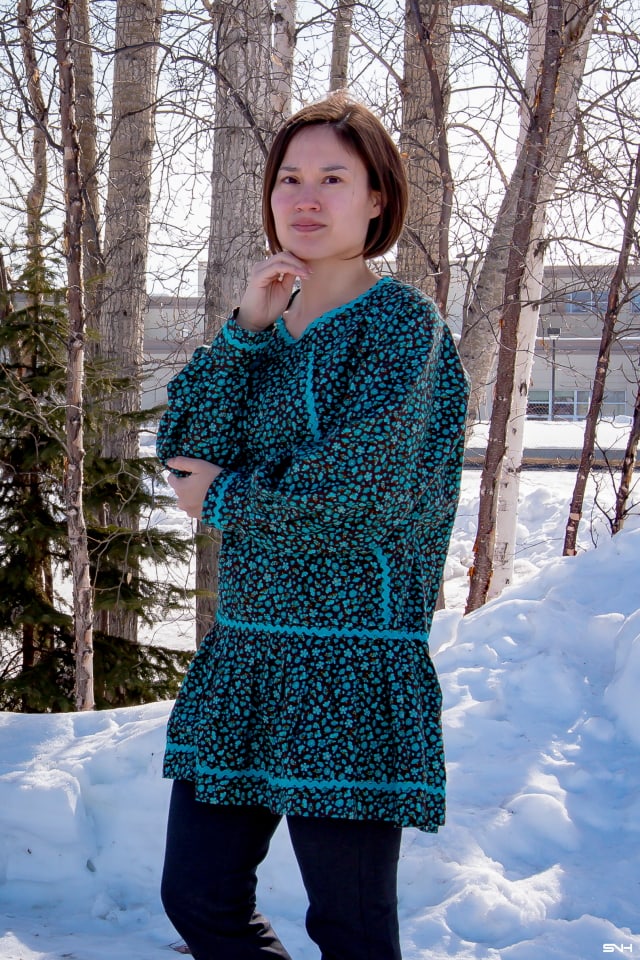 I was born and raised in Nigeria, and our clothing is a huge part of our identity. Moving to Alaska and discovering that the traditional Alaska fashion was more profound than the classic denim and t-shirt resonated with me.
So I asked Dawn to elaborate a little more about the kuspuks we were wearing. If the fabric, print, and style held any particular meaning to her or her Inupiaq and Aleut heritage. Here's what she had to say: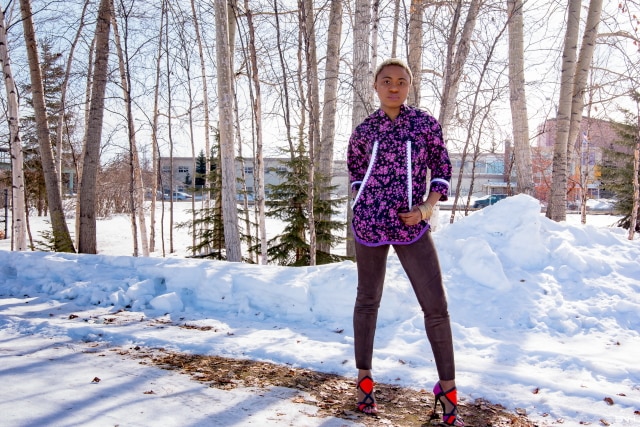 "I'm sure way back when before they had fabric they used materials from the animals that they caught. If they had a good year of hunting, they used to use nice fur and animal skins. In the past, they made kuspuks that were waterproof like intestines. The ones nowadays can also have a zip-up front. The nice big pockets are convenient for berry-picking or while you're out and about."
The kuspuk Dawn is wearing was made by her Godmother, and the one I have on was made by Dawn's babysitter.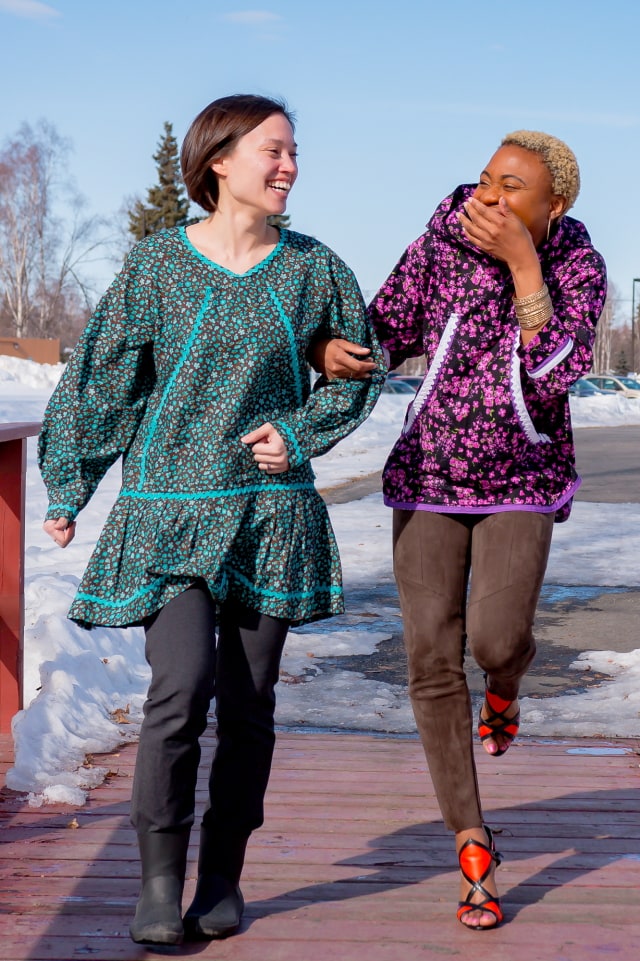 Also part of my Alaska fashion series:
Modern times has allowed kuspuk makers to create this Alaskan fashion to be more stylish with lining and rick rack trim on the bottom of the skirt. The big sleeves allow you to wear other clothing underneath the kuspuk if you need to.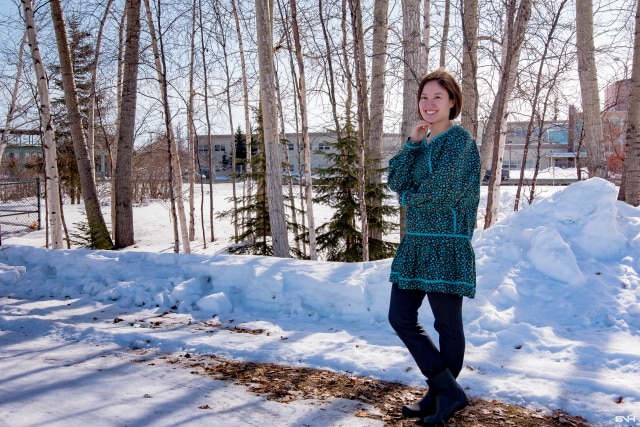 My follow-up question for Dawn was, "How would you style an Atikluk?"
I needed to know because I felt a little overdressed standing next to Dawn in stilettos while she had waterproof boots on.
She said, "It all depends on what you're wearing the kuspuk for. If you're wearing it while berry-picking, then you'll probably pair the overshirt with some jeans and boots.
But if you're wearing it to a special event like a wedding or graduation ceremony, you would tailor the kuspuk to the function – lace and silk kuspuks are options that come to mind."
Dawn added that as far as she knows, Atikluks can be made with any fabric of your choice. She even has one made out of Hawaiian print a long time ago by her grandmother.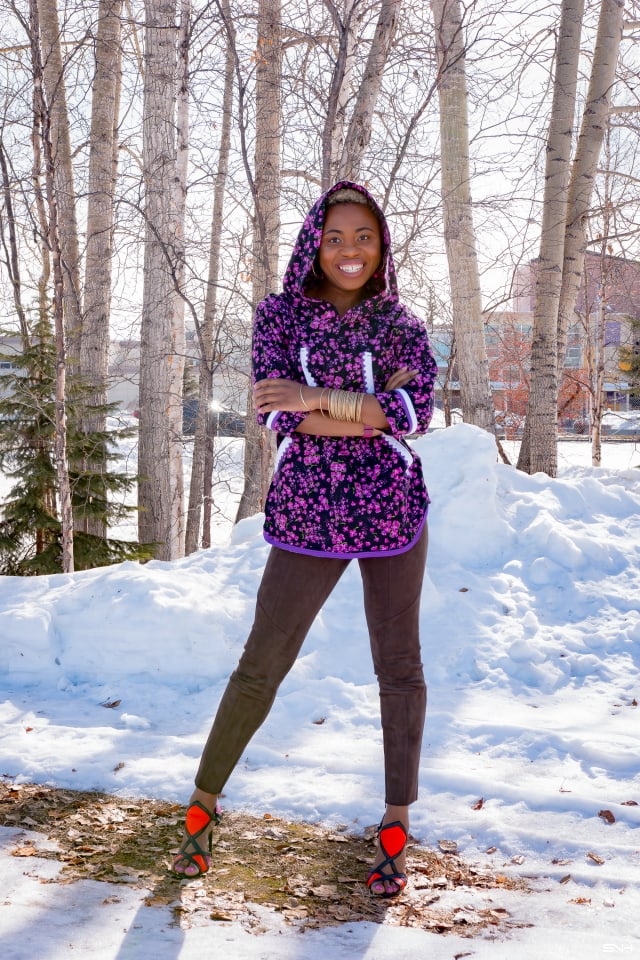 My last pressing question for Dawn was her opinion about seeing non-Native people wear Atikluks. I needed to know if this unique style should or should not be worn by outsiders.
Dawn said, "Natives would be happy to see other people wear an Alaskan kuspuk. There are a lot of people in my hometown who are not Native, and these people wear kuspuk.
It is a great way for Non-Natives to show their pride and appreciation for a culture they've adopted and become a part of. I like to welcome people to wear our Alaskan kuspuk."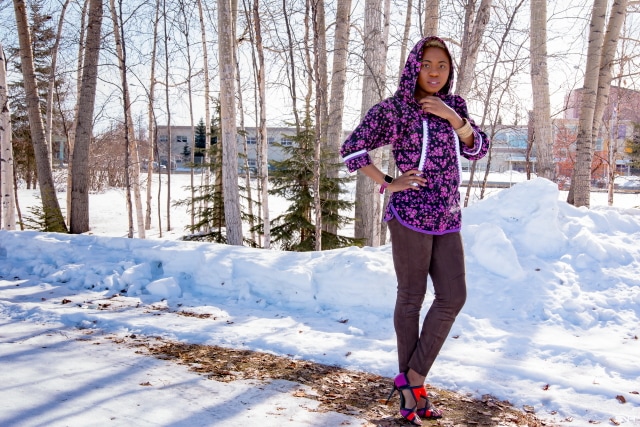 Where can you get a kuspuk? Well, not at the department stores. You have to make one for yourself or order a handmade Atikluk. A simple Google search pulled up Sue's Kuspuks Facebook page and these options from Etsy sellers.
Click on image to shop handmade kuspuks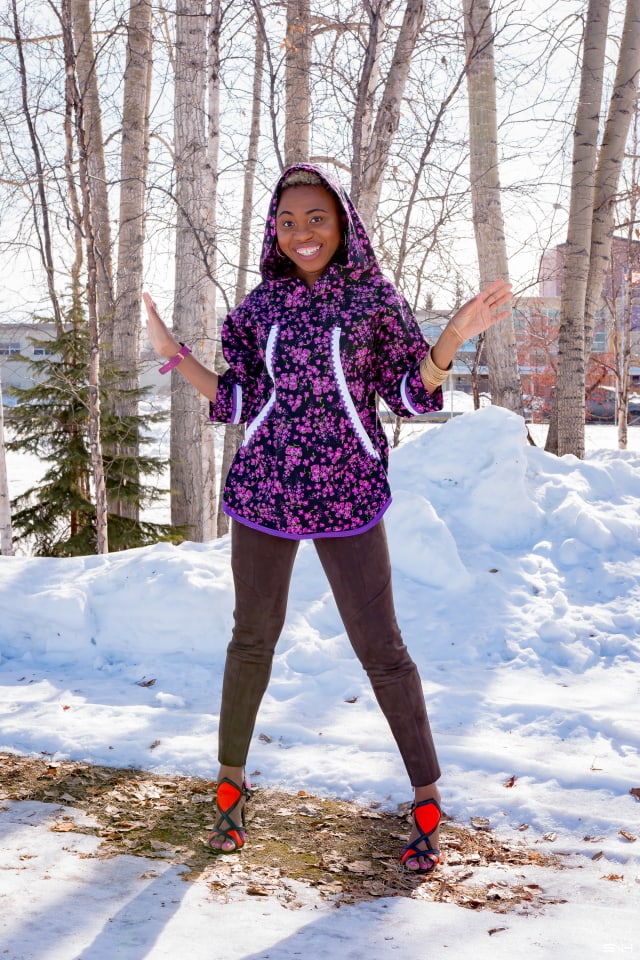 And if you're up for it, here's the best video I found on how to make an Alaskan kuspuk. You may be able to purchase a kuspuk pattern online if you need specifics (here and free here).
Special thanks to my Inupiaq friend, Dawn for indulging my curiosity about Alaska fashion, particularly, Alaska Native kuspuk. I am thankful to have a platform that allows me to share a snippet of the Last Frontier. As always, thank you for reading.
You may also like these posts: Summer Solstice – Alaska Midnight Sun | Alaska Fashion Blogger – Surviving Winter |
I am wearing:
Multicolored sandals (similar)
Faux suede moto pants (similar)
Floral print kuspuk overshirt (similar)
Dawn – Floral print kuspuk dress (similar)
Photos by SNH Photos