Santa Claus House, North Pole, Alaska
This post may contain affiliate links which means I will get a commission if you make a purchase at no additional cost to you. As an Amazon Associate I earn from qualifying purchases. Please read my disclosure for details.
Is it too early to start talking about Christmas? After the darkness hit hard on Tuesday, all I found myself thinking about was Christmas. Then it occurred to me that I was yet to write this post about my sister and I's visit to Santa Claus House in North Pole, Alaska.
UPDATE 12/2019
I promise, Santa Claus house truly does exist, and so does North Pole, Alaska. This is not to be mistaken for the North Pole aka the center of The Arctic Ocean.


And to make it even more confusing, you can get on a 6-hour drive to the Arctic Circle from Fairbanks or North Pole, Alaska.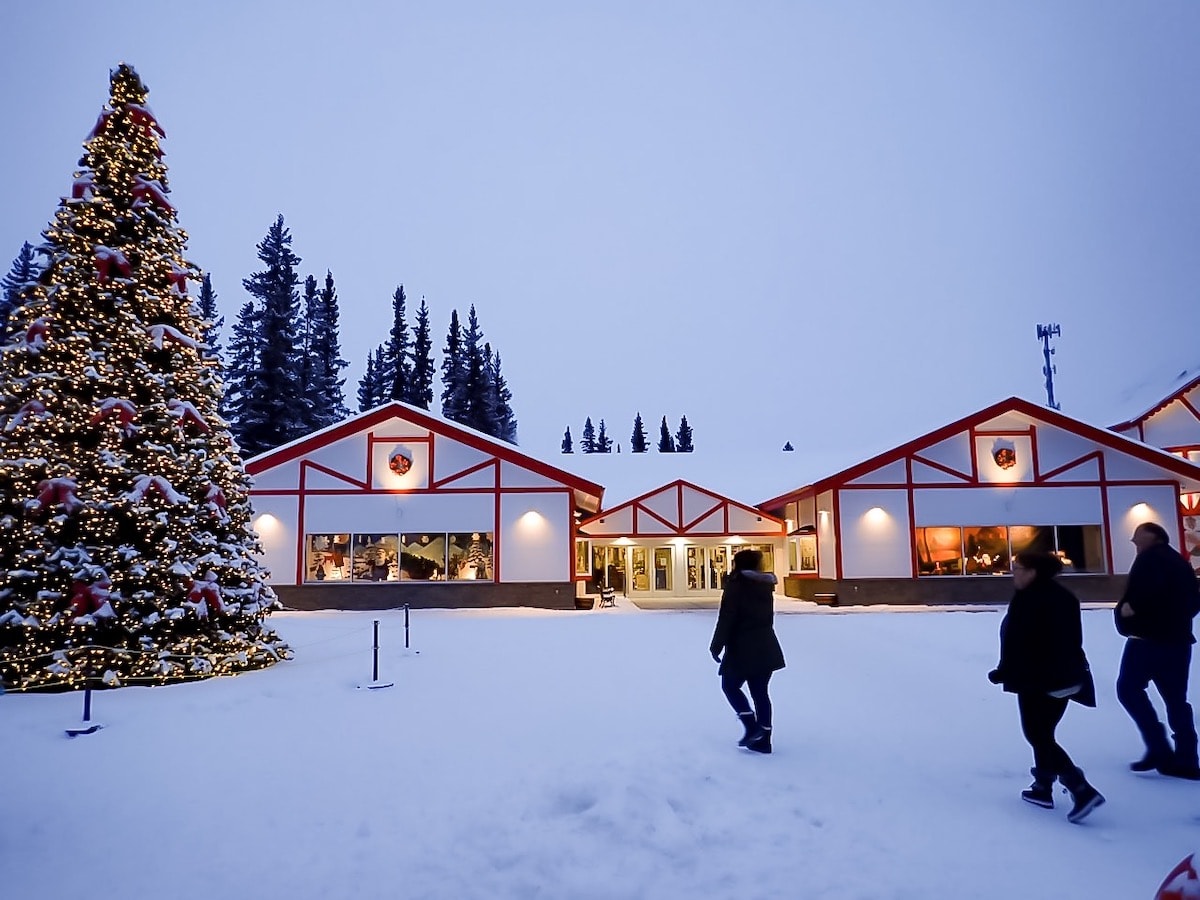 Anyways, my sister insisted on visiting Santa Claus House in North Pole on her arrival in Fairbanks last month.


I had been there a few years back and was pleasantly surprised to see all the expansion and changes that had occurred since my previous visit.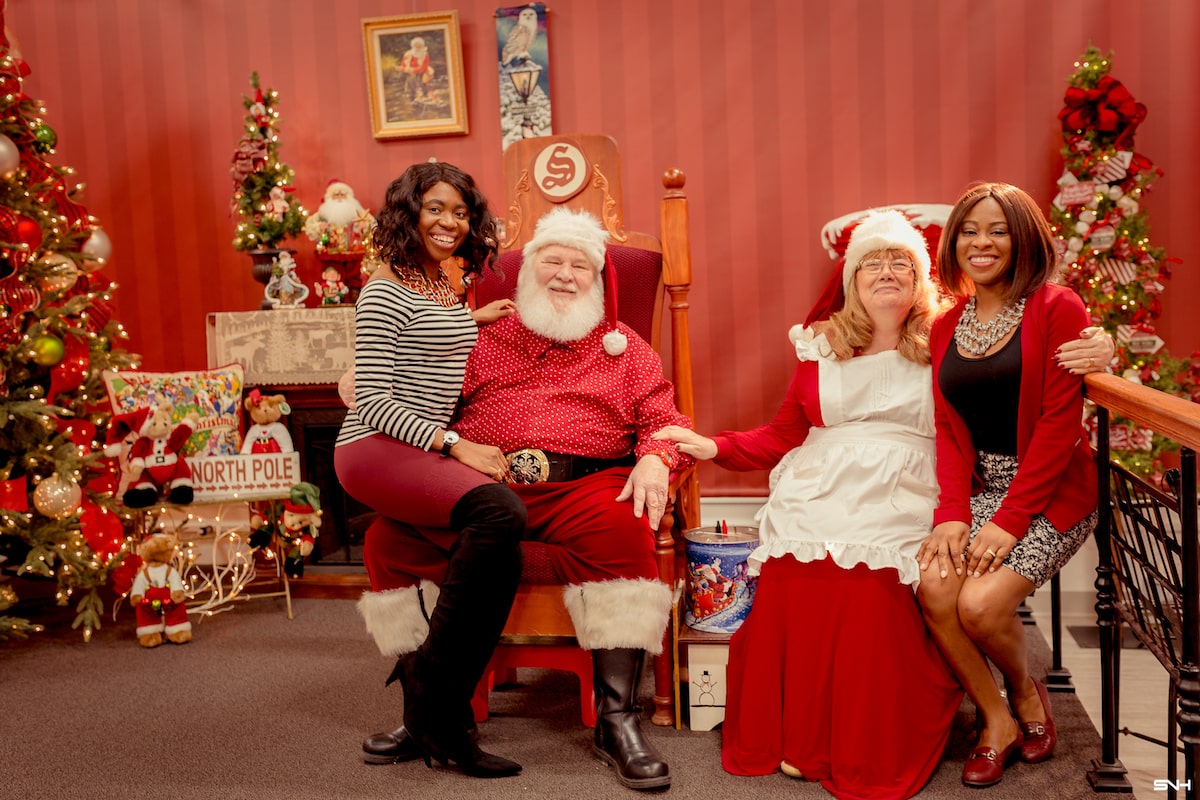 We even got to take a picture with Mr. and Mrs. Claus!


It was not my intention to dress up rocking Christmas colors, but I had promised my sister I was going to match whatever she wore. So burgundy, black and white it was!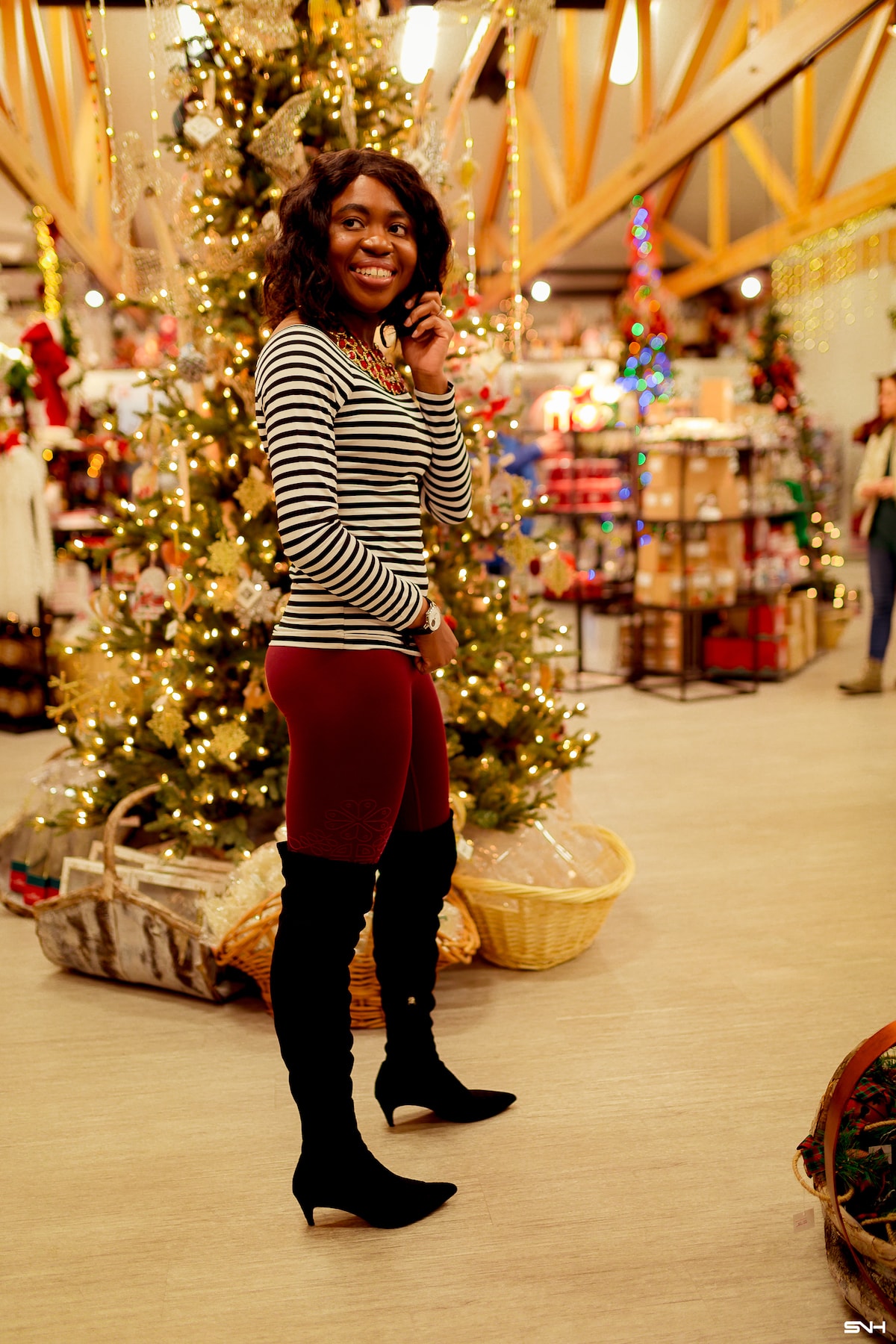 Shop The Look


The exterior of the building has the classic white and red Christmas color with some areas of the wall painted in a candy cane pattern.


Standing tall to the left of the property is a magnificent statue of the largest Santa Claus I've ever seen. And this Santa statue is a cute old man too 😉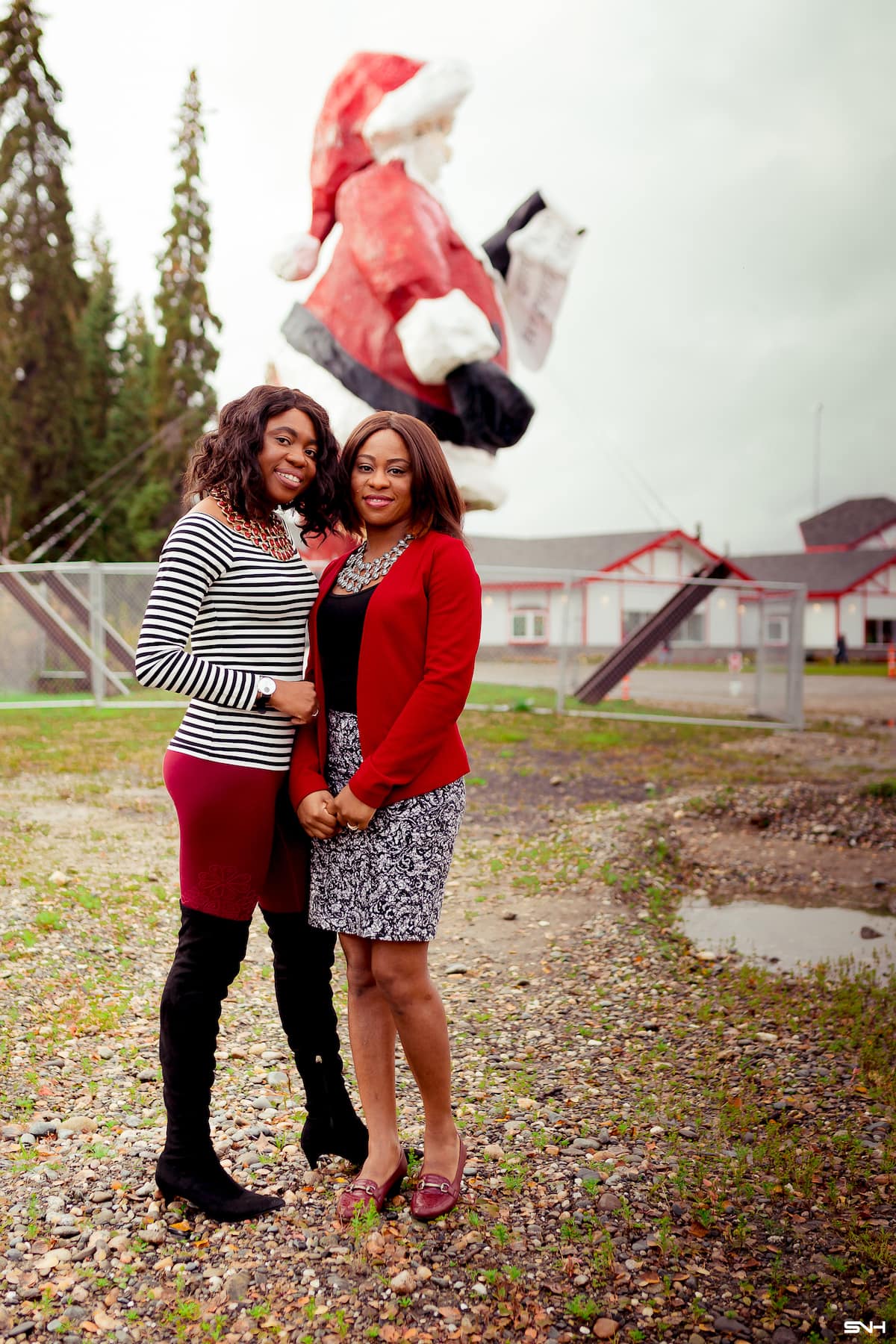 It started to rain shortly after we arrived, so we made a beeline for the main entrance door. If you make it up to North Pole, look out for live reindeer at the Antler Academy (of Flying & Reindeer Games), which is right next to Santa Claus House.


We did not see reindeer during our visit to the Santa Claus House. Thankfully, we saw a live reindeer at the University of Alaska – Fairbanks Farm right next to the botanical wedding.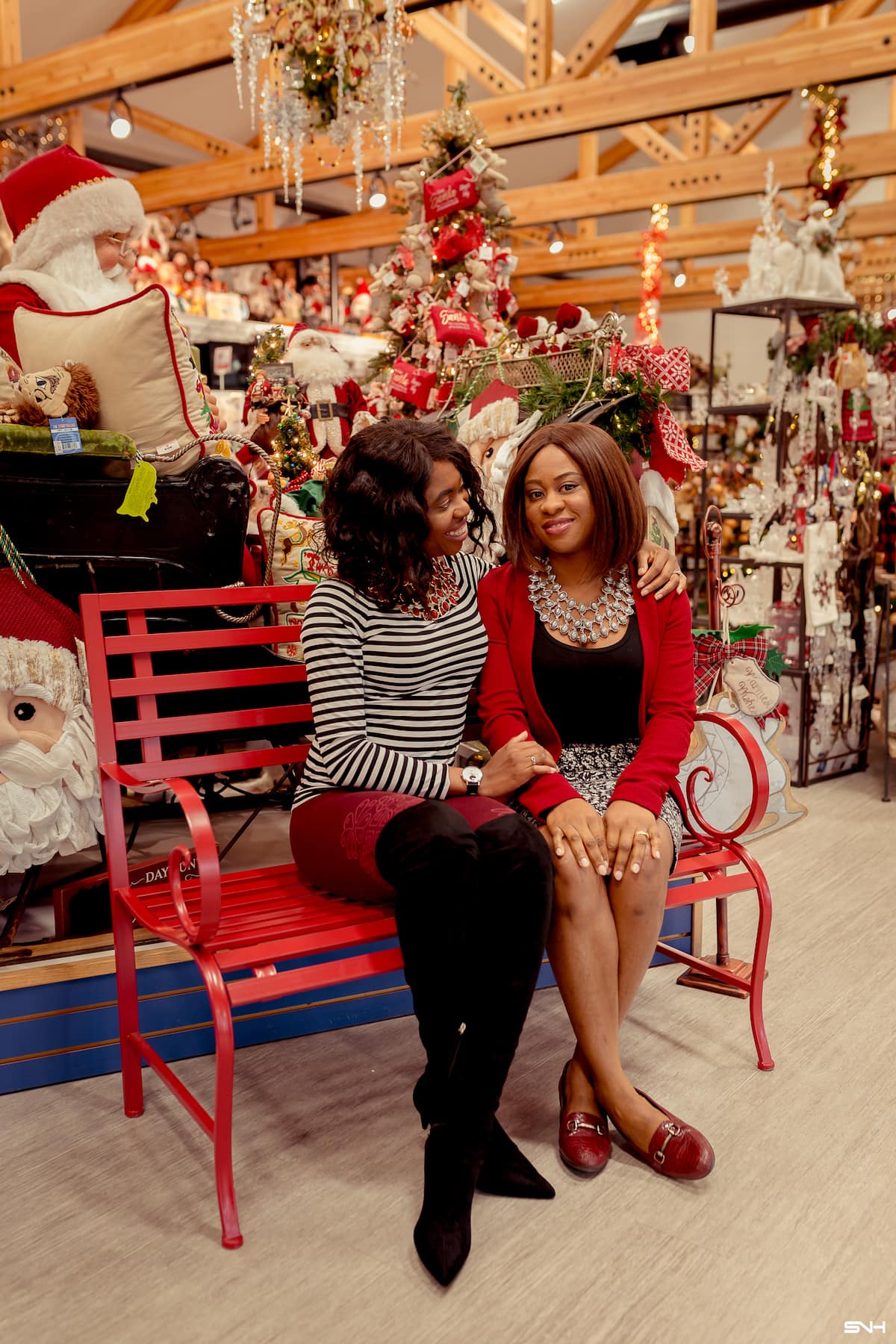 Also part of this series:
The folks at the Santa Claus House in North Pole, Alaska were super friendly and helpful. As you would expect, there were quite a few tourists at this Christmas shop.


Having not been there since 2014, my recollection of how it looked pales in comparison to how Santa Claus House looks now.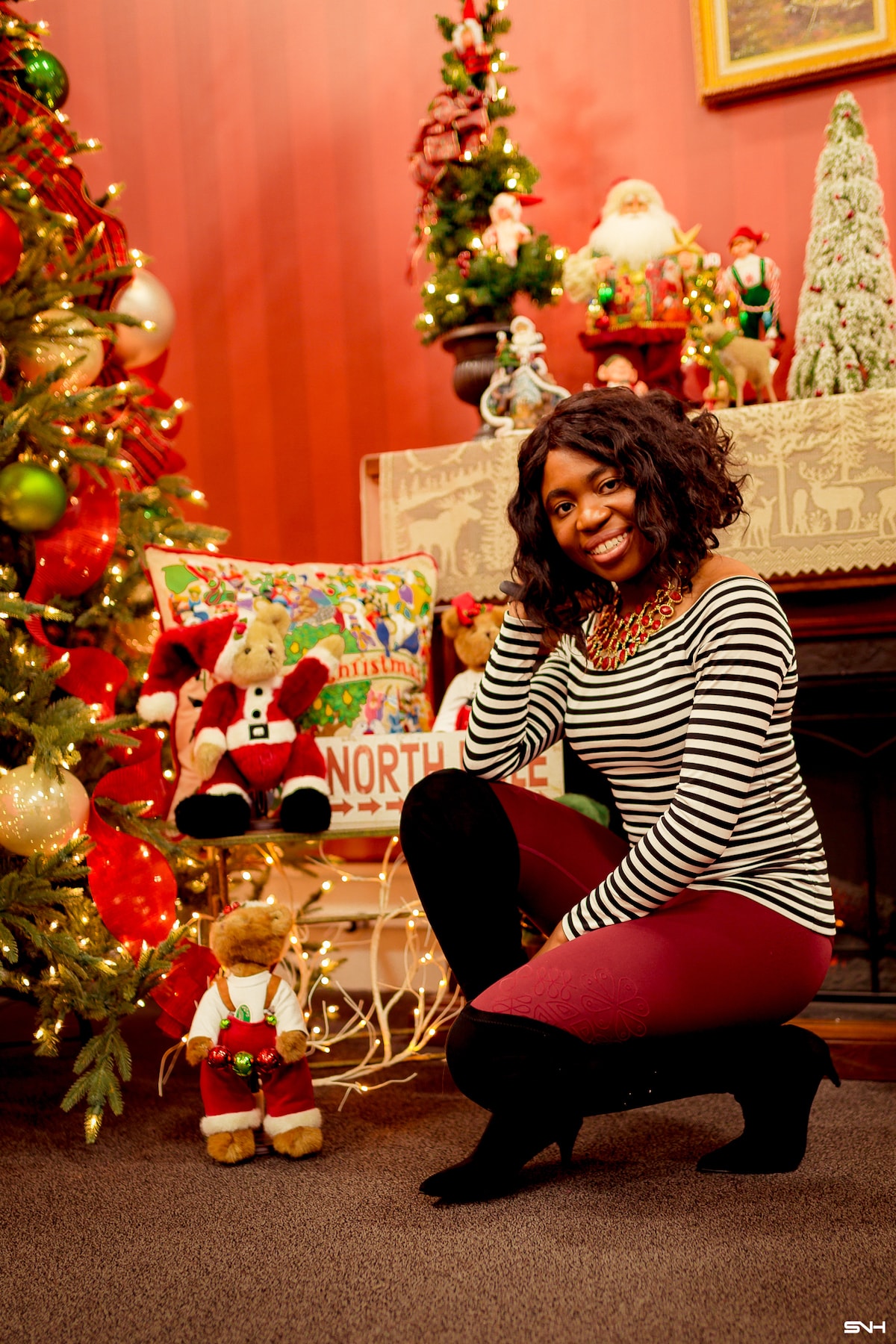 I'm not a big fan of gift shops, but there was a lot to look at and plenty to do at the Santa Claus House. Who would imagine how Christmas-y that one little location even in September!?


They have every possible decoration you could imagine. I wanted everything! Some of the prices scared me away, but that's to be expected with tourist attractions.


There's something for everyone. I even had my eyes on a beautiful decorative throw pillow.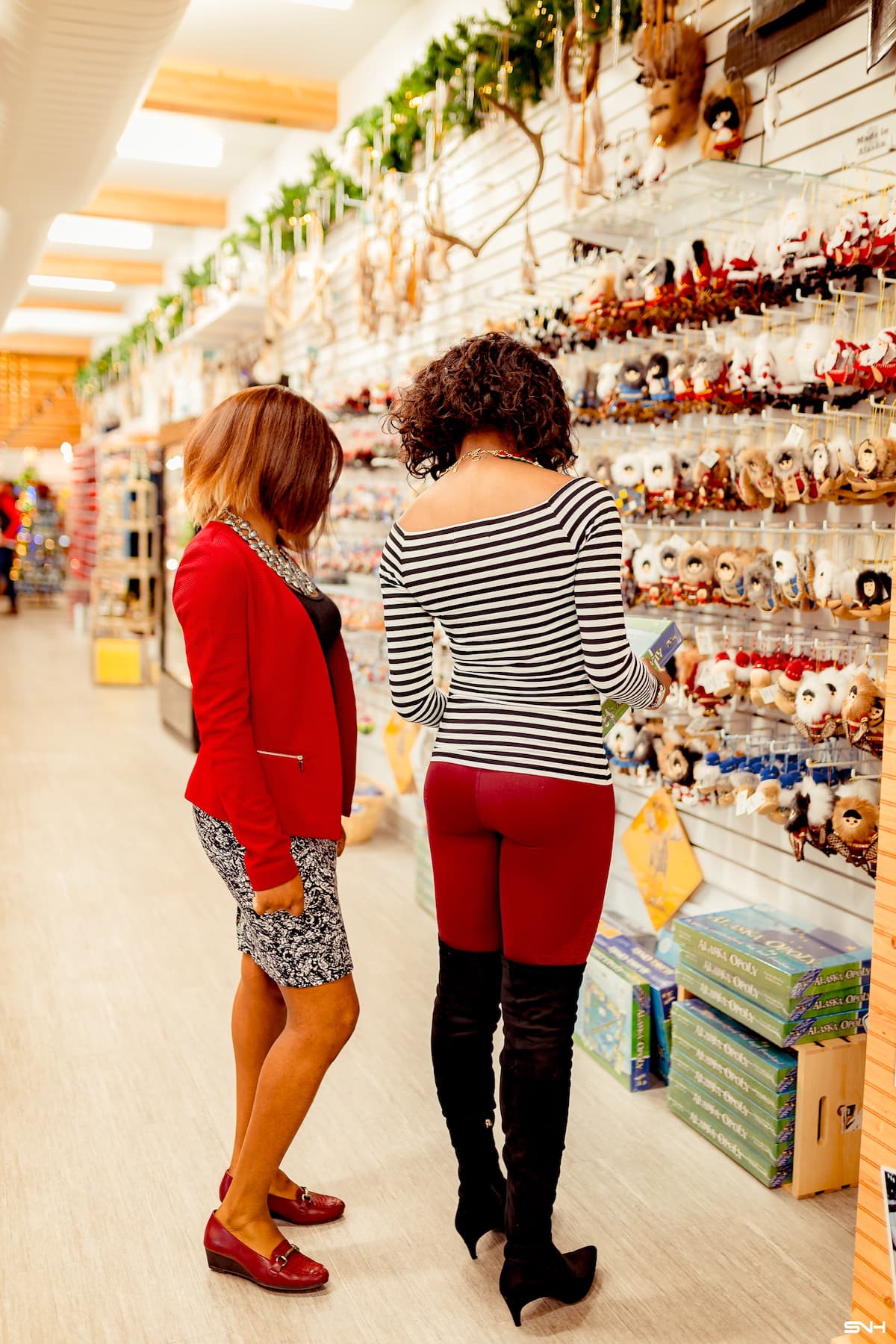 Want to know another cool thing about this Santa Claus House here in North Pole?


If your kids or even adult friends are obsessed with Santa, you can order personalized letters from Santa to be delivered right in time for Christmas or any time of the year. This is actually the trading post in North Pole where children send letters.


Did you know that the North Pole post office (zip code 99705) receives nearly a half-million "Dear Santa" letters every year (source)? Pretty cool stuff, huh?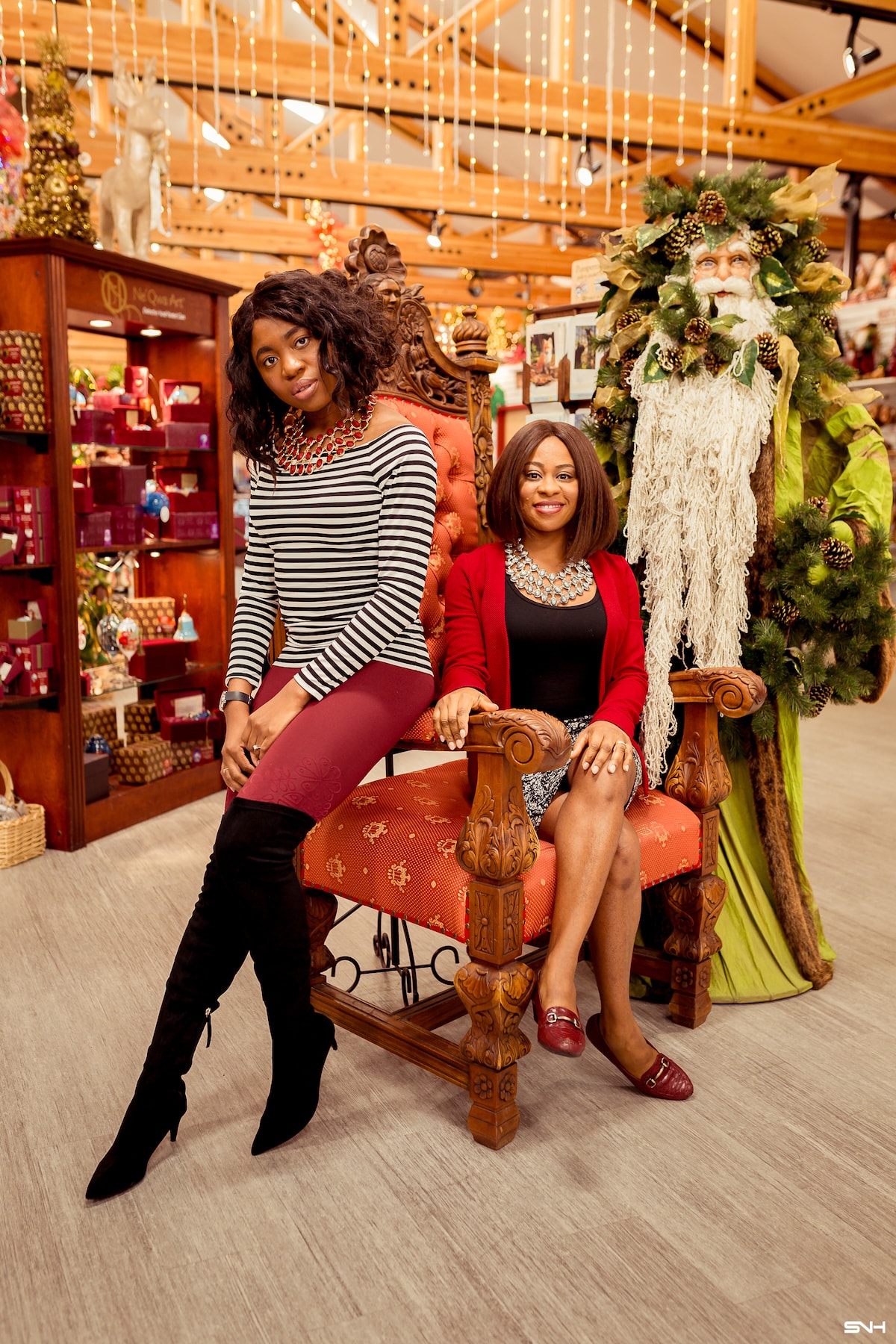 All this is to say that my sister and I had a great time at the Santa Claus House exploring the unique selection of collectibles, gifts, decor, and getting a photo with Father Christmas!


Since this post is not supposed to be a review of Santa Claus House in North Pole, Alaska, let's move on 😉


If you've been following the blog long enough, you might remember my sister, Tega, from this ankara fitted dress post from 2013. Gosh! Can't believe it has been almost five years since her last appearance. Her feature is also a major throwback for LPV.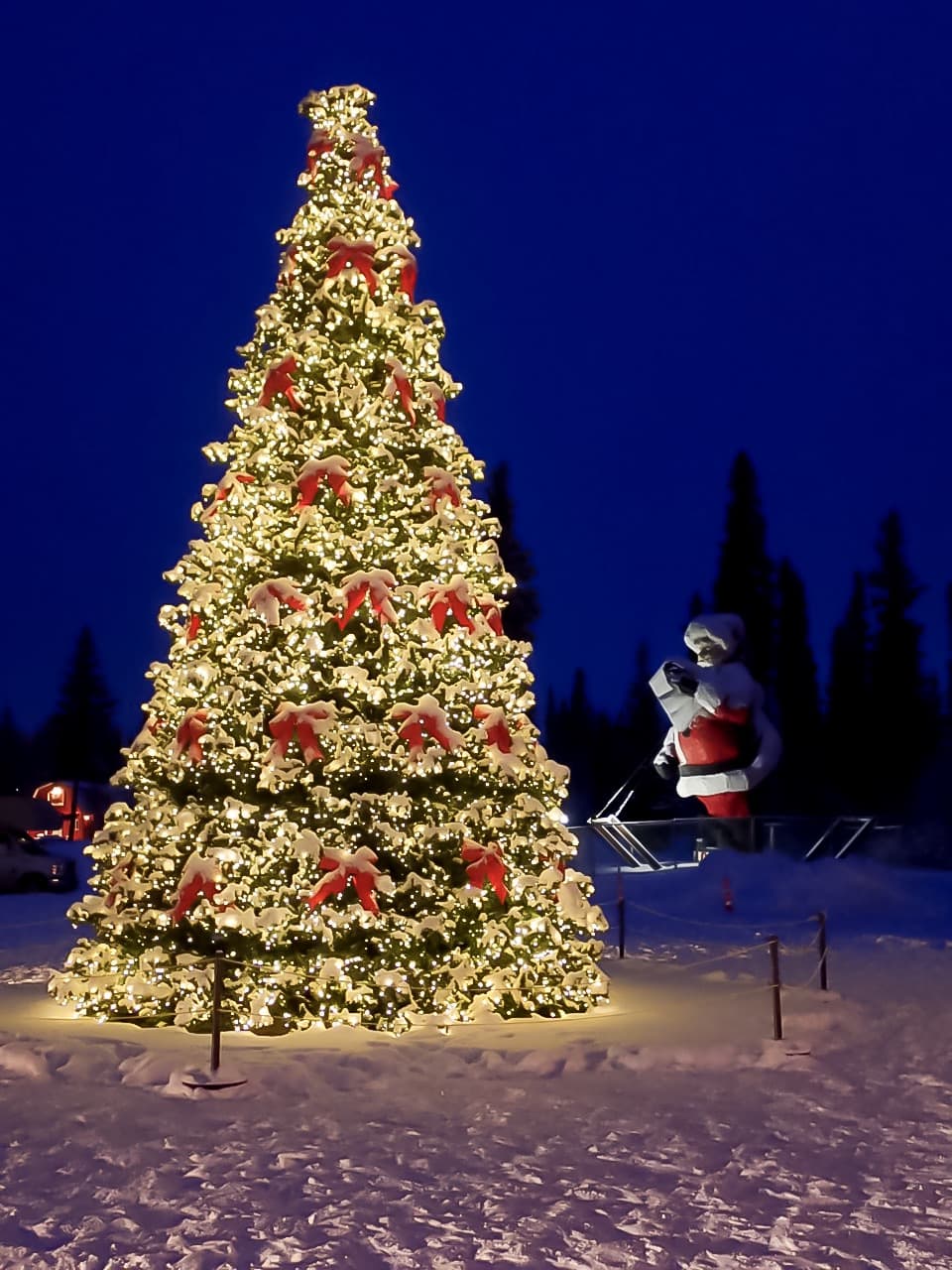 I love this fitted black and white long sleeve blouse. I got it on Amazon Fashion at a steal last year. The top is stretchy and the length is just right.


In retrospect, the top is giving off a candy cane x Christmas vibe against the soft burgundy leggings (similar). I put this outfit together at the last minute.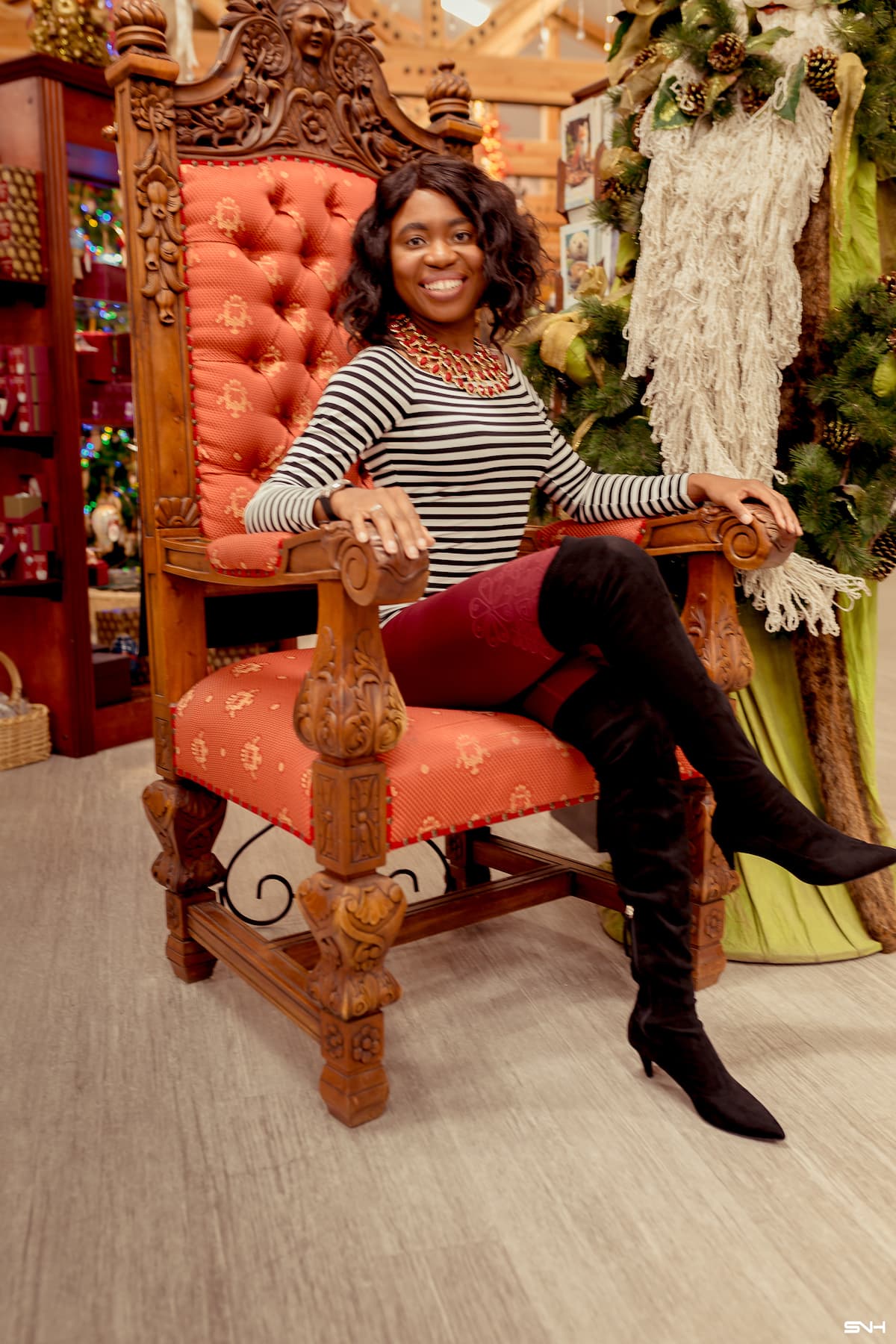 I am wearing:
Thigh high boots (similar) | Nokia Activity watch (exact) | Burgundy leggings (similar) | Striped off-shoulder top (exact) | Amrita Singh reversible necklace (exact)
Photos by SNH Photos
I thought an easy and quick way to dress up these leggings was to pair the legging with thigh-high boots.
So, I grabbed my favorite pair of suede thigh-high boots with kitten heels (similar). It worked out perfectly because most of the embroidery pattern on the leggings, which were concealed by the OTK boots would have been a little overwhelming for the overall look of my outfit.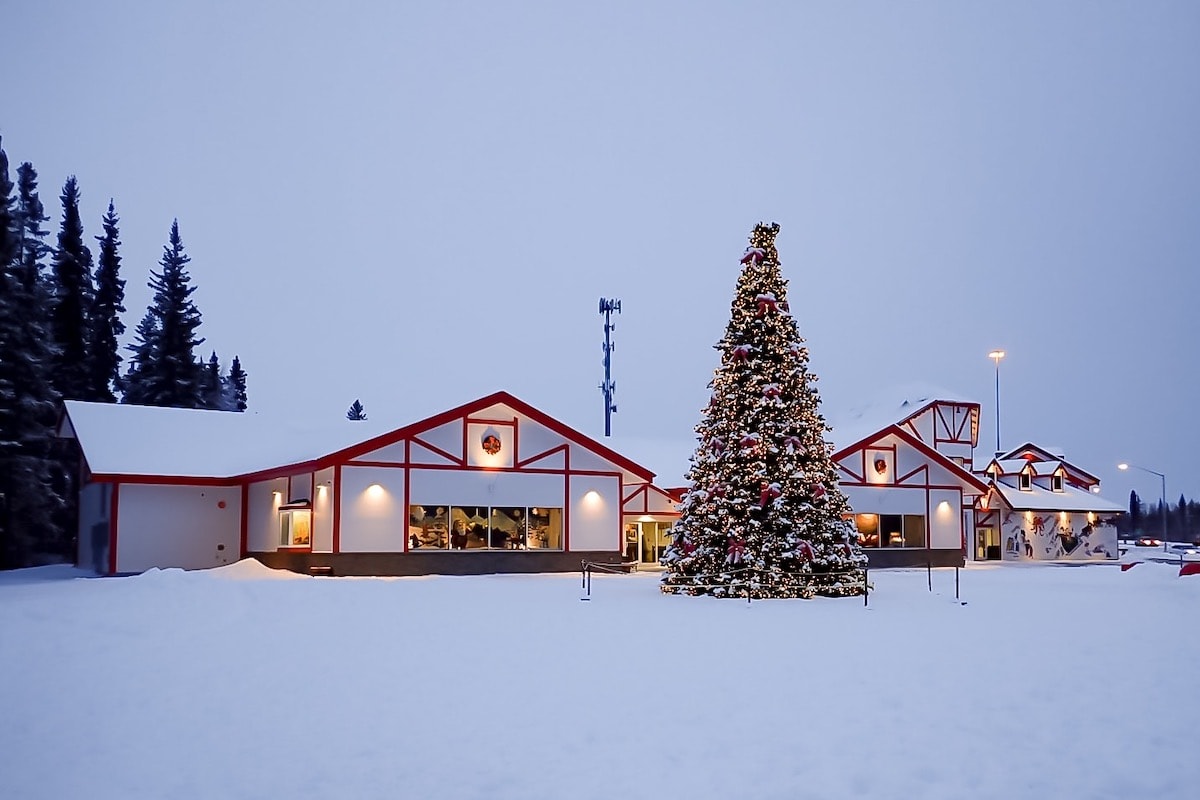 Aside from matching outfits, Tega and I are both rocking my favorite pair of Amrita Singh reversible necklace.


With our first snow of the season expected to make landfall this weekend, you just spot me in this outfit twirling in the snow. I hear that there is another Santa Claus House in College Station, Texas.
If you're interested in more travel posts, you'll love these popular posts:
Your turn! Have you been to Alaska? Or visited a Santa Claus House? Let me know below.
PIN FOR LATER!