The Best Packing List for a Trip to Alaska In 2023
This post may contain affiliate links which means I will get a commission if you make a purchase at no additional cost to you. As an Amazon Associate I earn from qualifying purchases. Please read my disclosure for details.
I relocated to Fairbanks, Alaska, in 2014. Before my move, I researched about travel essentials for a trip to Alaska. Everything I read said to layer up, but other than that, I felt rather lost.
Now that I've made Alaska home for a few years, this post covers everything you need for a trip to Alaska.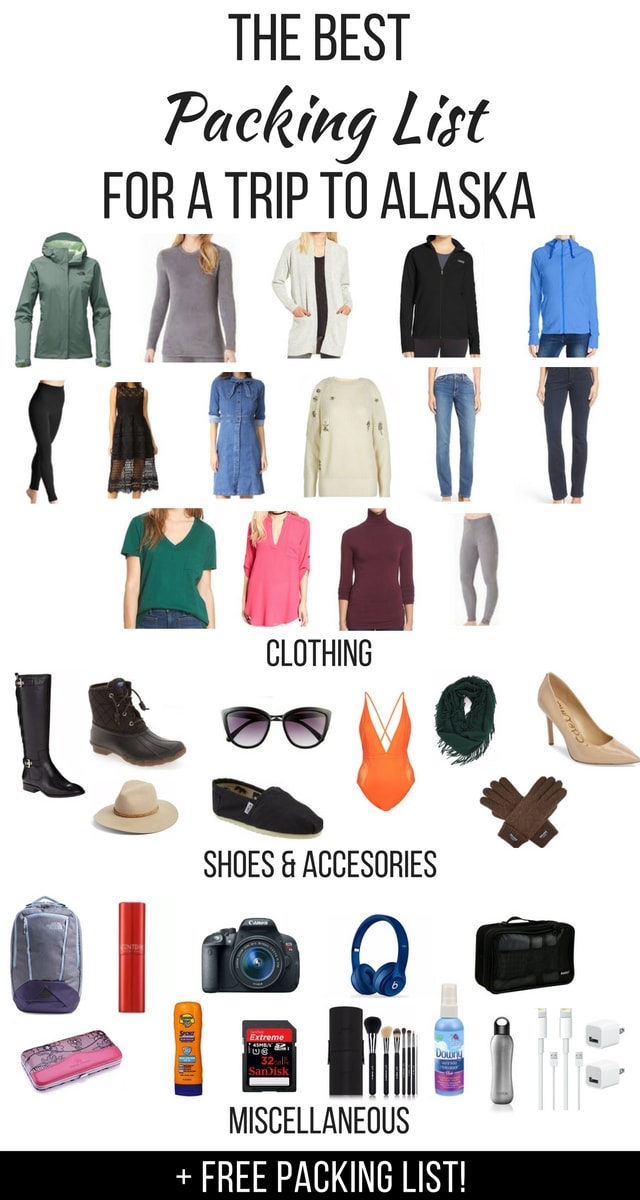 Introduction
Whether you are visiting the Last Frontier on a cruise or excited about tours to Seward, Denali National Park, or on a cruise to see the beautiful Alaskan glaciers, I've got you covered.
I've also created this handy packing list for your Alaska vacation that you can print as you prepare for an adventure of a lifetime!
Unlike many other parts of the U.S., planning a trip to Alaska can be a little difficult to prepare and pack for.
The weather can be hard to predict, particularly in transition months like April, May, and sometimes June. It could be chilly one day, warm on another, or even raining or a mix.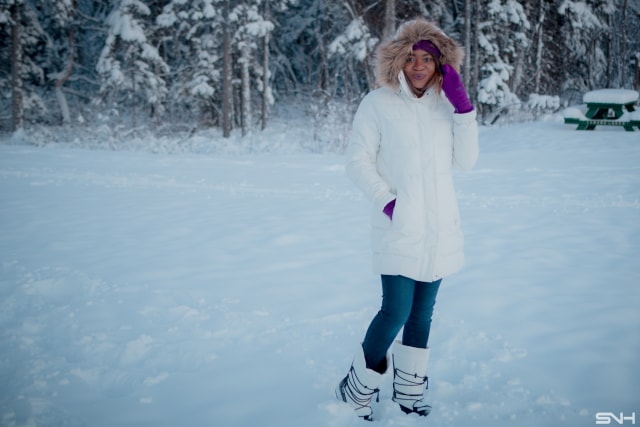 After experiencing what felt like a monsoon one summer, intense wildfire on another and, the perfect weather on my third summer in Alaska, I am confident that this list is all you need for your vacation to Alaska.

Dress for comfort. While Alaska is not particularly known as a state for upbeat, trendy fashion, it's never a bad idea to bring a mix of clothing that fits your personal style. If traveling on a cruise, you may have a few formal events.
So one or two formal wear will come in handy. Comfortably warm casual and athleisure pieces should take up the bulk of your luggage space.
Travel Tip
Given that you are traveling to the arctic, the weather is likely going to be cold. While 60ºF feels divine to Alaskans, Texans may consider that temperature uncomfortably cold. In addition, we have a lot of mosquitoes in late summer months of July and August which are, em, ferocious!
Bug spray
, long sleeve tops, and ankle length pants will serve you well.
What to Pack for Your Trip to Alaska
Fleece layers (2-3) – Travel with layers since you can easily take off clothes if you get too warm. I love these comfortable pants and a long-sleeve top from Cuddl Duds. January and February are inarguably the coldest months of the year, with temperatures dipping as low as -40F. 
Waterproof jacket (1) – I recommend packing a lightweight waterproof jacket that

will keep you both warm and stylish. Even in May, early mornings and evenings can be chilly. My friend who is a tour guide says that the Arctic Circle excursion can be very windy so make sure you layer up.



I also like this North Face waterproof jacket that is lightweight and can easily be thrown into your hiking backpack. Alaskans rarely use umbrellas because when it rains, it literally falls in every direction.
Fleece jacket (1) – When it is raining hard, you'll be glad to have a fleece jacket to keep you insulated. A fleece jacket is also great for layering, and this Fleece jacket is a great option.
Sunglasses (1) – As we approach summer solstice, we receive extended hours of daylight. A pair of sunglasses will be your best friend. I suggest leaving your fancier pair at home and getting an inexpensive pair like this one. If you lose it, your vacation would not be soured.
Gloves (1) – Unless you plan on visiting in the heart of winter, any pair of light gloves will do. Here's an affordable one from Amazon. I am wearing Outdoor Research Flurry mitts in this post.
Insulated/Fleece-Lined leggings (2) – This is great for layering and if you find that you are warmer than you like, you can effortlessly rock these with a pair of walking shoes. I recommend traveling with at least two pairs of insulated leggings to double up as layering pieces. Leggings make a stylish outfit with a pair of boots.
Jeans (2-3) – Two or three pairs of jeans would be enough for a 7 or 10-day trip to Alaska. I recommend a thick pair with stretch or extra room so you can wear your insulated leggings underneath if you need to layer up.
Cardigans (2) – You can never go wrong with cardigans in Alaska. Not only do they keep you warm but they will transform your looks since you will be leaving out of a suitcase. The months of May (sometimes June) and September are usually when I wear cardigans the most.
Casual tops (3-4) – Pack a few casual and fancy tops to go with your jeans and leggings.
Workout clothes (optional) – If you plan on working out during your vacation. Creamer's Field in Fairbanks has some nice trails for running.

Underwear – Self-explanatory. Pack enough for your trip.

Cocktail dress (1-2) – If you are visiting Alaska on a cruise or exploring Alaska with others, packing one or two formal clothes is a great idea. While I do recommend wearing whatever makes you feel most comfortable, sometimes dressing up totally transforms your evening.

Additionally, if you're going on a cruise chances are that you will have at least one formal dinner night. One or two cocktail dresses should suffice (this dress is my favorite!).
Sneakers (1) –A pair of comfortable sneakers should be all you need for excursions. There is so much to see and do in Alaska. Sneakers will help with your posture and keep your feet comfortable especially if there will be a lot of walking involved. If you have extra room in your luggage, you can pack an extra pair.
Riding boots/rain boots (1) – Depending on the season you visit Alaska, you can switch a pair of riding boots for rain boots. This Sperry Saltwater Duck Booties is chic and practical for a rainy vacation.
Walking shoes (1) – I personally prefer a pair of classic Toms slip-on because it provides the maximum cushion, are lightweight for traveling, and go with a lot of outfits. They are made of fabric,

so they will not get scuffed like leather shoes.

Stilettos (1) – Every girl needs a pair of stilettos in her life. Even a casual look can be instantly transformed with a pair of classic black pumps. For comfort, I recommend wearing kitten heels (2-3 inches) or medium height heels (3-4 inches) since it may be hard to predict the terrain you will walk on. Leave your fanciest pair at home.
Nice slippers (1) – A nice pair of flip-flops can double down for indoor movement (hotel/cruise), which you can use to run quick errands or to the swimming pool.
Swimsuit (1) – If you have access to a pool or plan on visiting one of the many hot springs in Alaska, you will be glad you packed one. I lived in Fairbanks and visited Chena Hot Springs. It was amazing!
Nightwear – Don't forget to pack a pair or two.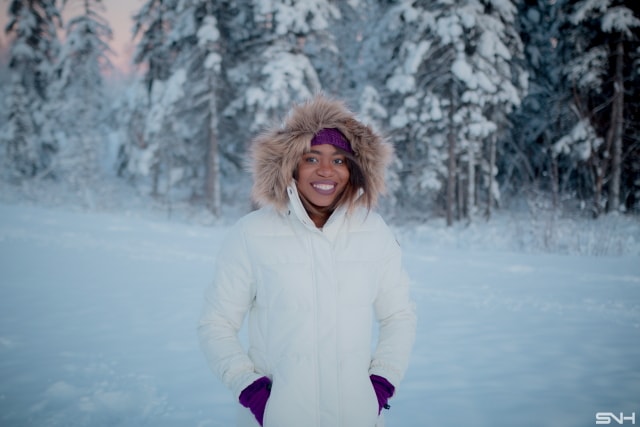 Additional Travel Essentials for Your Trip to Alaska
Phone charger

Laptop + charger

Headphones – Drowns out the noise on your flight or noisy neighbors on a cruise

GPS if exploring Alaska on your own – Alaska is 5 times the size of Texas with a

population that is a fraction of Texas. As you travel around the state and even within the town, network coverage can get patchy. Not all GPS come preloaded with Alaska maps. This TomTom GPS includes maps of Alaska.
Camera, extra memory card + charger – I love and use a Canon T5i. I use an 18-55mm kit lens and an affordable 50mm portable lens. My all-time favorite memory card is Sandisk Extreme 32GB SD memory card.

Socks – A few pairs to keep your toes warm.

Swim cover up – A lightweight kimono a terrific option.

Hat or sun visor – July and August are toasty.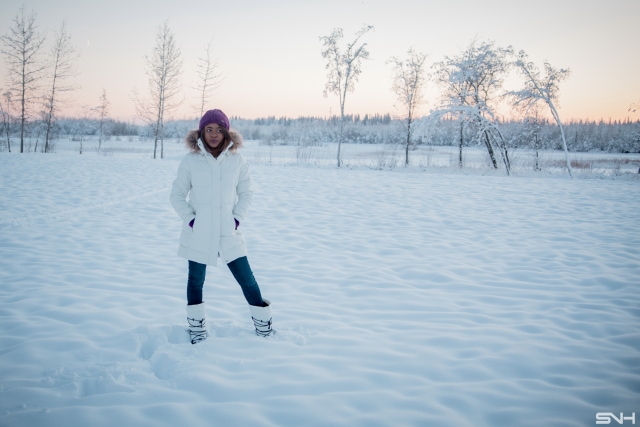 Miscellaneous Travel Items
Sunscreen

Insect repellent – The mosquitoes in Alaska are ferocious!

Shampoo & conditioner

Sponge/washcloth

Moisturizer – I like to pre-pack my own lotion in an empty reusable tube. I love this one.

Deodorant

A comb or two

Shower cap

Sanitary napkins/pantyliners/tampons

Shaving stick – I use this Panasonic epilator
Makeup + makeup remover – I pack my makeup in a makeup bag similar to this one. I always make sure to put my makeup remover in a zip lock bag to prevent them from drying out.
Perfume – I never travel with full-size perfumes. I always travel with my Scentbird perfume (read this review first). It fits nicely into a pouch I put in my handbag. Your fragrance comes in a fancy, travel-friendly refillable case. This tiny goodness gives your 120 sprays, enough for 30 days if you apply 4 sprays a day!

Medication – I recommend putting your medications in your purse or carry-on. As a pharmacist, I've come across a few travelers who either forgot their medications or had them get lost/delayed in their checked luggage. It's not fun! You may also want to get an over-the-counter motion sickness medication if you are going on a cruise.

Toothbrush + toothbrush case + toothpaste
Manicure set – Nothing worse than a cracked nail with no way to fix it.
A basic first aid kit – You might have access to one on a cruise ship or at a hotel, but you never know. Throw in band-aids, Tums, Motrin, hand sanitizer, Aloe lotion, Tylenol, and Benadryl.
Downy Wrinkle Release – In case you do not have access to an iron.

A travel flat iron

Toiletry bag – To organize all your toiletries. I use this one (similar) from Bed Bath & Beyond.

Tissue
You might find these related posts helpful:
Alaska Vacation Tips
In Alaska, it is absolutely fine to repurpose clothes for different occasions. Pack clothes that can serve multiple occasions. If you are visiting Alaska on a cruise, there are a few things you should keep in mind.
There are many things to see and do in Fairbanks, Alaska. To be adequately prepared, you want to pack clothes for various occasions.
This exhaustive list should guide you about what to bring to Alaska to keep you both warm and comfortable for maximum fun. Whether you're out on excursions, taking a stroll in Alaska, or just watching wildlife or the best fine dining in the Last Frontier you will be all set.
I created this guide based on my experience living in Alaska and infused some fashionable options for those who love stylish looks. Don't forget your free printable packing list to help you as you pack your bags.

As someone who travels out of Fairbanks, Alaska several times a year, a majority of my toiletries fit nicely into my toiletry bag. If you are visiting Alaska on a cruise, you may want to add a travel size Poo-Pourri. Don't dampen your trip to Alaska with the unpleasant smell of the bathroom.
I heard Ozium air sanitizer is equally amazing as plug-ins are not allowed on most cruises (fire hazard and limited plug-ins available). This freshens up the air for those sharing a small cabin with several other people.
Depending on my trip, I use packing cubes to keep my luggage and clothes organized. You can use the smaller ones for your underwear, dirty laundry, and miscellaneous items. The bigger ones for your clothes.
I suggest using a reliable/heavy-duty backpack rather than a purse. The backpack will spread the weight between your shoulders and the multiple compartments will keep your belongings where they belong.
It comes in handy for excursions and ends up being less strenuous on the shoulders than totes or shoulder bags. For a 7-10 day trip, one checked-in bag and a carry-on will be all you need with room for a few souvenirs.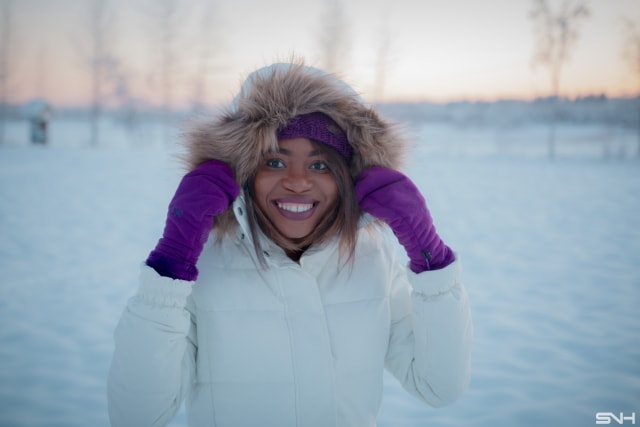 I am wearing:
Baffin insulated winter boots | Helly Hansen Blume puffy parka | Turtle Fur Knit beanie (similar) | Outdoor Research Flurry mitts | High-waisted jeans (similar) |
Photos by SNHPhotos
Conclusion
If you forget a thing or two at home, don't buy it at your hotel or ship. Check out local stores for more affordable options (hello souvenir!). In Fairbanks, The Prospector Outfitters our go-to for all things outdoors and winter.
You will also find some familiar stores like Sears, American Eagle Outfitters, and, Old Navy in Fairbanks. In My Element and Fireweed Boutique are local stores that carry unique and trendy clothing in Fairbanks.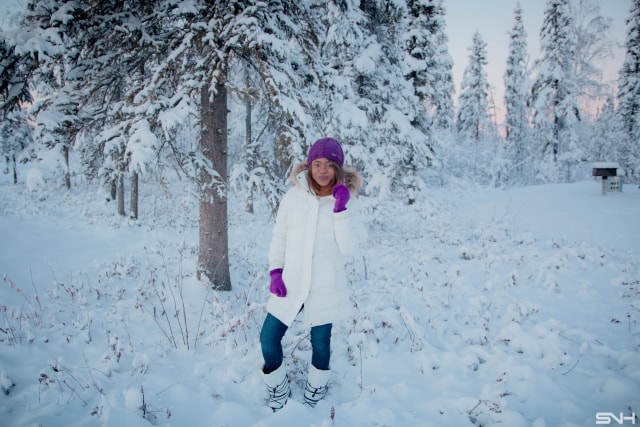 I hope you found this packing guide helpful as you prepare for your trip to Alaska. Don't forget to read this epic list of the best things to do in Fairbanks, Alaska on a budget. Number 5, 15, and 16 are my favorite!
If you have any questions, please let me know in the comment section below. You are welcome to send me an email. You just might spot me if you make it up to Fairbanks 🙂 Good luck on your vacation!
P.S: This post was written a while ago. Here are some more outfit ideas to consider for your trip to Alaska:
Interested in more travel posts? Check out these popular posts:
Thanks to The Prospector Outfitters of Fairbanks for collaborating on this post, The Best Packing List for a Trip to Alaska.
PIN FOR LATER!