This post may contain affiliate links which means I will get a commission if you make a purchase at no additional cost to you. Please read my disclosure for details.
Canada Goose has made a name for itself in the field of luxury winter parkas. But if spending $900+ on one jacket is way out of your budget, you'll love these top-rated Canada Goose alternatives starting at $38!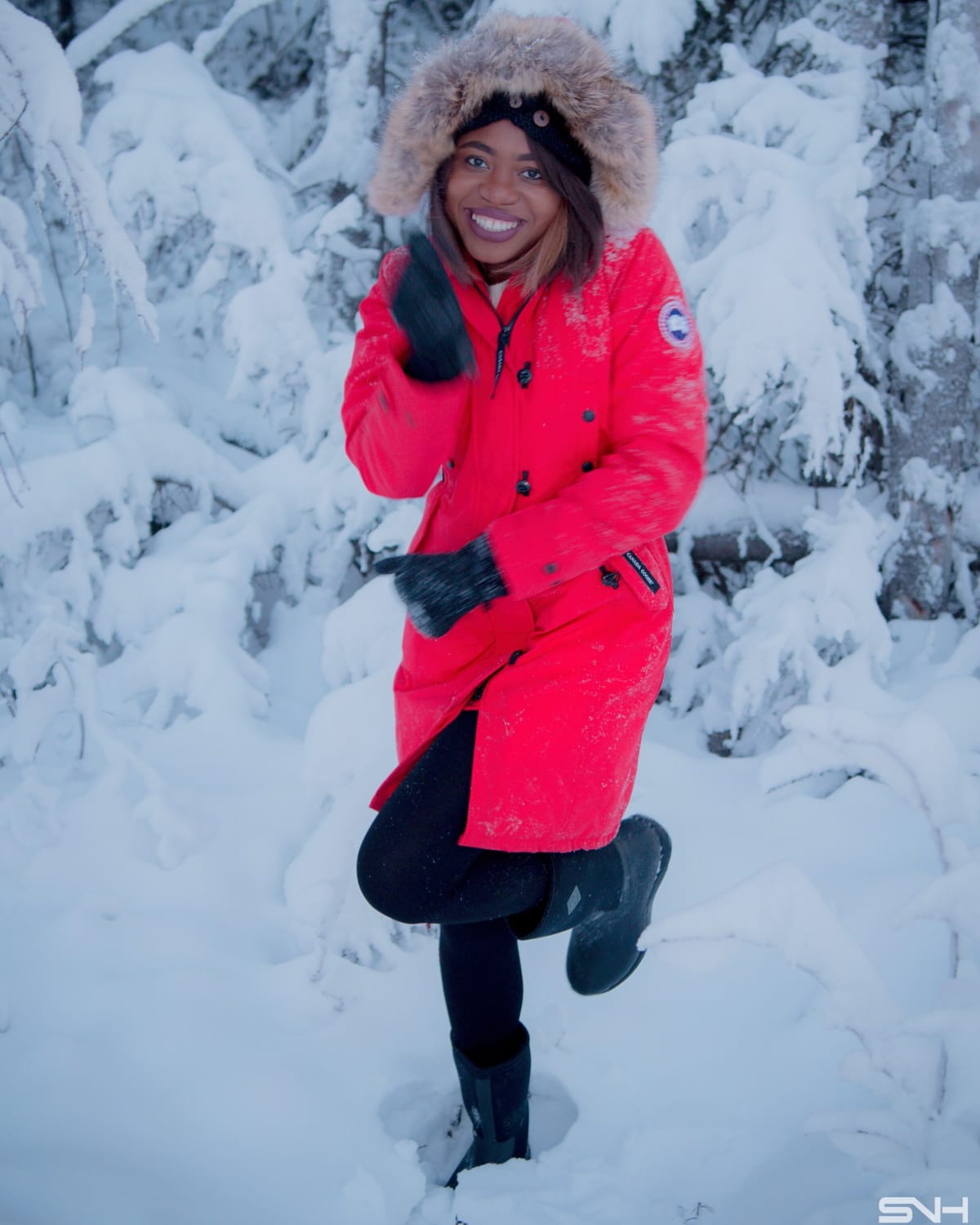 There is also no denying that the quality of Canada Goose insulated parkas has become the gold standard for winter jackets. That said, these best-rated Canada Goose alternatives give Canada Goose parkas a stiff competition at a fraction of the price. They are:


High-quality materials, such as goose down sourced from Canada Hutterite farmers, and a removable fur-lined hood is used in the production of each piece. This makes the Canada goose parkas a functional piece and a status symbol. Two of the most popular Canada Goose Parkas are:


Canada Goose Lorette Parka, $995
For those looking for a not-so-obvious Canada Goose insulated parka, this quilted jacket offers the best of both worlds: warmth and classic.


The coat is available in nine different exciting colors and features a chin guard made from high-quality tricot fabric for its run-resistant properties. The two-way adjustable down-filled hood will keep your ears toasty warm and protected from weather elements.


Also available at Nordstrom, MooseJaw, Amazon, eBay, Altitude Sports
---
Canada Goose Resolute Down Parka, $1,295
Similar in style to the Canada Goose Kensington and Expedition parkas, the Resolute down parka offers a light-as-air feel with the intensity of sunbeams. And guess what? This insulated parka comes with a lifetime warranty.


This jacket is designed with a high pile fleece padding chin guard for protection and comfort. It also features a double reinforcement on the elbow for durability—and is available in size 3XS to 2 XL, therefore, catering to a wide variety of body types.


With an impressive 96% recommendation by past users, lifetime warranty, and 4.7 product rating, you can be assured that your $1,295 will be buying you great value.


Also available at Back Country, Altitude Sports
Canada Goose Look-Alike Jackets: Splurge vs. Save on Canada Goose Dupes as Low as $38!
Though the Canada goose jacket is a highly desired commodity to own, it might take a long time of saving to afford them.


The good news is that there are amazing brands that produce jackets that are a close resemblance to Canada goose parkas. These Canada Goose alternatives offer great value for a fraction of the price.


The Orolay jacket is Amazon's most-wished jacket and for a good reason. Made to flatter most body types and more importantly, to keep you warm, you'll be impressed by how soft and comfortable you'll feel in this 160% density, windproof, down winter jacket.


After seeing every girl and her mother rock this Orolay jacket, I couldn't help but get my hands on this parka. And let me tell you something! This Orolay down jacket is extremely warm. They sure do give Canada Goose a run for the money.


With a whopping 4.2-star from over 7,000 customers, it's no surprise that the Orolay jacket is a winter must-have for many and a cheaper alternative to the classic Canada Goose jackets. Here's what people are saying.


Orolay Women's Thickened Down Jacket | Amazon
Also available on eBay
---
This Shein winter jacket with contrasting faux fur details is designed to keep you warm. The functional drawstring, hoodie, and ample pockets provide everything you need in a medium weight parka at under $50!


This one-size SheIn jacket is available in both navy and red colors and stunning leather patchwork that bear a striking resemblance to Canada Goose.


With a near-perfect rating (almost 5-star) from over 550 customers, it's no wonder the affordable price of this warm and comfortable parka is alluring to those looking for Canada Goose alternatives. Here's what people are saying.


SheIn Faux Fur Trim Hooded Drawstring Parka | SheIn
---
The North Face Metropolis Parka was designed to be the ultimate cold-weather parka for city life. The Metropolis features removable snap-off hood, two-way zipper, and zipped hand pockets.


With a resounding 91% customer recommendation rate, it's hard to ignore this 4.5-star parka. And as North Face put it, this coat a terrific warmth-to-weight ratio. Here's what over 1,000 people are saying.


The North Face Metropolis Parka II | The North Face
Also available at Zappos, Nordstrom, Amazon, 6pm.com, Moose Jaw
---
Just because it's cold does not mean you should compromise your style. Get your fall look from boring to chic in the beauty created by this padded jacket.


This supersized jacket offered by boohoo is a combination of chic and functional. The hood design has a striking resemblance to that of the Canadian goose jacket. Plus save 50% off for a limited time. Here's what people are saying.


Boohoo Quilted Faux Fur Hood Parka | Boohoo
---
With 4.5 rating from over 900 people, I don't think you can go wrong with this one! A brilliant feature of this jacket is the long silhouette and flattering seam that instantly slims your figure while keeping you warm — a feminine feeling.


It compares closely to the Canada Goose because if it's Omni-heat thermal reflective and insulated technology that'll maintain your core body temperature as the weather gets colder.


This jacket would be great for above freezing temperatures. For subzero weather, Canada Goose alternative, Orolay will give you the best bang for your bucks. Here's what people are saying.


Columbia Mighty Lite Hooded Jacket | Columbia
Also available at Zappos, Amazon, Back Country
---
Zappos is an Amazon brainchild known for offering premium clothing, and this Michael Kors down coat is a Canada Goose look-alike that compares in value but for way less.


For the fashionista looking for a well-crafted jacket with a smooth shell and a realistic faux fur hood to match, this Canada Goose alternative has your name written on it. Stay warm without compromising on your style. Here's what people are saying.


Michael Kors Button Front Down Coat with Faux Fur Trim Hood | Zappos
Also available on Amazon
---
As the name implies, this packable Canada Goose dupe is a packable coat that'll keep you warm no matter where you go. It is lightweight and portable, which makes it an excellent option for trips and cold weather getaways.


The truth is you're not only paying for the name but also the quality with Canada Goose. But if your budget is stretched thin, you might find that this under $50 Amazon puffer jacket is a great option.


Some of it's comparable features to the Canadian Goose includes its waterproof design, contoured seam for fit, and elasticized cuffs. Here's what people are saying.


Amazon Essentials Packable Puffer Coat | Amazon
---
The Miss Metro jacket is another great find from North Face. This water repellent parka with the hooded design will keep you as dry as can be as the weather transitions from fall to winter mixed with the dreaded wet, slushy snow.


The generous length (38 inches), style, water, and wind repellent style, and contoured fit are reminiscent of a lightweight Canada Goose parka. It's no wonder that 94% of owners recommend this North Face winter jacket. Here's what people are saying.


The North Face Miss Metro II Water Repellent Hooded Parka | The North Face
Also available at Nordstrom, Moosejaw, Amazon
---
There's no denying that Amazon boasts of some of the most affordable winter coats. Sometimes finding the best inter jackets is a never-ending struggle.


This Adomi down jacket, a love Canada Goose alternative has the bells and whistles of the $995 Canada Goose parka. Completely filled with 80% down and 20% feather, this under $100 cold-weather parka offers you the functionality of its designer counterpart.


Plus the faux fur trim acts as an insulating barrier against the wind. The jacket is arctic winter approved! Here's what people are saying.


Adomi Down Coat with Fur Trim | Amazon
---
Columbia does not joke around when it comes to cold-weather clothing. And the Heavenly hooded jacket is no exception. For those looking for a medium weight option, this Columbia is a great Canada Goose alternative feature an abundant number of zip-up pockets.


Like its Canada goose counterpart, this jacket features a moisture repellent shell to keep moisture out.


With a nearly perfect 5-star rating from more than 400 customers and a variety of color options, this lightweight beauty will be your go-to on mild winter days. Here's what people are saying.


Columbia Heavenly Long Hooded Jacket | Columbia
Also available at Zappos, Amazon, Moosejaw, Dicks Sporting Goods
---
If you love the cozy feeling associated with shearling, this Ralph Lauren quilted parka might just be your favorite. Although not the cheapest Canada Goose alternative, this quilted jacket features real down and feather mix that'll get you to your destination cozy warm.


Also included is a detachable hoodie with realistic faux fur trim hoodie and a figure-enhancing back waist for a slimming figure. Here's what people are saying.


Lauren Ralph Lauren Quilted Parka | Nordstrom
Also available at Bloomingdales
---
Next up is this Kenneth Cole's faux fur jacket with detachable hood. The chevron-shaped quilting is a fine touch paired with the trimmed faux fur detail.


Those who appreciate the quality of Kenneth Cole would love this Canada Goose alternative. Here's what people are saying.


Kenneth Cole New York Faux Fur Trim Puffer Jacket | Nordstrom
Also available on Amazon
---
And for a refreshing take on the Canada Goose parka, this Arctic Expedition down jacket is what you need. Available in five unique colors and sizing range as Canada Goose (XXS to 2XL), this parka features removable faux fur and spacious front pockets.


This coat is a top-rated Canada Goose look-alike guaranteed to keep you warm on very cold days. And hey, the blush and winter mint are out-of-this-world beautiful! Here's what people are saying.


Arctic Expedition Women's Quilted Down Coat | QVC
Also available at Walmart, Amazon, The North Face
---
The North Face never disappoints with their selection of high-impact winter jackets. And the Gotham Parka II is a clear example. Although above $100, this new arrival has already accumulated over 600 4.5-star reviews from customers like you looking for nothing but the best.


This parka jacket uses both 550-fill goose down and synthetic insulation technology to keep you warm. This Canada Goose alternative will be your new favorite jacket. Here's what people are saying.


The North Face Gotham Parka II | The North Face
Also available at Zappos, Amazon
---
I could not wait to share this Boohoo parka with you. As someone who loves high quality products for less, this winter parka stood out.


This Canada Goose look-alike jacket features the sophistication of its name-brand counterpart – color, style, pockets, and hoodie – but at a price that is hard to pass up plus the parka is 50% off right now! Here's what people are saying.


Boohoo Luxe Mountaineering Parka | Boohoo
---
The wenVen Puffer Coat looks really cozy, like some refuge you can bury yourself during the winter months. Like the Canada goose jacket, this parka is constructed with attention to detail.


Just like the Orolay jacket, this coat is a great alternative to Canada Goose for only a fraction of the price, and it comes in six different colors. Definitely worth checking out if you love the fitted construction, ample pockets, and feminine touches. Here's what people are saying.


WenVen Winter Puffer Coat with Fur Trim Removable Hood | Amazon
---
If you feel like you get cold and stay cold longer than most people, you'd love the Arc'teryx Seyla Down Coat. Unlike most expensive parkas with 550 down fill, this winter jacket is packed with 750 fill European grey goose down.


This jacket offers dollar for dollar a fantastic value for as a Canada Goose alternative. The contemporary silhouette, water repellent design, fur-free hood, this parka is perfect for those who want the Canada Goose quality from a different brand. Here's what people are saying.


Arc'teryx Seyla Down Coat | Arc'teryx
Also available at BackCountry | Moosejaw
---
After calling the arctic circle home for almost five years, I know a thing or two about winter coats. This fitted North Face Boroughs Parka is for the modern woman looking for style and warmth.


The jacket features ultra-warm filling made from recycled material, convertible mitten storm cuff, and the unique DryVent™ 2L shell will keep you dry no matter where you find yourself.


Your wallet would thank you if you invested in this Canada Goose alternative. Here's what people are saying.


The North Face Women's Outer Boroughs Parka | The North Face
Also available on Moosejaw | Zappos | Nordstrom
---
For those who looking for a super warm down jacket with a stylish appeal, the Icelandite TurboDown jacket might be the perfect match.


Like the Canada goose jacket, this hooded jacket maintains the feminine curves yet has Omni-Heat, Omni-Tech, and 550 TurboDown insulation to keep you warm.


Use the adjustable cuffs, waists, and seams to create the look you want. Talk about a combination of aesthetics and functionality for an attractive price! Here's what people 100 are saying.


Columbia Women's Icelandite TurboDown Jacket | Columbia
Also available on Amazon | Skis
---
Boohoo does it again with another winner that seems inspired by the Canada Goose Resolute parka.


Beyond the beauty of this Canada goose dupe jacket, the functionality, under $100 price (currently 50% off), and use of insulating padding gives this parka a nod above many other jackets. Here's what people are saying.


Boohoo Faux Fur Trim Hooded Padded Jacket | Boohoo
---
Patagonia offers all-round excellent quality products! And the Silent Down Parka is called "silent" for a reason. This jacket is Patagonia's softest coat, period!


With 700 fill power constructed from recycled duck and goose down, it would be hard not to love this Canada Goose alternative. Here's what people are saying.


Patagonia Women's Silent Down Parka | Patagonia
Also available on Back Country
---
Like Canada Goose, North Face is a well-known winter wear brand which offers products that back up their reputation. The Arctic Parker has so many features that make it stand out; an exciting one is the construction of the sleeves.


This Canada Goose look-alike jacket uses the raglan sleeve to enhance your mobility, internal fleece cut for warmth, a faux fur hood, front and back darting for a better fit, and stand tall collar for maximum protection.


All these features make this jacket a terrific deal! Here's what people are saying.


The North Face Arctic Parka II | The North Face
Also at Zappos, Amazon, Moosejaw
---
Frequently Asked Questions About Canada Goose Alternatives and Look-Alike Jackets
1 | 2 | 3 | 4 | 5 | 6 | 7 | 8 | 9
CONCLUSION
There is no doubt that Canada Goose remains a pioneer and a highly sought after brand for winter coats and jackets. For those who can't justify spending their mortgage or rent on one piece of clothing, these Canada Goose alternatives and look-alikes give you the value for way less (as low as $38!).


Yes, they may not exactly feel like the Canada Goose brand, but at least you're not paying more just for the name. You will be warm, look sporty chic and make a fashion statement even in the heart of winter.


When you're ready to splurge on a brand name Canada Goose jacket, you'll have the certainty that this is indeed the style you want because you've already taken the style on a spin with these significantly less expensive Canada Goose alternatives 😉
Interested in more designer inspired clothing? You'll love these posts:
---