This post may contain affiliate links which means I will get a commission if you make a purchase at no additional cost to you. As an Amazon Associate I earn from qualifying purchases. Please read my disclosure for details.
Cozy wool sweaters, fleece-lined leggings, warm pumpkin spiced lattes— and UGGs or Ugg look alikes ?! These are all the markers of fall. Known for being the kind of thing you break out the second the chill hits the air. And with good reason! They're comfortable, they're durable, and they're oh-so warming.



Don't worry I have roundup over 15 UGG look-alikes for you below. But first, here are two popular UGG boots:

UGG Classic II Genuine Shearling Boot, $160
Cozy and classic, there isn't much that can beat the comfort of authentic UGGs winter boots.


With a near-perfect 5-star review for the UGG Classic Short II Boot, it's no wonder that most people don't want to take these boots off. Talk about the pinnacle of comfort in the cold!


Also available at UGG.com, Nordstrom, Zappos, Amazon


---
UGG Bailey Bow II Boots, $205
If there's anything we love about bows, it's the fact that they evoke a soft and feminine vibe just like the softness we associate UGG shoes with.


This UGG Classic short boot is a cross between a mid-calf boot and an ankle bootie making it a versatile and lightweight option for many. This winter boot still has the same soft cushion and traction with the added functionality of pairing with dresses.


UGG Bailey is available at UGG.com, Nordstrom, Zappos, Amazon

Splurge vs. Save on Iconic Ugg Look-Alikes & Alternatives in 2020
As amazing as UGGs are, sometimes the cost is just out of your price range. Don't let the price hold you back! I've rounded up the best-rated Ugg look-alikes and alternatives currently available on the market.


If you're pressed for time, these are the top 5 best Ugg alternative boots guaranteed to get you the best value for your money.


Last update on 2020-04-14 at 03:20 / Images from Amazon Product Advertising API
They may look like the real deal, but they have the price of a well-loved alternative! Kirkland's signature boots take inspiration from UGGs and given personality by the seller. And with a side zipper detail, they are even easier to slip on! Here's what people are saying.
Last update on 2020-04-14 at 03:41 / Images from Amazon Product Advertising API
---
You've probably heard or read head to head comparison of Bearpaw boots to UGG boots. But if you haven't here's the rundown.


This fashionable winter boot is made of cow suede with a flexible rubber outsole and features a wool blend lining and a cushioned interior that feels as soft as walking on clouds.


This snow boots right here redefines the meaning of comfort. Don't believe it? Here's what almost 4,000 people have to say about these knee-high boots.
Last update on 2020-04-14 at 03:20 / Images from Amazon Product Advertising API
---
Not just cute but earth-conscious! These Camel Crown snow boots are 100% vegan-friendly, with no material made from animals. And they don't lose any of their comforts either— there's plenty of faux fur lining to keep you warm for the winter.


This winter boot has a durable EVA outsole to protect you from unwanted slips and falls. Here's what people are saying.
Last update on 2020-04-14 at 03:30 / Images from Amazon Product Advertising API
---
If you really want to combat the cold, remember the name Minnetonka! Pair with leggings, jeans, or stockings and rock the warm look! Minnetonka prides itself in making super soft and comfortable shoes.


Just like the Minnetonka Anna ballet flats, that's a phenomenal alternative for Tieks, this sheepskin, and wool blend cold weather boot is the ultimate shoe for those who appreciate the cozy and warm feeling associated with this style of shoes. Here's what people are saying.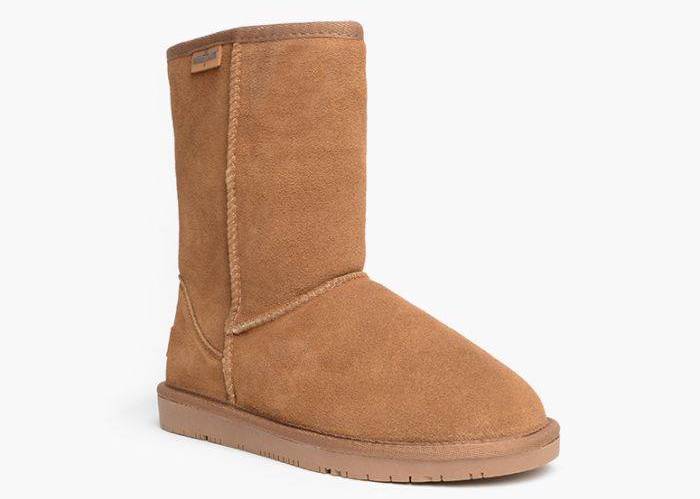 Minnetonka Women's Olympia Boot | Minnetonka
Also available at Amazon, Walmart, DSW
---
If the phrase "cushioned sheepskin footbed" doesn't get your attention, the reviews on this Dream Pairs snow boots will. Rated as Amazon's Choice for "fur-lined boots" and available in 10 different colors, this mid-calf UGG look-alike feature soft suede and sheepskin insole.


The only problem you'll have is picking a color as most of them pair well with most winter styles. While you're at it, get this care kit for your boots. Here's what people are saying.
Last update on 2020-04-14 at 03:30 / Images from Amazon Product Advertising API
---
Another UGG look-alike is this Amelia tall boots made of 100% Australian sheepskin and genuine leather. The higher calf style draws some inspiration from the Classic UGG boots but costs less.


This cold-weather shoe durable and has an anti-slip design to keep you warm, calm, and collected on a cold winter day. To extend the life of your boots, protect with this boot protector, and spot clean only. Here's what people are saying.
Last update on 2020-04-14 at 03:30 / Images from Amazon Product Advertising API
---
Up next is this well-rated winter snow boots from CLPP'LI. This under $30 boot features a fully-lined fur interior with shearling and rubberized soles with superior traction.


I might consider this pair when I need a replacement for my Koolaburra boots. It comes with a one year warranty too! Here's what people are saying.
Last update on 2020-04-14 at 03:41 / Images from Amazon Product Advertising API
---
Another great contender and fantastic UGG alternative are the Bare Traps Corina boots described as "cozy throughout any chilly day." One person explains that she has lived in these boots since the time she bought them.


Now, that's what we're looking for when it comes to UGG look-alikes – cozy, soft, comfy, warm, and all the good things minus the price tag. This UGGs look-alike comes in dark brown, grey, and black colors to match any outfit. Here's what people are saying.
Bare Traps Corina Boot, $80 | DSW
Available for less at Amazon
---
Tired of the same old winter boot design? Spice it up with the Sibby Bootie from Journee. The pink, black, and grey colors will add some flair to your winter outfit.


This pull-on boot features a lightweight design and lovely anti-slip rubber soles to maintain your traction on icy days. The faux fur trim adds a stylish touch to this modern UGG alternative bootie. Here's what people are saying.
Journee Collection Women's Sibby Winter Boots, $79 | DSW
Also available at JCPenny and Macy's
---
These boots are hot for a reason! And not just because they're incredibly inexpensive, but because they provide the core features of its $200 UGGs counterpart.


Boosting of over 1,200 customer ratings, these vegan boots are as comfy as you can imagine. Choose from seven different colors, including chocolate, plum, navy, and natural colors; you'll find a pair that'll make you happy. And they wrap around your feet like a well-loved blanket! Here's what people are saying.
Dawgs Hounds Women's 9-inch Microfiber Boots, $12 | Dawgs
Also available at Amazon, Walmart, Overstock
---
Many people swoon over UGGs because of the cozy interior lining and soft-as-cloud feeling they get from wearing UGGs. This UGG look alike and alternative that's you on that journey with a twist. Time to flaunt your style with the Apres Tassel Boots! Here's what people are saying.
---
Interested in more designer inspired items? You'll love these posts:
The Best Lululemon Leggings in 2020
---
A moment of silence for this UGG look-alike winter boots! The Ausland pull-on mid-calf boots boast of water-resistant leather that'll keep your toes dry.


The boot has high-quality EVA outside that is durable no matter the winter condition you find yourself. The rubber soles will maintain your traction. And most importantly, it has soft and cozy fur lining that rival UGG boots. Here's what over 200 people are saying.
Last update on 2020-04-14 at 03:30 / Images from Amazon Product Advertising API
---
Another UGG alternative is the Funky Monkey faux wool snow boots with suede exterior. For the ultimate user, you're guaranteed anti-slip protection with its TPR sole that is made from environmentally friendly material.


Pair these classic boots with jeans, leggings, and even skirts! This snow boot is worth a shot look if you're on the search for an affordable UGG look-alike. Here's what people are saying.
Last update on 2020-04-14 at 03:41 / Images from Amazon Product Advertising API
---
Skechers never disappoints with its shoe collections. I have a few of them and can attest to the softness and durability of their shoes. Now, if you're ok with a slight departure from the classic UGG boots design, the Skechers GOwalk is a great buy, and it's on sale!


Get ready to be wrapped in luxury comfort without compromising on your style! Be it strolling or hiking, the extra padding in these go a long way. Skechers are made for walking, and that's just what they'll do! Here's what 850+ customers are saying.
Skechers GOwalk Suede and Faux Fur Boots, $44 | QVC
Also available at eBay
---
These UGG alternative mid-calf boots take the original design and add a bit more style to it. The double buckle on the side leads into a tasteful new pattern that wraps around the back as an accent piece.


Muk Luks promises to envelop your feet in the warmest boot, "you'll ever own." Would it live up to the test? Here's what people are saying.
MUK LUKS® Women's Jean Boots, $46 | Walmart
Also available at Kohl's, Amazon
---
Last and certainly not least is the Lamo Juniper boots that come loaded with water and stain-resistant suede exterior. This winter boot is the perfect pair for the rainy transition season and the snow.


The faux-fur lining will keep your feet cozy warm while the textured outsole will provide traction to keep you moving. This beauty has racked up over 600 reviews and is currently on sale.


It's hard to beat $40! Get the kind of boots that can withstand not just the weather, but life. Here's what over 600 customers are saying.
Lamo Water and Stain Resistant Suede Boots, $40 | QVC
Also available at Kohl's, Walmart, Amazon
---
When all fails, the Koolaburra by UGGS, the pair I'm wearing, is an excellent alternative for the classic UGGs boots for less. And yes, these Koolaburra boots are made by UGG but costs way less.


This bad boy has racked up a near-perfect 5-star review from over 450 customers. I've already worn these boots a handful of time this month. Ah! That cozy feeling is seriously the best. Here's what 400+ people are saying.
Koolaburra by UGG Victoria Winter Boots, $90 | DSW
Also available at Koolaburra, Nordstrom rack, Amazon, Kohl's
---
Frequently Asked Questions About Uggs and Ugg Look Alikes
UGG boots have made a name for itself as a premier shoe of choice to combat the winter cold while leaving you cozy and comfortable.


But these UGG look-alikes and alternatives prove that you can keep your toes and feet cozy warm and comfortable without spending a premium.


You'd be amazed by how much you can stretch your dollar by choosing one of these UGG look-alikes this year. Work your wardrobe without working your wallet 😉
PIN FOR LATER!
Reading this post on mobile? Be sure to download the LIKEtoKNOW.it and follow me "lapassionvoutee" for exclusive, in-the-moment shoppable posts. Also, available on Android 🙂

It's also the fastest way I can keep you updated on the latest sales and newest styles since blog posts take a lot of time to create. Here's what you've recently missed!
---