Scentbird Review: Is Scentbird Worth It? Honest Review 8 Years Later!
This post may contain affiliate links which means I will get a commission if you make a purchase at no additional cost to you. As an Amazon Associate I earn from qualifying purchases. Please read my disclosure for details.
This post was not sponsored by Scentbird, nor was I compensated for writing this article. All opinions expressed in this post are my own. Is Scentbird worth it? Keep reading.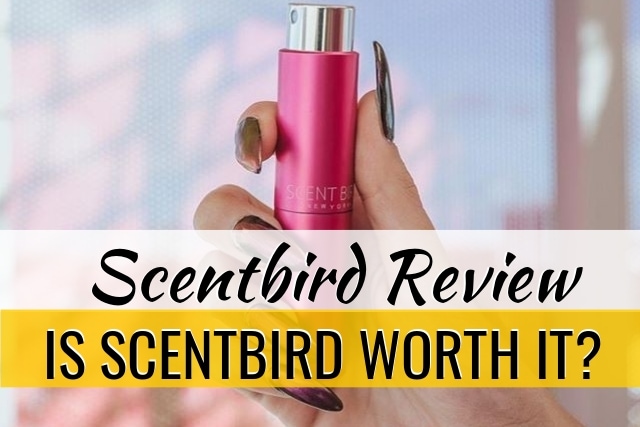 UPDATE: It's been almost EIGHT years since I started paying for Scentbird perfume subscription! I thought it'd be a good thing to refresh this post, so you know if my thoughts about Scentbird have changed.
If you love fragrances, you've probably heard about Scentbird and wondered about the benefits of having a perfume or fragrance subscription.
I know, I've been there! I love fragrances but hate being tied down to one bottle. Or worse spending hundreds of dollars just to stock up on a few scents at a time.
Can you relate?
You've seen the ads. And you've probably seen mixed Scentbird reviews. And wondered:
"Is Scentbird worth it?"
I have been a paying subscriber of Scentbird subscription service since June 2015. To be honest:
The reviews I read about other people's subscriptions to Scentbird beauty box scared me.
I looked at my account and reflected on my experience using this monthly subscription membership site. We all know that reviews can be skewed to the left or the right against or in favor of a company.
So:

I figured now was the time to talk about my Scentbird review.


This review post should help YOU decide if Scentbird is worth your money (or not!).
Tell me more, Louisa! What is Scentbird, and how does Scentbird work?
WHAT IS SCENTBIRD?
Scentbird is a perfume subscription company created as an alternative to spending too much on full bottles of expensive designer perfumes that we end up not using.
This fragrance subscription allows gals and boys to try a wide selection of authentic perfumes before shelling out the money on full bottles of fragrances, including Dolce & Gabbana and DKNY.
What's the bottom line?
If you're in the beginning phases of trying out and experimenting with different fragrances and unsure what you (or a friend) might like, Scentbird is a great way to get started on a budget.
HOW DOES SCENTBIRD WORK?
Scentbird works in three easy ways:
Choose your Subscription – As a new member, you get a month's supply of an 8ml (0.27 oz) atomizer of a perfume or cologne of your choice. This is an equivalent of a 31-day supply if you use 4 sprays per day. And a free refillable case with your first order perfect for travel. No taxes or shipping fees for just $14.95/month.
Pick your Scent – Choose your perfume selection from over 450+ designers and niche fragrances. Not sure what you want? Choose from one of the best-sellers or sort by scent type, style or occasion. Alternatively, Scentbird will send you the perfume of the month if you leave your queue empty.
Receive your Scent – Every month or at your selected delivery frequency, Scentbird will deliver your fragrance to your doorstep with a free refillable case with your first order even if you live in Alaska (true story).
DOES SCENTBIRD CARRY AUTHENTIC FRAGRANCES?
According to the Scentbird's website, yes. Only 100% authentic fragrances provided by authorized vendors or directly from the brands are used to fill subscription boxes (source).
Based on my 4+ years of using Scentbird, I have not had any issues with my beauty box. They last long and smell great.
As a consumer, I do not believe they sell fake, knock-off, or imitation scents.
HOW DO I SIGN UP FOR SCENTBIRD?
Signing up for a Scentbird subscription is pretty straightforward. Go to the Scentbird website here and click the "Get Started" button. And that's it!
The subscription rate is a flat $14.95 per month and savings for paying upfront for 3-, 6-, or 12- months at a time. Here's the breakdown of each package (source):
1-month package ($14.95),
3-month package ($43.50, savings of $1.50),
6-month package ($84, savings of $6),
12-month package ($162, savings of $17).
You also have the option to subscribe on an every-other-month or every-three-months basis. I am currently on the $14.95 per month package and chose a frequency of every three months.
The beauty of Scentbird is that other than sales tax in certain states, there are no hidden fees or additional charges for shipping & handling. Pretty neat!
CAN I BUY A PERFUME WITHOUT A SUBSCRIPTION?
You can absolutely shop at Scentbird even if you don't have a subscription.
The Scentbird Shop frequently gets updated with new perfumes and colognes, including exclusive brands, Limited Edition fragrances, niche fragrances, and more (source).
They even have gift sets that are perfect for men and women. You can order a gift subscription, gift boxes, and gift cards for family and friends.
The gift boxes offer 3 pre-selected luxury scents in limited-edition case colors and one free month of Scentbird. These are a few of my favorites: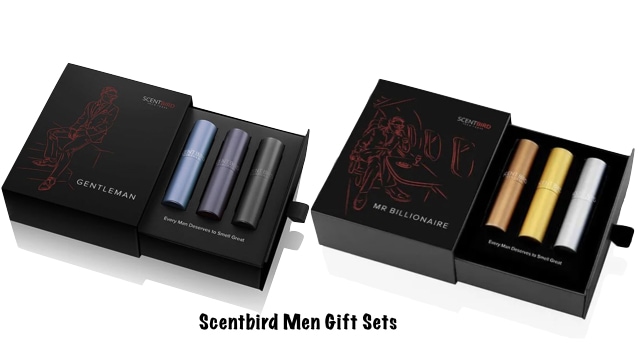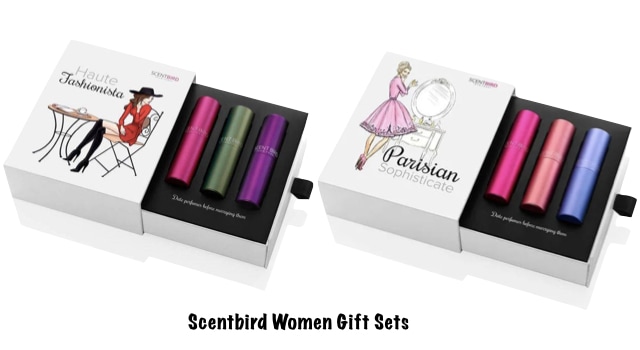 BENEFITS OF A SCENTBIRD SUBSCRIPTION
Access to new scents at a fraction of the price
Try before you buy aka no buyer's remorse!
The perfect travel companion
8 ml of designer and niche fragrance in a stunning case
Free shipping and no hidden fees
NEW! Access to skincare, makeup, and candles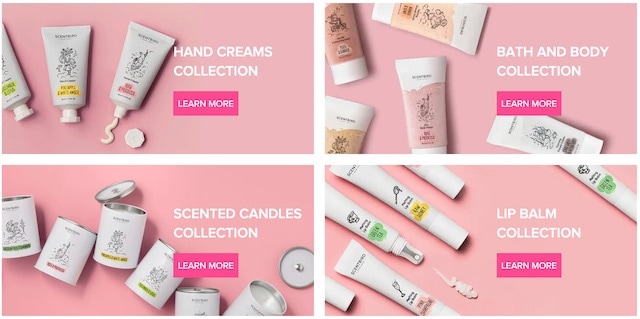 But here's the kicker:


DRAWBACKS OF A SCENTBIRD SUBSCRIPTION
No returns or exchanges. So be sure you have a selection of scents you want in your queue
Not the best value for money if you prefer mainstream perfumes
This is a small company (shipping delays have been an issue)
Want to cancel your subscription? Your only options are to use a contact form or email support@scentbird.com. You can't call to speak to anyone directly.

Now, this wouldn't be a problem if Scentbird responded promptly to inquiries from customers. In fact, the small hosting company I use for this blog responds to emails within a few hours and no direct line.
So this begs the question, is Scentbird worth it?
The short answer is YES, Scentbird is worth it.
The long answer is it depends on what you're looking for.
A simple search on BBB and Sitejabber reveals not-so-pleasant reviews of Scentbird, with a majority of them related to shipping and delivery in 2018.
That said, I've had a few shipping delays, but I attributed those to living in Alaska as packages typically take a few more days to get to me.
Since moving to the East Coast, I've received several Scentbird packages, which arrived on time.
Scentbird is an excellent option for niche or hard-to-sample designer fragrances (like Amouage and Tom Ford).
You get a 0.27 oz tub filled with decant that is several times bigger than traditional perfume samples (0.05 oz).
Here's a side-by-side of my most recent Scentbird atomizer next to a retail sample.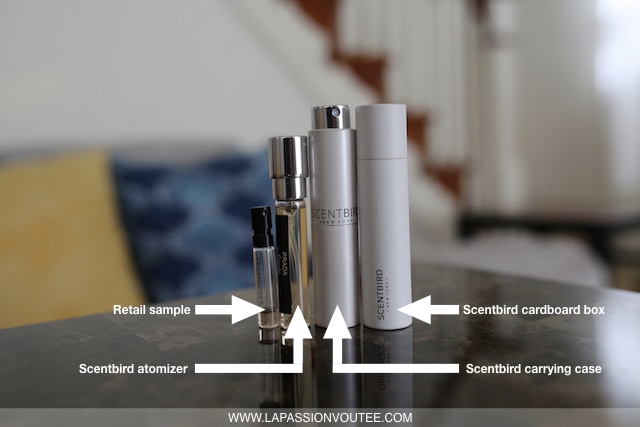 IS SCENTBIRD WORTH IT?
Final thoughts: Scentbird is an exciting way to try out a month's supply of luxury and niche perfumes at a price that won't break your budget every month or at a frequency (every-other-month, every 3 months – like me, or release the hold on your membership only when you're ready for a new scent) that works for you.
The brand's growing selection of skincare products, makeup, and candles collection is a perk that would keep subscribers with a large variety to choose from.
As with most things in life, there are risks associated with anything we do.
Some of the risks related to Scentbird are highlighted above. If these don't bother you, then, by all means, give this beauty box subscription a try.
Suppose you already know what you like and stick to those scents season after season.
In that case, you're better off shopping for full-size bottles of those fragrances at trustworthy retailers like Perfumania, FragranceNet, Perfume.com, Nordstrom, Ulta, Sephora…
However, if you're interested in experimenting with new and authentic scents, Scentbird is worth every dime. Scentbird is a great one-stop shop for all your fragrance needs for men and women that would otherwise break the bank.
If you decide to purchase after clicking on any of my links, I'll make a small commission at no extra cost to you. Your support helps keep this blog running. Thank you!
FREQUENTLY ASKED QUESTIONS RELATED TO SCENTBIRD REVIEWS
How can I get a Scentbird free trial?
There is currently no free trial for Scentbird. However, you can click this link and enter GETSCENTS to save 30% off your first order.
What are the best Scentbird perfumes?
You can find the full and most current best Scentbird perfumers here.
How long does it take to get your Scentbird package?
Per the Scentbird website, your very first Scentbird package should ship within a few days of your subscription order. Expect it to arrive 7 to 10 days after shipping (source). Subsequent scent boxes should ship out on the 15th of each month.
What is a niche cologne?
Niche cologne refers to small scale boutique artisanal perfume studios whose presence in mainstream retail stores is minimal or non-existent. Thus, you might find these scents at a perfume specialist or high-end fragrance boutique (source).
Here are 7 top niche cologne available at Scentbird:
When you wear a niche perfume, you wear the story of the perfumer's ingenuity in a tangible form (source). Is Scentbird legit? Yes, it is!
Other Frequently Asked Questions about Scentbird
How can I get a ScentBird Coupon or free trial?
At the moment, ScentBird does not offer a free trial. But new members automatically get 25% off with their trial of ScentBird HERE.
Is Scentbird ACTUALLY worth it?
Yes, I've been paying for my Scentbird subscription for almost eight years now, and I believe it it actually worth it. If you love layering fragrances or switching scents, you'll find Scentbird beneficial.
How many scents do you get with Scentbird?
With the standard Scentbird subscription (this is what I have), you get one scent monthly for $14.95 with free shipping. You can select 2 fragrances per month at $25 or 3 fragrances per month at $35.
How long does Scentbird last?
The monthly 0.27 oz (8 ml) atomizer should last 30 days if you use 4 sprays per day. Mine lasts up to two months since I use fewer sprays.
Does Scentbird have Dior Sauvage?
Is it hard to cancel Scentbird?
It's not bard to put your Scentbird subscription on hold. In fact, I've done this a few times over the years by downgrading my subscription. You can email their support team to completely cancel your membership. Note that 3, 6, or 12-month subscription plans (with term commitment) cannot be canceled mid-term.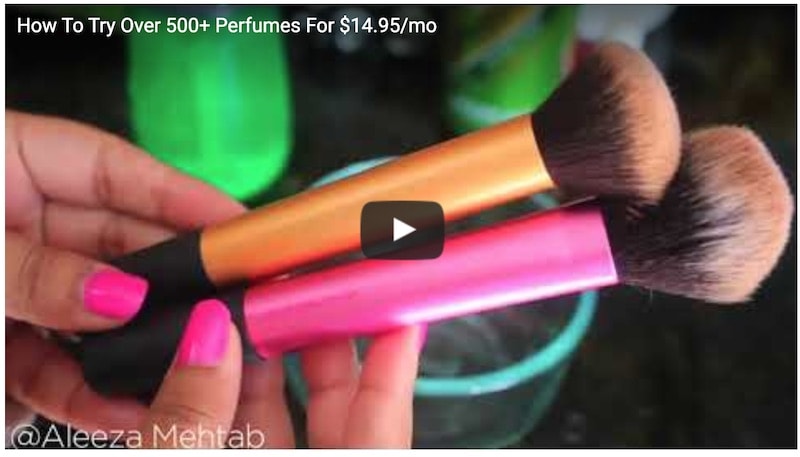 Since writing this post, I've gotten a few requests to review Scentbox. Scentbox is similar to Scentbird but a little different. Stay tuned for my scentbird vs scentbox review post coming soon. In the meantime, you can save 35% off your first Scentbox with code SCENT35!
Interested in more beauty-related posts? Check out these popular posts:
PIN FOR LATER!