Is JustFab Legit? A Must-Read JustFab Review
This post may contain affiliate links which means I will get a commission if you make a purchase at no additional cost to you. As an Amazon Associate I earn from qualifying purchases. Please read my disclosure for details.
This JustFab review post was NOT sponsored by JustFab nor was I compensated for writing this article. All opinions expressed in this post are my own.
Introduction
I'll be honest, I was drawn to the allure of shopping on JustFab.com after seeing their cute shoes on a friend. "Everything is $39.95 or less," she said. My eyes lit up!


$39.95 or less, free shipping & returns, and skip the month (for as long as you want) sounded perfect for my conservative college student budget. I'd seen some JustFab reviews, which made me a little hesitant.


I also did not take the plunge even my sister, who mind you, called me from Nigeria to find out if I'd ever shopped from JustFab. But out of curiosity, I signed up for JustFab email list on 4/21/2013.


JustFab Review: My 6+ Years Experience Shopping at Just Fabulous
It wasn't until 05/2014 after I won a JustFab giveaway hosted by Raliat Oyinlola that I placed my first ever JustFab order. And immediately, I set up a recurring reminder to skip the month.


I did not want my card to get charged for membership credit. As a member, I knew I could skip the month and still get the $39.95 or less price (more like most items under $39.95 now) whenever my budget allowed for it.


So I did not personally see the point in racking up monthly $39.95 JustFab credit that would obligate me to shop only at JustFab.com. See my point?


Then later that year (11/2014), I spotted this bow pumps on JustFab for $39.95! It was a no-brainer. I'd seen every fashionista and her mother wearing these pumps. So, I placed my first full order.


That's when I got hooked! I was loving the website so much that I requested to join their fashion ambassador program. However, I'm no longer a part of their ambassador program.


I felt like the platform changed so much that their asks were too much in exchange for a pair of shoes/bag. I was already buying their products anyway so my time would be better used elsewhere.


But during my time as a JustFab ambassador, my eyes were opened. I saw comments on JustFab's Facebook page by angry customers. These comments left me confused.


Really, how can one company have so many upset customers?


The JustFab reviews on the Better Business Bureau (BBB) did little to calm my fears. Did I also get charged all these years without realizing it even though I skipped the month? Heck, I've been a member of their sister brand, ShoeDazzle, since 2009!


So, I painstakingly combed through my bank statement. And found no fraudulent or suspicious charges. Whew!
Matter of fact, everything pointed to them being a legitimate business. I even won the 2015 #JustFabTakeMeToParis contest and went on a 5-day trip to Paris with my twin sister (blogged here and here).
My twin sister and I had a fabulous time on the all-expense-paid trip to Paris. The two boxes of JustFab goodies we received before our trip and a generous check were extra perks.
Is JustFab Legit?
But this begs the question if JustFab is legit why so many angry customers? Seriously, is JustFab Legit?
Good question!
It all boils down to the fine print: JustFab's terms and condition. Most people just hit the "I accept" button without reading through what they're signing their names and credit card for. The bottom line is that you have to skip the month within the first 5 days of the month

IF you don't skip the month, your credit card would be charged $39.95, and that amount would be added to your account as membership credit.

Seems pretty straightforward, right?

Nope!


JustFab occasionally has massive sales (think 40-60% off) during major shopping holidays, their anniversary, and at the end of a season. As you'll see below, I received a whopping 50% off on the items I recently purchased.


Here's the catch: Those JustFab credits (aka money charged to your bank account) you've racked up over the months CANNOT be used during a sale.


Yup! So you'll have to virtually swipe your credit card again to take advantage of this member-only fabulous sale.


The hidden fine print on JustFab rubs so many people off the wrong way. And rightfully so! This has never really bothered me because I always skip the month and charge my card whenever I want to place an order. Plus since I'm a paying member, I still get the sale prices.


THIS is one of the major reasons, I think, the company has racked up so many negative reviews. From a business standpoint with investors hungry for money, it makes sense to require people to charge their cards during a sale.


But from a customer service viewpoint, it just looks sketchy. If JustFab makes the membership credit exclusion evident on the sales page, in sales email, and during signup, customers would have a clearer understanding about what they're getting.


Speaking of customer service, I've had a package stolen from my front porch on delivery. And JustFab replaced the entire order free of charge with a free express delivery upgrade because I told them I'd be traveling.
Is There a Monthly Fee for JustFab?
Yes. Just like any monthly clothing subscription service, there is a monthly fee for JustFab. However, the fee is converted to monthly JustFab credits. You can skip the month to avoid getting charged.


If you do not skip the month, your credit card will be charged $39.95 which will be placed in your account as a member credit on the 6th of every month until you cancel. I always skip the month!


Alternatively, if you make a purchase within the first 5 days of the month your card will not be charged.
Is JustFab a Ripoff?
No. While I don't think JustFab is a ripoff, I think their practices come off a little shady especially for a $100 million worth company operating in the US (source). Negative articles like this have not sent JustFab out of business.


With celebrity endorsements and partnerships with Kate Hudson, Demi Lovato, and Kelly Rowland, JustFab/Fabletics is still going strong. And the quality of the products is excellent. I've had a few clothing pieces that date back to 2014 that I still rock today.
How Does JustFab Work?
Once you create a JustFab.com account, you can choose to become a VIP member (save ~30% on each item) or pay full price on each item. You take a style quiz, and the result from your quiz is used to create a monthly boutique for you. You can find more about how JustFab works here.


How Do you Skip a Month on JustFab?
It's quite easy. Click the "Skip This Month" button located in your "Boutique" between the 1st and the 5th of the month.


Here's a screenshot from my account:


Can You Cancel JustFab Online?
No, you have to speak to a representative to cancel your JustFab.com account. I know this is one of the company's ploy to try to convince you to stay with them or keep skipping until the world ends.


Call JustFab at 1-866-337-0906 to cancel your VIP Membership. Make sure to remove any credit cards on file before closing your account. I had two accounts back in the day to capitalize on their introductory promotion for new members (a girl likes a deal!?‍♀️).


This is what my old one looks like now (and what yours should look like) after your membership has been closed. You can still sign in, but your billing info (credit card/PayPal info) will be empty.
Is ShoeDazzle and JustFab the Same?
Yes and no. Both ShoeDazzle and JustFab are owned by TechStyle Fashion Group. But they are operated by different teams. While JustFab carries solely products designed by JustFab, ShoeDazzle doesn't.


You're more likely to see a select few of other brands on ShoeDazzle and even some JustFab products are sold on ShoeDazzle. At some point a few years ago, ShoeDazzle listed their brand partners (like Steve Madden) as a filter option but I no longer see that option.
Tips on Shopping from JustFab
As a final thought, before you hit the checkout button or provide your credit card information to JustFab, know this:

You're going to be charged $39.95 every month if you do not skip the month or make a purchase within the first 5 days

Set a reminder, so you get an alert every month

Free shipping and free return only applies to the contiguous 48 states

JustFab only offers free shipping/returns on orders in the contiguous US.

I lived in Alaska and always had to pay $9 for shipping wait almost 15 business days to get my order. Plus returns were never free for me. Same thing applies to Hawaii.

Now, regardless of if you live in the 48 contiguous states, you might have to pay a $3.95 restocking fee on returns. You still get free exchanges though.

You CANNOT apply or use your membership credit during a sale

Lame? I know! I skip the month every.single.month and swipe my card when I see something I love (usually during one of their massive sale).

Sometimes, usually during the end of a season items on sale cannot be returned

Many other stores do this. Just make sure you read the sales exclusion though.

I'll be returning two and exchanging three of the items from my order below free of charge for a refund to my credit card. I called their customer service to help with this (short wait times too).

The quality of the product is comparable to other fast fashion websites or slightly higher.

Got more questions?

Ask in the comment section below. I read and personally respond to questions.
JustFab Haul: A Review of The JustFab Shoes and Clothes I Recently Bought
As I previously mentioned, I only shop on JustFab when I see something I love. And always skip the month.


JustFab recently had a President's Day sale. Everything was a whopping 50% off and qualifies for free exchanges and can be returned (sometimes a have a return/restocking fee). Here's a review of my recent JustFab haul (quality, sizing and more).

For reference, I wear an XS or S (32", 27", 36") and weigh about 125-130 pounds (depending on how much food I had for lunch/dinner ?). And wear a US 8.5 – 9 shoes.
JUSTFAB SHOES I ORDERED
In this order, I bought four pairs of shoes. Two of them were flats, one shoe was a platform espadrille and the last an open toe-sandal. Personally, I think JustFab shoes typically run large. Next to each shoe is the VIP member price but I paid 50% less during the sale.
Ordered: Size 9
Fit: Runs large. Go down half to one full size.
The first pair of shoes is this super cute and on-trend espadrille sandals. Wedges are always a hit during the summer. I noticed that a few of my favorite bloggers have started rocking espadrilles. While I loved theirs, I wanted something less expensive with a little bit more pizzazz.


I thought the Nicoletta espadrille wedge was a must-have. With an average of 4.6-star rating by other buyers, I needed to add this wedge to my wardrobe. It comes in light blue, blush floral, and taupe. The taupe color seemed like the most practical option for my closet. So that's what I ordered.


Sadly, the wedge was too large. I'm an in-between size, so I ordered a size 9 assuming that I would need more room for my toes.
After speaking with customer service, they placed an 8.5 on hold for me. I just have to return the size 9 within 7 days with the free prepaid label they sent to me.


It is lightweight, and the quality feels great. I did not notice any weird glue sticking out. And don't you just love the tie-up detail? #obsessed!


Also wearing: JustFab midi dress, black turban, layered choker


Ordered: Size 9
Fit: Runs True To Size (TTS)
If you only have money for one pair of cute summer shoes, the Kemi flat is the shoe for you. This was the only pair of shoes the boo commented on during my try-on session.
So that says a lot!


The faux suede detail is a very unique touch that adds texture and depth to your entire outfit. And those ruffle details make these simple flats a stand-out statement piece. I even packed these flats with me on my recent trip to Dallas, Texas.


Thankfully it fit perfectly. I suggest getting your usual size. I bought the wintergreen color, but it also comes in blush and black in sizes 5.5 through 12. The black color has completely sold out. Yeah, it's that hot. I wouldn't sleep on this flat.


This shoe epitomizes comfort, femininity, and style under $30. I actually paid $14.98 during the sale.


Also wearing: Layered choker necklace, gold statement earrings (very similar), stretchy turban scarf, JustFab belted dress


Ordered: Size 8
Fit: Runs large. Go down half to one full size.
For these sandals, I went a whole size down. Long story short, in 2017/2018 I ordered the JustFab Sanoura heeled sandals in 8.5.
The Sanoura sandals are very similar to the Noura sandals in style and heel height. However, the size 8.5 was slightly too big for me. At the time, I lived in Alaska, which made me ineligible for free returns on exchanges.


Since I went down by one whole size in this Noura heeled sandal, size 8 was a perfect fit.
If you read my previous Amazon Fashion Haul, I ordered a pair of similar low-heel ankle strap sandals from Amazon, which I ended up returning.


Not only do I like these JustFab sandals better, but it was also on sale for less than half the price! $14.98 to be exact. I ordered the cognac color, but this sandal comes in 5 different colors (Sanoura comes in 9 other colors). I've already worn it a handful of times too 😀


Also wearing: Turban scarf, JustFab Noura sandals, gold bangle set (similar), statement earrings (similar), layered choker necklace, bucket bag (similar)


Ordered: Size 8.5
Fit: Runs large. Size down one whole size.
The fourth pair of shoes I ordered was this floral goddess, the Girl's Day ankle tie flat. With spring being the perfect time to break up the solid colors we've all been wearing in the winter, this floral flats were the ideal choice.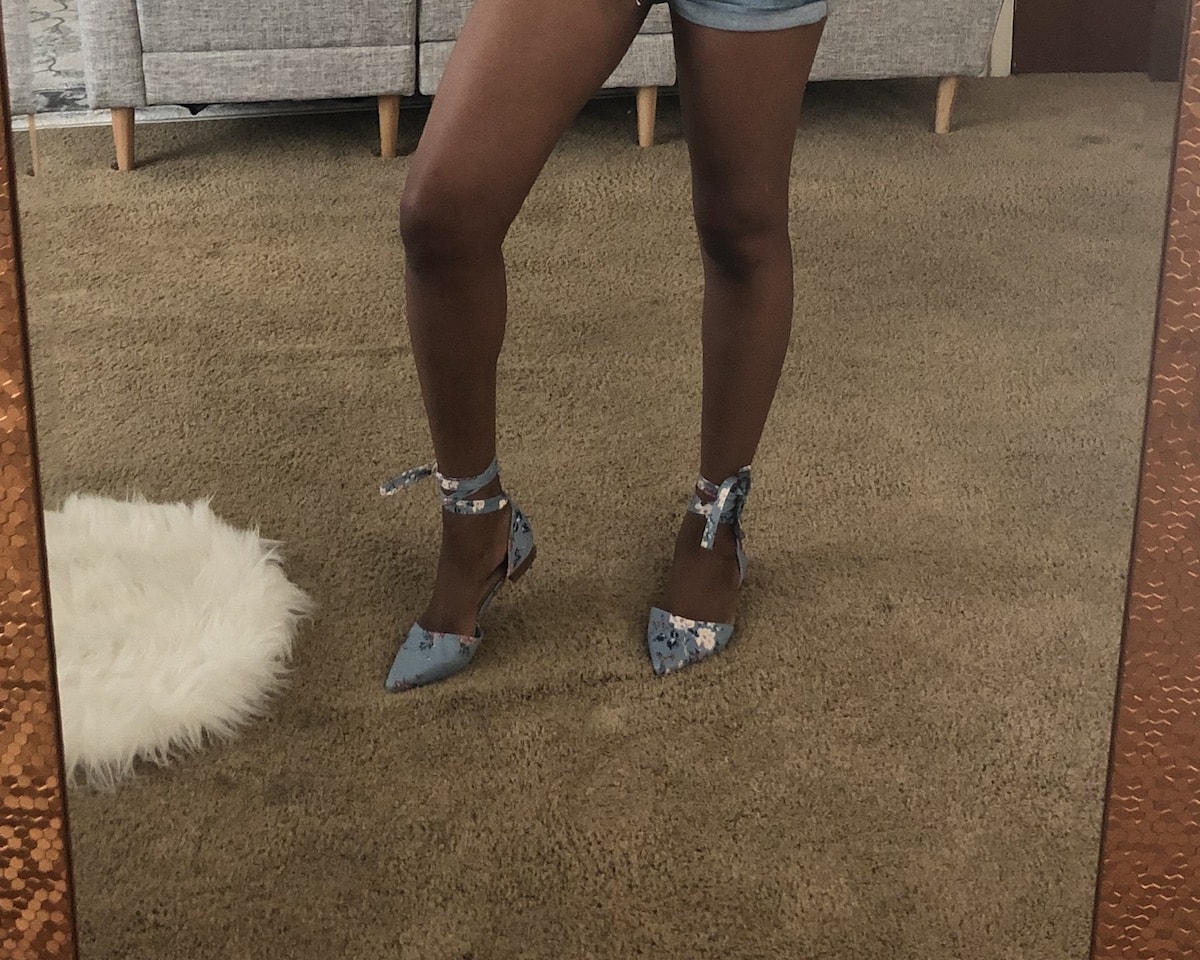 Plus the exposed d'Orsay style and sexy tie-up straps give these flats an edge. I ordered the blue floral color. But it also comes in solid black and the cutest honeysuckle colors.
With an average 4.4 star rating, I can see why so many people, including myself love these flats.


Sadly, I had to return this beauty for a refund because it's sold out in size 8. Black and honeysuckle are totally gone too ?


Also wearing: Slouchy tie front top, black head wrap, distressed shorts (similar)
JUSTFAB CLOTHES I ORDERED
In this order, I bought seven clothing pieces. The five above are the ones I'll be keeping. The remaining two will be going back because of the fit.
In terms of sizing, I think JustFab does a better job standardizing their clothes.


In general, they run true to size (TTS). I've also superimposed the VIP member price but keep in mind that I paid 50% less for these items.


Ordered: Size XS
Fit: Perfect. Runs true to size.
First up is the JustFab belted shift dress. Since spring is in full bloom, I desperately needed to step up my outfits.
I was also planning a trip to Texas at the same time and couldn't decide on what I wanted to take with me because I had done a major wardrobe purge.


What I loved about the belted shift dress was how chic and practical it looked without being over the top. The red floral details were a nice touch in turning a basic black dress into an everyday masterpiece.


For those of us that like a little more waist definition, the waist belt is a big plus. Looking at the model, you'd think that this dress has a slight A-line cut. It actually does not. Without the belt, the dress has a straight cut (great for buffet days ?).


Instead of a zip at the back of the dress, you have a hidden side zip that makes it significantly more comfortable to wear this dress over your head. The boat neck cut is both stylish and functional. The wide cut makes putting on the dress even easier.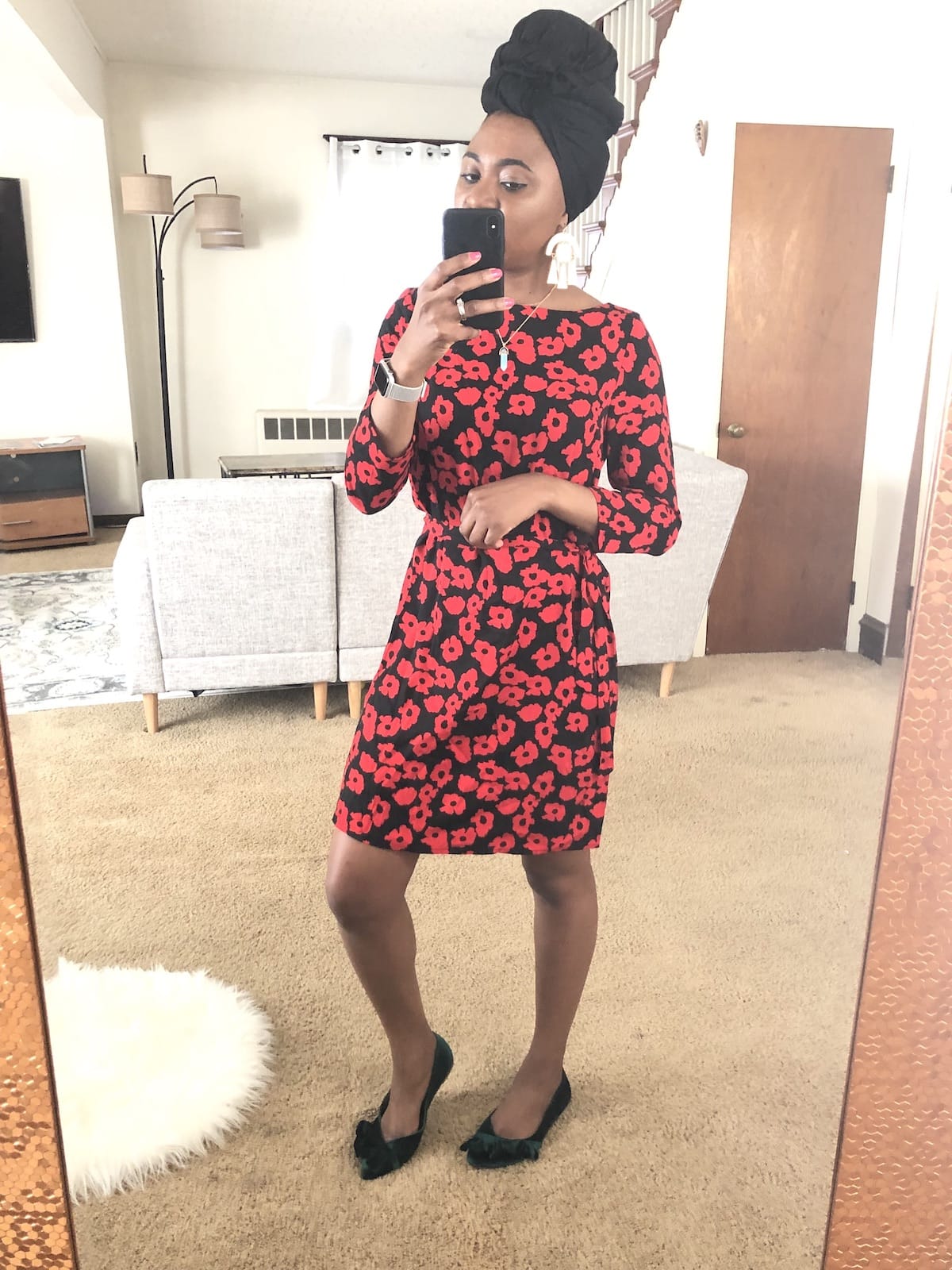 For those interested in a solid color, the black indigo is a great alternative too. Thinking about outfit options, this is a dress you can wear to work, church, and special occasions.
You can dress up or down this shift dress with a pair of flats, heels, wedges, or even sneakers (a huge trend this summer).


Also wearing: Top handle purse (old – similar), African print head wrap, black head wrap, JustFab faux suede flats, kitten heel sandals (sold out – very similar).


Ordered: Size XS
Fit: Perfect. This dress runs true to size.
Next up is the Belted Blouson sleeve dress, which is arguably my favorite item from this purchase.
I don't know what it is but the unusual green with a blue undertone color juxtaposed with the pretty burgundy florals with a pop of white scream classy.


This midi-length dress has a decent volume that creams a slight ruffle detail once cinched on the waist with the included belt. If you're looking for a below-the-knee dress that doesn't scream super conservative, you would love this dress.


This belted dress also features similar boat neck details like the floral red shift dress above. Besides, the blouson sleeve is a lovely detail that can't go unnoticed.


Nothing makes a dress less flattering than an obnoxious zip at the back of the dress. The hidden zip on this dress solves that problem. Just like the first dress, this blouson sleeve dress also has a zippered closure on the side of the dress that is hidden and spans one-half of the length.


I am wearing the Sea Moss multicolored option. This beauty is also available in Cabernet Multi and Goji Berry colors. And for $43, it's a pretty good price.


Also wearing: Quilted structured purse (very similar), burgundy heels with calf hair (old – love this), Amrita lightweight crystal earrings, Multi-layered bracelet (on sale), pastel blue slides.


Ordered: Size XS
Fit: Great
This one is for my girls who need a little solid number in their lives. Yes, a little black dress is a wardrobe essential. But did anyone mention how important a black midi dress is? I guess you just heard it from me ?


Sometimes when you just need something to wear and have little time to think about interpreting the color wheel on whether two patterns would match, a solid print is an obvious option.


Truth is, the bell blue color spoke to me first, but when I discovered that my size was out of stock. The black color did not look like a bad option either.


Although this belted midi has a hidden side zip, the deep v neckline makes it stress-free to wear this dress over the head without the need to open the zip (I still though). The faux leather belt adds texture and character to the dress.


The high slit on the bell sleeves is a detail I'm yet to see anywhere else. That's the thing about JustFab, they always have something new and unique. If this dress looks like something cut out of a 70's magazine, you're not far from the truth.


70's style is back and trending this season! How you choose to style this midi dress is up to you. The way the model wore the dress with a pair of short booties would be perfect for fall or a cold spring evening.
I chose a kitten heel d'Orsay pumps to expose more skin since the dress already has some conservative vibes.


The bow detail on my low-heeled shoes is a mix of faux suede and leather, which plays off the leather detail of the belt. For a pop of color, I threw on an African print head wrap and a blue messenger purse (similar) with matching iridescent earrings (similar).


Also wearing: African print head wrap, kitten heels with bow detail, structured messenger bag (similar), iridescent earrings (similar).


Ordered: Size XS
Fit: Runs small. If you like a tighter fit, stick to your usual size otherwise, size up.


This three-quarter sleeve wrap dress has a tighter fit than the other dresses in this haul. But I think that's because of the style and fabric. It's also on the shorter end but not uncomfortably short.


I had my eyes on the Black/ Snake print, but that pattern was already sold out. The three other options I had were Dark Indigo Multi, Malachite Multi, and Bright Rose Multi colors.
Apparently, people love wrap dresses. These have literally flown off the rack since my purchase. There are only a few limited sizes left at the moment.


Knowing JustFab, this dress is probably gone for good, at least until next spring. You can set up alerts to be notified of restocks.


Luckily for me, I was able to place a hold on one of the last few size smalls since I wanted a looser fit. So this is the second item I'll be exchanging in this order.


Paired this flattering wrap dress with a black blazer (similar) I bought from ShoeDazzle a couple of years ago.
Seen here is the same open toe sandal I reviewed above. And my fringe bucket bag (similar) is also a JustFab/ShoeDazzle buy from a few seasons ago.


Contrary to the item description, there is no clasp at the chest, nor did I find a hidden button at the waist.
However, the attached wrap tie allows you to tie the belt around your waist a few times if you desire. I chose to make a cute hanging belt detail.


Also wearing: chiffon detail blazer (similar), tan bucket bag (similar), Noura open toe sandals, choker necklace.


Ordered: Size S
Fit: Loose runs large. I suggest sizing down.


We know that spring and summer are when kimono is the hottest. In preparation for summer and for my trip to Texas, I ordered this floral duster.


I thought the bell/peplum sleeves were a unique detail that sets this piece apart from other spring dusters. It also has a skinny belt for when you actually want to conceal some of the outfits underneath.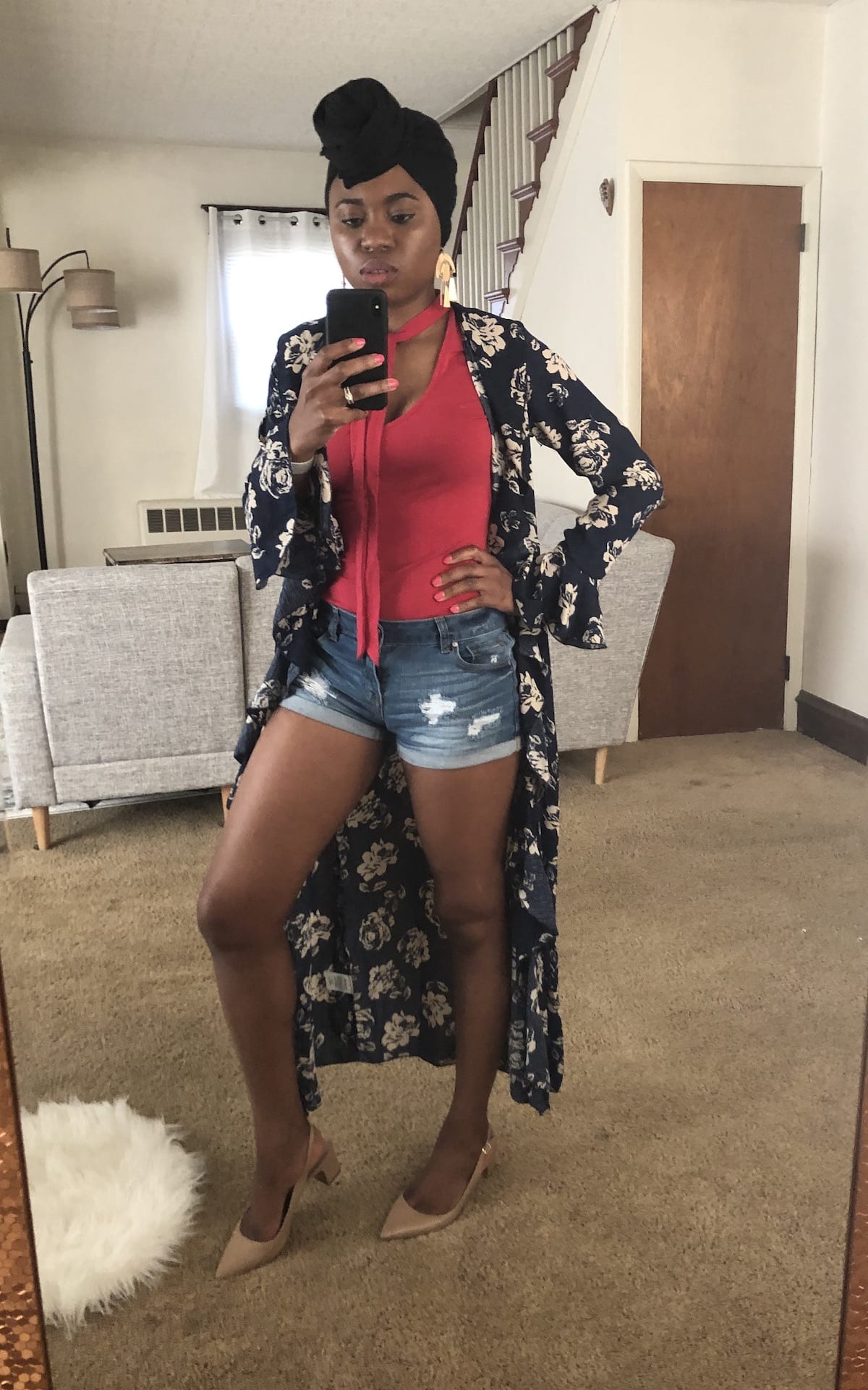 The ruffled collar is a fun detail that makes the lightweight kimono-style duster stand out. I ultimately decided to return the floral print duster for a credit card refund because I just wasn't in love with it.
What did Marie Kondo say? If it doesn't spark joy…


Although this duster was not for me, I bet it might be "it" for you. I would say that the duster is of high quality, and flows nicely as you walk.
And just might be the perfect completer piece you need to dress up a casual look.


Also wearing: Slingback sandals (similar), distressed denim shorts (similar), pussy bow bodysuit, black head wrap.


Ordered: Size XS
Fit: Loose fit. Runs TTS.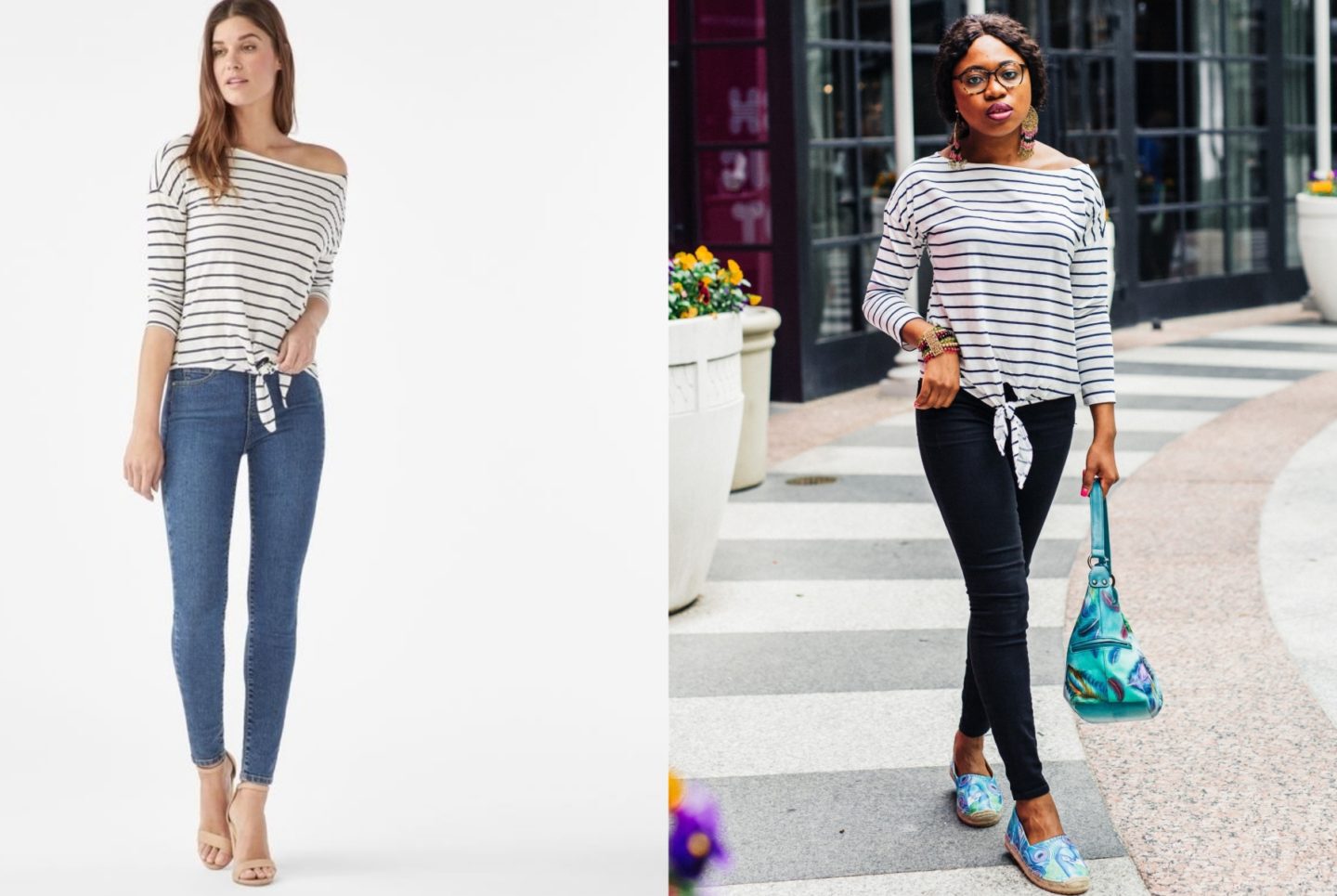 I don't know what it is, but I've been on a stripe shopping spree lately. I added two of the now sold out Nordstrom anniversary sale striped tee to my closet. I've also noticed a few bloggers in all sorts of striped tops.


Maybe it's the fact that stripe print is easy to style and is also a fun way to break up the solid texture. Either way, I'm all about stripes, and this front tie slouchy blouse caught my eyes.
My main attraction to this top was the slouchy detail. If you're like me, a loose-fit top is welcome on days when you just want something different.


The three-quarter sleeve and slight cold shoulder peek-a-boo add a unique appeal to this blouse. In case you're wondering, you can also find striped goodness on Amazon if this particular style is not your cup of tea.


I ordered a size extra-small, and it fits true to size for a loose-fit top. For my plus size ladies, this JustFab slouchy tie top is available in sizes XXS through XL, XXL, 1X, 2X, and 3X. Talk about inclusivity!


Also wearing: JustFab Noura sandals, fringe bucket bag (similar), stretchy head wrap, layered necklace, gold statement earrings, JustFab high-waist jeans (old – similar), leather hobo bag, hand-painted espadrille loafers, nerd glasses (similar).

Ordered: Size XS
Fit: Runs small. Go up one size or stick to your usual size if you like a bodycon fit.


Last but not least is this cute bow tie bodysuit. I've been itching to add a few red tops that are not sweaters to my closet.
So when I spotted this bodysuit with that chic pussy-bow detail, it was a given. The deep v-neck has that certain je ne sais quoi that makes this plain top pop.


The three-quarter sleeve is an excellent midline between a full sleeve and a short sleeve. Plus you don't have that awkward moment wondering if the length is right or not. 3/4 sleeve is 3/4 sleeve, no ifs or buts.


I was in a rush against the disappearing daylight, so this was the quickest I could rock this bodysuit.
As a side note, it has a snap crotch closure. I had difficulty with one of the snaps, so I ended up just tucking in the bodysuit.


I couldn't decide if I could keep or exchange this red bodysuit. Knowing that I did not love it as much as I did the other pieces from this shopping haul, I ultimately chose to return it.


The quality feels great, but I think the red color is not as vibrant as it looks on the JustFab model. In real life, it appears slightly washed out. Thought you should know in case you decide to get this bodysuit after reading this JustFab review.


Also wearing: Slingback sandals, distressed denim shorts (similar), and black head wrap.
While creating this post, I toggled back and forth between my JustFab and ShoeDazzle accounts. And randomly got a notification that they'd added a $20 credit to my ShoeDazzle account. Next to "VIP ACCOUNT" it says $10, but the notification is for $20.


The temptation to shop is real, but I'm done for the month. Yes, I know I have 4 more items in my cart [#hidesface]. Per my shopping cart, the discount is actually $20.


Ok, I think that's all I have. If you're still reading this post, I salute you. I wrote most of this post in one go, and I'm beginning to get trigger fingers.


I hope this post answered your questions about the JustFab reviews you've read online. And helps you this question: "Is JustFab legit?"


More so, I hope I helped you make a better decision on whether or not to spend your money on this US-based website.
Shop The Post

Conclusion
I believe that JustFab carries good quality to high-quality products. Although some similar styles can be found at other retailers like Amazon and H&M, the brand does a great job of recreating trending pieces for a fraction of the price.


As an online shopping store, JustFab offers its VIP members an average of 30% off (non-member) regular prices. Although JustFab has made a name for itself in the mad selection of quality shoes and boots they carry, you can expect the same quality in their clothing, handbags, and accessories.
While many have retold their not-so-fabulous stories shopping at JustFab, I'm yet to experience any of those.
On the contrary, JustFab service team/department was accommodating when my package got stolen and including recently when I called them about the return/exchanges I needed to do on this order.
I've also had minimal pushback when I called to cancel my account (I had two!), but I'll admit that I've never tried their live chat feature.


Personally, I think JustFab should streamline their cancelation policy and make it hassle-free with the click of a button rather than a phone call. And as for those JustFab credits, we should be able to use them without restrictions even during a sale.


Until they fix this, I'll keep skipping the month. And if/when I get tired of skipping the month, you bet I'll call the cancel my JustFab VIP membership account.


While this JustFab review is a positive one, like all things in life my experience might be different than yours.


Lastly, if you decide to purchase after clicking on any of my links, I'll make a small commission at no extra cost to you. Your support helps keep this blog running. Thank you!


PIN FOR LATER!