Flodesk Review: Flodesk vs ConvertKit Which is Better? | Free Trial
This post may contain affiliate links which means I will get a commission if you make a purchase at no additional cost to you. As an Amazon Associate I earn from qualifying purchases. Please read my disclosure for details.
This has been a long-awaited email! After almost four years of using ConvertKit, I switched to Flodesk. In this Flodesk review, I hope to answer the real question, "Which is better, Flodesk vs ConvertKit?"
UPDATE: Flodesk is no longer in beta. The $19/month subscription ended on November 2nd, 2021. However, you still get the $19/month discount for one whole year AND a free 30 day trial (no credit card required).
Inroduction
Honestly, there's no straight answer as both email marketing software have major strong suits. But if you're pressed for time, this comparison table will take out the guesswork for you.
At the conclusion of this article, I'll explain why I switched from ConvertKit to Flodesk. And who I think both programs are perfect for.
Flodesk vs ConvertKit
Flodesk Review: Overview & Unique Features
I've been with ConvertKit since 2016 and while I love the email marketing company, the product, and amazing customer services, I was intrigued to try out Flodesk. Honestly, due to the stunning designs and the price point.


Why? As a fashion blogger, I do not have a course, product, or service that I routinely promote or sell to my audience. I see my emails as an extension of my blog/social media relationship with my audience.
However, as my list has grown, so has the cost of maintaining my email list on ConvertKit.
1. Stunning Templates
Like I mentioned earlier, the stunning email templates were a big draw for me. The templates are clean, I can easily tweak preexisting "starter" templates to make them fit my brand. Plus, you get to pick your brand colors in your settings for easy selection throughout Flodesk.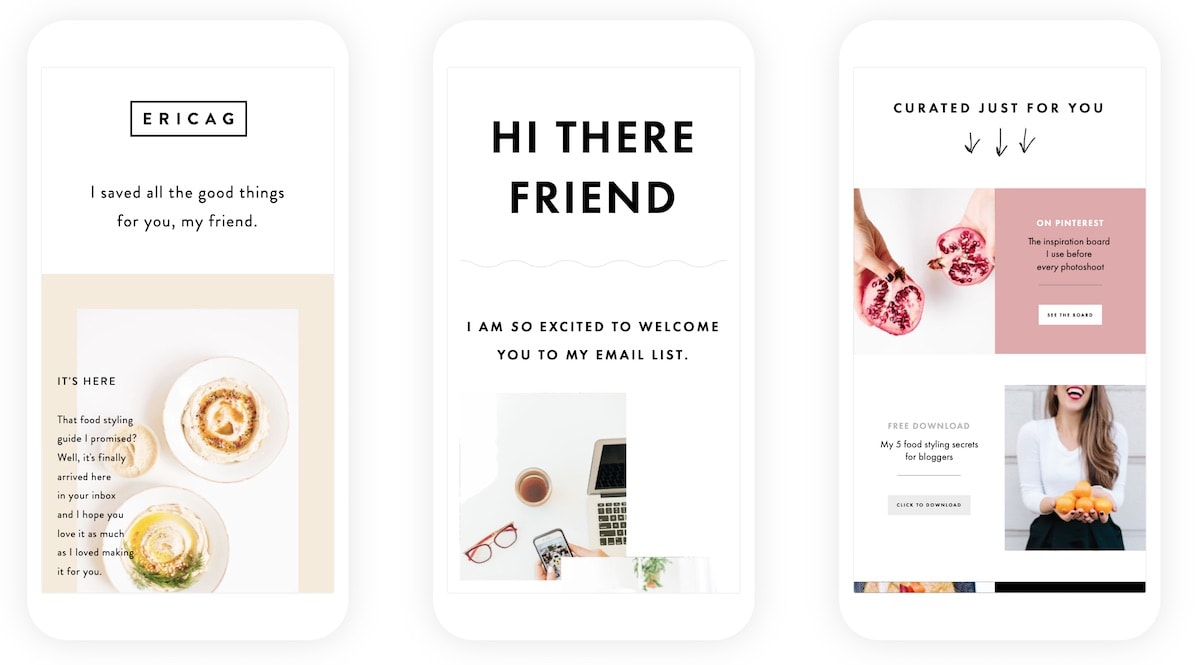 2. Intuitive Email Builder
The best way I can describe the email builder in Flodesk is like WordPress Gutenberg on steroids. Seriously, it's amazing!
I can add choose from a plethora of layouts, add multiple layouts to one email, customize blocks, fonts, text size, hyperlinks, buttons…. all without adding one single line of code. The last time I checked, I could not do these with ConvertKit.
3. High-Converting Forms
Continuing with this Flodesk review, you can create stunning, modern, and clean forms with Flodesk, just like you can with ConvertKit. But I found the process a lot faster with Flodesk and better customizations to fit my brand.

Hey, I even have a cute popup too! This is one of the stunning forms I created with Flodesk. Cute right? And the best part is that my forms are converting pretty darn well using the same text from ConvertKit!
4. Subscriber & Email Stats
With Flodesk, you get to see timely stats that will help you quickly understand your email's life cycle and an interactive pie chart-like display of each subscriber's preferences.
Another fun stat I can see is the engagement of each segment of my list.
For example those interested in my "fashion posts" versus those interested in "blogging tips." This information can help me decide if I need to improve or totally prune out a segment or send unique emails to one particular segment. Here's a screenshot of the stats from one of my subscribers.
5. Quick Workflow Setup
Loving this Flodesk review so far? Here's my special link for you to try Flodesk for one full month without adding a credit card. You can set up a workflow, called sequence in ConvertKit, in a few months.
Simply chose from a premade one or make one from scratch. I love tweaking the premade templates to match my brand colors then saving the tweaked design as a "favorite" for quick access and use for future emails.
6. Fixed Price, Unlimited Subscribers
There are many more things that Flodesk can do (try Flodesk here!). But in the interest of time, as we talk about this Flodesk vs ConvertKit article, I'd like to end on the pricing structure of Flodesk.
Right now, you can get unlimited everything, regardless of your list size, for $38 $19 with special beta price with code LOUISA. ← now $19/month for your first year with the same features now that the beta price has expired.
I can share screenshots from today till tomorrow. But to get a first-hand experience on what Flodesk looks like, subscribe to my email list below.
Enter your info above to get an email to see EXACTLY what my Flodesk emails look like.
Go on! You can unsubscribe once you get the email ;).
Why Flodesk?
Besides the stunning templates, intuitive email builder, high-converting forms, awesome stats, easy-to-implement workflow, and stellar price, Flodesk simply takes off the guesswork of connecting and nurturing relationships with my audience.
I simply choose my favorite template and get to work creating emails in the intuitive visual builder that my subscribers want to read.
Hey, Flodesk was built by two female entrepreneurs too! Martha and Rebecca are true definitions of beauty and brains in the tech industry!
My open rate with Flodesk is twice as much as my open rate with ConvertKit. Hey, I still love ConvertKit and I believe ConvertKit is a great option for certain people (see below). But Flodesk is exactly what I need as a fashion/beauty blogger.
And for small business owners that rely on Zapier integrations, Flodesk has a Zapier integration.
If you're like me and are curious to try other platforms like SMS marketing, you should try Norby. It's an all-in-one marketing platform designed for creators.
Norby's top-selling points are the link in bio, SMS, email marketing (like Flodesk), event management, and more.
The SMS feature is the major draw for me. I'm in the process of migrating from SlickText to Norby – much more affordable, intuitive, and stunning.
And with Zapier, you can integrate Norby and Flodesk.
But that's not all…
Flodesk Checkout
If you're tired of juggling separate tools, you'll love Flodesk Checkout.
Gone are the days of paying for Zapier triggers, sales page platform, and a separate checkout tool. If this is your current setup, I can imagine how expensive and unreasonably difficult that can be.
Flodesk Checkout is still in beta, and the official launch date is September 13, 2022. There are no Flodesk platform fees, you'll only pay the 3% Stripe fee on transactions.
Flodesk Checkout will have one plan:
Unlimited Checkout for $38 per month with no Flodesk platform fees, only the 3% Stripe fee on transactions, so you can capture more sales no matter how many sales pages, payments, customers, or products you have.
This new feature just got my wheels spinning. I've primarily been using Flodesk to connect with my readers. At this rate, I might explore offering a small product to my audience.
I love that Flodesk makes it easy for small businesses and content creators to explore other business ideas without spending a lot of money.
Email marketing just got more exciting!
If you're convinced and ready to jump right in with Flodesk, you can get started here. The platform is straightforward and intuitive. But as we all know, you might hit a snag along the way. The team has an amazing resource of FAQ and YouTube videos that will answer any problems you might encounter.


And if you're like me and just LOVE a community of women entrepreneurs, you'll love the Flodesk Insider Facebook group. Ah! So many success stories from new bloggers, seasoned bloggers are shared every day including tips on how some people get over 40% open rates and insane sign-ups!

---
ConvertKit Review: Overview & Unique Features
As I eluded to previously, I have been using ConvertKit since 2016. I was initially drawn to ConvertKit after I learned about the importance of having an email list of subscribers who trust you with their email address.
The fact that my blog and email list are the only two things I truly own as I endeavor to grow my side hustle was an eye-opener. Side note: ConvertKit was built by a blogger (Nathan Berry) for bloggers.
At the time, I had an email list of under 1,000 subscribers with MailChimp.
Although I still had another 1,000 subscribers to go on the free Mailchimp plan, I made the switch to ConvertKit where I immediately started paying $29/month with ConvertKit. Because I was shelling out money for my list, I instantly had the motivation to email them.
I prune my list 2-4 times a year to remove inactive subscribers and to keep my open rates high. No point paying for subscribers that are no longer interested in my emails.
I loved ConvertKit so much that I wrote a full ConvertKit review to share my experience. Here's a summary and overview of the unique features of ConvertKit. You'll notice some overlap with Flodesk.
1. Visual Automation Builder
I do not fully understand how this works. When I started with ConvertKit the automation builder had not been released. I used "Rules" to trigger certain steps.
Example of rule: If someone signs up on X form, send them Y email. The visual automation makes it easier to see what step your audience is in a sequence. I tried it a few times and got confused. So, I still use "rules" to trigger my sequence, tags, and segments.
This is a handy feature for business owners and those with multiple products as it gives you a high-level of your business, emails, and subscriber flow. This step corresponds to "Workflow" under the Flodesk review.
2. Easy Sign-Up Form Creation
Creating a form on ConvertKit is super easy compared to MailChimp. But even easier with Flodesk. The beauty of ConvertKit is that you have the option of embedding your form into your blog in several Javascript, HTML code, or even with their WordPress plugin.
Flodesk does not have a WordPress plugin yet. However, I personally prefer to add a code than weigh down my site with more plugins.
3. Automated Sequence Emails
I'm giving props to ConvertKit for their straightforward sequence. Why? With ConvertKit, you can create the emails in your sequence as you go:
Publish individual emails or save them as drafts if you're not done.
Schedule a day and time for emails in your sequence to be sent out.
Easily reorder the emails in your sequence.
Get a bird's eye view of the emails in your sequence.
No pausing to make changes. Just drag, drop, and hit save!
Based on my Flodesk review and experience using the platform, achieving the above steps takes a longer time. Also, you can only choose a time interval (like 7 days) to have emails in your workflow delivered.
As of this today, you cannot choose a day or time for your emails to be delivered. And although you can see an overview of the emails in your workflow, it's not as compact as ConvertKit.
Plus you have to pause your workflow to make changes!
4. A/B Testing Subject Line
This is another area where ConvertKit excels over Flodesk. You can A/B test two subject lines. Once complete, ConvertKit automatically delivers the winning subject line to the remaining 70% of your subscribers.
I've done this on numerous occasions while promoting a time-sensitive sale or an important update that I really wanted the majority of my subscribers to see.

You can also resend previous emails to subscribers that failed to open that email the first time. These functionalities are not available on Flodesk (at least not yet!).
5. Adding Custom Codes
I've had to add a fair share of custom HTML codes to customize ConvertKit to fit my brand needs. I've created buttons, added countdown time, created sections and more with HTML code. HTML codes are currently not supported on Flodesk.
I was a little let down with Flodesk but I totally understand why. The whole idea behind Flodesk is to create forms and emails in minutes! So the team built a comprehensive system that has everything you'll ever need (buttons, collages, columns… name it).
No more stress working in HTML codes. I hope countdown buttons are coming soon with Flodesk!
While this is a positive feature of ConvertKit, it is also a downfall of the minimalistic approach because visual content creators like myself have to rely heavily on custom codes to get the job done. Not so much with Flodesk.
See where I'm going with this ConvertKit vs Flodesk review?
6. Integration
ConvertKit knocks it out of the park with its suite of integrated software. LeadPages, Shopify, Samcart, WooCommerce, Stripe, Gumroad, Zapier, Zippy Courses, Teachable and more.
Flodesk has a Shopify integration and recently integrated with Zapier allowing you to connect Flodesk with over 2,000 other applications. Granted Flodesk is a new email marketing software so we'll see how they compare to ConvertKit over the coming months.
Why ConvertKit?
For some people, the extensive visual automation builder, sign-up forms with multiple embedding options, and feature-rich automated sequence emails, A/B testing subject lines, and a suite of integration is all they need to get on the ConvertKit tribe.
With any new platform like Flodesk, there's no guarantee of what you would get.
If your email list accounts for a large portion of your income, it's understandable to have some hesitation about moving to a completely new email marketing software.

ConvertKit has been in this business for years, they publicly post the income reports to show you what's happening behind the scenes, they have the resources to push out updates and new features quickly, and have a proven track record.
---
Which is better, Flodesk vs ConvertKit?
Go with Flodesk if:
your blog or small business is visual focused (fashion, beauty, photography).
you don't want to deal with messy HTML codes to customize your emails.
cost is a concern for your small business/bootstrapping.
you love modern features like buttons and Instagram integration.
your business does not depend heavily on external tools – currently supports Shopify and Zapier.
Go with ConvertKit if:
you care about a minimalistic theme (great for B2B companies, marketers, and those minimal visual needs).
you're ok or comfortable adding HTML codes for customization should the need arise.
cost with a growing list is not a concern (your ROI is justifiable).
your emails are simple and straight to the point (text-centric).
you live off of integrations like WooCommerce, LeadPages, Samcart, Stripe, Gumroad, and Teachable.
If you don't need any of these fancy integrations, Flodesk is the way to go.
But if your business relies heavily on one of these, I recommend testing out the platform for free to see if there is a workaround, asking on the Flodesk Insider group to find out if/when the integration you need will be released.
And even if the integration is possible, I'd try it out for a few weeks before canceling my ConvertKit subscription.
I still have 2.5 months left on my ConvertKit subscription before I'm done for good. <- I moved from ConvertKit for good!
---
Flodesk Review: Frequently Asked Questions
How Good Is Flodesk?
Flodesk is a phenomenal email marketing platform. Honestly, you can hardly go wrong with Flodesk. As of the time of this post update, I've been using Flodesk for over two years.
The founders continue to push new updates, features, and integrations. Even at its full price of $38/month, Flodesk remains a solid contender for Content creators.
How Long Is Flodesk Free Trial?
Flodesk's free trial is for 30 days giving you unrestricted access to all the features. At the end of the free 30 days, you'll have to pay to continue using the email platform. Don't forget to add your 50% off discount code, LOUISA while checking out.
How Many Emails Can You Send With Flodesk?
There is no limit on the number of emails you can send with Flodesk. Member gives you unlimited emails and unlimited subscribers with access to ALL available and future features.
Is Flodesk Still in Beta?
No, Flodesk went out of beta on November 11th! I've tried many other platforms, and I can tell you that Flodesk is the best for content creators that do not have complex needs.
Flodesk grows with you. Lock in your 50% discount for one full year and get Flodesk for $19/month. I pay annually to save even more.
And even if you just missed this lifetime deal, $38/month is honestly not bad at all for everything you'll be getting.
If you're reading this article before November 11, 2022, get your hands on Flodesk Checkout. <- Officially launches on September 13, 2022, with a $19/mo lifetime subscription.
---
Why I Switched from ConvertKit to Flodesk
I've always wanted to make small, incremental tweaks to my ConvertKit emails but even creating a button required that I added a line of code to my email template and another line of code to each individual email. Things like placing 2 or 3 emails in a column were not an option.
I either had to merge all three images into one on Canva or DesignBold then import it. Or resize each image upload and eyeball that they are shrunk into the perfect size. Too much hassle!
To make it easier on myself, I have to duplicate a previously sent-out email on ConvertKit to use that template.
With Flodesk, I pick out a premade template or a saved template from my "favorites" and get rolling?
The truth is, Flodesk is not perfect. As a matter of fact, the team of this new email marketing software is working tirelessly to bring new features on their roadmap and make improvements to core features.
And that is why the beta price for early adopters like you and me is 50% off. Try Flodesk free for 30 days with code LOUISA and lock in the $19 lifetime deal while you can. ← now $19/month for your first year.
Conclusion
I still have a paid ConvertKit subscription and plan to keep my subscription through November (~ 2 months) just in case I run into an unexpected snag with Flodesk that ends up being a deal-breaker.
That way, I still have all my subscribers, emails, and automation that I can fall back on should the need arise.
At the end of the day, ConvertKit and Flodesk are amazing email marketing software depending on your needs and the stage of your business.
I hope you found this Flodesk review comparing Flodesk to ConvertKit helpful. Feel free to ask any questions in the comment section below.
I read and respond to every comment. Please take a moment to pin this article if you found it helpful.
Interested in more email marketing and traffic growth articles? You'll love these posts:
FOUND THIS HELPFUL? PIN FOR LATER!