Flodesk vs Mailchimp Comparison: Why I Switched Email Marketing Platform
This post may contain affiliate links which means I will get a commission if you make a purchase at no additional cost to you. As an Amazon Associate I earn from qualifying purchases. Please read my disclosure for details.
Perhaps you're at a crossroads not being able to decide the best email service for your brand. Between Mailchimp, ConvertKit, and now Flodesk, you can say that email marketing is a core pillar of my business strategy and probably yours too! Flodesk vs MailChimp, which should you choose?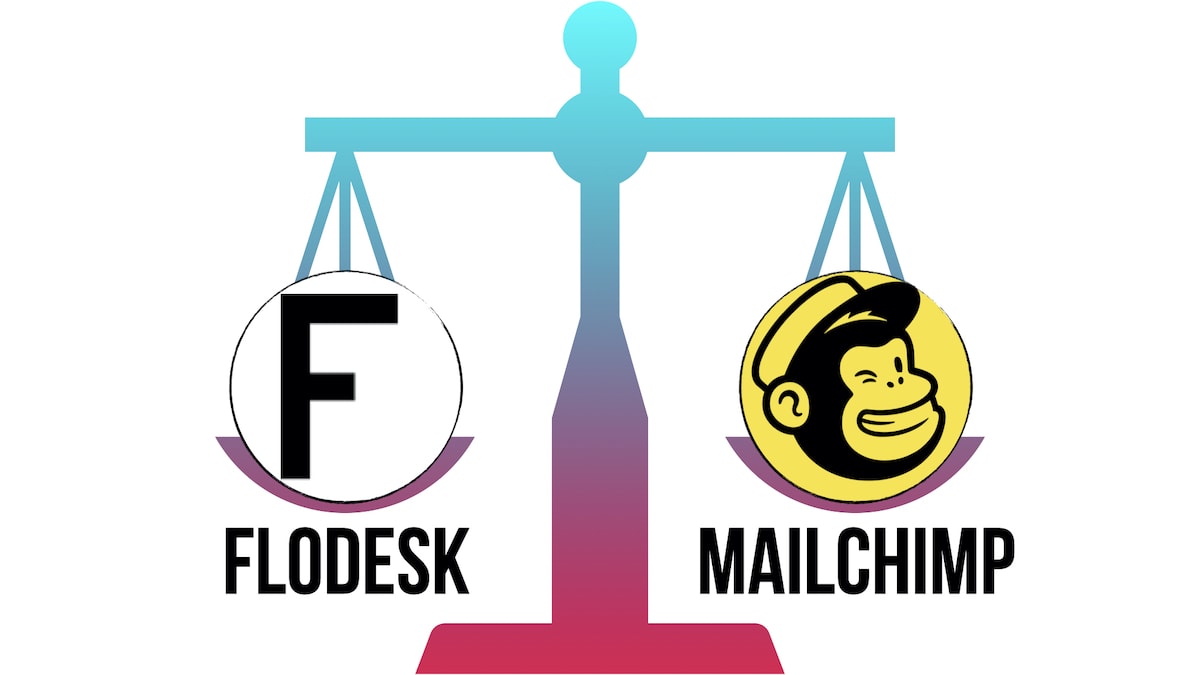 It's no longer news that serving your audience is a must in cultivating a relation where your readers know, love, and trust you. In this regard, you need an email marketing platform that will magnify your efforts.
And as a creative, I'm always looking for new strategies to revamp my email marketing campaigns and stay on top. I switched from Mailchimp to ConvertKit, and finally to Flodesk.
Flodesk vs. Mailchimp Email Marketing
Truth be told, I bummed into Flodesk on a Facebook group but it sounded too good to be true. So I held off on it. Then last year, I decided that I needed a platform that would help me serve my audience better. After much back and forth, I gave Flodesk a try.
I knew there was no turning back but the thought of importing all my subscribers, lists, segments, and workflows scared me. Plus being fresh off the oven, software like Mailchimp generally have all their kinks figured out.
In this MailChimp vs. Flodesk review, I'll dig into both platforms, features, pros, cons, and everything else you need to know. Let's dive in.


Flodesk Review: Unbeatable Price
First question you might be wondering: What is Flodesk?
Flodesk is an intuitive platform that businesses use to create beautiful email campaigns. Flodesk allows you to create stunning emails that blend stellar graphic design with your brand easily and effortlessly.

Their value proposition sets them as user-friendly with no prior skills needed. Flodesk makes it easy to get started.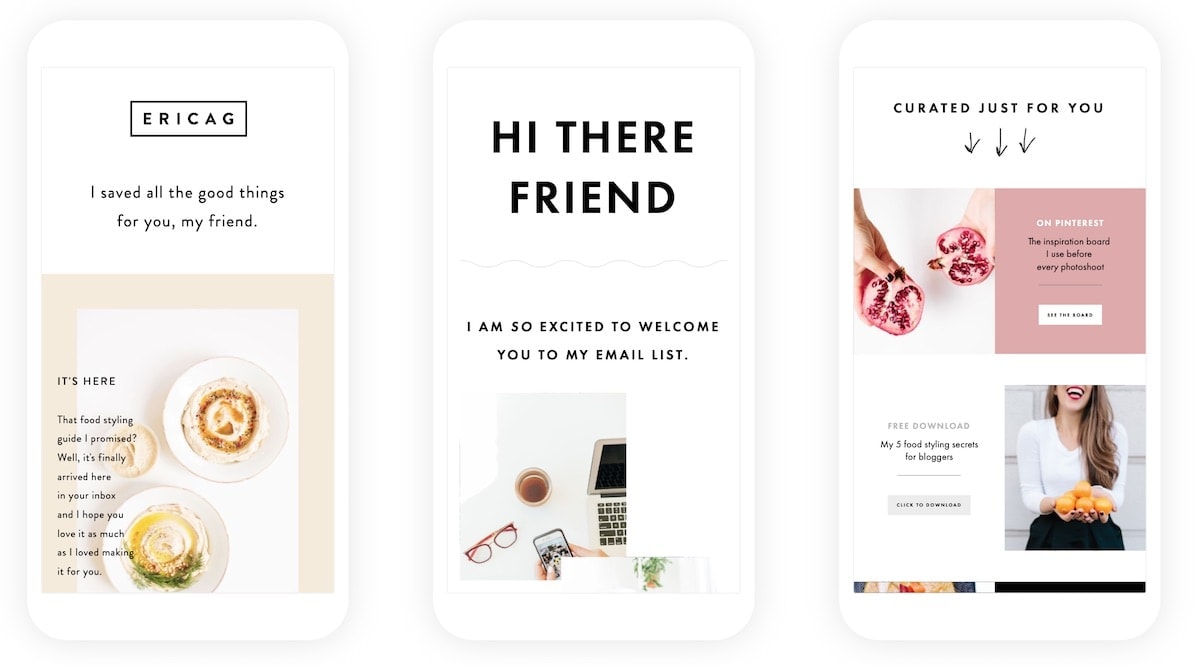 However, Flodesk is the new kid on the block that some people would be uncomfortable using right now.
With a 30-day free trial and an easy setup process, sending Flodesk emails to your subscribers is a breeze. All you have to do is complete the sign-up form and click the verification link in your email.
One advantage of Flodesk is that it's highly intuitive and has a streamlined dashboard. I got carried away exploring the email layout options available.
Even new users find it easy to master how to use Flodesk thanks to the starter email that comes with a set of how-to instructions. P.S: Martha, one of the co-founders of Flodesk absolutely kills it with her welcome emails.
You can even set your brand colors, upload your logo (or header image), and add your social media channels. Curious? Here's what mine looks like.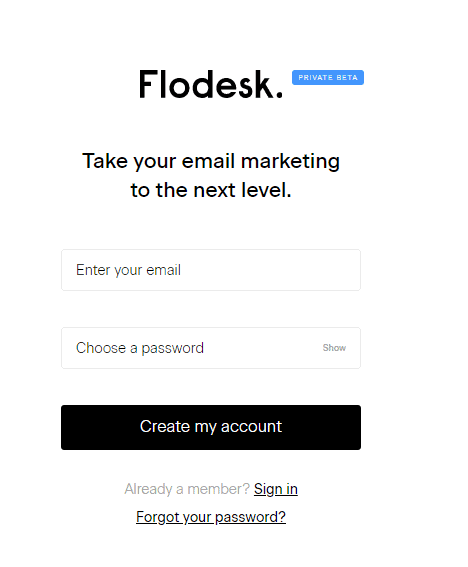 Flodesk Features
As earlier noted, Flodesk is easier to use and understand compared to bigger, arguably more robust email marking platforms.
The interface is user- friendly and clean. The top navigation menu takes you straight to contains Emails, Audience, Forms, and Workflows dashboard or directly to your global settings and account page.

And these four navigation menus are the only ones you need. I can create an email from start to finish right in the Emails menu. Of course, other functions, such as brand preferences and domain authentication, are found under the username icon on the right-side to the top of the dashboard.
My few interactions with Flodesk support has been smooth with prompt responses to my questions. That's a great perk at their introductory price.
There's also a search box that makes it easy for users to filter their questions when looking for an answer in their help desk. Another immensely helpful page is the Flodesk Insiders Facebook group.
This is my go-to place for insider tips on how to supercharge my newsletter and over-deliver to my audience. Even if you decide that Flodesk is not right for you, still consider joining their Facebook community. It's a goldmine!
Flodesk email templates help you create unique emails for your audience. And Forms are used to grow your list. You have the options for popups, inline form, and landing pages. On this site, I have both an exit intent form and inline form. Here's one of my Flodesk forms:
In addition to email templates, there are Forms, which is a great feature of Flodesk. Forms are essential in email marketing, and there exist different templates for forms that include pop-ups, inline, and landing pages. From here, you can embed the code to your website or publish the URL to a website.
Flodesk Workflows
The workflow feature allows users to send automated emails (aka drip or sequence emails) to their subscribers at a scheduled time and interval.
There are various options that you can set to customize your workflow. Examples include sending an Email, setting a Time Delay, adding a Condition, or taking an Action.

When you navigate to Subscribers under the Audience menu, you can see details about each subscriber including their gadget preferences, email open rate, click rates, and more.
Unfortunately, users are unable to test different emails or subject lines since Flodesk lacks A/B testing. This feature is available in MailChimp and ConvertKit. On a positive note, Flodesk is integrated into several applications, such as Shopify and Zapier.
Flodesk Landing Pages
Building a landing page with Flodesk is easy, and the good news is that you don't need a website to do this. On the top menu of the forms, click on "Create New" and select the "Full Page" and customize it. The next step is to create a new segment or use an existing one.
This is an important step because this is the segment that new subscribers get added to. This also affects the sequence of emails from the workflow that subscribers will receive.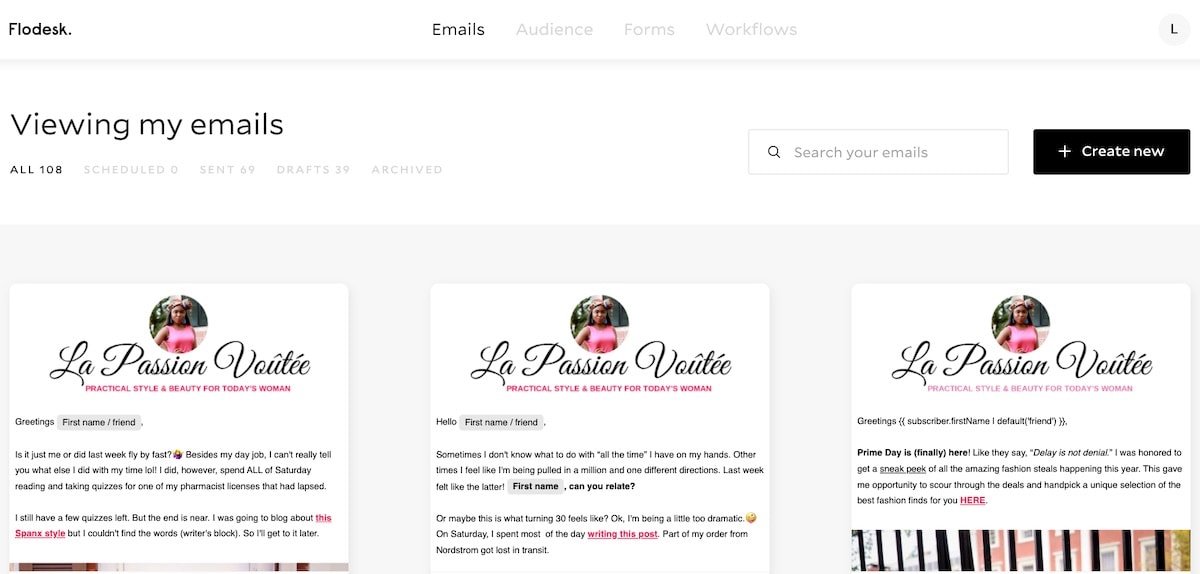 Next, customize your form by selecting brand colors or whatever you like. Add images, gifs, attach you content upgrade (PDF), switch up the layout… the options are yours. Then, publish your workflow to allow for proper automation of the segment.
Select the form preferences; for instance, you can receive notifications when a reader joins your list. From here, you can copy the URL and share the link to your landing page.
Flodesk and Shopify
Flodesk integrates seamlessly with Shopify. Hence you can connect Shopify to Flodesk and create an automation that will enhance user experience. Here your customers will have an improved shopping experience, easy follow-up, and more.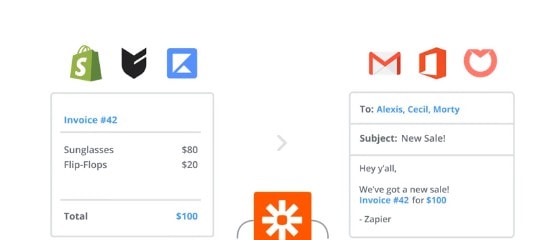 Flodesk Segments
Flodesk segments allow creators to organize our subscriber list so each segment only gets content that adds value to their life.
Flodesk Templates
When creating your first email, you'll be amazed at how fast you can craft an email. All thanks to Flodesk's visual builder that make non-coders like me create stunning emails.
Additionally, there are options for users to customize the templates made possible by the different settings on the email dashboard. For instance, you only need to click on the email to select the layout, canvas color, Font color, size, or type.
You can also change the line height, link color, letter spacing, padding thickness, and more.
If templates don't work for you, you can build an email by adding your text and images. Although Flodesk comes preloaded ith some amazing fonts, at this time we are unable to upload our own fonts.
The images you upload are integrated within the email without the need to change their sizes.
Once you're done writing your email, preview on desktop or mobile and send a test email to yourself.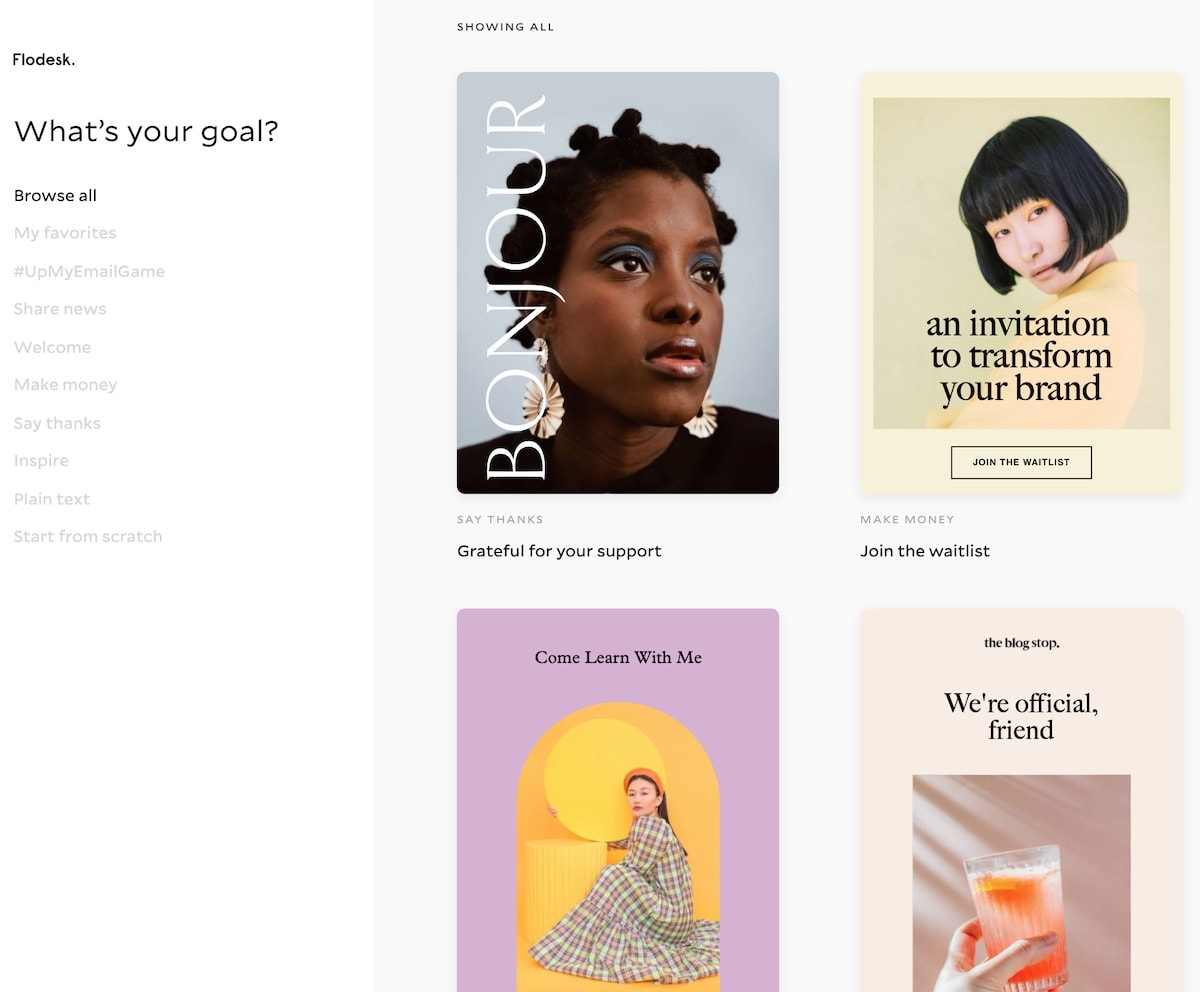 Flodesk and Zapier
Zapier is an automation software that connects web apps and eases your workload. Good News is that Flodesk is now fully integrated with Zapier, making it easier for users to create and grow an email list, increase their marketing, and boost sales by optimizing this integration.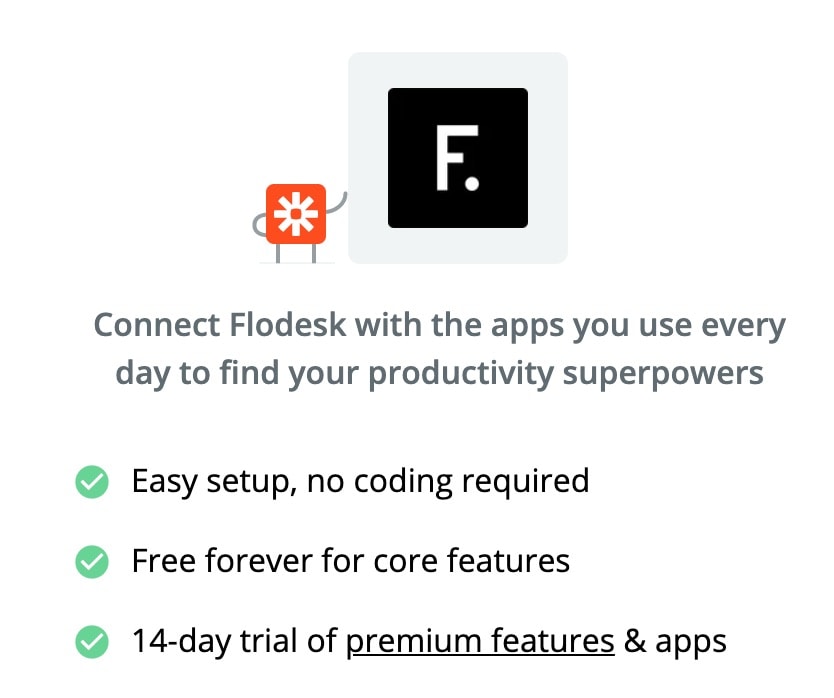 Price & Free Trial
Flodesk has a simple pricing structure and comes with a one-off cost of $38 per month regardless of the emails you send or subscriber base. But now through September, you can get Flodesk at a lifetime deal of 50% off. I signed up right away!
While most major email marketing platforms require you to add your credit card or lock-out some features, Flodesk gives you an unrestricted test ride of all the features for a whole month.
Flodesk differs from other email marketing systems whose pricing is pegged on the number of subscribers you have such that the more people you have in your list, the money you'll pay. This unique feature of Flodesk makes it suitable for start-ups and growing businesses.
Pros of Flodesk
Beautiful templates (perfect for creatives & photographers)
Highly intuitive pages and templates
Responsive customer service
Clean subscriber statistics
Easy to integrate social media
Hassle-free preview on desktop and mobile
Email segmentation and automation
No coding required
Resend to unopen
Better value for money (one-off pricing structure)
Free trial
Cons of Flodesk
---
Finding this Flodesk vs Mailchimp review post helpful? You'll love these related posts:
---
Mailchimp Review: All-in-One
Mailchimp is a one-stop-shop email marketing platform that businesses use to manage their operations. As an integrated approach to email marketing, MailChimp is a market leader and supports businesses through a wide range of controls, stunning templates, and advanced features. It encompasses different areas of businesses that include Customer Relationship Management (CRM), automation, and marketing.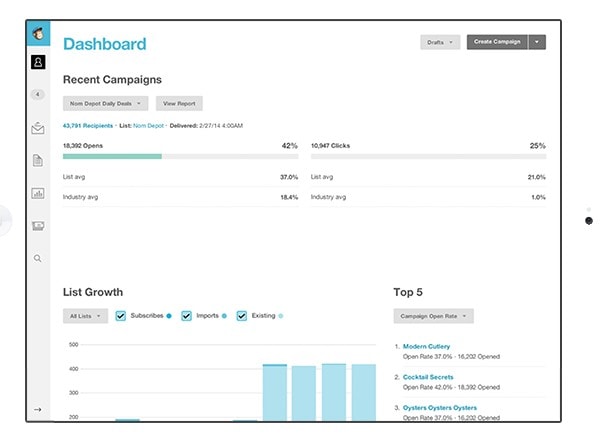 Mailchimp Features
MailChimp has advanced its features to include hosting, web design, and name search. However, all these are still in the old platform, making it the most sought email marketing platform.
MailChimp has evolved to increase its products, and there are lots of features such as ads, surveys, and social media sharing options and landing pages.
Mailchimp Pricing
MailChimp has a different pricing structure, which is pegged on the subscriber base. For starters, it has a free plan, and hence it's suitable for growing business.
Also, the free package has lots of features, such as seven marketing channels, basic templates, websites, custom domains, surveys, and CRMs. MailChimp is user-friendly and easy to understand, even for new users.
This is the best option if you're starting out and would like to have a first-hand experience of what MailChimp is all about.
There are limitations to the free program since it allows up to 2000 subscribers and 10000 emails per month. However, small business owners will find this sufficient to run their start-up campaigns.
Established businesses can opt for the premium options such as the essential program which goes for $9.99 per month for up to 50,000 subscribers.
The standard program goes for $14.99 per month for a maximum of 10000 subscribers, and the premium plan goes for $299.99 per month for 200000 contacts and high-end features.
Mailchimp Mobile integration
MailChimp has apps in iOS as well as an Android device, and this allows for mobile integration. Therefore you can create successful email campaigns from your smartphone or mobile device.
Mailchimp Templates features
MailChimp has a wide variety of templates with different layouts and impressive themes. You'll also get to use the HTML editor with an option to use plain text when designing your templates.
Mailchimp Private policy
MailChimp is very strict as far as privacy is concerned and doesn't allow spammers. There are strict requirements for sign up and email verification.
Mailchimp Workflow
Users of MailChimp have the advantage of creating their emails in the standard form in an easy to follow workflow. This means that although MailChimp has advanced features, it's easy to use and still has its basic features for its clientele.
Mailchimp Tracking Performance
MailChimp is very useful in tracking the performance of email campaigns. It does this through data analytics and uses parameters such as clicks, opens, and total recipients. It generates reports, and hence you can analyze the performance of your email campaign.
Mailchimp Self-service features
Mail Chimp has the advantage of allowing users to opt for self-service when asking questions. There are help sections and information videos on different topics. Further, the customer service is available 24/7, and there are tons of helpful resources such as dialogue boxes, tutorials, and support pages.
Pros of using MailChimp
It's simple, easy to understand and allows users to customize their options
It has a free package for business start-ups
Allows users to send emails to segments
Has detailed analytics that includes Google Analytics integration, social media, clients, and geo-tracking.
The powerful and efficient template editor
Use friendly interface
Have different pricing plans that accommodate various businesses
Allows for mobile functionality
Allows for customization of templates
Cons of using MailChimp
Shopify integration has been suspended for new users.
Different pricing plans make it expensive
---
So which email marketing platform should you choose?
It depends on the size of your business, subscriber base, and your budget. Small businesses starting on their email campaigns would like to keep their expenses low. Therefore, you'd want a program that is cheap and easy to use.
On the contrary, large businesses prefer a premium plan with a lot of features and one that uses an integrated approach to deliver a compelling email campaign.
MailChimp: Best for…
Although MailChimp is an all-round platform with lots of advanced features, it's simple to follow. Their free plan is a hot cake for small businesses key to integrating email campaigns into their marketing strategy.
Equally established businesses would prefer the premium options since they have more features such as the analytics that show click-through rates, opens, subscriber behavior, bounces, and more.
Flodesk: Best for…
Small businesses starting out will find the one-month free trial friendly, after which they'll shift to the $38 monthly program. Likewise, it's also best for medium-sized businesses since they have a one-off pricing plan.
---
How to Switch from Mailchimp to Flodesk: Step by Step Direction
Switching to Flodesk from MailChimp involves moving your email contacts and is an easy process, as I'll outline below.
Export the subscriber list from MailChimp
Start by login into MailChimp, scroll to the Audience, and click Manage Audience. Then select Manage contacts.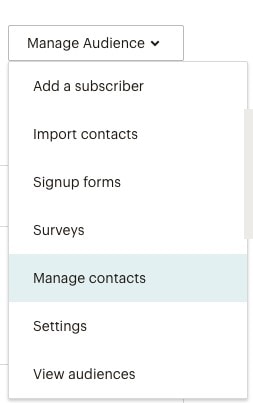 Below the tab, Manage Contact, click on Audience Exports.

For new users, you can click on View all Contacts then select Export Audience on the right side as below.

The next step is to export or upload the audience list as a spreadsheet, commonly referred to as a CSV file.

At this point, the file is saved on your computer.

Now that you've successfully downloaded your email list, the next step is to upload your contacts to Flodesk.
Earlier on, I explained how to sign up for Flodesk, which is a simple process. You can start with the one-month free trial before you upgrade to the all-inclusive program.
On your Flodesk dashboard, select the Audience tab and click on Subscribers.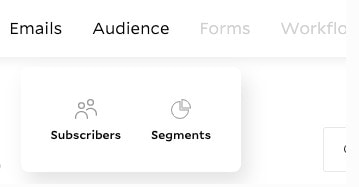 Under subscribers, select Upload CSV and select the file from the saved location on your computer.

The uploading process commences at this point. After you've finished uploading your contact list, the next step is to integrate the MailChimp data to your Flodesk platform.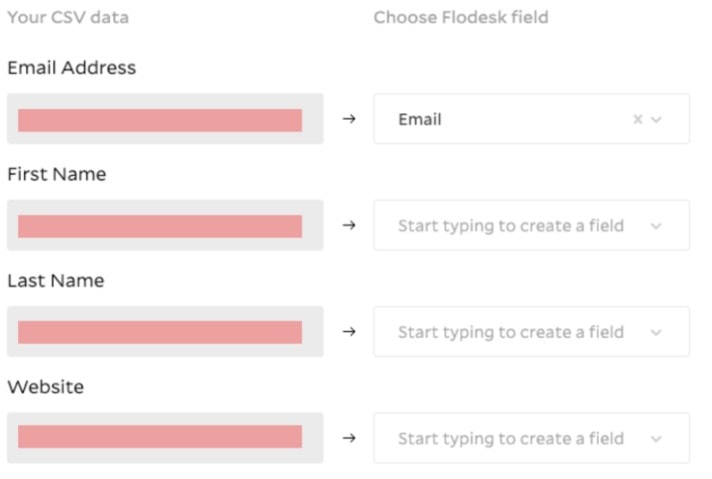 Here, the process involves matching the data from MailChimp to Flodesk while making sure you get all information right.
After that, create a segment for your Subscribers, which allows you to know exactly how to plan your email marketing campaign depending on your Audience's needs.

Frequently Asked Questions about Flodesk
How much is Flodesk?
New users of Flodesk have a one-month free trial (here), after which you can upgrade to the all-inclusive payment plan that will cost $19 ($38 after the beta pricing) per month.
Can I do rss in Flodesk?
Yes, with Zapier, you can share data between RSS and Flodesk platform. It's a fast process, and you don't need a code to do this. However, you'll need to select an app as a trigger to allow for automation. I don't use the RSS option for my emails.
Can you paste in Flodesk?
Yes, you can paste with Flodesk, thanks to the email blocks for text and layout. For example, you can type your email, click copy (Clt+X), the click on text block and paste (Clt+V).
Can you send a test email with Flodesk?
Yes, you can test your workflows by using a test email address every time you sign-up on the form. However, you can't use a previously used email that already exists in a segment.
Does Flodesk automatically save?
Yes, Flodesk emails automatically saves while creating them. However, you need to save your Workflow as you go. Since Flodesk is still in Beta, it's advisable to always save your work by clicking on the save button.
Flodesk vs Mailchimp Comparison
| | | |
| --- | --- | --- |
| | Flodesk | MailChimp |
| Sign Up | Easy signup process and a highly intuitive interface | Easy signup |
| Pricing | The pricing is all-inclusive and doesn't depend on the number of subscribers. One month free trial then $19/month for life with this link. Or $38/month regardless of list size. | Free package for up to 2,000 subscribers per month. Essential package $9.99/month for up to 50,000/month, Standard package $14.99/month for a maximum of 100,000 subscribers, Premium Program $299.99/month for up to 200,000 subscribers. |
| Easy of use | The process is simple and straightforward | It's a bit more complex to set up and use due to all the bells and whistles available in this email marketing platform (a steeper learning curve for new users) |
| Landing Page feature | Flodesk allows users to create landing pages and personalize their campaigns. | Mailchimp lets users create customizable landing pages. |
| Support | Flodesk has an excellent support system for their clients. There's also a Facebook page where you can reach for answers in case you get stuck. Also, they have a FAQ page and tutorials with detailed guides. | MailChimp has a support system where you can get help on technical issues. Also, the platform offers tutorials for users and there's extra support via email and chat depending on your subscription plan. |
| Templates | Flodesk has beautiful templates with added features such as colors and fonts that enhance the user experience. There's also an Instagram footer for linking your Instagram feed that automatically updates with the latest posts on your feed. | MailChimp has pre-designed templates that let you design a landing page easily. You can also upload your own templates and customize them for future email campaigns. |
| Integration with other apps | Flodesk allows for integration with other applications such as Zapier. Allows for mobile integration and segmentation. | MailChimp allows for integration with other programs. Allows for mobile integration and email segmentation. |
| Shopify Integration | Flodesk is fully integrated with Shopify. | MailChimp no longer allows Shopify integration for new users. |
Conclusion: Flodesk vs Mailchimp
There you have it. From the above review of Flodesk vs Mailchimp, there's no question as to whether both email service platforms are incredibly useful for business.
They enable businesses to revamp their email marketing campaigns and build a credible email list. Although some features are the same, there are notable differences between the two.
Whereas MailChimp is a favorite among large and established businesses, Flodesk is suitable for small and medium-sized enterprises starting their email campaign strategies. Flodesk is the email marketing platform I use.
On the issue of costs, Flodesk is a winner since there's only one package where users pay a flat amount of $38/month (or $19/month for life during the beta pricing with this code: LOUISA) regardless of the subscriber lists.  Despite the fact that MailChimp has a free plan, there is a limitation of 2,000 subscribers, after which you pay to depend on the mail list.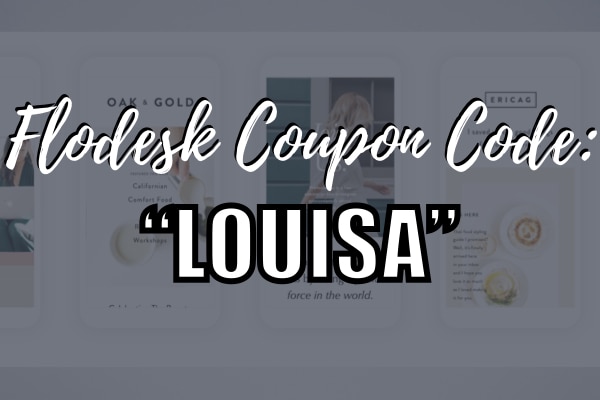 Found this Flodesk vs Mailchimp email marketing comparison helpful? You'll love these related posts helpful: