Best Nordstrom Anniversary Sale Blogger Picks
This post may contain affiliate links which means I will get a commission if you make a purchase at no additional cost to you. As an Amazon Associate I earn from qualifying purchases. Please read my disclosure for details.
This post about the best Nordstrom Anniversary Sale blogger picks is a sponsored conversation written by me on behalf of Nordstrom. All opinions expressed in this post are mine.
Greetings, friends! I've been super impressed with the unique selection of fashion and beauty products in this year's #NSALE. In that regard, I'm back with my best Nordstrom Anniversary blogger picks and a quick lookbook.


If you watched my Anniversary Sale Try-on haul YouTube video, you've already seen these Nordstrom Anniversary Sale picks. But I thought I'd share these styled looks with you today to show you how I would wear these attainable luxury pieces.


With fall around the corner, I figured I'd layer a few of these wardrobe basics together.


Lookbook: Nordstrom Anniversary Sale Blogger Picks
Sizing reference, I'm 5″5 tall and wear a size S (US 4) and weigh about 130-135 pounds.


1. Black Leather Shirtdress Outfit
This Topshop leather shirtdress is not an item I would have picked out while shopping the Anniversary Sale. As a busy professional, my go-to items are practical, everyday pieces. And if we're keeping it real, I can't wear this stunning leather dress to my 9-5. But…


What I can do is explore multiple styling options for this dress. I'm thinking cocktail parties, girls night out, bachelorette parties, and even hosting events.


I kept this look true to my style by pairing the leather shirtdress with the stylish essentials – compact handbag (similar), metal waist belt (similar), and heeled sandals.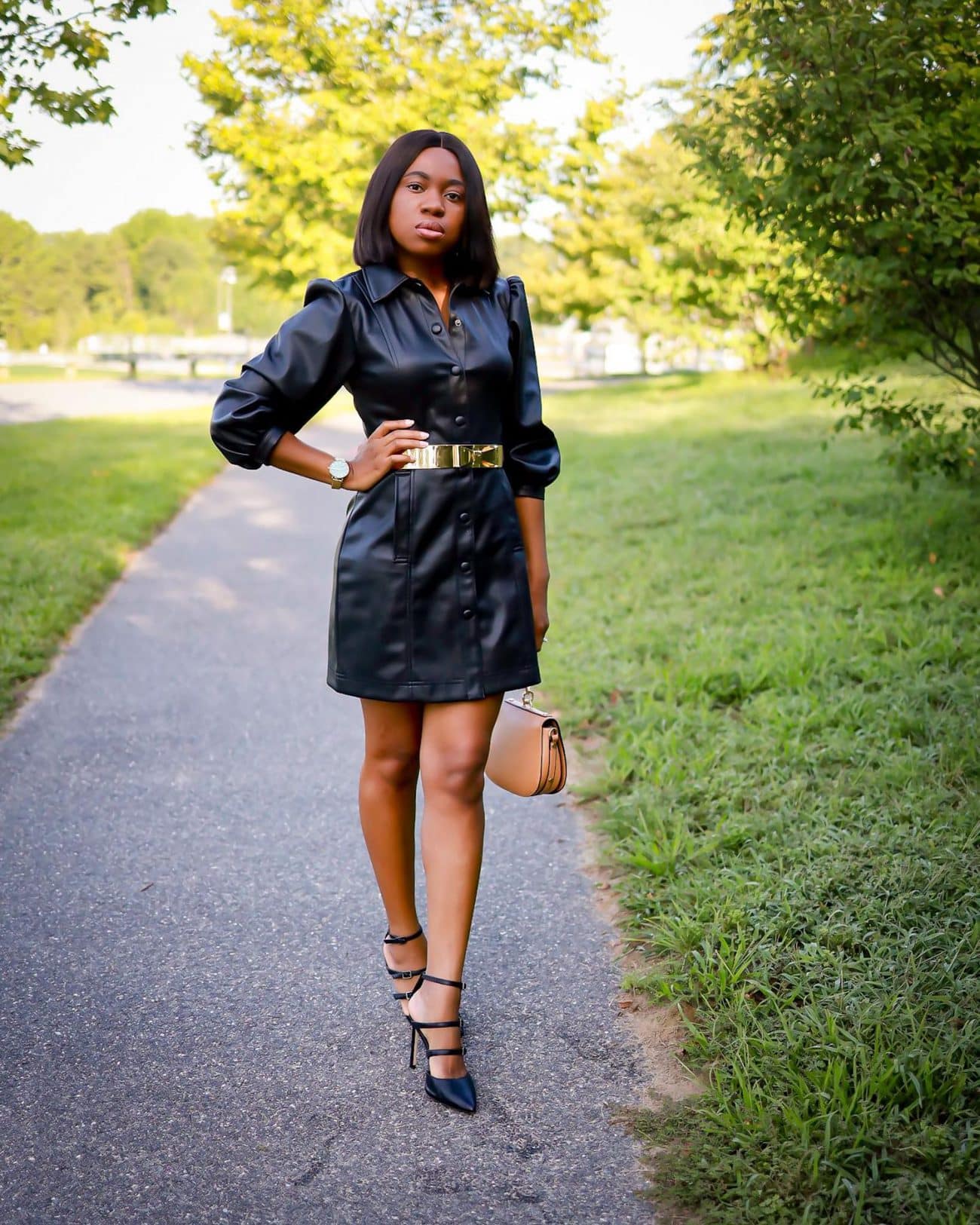 As for fit, this dress runs true to size for me. I picked it up in the US 4 and it fits like a glove. I seriously wouldn't change anything about this dress. Keep in mind that if you're full in the chest area, you might need to size up.


I've already pictured myself rocking this leather dress with Steve Madden OTK boots, another of my Nordstrom Anniversary Sale blogger picks.
---
2. Spanx Perfect Black Pants and Blazer Outfit
If you're looking for the perfect black pants, these Spanx The Perfect Black Pants might just be "it" for you. Also included in the Nordstrom Anniversary Sale, these pants were selling like hotcakes (plus you can scoop it up in petite and tall sizes).


Why are the perfect? Great question! The smoothing ponte fabric and hassle-free pull-on style guarantee the perfect fit. This work pant is the Spanx faux leather leggings transformed to work pants. Seriously!


The split hem at the back of the pants is a fashionable touch I would not have envisioned seeing in work pants.#cute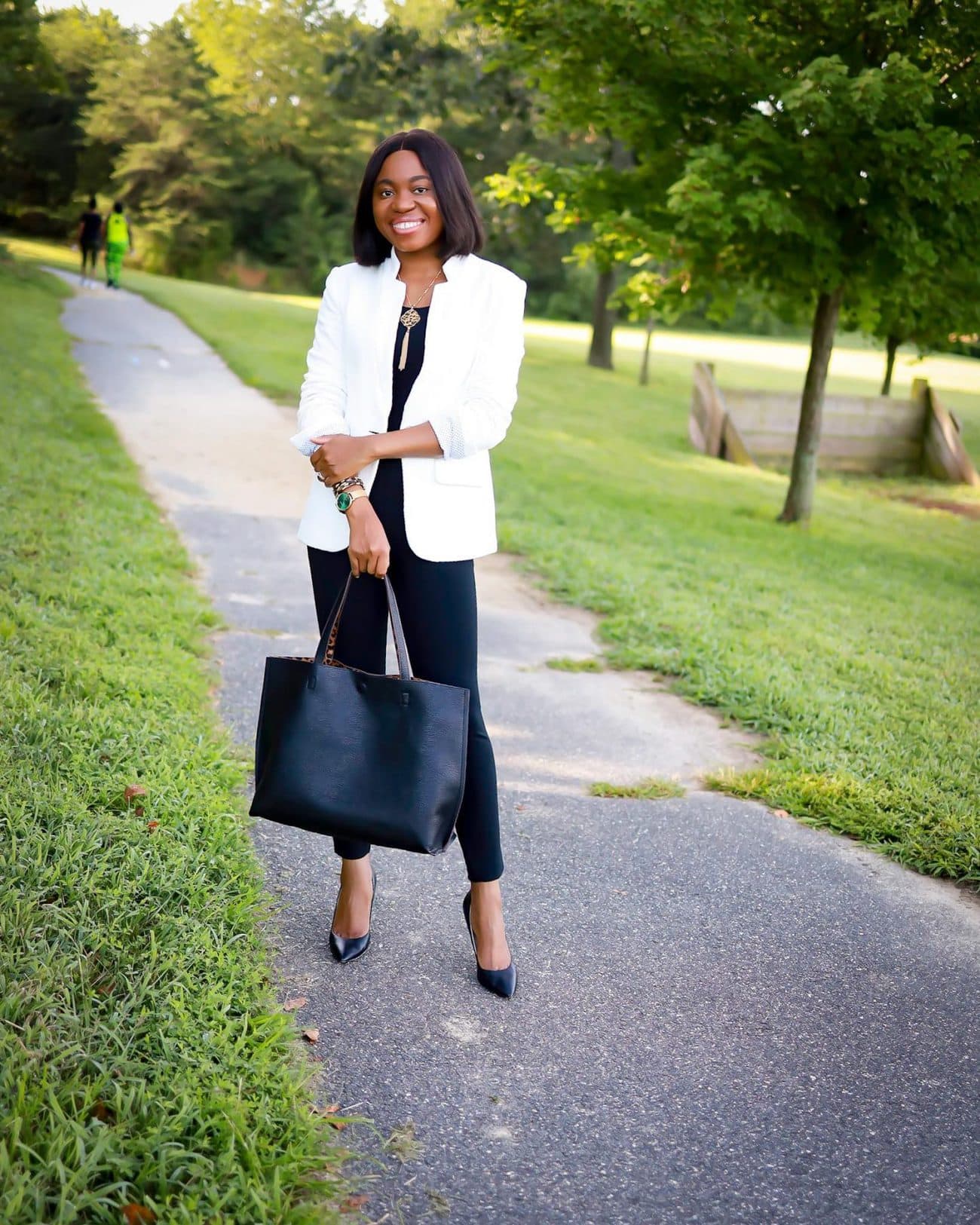 It features a high-waisted cut designed to hit you right on your waistline while keeping everything in place. And if you're wondering, these pants can be worn in and out of work. I'm wearing a size small.


I instantly knew that I needed this Gibson blazer the very moment I saw it in the Nordstrom Anniversary Sale catalog preview. The only problem? I couldn't decide if I wanted to scoop it up in the gray color ivory white color.


In the end, I faced my fear of avoiding white by scooping the blazer in ivory color. I ended up switching the size small for extra-small for a better fit. To see the fit of both sizes, watch my #NSALE try-on haul video here. The cotton blazer is also available in more colors here.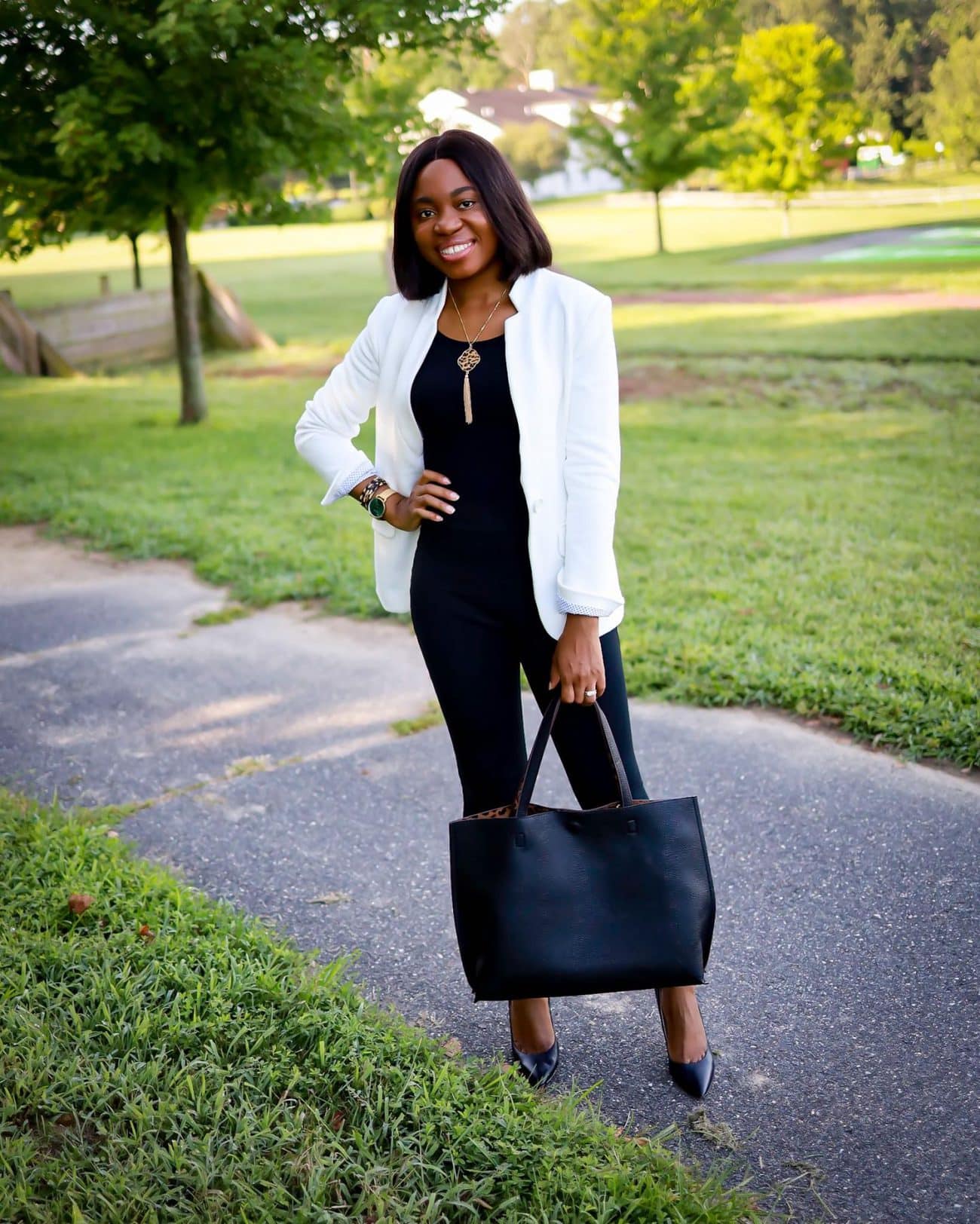 I completed this career look with this Commando seamless bodysuit (included in the Anniversary Sale). I'm absolutely in love with the barely-there silhouette. If you wear a lot of bodysuits, you know how hard it is to find a bodysuit that does not create terrible visible panty lines (VPL).


This Commando bodysuit is everything a girl could ask for in a bodysuit. You won't regret it. I'm wearing a size small. Speaking of my Nordstrom Anniversary blogger picks, this bodysuit gets an A for comfort, fit, and quality. Hurry though as some sizes have already sold out.


I also ordered this Nordstrom reversible tote and this pointed-toe pumps to replace the classic pair I've had for years.
---
Loving this post about my Nordstrom Anniversary Sale picks? You'll love these related posts:
---
3. Spanx Faux Leather Leggings Outfit
You've heard me say so many great things about Spanx leather leggings. I'm actually working on a post to show you several ways to wear faux leather leggings now and later.


As you've probably guessed, this Spanx leggings is definitely on my list of the best Nordstrom Anniversary blogger picks. I'm wearing a size small and it fits great. Don't freak out if the Spanx leggings fit too snug the first time you wear it.


The leggings are designed to stretch and conform to your body, giving you the smooth feel and compression that we know and love with Spanx lingerie. It's almost sold out though!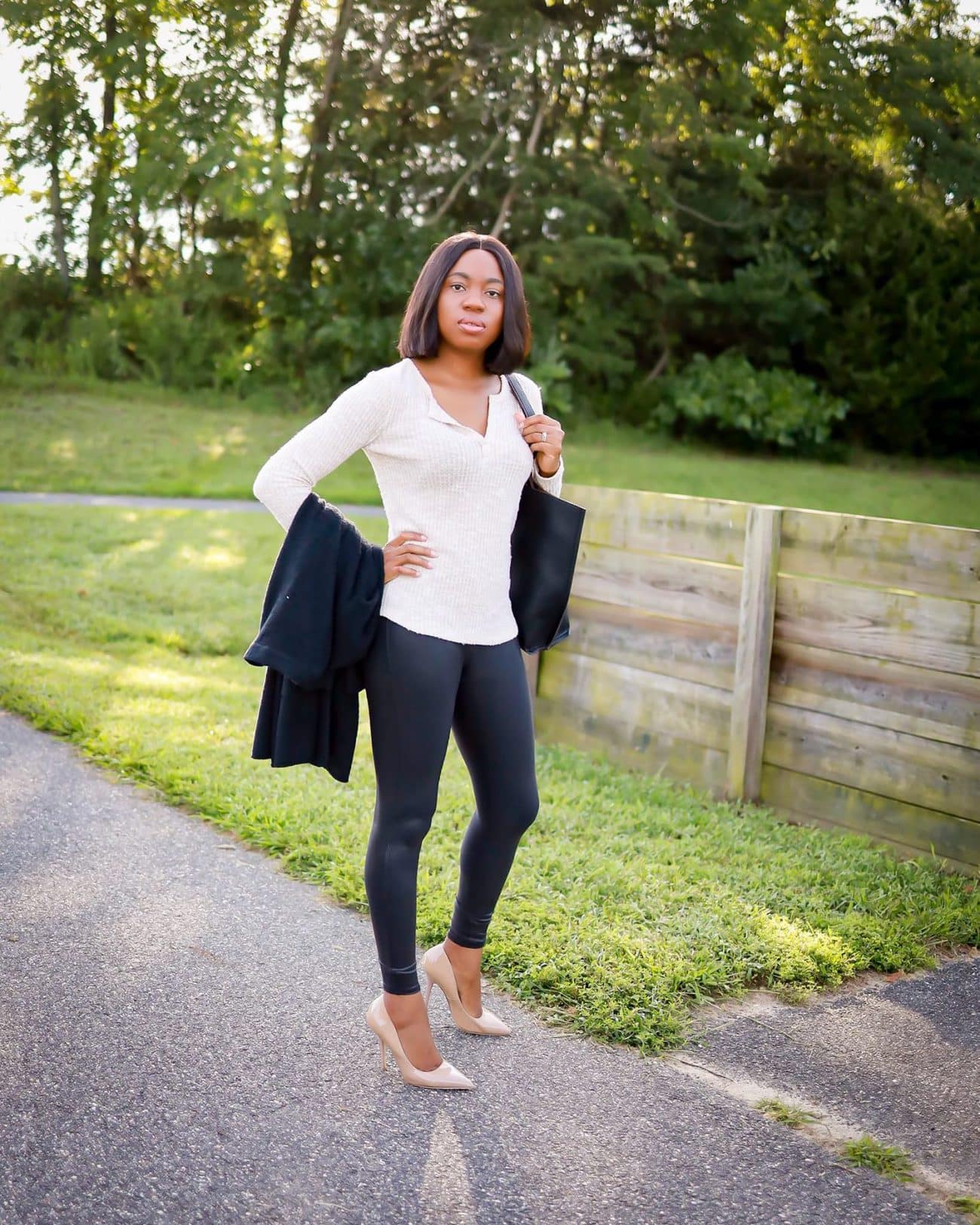 On my Nordstrom in-store try on haul (watch it here), I talked about how indecisive I was about this long sleeve thermal top.


I'm so glad I decided to keep the sweater. It feels super soft and cozy, the perfect summer to fall knitwear for the upcoming season. My one recommendation is to size down. The sweater fits really loose so I went with a size extra-small.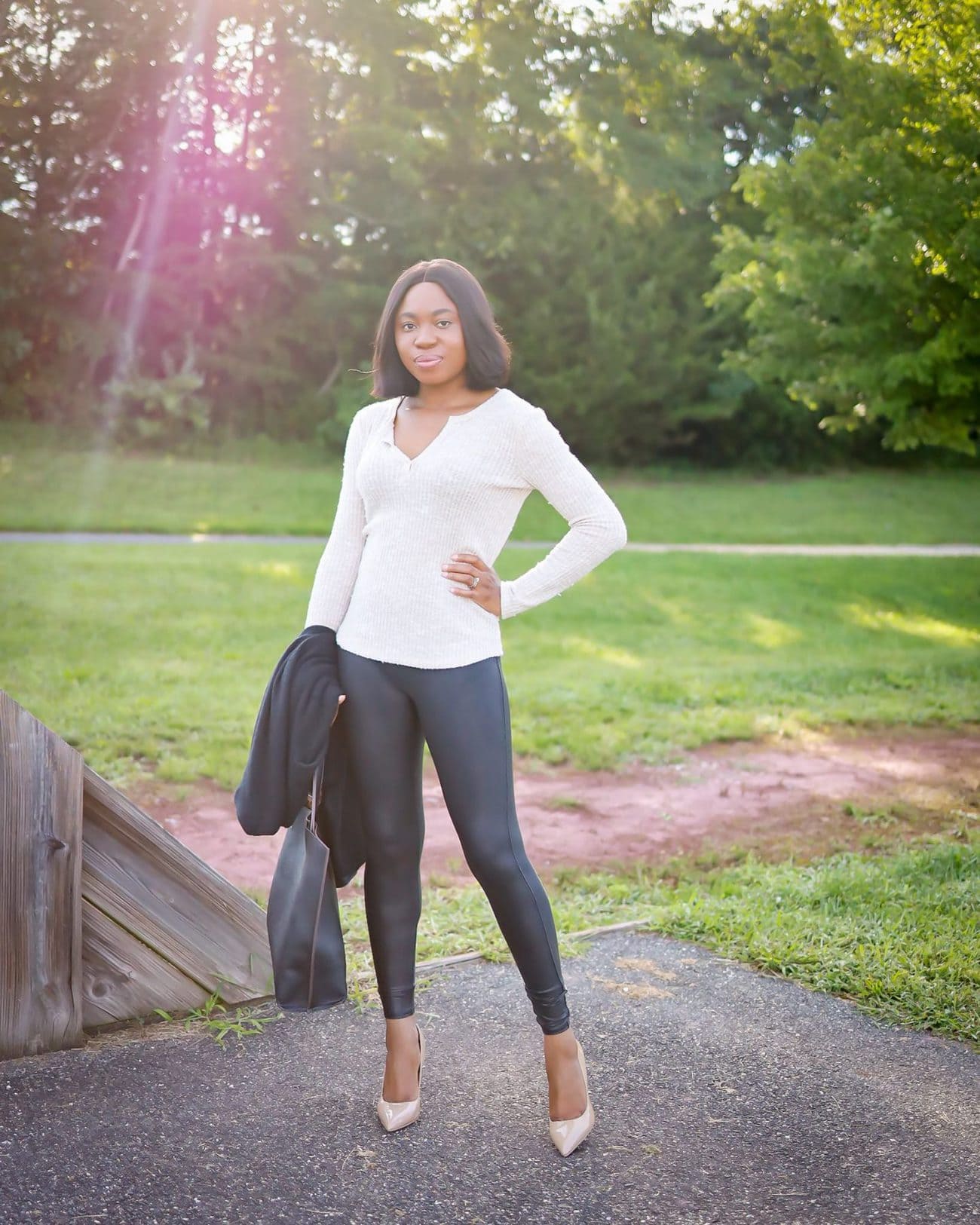 For layering, the Barefoot Dreams CozyChic cardigan was my first pick. If you can't come to terms with how expensive this super soft cardigan is, trust me, you'd be glad you bought this cardigan during the Anniversary Sale.


I needed to see and feel what the hype was so I caved and bought the cardigan last year. I never looked back! The cardigan is that good. For the full scoop on this Barefoot Dreams cardigan, read this post.
---
4. Leopard Print Dress Outfit
You did not think I would round up this post sharing my best Nordstrom Anniversary Sale picks without an animal print outfit, did you? 🙂 This Topshop midi dress is another favorite.


I love the style of this dress. And not surprising this dress and the leather shirtdress were a hit among LPV readers and YouTube subscribers. With this look, the dress does ALL the talking. All you need is a classic open-toe sandal. A purse is great to have but totally optional.


I added a simple necklace and mesh watch to complete my look. For team small boobs girls, you might need to pin up or hem the chest area a little bit. I felt it was a little too open for me. I did the same thing to reduce the high slit.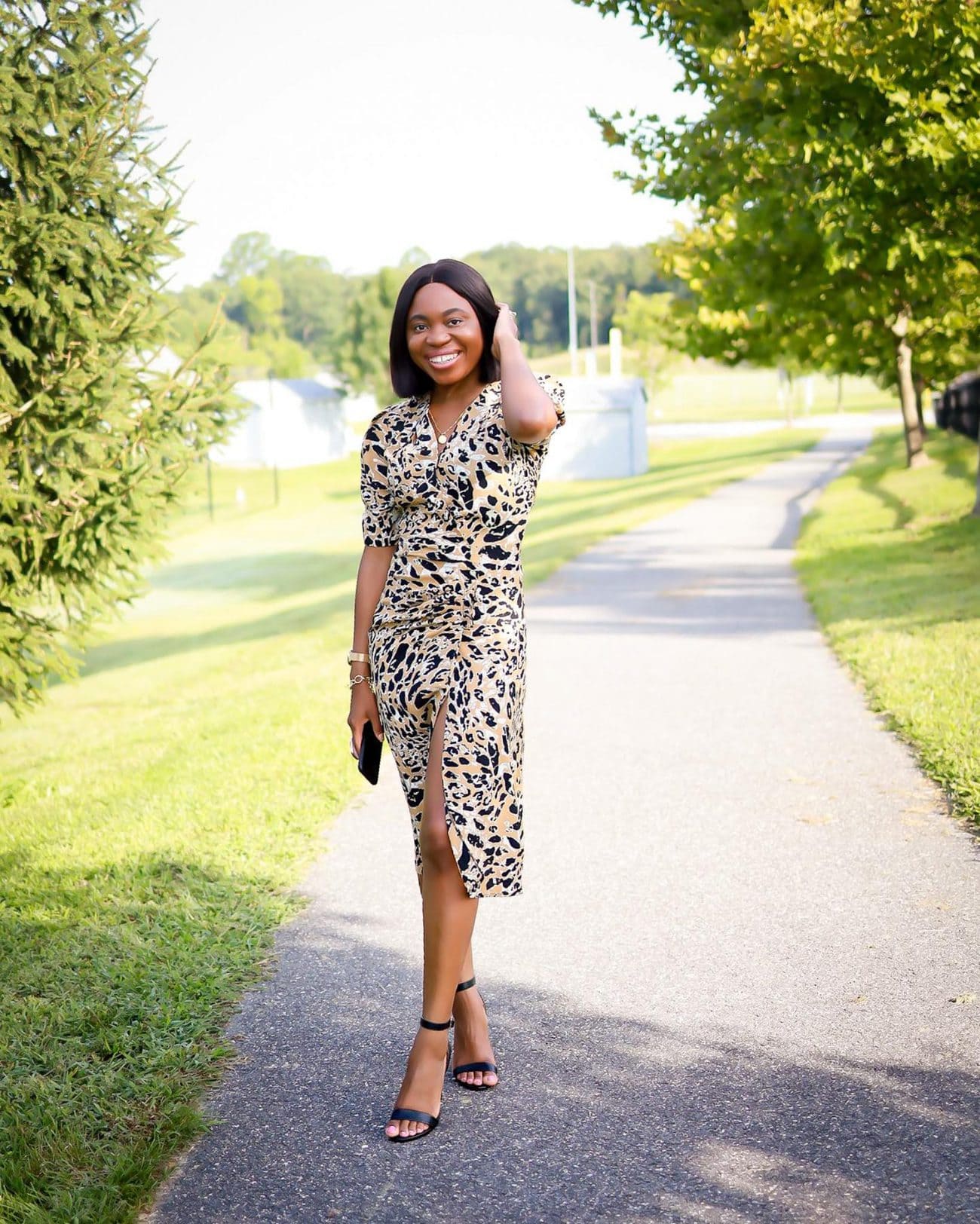 I love the unique ruching on the mid-region. The detailing draws some attention away from the stomach to the sleeves and even the legs. I seriously felt and looked more slender because of the style of this dress.


In terms of sizing, the animal print dress runs true to size. I'm wearing a size small. There is also a side zipper that makes putting on and taking off the dress easier.


---
I hope this post sharing a lookbook of the best Nordstrom Anniversary blogger picks I have gotten so far. I've rounded up all the items I ordered/own from this year's Nordstrom Anniversary Sale below. As always, thank you so much for stopping by.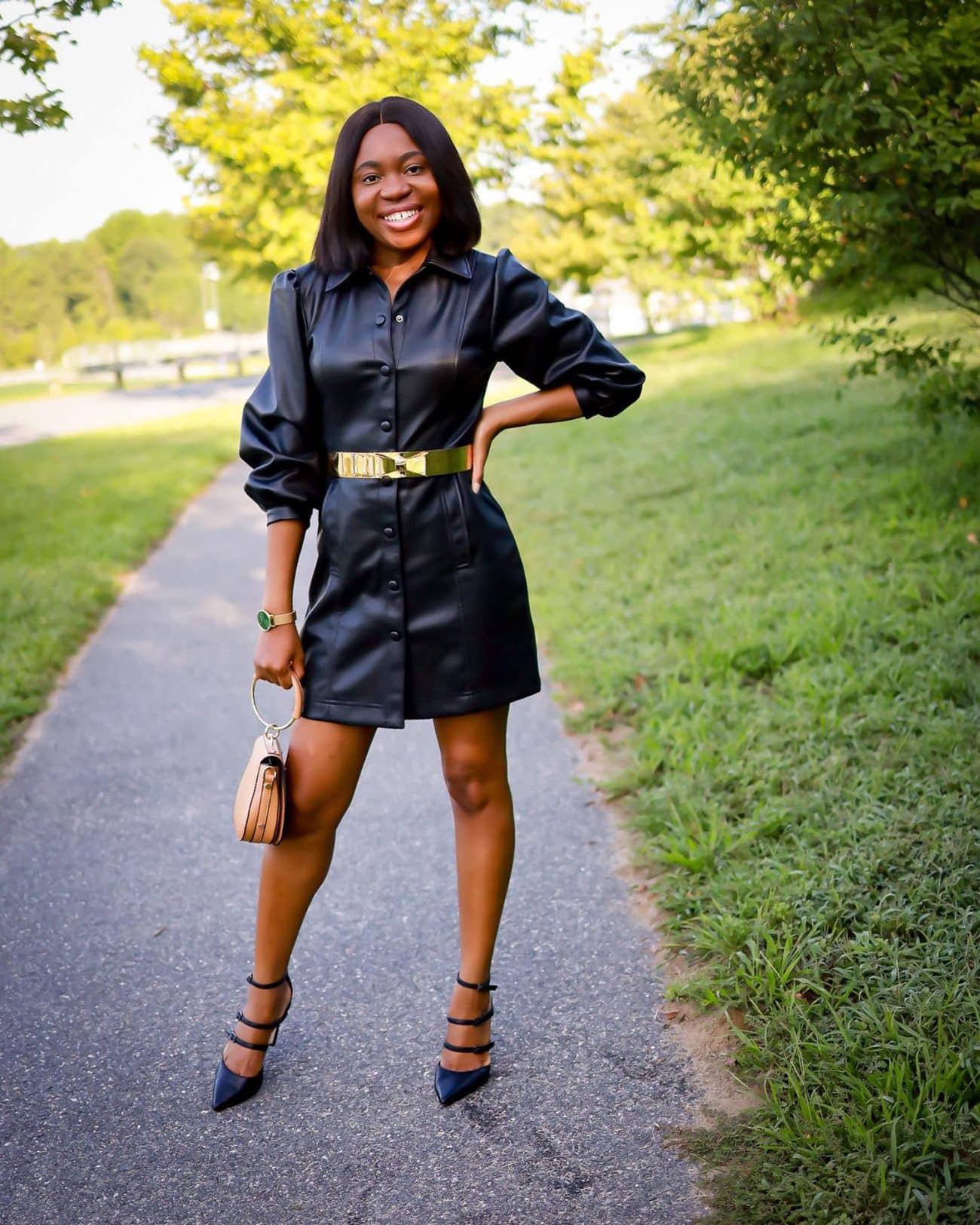 Loved reading this post about the best loungewear you can wear outside? You'll love these popular posts:

Thank you Nordstrom for sponsoring this post.


Reading this post on mobile? Be sure to download the LIKEtoKNOW.it and follow me "lapassionvoutee" for exclusive, in-the-moment shoppable posts. Also, available on Android 🙂


It's also the fastest way I can keep you updated on the latest sales and newest styles since blog posts take a lot of time to create. Here's what you've recently missed!