Ulta 21 Days of Beauty Fall 2020 Sale: Everything You Should Know about Ulta Beauty Steals
This post may contain affiliate links which means I will get a commission if you make a purchase at no additional cost to you. As an Amazon Associate I earn from qualifying purchases. Please read my disclosure for details.
The Nordstrom Anniversary Sale beauty steals have come and gone. And now its time for the long-awaited Ulta 21 Days of Beauty Fall 2020 event. This Ulta's semi-annual sale is now live with significant markdowns on many brands including Urban Decay, Tarte, Tula, Smashbox, IT Cosmetics, Mario Badescu, Peter Thomas Roth, and more.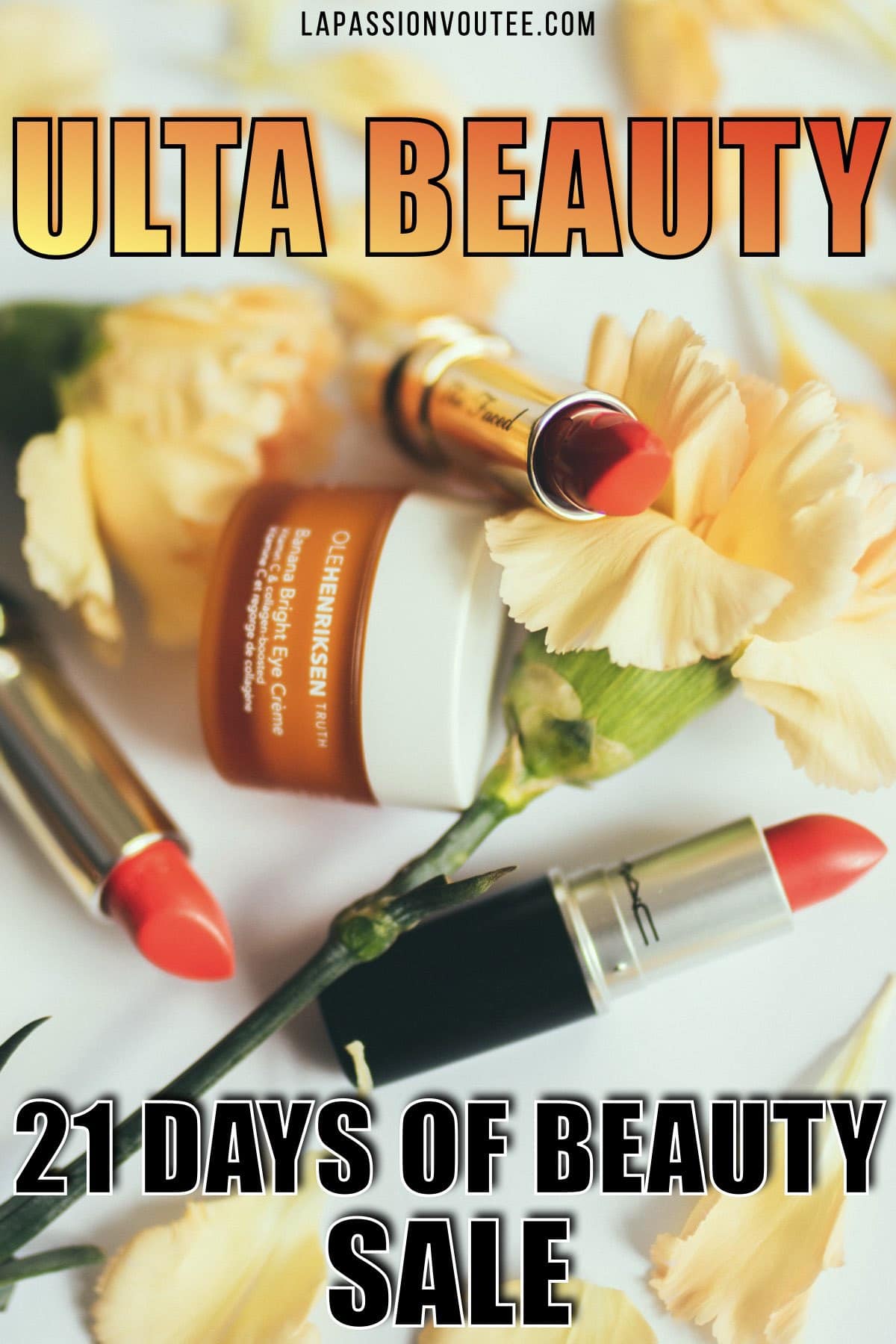 The 2020 Ulta 21 Days of Beauty Sale starts
NOW!
TABLE OF CONTENT
Introduction
Starting today, August 30th, 2020 through September 19th, 2020 you can scoop up a large selection of skincare and beauty essentials to last you through the year. What's even more cool is that everything is 50% off.


And with Ulta's GLAMlab app, customers like you and I can try on beauty products to help us decide what color or shade of beauty product to get. This totally takes the guess out of buying two shades of foundation, concealer, lipstick, and even eyeliner. Gotta love Ulta!
Ultamate Rewards members with Diamond and Platinum status get free shipping on any Beauty Steal now through September 19th. Not a member yet? Find out how to become an Ultamate Rewards member for free here.


What's the catch with this 21 Days of Beauty Sale? With incredible savings happening these 21 days, the only catch is that each day's sale is time-sensitive and lasts for only 24 hours. This semi-annual event features a minimum of two daily Beauty Steals and weekly Hot Buys.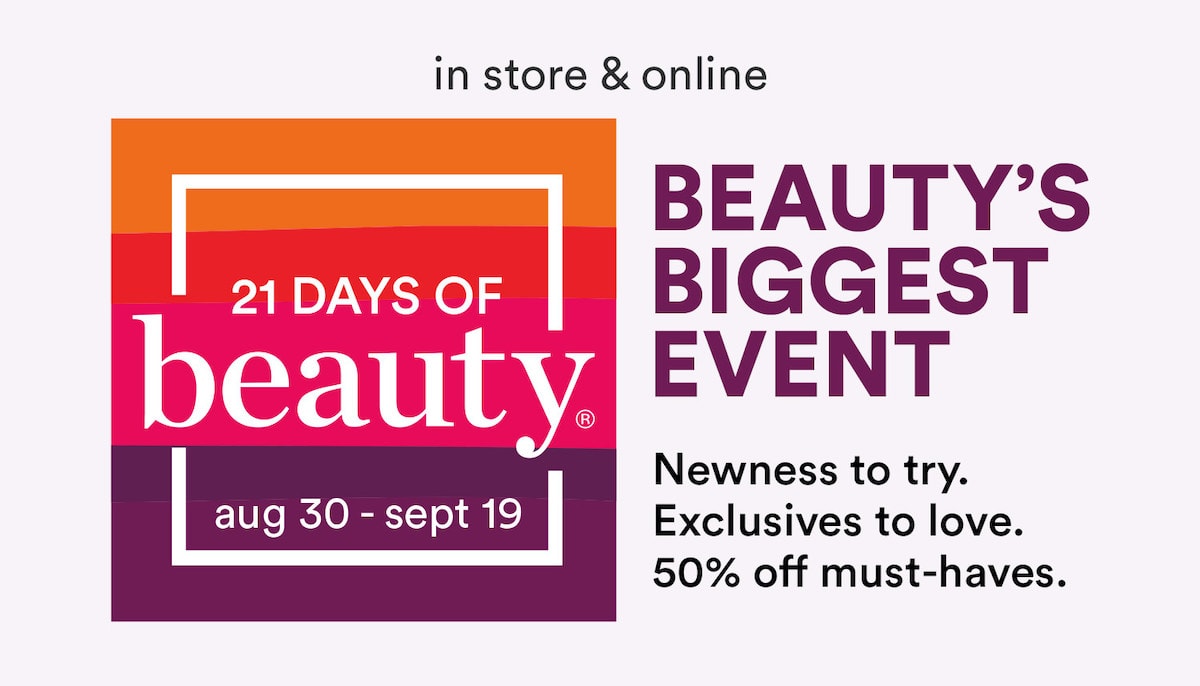 Ulta 21 Days of Beauty September 2020 Calendar
ULTA BEAUTY STEALS: WEEK 1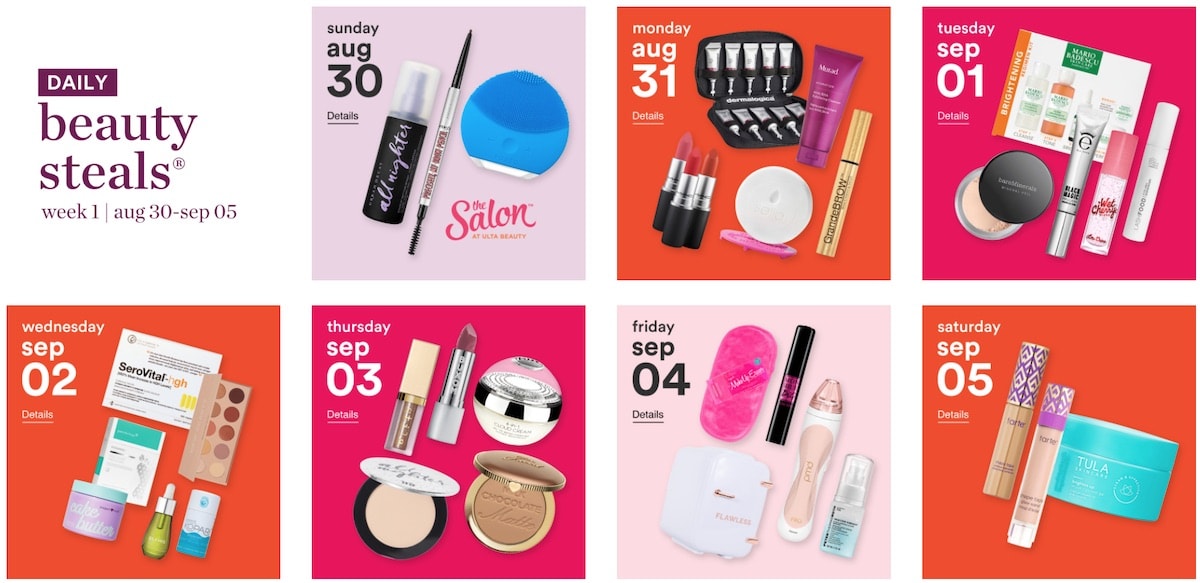 Sunday, August 30
Monday, August 31
Tuesday, September 1
Wednesday, September 2
Thursday, September 3
Friday, September 4
Saturday, September 5
Top Picks from Week 1

---
ULTA BEAUTY STEALS: WEEK 2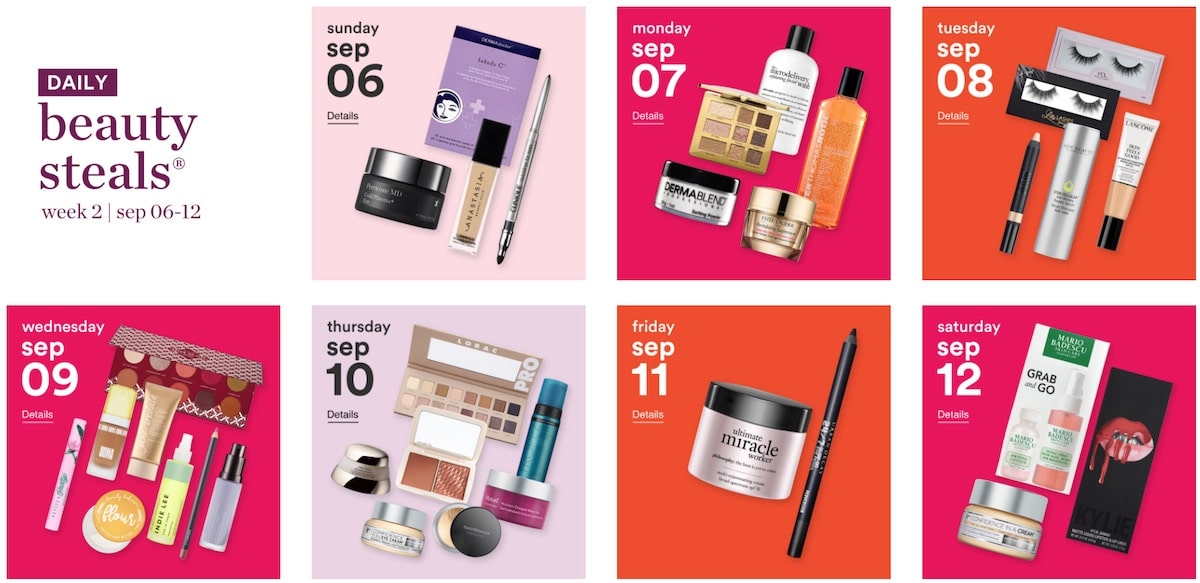 Sunday, September 6
Monday, September 7
Tuesday, September 8
Wednesday, September 9
Thursday, September 10
Friday, September 11
Saturday, September 12
Top Picks from Week 2

---
If you found this Ulta 21 Days of Beauty Sale 2020 post insightful, you might like these related posts:
---
ULTA BEAUTY STEALS: WEEK 3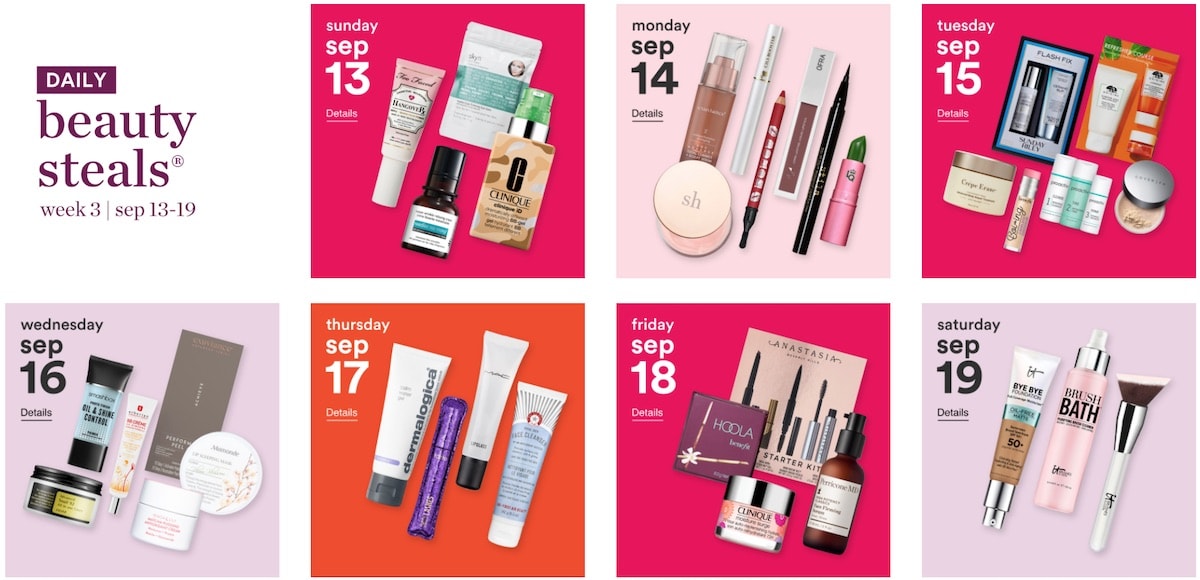 Sunday, September 13
Monday, September 14
Tuesday, September 15
Wednesday, September 16
Thursday, September 17
Friday, September 18
Saturday, September 19
Top Picks from Week 3

---
I hope you found this comprehensive guide showcasing everything you need to know about the Ulta 21 Days of Beauty Fall 2020 event helpful. Don't forget to set your alarm and mark your calendar! 😉


Tips for Shopping: Ulta 21 Days of Beauty Fall 2020 Sales
Set Calendar Reminders – Plan ahead of time to get the skincare and beauty products you want. Since the daily sales last 24 hours or while supplies last, you need a game plan.
Check Your status – As easy as it might seem, checking your Ultamate Rewards status will help you know what exclusive products you qualify for. Platinum and Diamond members get free shipping on ALL Beaty Steals and some exclusives.
Order Online with Curbside Pickup – With the current health climate you can get your beauty finds with little or no interaction with others. Simple order online, drive up to your nearest Ulta store.
Use GLAMlab App – New in the Ulta Beauty app, you can virtually try on every Beauty Steal in makeup. Try GLAMlab here.
Frequently Asked Questions About Ulta 21 Days of Beauty Sale
How often does Ulta do 21 days of beauty?
Twice a year. This year, the Ulta's 21 Days of Beauty sale runs August 30 – September 19, 2020, and August 30 – September 19. See current sales here.
What time does Ulta 21 Days of Beauty start?
The 24-hour daily beauty steals start at 12:00 am CT and end at 11:59 pm CT.
What can I buy at Ulta 21 days of beauty?
How long does the Ulta 21 Days of Beauty Spring Sale last?
As the name implies, the sale runs for 21 days (3 weeks). But you only have 24 hours to shop each day's deal (usually 2-5 products per day).
How can you shop the Ulta 21 days of beauty September 2020 sale?
You can shop this epic sale in-store or online. As a side note, be on the lookout for Online Only offers through this beauty sale.
Liked this Ulta 21 Days of Beauty fall 2020 post? Check out these popular posts: