How To Automate Your Pinterest Traffic and Loop Your Pins with Tailwind Smartloop
This post may contain affiliate links which means I will get a commission if you make a purchase at no additional cost to you. As an Amazon Associate I earn from qualifying purchases. Please read my disclosure for details.
Ever heard of Tailwind SmartLoop? If you are a blogger or content creator, then there is no question that Pinterest is one of the most beneficial social media platforms for your business.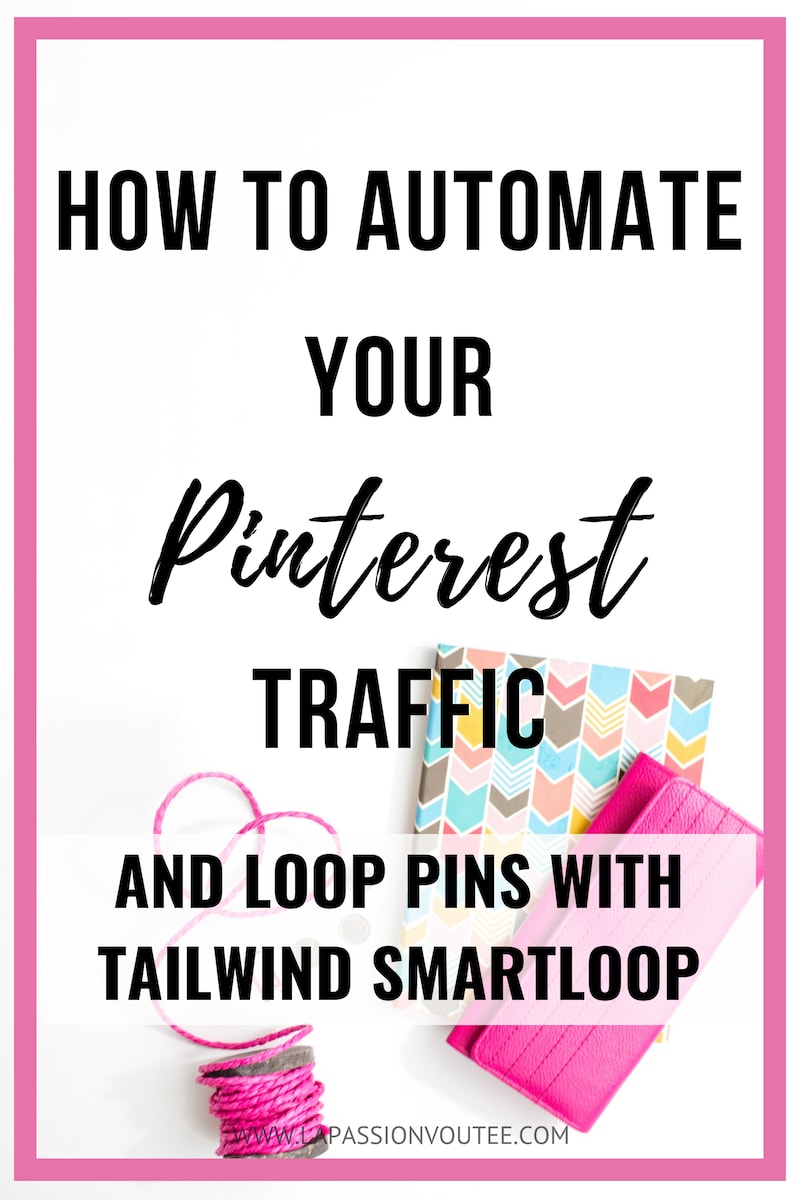 Introduction
But with all the different strategies and tactics available to make your blog and content stand out on Pinterest, it can be difficult to know which ones will work best for you.
Enter Tailwind SmartLoop – an app that takes care of almost everything! Tailwind helps bloggers generate exponential traffic by:
Providing a fast way to save pins
Giving visibility into what's working (or not) across their boards
Saving time by managing boards from one place
Here's EXACTLY how to use the new Tailwind SmartLoop to automate your Pinterest strategy so your best contents are pinned automatically in a loop.
When I decided to up my Pinterest game, I quickly realized how time-consuming it was to pin manually. To be honest, manually pinning each pin to multiple boards at timed intervals was draining the life out of me.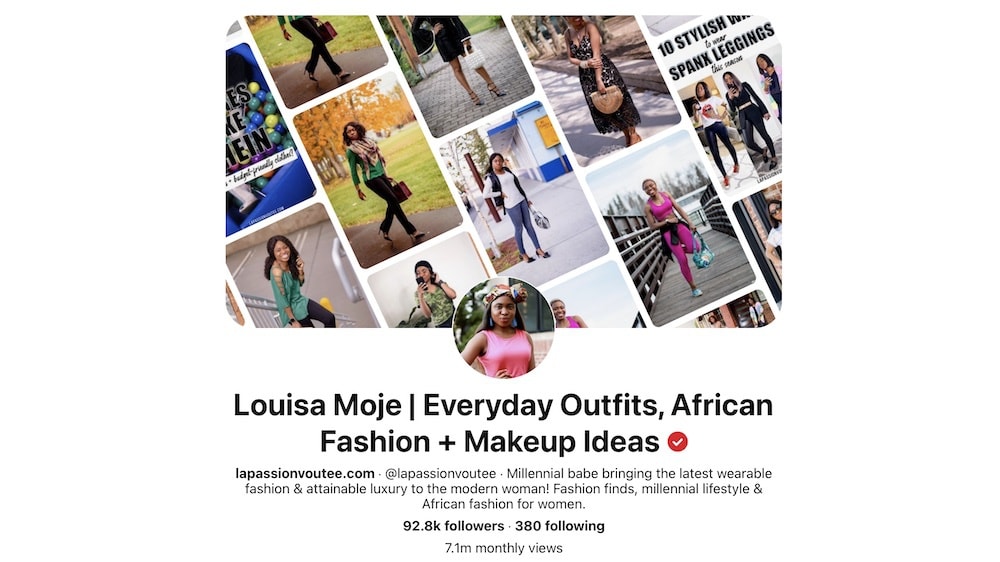 After a little bit of research, I discovered that Tailwind was an approved Pinterest Partner. As you would correctly assume, I immediately started the free trial program.
Then I heard about a scheduling tool called "Looping." Looping strategy is another method that content creators use to continuously push content you already have to Pinterest without the need to create fresh content/pins.
At the time, the now-defunct BoardBooster was the most-raved about scheduler on the block. But the scheduler was not an approved Pinterest Partner. In case you missed it, in June (2018) Pinterest sent out this message to BoardBooster users.
Thankfully, I was already one of the first Beta testers of Tailwind's new evergreen content product called Tailwind SmartLoop. The good news is that you can try this smarter scheduling tool.
And with an active Tailwind Plus plan, you get FREE 250 Active SmartLoop Posts every month.
Before we delve in more, I want to clarify the difference between Tailwind Pinterest Scheduler, Tailwind Communities (formerly Tribes), and the new Tailwind SmartLoop.
---
Difference between Tailwind Pinterest Scheduler, Tailwind Communities, and Tailwind SmartLoop
Since it's inception, Tailwindapp has released a suite of other independent and complementary products. They are:
Tailwind Pinterest Scheduler
Tailwind Communities (formerly Tribes)
Tailwind SmartLoop
Tailwind Pinterest Scheduler
Tailwind Pinterest Scheduler is a marketing toolkit that allows you to schedule posts, discover new content, monitor and respond to conversations, amplify your blog reach, and measure your results.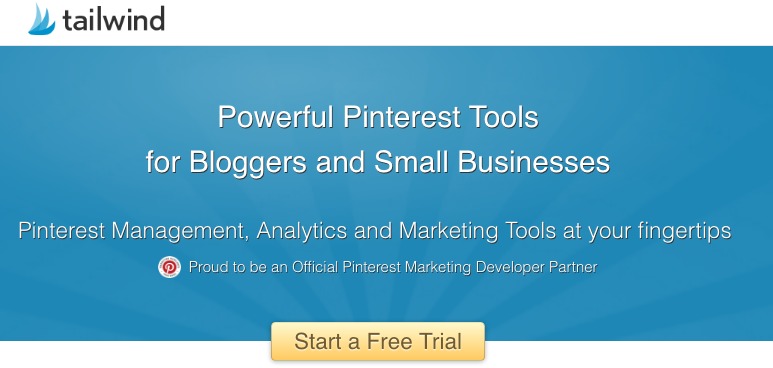 Think of this Tailwind tool as your content curation dashboard. All other Tailwind tools or features are a complement or add-on to your existing Tailwind subscription.
When I initially started using Tailwind back in 2016, I was obsessed with the Pinterest Scheduler after my first free 100 pins. I did not see immediate results at first, but I was happy to pay the $10/month to schedule my new blog post pin and be done within minutes.
Rather than setting a reminder on my phone to manually share each pin to 20+ personal and group boards at intervals. Sharing the same pin 20 times at once comes off as spammy and actually resulted in me getting denied entry to an active group board.
---
Finding this post about Tailwind SmartLoop helpful? You'll love these related posts:
---
What is Tailwind Communities (formerly Tailwind Tribes)?
Tailwind Communities builds on the existing Tailwind Pinterest scheduler. Communities allow you to join a group of like-minded bloggers and add their content to your queue to be scheduled/posted to your relevant board(s).
In my Female Fashion Bloggers Community, I discover new and existing style bloggers whose high-quality content aligns with what I already create.
Sharing each other's pins help increase our impressions (traffic potential) and ultimately drives traffic to our blogs.
Tailwind Communities is definitely an important part of my blog's marketing strategy. Getting your posts seen and shared by the right people over a period of time is a no-brainer.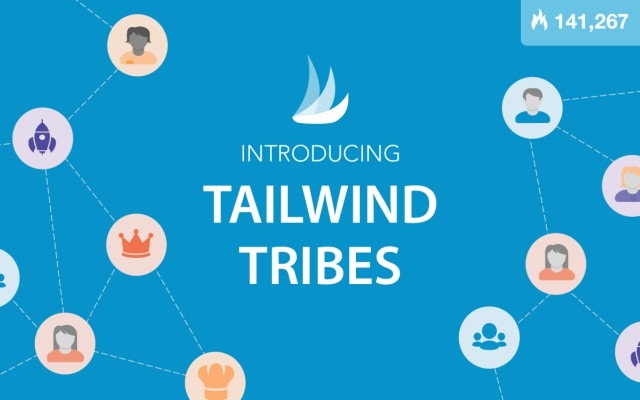 Why? Pinterest values creators that share their content as well as other people's content. Joining or creating a Community makes it easy to find relevant content to pin and helps get your pins seen by a larger audience outside your reach.
After months of using Tailwind Pinterest Scheduler, I learned about Tailwind Communities from a Facebook Group. I requested and was granted access to Tailwind Tribes. P.S: The team at Tailwind is super helpful and very responsive!
I have an active Tailwind Tribes for female fashion and beauty bloggers (no brands or businesses allowed). You can request access here.
I manually review each request and approve creators who I believe would be a great fit.
You can learn more about Tailwind Communities (formerly Tailwind Tribes): Why I love it and a step-by-step direction on how to share your pins and other content creators' pins in this post:
What is Tailwind SmartLoop?
SmartLoop is a complementary feature to your existing Tailwind Pinterest Scheduler plan. SmartLoop is an evergreen content product that makes it easy to re-share your best Pins from Pinterest at the best times for maximum engagement while giving you the freedom to focus on other tasks necessary to grow your blog or business.
You might be wondering, "How does using it benefit me?" Timely content is everything. Nobody wants to see Christmas outfit ideas in May. Tailwind Smart Loop takes the guess what out of your social media strategy.
As an aside, be sure to switch up the pins in your SmartLoop from time to time. Reviewing your SmartLoop analytics beforehand makes this process a breeze.
Is Tailwind SmartLoop right for you?
It's your call. With an active Tailwind plan, you get FREE 250 Active SmartLoop Posts every month. So you might as well give it a shot.
As one of the first Beta users of SmartLoop (since 05/2017), I can say that Tailwind SmartLoop helps drive more traffic to my best evergreen (like how-to guides) and seasonal content (like holiday content).
You stay consistently active with minimal effort by looping your pins while maintaining healthy re-sharing practices approved by Pinterest.
What Does Looping Pins Mean?
Looping your pins with Tailwind SmartLoop simply means your best pins selected by you are automatically scheduled to a set of Pinterest boards (personal or group boards) over time.
The pins are shared to each board at an interval you've selected either as an evergreen loop (i.e., all-year-round) or as seasonal loops (like Thanksgiving, Christmas, Valentine… You name it!).
Once Tailwind SmartLoop has gone through one loop (aka cycle) or posting to your selected boards, the recycle repeats again. Neat huh?!
The only thing better than have a blogging strategy is having a SMART blogging strategy.
A major advantage of using Tailwind is that Tailwind always shares a fresh Pin of your content to Pinterest.
Watch the 2-minute video tutorial and interview by Tailwind with Pinterest's Head of Product Marketing, Sarah Hoople Shere below. She debunks the myth that repinning the original Pin has more value than a fresh Pin.
Pin looping is a great way to get your content front and center on Pinterest to a new audience and old audience who might have missed or forgotten about it.
In turn, recycling your content leads to increased traffic to your blog in a way that is approved by Pinterest.
What are the Main Features of Tailwind SmartLoop?
Tailwind SmartLoop allows you to:
Never miss out on maximizing your return on holiday traffic and seasonal content via Seasonal Loops. When life happens, you know that the systems you set in place will work for you.
Customize your limits to protect you from breaking Group Board rules. <- This is one of my personal favorites.
See robust analytics details on how each SmartLoop is performing so you can make educated modifications as needed.
See everything you pin from both the Tailwind Pinterest Scheduler and Tailwind SmartLoop in an easy-to-understand calendar grid format.
Discover best performing content from each board so you can easily add them to SmartLoop right from inside the Tailwind dashboard.
SmartLoop is not set-it-and-forget-it or fully "automated" software. Tailwind is an approved Pinterest Partner, and they work with Pinterest to develop healthy ways to re-share your content.
When is Tailwind Launching the SmartLoop?
Any time from now! The Tailwind SmartLoop team hopes to make this new evergreen content toolkit available to everyone that has shown interest by the end of October.
Right now! Tailwind SmartLoop is now available to everyone as a PowerUp.
As a matter of fact, they are already sending out invites every day starting with Tailwind Plus members that have requested access (join Tailwind here & request access to beta test for free).
Detailed Guide on How to Set Up Tailwind SmartLoop
Now that you understand the basics of SmartLoop, let's walk through how to get started setting up your pins on SmartLoop.
This 11-minute video will help you master the entire process. Or continue reading for text and image setup directions.
This Tailwind SmartLoop tutorial will cover:
How to set up your first Loop & add your content from Pinterest
How to manage your Loops for maximum engagement and traffic
How to Set Up Your First Loop
1. Go to your Tailwind account here. If you don't have one yet, you can get started with a free trial. New members will be required to approve Tailwind to connect to your Pinterest account.
2. Next, navigate to your SmartLoop dashboard and click on New Loop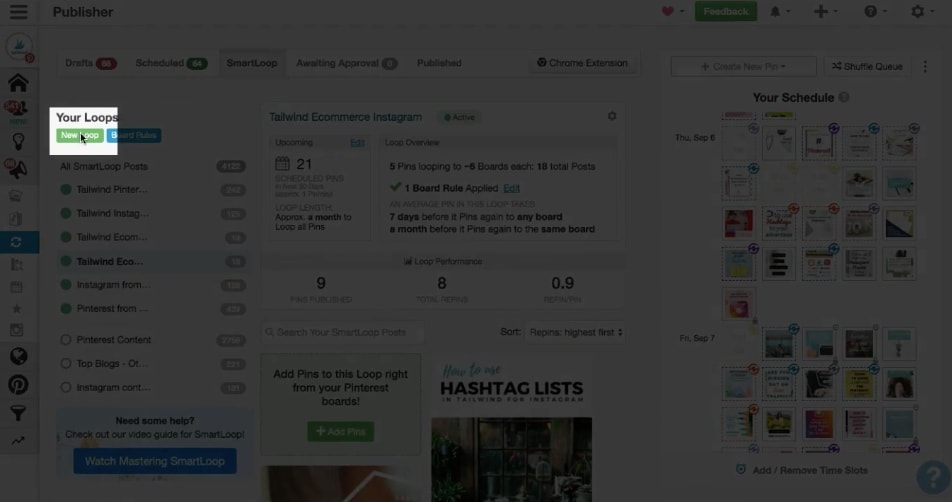 3. Select the type of Loop you want to create. Choose Evergreen Loop to continuously reschedule Pins that are great all year round (e.g., blog posts, home organizational tips, healthy recipes, and travel guide).
Or Seasonal Loop to reschedule Pins between a set start and end dates each year (e.g., winter fashion, back to school, holiday recipes, gift guides, and Halloween ideas).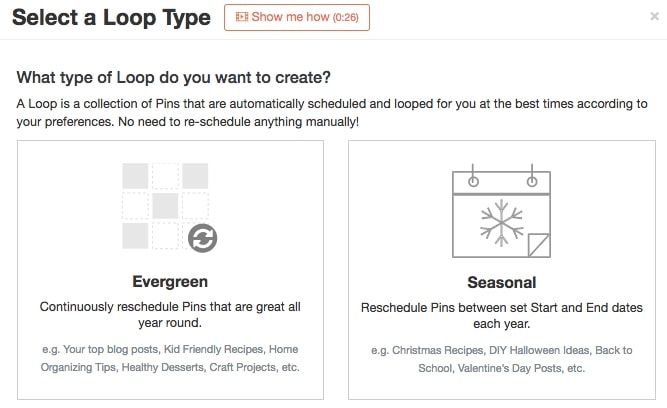 4. Now, Name Your Loop and Select which boards you want the Pins in the Loop to post to. Here, you still have to option to select when to Loop your Pins (All year round vs. seasonal content). Here, you can even add group boards with strict rules!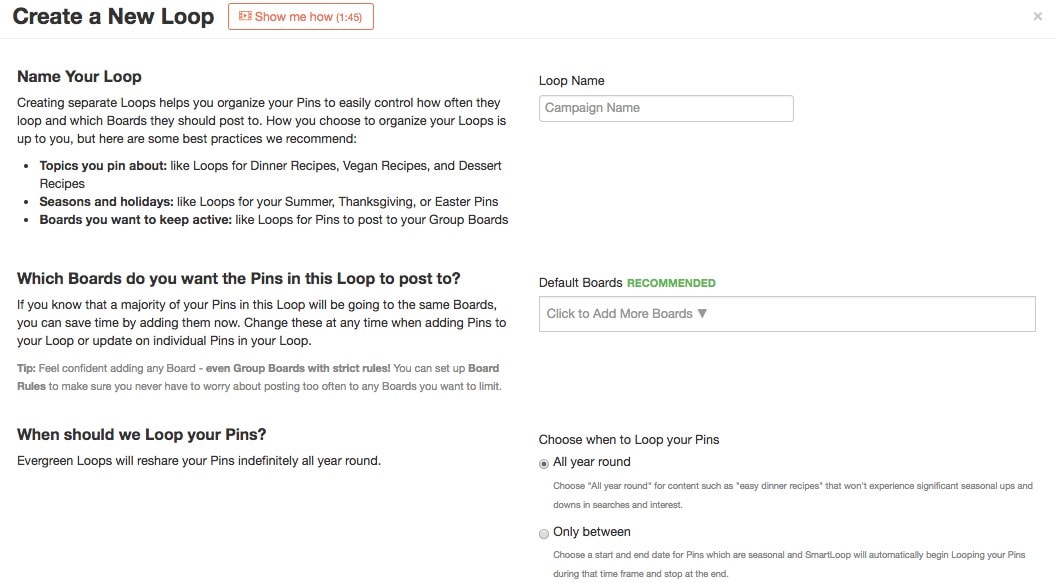 Tailwind SmartLoop Tip #1
Name your Loop in a way that makes it easy to identify which kind of content you will be adding to the Loop (example: winter fashion, summer fashion, healthy recipes, dessert recipes, top-performing blog posts, etc.).
You can save time during the board selection process by selecting a Board List if you have one. Go to Publisher > Board Lists to create your lists.
5. It's time to add Pins to your new Loop. Your most recently (A) pinned content will appear at the top. But you can toggle the top right toolbar to show your Most Popular (B). You can also search for specific pins (C) or filter by your Pinterest Boards (D), or only show Pins that are from your own website (E).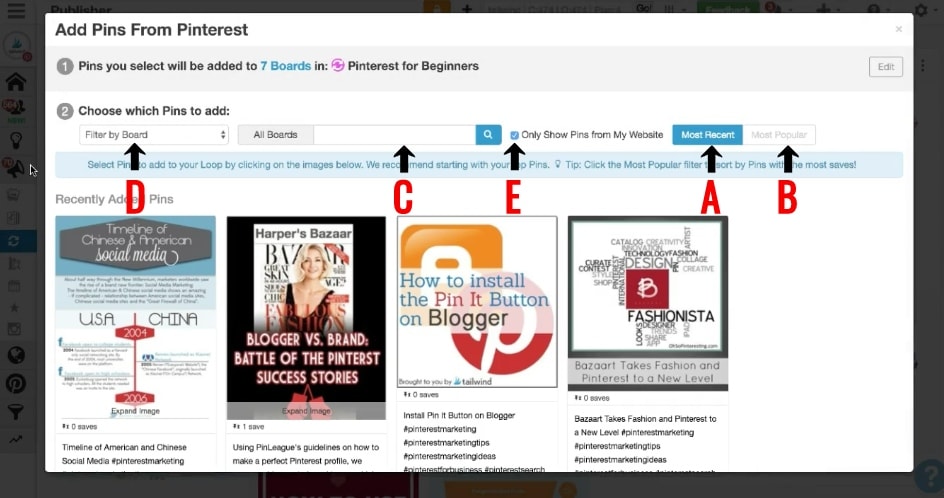 6. Once you're done, click on "Add Pins to Loop."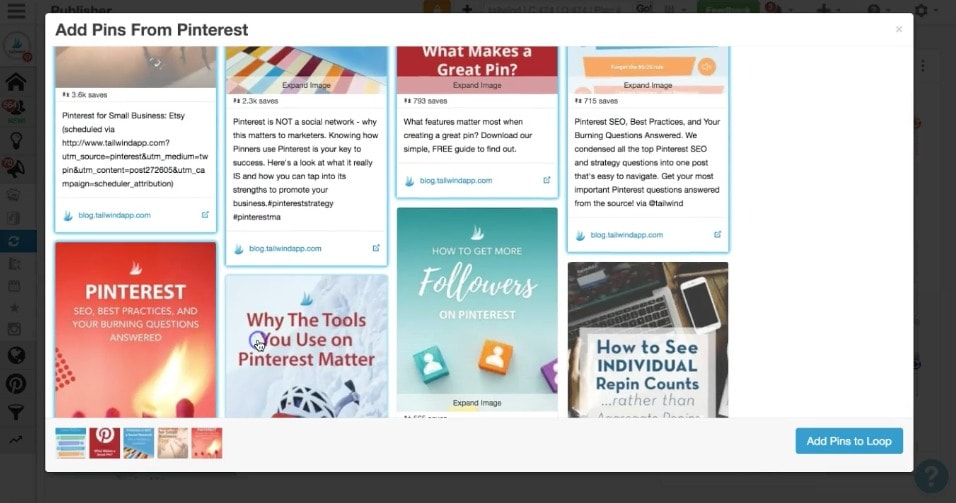 7. Customize your Loop Schedule. Select "Your Core Content" for content you expect to take up a larger part of your schedule (ex. Pins 1x/day). Or select "Niche Topic" for content you expect to take up a smaller part of your schedule (ex. Pins 3x/week).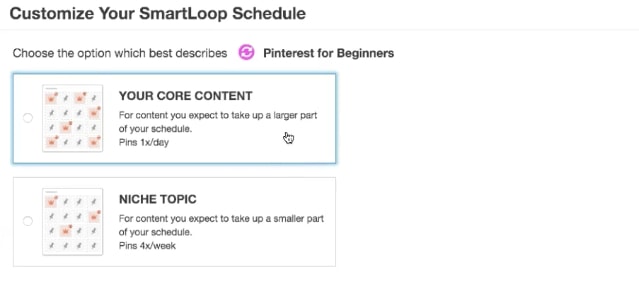 Tailwind will automatically create a smart schedule with the best time to pin each day/week.
Tailwind SmartLoop Tip #2
To completely customize your schedule, click on "Fine Tune Your Schedule with Advanced Settings." The calendar will show you a new visual with the new time slots.
8. Set up "Board Rules." Here, select the number of days you would like Tailwind SmartLoop to wait before publishing any other SmartLoop Pins to that board again. This rule applies to all the Loops you create, so you do not break board rules or spam your follows. Argh! I love SmartLoop.
Hit "Save" to complete setting up your new loop!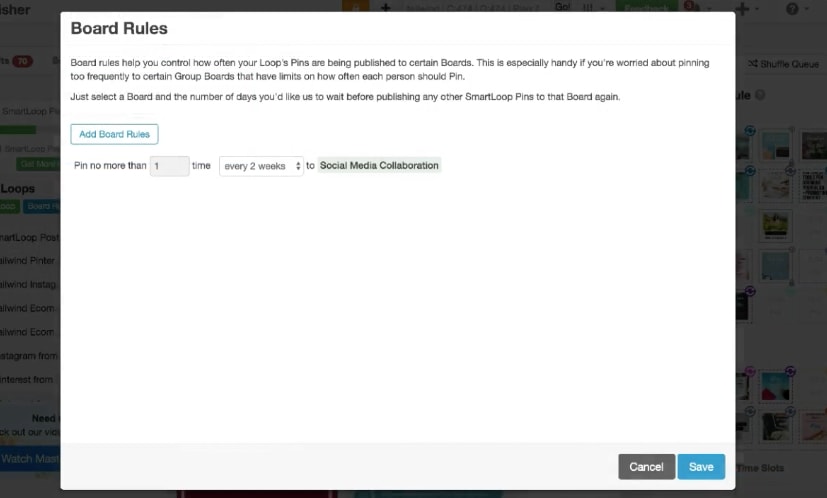 Note: Regular Pins from your Tailwind Pinterest Scheduler will still be published to that board if scheduled.
Tailwind SmartLoop Tip #3
This is especially helpful for group boards with strict board rules/posting restrictions. If a group board has a limit of three Pins/day, I would set the maximum posting frequency from SmartLoop to one pin per day.
How to Manage Your Tailwind SmartLoop
All your Loops are located on the left side of your SmartLoop dashboard.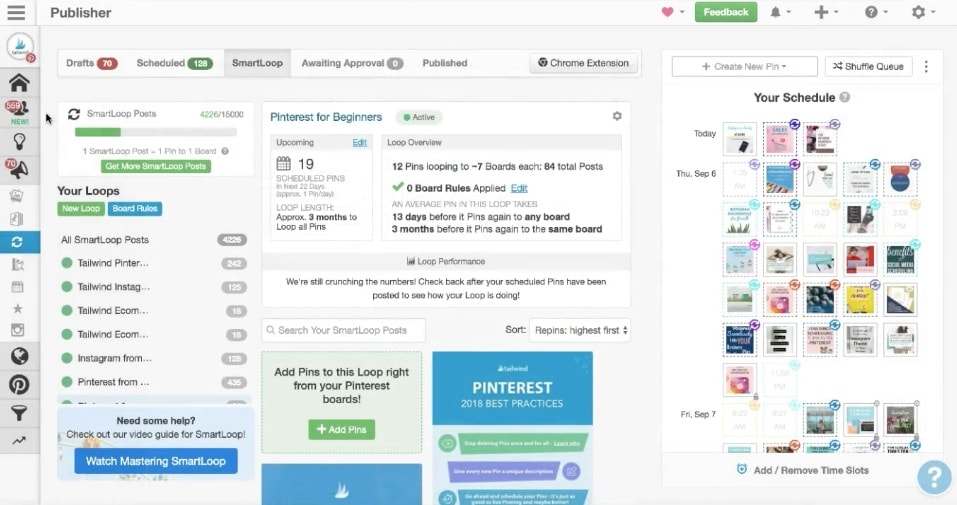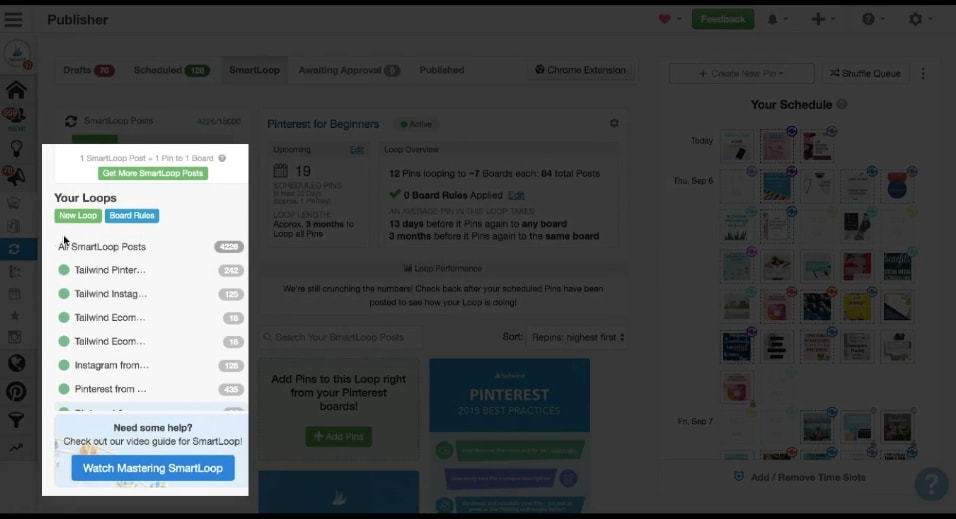 Hover over any Loop to see your Loop settings. You can Pause, Edit, or Delete your Loop at any time. The "Clock" symbol indicates that a Loop is seasonal. While the "Solid green" symbol indicates that a Loop is evergreen.

The purple and blue colored "Loop" symbols to the left of the Loop Name show up on the pins in "Your Schedule" to the left of the page to make it easy for you to identify which pin corresponds to each Loop. This symbol does not appear on images scheduled from your regular Tailwind Pinterest Scheduler.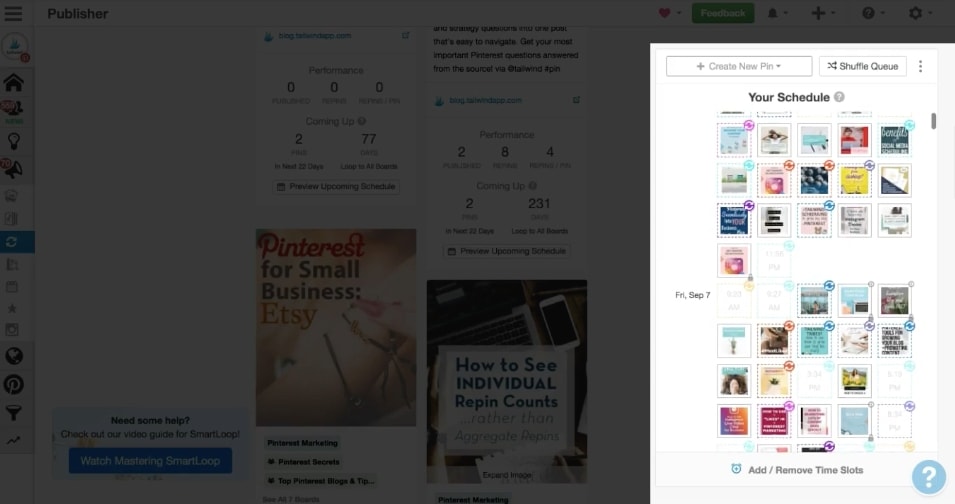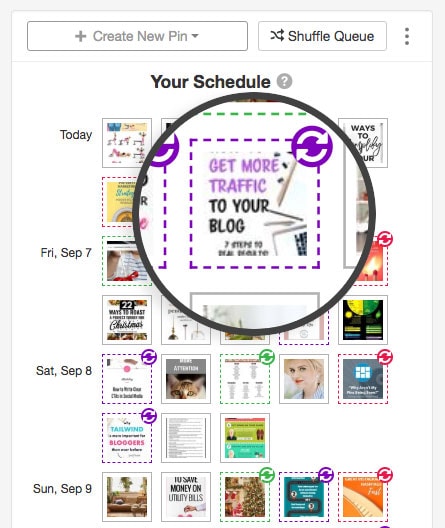 Clicking on a Loop will show you the Loop content, Loop Summary, and Loop Performance at the top so you can see how well that Loop is performing.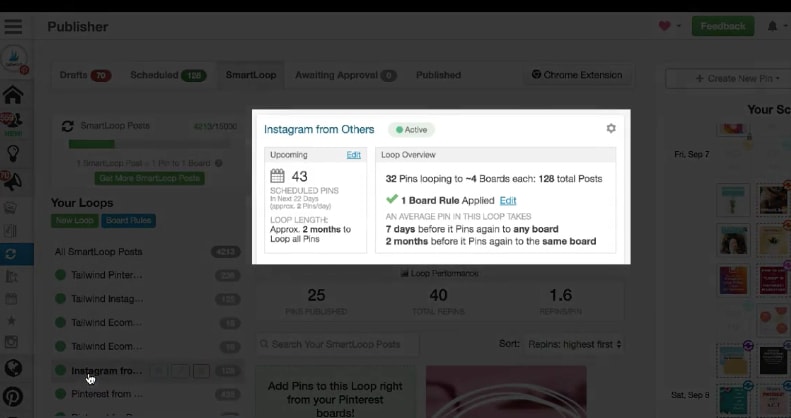 Scroll down to a particular pin to change the pin description, change boards, or completely delete a pin from the Loop. In this section, you can also sort by Repins, Published Pins, Repins per Pin, and Date Added to make it easier to manage your pins.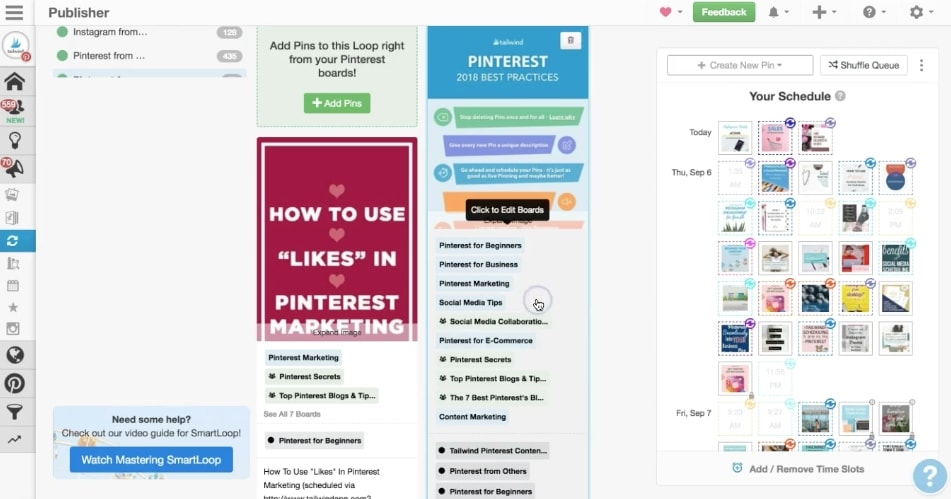 You can also see Pin Performance data to help you know how each pin is performing as well as Preview Upcoming Schedule for each Looping Pin.
Your Schedule gives you a more visual reference of your upcoming pins on the right-hand side. Each Loop is a different color.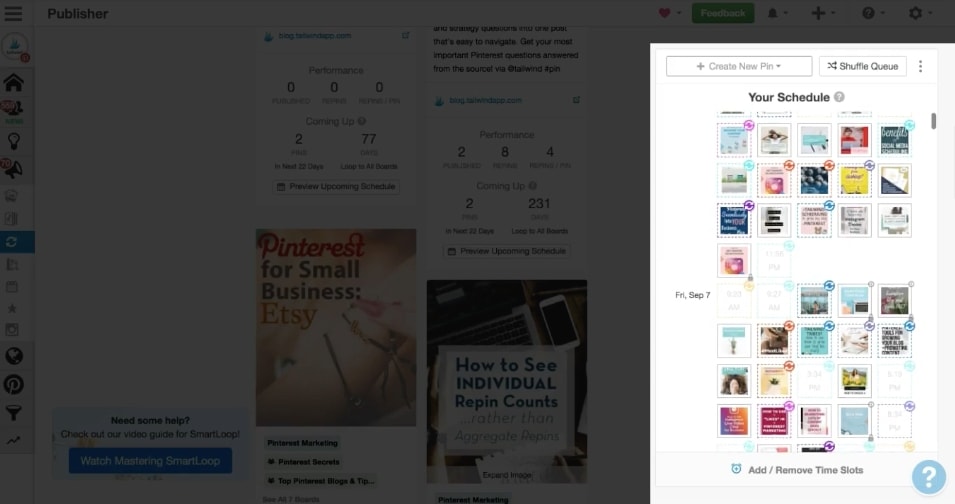 SmartLoop Posts located on the top left of your dashboard is the number of posts Tailwind is managing for you across all your Loops. Each board a Pin is set to loop to counts as one post.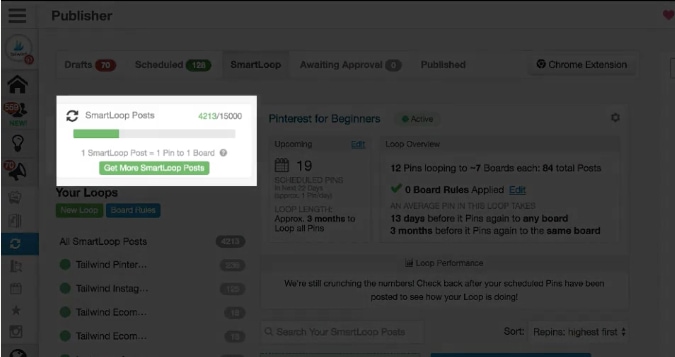 Example: A pin looping to 5 boards count as 5 SmartLoop Posts regardless of how often the Pin is posted each month.
Takeaway points:
Create at least two Loops for each Niche category you curate content about

Create Seasonal Loops for key seasons and relevant holiday posts

Create unique Loops for your top-performing content

Remove underperforming Pins and update descriptions
Tailwind Pinterest Pricing Structure
Tailwind Plus plan member will always have a free plan available to use SmartLoop (see below) on their account. You can also add additional SmartLoop posts through paid PowerUps.
A new Tailwind member will be able to try out SmartLoop as part of their free trial.
How Much is Tailwind SmartLoop?
For beta testing Tailwind SmartLoop, you will receive a limited-time offer to get 50% off on paid SmartLoop PowerUps as a thank you for participating in the program.
| | | |
| --- | --- | --- |
| | SmartLoop PowerUP Pricing | |
| SmartLoop Plan | Paid Annually | # of SmartLoop Posts |
| Tailwind Pro | Free | 250 |
| SmartLoop Pro | $59.88/year | 500 |
| SmartLoop Max | $119.88/year | 1,000 |
| SmartLoop Unlimited | $359.88/year | Unlimited |
I am currently on the SmartLoop Unlimited plan. Additional information about Tailwind SmartLoop frequently asked questions can be found here.
Tailwind SmartLoop for Pinterest has made it easier for me to schedule and re-share my content giving me time to focus on other areas of my blog.
As an approved Pinterest Partner, Tailwind will keep your account safe and active, growing your engagement and driving traffic to your website.
Other Frequently Asked Questions
What is SmartLoop in Tailwind?
SmartLoop is a new way to make the most of your Pinterest strategy by automating tasks so that you can focus on what matters. With SmartLoop, you create a customized loop of your favorite pins to be pinned automatically on an evergreen or seasonal schedule.
Are Tailwind Tribes worth it?
Yes, Tailwind Tribes is worth it. From my experience using this feature over the past few years, not only is this tool a time-saver, it has allowed me discover amazing bloggers in my niche and drive massive traffic to my fashion blog. Try Tailwindapp for free here.
How do you use Tailwind SmartLoop?
To use SmartLoop, you need a Tailwind for Pinterest account. Once active, select your Loop settings, add your favorite pins, and select the boards (personal/group) that you want your pins to be pinned to. That's it!
What is Tailwind Tribe (now called Tailwind Community)?
Tailwind Communities (formerly Tailwind Tribe) is a network of bloggers that share the same interest or curate content around the same/similar niche. Through this community, bloggers find vetted content that they can share with their audience.
* I'd like to add that Tailwind is not a magic bullet. Content on Pinterest takes about 3 months to gain traction. It has taken me well over that time to get this blog to where it is today. Patience, resilience, and tweaking your content are important when Pinterest is involved (and should be a part of your Pinterest strategy).
Interested in more posts like this Tailwind SmartLoop article? You'll love these popular posts:
PIN FOR LATER!