ScentBox Reviews: ScentBox vs Scentbird 2023 Review
This post may contain affiliate links which means I will get a commission if you make a purchase at no additional cost to you. As an Amazon Associate I earn from qualifying purchases. Please read my disclosure for details.
This ScentBox reviews post was not sponsored by ScentBox nor was I compensated for writing this article. Keep reading for my thoughts and experience about this fragrance subscription (4+ years later).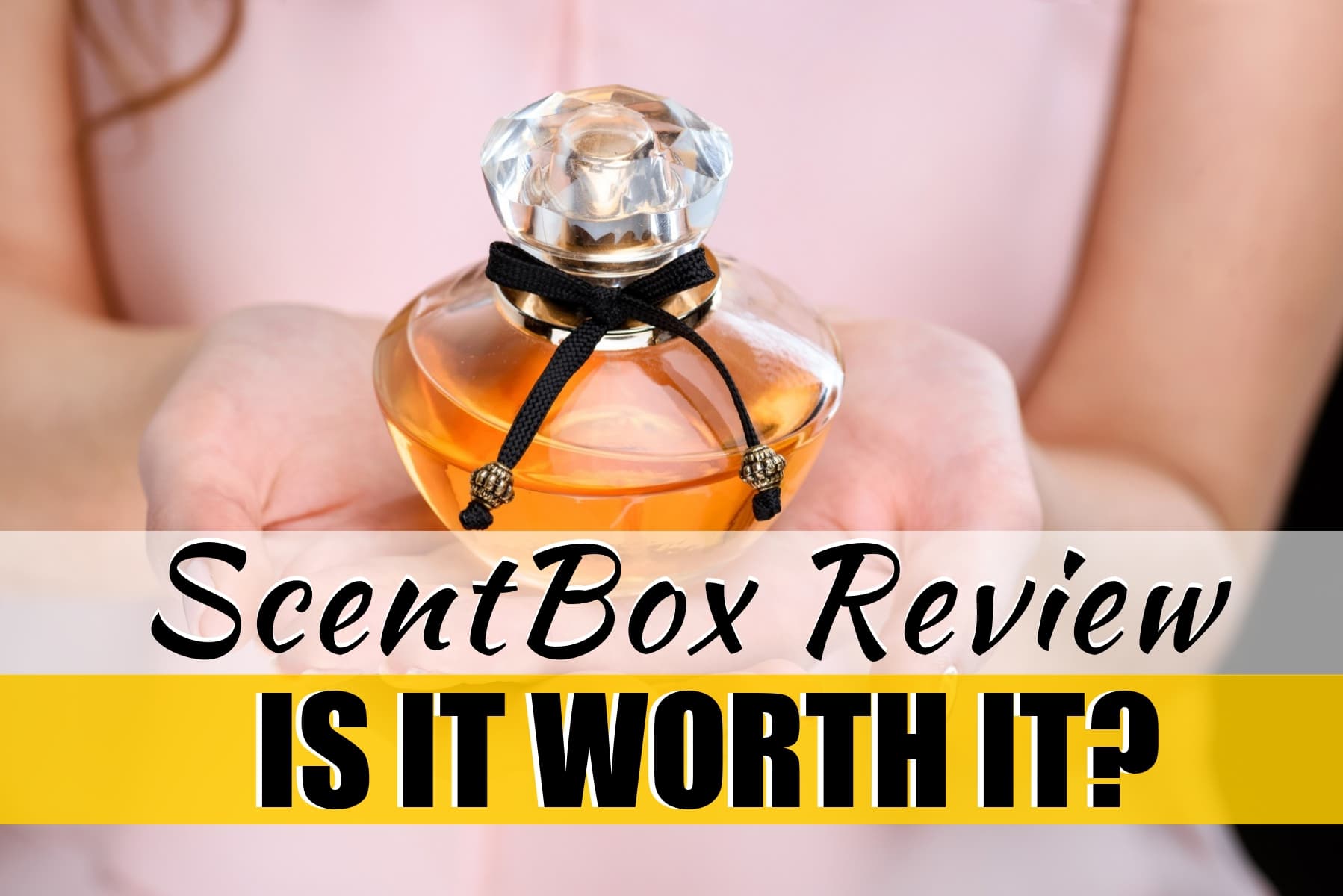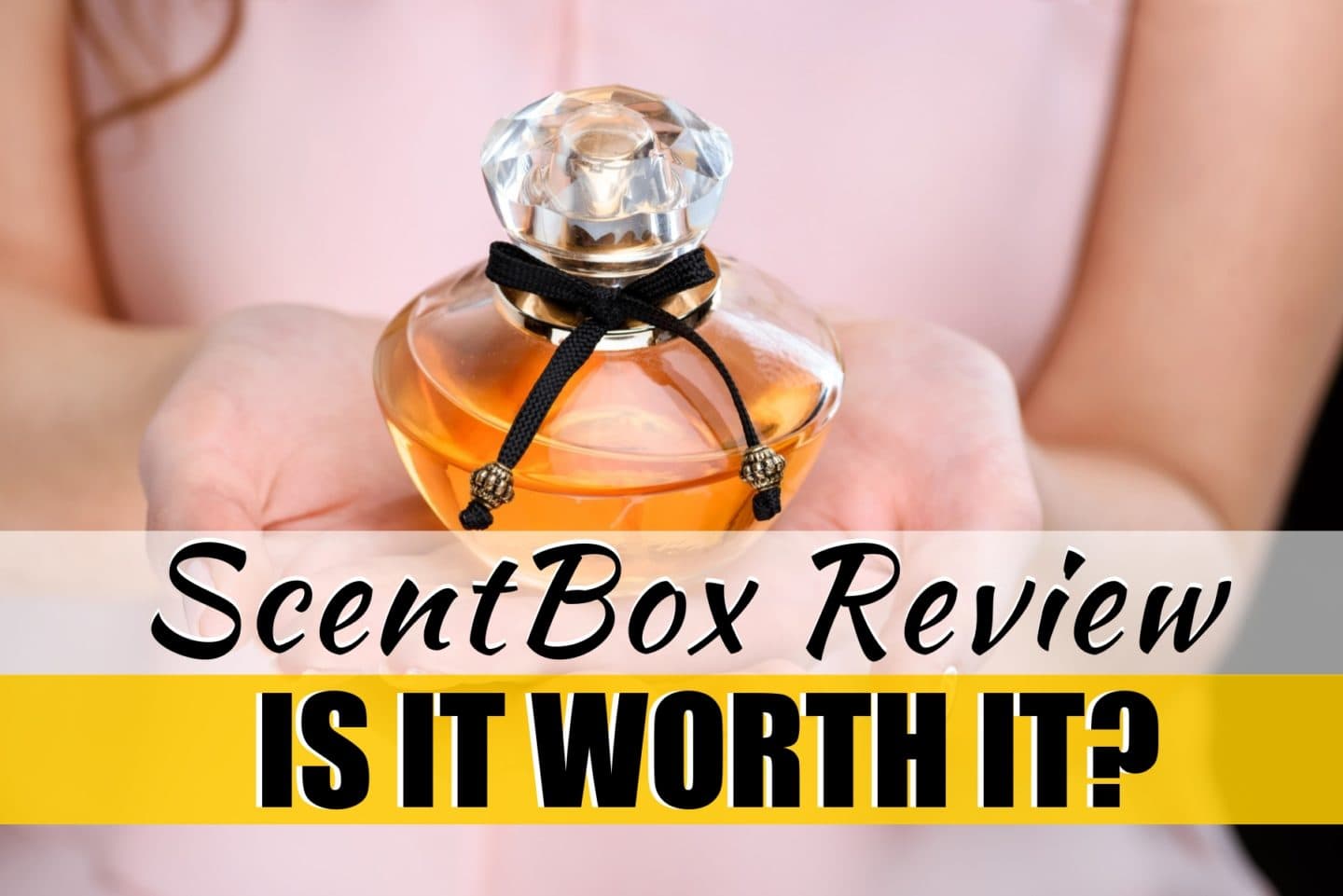 After writing a review about ScentBird and whether I thought it was a scam, I realized that some readers might like to know whether ScentBox is legit and which fragrance subscription is the best between ScentBird and ScentBox.
Introduction
So, I signed up and paid for a ScentBox subscription.
The signup process was very straightforward, and ScentBox offers an enticing 35% off coupon on your first order (with code SCENT35) instead of a free month trial.
But you get free exchanges, free shipping, and the option to cancel your membership anytime.
If you're reading this post, my goal is to help you decide if ScentBox is legit and worth it.
So you feel more confident spending your money on this fragrance subscription. Because if we're keeping it 100% real, not everything that glitters (or smells amazing) is gold.🤷🏾‍♀️
You've probably seen the ads and watched glowing reviews on YouTube about ScentBox. But what is ScentBox?
What is ScentBox?
According to the brand's website, "Scent Box is an affordable and fun way for members to seek out and sample wonderful new designer fragrances each and every month." (source)


ScentBox is a perfume subscription service, similar to ScentBird, that allows me to try out a wide variety of household and designer scents without the financial commitment to a full bottle of a designer fragrance I cannot stand three weeks after the purchase.
For one monthly rate, I can pick a scent from over 850 perfumes available in ScentBox' inventory shipped to me for free.
And if I don't like my choice, exchanges are an option.
All fragrances shipped are of the highest quality and will leave you feeling like you were spritzed with sheer gold!
How does ScentBox Work?
This is how ScentBox works:
Choose your Subscription – A monthly rate of $14.95 gets you a ScentBox subscription. Your fragrance ships free each month. Since there is no commitment, you can cancel your month-to-month right in your dashboard. Or pause your subscription for a few months. This is my preference since I never run out of my monthly supply.
Choose your Scent – Add a few favorites, best-sellers, or personalized recommendations to your dashboard from more than 850 designer fragrances. On your ship date, ScentBox will send out your 30-day supply (0.27 oz / 8 ml) of your designer scent in a refillable travel spray and keepsake box.
Receive your Scent – Every month, ScentBox will deliver your fragrance to your doorstep. (source)
Slip your atomizer into your purse or travel with it hassle-free, even through airport security when you're on the go!
Does Scentbox Carry Authentic Fragrances?
Yes! In fact, they only carry authentic fragrances! All items listed online come from authorized vendors, and ScentBox prides itself on never selling fake or knockoff items.
And from my experience, you get more than what you paid for!
ScentBox Perfume List
See below for ScentBox fragrance list. A few of the top designer fragrance brands that ScentBox carries include:
Balenciaga Fragrances
Ariana Grande Fragrances
Atelier Cologne
Dolce and Gabbana Fragrances
Thierry Mugler Fragrances
Jimmy Choo Fragrances
Rihanna Fragrances
Moschino Fragrances
Versace Fragrances
Salvatore Ferragamo Fragrances
Coach Fragrances
Giorgio Armani Fragrances
Escada Fragrances
Marc Jacobs Fragrances
Carolina Herrera Fragrances
How Do I Sign Up for ScentBox?
Click here to sign up for a ScentBox subscription. You will immediately be presented with two options:

ScentBox standard subscription

$9.72 for 1st month, $14.95/mo thereafter
This is subscription I have

ScentBox Premium subscription

$12.97 for 1st month, $19.95/mo thereafter
View all premium fragrances here

Options include 212 VIP Rose, 154 Cologne, Acqua Di Parma Colonia, and 14K Brilliant Gold
After that, you'll be taken through a series of fun and interactive quizzes to help hone in on your preference.
Questions covered include what pallet from a set of color swatches you like, what scents you gravitate towards, and other personal identifiers that make your ScentBox subscription a personalized experience.
Next, ScentBox creates a shortlist of fragrances you are most likely to fall in love with based on your responses.
From here, you can pick your favorites, and while they might not be guaranteed, they might appear in the queue.
You can also manually add a fragrance to your queue. Not sure what you want, leave your queue empty, and ScentBox will send you the scent of the month.
Can I Buy Perfume Without a Subscription?
Yes, you can buy full-sized perfumes without a subscription from ScentBox shop.
But you, unfortunately, cannot get a Scent box (atomizer) without a ScentBox subscription as this option is a members-only service.
You can also gift a 3-, 6-, and 12-month subscription to ScentBox here.
Benefits of a ScentBox Subscription
This may seem fairly obvious, but you get a brand-new, authentic fragrance sent to your door every single month.
Another benefit of ScentBox is the variety of fragrances to choose from.
Buying a bottle of perfume may not seem like such a big hassle, but changing it up every month? That can get tiring. Not to mention your selection is limited to whatever store you choose to browse.
ScentBox is also super affordable. For essentially $15.00 a month, you get to opt out of wasting time at the store or buying a fragrance you can't stand three weeks later. With your subscription, your options can change as much as you like.
---
Finding this post about ScentBox reviews helpful? You'll love these related posts:
---
Drawbacks of a ScentBox Subscription
As with anything, you have to weigh the pros AND the cons. ScentBox is not perfect, but you will have to decide what is important to you and whether the pros weigh more than the cons or vice versa.
Just like ScentBird, ScentBox is not the best value for money if you prefer mainstream perfumes.
ScentBox, and any other perfume subscription service, is not the best option for those people that only use or stick to one scent.
Subscription-based fragrance services might not be the way to go for people who like to know what they're getting into, aka people who don't like surprises.
No scent is ever guaranteed, no matter if you list it as a preference or not, as demand and supply wax and wane throughout the year, including the ingredients used in the production of certain scents.
A Snapshot of ScentBox Reviews
Now that you have a better idea about my thoughts on ScentBox, here are what satisfied customers are saying about ScentBox:

---

Curious about how ScentBox compares to other perfume subscription services?


Scentbox vs. Luxury Scent Box (Comparison)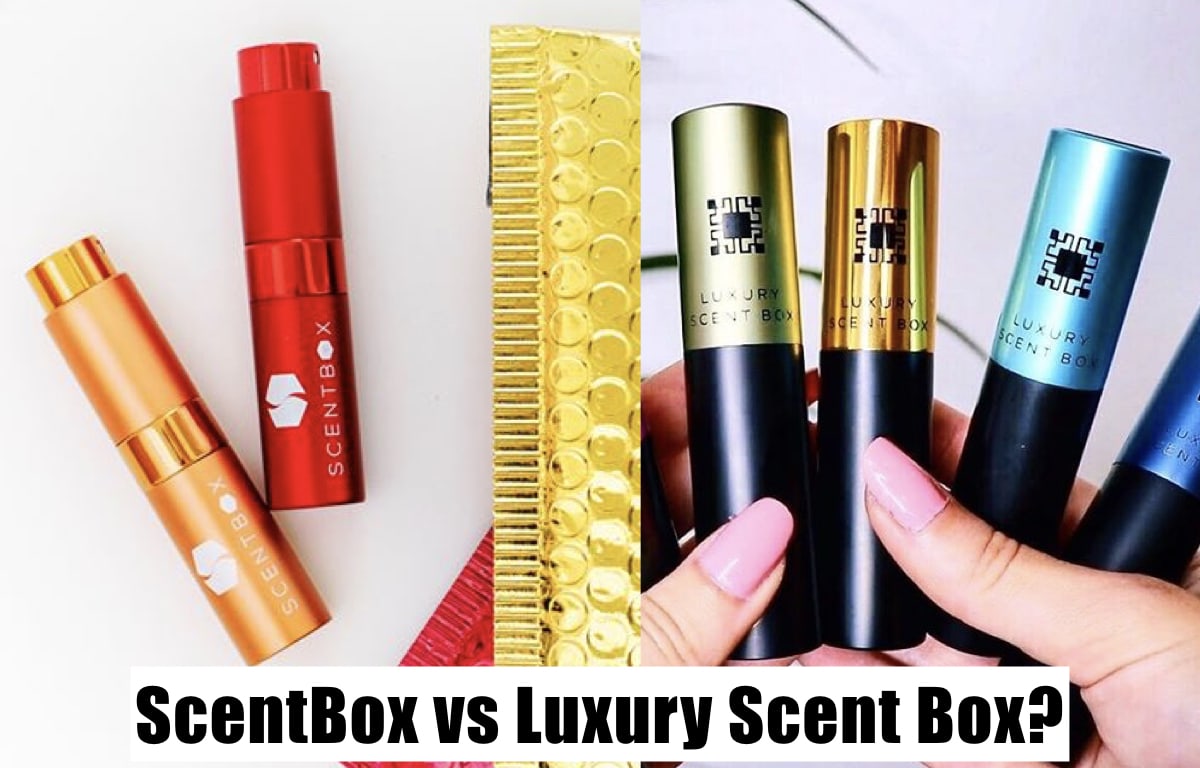 Although the only difference between these two brands is the word "luxury," be mindful of which you order from.
ScentBox and Luxury Scent Box are somewhat similar, and they provide about the same services, but there are some differences to consider.

Similar to ScentBox, Luxury Scent Box is $15 per month. Unlike ScentBox, you get a 9ml canister of decant perfume every month rather than an 8 ml.
And you get a brand new reusable case each quarter. That said, both subscription services are well-rated popular options in the beauty industry.
ScentBox vs ScentBird: Which Perfume Subscription is Best?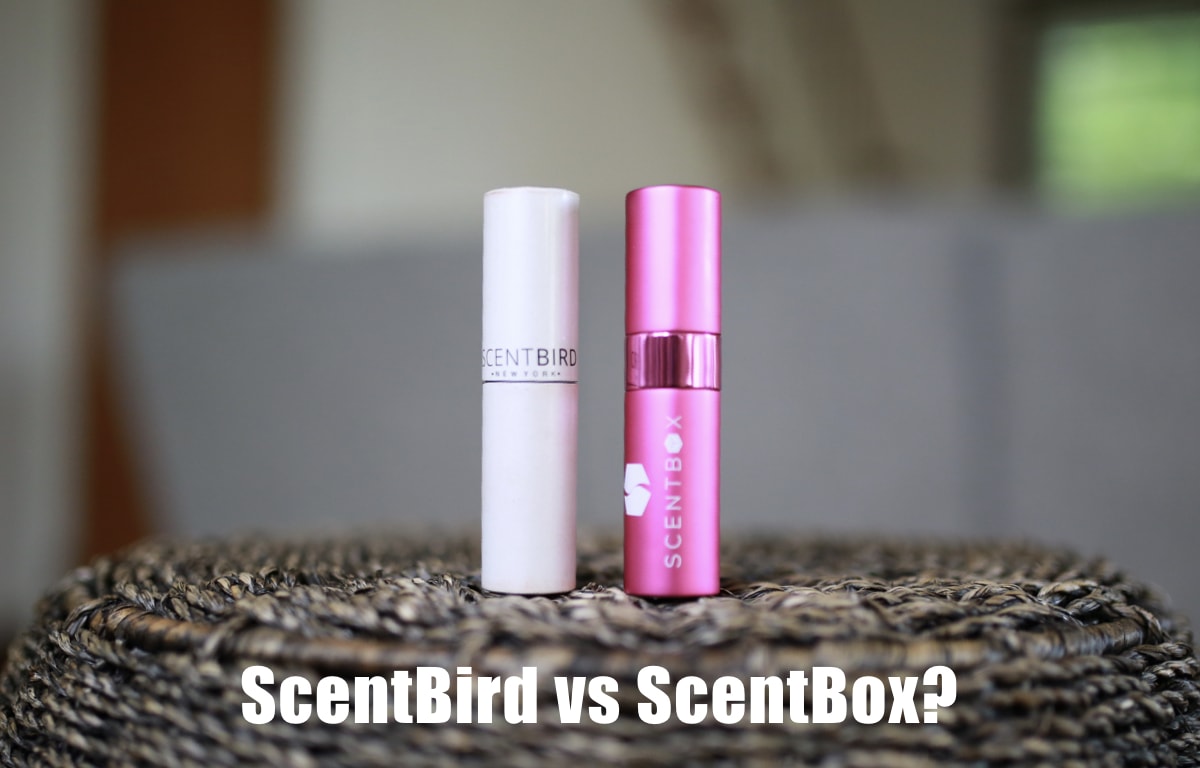 ScentBird is another ideal option if you're looking for some variety. I've had a ScentBird subscription for a few years.
However, I feel as though ScentBird falls short with its 450 fragrance variety compared to 850+ on ScentBox.
ScentBox is one of the top-rated fragrance services in the game. It is low cost, low stress, and maximum benefit.


The color of the atomizer is always a fun surprise. If you want to order an extra ScentBox atomizer, you have 12 different case colors to choose from. See them all here.


Additional Frequently Asked Questions Related to ScentBox Reviews
How can I get a ScentBox Coupon or free trial?
Currently, there is no ScentBox free trial. However, new members automatically get a discount with their trial of ScentBox. Save 35% off your first ScentBox with code SCENT35.
What are the Best ScentBox Perfumes?
How long does it take to get your ScentBox package?
Generally, fragrances will arrive somewhere between 7 and 10 business days after it has shipped. Since this works on a monthly schedule, it is safe to assume you'll get your package at relatively the same time every month. For me, I get billed on the 21st of the month, product shipped by the 28th of the month, and at my mailbox the first week of the following month.
What is a cologne decant?
A decant is a small vial of perfume that is hand poured from the original manufacturer bottle. This means that it is not factory sealed and so are not meant for long-term storage.(source)
How much does ScentBox cost?
Way cheaper than buying an individual fragrance every month for $14.95 per month plus free shipping and free exchanges. That's right, the world of fragrance at your fingertips and it comes nicely packaged with free shipping!
Is ScentBird a ripoff?
Absolutely NOT. I've been a paying subscriber of ScentBird (and ScentBird) for the past several years. I get my fragrance almost always on time. For more, check out this ScentBird review.
ScentBox Review: Video Unboxing
Here's a quick unboxing video of a ScentBox subscription package.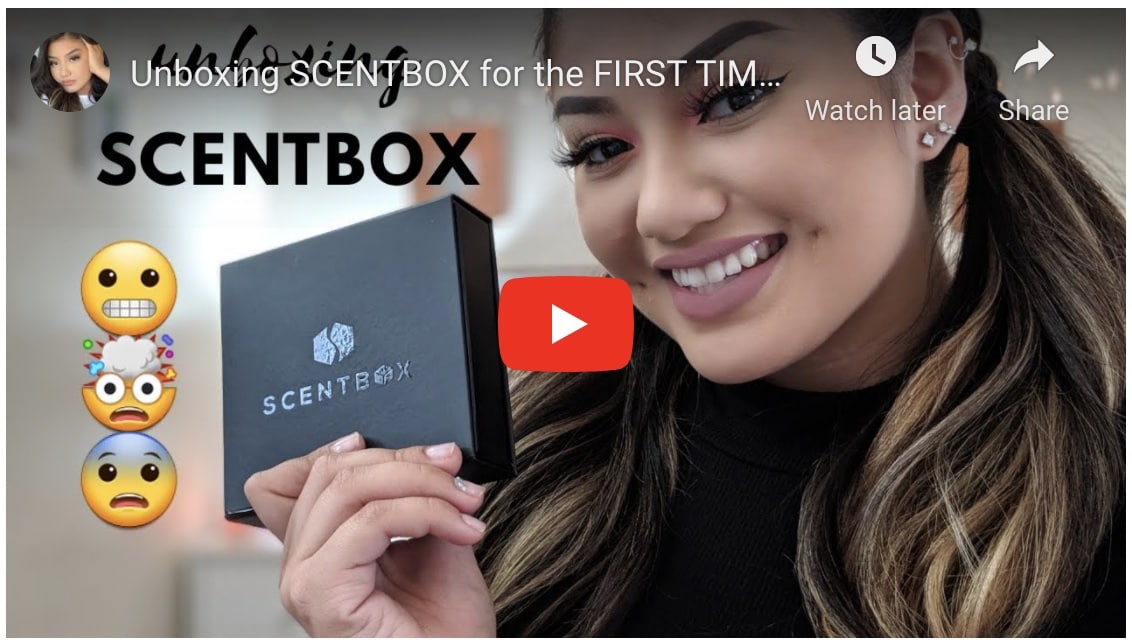 I hope you found this ScentBox review helpful as you decide if ScentBox is right (or wrong) for you.


Interested in more articles like this Scentbox reviews post? Check out these popular posts:
PIN FOR LATER!