A Local's Guide: Your 2023 Ultimate Alaska Cruise Packing List
This post may contain affiliate links which means I will get a commission if you make a purchase at no additional cost to you. As an Amazon Associate I earn from qualifying purchases. Please read my disclosure for details.
Taking a cruise along the Alaskan coastline is one of the most comfortable and picturesque ways of visiting the Last Frontier.
Alaska's jugged landscape is full of glaciers, deep valleys, river canyons, and a very long coastal stretch. This is your ultimate Alaska cruise packing list.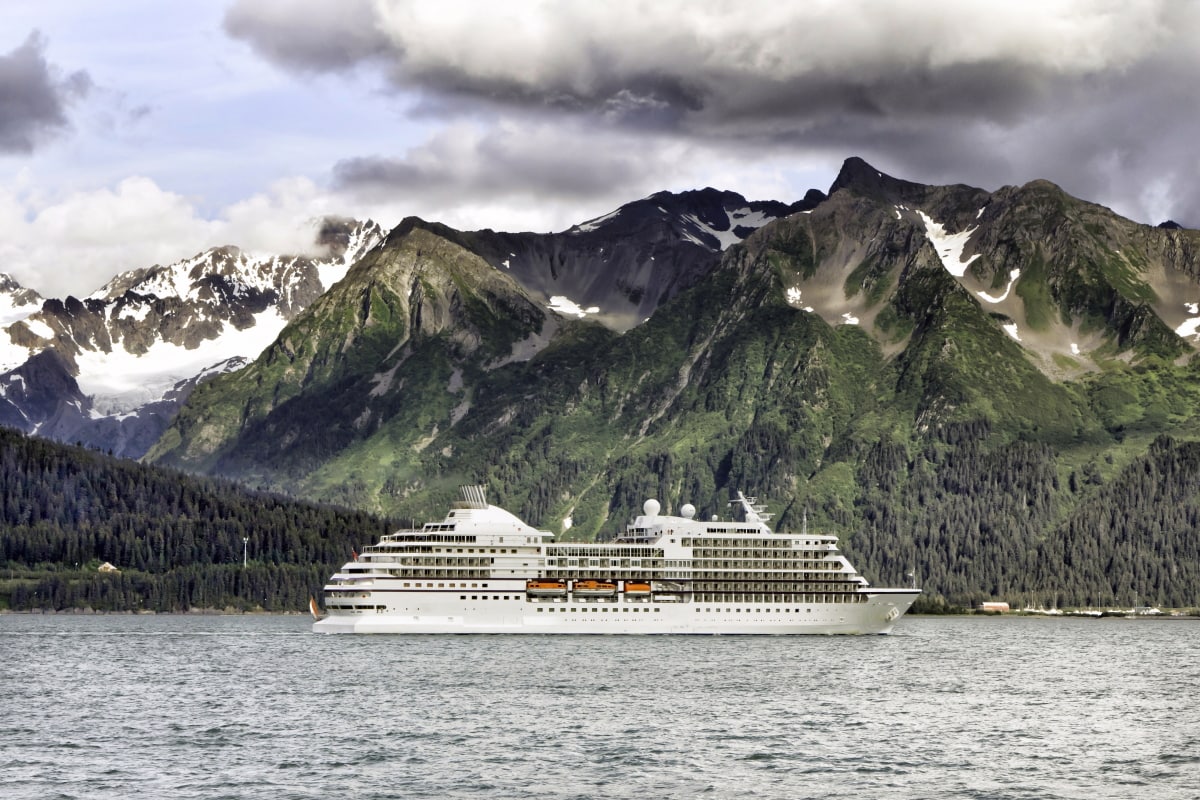 Introduction
On an Alaska Cruise tour, you can explore all of these natural wonders at one go while also enjoying the convenience of luxurious cruise ships.
With a smart Alaska Cruise packing list, you will be perfectly prepared for the cold weather conditions or any type of emergency regardless of whether you're traveling in May, June or July.
What to pack for an Alaska Cruise
Clothing
Lightweight clothes:
While packing for Alaska, the first thing that comes to your mind is that you will need a lot of warm clothes. You are absolutely right. After living in Alaska for several years, the cold is something I'm still not entirely used to.
Even during the summer months of May and June, you can expect to wear a light sweater in the morning and at night.
And on a cruise, a thick sweater, windbreaker, and/or fleece-lined top will be your best friend.
Last update on 2023-05-28 at 14:31 / Images from Amazon Product Advertising API
Why? The open sea exposes you to potentially strong winds combined with colder than usual arctic conditions.
A windbreaker jacket or a rain jacket (during late July and August) is an important item that will protect you from the cold and the wind.
These items will be useful for the times you want to be at the deck to enjoy the magnificence of the scenery and glacier.
While an umbrella is not a must-have for me, you might be happy to have one onshore.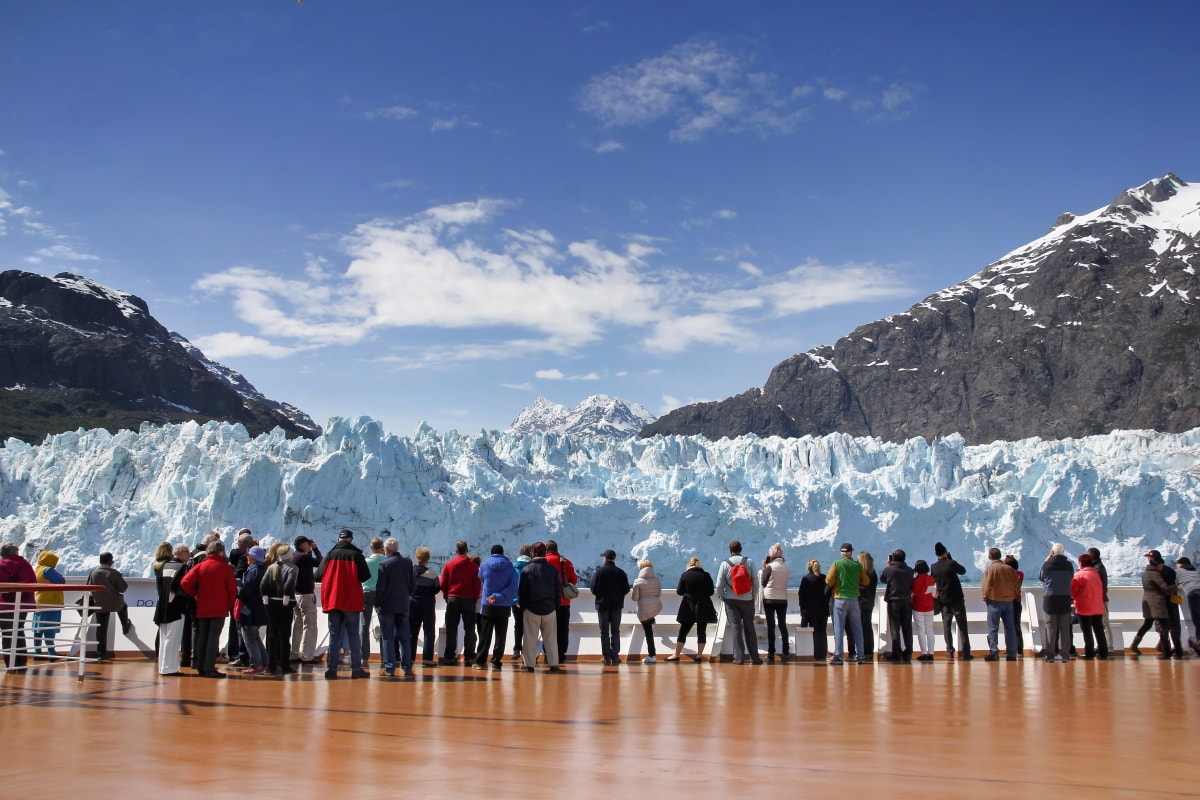 Beanies, gloves, sweaters, and boots rank high on the list of recommended items. I always dress in layers and recommend you do the same while on your Alaska cruise. Each layer is easier to take off or put on as opposed to wearing a single thick fabric.
Since you are on a cruise, be prepared for some evening entertainment and cocktail events. That means it's probably a good idea to dress smart or smart casual.
Men should pack a full suit and tie, while women might want to pack a lovely dress. Your cruise company might have recommendations on the best attire to pack.
It sounds too far-fetched, but you can actually swim during your Alaska trip. So yes, pack a swimsuit or two if space allows. We are talking about the indoor swimming pools and hot tubs with cocktail bars next to them.
Another pleasant surprise is the on-board gym and fitness center available on many cruise ships. If you are feeling up to it, you can join different fitness classes. So, you need your workout clothes.
As far as clothing goes, see below for my top recommendations on pieces I own and love.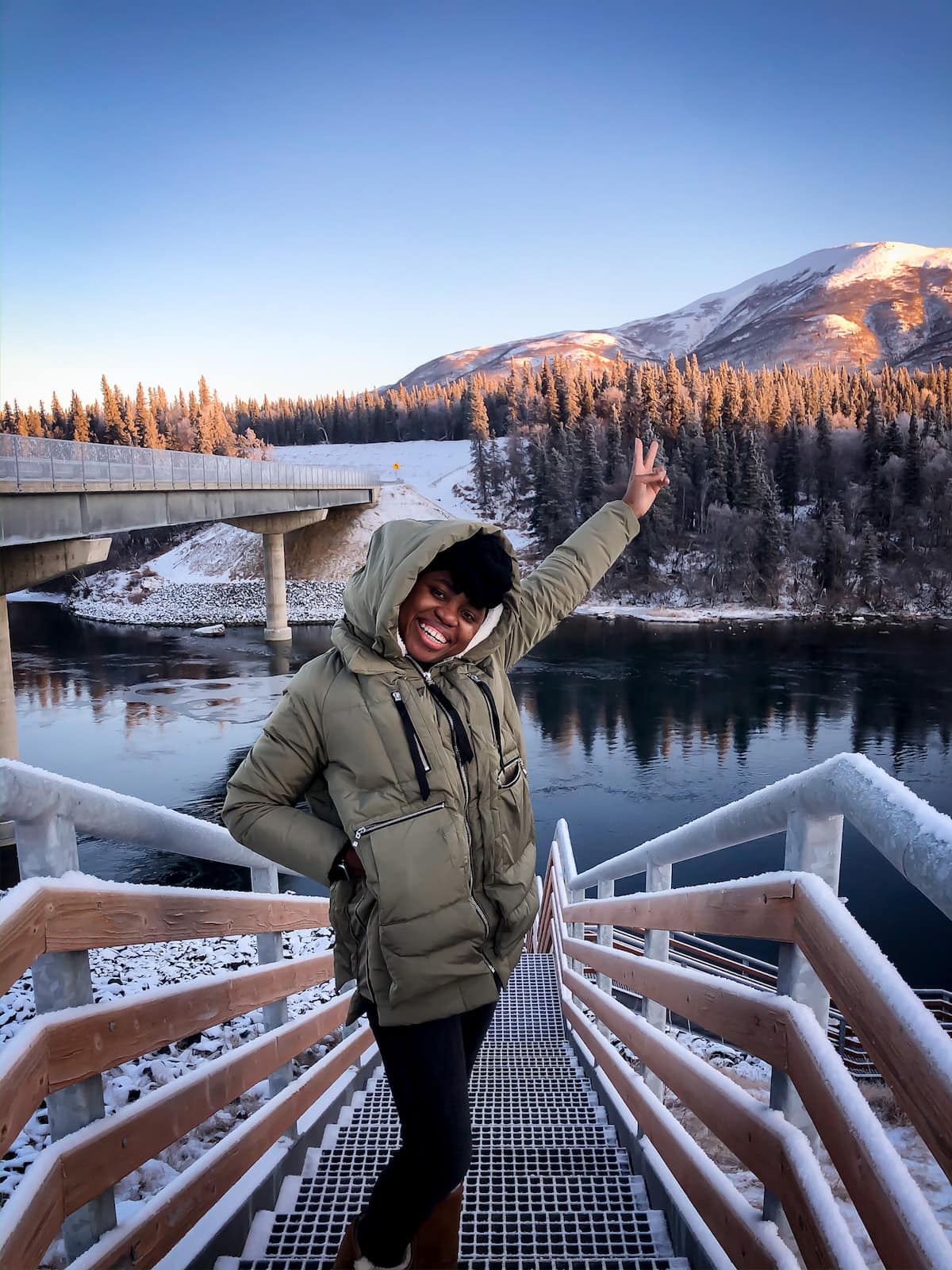 Hiking shoes:
Although a significant part of your trip will be on a cruise ship, there is a lot of walking involved in the vessel. Plus, more walking to sights/activities when the ship docks at certain points.
A good pair of hiking boots or boots with great traction will save you a lot of trouble.
It will be to your advantage if your shoes are waterproof, as some hiking options and rain can get them wet. This pair of waterproof boots are a great option.
Sperry Women's Saltwater Rain Boot
Boot opening measures approximately 6.75" around
Combat cold, wet weather with the waterproof Saltwater boot from Sperry
Duck-inspired waterproof boot
Leather upper with a waterproof rubber foot
Rawhide lacing with rust proof eyelets for secure fit
Last update on 2023-05-28 at 14:21 / Images from Amazon Product Advertising API
Sunscreen
Believe it or not, Alaska gets sunny days too. Spring starts in early May and remains chilly through sometime in July. As a result of the latitude of Alaska, we have short summer months.
Regardless, protecting your skin from harmful UV light is a great idea. Not sure what to get? This SPF 40 sunscreen has raving reviews.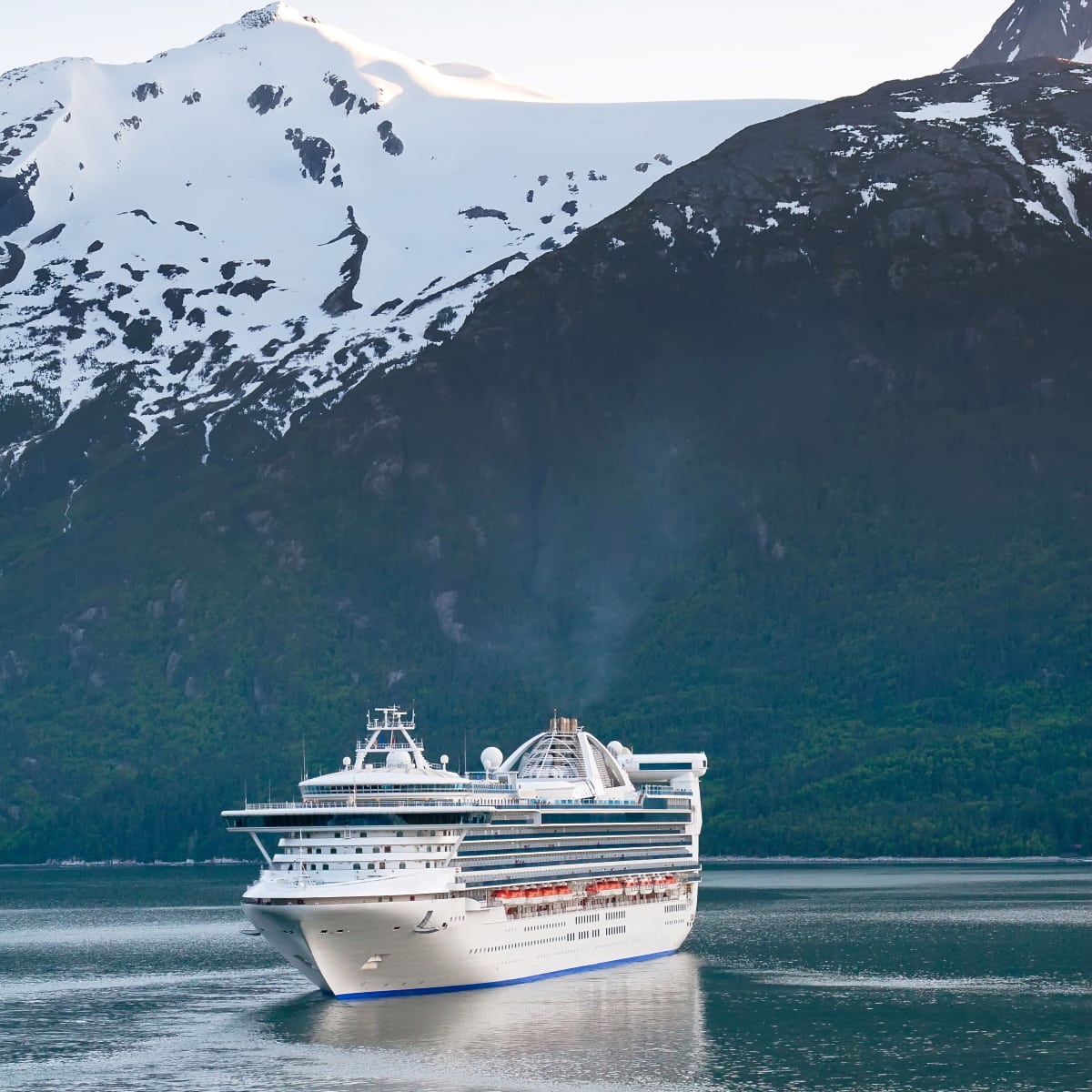 Tech & Gear
Power adapter
Power plugs and sockets on Alaska cruises are of type A and B, like the rest of the US. The standard voltage is 120 V, and the standard frequency is 60 Hz.
If you are not a US citizen, the most convenient option is to buy a combined power plug adapter/voltage converter.
Portable charger
The convenience of portable chargers (power banks) cannot be overemphasized. These gadgets are always useful when you are at a touristic activity and away from any plug.
Bringing one will definitely help you get the most out of your trip as you explore the coastal cities of the Last Frontier. My all-time favorite is this Anker power bank.
Anker Ultra-Compact Portable Charger Power Bank
The Anker Advantage: Join the 50 million+ powered by our leading technology.
Remarkably Compact: One of the smallest and lightest 10,000mAh portable chargers. Provides almost three-and-a-half iPhone 8...
High-Speed Charging: Anker's exclusive PowerIQ and VoltageBoost combine to deliver the fastest possible charge for any device....
Certified Safe: Anker's MultiProtect safety system ensures complete protection for you and your devices.
What You Get: Anker PowerCore 10000 portable charger, Micro USB cable, welcome guide, our worry-free 18-month warranty and...
Last update on 2023-05-28 at 14:31 / Images from Amazon Product Advertising API
Binoculars
A trip to Alaska means spending an enviable amount of time on the deck to see whales, bald eagles, otters and more. Don't forget to bring your binoculars; otherwise, you might miss out on close-up looks at these amazing creatures.
Toiletries
Although cruise companies will equip the rooms with all the essentials, such as shower gel, shampoo, and soap, I'd rather err on the side of having a surplus than be stuck with shower products I'm not excited to use.
For convenience and organization, I use a toiletry bag.
Documents
Travel insurance:
Visiting from outside the US? As an international traveler, you might need to have travel insurance that covers the duration of your trip.
Your travel insurance should cover any emergency that might occur during your trips such as injuries or illness.
Passport & Visa:
Also an important consideration for international travelers on an Alaskan cruise. You need a passport that is valid for at least six months after the end date of your cruise to Alaska.
Unless you are a citizen of the US or Canada, you need a B2 tourist visa that you can apply from your home country.
Medications
First-Aid kit:
When it comes to first aid, there is a long list of items you can bring along.
Although you can purchase some of them at the onboard stores, it will probably be much cheaper if you bring them from home.
Seasickness, stomach issues, pain, and sunburn can sneak up on you. To be on the safe side, make sure to bring medication to deal with nausea and other symptoms. Some of these medications are only available with a valid prescription.
One thing many travelers neglect is the aftermath of strenuous hikes. After many hikes, long walks, and glacier explorations, you might feel exhausted at the end of the day.
And in the event you do end up with minor cuts or bruises, a first aid kit would be nice to have.
Other Commonly Forgotten Items for a Trip to Alaska on a Cruise
Travel sheet
Camera
Kindle
Kindle cover
Memory card
Vitamins: Women's and Men's
Dramamine
Aloe Vera
Contact solution
Feminine products
---
What do People Wear in an Alaskan Cruise Ship?
Besides essential clothes such as rain jackets and hiking boots, bringing some elegant outfits like cocktail dresses for special occasions is important.
On certain evenings, your cruise might have special events for guests. Here are a few affordable suggestions to take on your cruise.
What NOT to bring to an Alaskan Cruise Trip
Household Appliances
Many household appliances are deemed dangerous for the low voltage sockets in your cruise ship. So they may not be allowed on board. These items range from coffee machines to irons and kettles.
Alcohol
Although it is cheaper to bring your own alcohol rather than buying on-board, maritime regulations in the US state that you are not allowed to bring alcohol from outside.
These drinks will be confiscated and not returned to you if found during embarkation.
Drones
Wouldn't it be just amazing to bring your drone on board and take so many cool shots!
Sorry to be the bearer of bad news, but items that pose a risk of being launched off, such as drones and segway, are strictly prohibited.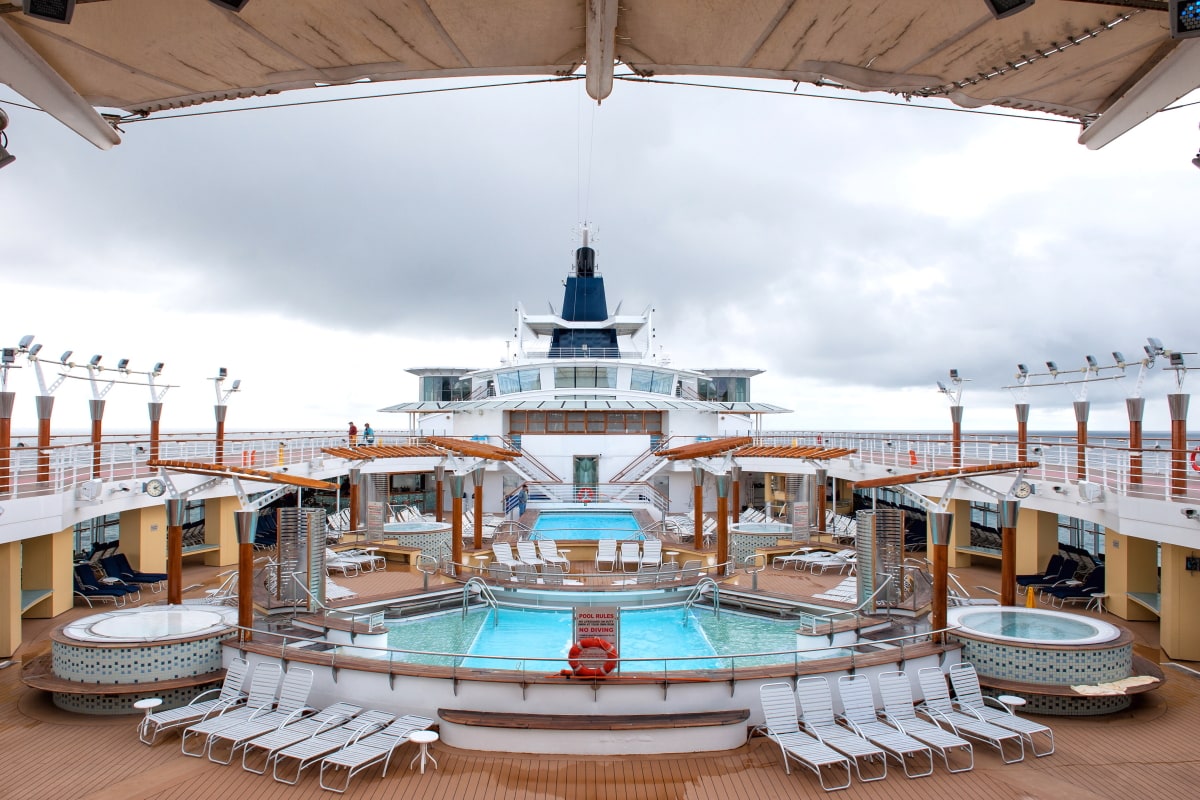 Alaska Cruise: Important Packing Tips
We don't recommend bringing a lot of books, as many cruise ship companies will have bookstores or libraries with extensive collections. Audible audiobooks and Kindle will save you the extra baggage.
Just because Alaska is in the north doesn't mean you are safe from the annoying mosquitos while onshore. Do bring your repellent! From personal experience, the summer mosquitoes can be ferocious. I liked using this repellent.
If you happen to forget an item, you might find it for much cheaper at any of the ports where the ship will dock. Instead of buying on-board, wait until you reach any port along the way unless it is urgent.
Conclusion
An Alaska cruise tour is surely one of the most exhilarating trips you will ever have. Use this Alaska cruise packing list to ensure you have everything you need to have the time of your life on your cruise. And most importantly, have fun!
If you liked this post about your ultimate Alaska cruise packing list, you'll like these related posts:
PIN FOR LATER!