How to Tie a Blanket Scarf in 2023: 6 EASIEST Ways to Wear a Scarf
This post may contain affiliate links which means I will get a commission if you make a purchase at no additional cost to you. As an Amazon Associate I earn from qualifying purchases. Please read my disclosure for details.
The blanket scarf trend is going strong! Don't stress about how to tie a blanket scarf this year. Here are the 6 EASIEST ways to wear a scarf today.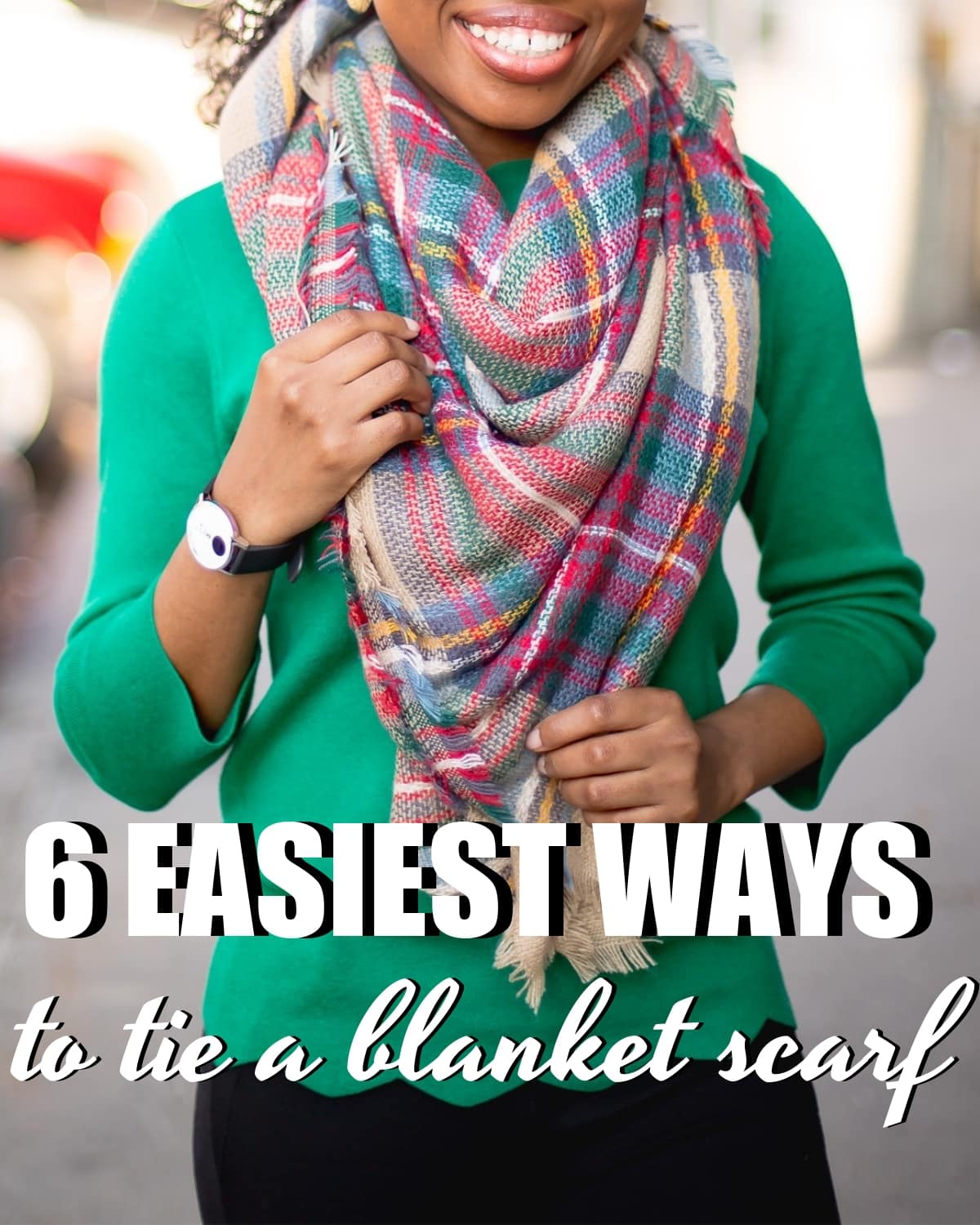 You might have noticed that my love for blanket scarves happened last year. Before then, it was more of a love/hate relationship, rightfully so!
6 Easiest Ways to Wear a Blanket Scarf for Fall/Winter
They look good in person and on mannequins but one failed attempt of wearing them makes you look ridiculous i.e. that you're galivanting in a table cloth. If like me you struggled with how to style a scarf, fret not! I've rounded up the simplest ways to tie your blanket scarf below with pictures.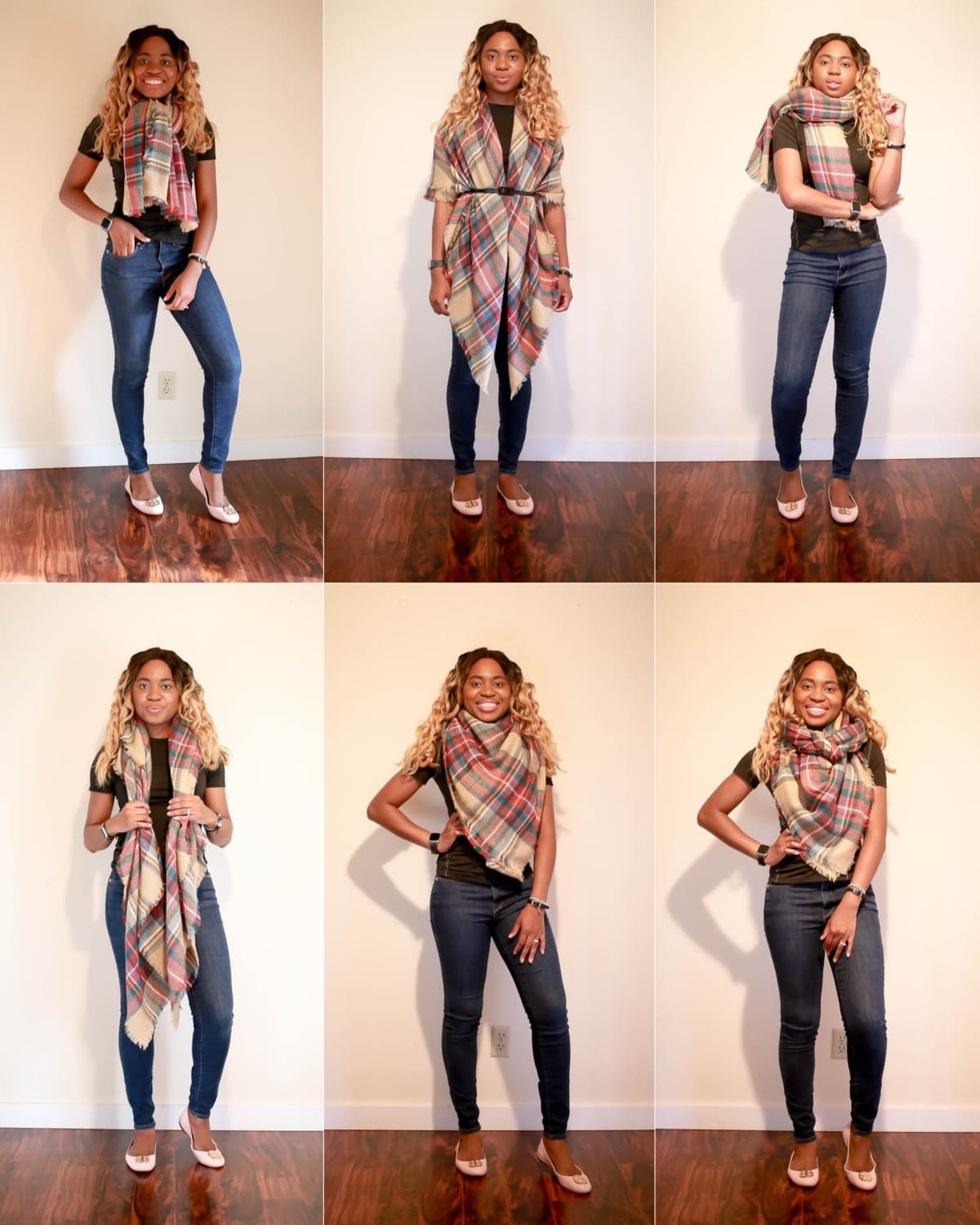 1. The Simple Knot
This simple knot is probably the easiest way to tie a blanket scarf or any other scarf for that matter.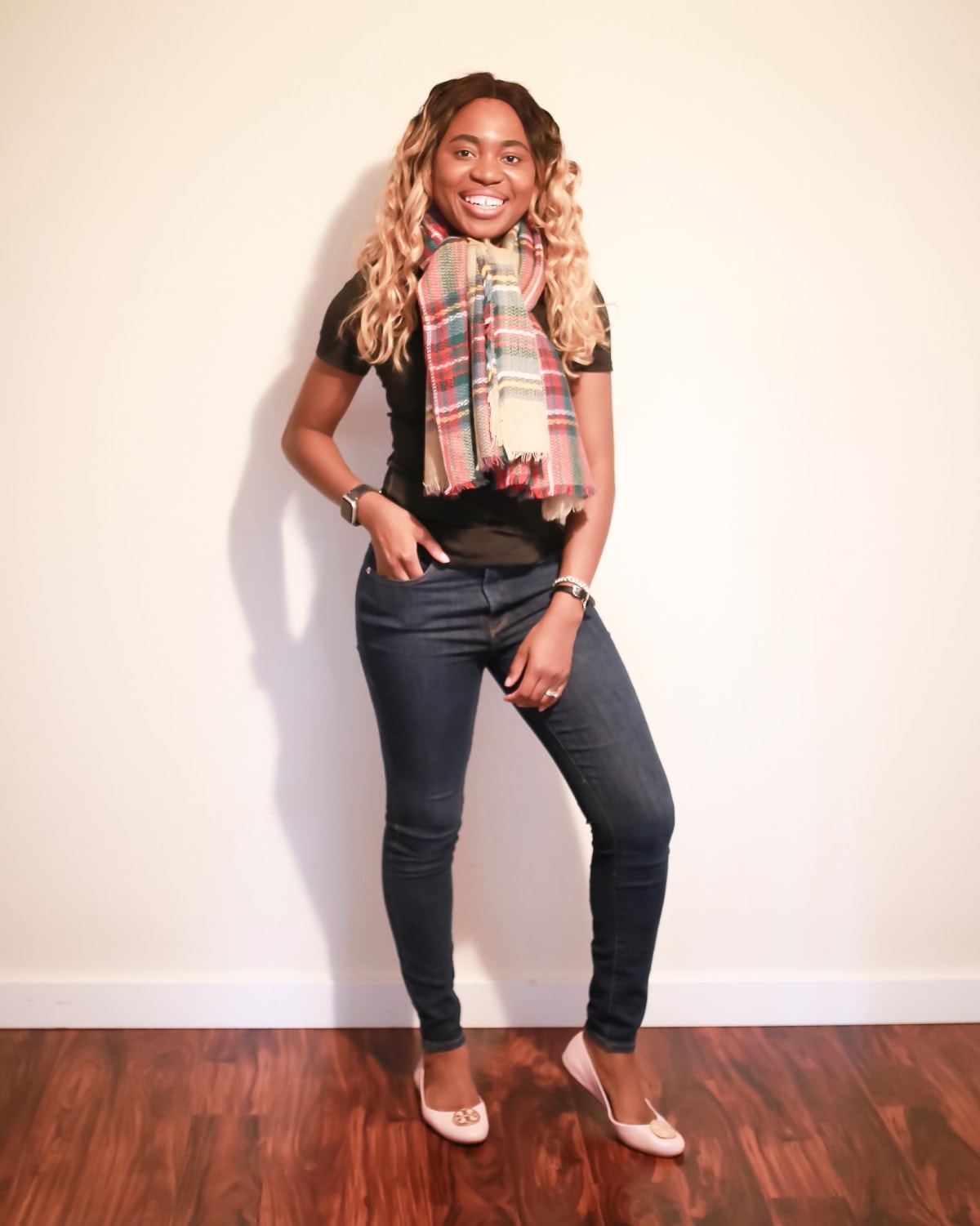 Here's how to quickly tie your square blanket scarf using the simple knot method: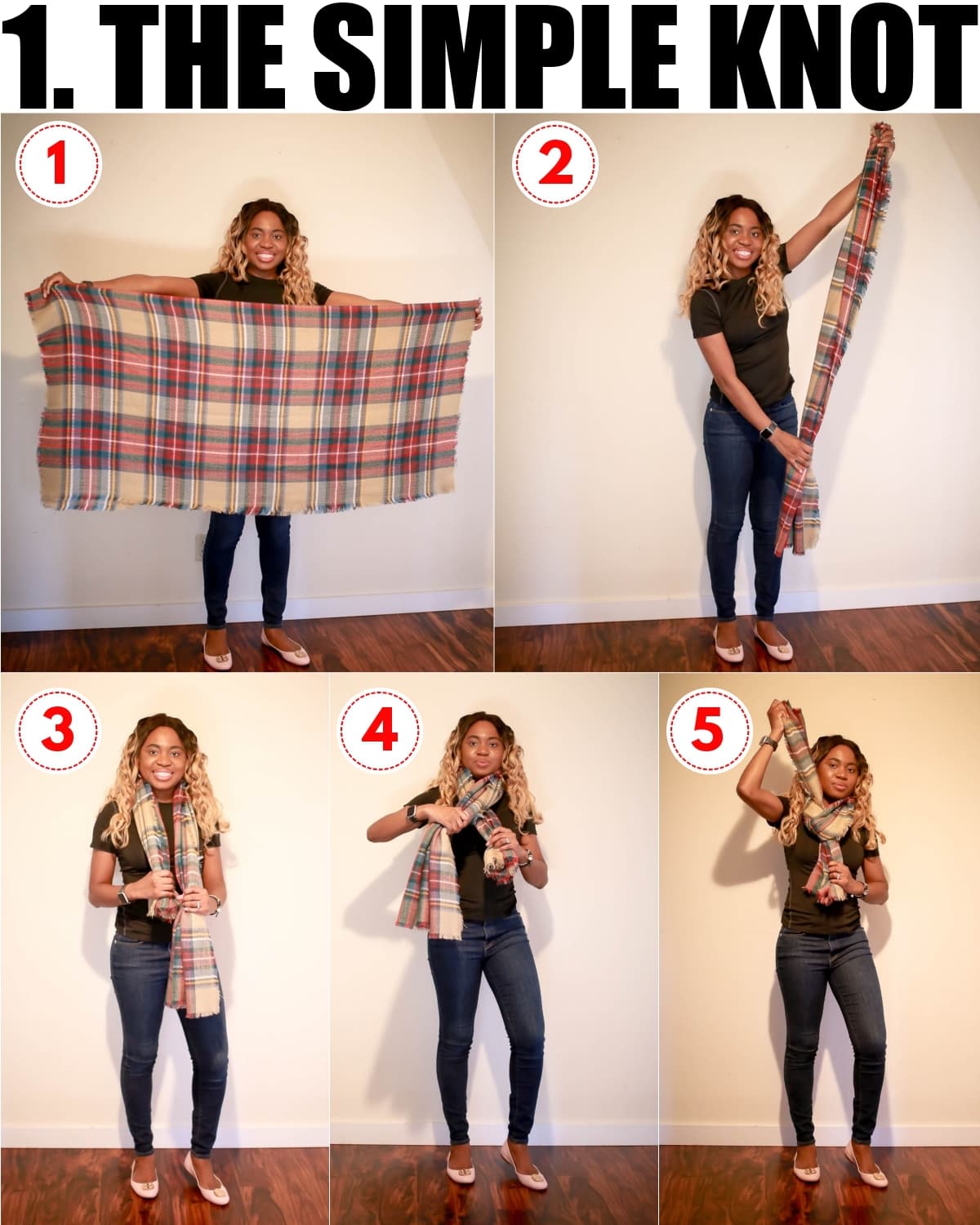 Fold your scarf in half, once.
Now fold the scarf into smaller pleats.
Put it around your neck, making one end longer than the other.
Pass the longer end above and underneath the shorter end.
Pass it through the opening closer to your neckline.
Adjust to your liking 🙂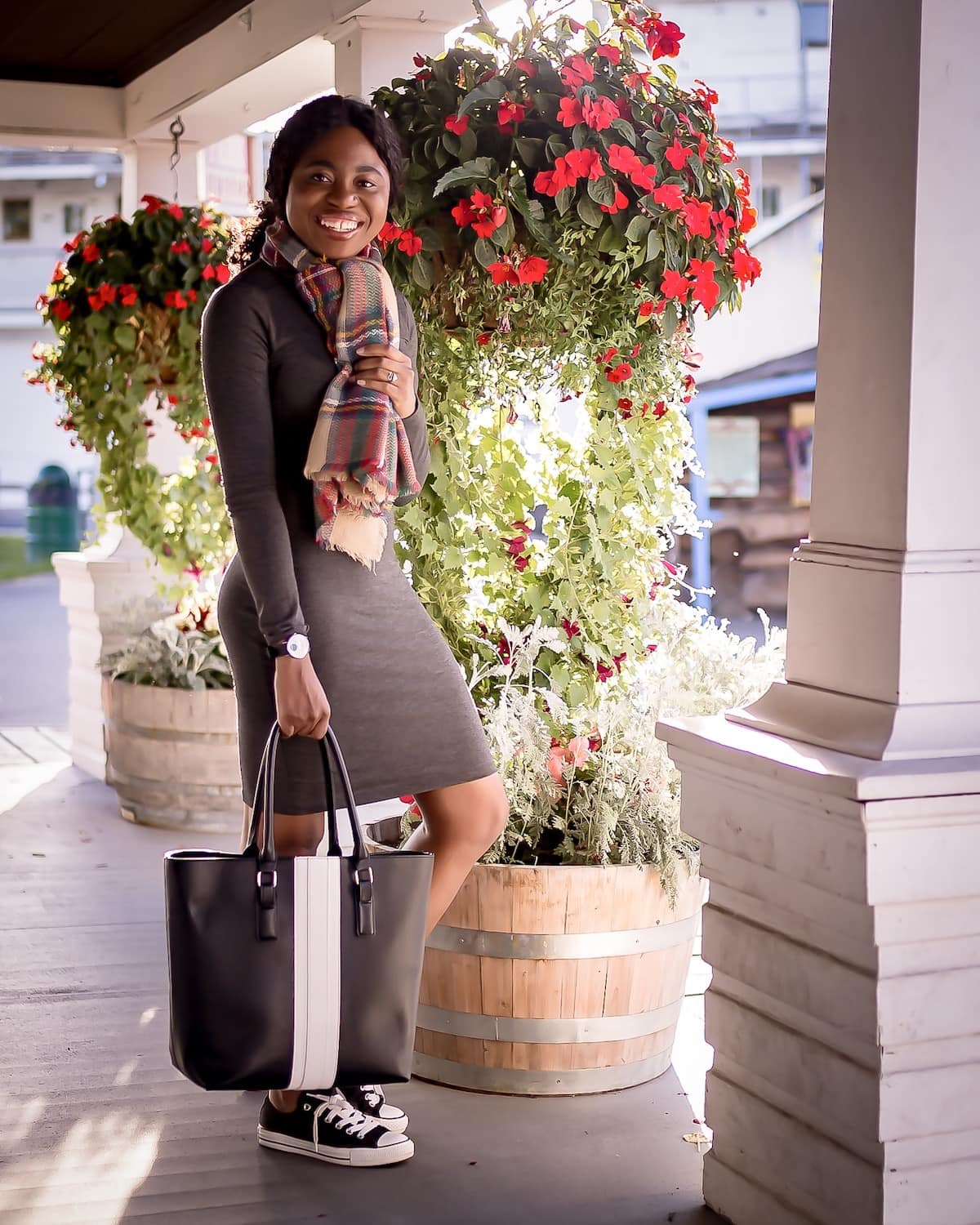 This is one of my go-to styles when I'm in a hurry or indecisive on how to tie my blanket scarf.


---
2. The Belted Scarf
I particularly opt I would live in on days when I just want to be wrapped up in a little layer of warmth. Not only does the belt keep your scarf in place, but it's also a nice fashion statement too.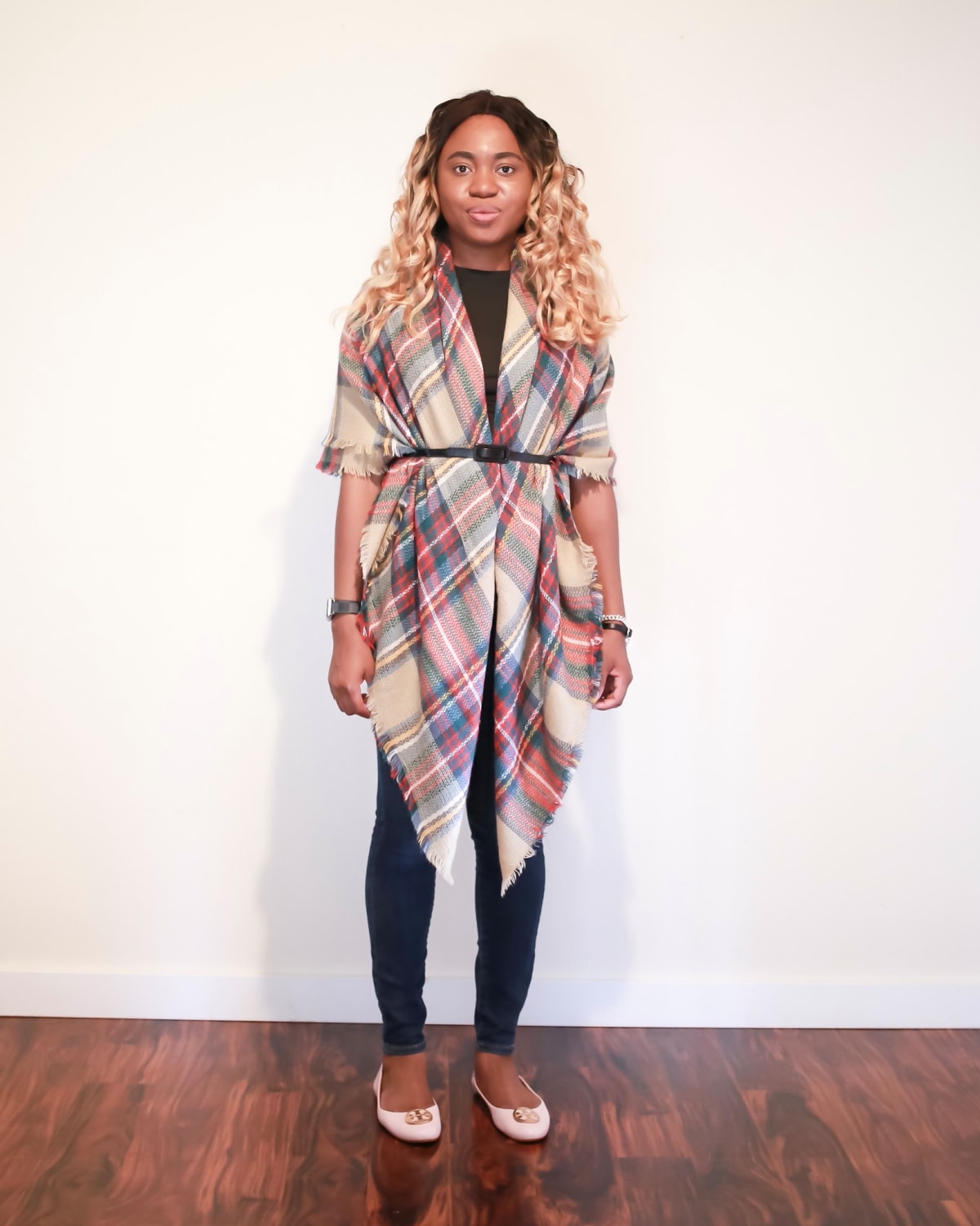 Here's how to quickly wear your blanket scarf using the belted scarf style:


Fold your scarf into a triangle
Place scarf at the back of your shoulder while holding the two far edges of the triangle
Adjust so that the two far ends of the triangle are even
Buckle belt around the narrowest part of your waist
Adjust as desired!
---
3. The Flyover
On the go and just need your scarf styled in a way that is simple and straight to the point? The flyover is a no-brainer!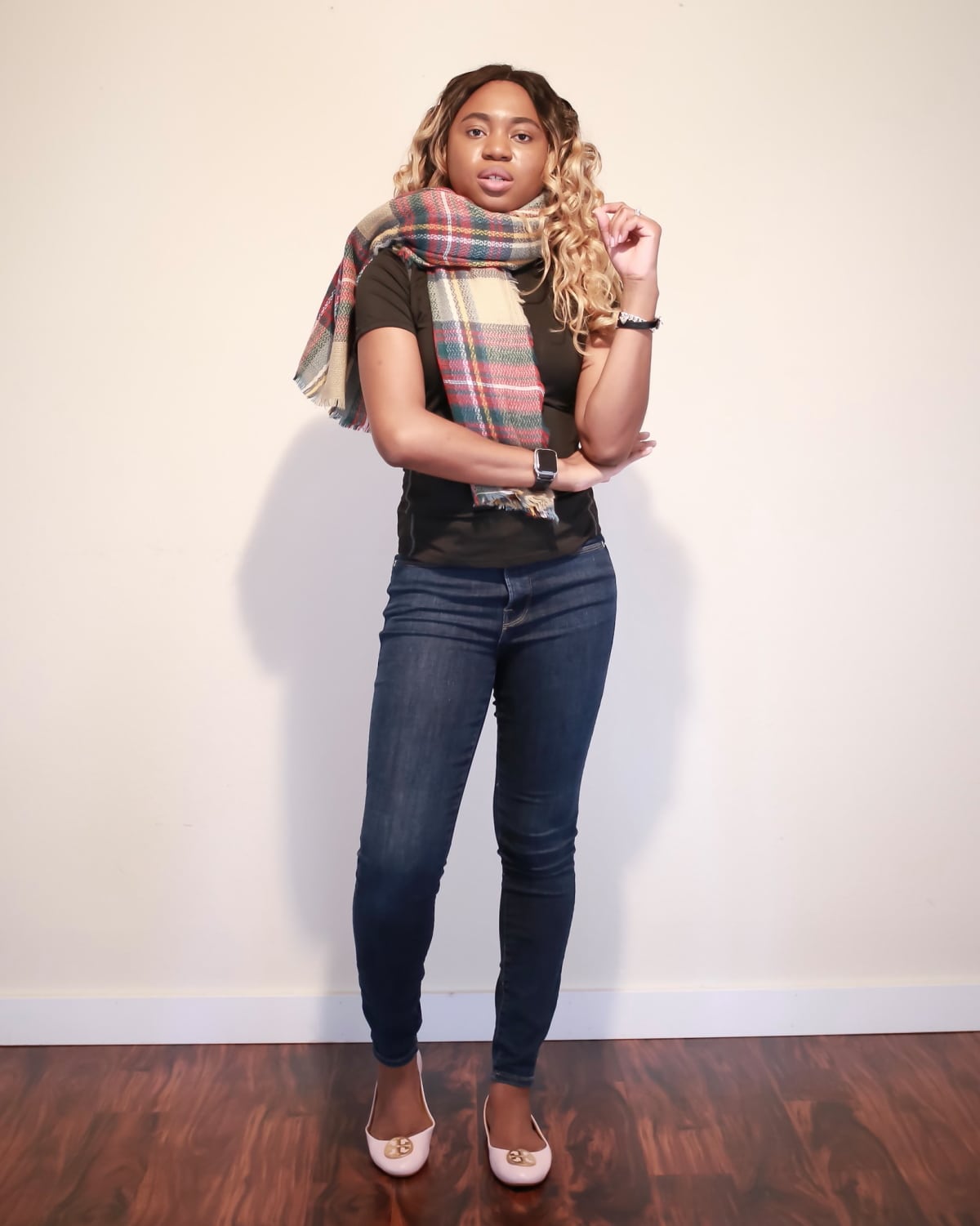 Here's how to quickly tie a blanket scarf to create that effortless flyover look: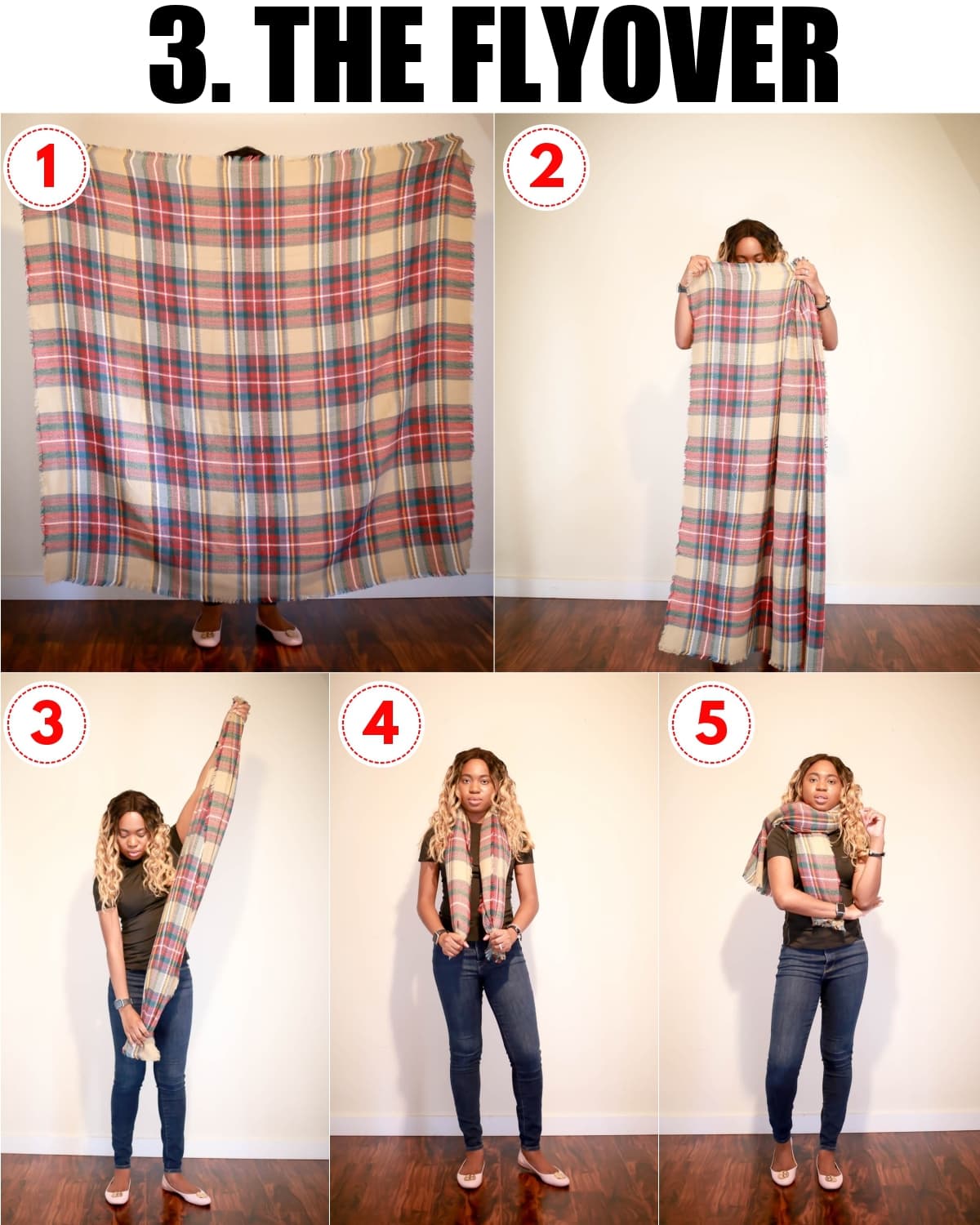 Gather your blanket scarf into small, loose pleats
Hold both ends of the scarf
Pass over your neck making one end longer than the other
Carefully throw the longer edge over the shorter end towards your back
Adjust as desired
---
4. The Faux Poncho
Another easy way to style your blanket scarf this year is to wear it as a faux poncho.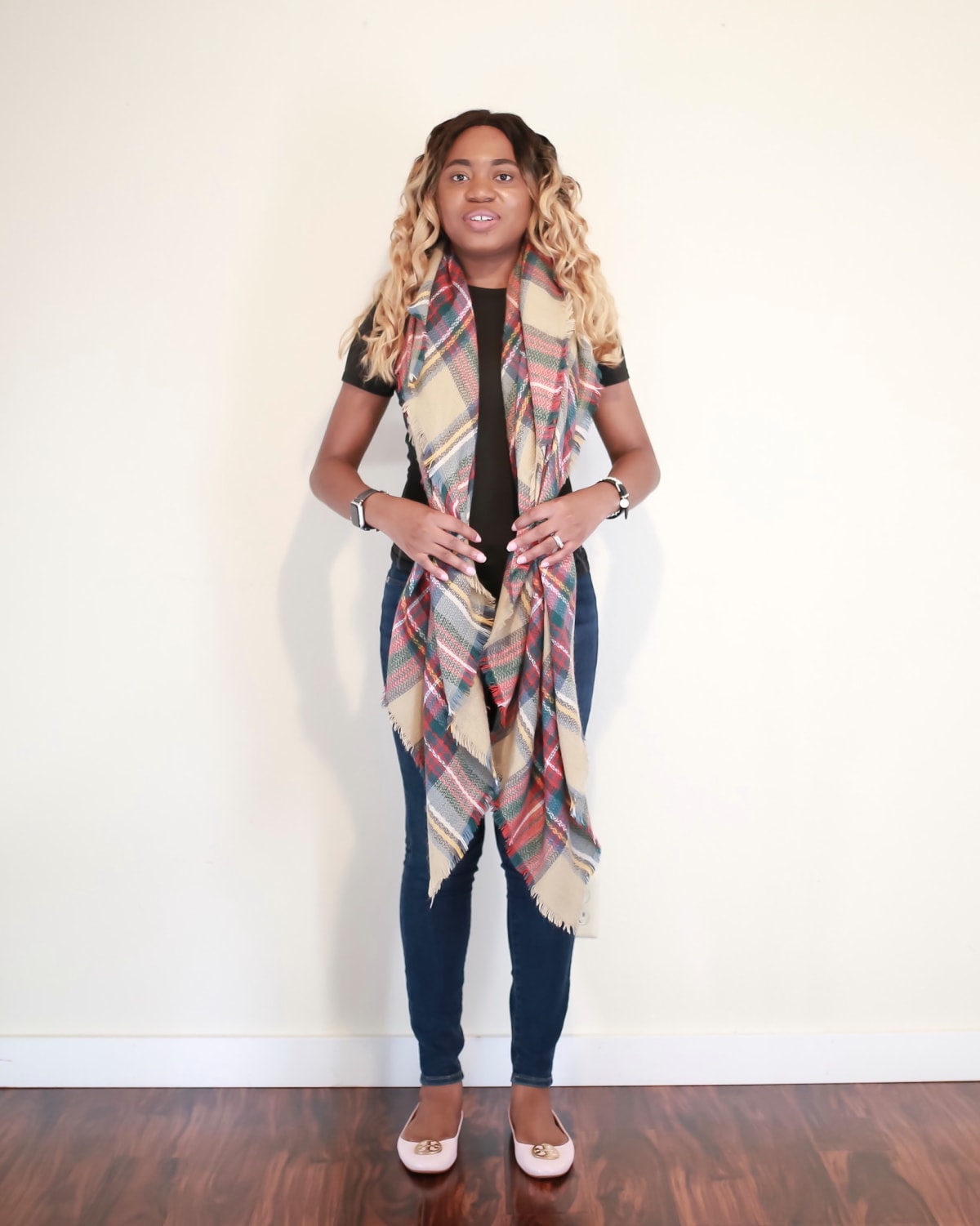 Here's how to achieve this faux poncho look without the excess fabric associated with ponchos and kimonos.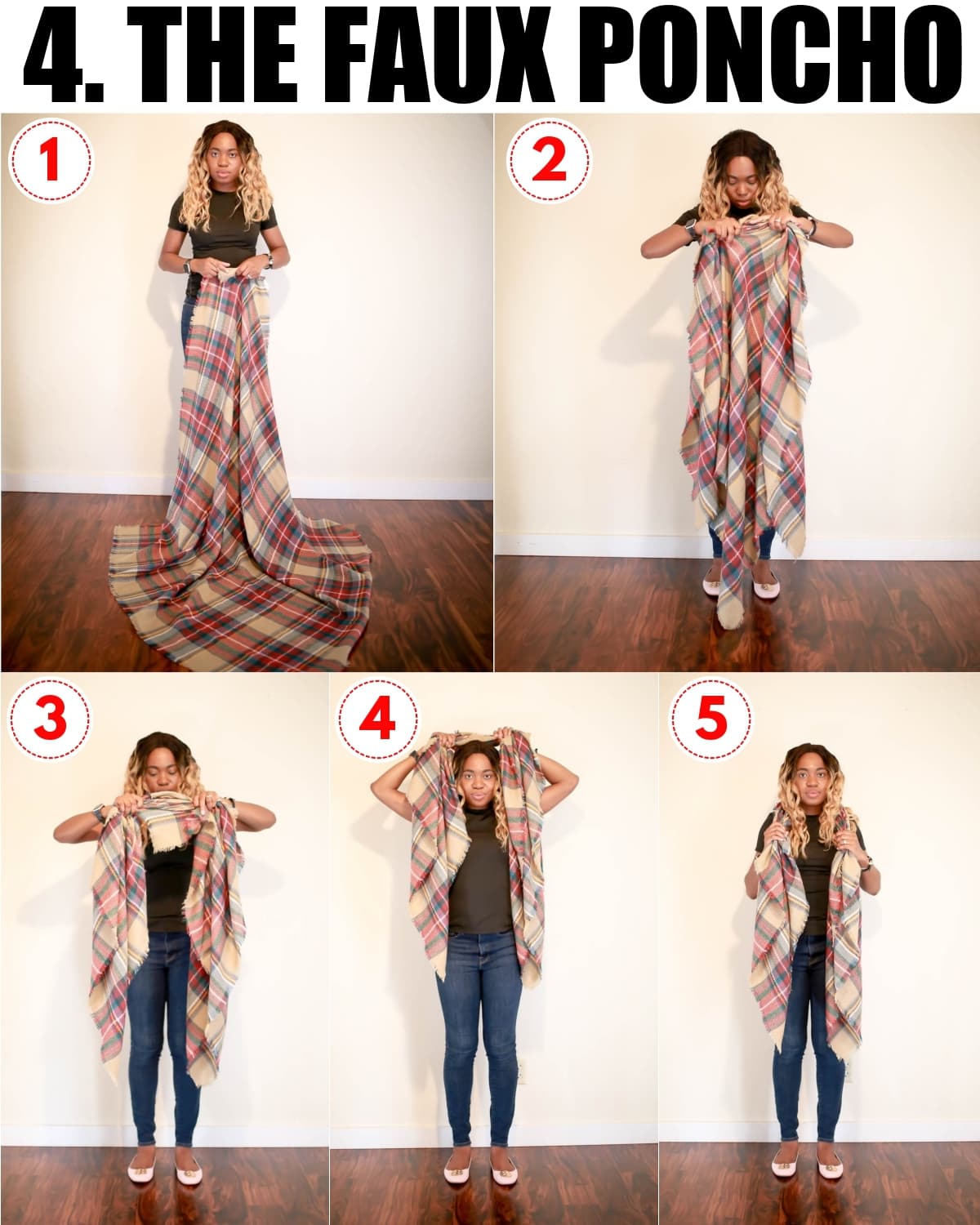 Hold one edge of your blanket scarf
Fold the scarf in small pleats as pictured
Continue creating pleats until you reach the opposite end of where you started from
Place over shoulder
Make scarf even by adjusting both ends
You're done!
That's it! Easy right? I had no idea wearing a blanket scarf in so many ways was this easy. Blanket scarves were a lifesaver when I lived in arctic Alaska and continue to be one of my most-desired accessories in the winter and spring.


---
5. The Bib
This was the style that made me fall in love with blanket scarves. Winters in Alaska was no joke. Blanket scarves served as a functional and fashionable piece of my wardrobe.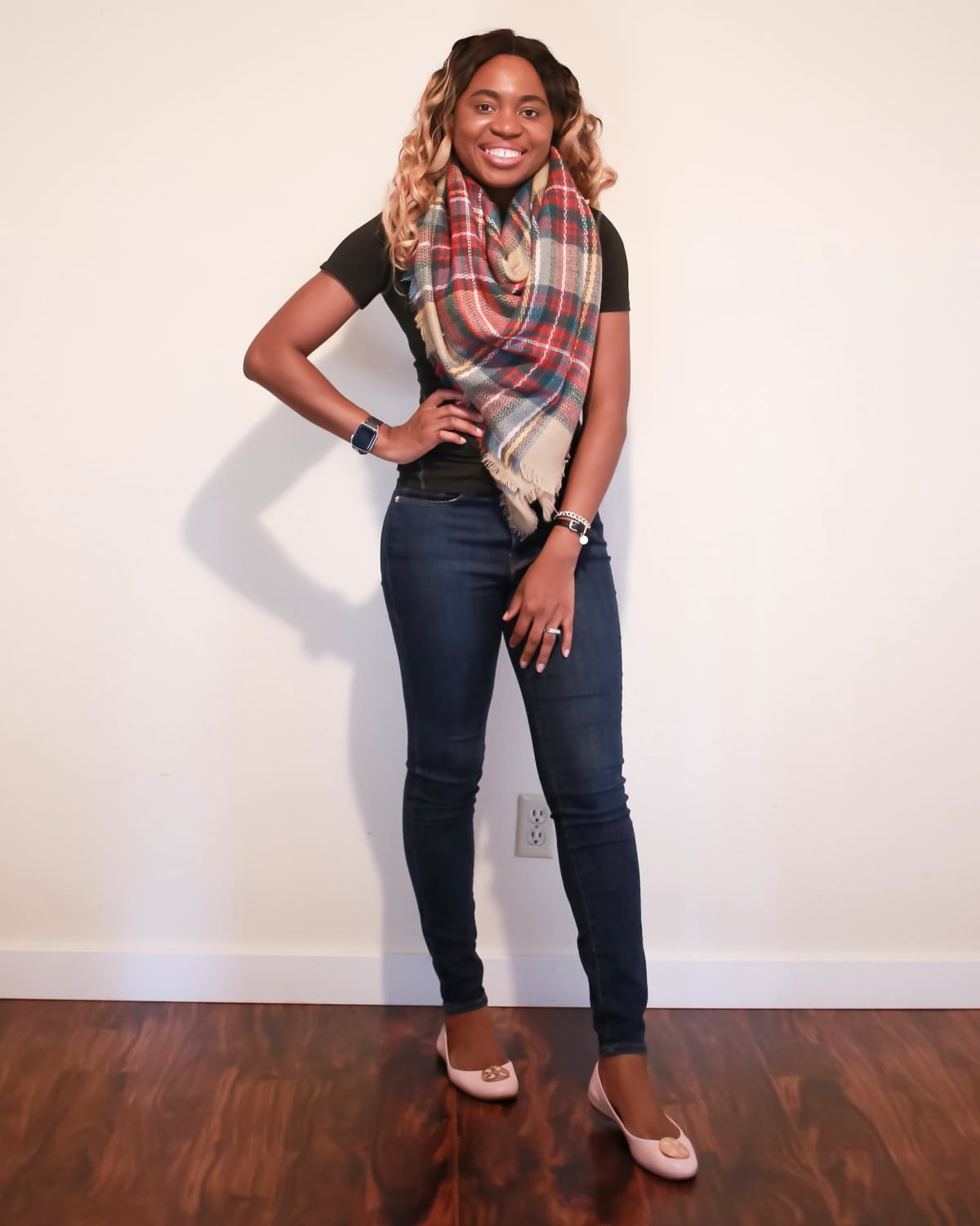 Here's to quickly nail down the bib look effortlessly.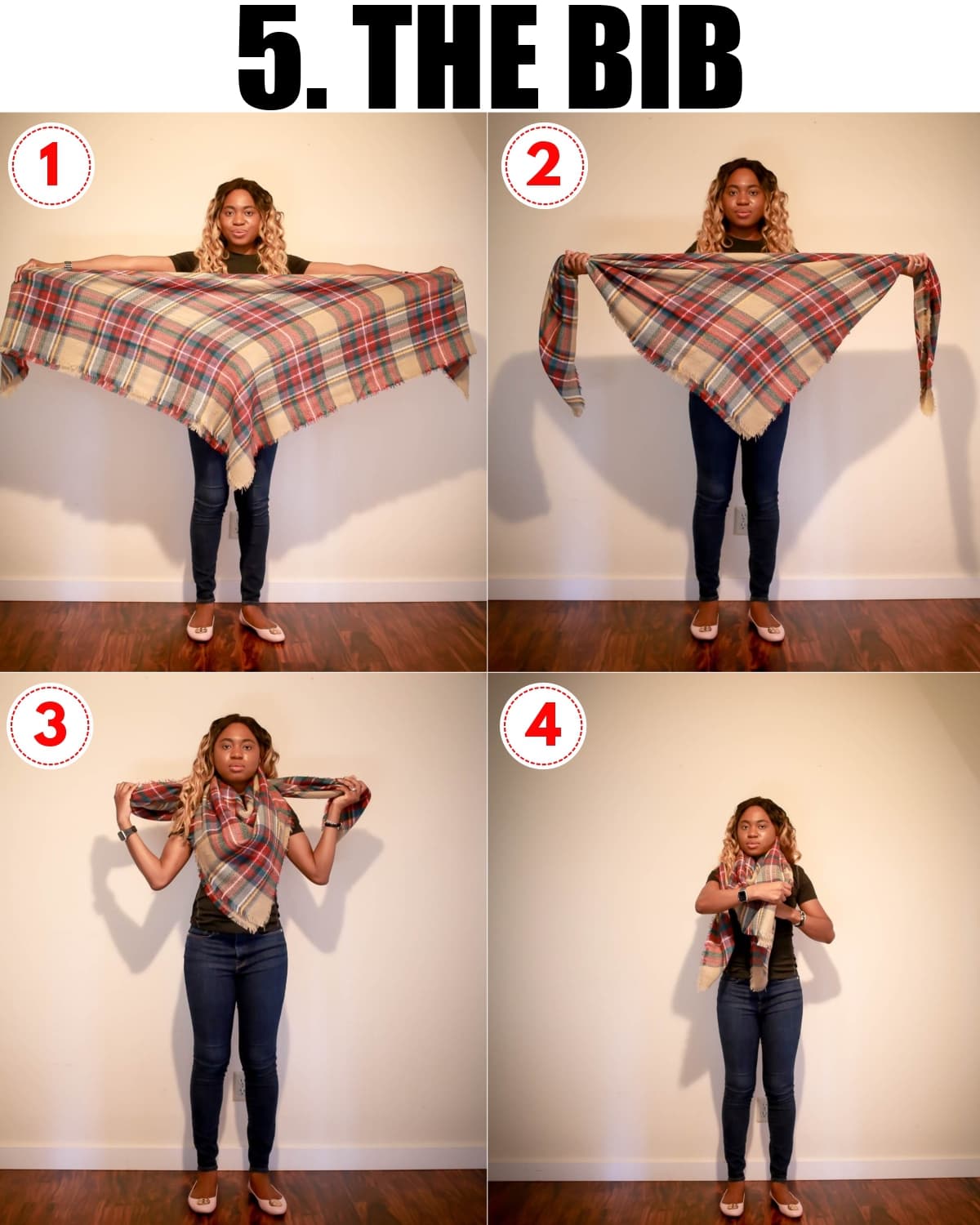 Fold your square scarf into a triangle
Gather the two far ends of the triangle
Wrap around your neck
Bring excess fabric to the front
And tuck underneath the bib
Adjust as needed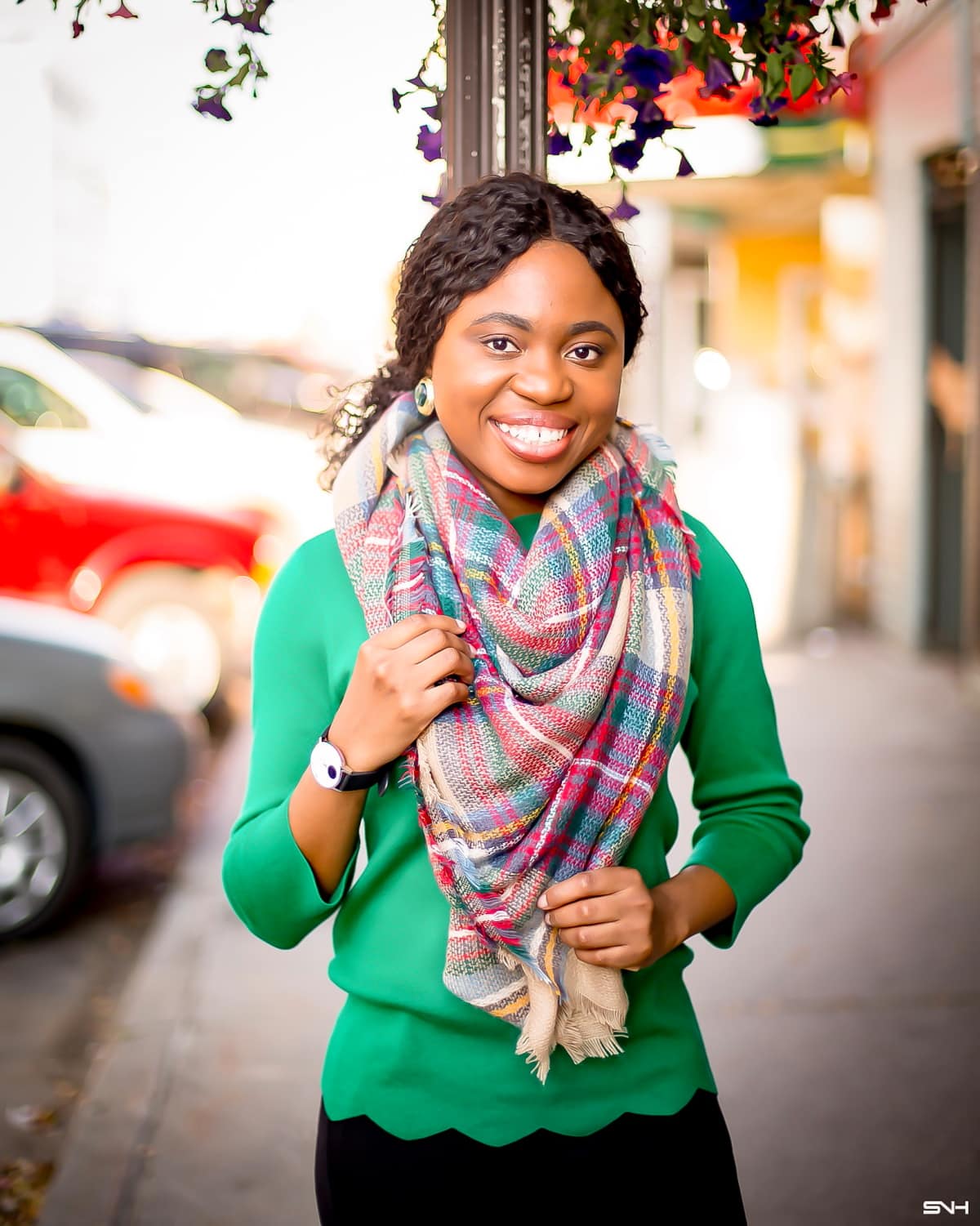 ---
BONUS 6. The Tie-Front Look
This style is pretty much an extension of the bib look from #5 above.


At step 4 above, tie the excess fabric into a simple knot once
Then tie a knot a second time
Tuck the leftover fabric under scarf
Frequently Asked Questions About How to Tie A Blanket Scarf
Why wear a scarf in the winter?
Apart from the fashion statement that blanket scarves provide, wearing a scarf in the winter helps create a pocket of insulation around your neck and mouth. This was a lifesaver when I lived in Alaska as breathing in cold air at -20ºF hurt!
Do you wear a scarf inside or outside a jacket?
If you're trying to make a fashion statement, wear your scarf outside your jacket. If you want to maximize warmth, wear your scarf inside your jacket to create a pocket of warm air around your neck and face.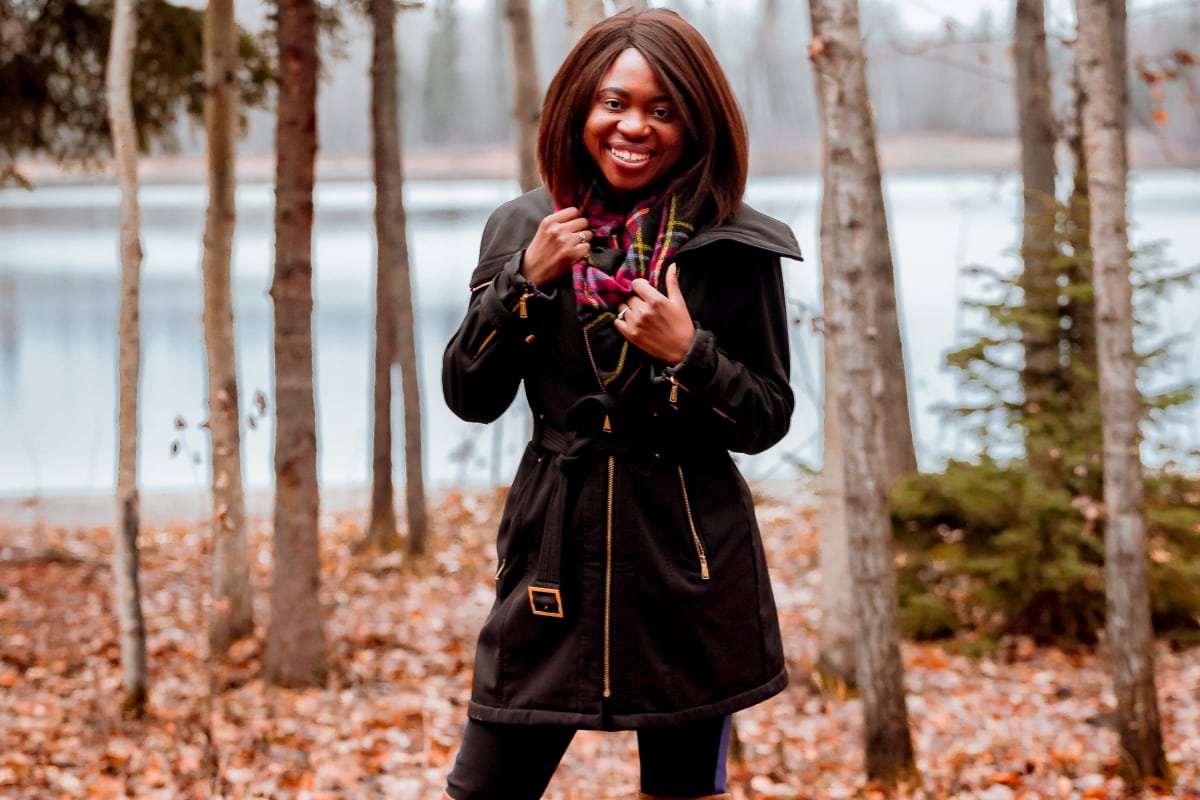 How do you wear a scarf with a dress?
For the most part, pairing a scarf with a dress makes the scarf the focal point of your outfit. Stay away from thicker pieces of clothing, clashing colors, and intricate patterns. Follow the tips about or check out this post to see how I wore a scarf with a dress.
How do you wear a blanket scarf 2022?
The basic principles of wearing a blanket scarf haven't changed in 2022. All you have to do is place the scarf around your neck and choose one of the easy styles described above.
Conclusion
Scrolled to the bottom? I've updated this post with this YouTube video showing you the 10 EASIEST ways to wear a blanket scarf right now through the fall, winter, and spring.
I hope you found this post about how to tie a blanket scarf helpful. Your turn? Which of these styles would you try next?
Interested in more how-to fashion tips? Check out these popular posts:
Not a Prime member yet? Get all the perks of Amazon with this Amazon Prime 30-Day Free Trial. Are you a student? Lucky you! Use this link for your Prime Student 6-month Trial.
Reading this post on mobile? Be sure to download the LIKEtoKNOW.it and follow me "lapassionvoutee" for exclusive, in-the-moment shoppable posts. Also, available on Android 🙂


It's also the fastest way I can keep you updated on the latest sales and newest styles since blog posts take a lot of time to create. Here's what you've recently missed!
PIN FOR LATER!