7 Simple + Affordable Ways to Wear Animal Print Outfits in 2023 [VIDEO]
This post may contain affiliate links which means I will get a commission if you make a purchase at no additional cost to you. As an Amazon Associate I earn from qualifying purchases. Please read my disclosure for details.
It has been a while since I had this amount of fun styling wardrobe pieces. After last week's Amazon Live sharing 7 stunning animal print outfits, I thought it would be a great idea to repurpose that video in the form of a blog post.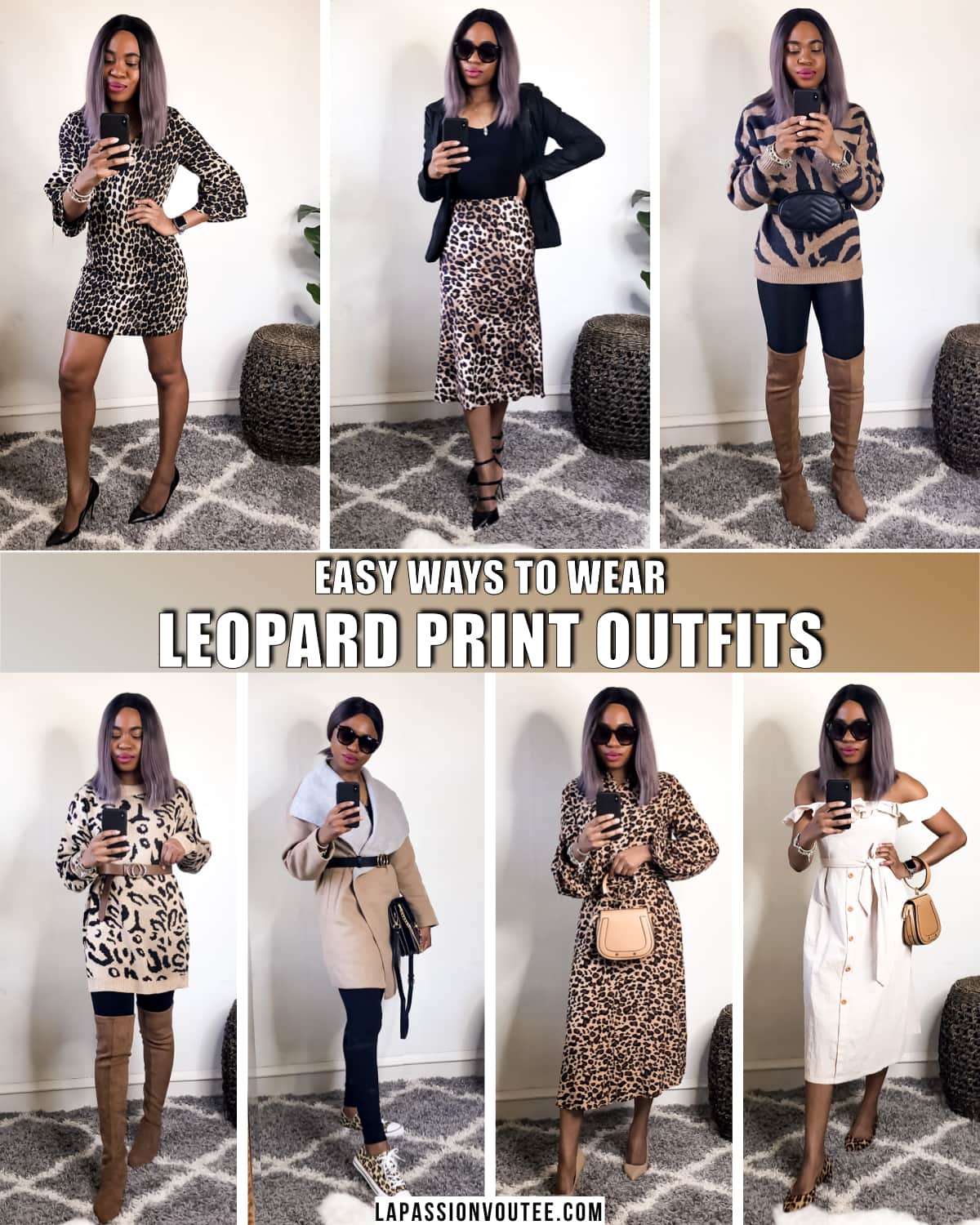 There's a look for everyone – work, cocktail, preppy, date night… I think I surprised myself with the number of animal print and leopard print outfits I rounded up. And the beauty of these outfit roundup is that these affordable fashion finds can be worn over and over again.


Pressed for time? These are the exact animal print pieces I wore in this post. Click on an image for details. Psst! These items ship free with Amazon Prime membership (free trial here).



How to Wear Animal Print Today
A few things to keep in mind to help you effortlessly wear animal print outfits (aka unspoken rules or wearing animal print clothes):

Animal print designs are bold and in-your-face. Wear them sparingly.
Do not detract from your entire ensemble by mixing animal prints (tiger, leopard, zebra, cheetah…).
You can't go wrong by pairing animal print clothes with solid colors.
Be mindful when wearing statement jewelry with animal print clothes (usually less is more)
7 Days of African Print Outfits to Try in 2022
For reference, I am 5″5 and roughly 135 lbs. I typically wear a size 4 (S) and 8.5/9 in shoes.


1. Tiger Print Shirt
For the first animal print outfit, I'm wearing a style combination that I could wear to meet a friend for brunch or for a blogging event. The tiger print sweater adds a pop to the mostly neutral look. The on-trend, Gucci-inspired under $20 waist belt with functional pockets define the curves transforming the attire from casual chic to dressy paired with comfy yet stylish under $50 over the knee suede boots.


Underneath the pullover and thigh-high boots, I wore a lightweight and non-see-through $40 faux leather leggings that are an alternative to Spanx leather leggings. For those that prefer a more casual take, replace the thigh-high boots for ankle booties, black pumps, or even a pair of slides.


I am wearing a size small in the sweater and it runs true to size. The tiger print sweater is also available in both this cute khaki and black combination and a gray and black mix. I bought the faux leather leggings in size small and it fits perfectly. I ended up sizing down the thigh-high boots to a size 8 for a better fit.


Shop This Look


2. Leopard Print Skirt
This leopard print skirt was one of the pieces from The Drop that I styled in December with this lace trim camisole. For this look, I decided to take the "boss babe" approach to show you how I would style this animal print skirt for work/business.


I completed replaced the cami with a fitted tee (similar) that would sit nicely under the silky smooth skirt without leaving any unsightly bumps under the skirt. I know I'm not alone when I say I'm one of those people that can't stay warm at work so I end up layering and drinking lots of hot tea/coffee.


A layering solution is this classic Amazon brand genuine leather jacket that's under $100. With the tee tucked under the skirt, the jacket creates the illusion of a narrower midsection.


The strappy sandals (old – similar), designer-inspired Karen Walker under $15 sunnies, and minimalist wired gemstone necklace seal the deal with this leopard print skirt outfit. The silky skirt is available in several colors and runs true to size (wearing a small). FYI, the skirt is unlined but not see-through.


Shop This Look


3. Leopard Cocktail Dress
We are on to the next way to wear animal print outfits, and this time it's all about bringing sexy back in this bestselling shift dress. Think cocktail, date night, parties and more with this leopard print dress. You can also dress down this look with a pair of flat sandals, ballet flats, slides, or even a dressier pair of gladiator sandals.


I prefer a tight-fitting style so I sized down to an XS in the dress. If you love the relaxed look of a shift dress, get your usual size and you won't be disappointed.


This $35 dress is available in 28 different colors/patterns including florals, solid colors, snake print and more. There's a reason why over 6,500 reviews love this bell sleeve dress.


I kept the focus of the look on the dress by pairing with classic black pumps (similar) and just a few stackable jewelry. You can also wear a pair of pantyhose if you don't want to show too much skin or get your normal size for a longer length.


Shop This Look


4. Animal Print Sneakers Outfit
This animal print sneakers outfit is for the lady that will not compromise on comfort and style. With this look, running errands, meeting up with friends, going to the movies, and even playing with the kids would be easy.


This ensemble comprises of a cozy double-faced wrap wool coat and classic under $25 low top sneakers in leopard print. Beneath the coat is a silky soft lace trim cami (under $35) and high-waisted tummy control leggings that's an alternative for Zella leggings.


I replaced the wool belt that came with the coat with this $16 Gucci-inspired double-o buckle belt that pairs nicely with this multi-compartment crossbody ring bag, a $30 designer look-alike for the $$$$ Chloe Faye bag.


Animal print outfits like this look is an epitome of the triple-c treat (cozy, cute, comfy). For fit, I sized down to an 8 in the leopard print canvas (the large size mirrors the classic All Starts sneakers). Everything else runs true to size.


Shop This Look


---
Interested in more fashion finds? You'll love these posts:
---
5. Animal Print Sweater
For this fifth look, I decided to embrace the oversized animal print sweater since that's a style that resonates with many of my readers. And if you guessed it, oversized sweaters are in style this year. They are chic and practical.


This winning combo features a leopard print sweater, moisture-wicking leggings, and the same under $50 OTK boots with kitten heels. This is a style that is a good balance for work that easily transitions to a nighttime look.


The crew neck sweater is has a medium-light thickness perfect for winter to spring looks. I'm wearing the khaki color in a size small but personally prefer a form-fitting style. Stick to your usual size for an oversized style or size down for a tighter fit.


To create a central focus area, I cinched my waist with this $16 double-ring belt (comes as a set of two) and completed the outfit with these under $50 over the knee boots with kitten heels (runs large even with a pair of socks). I linked the exact pullover, belt, stackable two-tone jewelry (under $20), leggings, and boots below.


Shop This Look


6. Leopard Print Midi Dress
Moving on to animal print outfit number 6 is this leopard print A-line dress. This midi dress is a conservative yet stylish piece that can be worn as a wedding guest dress, to church, graduation ceremonies, and even to work.


There's nothing better than a versatile dress that can be worn for a variety of occasions. And if a little black dress seems too cliche for you, you might love the classic appeal of this leopard print midi dress (here's a similar style on J.Crew). It's so simple to style that the only thing you need is a pair of heeled pumps and a plain statement bag that pops.


The secret to accentuating your curve in this dress is to tie the drawstring higher up on your waistline so when the cotton fabric drops, the smallest part of your waist will be the focus.


I wore these patent heels (similar) that are a close color to the leopard pattern on the dress then grabbed a solid color statement ring bag. I left a few of the buttons open to show some skin then added three bangles and these $12 Karen Walker look-alike sunglasses for a pop.


Alternatively, you can wear open-toe heeled sandals (like these) to balance out the conservativeness of your ensemble. Then tie your hair into a ponytail to reveal bold earrings. This $25 animal print dress is surprisingly 100% cotton and comes in vibrant red and luscious green colors. I'm wearing a size small in the khaki color and it runs true to size.


Shop This Look


7. Leopard Print Ballet Flats
Last at certainly not least is this outfit with leopard print ballet flats. The beauty of this style is that rather than have the leopard print be the main focus, it's used as an accent piece in this ensemble.


The under $30 ruffle off shoulder sundress stands out by itself. And as we approach summer, you can expect styles like these to become the go-to look for fashionistas. The subtle touch of leopard pattern lends this look towards events like brunch, cocktail, graduation, and a vacation must-have. This cotton dress was one of the pieces I packed for my trip to Belgium last summer.


You can easily dress it up as I did here or down for a casual chic look. My pointed-toe ballet flats with calf hair are pricy but the quality speaks for itself. I've worn the flats on repeat since last summer. You'll need to break them in first.


I'm usually a size 8.5/9 and I bought these flats in a 9. I finished this animal print outfit with luxury look-alike sunnies, a top-handle small bag, and under $20 stacked jewelry. I tagged my exact cotton dress, handbag, ballet flats, stackable two-tone jewelry, and sunnies for you below.


Shop This Look


There you have it! This is a roundup of 7 easy ways to wear animal print outfits in 2022. I shared the affordable fashion finds on Amazon Live last week. You can watch the video below.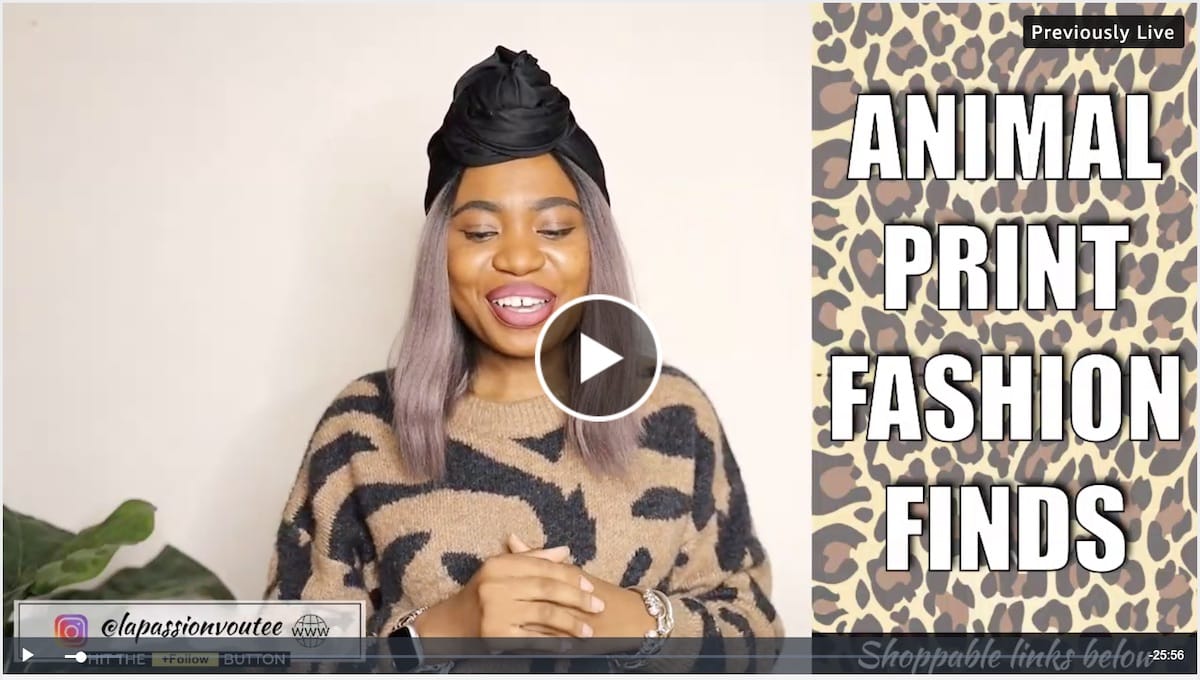 Frequently Asked Questions about Animal Print Styles
What goes with animal print?
Typical animal print combinations include pairing with solid neutral colors that highlight the animal print piece. For example, a leopard print dress with classic black pumps and a statement purse. Or enhancing a solid color dress with statement leopard print heels.
How do you style an animal print dress?
How do you style a tiger print?
Tiger print is another form of animal print that can take a look from boring to bomb in seconds. For an on-trend approach rock cozy tiger print sweater with solid black faux leather leggings, classy OTK boots, and take it up a notch with a solid color waist belt or purse. See how I styled this combination above.
Is leopard print trashy?
The short answer is "heck no!" The long answer is "it depends on how you style leopard print. Seriously, the classy vs. trashy look applies to almost any pattern. The way you combine leopard print and the area of your body the print draws the eyes to are the determining factors.
Is leopard print still in style 2022?
Yes, leopard print is still in style in 2022. Just like any classic print that waxes and wanes in customers' tastes over time, the same applies to animal print outfits. Fashionistas were seen strutting leopard print in the recently concluded Sprint/Summer 2020 fashion week.
What to wear with animal print shoes
Your options are limitless with animal print shoes. You can wear your animal print shoes with solid colors like work pants, jeans, neutral colors, simple patterns like a checkered shirt, knitwear of similar or color, monochrome attires (like all black) and even accent with a pop of color like red or army green.
PIN FOR LATER!