17 Best African Head Wraps In 2023 & Where to Get Ankara Scarves
This post may contain affiliate links which means I will get a commission if you make a purchase at no additional cost to you. As an Amazon Associate I earn from qualifying purchases. Please read my disclosure for details.
African head wraps have a rich history in the west; and today, these African print scarves have become a statement piece for millennials. These headgears come in numerous sizes typically 70 inches by 22 inches in ankara, dashiki, kitenge, kente, and pretty much any ethnic African print.


As an African with a deep appreciation of the African culture, I love and wear African print clothes. But my interest in African head wraps happened recently.


I was tired of the usual braids, weaves, and extensions before I discovered ankara turbans. Since then, my collection of African head wraps have been slowly increasing.


African print headscarves have become an essential accessory among women in the contemporary world. And movies like Wakanda have put African print at the forefront of the fashion landscape. Head wraps are worn in different styles to satisfy individual desires. Ankara headscarves are used to:

As a turban to make a fashion statement
As a scarf to complement your outfit
As a piece of your African print outfit
As a turban on bad hair days
I've personally been using ankara and kente scarves to complement my non-traditional outfit to make my outfits pop and to hide my hair on bad hair days.


I have rounded up over 15 of the best African head wraps and where to get them. Because these pieces are available in limited quantity, I recommend scooping up your favorite before it sells out.


Without further ado and in no particular order, here are the top 15+ best headscarves (as well as where to get them).


17 Best African Head Wraps In 2022
First up is this ankara headscarf that is made from 100% African wax fabric. What I particularly love about this wrap is the vibrant yellow and orange interwoven into a complex mix of patterns.


The hues of yellows and oranges draw close similarities to kente print. Ths burst of colors makes your outfit pop when paired with neutral tone clothing. You won't believe how cheap it is! The scarf measures 70 inches by 20 inches. This stylish head wrap adds a classy touch to your elegant dress code.


---
2. Kente Wrap by Glamorous Chicks Cosmetics

If you know a thing or two about African print, you might be familiar with this Kente print. Known as the royalty print from Ghana, this colorful fabric features a beautiful mix of vibrant yellow, orange, and green colors. You will fall in love with this wax print headwrap.


You can wear this African print with any outfit of your choice; a pair of jeans, a romper, and even a cocktail to name a few. The result is an elegant outfit that will get you noticed. This scarf measures 72 inches by 36 inches.


---
This is not the first time you've heard me talk about Grass Fields' pieces. The Osumare hand-printed scarf features double-sided print that looks good from any angle.


Use this 100% African wax cotton it to cover up or style your hair paired with a white, black, or red top for a look that won't go unnoticed. This wrap measures 72 inches by 22 inches.


---
Oh my God! Those were the only words I could utter from my mouth when I laid my eyes on this beautiful, exotic-looking Africa print headwrap. Now, that's a headwrap that will definitely get heads turning wherever you go. The blue-yellow cotton with a touch of black and white is so sophisticated and it can be styled how you want.


If you're looking for an African head wrap that is cool-toned, you will love this scarf. This print will also go well on ladies with medium to darker complexions. But don't sleep on it as there are only a select few left.


---
Just when you think you've seen it all, you discover this ethnic print ankara head wrap handmade featuring authentic ankara fabric. The beauty of this ankara head tie is that you can wear this scarf all year round because of the colors and distinctive patterns.


Want to stand out? Combine this African print wrap with a white tank top or blouse and denim to create a top-notch appearance. Measures 55 x 20 inches.


---
If you love pink, you will love this African print scarf. The standard size measures 72 inches by 22 inches with tailored edges. Other available sizes include extra-long, square, bandana and children.


So no matter your needs, there's an option for you. Like most 100% African head wraps, this scarf is made from 100% cotton fabric that can be styled in many different ways.


---
7. Ankara Turban by Head Scarfs And Wraps
Up next is this double-sided ankara turban scarf that is dyed on both sides for convenience. Per this small women-owned business their African print scarves measure 72 inches by 20 inches. The seller promises African head wraps that are made of high-quality cotton wax, available in a wide range of colors.


---
---
Who would have thought that you could find 100% African cotton wax wrap on Aliexpress? I know, me neither. Although I have not ordered from this retailer, the seller has amassed phenomenal ratings and reviews. As with all wax print fabric, be sure to use a mild detergent to wash the ankara scarf. This African head wrap measures 43 inches by 20 inches.


---
African print fashion has seen a lot of beautiful patchwork pattern dresses, tops, and skirts and now, we can see it in headwraps too. Isn't that amazing? When I saw this patchwork pattern African headwrap on Aliexpress, I was captivated by its beauty.

---
Handmade by a self-proclaimed minimalist mix designer, this headwrap comes in a generous size. At a measurement of up to 80 inches by 30 inches, you can wear this scarf as a sarong or shawl. Each piece is made to order so allow additional time for delivery of this head wrap. As a side note, this scarf is not pre-wrapped/tied.


---
Talk about a mommy and me outfit with this ankara scarf. I can already picture so many fun ways you can style this African headwrap that'll be a stunner. The gold and brown color combination adds some subtle yet flirty vibe to the headwrap.


One thing with this headwrap is that it is very playful yet conservative, not too loud but very noticeable in the crowd. If you want to play it cool, you have a winner with this.
This African head wrap will be a stunner for special occasions like graduation ceremonies, prom night and even wedding ceremonies. Have you seen those Nigerian traditional wedding regalia? Yup! That's what I'm talking about.
---
Yes, here's another handmade head wrap available on Walmart. My very first ankara head scarf purchase from Walmart was from this seller. It is soft and lightweight and most importantly, made from 100% cotton.


These scarves are made in Nigeria, so you know the quality of the product you're getting. The wrap measures approximately 70 inches by 20 inches and ships free. You'll experience the best of African culture in style.


---
Have you ever seen a typical Nigeria Aso Ebi event or party or had the privilege of attending one? If you have, then you will understand the importance of this unique headwrap. This 77 inches and 22 inches all round beaded Nigerian gele will make you stand out any time even as it is sure to give you that regal look of a queen.


And if you're like me, turbans will become your go-to accessory and headgear. Check out my Instagram profile for evidence (and follow me while you're at it).


Obsessed much? Maybe! As you would expect, this ankara scarf is made with 100% African print that is 100% cotton and made locally in Nigeria by artisans. Thumbs up for this ready-to-wear African head wrap for women!


---
Are you still standing? If this ankara head wrap did not knock you off your feet, I don't know what will ?. Not only is this ankara print African head wrap a stunner, but paired with a timeless and chic blouse, you'll turn heads.


If you thought African print couldn't get more stunning, you'd be wrong. The merger between a traditional piece and Western influences make this scarf and your entire ensemble a winner.


---
With over 1,300 five-star reviews on Etsy, it's evident that Afrique Clothing Store is doing something great. This blue and yellow head wrap is currently a bestseller on Etsy. The vibrant blue and stunning yellow colors will get you noticed.


The colors of this print make it easy for you to combine this scarf with your wardrobe. Available in XS to XL measurements, you will get a scarf that meets all your needs. This double-sided headwrap features neatly hemmed edges.


---
Next up is the African Show headwrap for women that comes with tailored edges for more natural wrapping. Some head wrap prints come with a fixed design to save you the hassle of tying a scarf if you are in a hurry. The headscarf is well-priced and ships free with Amazon Prime.

---
Last but not least is this soft African scarf by Afrique Clothing Store. The colors again are stunning, and that print begs to be noticed. As with all Afrique Clothing Store pieces, this scarf is available in several sizes (XS to XL) for your desired styling even for super long braids or rasta styles.


The hemmed edges a major plus. Also, the ankara print is double-sided to keep the style front and center as you carry on your day.


---
Not sure which African print scarf to get on Amazon? Here the current best-selling ankara scarves you should consider:
Last update on 2023-11-14 at 20:47 / Images from Amazon Product Advertising API
African head wraps have become a trendy design and dare I say, a way to make a statement today. Now, African print head wraps have become an essential accessory among women in the contemporary world. These ankara wraps have re-introduced a unique trend in the fashion industry.


And, It's a wrap! No pun intended ?. I hope you found this African head wraps post helpful in your search for the best ankara and kente print headscarves. If you're uncertain how to style your scarf or need a few pointers for outfit pairings, check out my outfits.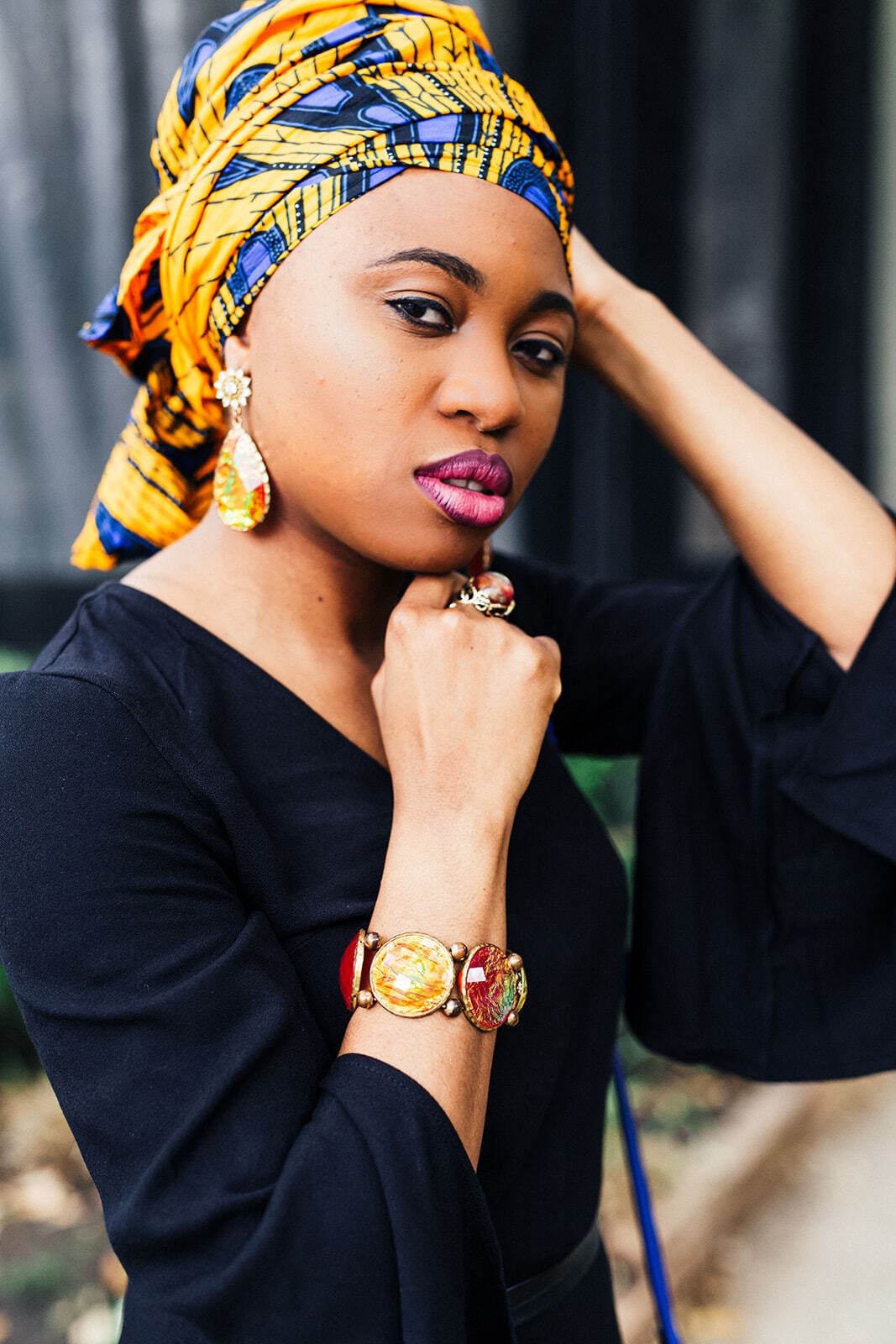 The Best Ankara Head Wraps
Click on each image below to shop the best collection of affordable and 100% wax print African head scarves.


For tips and different ways to style your African head wrap, you'll find this YouTube video helpful. Until next time, thanks for stopping by.


Note: This post was originally published in 2017, but was recently updated to include a fresh crop of the best African print dresses for you!


PIN FOR LATER!
Interested in more African print clothes? Check out these popular posts:
Reading this post on mobile? Be sure to download the LIKEtoKNOW.it and follow me "lapassionvoutee" for exclusive, in-the-moment shoppable posts.


Also, available on Android 🙂 It's also the fastest way I can keep you updated on the latest sales and newest styles since blog posts take a lot of time to create. Here's what you've recently missed!