This post may contain affiliate links which means I will get a commission if you make a purchase at no additional cost to you. Please read my disclosure for details.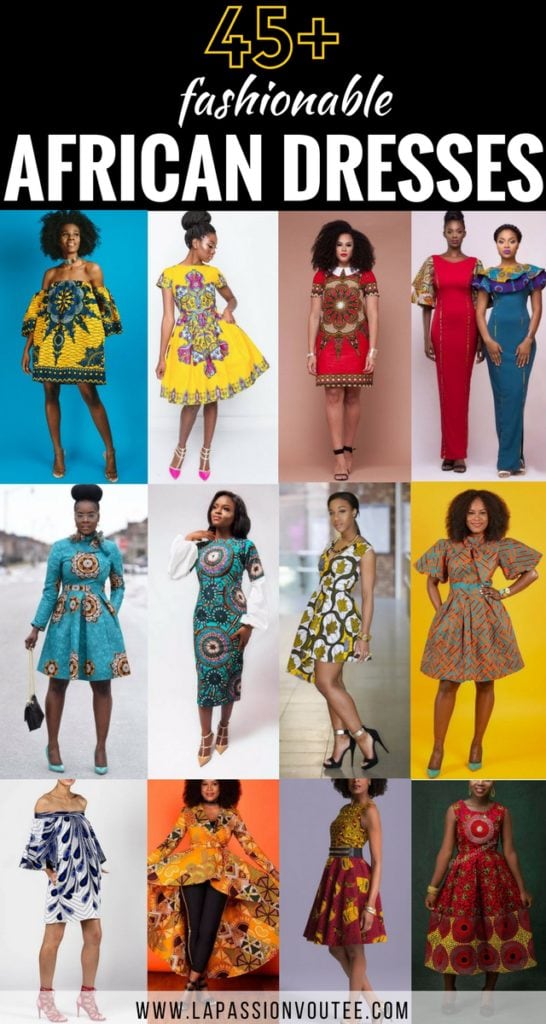 My name is Louisa and I have an addiction to African dresses! Grab a drink, popcorn, and your wallet because you're about to be exposed to 45 amazing handmade African dresses with links to where you can get them.
I know from personal experience that there's nothing worse than finding the perfect dress without knowing where to get it. It's my mission to never leave you high and dry.
2019 UPDATE
I try my best to keep this post updated. As you might know, African print designs sell out fast so by the time you find a an ankara style you love, it might be too late. I'll share another major update to this post with newer styles PLUS where to get them shortly.
Until then, check out my sister's African print store. She sells high-quality, affordable, handmade and custom African print dresses and ethnic bomber jackets. She also ships internationally. Need a custom design? Contact her here.

As you scroll through this epic list of one-of-a-kind African wax print dresses, simply click on the photos below to be directed to the seller's store to get more information and to shop the look. If an African dress appears to be sold out or not available, reach out to the seller. The ankara dress might still be available but not relisted in the seller's store. It never hurts to ask!
Sadly I am not a designer or a seamstress so once these African styles sell out, they may be gone forever. Without further ado and in no particular order, here are my favorite African dresses that you need right now (+ links to where to get them).
Ready? 3, 2, 1 —> African dresses 🙂
This was a difficult job narrowing down the best African wax print dresses down to only 45. If you want to get your hands on any of the styles showcased above, simply click on the photo to be directed to the seller's store. I'm just a girl who has close ties to her roots with a deep admiration for African print dresses.

Keep in mind that most African dresses are handmade when ordered so they cost a lot more than clothes you'll find at your local retailer. Follow the seller's instructions to properly care for your unique clothes. Or read this post on how to care for your African print clothes. Special care must be taken to ensure that you preserve the life of this delicate fabric.

African dresses are so unique that big brands and retailers are beginning to introduce these styles into their collection. I hope you loved this post as much as I enjoyed creating it. A big shout out to the ladies and gents who have made it their goal to serve us the best African print styles. My closet would be very sad if not for their handwork. As always, thank you for stopping by!

Interested in more African dresses and outfits? You'll love these:

PIN FOR LATER!
---
NEVER MISS A POST!
Join LPV email list to get the latest blog posts, beauty hacks, outfit tips & ideas, PLUS special sale alerts, exclusive giveaways, and behind the scenes peeks!