The Audacious Ankara Midi Dress I Wore to New York Fashion Week
This post may contain affiliate links which means I will get a commission if you make a purchase at no additional cost to you. As an Amazon Associate I earn from qualifying purchases. Please read my disclosure for details.
When you get an exclusive invitation to the Metavivor breast cancer fashion show during New York Fashion Week, you have to bring your A-game in support of your ladies. I could not think of a better way to "wear pink" than to show up in nothing but the most stunning and (slightly) audacious ankara midi dress designed by the one and only Valerie of WithFlare.


Metastatic breast cancer (MBC) is taking the lives of hundreds of women every single month in the US alone. That's why organizations like METAvivor is doing everything it can to fund MBC research. And the NYFW was a fundraising opportunity to keep researchers in their labs (more here).


The event was a powerful conflagration of Previvors, Survivors, and Warriors fearlessly strutting down the runway. With many of these beautiful women sharing and displaying the scars that were left behind from surgeries and chemo treatment.


After the event concluded, Emmalyn, Vivi and I took to the streets of New York to shoot a few outfits. It's not every day that you go out of your way to New York.


This stunning ankara midi dress (sans the shoes) was exactly what I wore to the fashion show. It's no secret that I love African print clothes – proof, proof, and more proof. The vibrancy of wax print clothes naturally draws attention.


Although I know this fact, I am still that girl that gets uneasy when I see many eyeballs staring at my ankara clothes or headwrap.


From the first time I discovered Valerie's patchwork African dresses and skirts on Etsy, I was hooked. If you need authentic, jaw-dropping pieces, she's your girl. Check out her reversible dresses. Although her African print clothes come with a hefty price tag, they are worth the investment.


This 100% cotton ankara midi dress is fully lined, has pockets, and comes with a fun waistbelt. While this beauty might bot be your everyday dress, the dress is super versatile. Rock this sexy sweetheart dress to holiday or work parties, cocktail, prom, graduation, and even fashion week as I did.


My scarf is a custom style from WithFlare designs. When I reached out to her last summer asking for an African print patchwork scarf, she was game. She did not have patchwork scarves listed on her store but I figured, it was worth the shot. One week later, I received this massive headwrap.


It's the same scarf displayed in my profile photo on the blog and on social.


I even wore the scarf to the Trevor Noah show last summer, which unsurprisingly got me the attention of one of the hosts (those people that keep the crowd excited before the real host shows up).?


---
Interested in more African print fashion? You'll love these posts:
---
In 2017, I wore a piece by WithFlare to my first Fashion Week. The ankara style I wore was this custom-made jumpsuit. Valerie killed it in the streets of New York with this one. It was my first time at NYFW.


As soon as I stepped out of the car and crossed the street to where the show was, photographers and their cameras came running. It was a little intimidating!


I pulled out a turtleneck long sleeve top (similar) from my donation pile to style it with the ankara midi dress. And yes, it's the same top I wore three years ago. I was already looking to replace it with an actual full-length blouse like this one or a bodysuit like this one. But ran out of time.


I am wearing Valentino-inspired sandals (very similar) with kitten heels. This pair is under $75 compared to its luxury counterpart at $1,000+.


My stacked jewelry adds depth to the entire ensemble. I've had my eyes on these top-rated, best-selling Amazon jewelry. They were in my shopping cart for a while before I ended up pulling the trigger. I love them!


If you can only get one, I highly recommend the chain-link bracelet or this twisted bangle.


My chandelier/teardrop champagne earrings were a nice touch that brought out the gold-tone of my jewelry. Find the earrings here.


I'm also wearing this stylish Victoria Emerson mesh watch. The vibrant green face elevates the attractiveness of the watch. The watch is available and on sale here. But if you prefer a simple style, you'd love this comparable watch with a plain white face.


On my other arm, I snapped on a now sold-out Victoria Emerson boho cuff with tassels. Victoria Emerson now has even more styles to choose from. This cuff and this cuff are similar to the one I'm wearing. Get the scoop on my favorite Victoria Emerson bracelets here.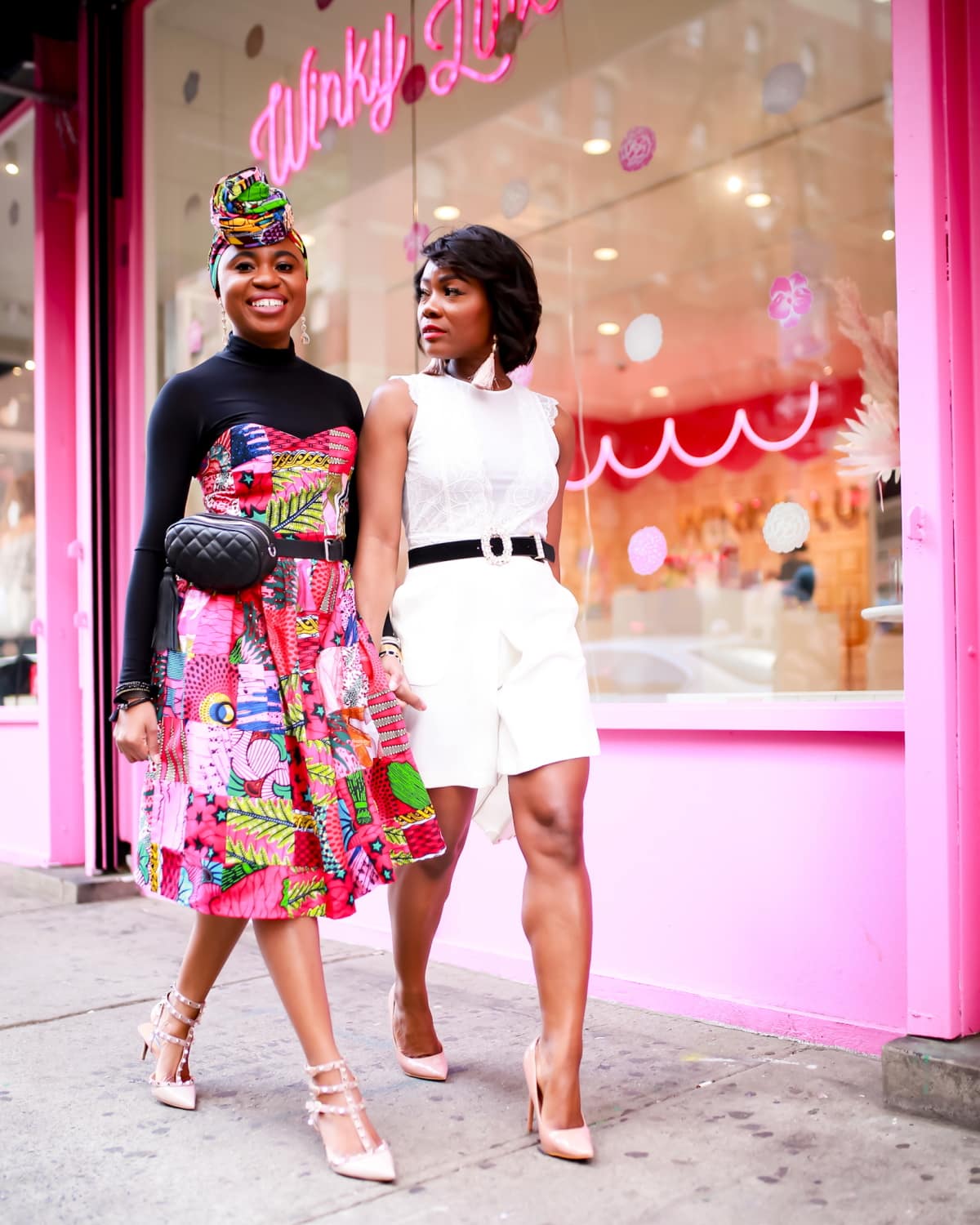 I am wearing:
Sweetheart dress | Studded sandals (similar) | Designer inspired bracelets (style 1, style 2, style 3) | Belted waist bag | Mesh watch | Teardrop earrings | Turtleneck top (similar) | Patchwork headwrap (similar) |
I thought it would be fun to play with my accessories. So instead of carrying a clutch or small purse as is typical with this look, I chose a belted waist bag. It is definitely a nontraditional look but hey, it's for NYFW 😀 The bag is super spacious and has a zippered pocket and a pouch pocket to store your small sundries.


You still have lots of room for your phone, power bank (lol), and keys in the main compartment. And if this quilted waist bag looks like a popular style you've seen it's because major brands/retailers like DSW, eBags and even Gucci (the Marmont belt bag) have all followed suit on this belted purse trend.



So this purse looks like its brand name Gucci fanny pack with slight modifications like tassels, quilt pattern, and a chain strap to switch this purse to a crossbody bag (how cool!).


PIN FOR LATER!
Reading this post on mobile? Be sure to download the LIKEtoKNOW.it and follow me "lapassionvoutee" for exclusive, in-the-moment shoppable posts. Also, available on Android 🙂


It's also the fastest way I can keep you updated on the latest sales and newest styles since blog posts take a lot of time to create. Here's what you've recently missed!