My Dramatic New York Fashion Week African Print Patchwork Outfit
This post may contain affiliate links which means I will get a commission if you make a purchase at no additional cost to you. As an Amazon Associate I earn from qualifying purchases. Please read my disclosure for details.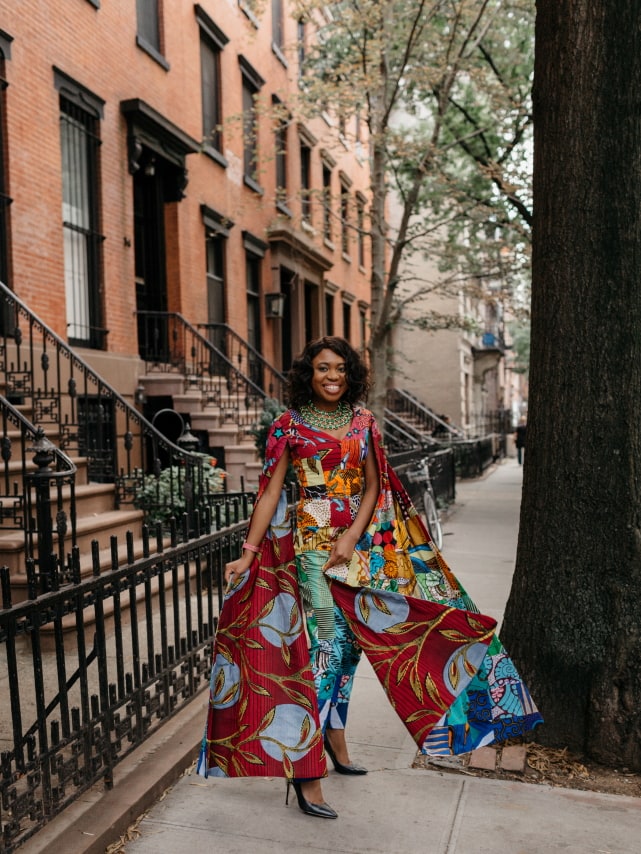 Stepping into 2017, I never thought that this would year that I finally made it to New York during fashion week. My last visit to the Big Apple was more than seven years ago during a transit to the suburbs.
As I cultivated an escape plan from Alaska for a few weeks to South Jersey, it dawned on me that New York was within my reach. Being adventurous, I figured why not? Why not take this shy Alaskan girl to the overcrowded Manhattan.
Shop The Look

One thing was missing though! New York Fashion Week (NYFW) meant that I needed an outfit that would stand out. I sifted through my closet for the "perfect" outfit but nothing seemed to cut it. I reached out to Valerie of With Flare Designs at the very last minute.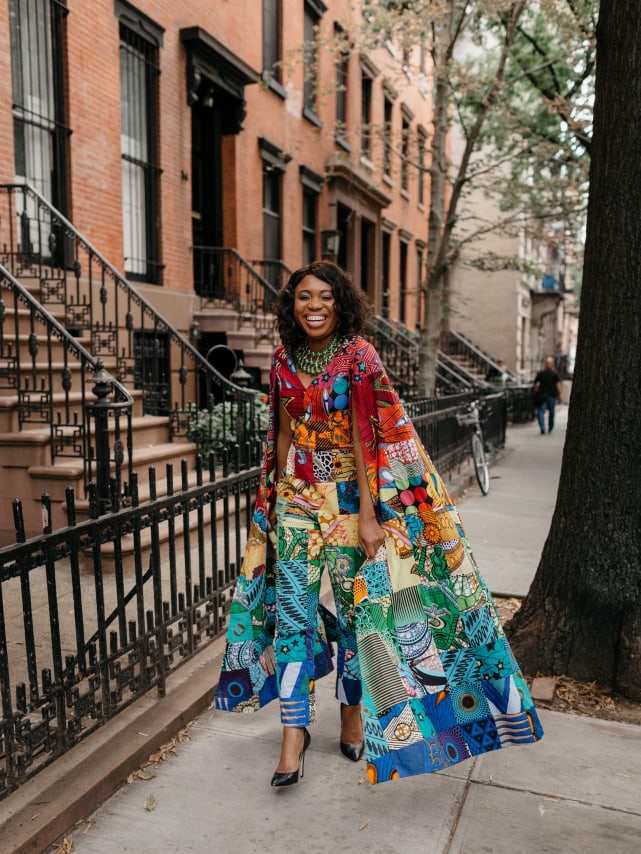 Worried that I'd be out of options, I tossed a few African print attires in my luggage. Val and I hashed out the details and she went to work. All I knew was that she would be making an exceptional patchwork beauty that was guaranteed to be a showstopper.
I've always known that With Flare Designs crafts spectacular pieces. But nothing prepared me for what I got! You know, With Flare is the mastermind behind some of my favorite African print pieces like this reversible ankara patchwork dress and this ravishing high-low skirt with patchwork details.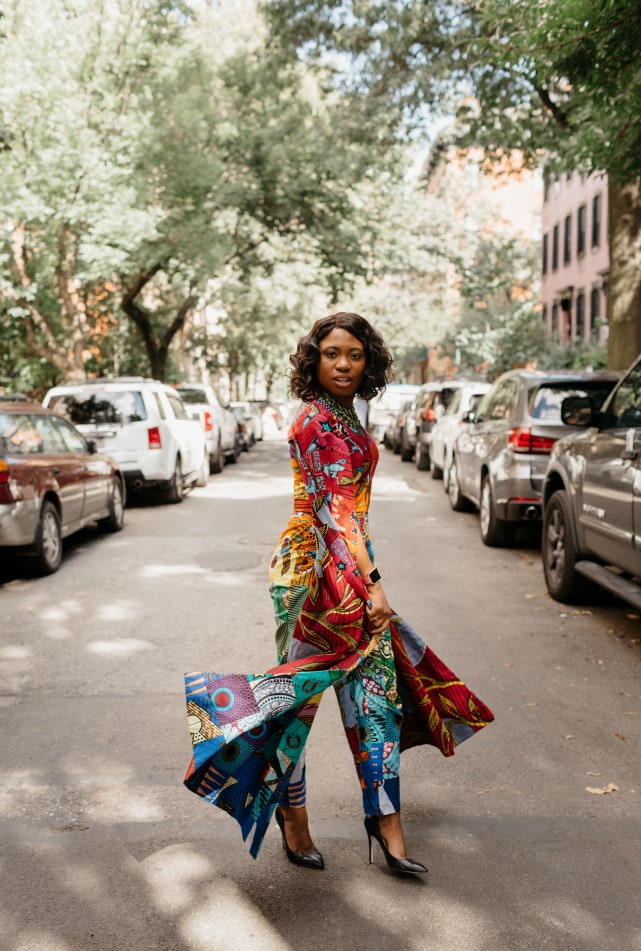 With my understanding of the intricacies of patchwork I was not sure that Valerie could outdo herself one more time.
I held my breath, heart racing as I opened the Express Mailbox containing my NYFW 2017 outfit. My hands were shaking as I unfolded the nicely-packaged jumpsuit. I was in awe! Like how could someone literally cook up this style, cut and sew it to perfection in a few days?! Valerie did and I was not about to let her down.
Indeed, I was ready for my 1-day visit to Manhattan for New York Fashion Week. The aura, the people, and the vibes made my feet tremble as I maneuvered my way, feigning confidence, through the streets.
I wore this outfit for my first photoshoot before making my way to Clarkson Skylight Sq., where professional photographers and press laid in wait for celebrities, designers, and influencers.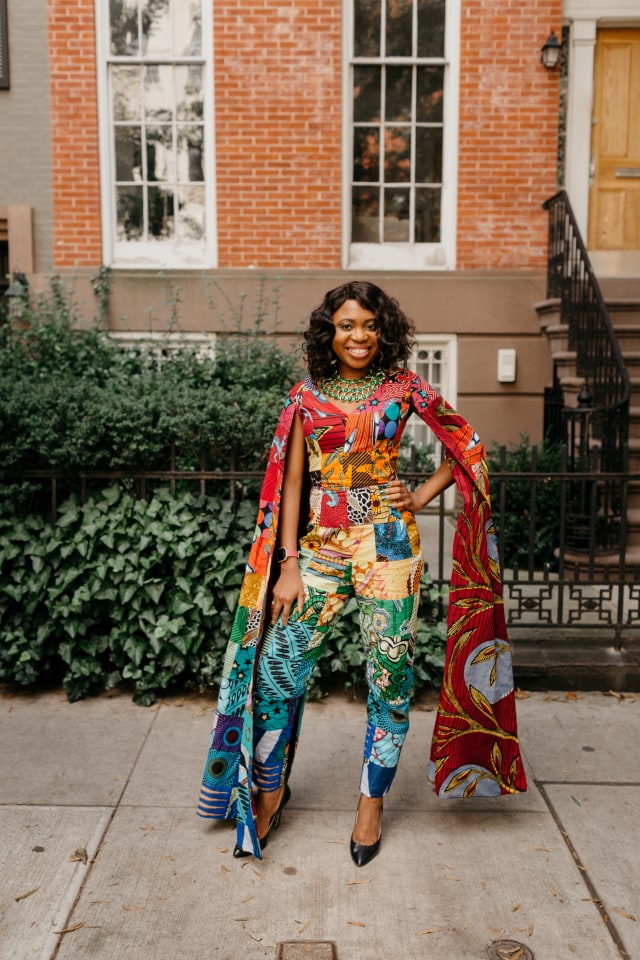 As I stepped out of the car, I realized I had no sense of direction. So I unlocked my phone scrambling to call my friend as I waited to cross the streets. As I spoke to her, I was inundated with five or so photographers. I'm pretty sure I looked visibly scared.
The rest of of my time in that area seems like a blur. I remember holding my breath and my cape hoping I don't trip as I tried to pose in front of the cameras. I believe a photographer kindly hinted to me to get off my phone.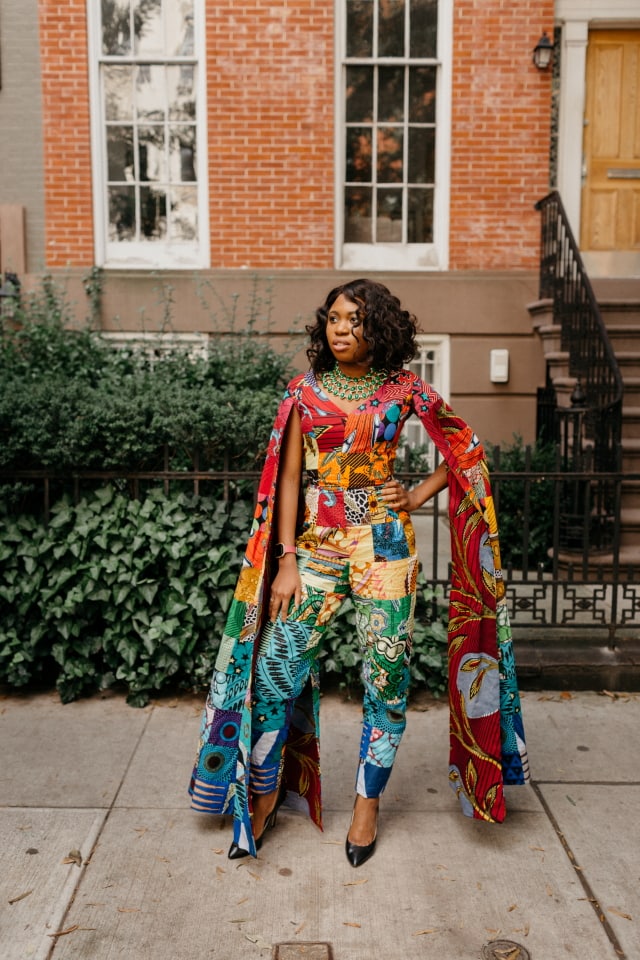 It felt surreal. I could feel the air go in and out of my lungs as I struggled to strike a pose. I eventually made my way across the street to meet up with Hollie. Chatted with her for a few then figured it was time to prepare for my next shoot and an event that I had to attend later that evening.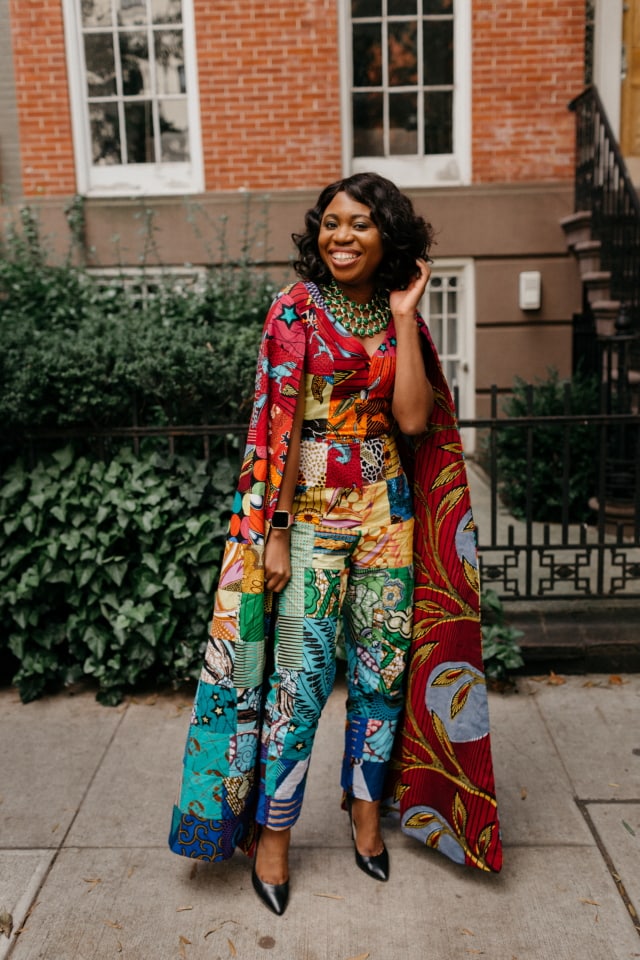 As I wait at the light to cross again, a few more photographers came my way. This time, I felt a little more confident. I had to do Valerie justice! By the time I got to the car, I felt a sense of relief. Special thanks to With Flare Designs for coming through with my stunning ankara patchwork jumpsuit. Here's to more New York Fashion Week experiences!
You may also like these posts: The Cutest Reversible Ankara Dress | African Print Palazzo Pant Set with Pleated Sleeves |
I am wearing:
Black classic pumps (similar)
Amrita Singh Reversible Bib Necklace
With Flare Rainbow Patchwork Jumpsuit
Fitbit 'Blaze' Smart Fitness Watch (Special Edition)
Photos by Lauren Bloom Photography