Work Style: Betabrand Yoga Dress Pants and Wrap Around Sweater
This post may contain affiliate links which means I will get a commission if you make a purchase at no additional cost to you. As an Amazon Associate I earn from qualifying purchases. Please read my disclosure for details.
One of my favorite things to do is to pick out my outfits for work. It might seem odd but this is one of the few ways I get myself excited to show up to work happy. After all, we spend about one-third of our day in a work setting. Today, I'm sharing this vibrant work style wearing the classic Betabrand dress pants in the straight leg cut.
Many moons ago, I boarded a one-way flight out of Alaska. I thought I was done with Alaska, but apparently Alaska wasn't done with me.


I could not pass up on the opportunity to go back to the Last Frontier as a hospital pharmacist, one of my dream jobs since graduation. These yoga pant dress pants from Betabrand and this red wrap sweater (similar) were among the items I packed in my luggage.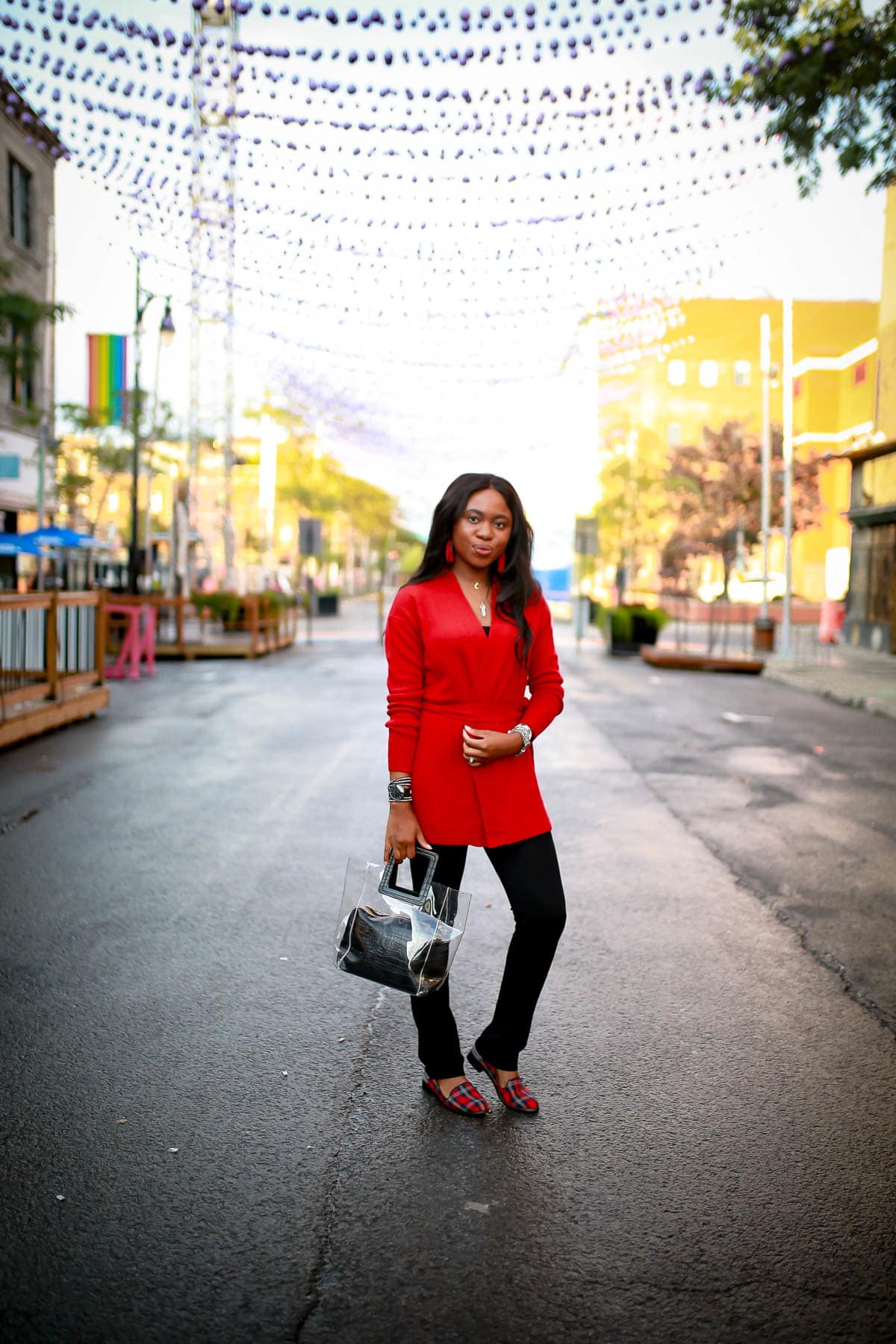 Truly, blogging full time for almost a year gave me the freedom and flexibility to travel more freely than years past. I got to visit Namur, Brussels, and even Montreal, the French capital of Canada where I took these vibrant images. I was excited and a little nervous to go back to a regular 9-5.


It's always a plus to have functional wardrobe pieces that can be worn on various occasions. I shared the story of how I first learned about Betabrand work pants in this Betabrand review post.


The quality, the comfort level, and the texture made the dress pant yoga pants my daily work pants on days when I did not want to wear jeans or leggings.


Attesting to the versatility of Betabrand work pants, I wore my Betabrand yoga dress pants work pants during my work-from-home days and my regular 9-5 job.


The classic styles make these pants a staple piece in my wardrobe. And on my first few days of work at the hospital pharmacy, I rotated between the few pairs of Betabrand pants I took with me to Alaska!


I don't know about you, but 9 out of 10 times, I am cold. And when it comes to my work style, I gravitate towards warm, cozy pieces like this tie-waist cardigan (similar).


With my work style, I live and breathe the triple-C treat (comfy, cozy, and chic). This cardi and Betabrand work pants combo is a home run, especially on chilly days like these in Montreal.


Tie-waist cardigans are timeless pieces that can be worn over and over again. Plus the ability to tight or loosen the fit allows you to choose your level of comfort and how much you want your waistline to be defined/accentuated.


If this tie-waist cardigan looks familiar to you, it's because the red cardi was one of the items I purchased from the July Nordstrom Anniversary Sale. This exact cardi is now sold out but I found a few similar styles and color options for you (here and here).


For reference, I wear a US small (size 4) and weigh about 135 pounds.


I am wearing a size x-small and regular length in the Betabrand work pants (straight leg style) and a small in the tie waist cardigan.


---
Also part of this work style and Betabrand yoga dress pants series:
---
My shoes are a good reminder that fashion is a cycle. I still remember rocking these plaid flats to work as a new pharmacist. A coworker lightly teased me saying that these loafers looked like a pair of lounge shoes.


Now, this shoe style is trending again. I've already gotten a few inquiries on where these shoes can be found. It's hard to find these vintage-esque pair but I've linked two similar styles (here and here). They are super old loafers from either JustFab or ShoeDazzle.


For a simple yet stylish flair, I chose my under $30 designer-inspired clear tote bag with a croc-embossed purse insert. It's a great alternative for expensive fashion finds for way less compared to it's $200+ counterpart.


For some arm candy, I snapped on this bestselling Victoria Emerson boho cuff on one arm, and a wrap bracelet and a mesh watch (similar) on my other arm.


For almost a year now, I've worn almost exclusively Victoria Emerson bracelets (wraps and cuffs). They are stylish, go great with most wardrobes, high-quality, and well-priced.


And if you time it right, you could scoop up two or three bracelets for the price of one. Their sales are out of this world. You can check for Victoria Emerson's sales here! My favorites are this Attica cuff, any of their genuine freshwater pearl wraps, and their animal print double wraps. Check out this roundup of the best Victoria Emerson bracelets.


Tying the look together, I wore this multi-chain opal necklace (under $15) and lightweight beaded earrings (under $10) from Amazon. Yesterday, I ordered a few bracelets from Amazon that I'm excited to try. Fingers crossed that the quality is on point!


Betabrand Yoga Dress Pants Details
Style: Betabrand Dress Pant Yoga Pants Straight-Leg
Fit: Runs true to size (wearing a size S in black color)
Material: 68% rayon, 27% nylon, 5% spandex
Price: $68 (check sale price)

Betabrand yoga work pants are available in several styles and colors. Style options include:
PROS
Wrinkle-resistant
4-way-stretch ponte fabric
Machine washable
1.5-inch elastic waistband
Belt loops
If Betabrand pants are out of your price point, you can wait till the pants are on sale or click here to save 20% off (use code LOUISA) your first Betabrand order. Alternatively, try these cheaper under $40 Amazon fashion finds that have great reviews (P.S: I have not tried these).


Rekucci Women's Ease Into Comfort Straight Leg Pant with Tummy Control
Made in Cambodia. Please refer to our size chart before ordering to ensure the best fit! Machine wash in cold water - always hang...
BEYOND COMFORT : Pull-on Style (No zipper, no buttons) with new Tummy Control Panel gives that extra touch of tummy taming power!
OUR BEST FIT : Wide comfort contour waistband, back darts, and mid rise mean No Bulging!
TOUCH OF CHIC: Pressed leg crease on front and back, faux front fly - who would guess these are pull-on pants? PANT INSEAM:...
SOFTEST FABRIC: Rekucci "Soft Twill" woven fabric with added stretch for extra comfort. Great Recovery. Solid Colors: Blend of...
Last update on 2023-06-08 at 14:51 / Images from Amazon Product Advertising API
Safort Regular Tall Bootcut Yoga Pants, 4 Pockets
[UNIQUE DIY PANTS] The full length of the bootleg yoga pants is 34", BUT you can cut them into 28"/30"/32" inseam pants. All you...
[TRULY OPAQUE] More dense and elastic fabric guarantees NON-SEE-THROUGH, totally safe to be used as pants for work and great...
[FOUR POCKETS] The dress yoga pants have TWO FRONT pockets (6" WIDE, 6.1" DEEP) can fit in your wallet and cellphone. TWO BACK...
[ONE PAIR OF PANTS FITS DIFFERENT HIGHT] Petite(28" inseam fits women 5'1"-5'3")/ Regular(30" inseam fits women 5'3"-5'5")/...
[REMINDER] THOUSE PANTS ARE NOT "HEMMED",To find a more appropriate inseam length and to cut the inseam length more accurately,...
Last update on 2023-06-08 at 14:51 / Images from Amazon Product Advertising API
As always, thank you so much for reading this work style look wearing my Betabrand work pants and cardigan look.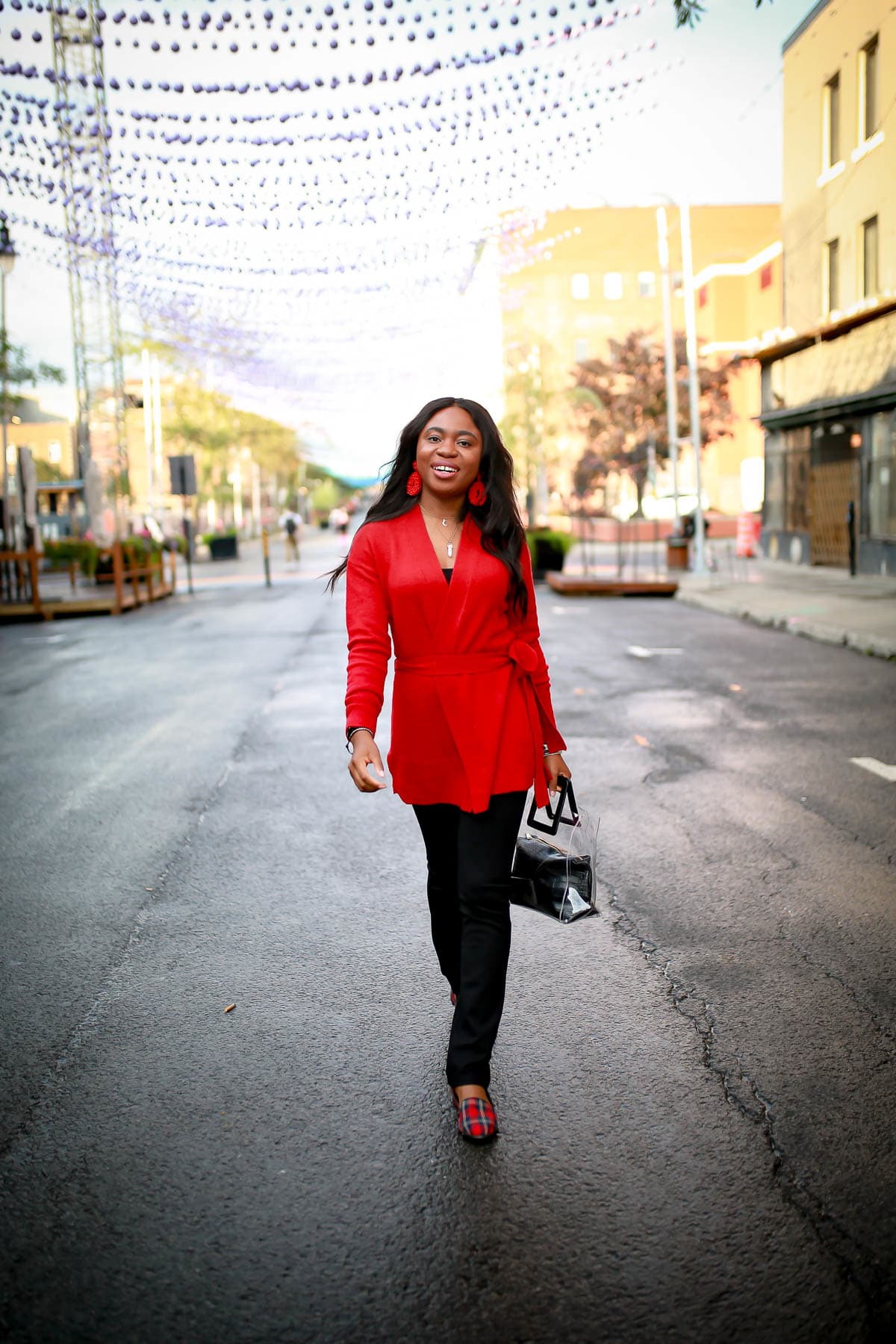 I am wearing:
Yoga dress pants | Clear purse | Beaded earrings | Wrap bracelet | Boho cuff | Layered necklace | Wrap sweater (similar, similar) | Tank top (similar) | Plaid oxford flats (similar, similar) | Mesh watch (similar)
Frequently Asked Questions about Betabrand Yoga Dress Pants
Where can I find Betabrand coupon?
Are Betabrand pants worth it?
For those people that love their comfort and expect to wear their Betabrand yoga dress pants at least once a week, these pants are totally worth it. You will definitely get the best cost per wear on these yoga work pants. I own at least five pairs now (this pair is my favorite).
Where can I buy Betabrand pants?
Betabrand clothes are sold online only at Betabrand.com or in their flagship store located in San Francisco, CA.
How do I return Betabrand pants?
Betabrand has a hassle-free, 60-day free return policy. You get either a 110% store credit or a refund to your method of payment. Exclusion includes the Mega Deals collection (details here).
What is the difference between 'Petite', 'Long', and 'Regular' sizes for Betabrand yoga pants?
The difference between the sizing is only the length of the inseam. The waist, rise, and thigh measurements are the same. Measurements are as follows: Short Petite – 28″, Petite – 30″, Regular – 32″, Long – 34″. IF you're not sure about your measurement, you can order two different lengths or sizes and return the other hassle-free.
Although I have no intention of performing any yoga moves at work, the comfort level of this wrinkle-free, machine-washable dress pants with 4-way-stretch is everything a girl could ask for.


If you're on the fence about snagging a pair, do it. Their free, no-hassle 110% return policy is one of the most generous you'll find in the market. P.S: This Betabrand yoga dress pants post was not sponsored by Betabrand nor was I compensated for writing this post.

PIN FOR LATER!
Reading this post on mobile? Be sure to download the LIKEtoKNOW.it and follow me "lapassionvoutee" for exclusive, in-the-moment shoppable posts. Also, available on Android 🙂


It's also the fastest way I can keep you updated on the latest sales and newest styles since blog posts take a lot of time to create. Here's what you've recently missed!