12 Best Boho-Chic Victoria Emerson Wrap Bracelets to Upgrade Your Look
This post may contain affiliate links which means I will get a commission if you make a purchase at no additional cost to you. As an Amazon Associate I earn from qualifying purchases. Please read my disclosure for details.
With the temperatures rising, and the summer celebrations raging on, you may be thinking it's time to update your style repertoire. But don't throw out those old, lovable clothes just yet! Rather: accessorize!
You'll find a whole new look with things you already have by the power of some good jewelry. And that's where these trendy Victoria Emerson wrap bracelets come in!


Victoria Emerson wrap bracelets are diverse and offer a wide selection for any fashionistas. With summer in the air, and boho chic on the trends lists, it's no surprise wrap bracelets are back and better than ever!


These bracelets are the perfect compliments to your look without seeming like you've overdressed for an occasion. What's fantastic about the Victoria Emerson wrap bracelets collection is that they are incredibly versatile: think everyday brunch, wedding ceremonies, or a night out on the town!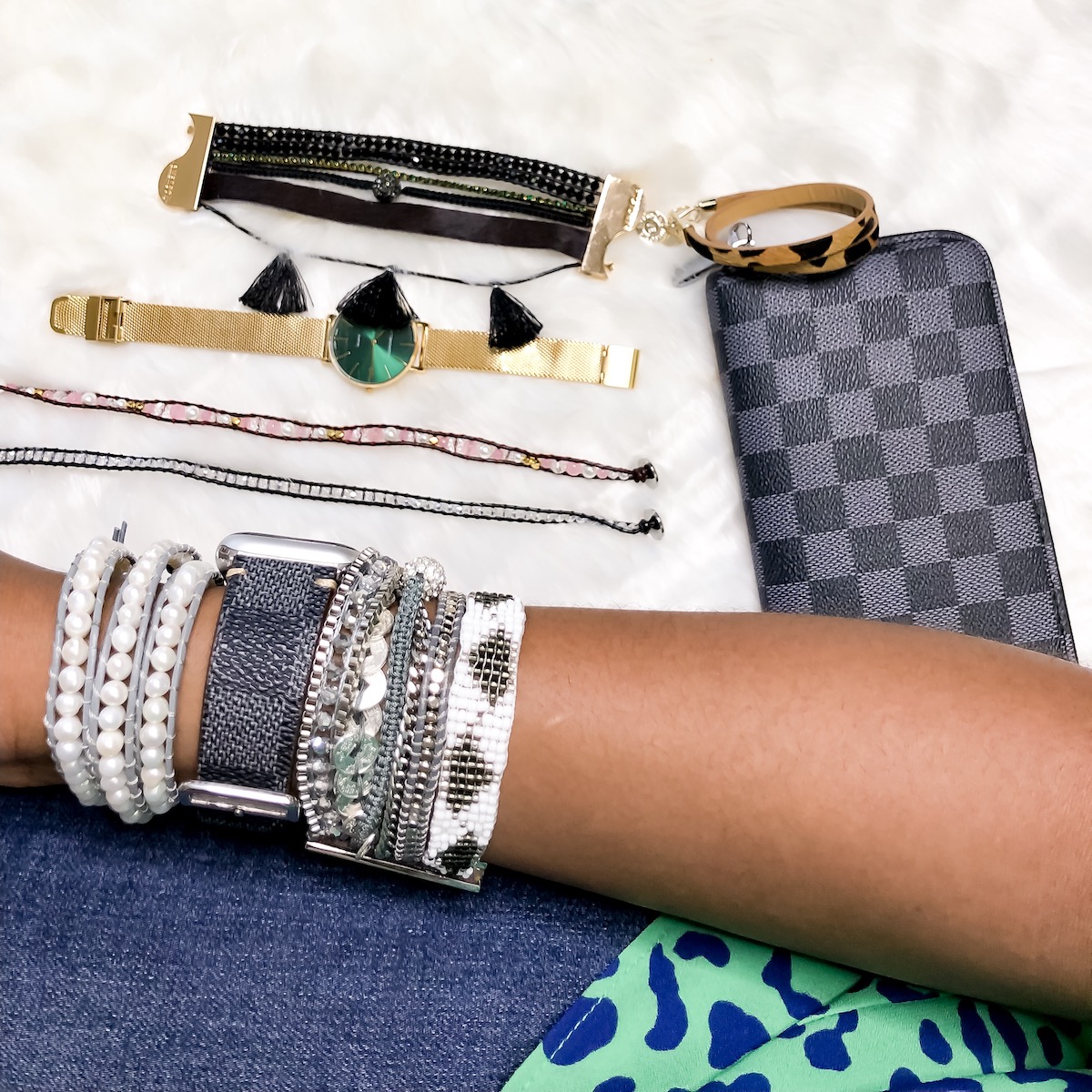 As someone who has a few Victoria Emerson wrap bracelets in my collection, it was narrowing down the best wrap bracelets and boho cuffs! There's so much to choose from: different colors, variations, stones, and styles to keep track of. And while they all score points on the cute-o-meter, too many options can feel a bit overwhelming.


Below are best picks and personal favorites from this year's Victoria Emerson hand made leather wraps worth every penny!


For a quick list of some of the gems of the Victoria Emerson collection, check out this quick list:
Shop Each Bracelet

Best Boho-Chic Victoria Emerson Wrap Bracelets
Now let's go more in-depth. Depending on your style, you'll find your perfect match somewhere in this diverse collection of hand made leather wraps and cuffs.


Victoria Emerson is known for having some of the most unique styles, and the cutest trends readily available.


1. Luxor Boho Bracelet
Just a few letters away from literally meaning 'luxury'! This bracelet is boho with a twist, that twist being glamour! A simple black band with intricate design marries with the white gold plated clasp.


The Luxor bracelet is versatile and makes a fashion statement with how much can be done on just one bracelet.


---
2. Pinktricity Classic Wrap
I recently added this Victoria Emerson classic wrap to my jewelry collection. This wrap is a visual representation of pretty in pink! Pinktricity is recognizable by the dazzling array of gems found between each cord.


Nestled between brown straps is not just the pink that pops, but also round pearls, gold stones, and transparent beads that are classy and chic. If you're looking to add a splash of color to your wardrobe, think pink!?


---
3. Freshwater Pearls 5-Wrap Bracelet
Since every freshwater pearl is just a little bit different, this bracelet is incredibly unique and a fun design to spice up your outfit. The dark cords accent the light of the multi-colored pearls.


And this beautiful combination draws the focus of the eyes to your elegant, classy, and modern leather bracelet. This is a simple wrap-around bracelet layers perfectly on your wrist, and works for just about any outfit you're looking to upgrade.


---
4. Sedona Boho Bracelet
A boho bracelet with personality! The Sedona is noted mostly by the charm at its centerpiece, although with so much intricacy the eye can be drawn to any part of this work of art. It even has a magnetic clasp for convenience that merges six independent bracelets into one collaborative masterpiece.


---
5. Crystal Ice on Black Wrap
Get a bracelet as sparkly as your personality and pair a Victoria Emerson Crystal Ice on Black wrist piece to pair with your next outfit. The black lining and reflective diamonds create a stunning contrast that really glows!


With the black and diamond look, this piece does nothing but accent whatever you choose to wear and can be one of the most versatile and used tools in your jewelry chest.


---
6. Vegan Korean Waxed Cord Bracelet
With muted and summery colors, the mini olive crystal bracelet is an essential addition to the boho charm. It is a three wrap piece with four distinct patterns tracing down its length for the ultimate arm=candy.


And not to mention: this handmade wrap is vegan too!


---
7. June Birthstone Wrap Bracelet
It was love at first sight when I saw the June Birthstone wrap. And it has quickly become my go-to bracelet when I want to add a classic touch to my outfit. Once Set in a beautiful pearl and gray ensemble, the June Birthstone Wrap by Victoria Emerson is the perfect piece to compliment any outfit.


It's classy without being understated, and with just enough intricacy to grab the attention of others. Depending on how long you like your jewelry, Victoria Emerson even offers two styles: the five wrap (pictured), and the three wrap. No matter which way you wrap it, you're sure to rock it!


---
8. Alicante Victoria Emerson Boho Bracelet
This stunning cuff takes boho chic to another level. This is a great, floral-inspired, summer piece to complete dressy but laidback attire. The complex mixture of shapes, stones, and beads blend seamlessly to create a masterpiece. Wear this jewelry to work, on a date night, and to dressier special occasions.


---
9. Turquoise & Shell 5-Wrap Bracelet
Who would have thought that ocean blue and tan would look this good? The Turquoise & Shell on Natural is a charming, rustic piece that works with a beach wrap, or a stylish nightlife outfit.


The five wrap layers features a unique mix of round shells and crystals on every level that is boho-chic to the eyes.


---
10. Sochi Boho Cuff
Another beauty in my jewelry collection is the Sochi Boho Cuff. I recently added this black boho cuff to my most-used bracelets. The wrap screams elegance in the most sophisticated way.


And the tassels tone down the masculinity of this bracelet. With a whooping 5-star rating, it's no surprise this cuff is a favorite among many. There's something special with how the black leather and beads unite with the tassels to create an expensive-looking bracelet!


---
11. Golden Glitter on Black Wrap
Back in black and with a twist of gold. This bracelet looks like it just came off the shelves of a high-cost jeweler for the affordable Victoria Emerson price!


I already have this wrap on my wishlist. The Golden Glitter on Black wrap features several alternating lines of dazzling black and gold in five lines of comfortable binding. This is a piece that speaks of grace and will complete your gala, event, or party look.


---
12. Rose Gold Pearl Dorado Wrap
Rose gold can do no wrong. And this Victoria Emerson Rose Gold Pearl bracelet is no exception. And this wrap so happens to be one of their proud centerpiece options available at a reasonable price.


Here rose gold, pink, silver, and leather brown come together for an entrancing ensemble that's hard to recreate elsewhere. This is just the right mixture of casual and cute that you will slay no matter which way you wear it!


---
How to Tie Your Victoria Emerson Wrap Bracelets
It's not hard to tie your signature Victoria Emerson wrap, but a little direction never hurt!

Use your pointer and thumb fingers to grasp the clamp, and wrap the band around your wrist.
Determine the appropriate loop for your wrist size, and slide the clamp into the opening.
Get ready for a whole lot of compliments!
Victoria Emerson is a great place to view and peruse all the options for cute and trendy jewelry of the new age. Stay up to date with the hottest trends, and best boho fashion and shop with Victoria Emerson!


1 | 2 | 3 | 4 | 5 | 6 | 7 | 8 | 9 | 10 | 11 | 12
Frequently Asked questions about Victoria Emerson Wrap Bracelets
For a limited time, Victoria Emerson is doing a BOGO (Buy One, Get One free) sale. Discount appears on checkout. No code needed.
Interested in other related content? Check out these popular posts:
Your turn! Have you tried Victoria Emerson wrap bracelets? Drop a comment and share the beauty wealth!