Winter Work Style: Betabrand Sweater + Betabrand Dress Pants
This post may contain affiliate links which means I will get a commission if you make a purchase at no additional cost to you. As an Amazon Associate I earn from qualifying purchases. Please read my disclosure for details.
Hi friends, I've been waiting for a few months to share this Betabrand sweater outfit with you. As you already know, I'm a big fan of Betabrand dress pant yoga pants because of the fit, comfort level, and versatility.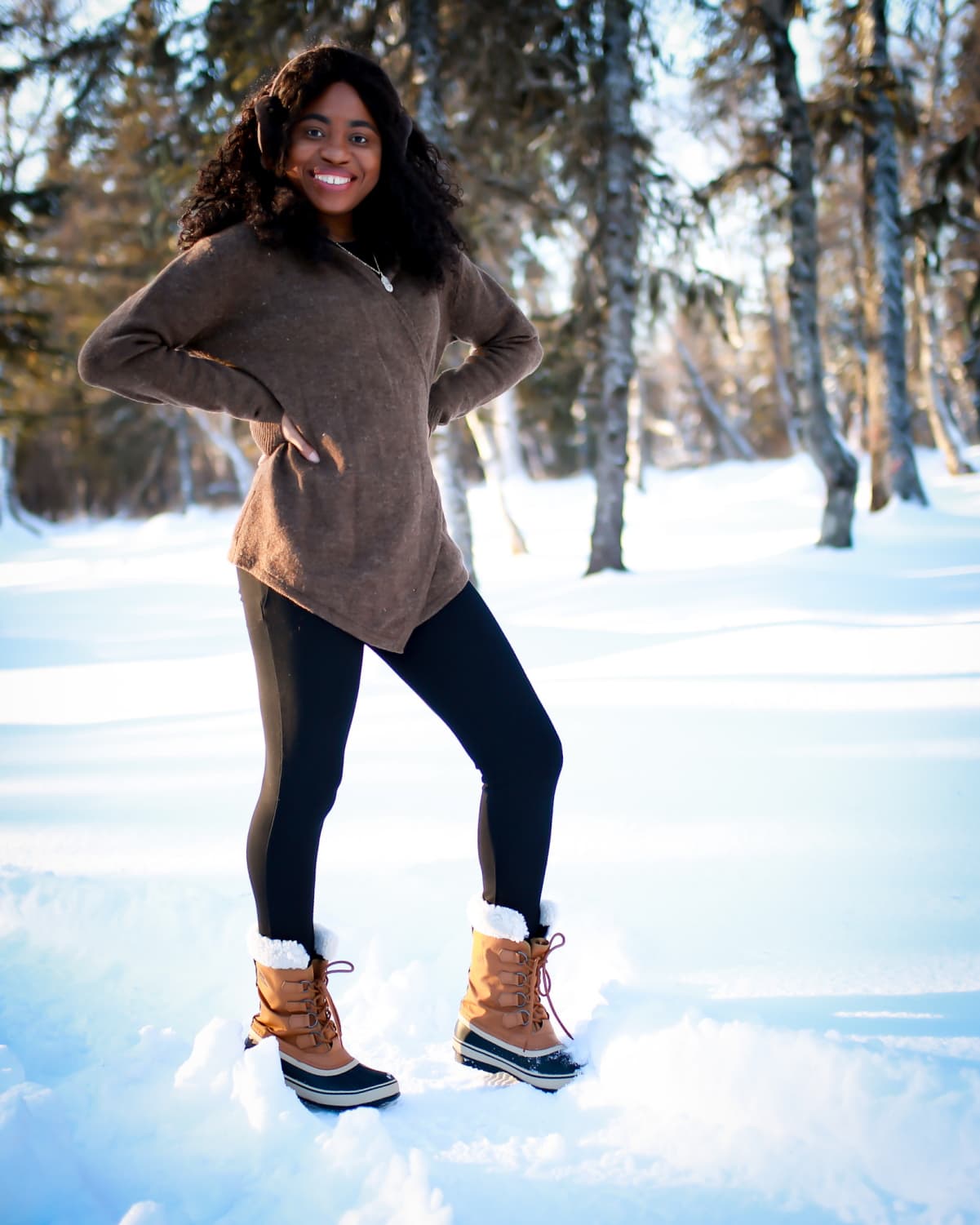 Shop The Look


Over the summer, Betabrand gifted me with this Betabrand black sheep wool wrap sweater for being a huge fan of their product and engaging on their social channels. It was a big surprise for sure!


Because I could not wear the sheep wool sweater in the August heat, I held on to the sweater until the weather got cooler. And when the time came for me to travel to remote Alaska for a work opportunity, this Betabrand sweater came with me.


Keep reading for my winter work style and an honest review about this Betabrand black sheep sweater that I put to the ultimate cold-weather test in Alaska.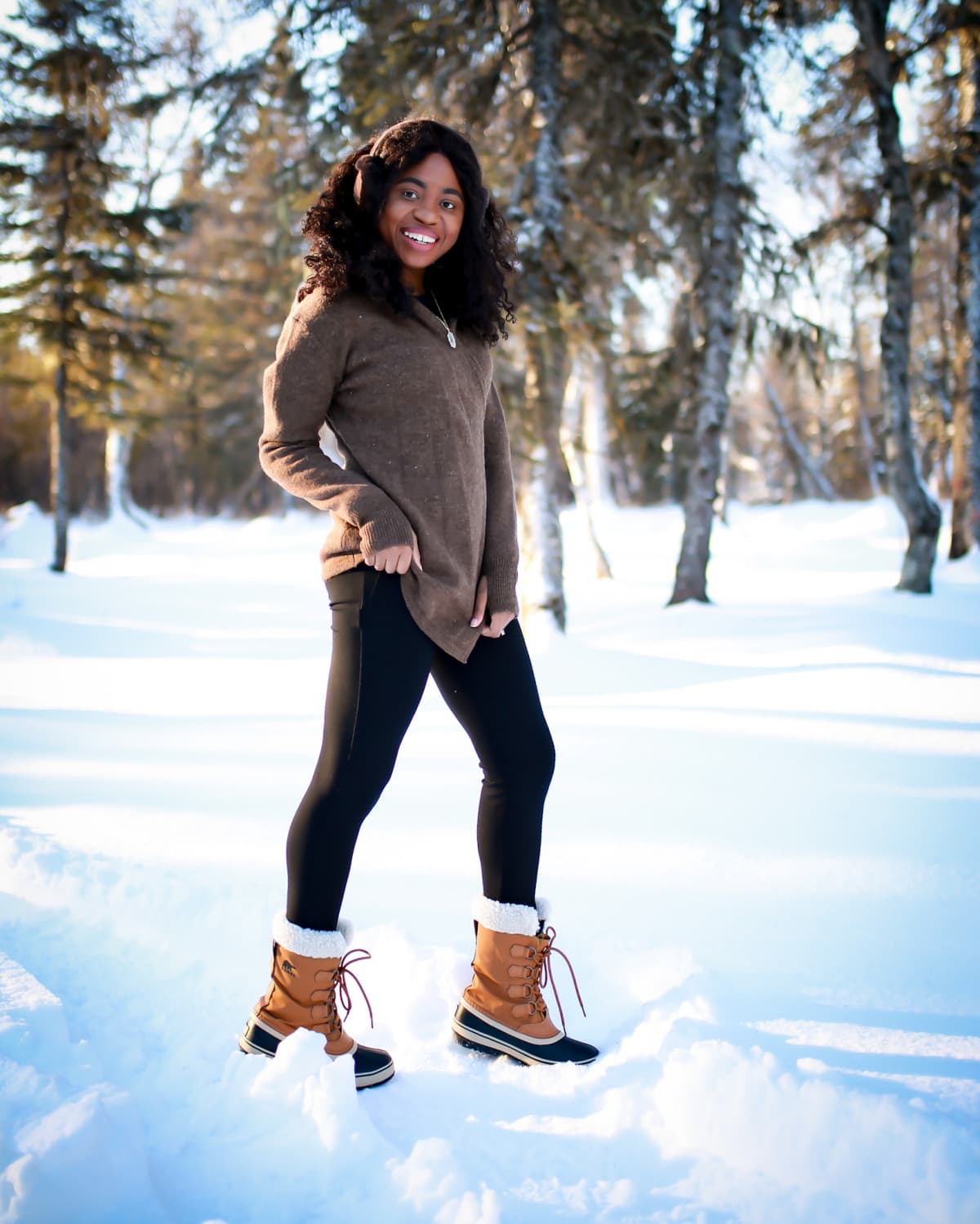 Truth be told, Betabrand knocks it out of the park with their amazing collection of Yoga Pant Dress Pants. But, "my" jury was still out about whether their sweaters and dresses would live up to the challenge.


The first time I wore this Betabrand black sheep sweater, I honestly did not notice any difference between this $168 (now over 40% off) sweater and my run of the mill synthetic sweaters. Yes, it felt different and more substantial. But in terms of keeping me warm, both felt the same.


But when the temperature dipped below freezing (and to -30ºF), the difference was clear.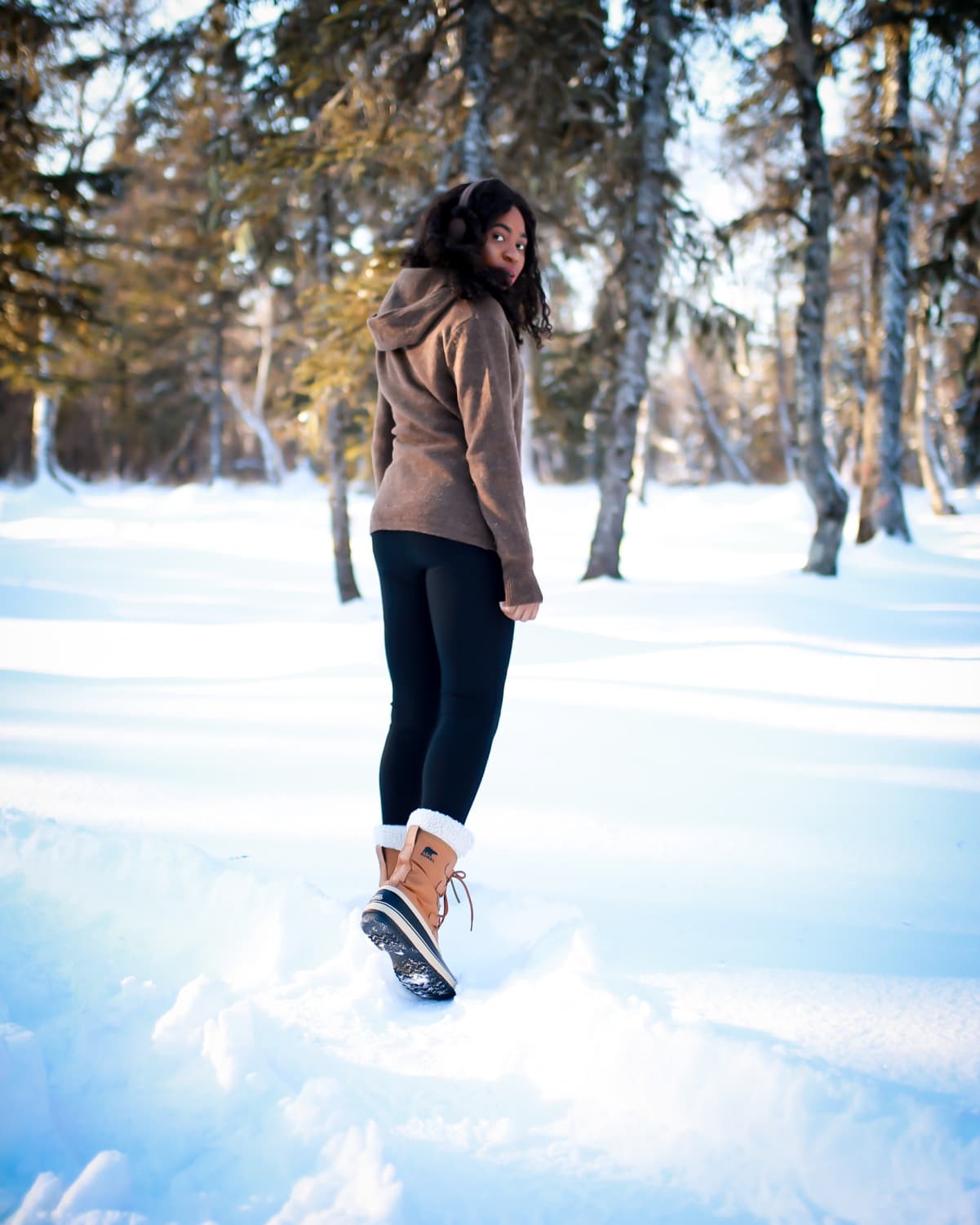 Available in sizes small/medium and large/x-large, I felt the coziness of this loose-fitted sweater. In Alaska, inarguably the most laidback US state, I was shocked to get more than a handful of compliments on the look, feel, and quality of this Betabrand sweater.


Quality fabric aside (60% wool from rare black sheep), this hooded Betabrand sheep wool sweater features a relaxed, faux wrap-around silhouette and asymmetrical edges – elements of a classic yet modern style. The cuffs and thumbholes add a unique yet uncommon touch for work clothes.


---
Underneath the Betabrand black sheep sweater, I wore this fleecewear as a layering piece. Since the weather was cold, a mere 7ºF at noon, I wore my Orolay jacket to the photoshoot.


I traded my beanie for this cute and functional earmuffs. And completed my work outfit with a simple crystal wire wrap necklace.


I completed my work style with Betabrand skinny leg dress pants, one of my favorite work pants. My 10-year old thick winter boots got an upgrade to this Sorels -32ºF rated waterproof winter boots. At work, I wear comfy UGG loafers (similar) that go well with most of my work style.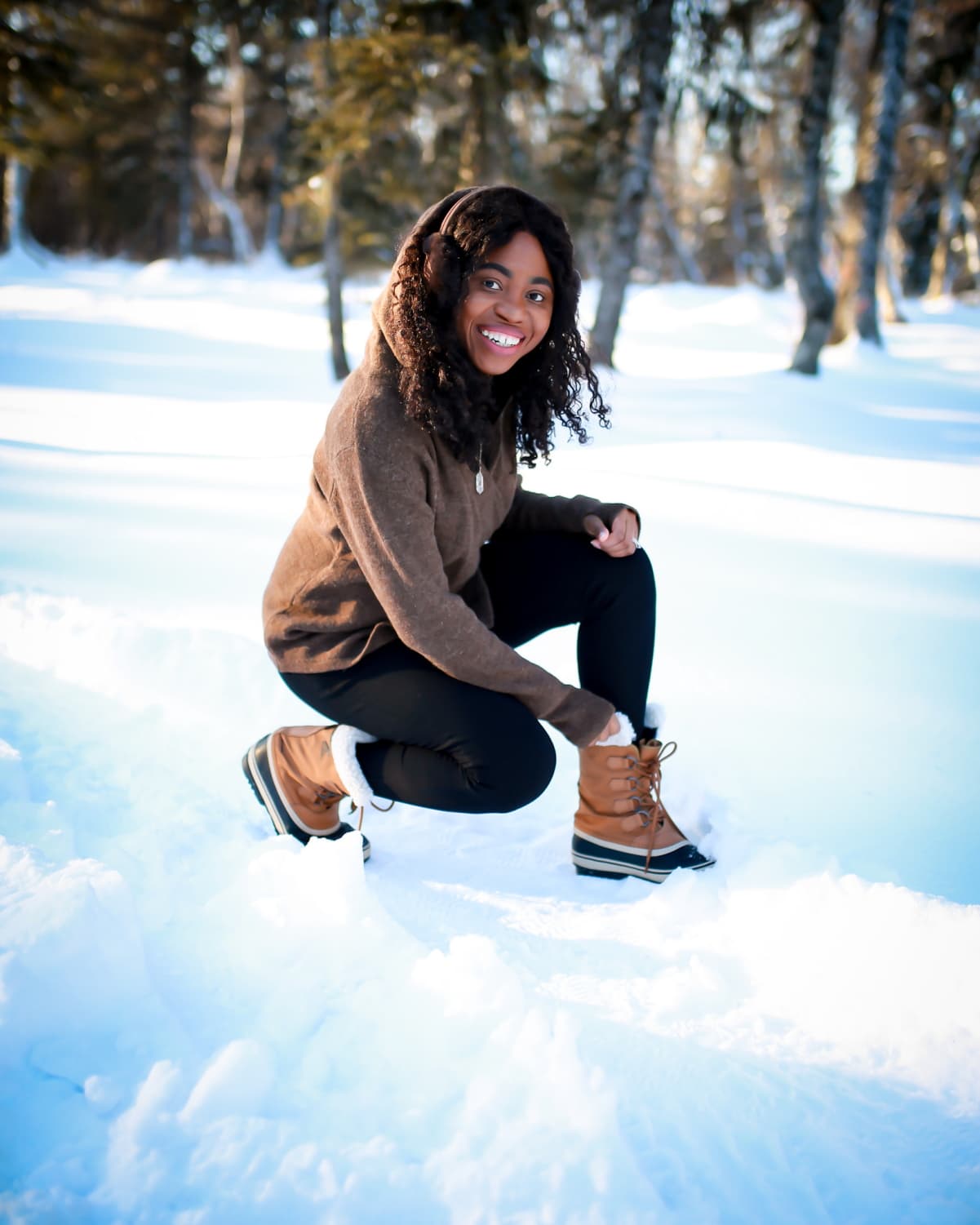 Although I'm drawn to vibrant colors, I also enjoy neutral and less saturated tones, especially during the workweek. For those that pride themselves in wearing chic and cozy outfits, this office style was made for you.


The Betabrand pants do not dig into your stomach. And the yoga work pants feel soft and stretchy on the skin. The Betabrand black sheep wool wrap sweater is just cozy and stylish plus it's on sale right now.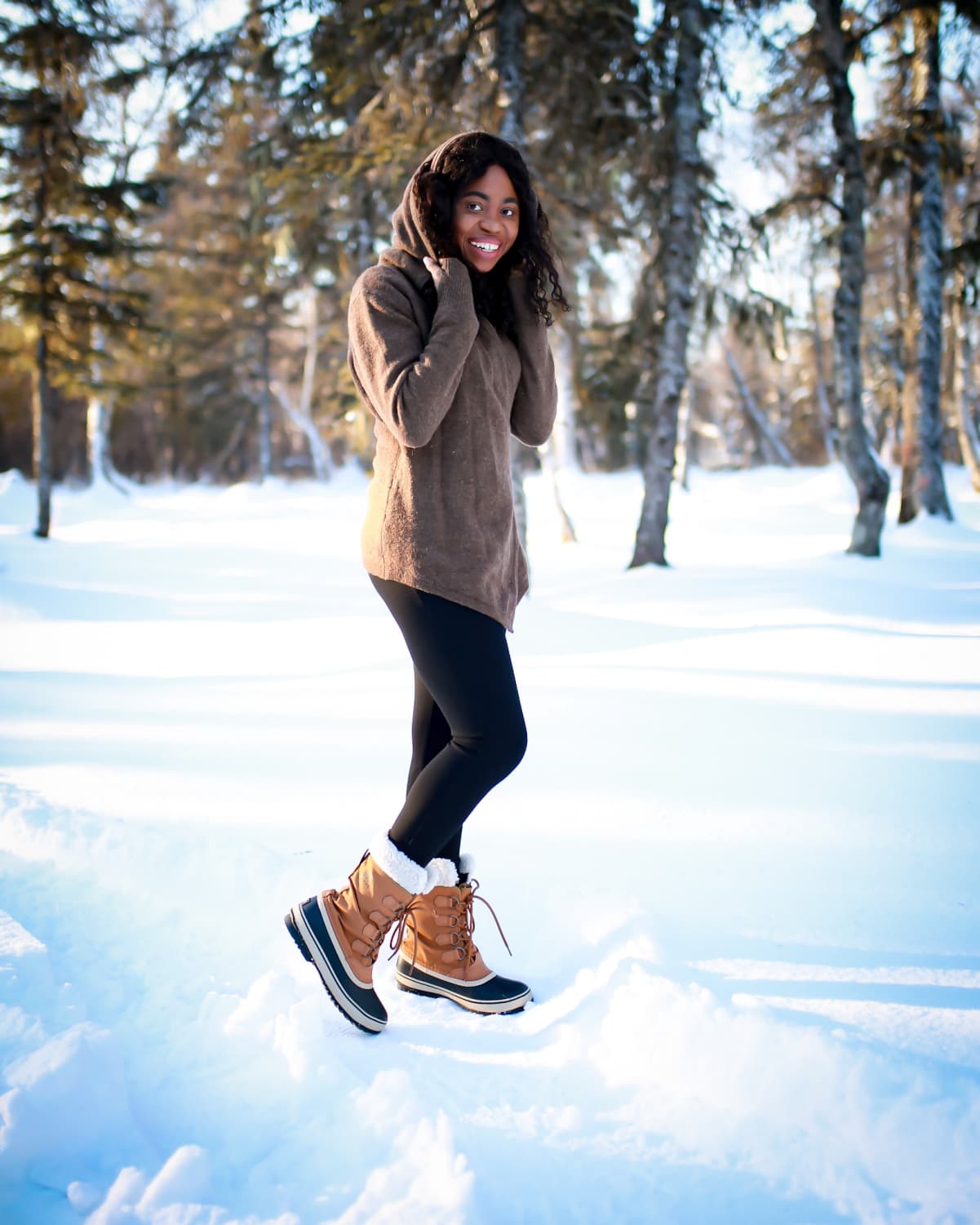 I am wearing:
Wool Sweater | Dress Yoga Pants (detailed review) | -32ºF Winter Boots | Cuddl Duds Fleecewear (read my review) | Water-Resistant Earmuff | Gemstone Necklace
$600 TARGET GIVEAWAY

Time to treat yourself just in time for Valentine's Day! I've teamed up with a group of bloggers to give one lucky winner a chance to win a $600 Target Gift Card!


To enter: complete the steps in the Rafflecopter below. The more steps you complete, the more entries you receive, and the better your chance at winning! This giveaway runs until February 5th at 12 AM PST. Winner will be announced here. Good Luck! This giveaway is in no way sponsored by Target.


a Rafflecopter giveaway
Reading this post on mobile? Be sure to download the LIKEtoKNOW.it and follow me "lapassionvoutee" for exclusive, in-the-moment shoppable posts. Also, available on Android 🙂


It's also the fastest way I can keep you updated on the latest sales and newest styles since blog posts take a lot of time to create. Here's what you've recently missed!