BLANKNYC Suede Moto Jacket Review: Is It Meant To Be Your Favorite!
This post may contain affiliate links which means I will get a commission if you make a purchase at no additional cost to you. As an Amazon Associate I earn from qualifying purchases. Please read my disclosure for details.
This BLANKNYC suede moto jacket review post was NOT sponsored nor was I compensated for writing this article. All opinions expressed in this post are my own.


Hey friends, I have another fun post for you! Today is all about this BlankNYC suede moto jacket review.


Over the past few years and through the annual Nordstrom Aniversary Sale, I've seen these BlankNYC moto jackets (and even inspired versions) sprinkled around the internet on fashionistas and on some of my favorite bloggers. But I never gave it a second thought until this year.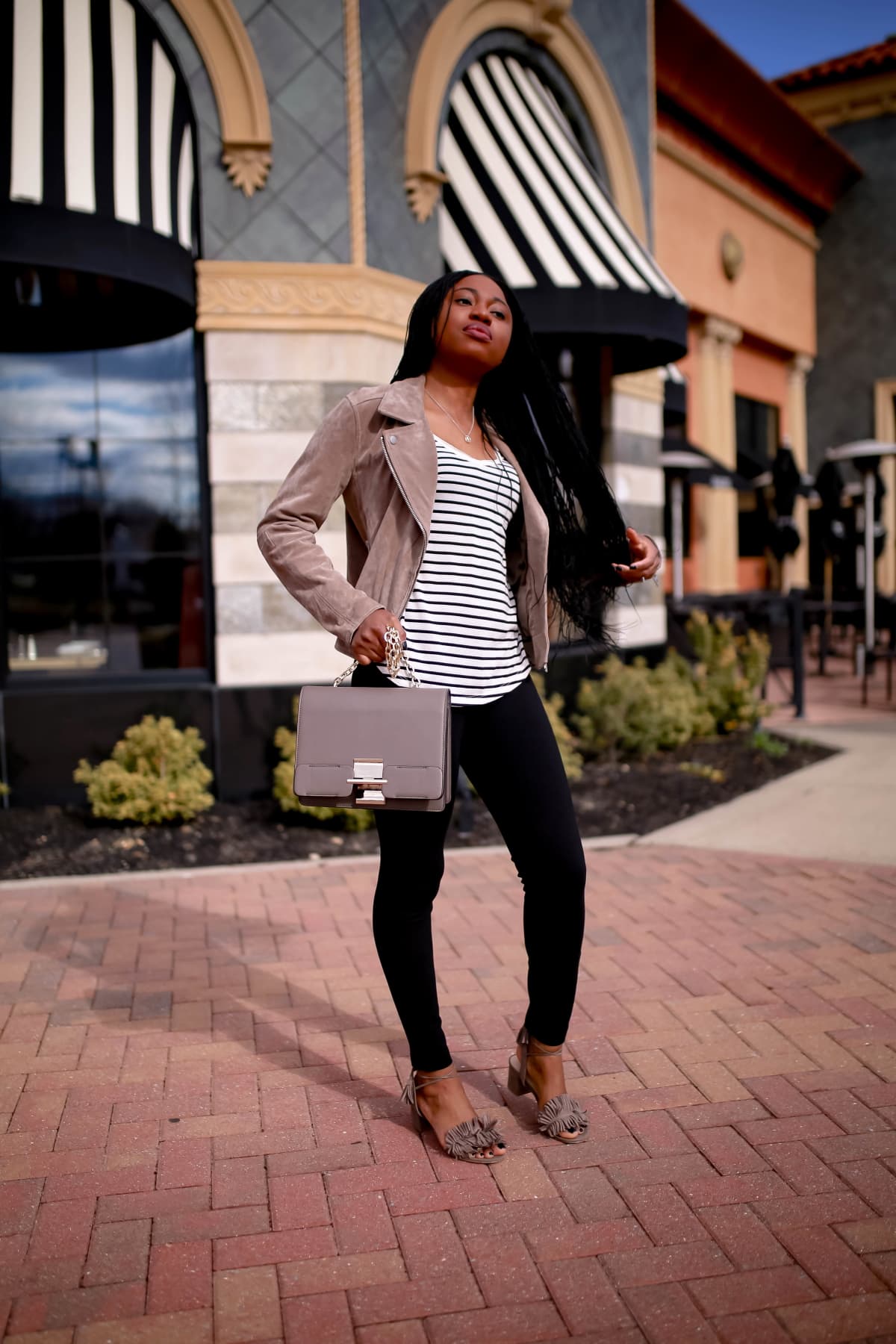 Shop The Look

I finally caved and scooped up this Blanknyc moto jacket in midnight toker color, which is just a fancy name for taupe. I was blown away by the number of compliments I received wearing this jacket. Honestly, I wasn't expecting much at all.


You guess right that I rocked biker jacket loads in spring here and early summer here before the weather got too hot. Then I tucked it away.


It wasn't until I saw Jolynne mention the jacket on her blog that I remembered that I never really shared this look on the blog.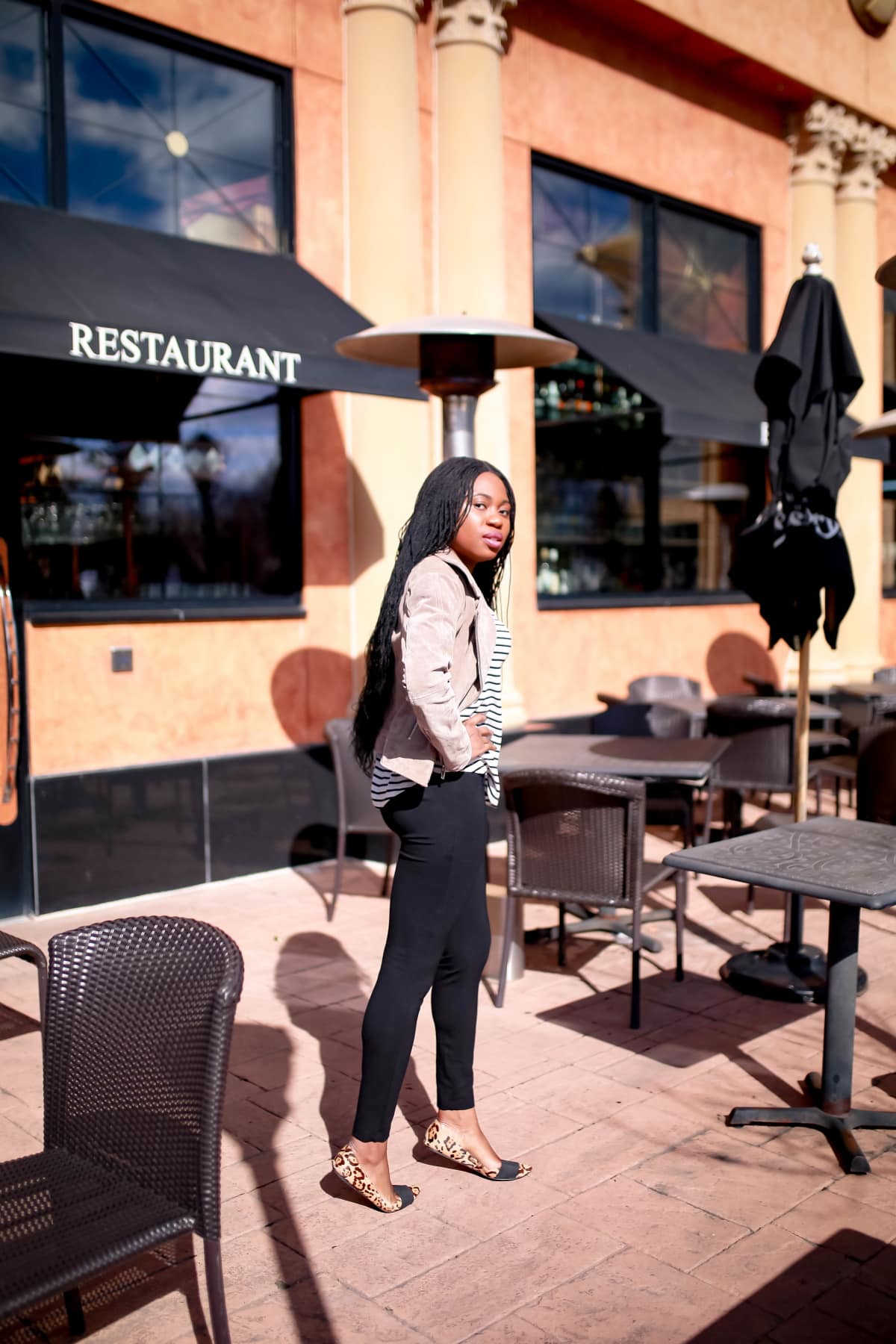 Truth be told, we are already in the thick of winter up here in Alaska. So this jacket would only be appropriate to be worn indoors for special events like Thanksgiving parties or to work on casual Fridays. Or for those of you in significantly warmer climate #jealous.


Although this exact color Blanknyc suede moto jacket is now sold out, you can do no wrong with any of the other similar Blanknyc moto jackets on sale up to 50% off here.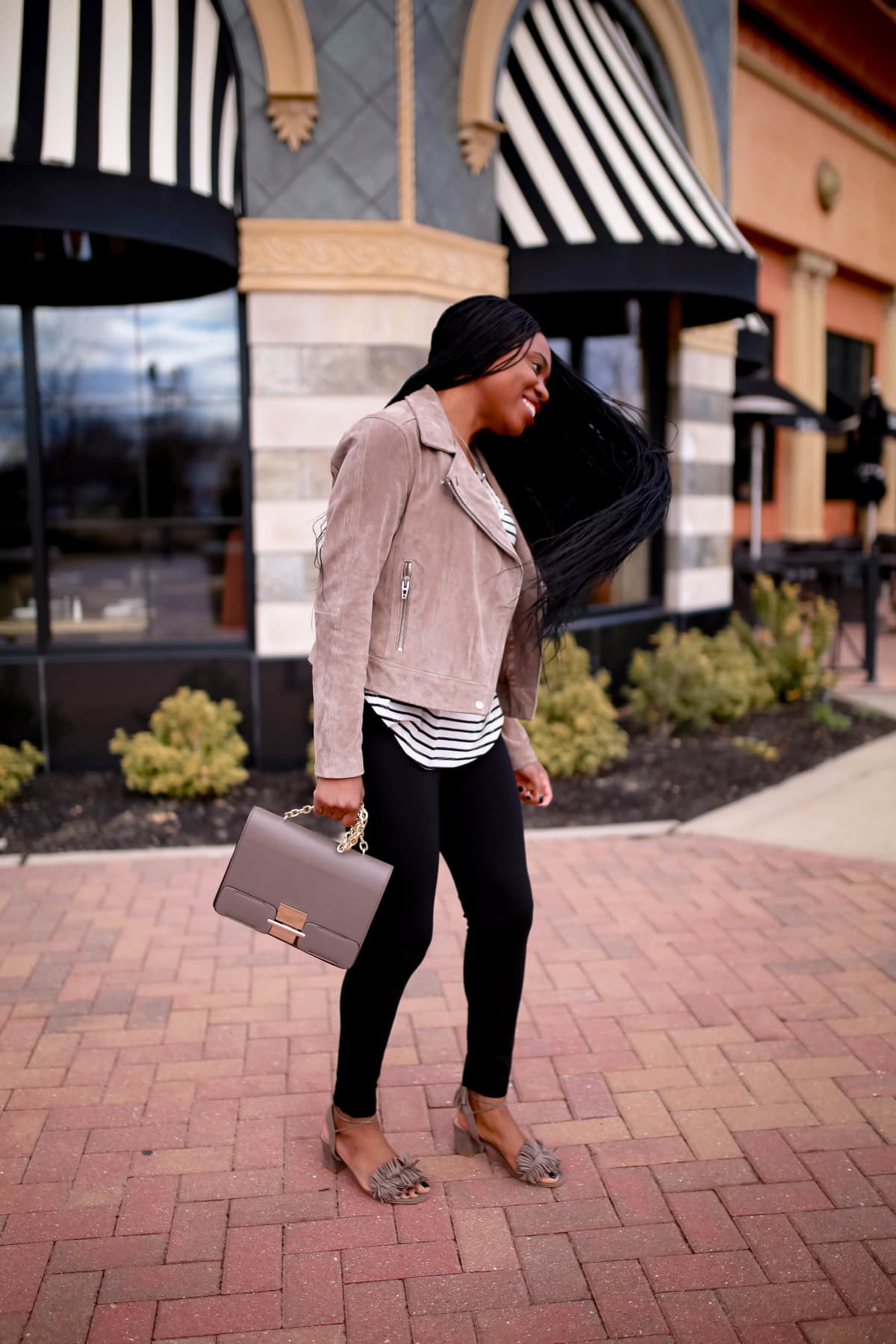 If suede is not your cup of tea, the vegan leather moto jackets will tickle your fancy. Side note, the Meant to Be Moto Jacket with Removable Hood (here) is a top seller.


This ensemble is a fit for those in the warmer climates like Texas, Florida, and Arizona but it's so versatile that you can wear it almost any time of the year (sans Texas/Arizona summer!). And can be worn on cool summer nights to dates, movies, or basketball games.


Sale Alert: These BLANKNYC moto jackets are on sale right now ranging from 30% – 50% off!

I paired the jacket with a simple fitted tee from Nordstrom (similar here) and my Betabrand yoga pants work pants (on sale).


I'm wearing the skinny leg pants style, which has been a regular since my first day of work. I have lots to say about Betabrand pants (read my Betabrand pants review for details).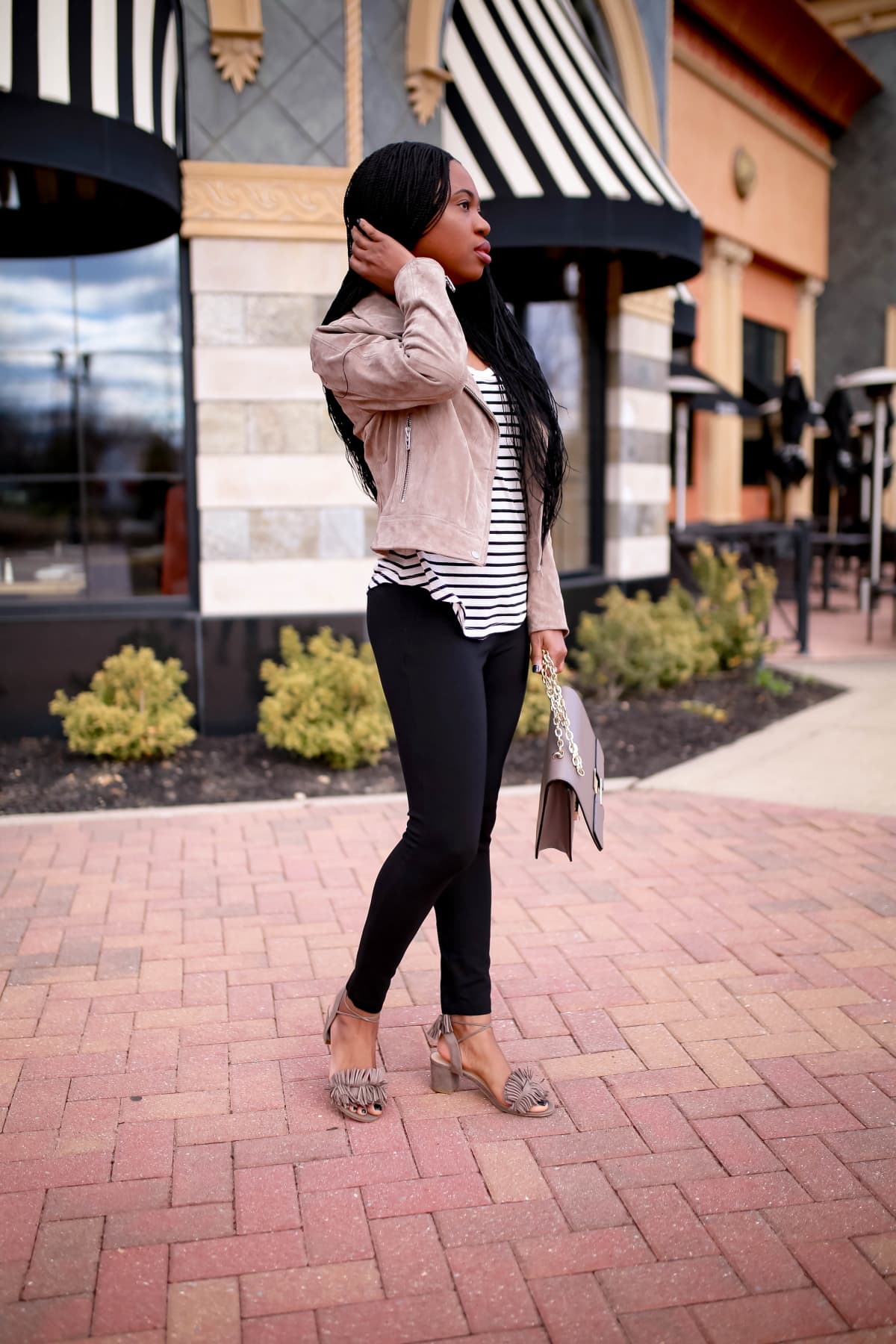 The weather was beginning to warm up so I knew I would be ok wearing these JustFab open toe fringe tassel sandals (similar here) paired with a now soldout structured purse I bought from ShodeDazzle many moons ago.


The purse sorta gives off a luxury bag appeal for way less. And like Betabrand, I have lots to say about JustFab (find that in this JustFab review post).


Let's get into the Blanknyc suede moto jacket review!


For reference, I am 5″5 and roughly 135 lbs. I typically wear a size 4 (XS or S).


BLANKNYC Suede Moto Jacket Review
I am wearing this Blanknyc moto jacket in a size small and the midnight toker color. I was indecisive about getting the leather version or the suede fabric.


For my birthday seven or so years ago, I received a Guess leather moto jacket. I loved everything about that off-red jacket, but I had to be very delicate with the jacket. For this reason, I did wear the jacket as much as I wanted.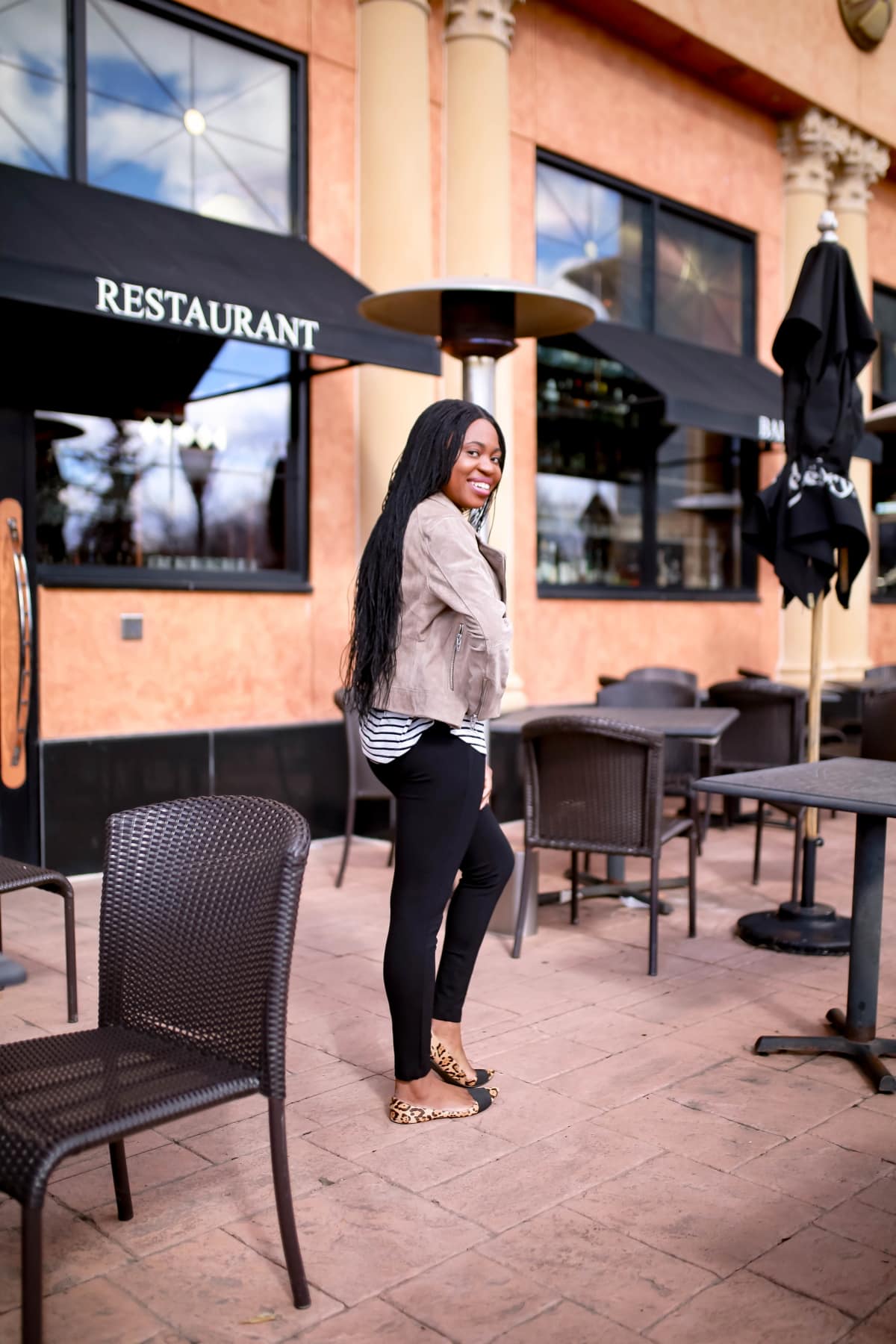 However, that jacket lasted a long time before age caught up with it. The leather collar slowly started to crack and peel off.


This influenced my decision in opting for the more durable suede moto jacket by Blank NYC. A simple search of this classic style will give you a paralyzing number of results with combinations that might be overwhelming: faux vs. genuine leather, belted detail vs. no belt, zippered sleeves vs. buckled sleeves vs. plain detail… Keep it simple!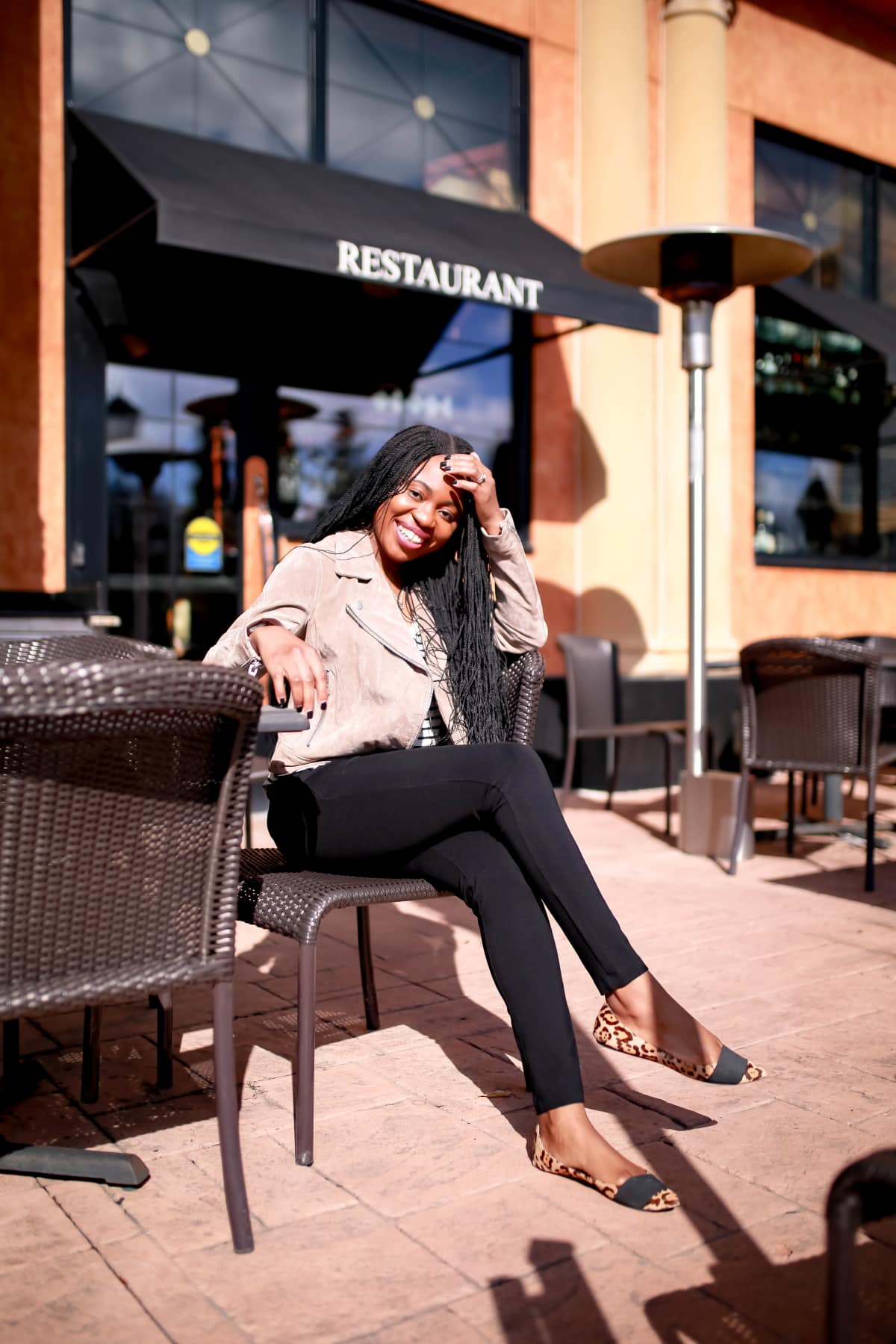 I am wearing:
Blank NYC Jacket (exact) | Betabrand pants (exact) | Stripe tshirt (similar) | Fringe sandals (similar) | Leopard print flats (similar // 40% off with code FRIDAY) | Structured purse (similar) | Captain Marvel necklace c/o (similar)
BLANKNYC Suede Moto Jacket Details
BLANKNYC Suede Moto Jacket – Size S – Midnight Toker (fits true to size)
Length: Approx. 21.5″
Material: 100% leather; Lining: 100% polyester
Price: $188 (on sale right now)


Genuine Blank NYC jackets available at Nordstrom (on sale + free shipping/return), Zappos (free shipping/return) and Amazon (free shipping/return with Prime).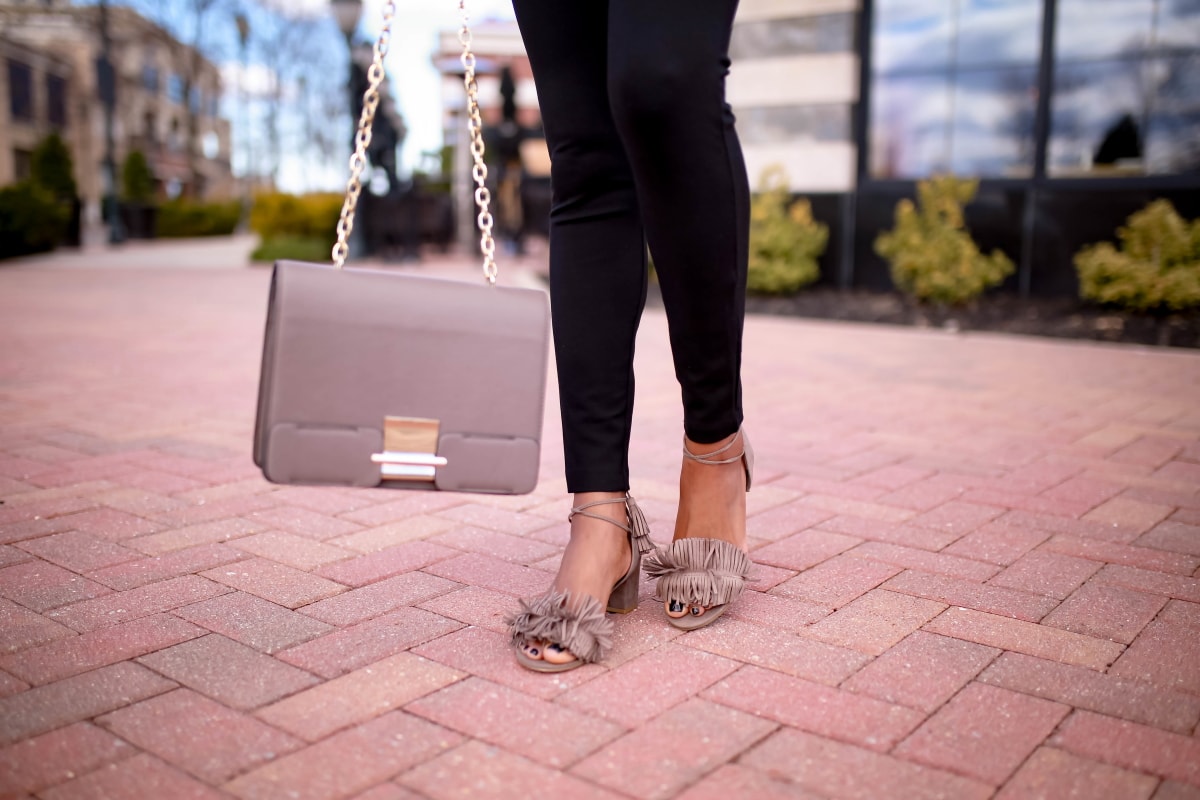 Blank NYC jackets come in several styles and colors. The most popular styles are:

PROS
High quality
Staple piece
Fully lined
100% leather
On-trend
Are Blank NYC jackets worth the money?

At such a crazy deal happening right now, BlankNYC jackets are worth the money. The quality of these moto jackets is top-notch. The Asymmetrical front-zip detail, stylish notched collar, and zippered long sleeves add a classy touch to this Blank NYC suede moto jacket.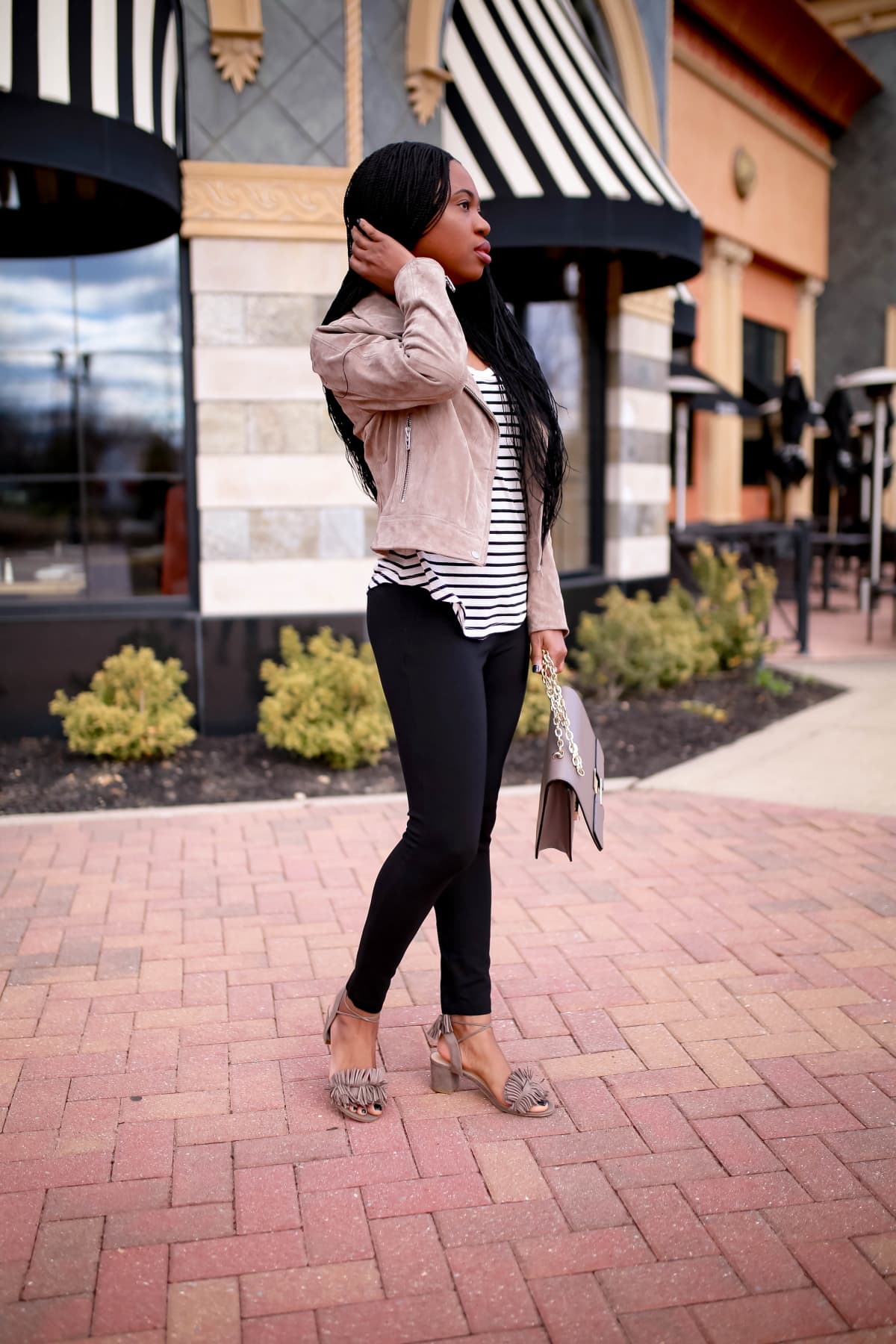 Easily dress up your casual look, throw it over your cocktail dress, pair with these Spanx faux leather leggings for a savvy appearance.


But hey, if this Blank NYC suede moto jacket is out of your price point (even at the sale price), you might like this cheaper option on Amazon, or try this top-rated SheIn moto jacket under $40 (5,300+ reviews).


Apperloth Faux Suede Moto Biker Coat
MATERIAL: This moto biker jackets are made of 95% Polyester and 5% Spandex. Light and comfortable faux suede fabric.
GARMENT CARE: Hand wash cold/ Lining turned out and dry shade.
SUEDE JACKET FEATURE: Short pattern design/Exposed zipper details/Long sleeves coats. This faux leather jacket is a nice gift for...
WIDE APPLICATION: This lighweight leather jacket is suitable for daily work, casual wear,clubwear and wedding dressy.You can wear...
NOTE: Please check the size chart in the image page before your order. This long sleeves motorcycle jacket is an effortless,...
Last update on 2023-11-28 at 23:11 / Images from Amazon Product Advertising API
I hope you found this BLANKNYC suede moto jacket review helpful. If you liked this product review post, you'll love these related posts:

PIN FOR LATER!
Reading this post on mobile? Be sure to download the LIKEtoKNOW.it and follow me "lapassionvoutee" for exclusive, in-the-moment shoppable posts. Also, available on Android 🙂


It's also the fastest way I can keep you updated on the latest sales and newest styles since blog posts take a lot of time to create. Here's what you've recently missed!