Hollow Cut Out Blouse and Betabrand Pants
This post may contain affiliate links which means I will get a commission if you make a purchase at no additional cost to you. As an Amazon Associate I earn from qualifying purchases. Please read my disclosure for details.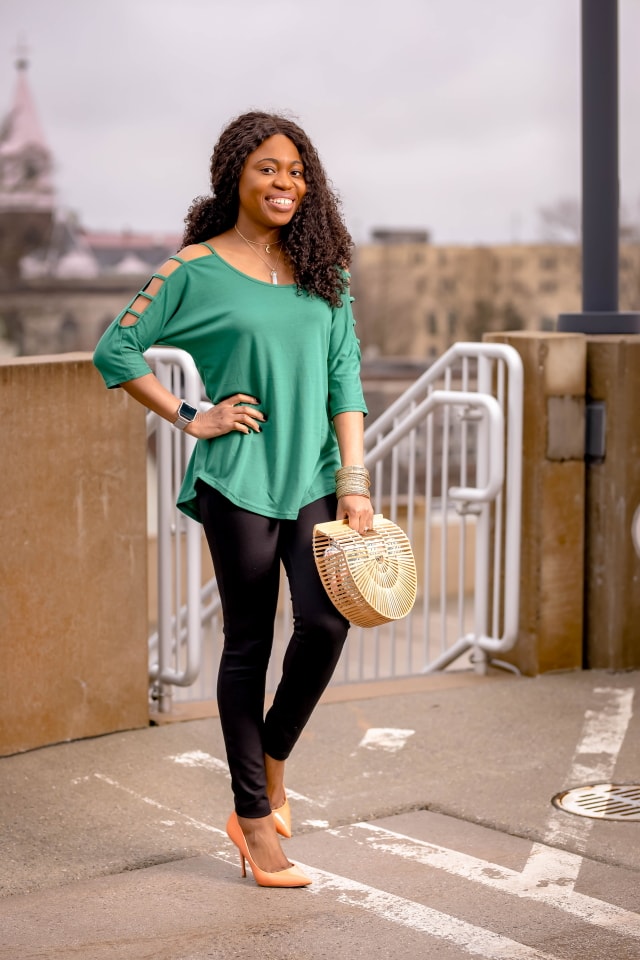 Hey friends, hope you had a wonderful weekend and St. Patrick's Day. I had intentions of sharing this Amazon hollow top and Betabrand pants (skinny leg version) with you yesterday in honor of St. Paddy's Day.


Shop The Look


But I just did not have the time to get it done in-between packing up my bags for my trip across the border to Canada and making last-minute meals.


So, I finally found some time… 10,000+ feet above sea level on a United Airlines flight to Alberta. In case you missed my last post, Best Amazon Bodycon Dress, this hollow top was part of my Amazon Clothing Haul.

With all the rave reviews (over 2,600-strong) I knew this was one of the pieces from that haul I had to share with you.


For reference, I wear a US small (size 4) and weight about 130 pounds (depending on how much food I've had!).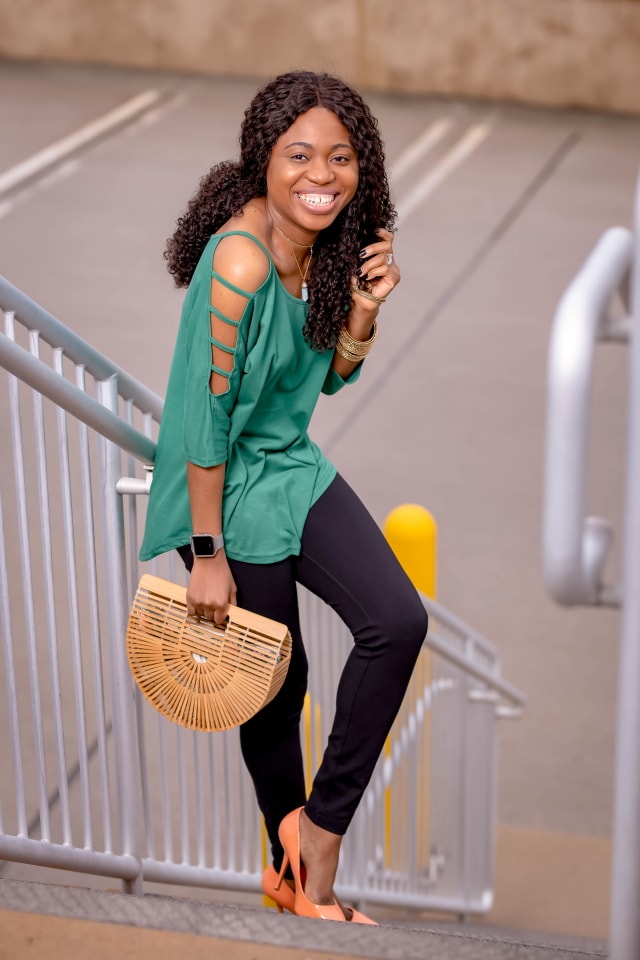 I ordered the hollow cut out blouse because the top lends itself well to the changing season. And I'm more than ready for spring (who isn't?).


Plus the shirt was also on the best-seller list AND the price was right. How right? You ask. Under $16, my friend!


So, I ordered a size small in green color, and it runs true to size. If you prefer a tighter fit, I recommend sizing down. This blouse comes in 14 different colors. Check out the light blue and tan colors. They'll be perfect right now.



When I wore this blouse on IG Story, you guys loved it. What I especially like about this loose-fit blouse is the hollow cut out details on the three-quarter sleeve. It also has a wide crew neck that emphasizes the relaxed look of the top. The fabric is lightweight, very soft and comfortable with the perfect feminine touch.


I actually considered wearing a pair of high-waisted skinny jeans with this blouse. But I liked the pairing with this Betabrand pants better.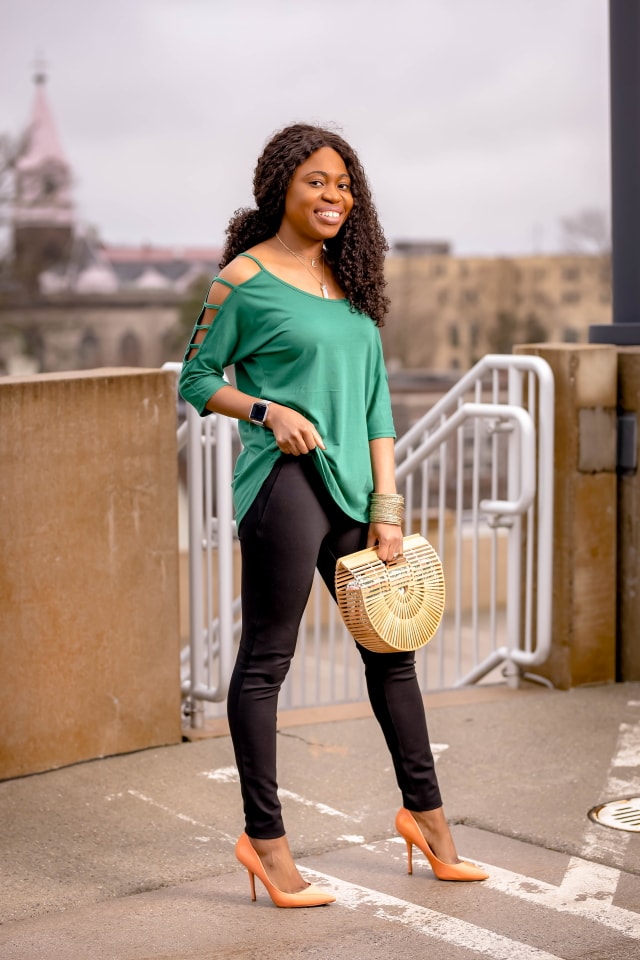 Matter of fact, this is not the first time you've seen me wear Betabrand Dress Yoga Pants. I wore them with this Pink Sweater Outfit. If you're new to Betabrand, you can read my Betabrand Pants Review for details on why I recommend these pants.


For this look, I'm wearing one of the most-wanted Betabrand pants style, the skinny leg pants in black color. This pant sells like pancakes, so it's no wonder the brand has a hard time keeping it in stock.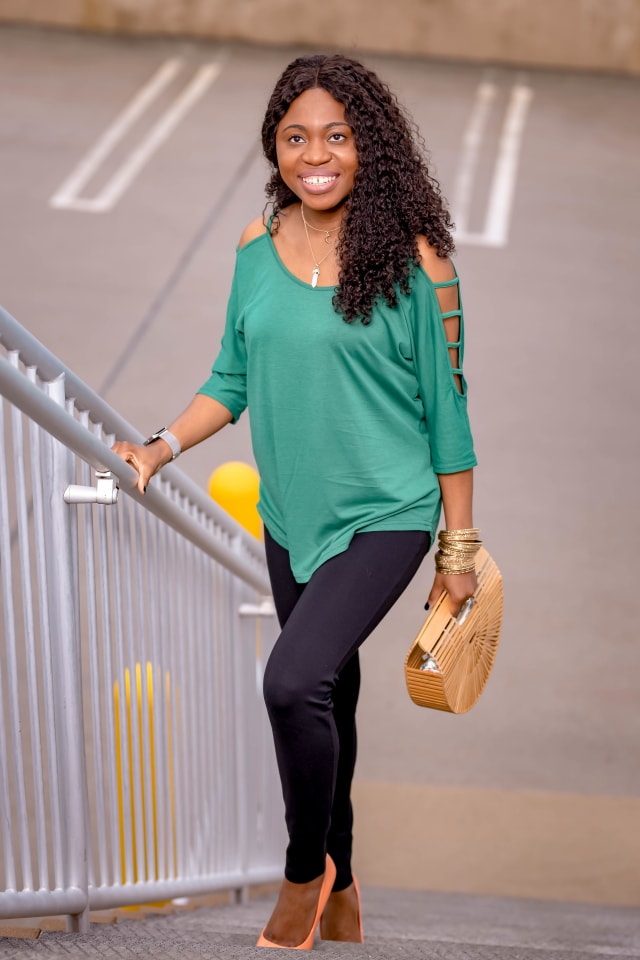 This particular style is sold out, but on pre-order and on sale in case you want to scoop one up in advance. My only advice is to stick to your regular size. I usually size down with Betabrand pants.


Instead of getting a size small, I ordered an extra small which ended up being too tight. I lucked out and was able to exchange the pants for a size small that was in stock.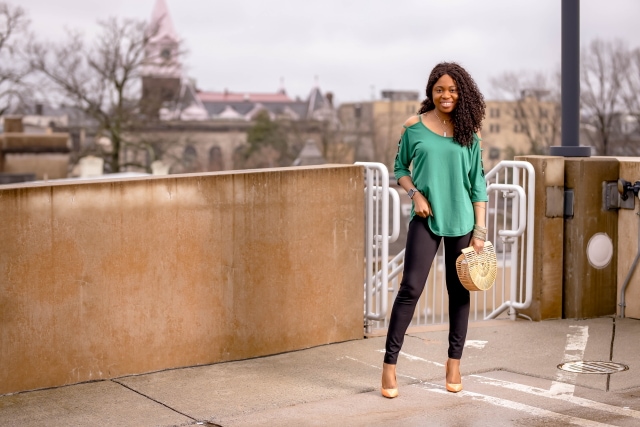 I would wear this outfit as is as a casual office wear. And if I sized down on the blouse, I could easily layer a denim jacket like this one to conceal the cut-out detail if I wanted a more conservative outfit.


This look is also an excellent ensemble for meetups, brunch and dinner dates, everyday look and errands if you swapped the heels (similar) for more comfortable flats like the Tory Burch flip-flop sandals you saw me wear time and time again in the Amazon haul.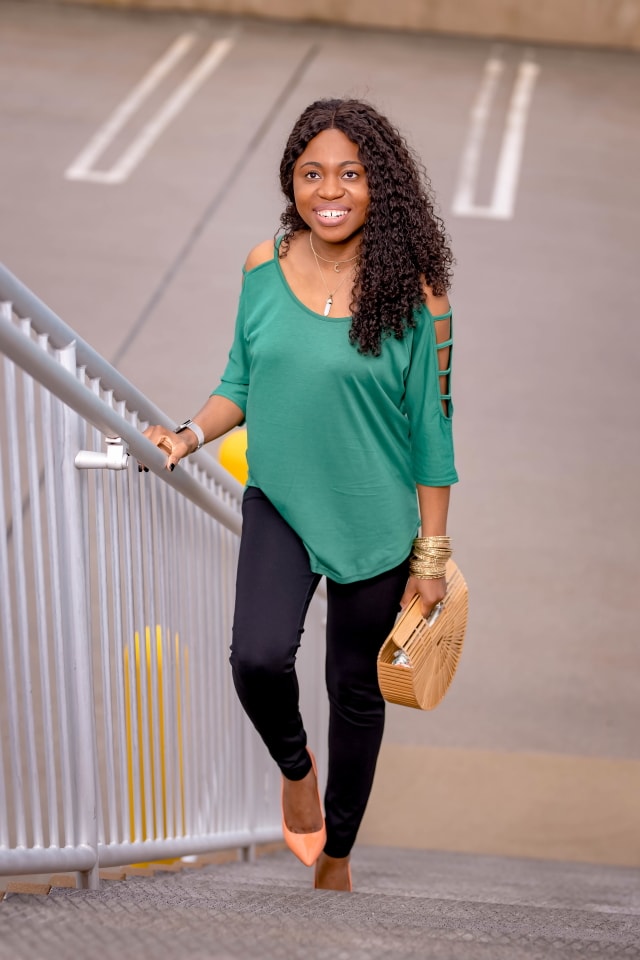 I wanted a pop of color with this look that's why I chose peach-colored patent heels (similar). It's a Charles David oldie I've had since my college days so I can't find the exact pair.


But this black patent heels and this other one closely resemble the pumps I'm wearing.


It's hard to see, but I'm also wearing a buckle-free adjustable belt. It was a last-minute impulse buy that popped on my radar from Amazon's best-sellers list. I quickly remembered my sister raving about the same belt a few months prior.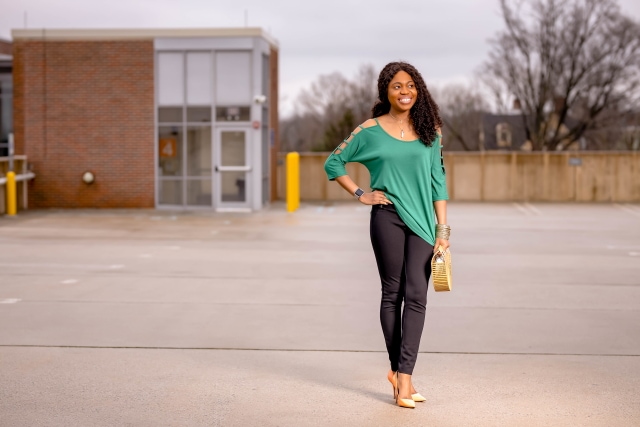 The keywords that came to mind were: buckle-free self-adjusting invisible belt. I've already worn this belt a few times already.


The great thing about this under $10 top-rated belt is that you no longer have to worry about tugging on your buckle because they're uncomfortable.


And you don't have to take it off to use the bathroom either 😉 Definitely keeping this one!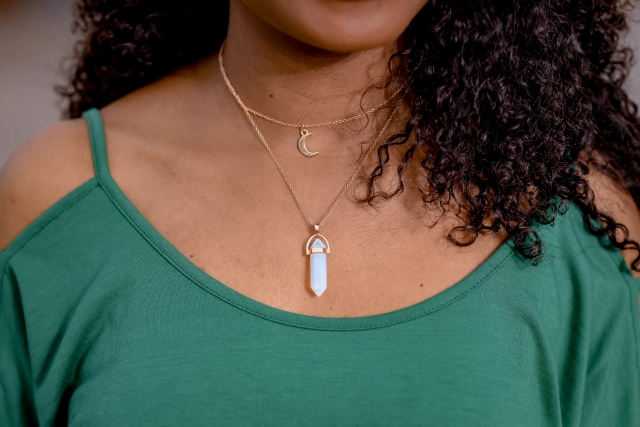 Let's not forget that $12 Amazon layered necklace which also ships free (+ free return) from Amazon. Isn't that real opal stone the cutest? While the quality of the choker set is not the best, it's super lightweight. And I bet it'll last a while.


I also added stackable bangles (similar) for some major arm candy. I've had mine for a few years: a mix from H&M and Amrita Singh. I found this and this as similar options under $10.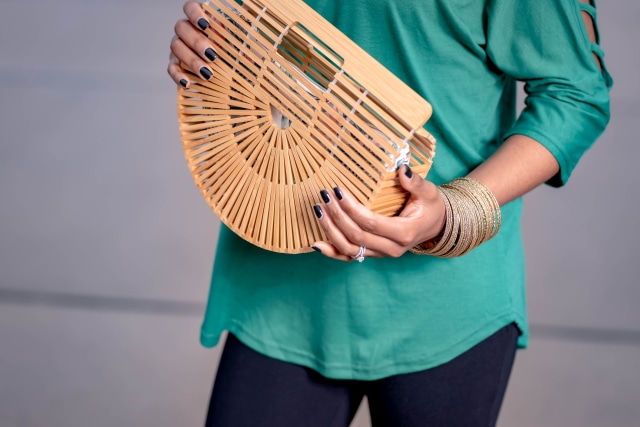 Lastly, I decided to play off the colors of the outfit, green and peach by pairing it with my current favorite statement purse, the bamboo handbag.


This skinny leg Betabrand pants and cute top pairing with probably a pair of slides or ballet flats will be on major rotation this year 🙂 As always, thank you so much for reading.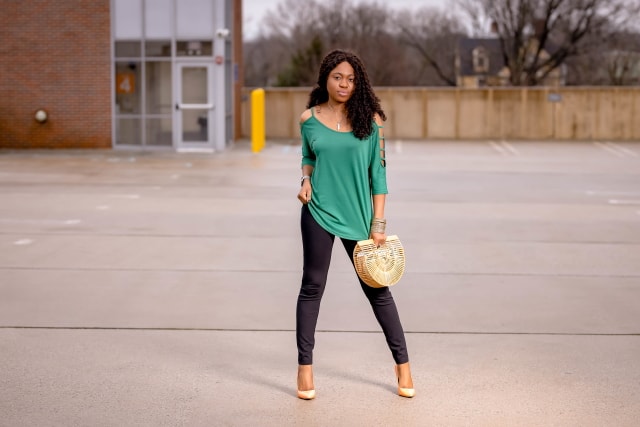 You may also like these posts: Betabrand Pants Review | Epic Amazon Clothing Haul |
I am wearing:
Bamboo purse (exact)
Layered necklace (exact)
Cut-out blouse (more colors)
Skinny leg work pants (exact)
Patent pumps (similar, similar)
No-buckle adjustable belt (exact)
Stackable bangles (similar, similar)

Photos by Mike Hickman Photography