2 Ways to Wear an African Midi Dress for Special Occasions
This post may contain affiliate links which means I will get a commission if you make a purchase at no additional cost to you. As an Amazon Associate I earn from qualifying purchases. Please read my disclosure for details.
I sat down yesterday two days ago intending to write the text for this African midi dress outfit only to end up writing up most of the content of my next fashion haul and review post about JustFab!


I'm still trying to find a better balance between shooting looks and posting outfits on the blog. I know there's a fine line between quantity and quality. So I'm taking a few pointers from one of my favorite blogger, Jo-Lynne Shane. This lady seriously publishes some of the best fleshed-out fashion looks with accompanying texts almost every day.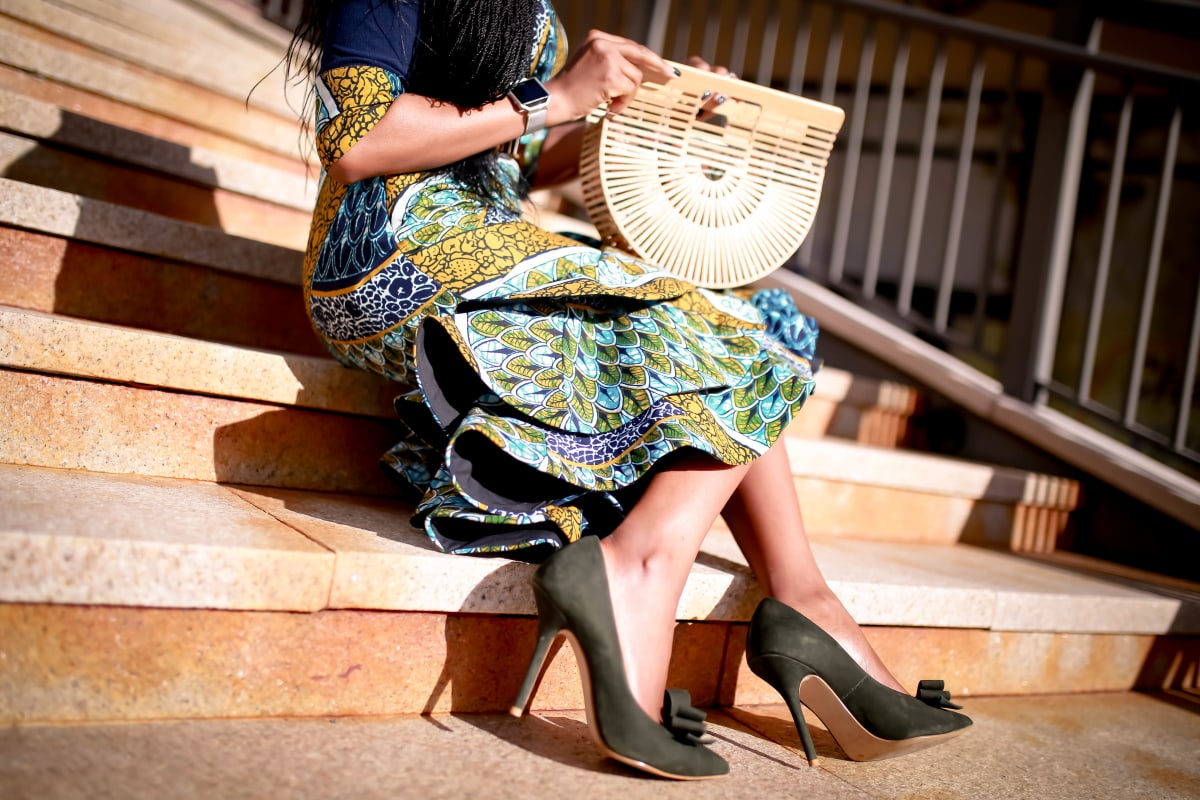 Although I'm just getting around to writing about this African midi dress, you've probably already seen this look on my Instagram account. I try to be more consistent on the 'gram since the platform takes me about an hour versus a couple days (minimum) to create new posts.


I had a few bundles of African print fabric last year. So I enlisted the help of my sister to help me make one-of-a-kind African print dresses. I wanted a few dressier pieces for special occasions. And a few casual ankara dresses for everyday wear.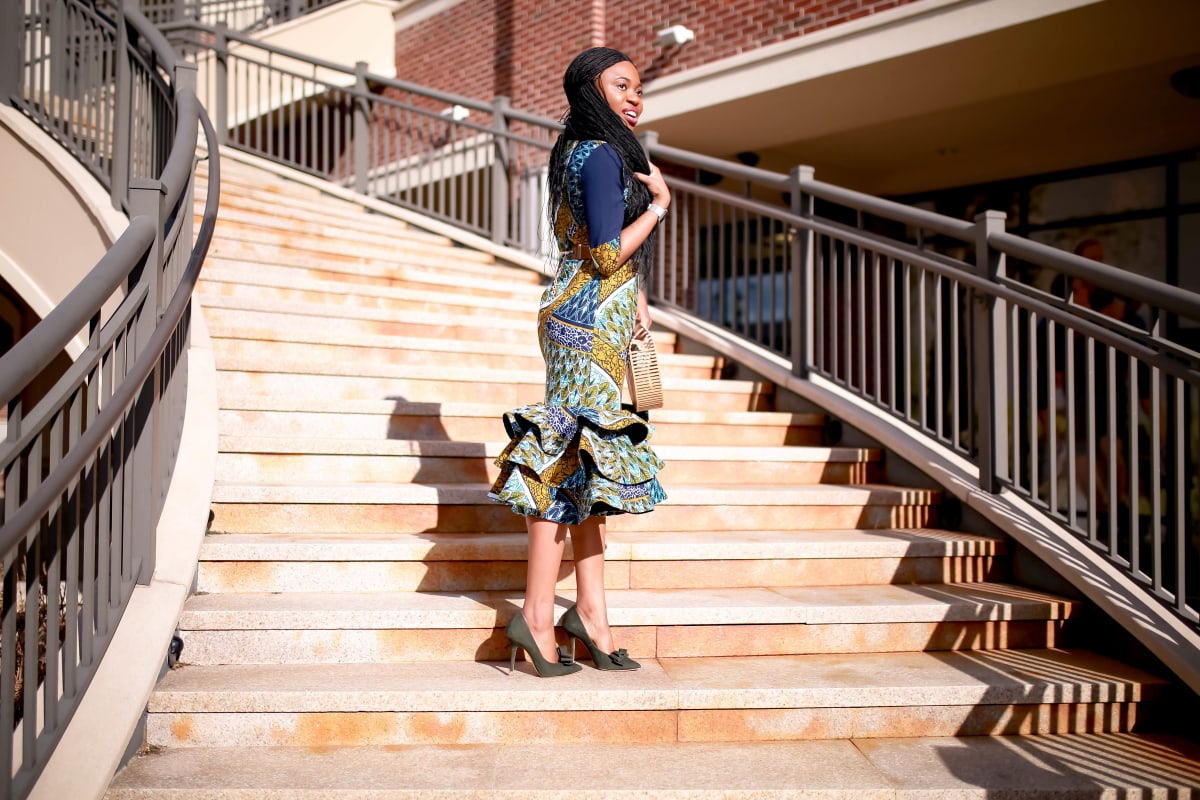 If you're not familiar with my sister, she's the creative mind behind Boriah Clothiers. She focuses on bespoke (made to order) and ready-to-wear African print pieces sourced locally and handmade from conception to completion by her and her small group of female employees in her local facility in Lagos, Nigeria.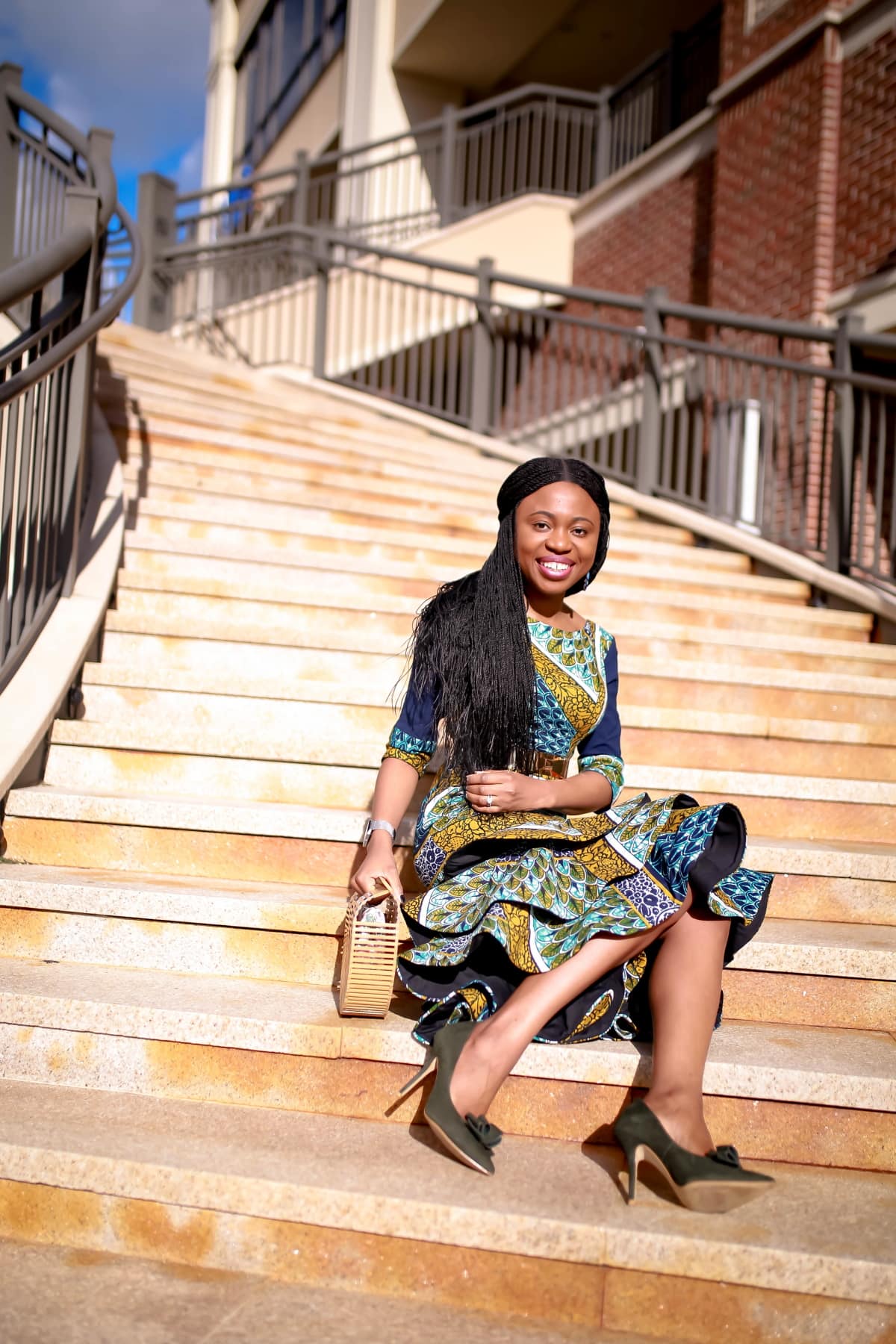 One of my friends actually commented that this ankara dress is her favorite out of all the African print dresses she has seen on me to date. And that says a lot considering that I've shared over 50 African print dresses with you.


The reason I keep coming back to Boriah is because of her perfect execution. The sewing is impeccable, and she lines every one of her custom pieces. She also has a way of infusing plain and non-traditional fabric that does not detract from the outfit.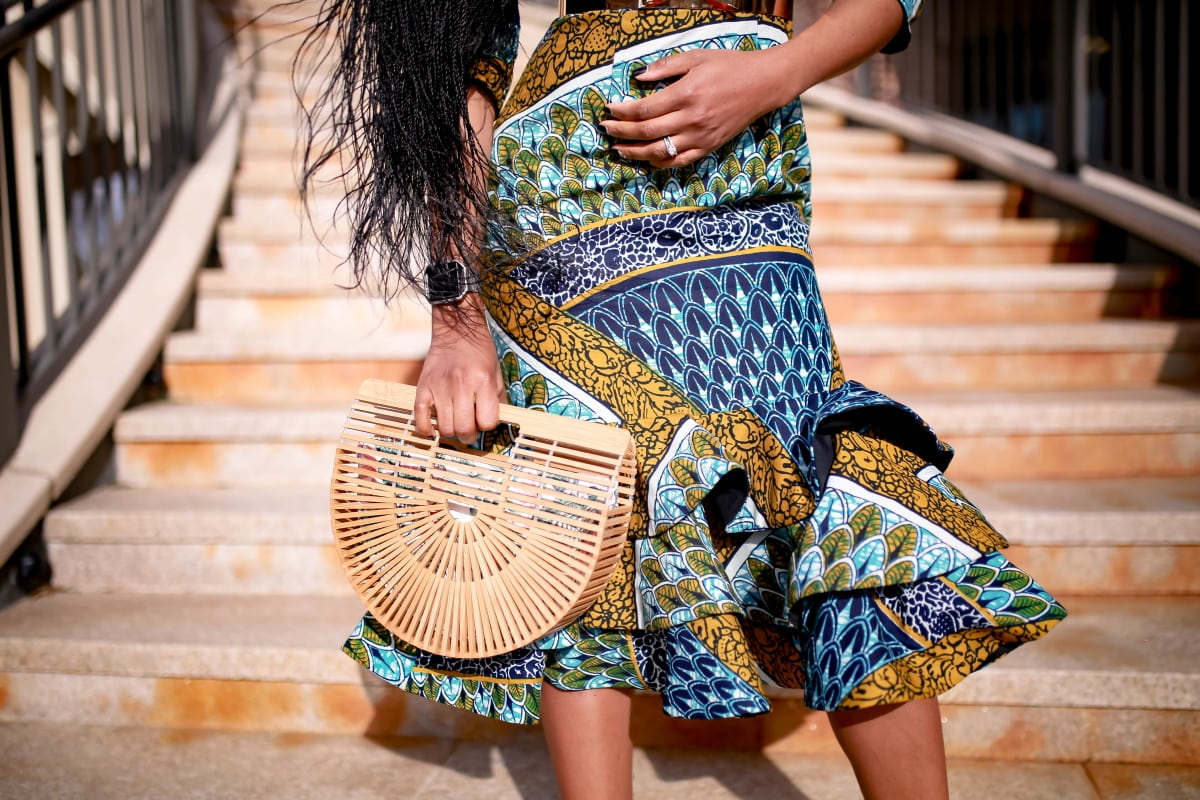 For example, she added a dark blue panel to the arm of this African midi dress. And that blue color blends beautifully with the texture and colors of the ankara fabric.


You can now request a custom order on her store. Simply describe, upload a photo of the style (if you have it), and provide your size. And she'll take it from there.


Let's not forget those layered ruffle details. Seriously, I did not need to flush or add starch to them. Whatever she did to the ruffles makes them thick and stand to the gods! I already have plans to wear this African midi dress to a graduation ceremony next month.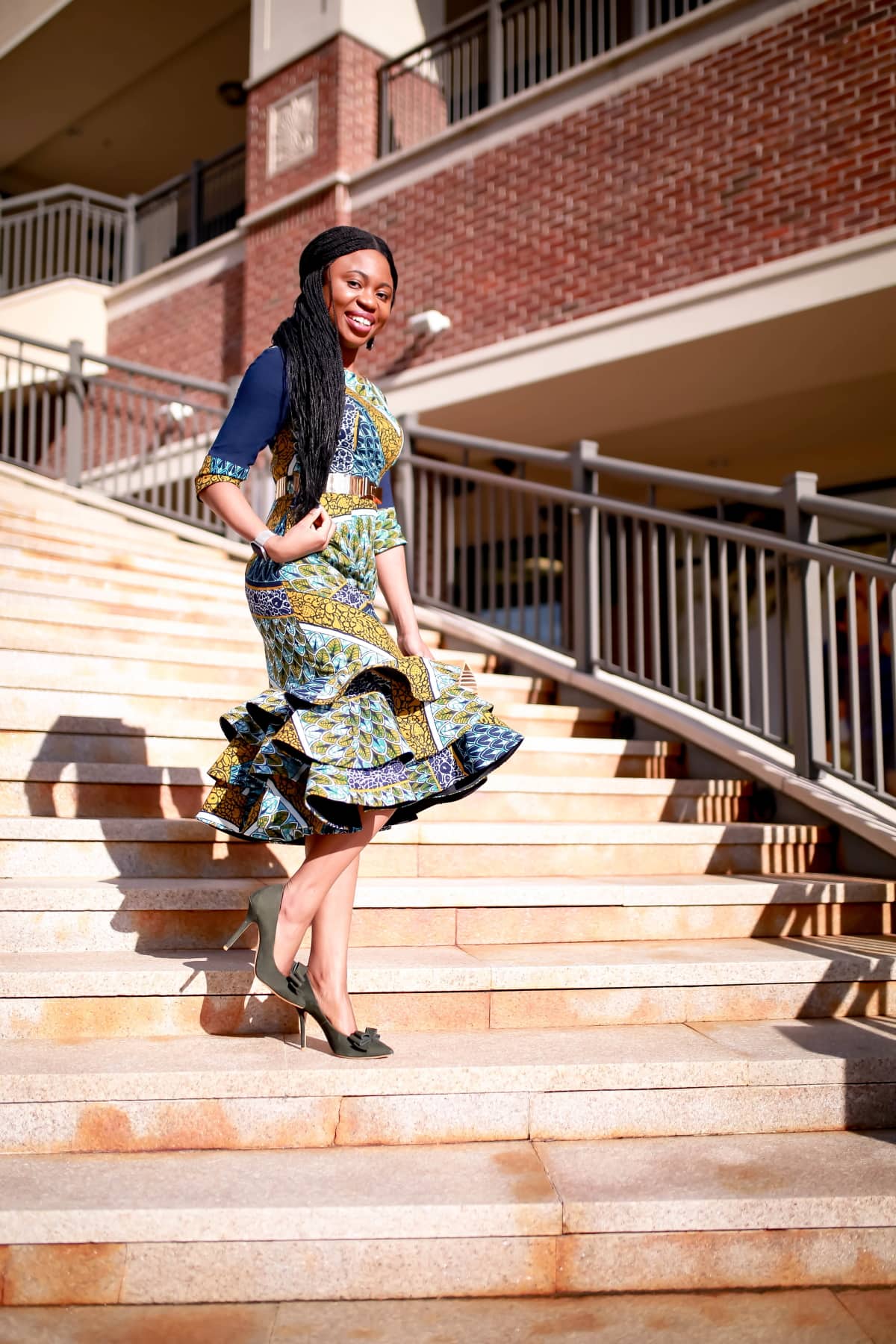 These are a few of the ready-to-wear African print dresses available at Boriah Clothiers right now. They make a great dressy or casual piece for spring and summer. You can wear any one of these ankara dresses with a pair of ballet flats, trendy espadrilles, sandals, or pumps.



Oh, how do you like my new hair? Would it be a surprise if I told you that it was also handmade in Nigeria?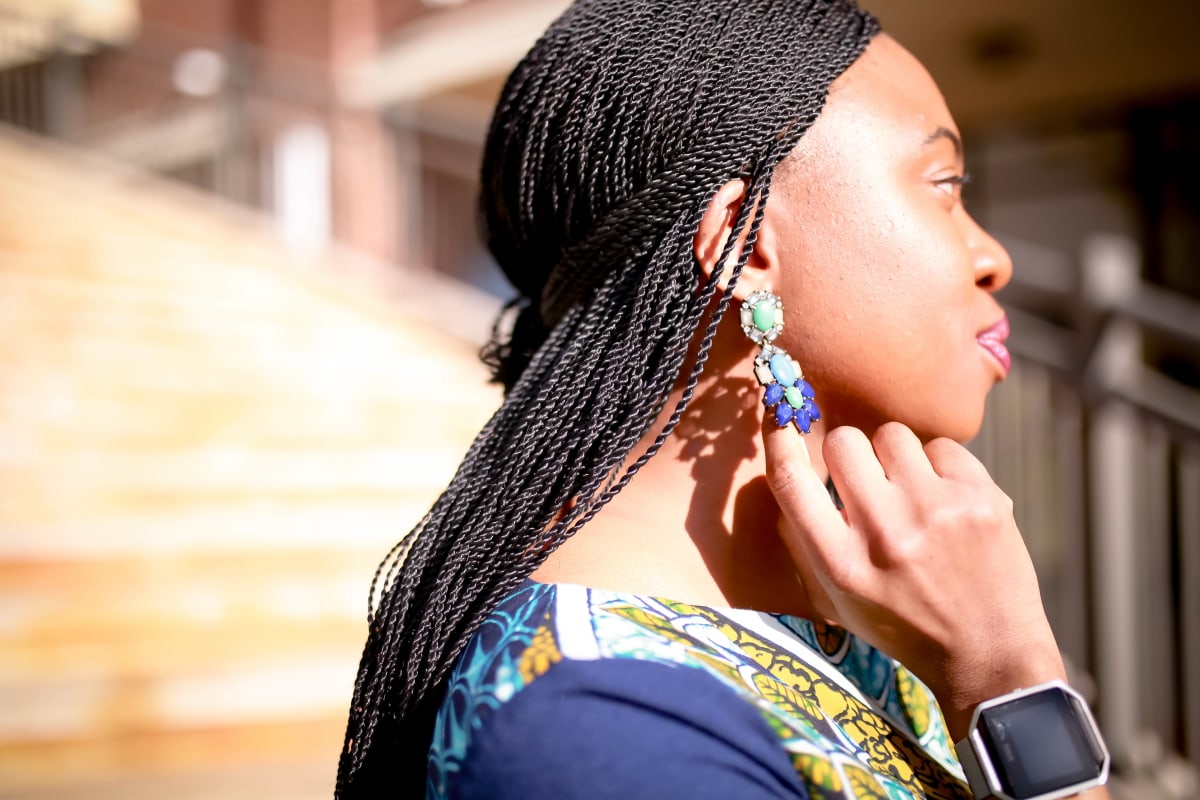 It wasn't by my sister though. Lord knows that I can't seat for eight hours anymore to have this braided on my head. You can get this African braided hair wig from Hairitage Braided Wigs. They have a 50% off sale going on right now. In case you're wondering, this is the style I'm wearing.


I also chose to style this ankara midi dress in two ways. I don't know what it is, but I've been moving towards shoes with lower heels. I've always known that shorter heels were comfortable. But I like the fact that my feet do not hurt after a whole day of wearing them.


LOOK #1: ANKARA MIDI DRESS WITH DRESS PUMPS
For the first look, I whooped out my bamboo bag again. I bought it during my recent Amazon haul as an alternative to the $$$ Cult Gaia ark bag. The bonus purse insert make the wooden purse practical.


I thought the bamboo concept against the African print fabric was a rustic yet traditional touch to a contemporary style.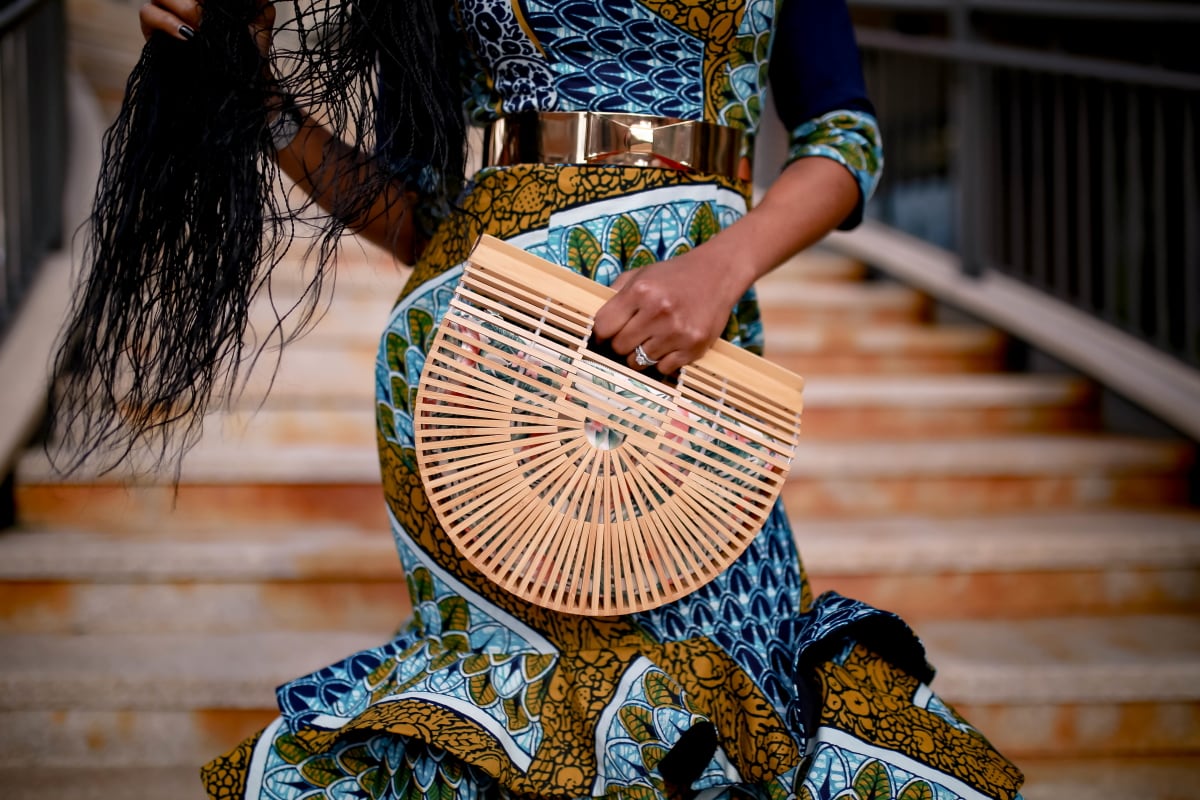 I've had this ASOS metal bow belt (similar) for a few years now. And I almost always pick it up when I want a statement piece. I am actually surprised to find the non-bow version restocked on ASOS.


The belt was the perfect complimentary piece to define my waist. And the bow detail on my suede pumps helps shoe continuity with the entire look.


It's not very obvious, but I'm also wearing a blue-tone statement earrings (similar under $10). I live for statement jewelry! This earring is not from Amrita Singh, which is where I get the majority of my jewelry collection.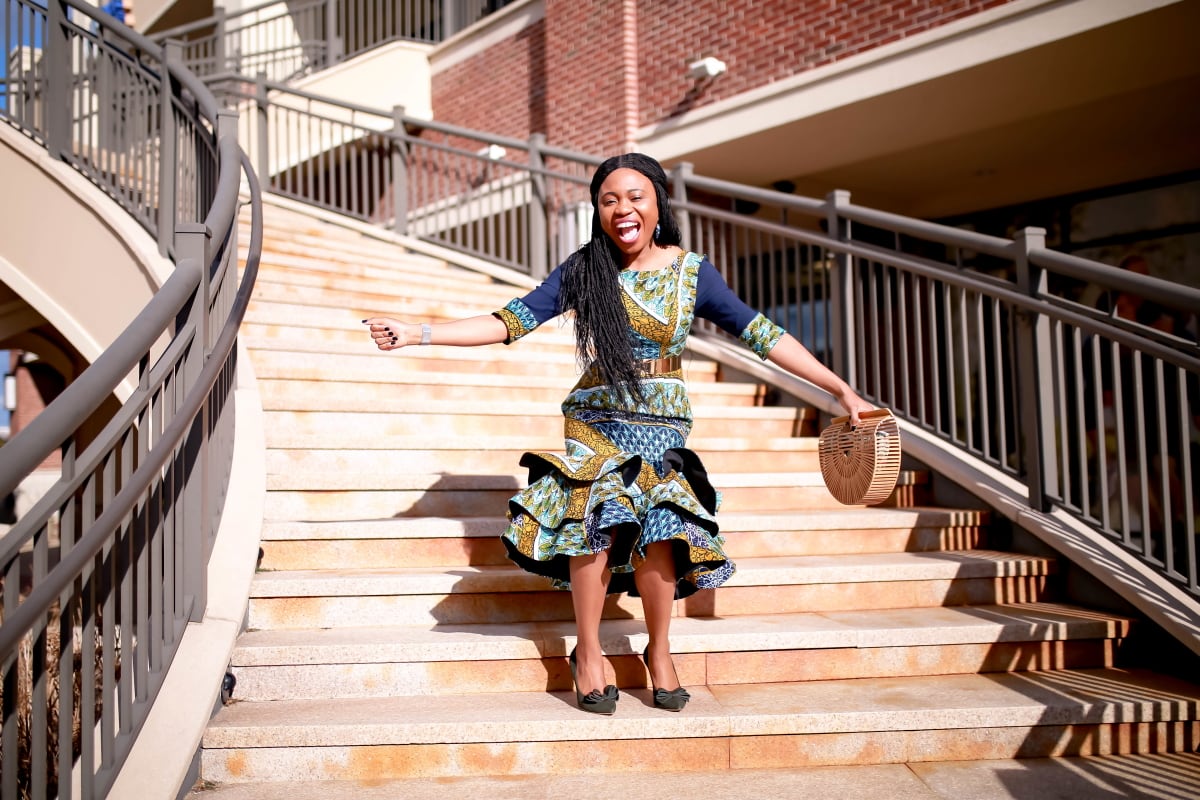 The earrings are an oldie also from a few years ago. I bought it either and SheIn or Romwe. Speaking of these two fast fashion brands, you should read my SheIn Review if you have this company on your radar for clothes/shoes.
Shop The Look


LOOK #2: AFRICAN MIDI DRESS WITH KITTEN HEELS
Next, I chose to stay with the dressier special occasion outfit with this African print midi dress.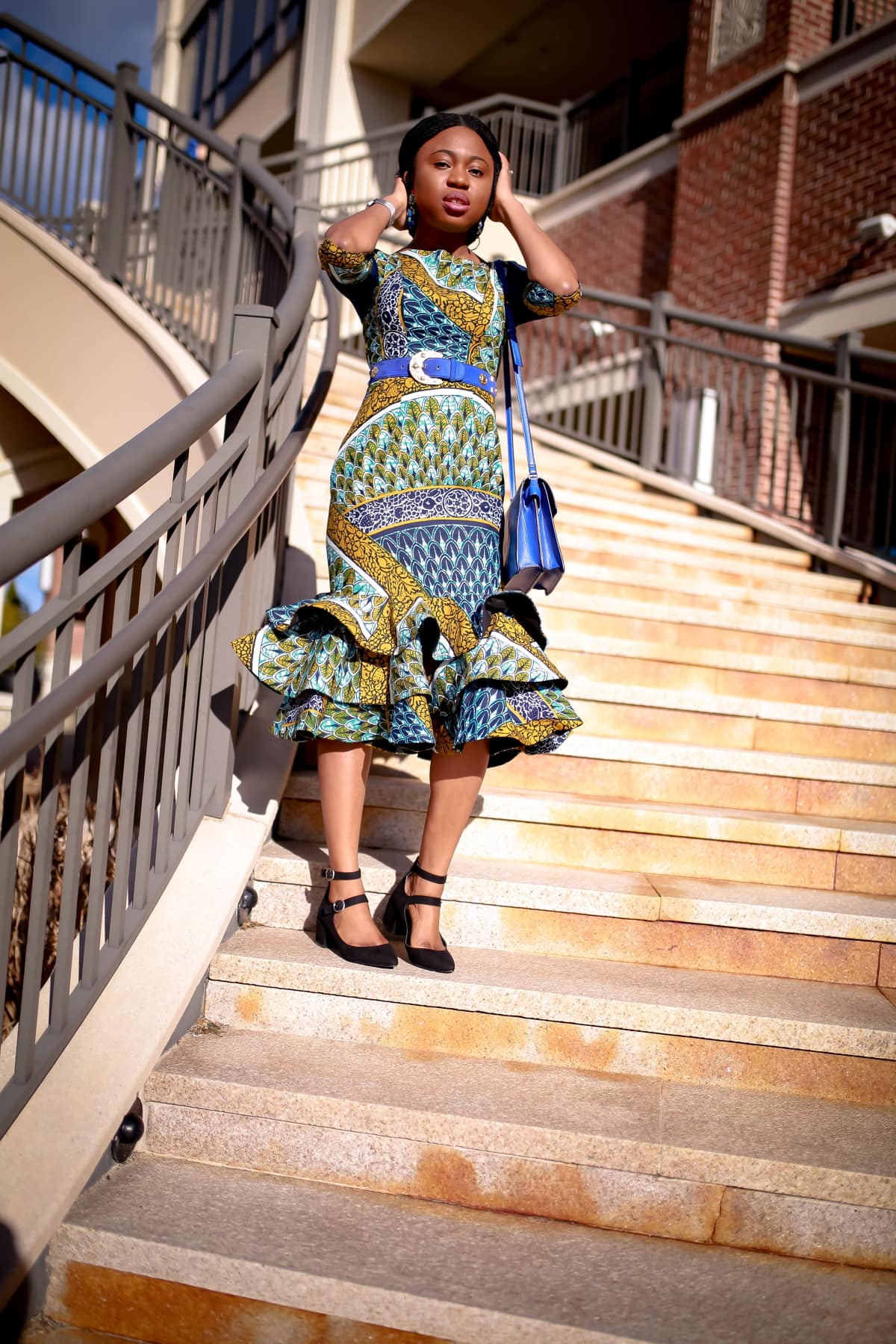 While the core elements remained the same, I opted for lower heel pumps and emphasized the blue colors of the ankara dress with a chunky waist belt with vintage gold details and a structured messenger purse (similar).


I almost forgot to mention this: if you own a sewing machine and would love to sew this exact style for yourself, friend, or family, you can now pre-order the digital pattern.


This definitely shatters the misconception that chunky heels on shoes with kitten heels in not very flattering. My two-inch heels on this Mary-jane style pumps makes it super comfortable. I could run in these shoes if I needed to. And the double strap detail is functional and stylish.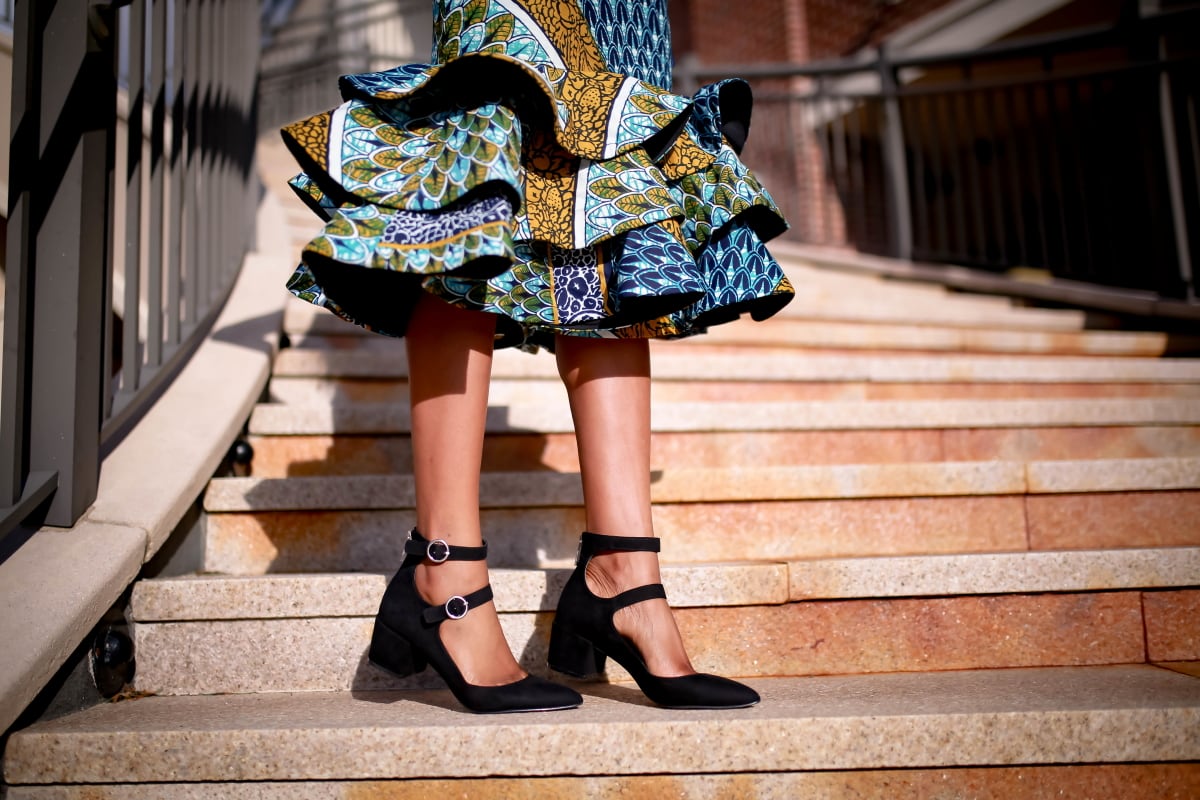 Sadly this pumps is sold out, but I found very similar options for you that are both under $40. This ankle strap d'Orsay pump comes in 11 different colors (the nude, gold glitter, red, blue, and multi-color are my favorite).


If you're more into round-toe shoes, you'd love this under $30 chunky heels. This pair is also by the same brand as the d'Orsay pumps, but it's slightly higher and with a "less chunky" heel.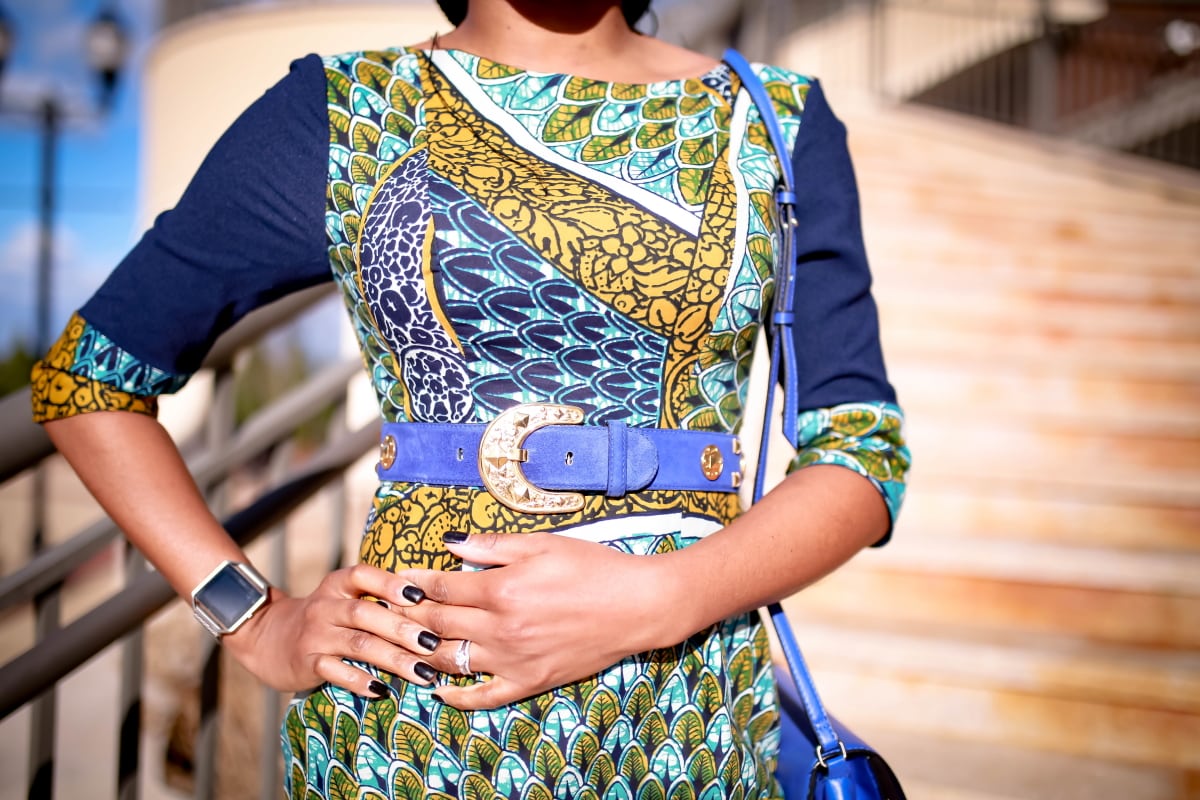 This Zara messenger bag (similar) is probably the first purse that had me sold on a structured handbag. I love the compartments and the fact that I can find whatever I want where I kept it.


Shop The Look


I can't deal with searching for my stuff in a large soft leather bag. I need structure! I hear that they now make tote organizer inserts for bags without structure 🙂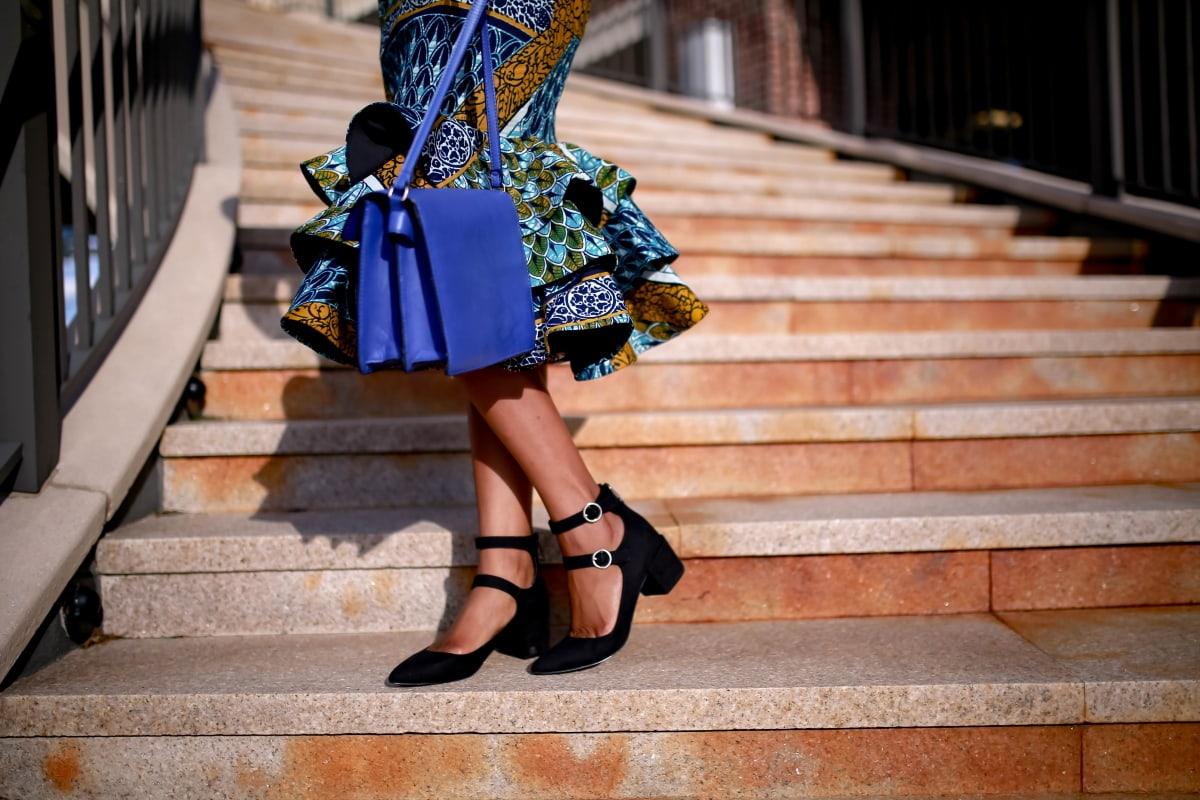 The closest bag I've seen in terms of pockets, structure, and size is this Tory Burch shoulder bag, but it's on the pricier end. Another great option is this Aldo crossbody bag that goes well with this African midi dress.


You may also like these posts: Spaghetti Strap Ankara Dress | The Cutest Ankara Styles |
I am wearing:

Statement earrings (similar)
Bamboo wooden purse (exact)
Metal bow belt (similar | similar)
High-heel pumps (similar | similar)
Chunky kitten heels (similar | similar)
Blue messenger bag (similar | similar)
Ankara dress (request custom order | pre-order digital sewing pattern)

Photos by Emmalyn